LifeStraw and Berkey are two of the biggest names in the water treatment industry. While Berkey is best known for its countertop water filtration systems, LifeStraw is popular due to its namesake product, the LifeStraw Straw filter, and has since gone on to expand its range of filters to sell a variety of water treatment systems for at-home and emergency use.
In this comparison guide, we've reviewed and compared the Berkey Countertop Water Filtration System with some of LifeStraw's most similar products, giving you the details you need to decide which brand (if any) is best for your situation.
📖 TL;DR LifeStraw Vs Berkey: Which is Better?
Both LifeStraw and Berkey are respected in their fields for offering filters that exceed their competitors when it comes to performance, lifespan, and other important factors. While both manufacturers have their benefits, we think certain filters are best for certain situations.
If you want a filter system that doubles up as an emergency filter, can be used on camping trips and other off-the-grid situations, and prioritizes microorganisms removal, go for one of LifeStraw's offerings. If your main focus is to remove as many contaminants as possible from city or well water, but pathogen removal isn't important, choose Berkey.
⚖️ Comparison Chart
| System | Big Berkey | LifeStraw Community | LifeStraw Max | Travel Berkey | LifeStraw Peak Series | Berkey Light | LifeStraw Home Dispenser |
| --- | --- | --- | --- | --- | --- | --- | --- |
| Process | Activated Carbon + Ion Exchange | Ultrafiltration | Ultrafiltration + Activated Carbon | Carbon | Membrane | Carbon | Activated Carbon + Ion Exchange |
| Contaminants Reduced | 200+ | 45+ | 50+ | 200+ | 30+ | 200+ | 55+ |
| Price | $384 | $375 | $649.95 | $344 | $65.95 | $319 | $64.84 |
| Certifications or Testing | NSF 53 | NSF P231, WHO 3-star rating | NSF 53, P231, 42 | NSF 53 | NSF P231 | NSF 53 | NSF 53, 401, P473, P231, 42 |
| Filter Life | 3,000 gallons | 26,000 gallons | 4,000 gallons | 3,000 gallons | 18,000 liters | 3,000 gallons | 264 gallons |
| Holding Capacity | 2.25 gallons | 6.6 gallons | n/a | 1.5 gallons | 3 liters | 2.75 gallons | 18 cups |
| Annual Cost | ~$40 | ~$20 | ~$30 | ~$60 | ~$4 | ~$40 | ~$17 |
| Warranty | Lifetime | 3 years | 3 years | Lifetime | 3 years | 2 years | 3 years |
💡 Filter Comparison
Berkey Filters
Berkey is predominantly known for its range of countertop gravity-fed water filter systems, including:
All of Berkey's countertop water filtration systems use the same filter elements, called Black Berkey water filtration elements. These coconut shell carbon-based water filters use adsorption and other processes to filter water and are well-known for their superior performance (they can remove more than 200 drinking water contaminants).
Like the LifeStraw Home and Peak Series models (discussed below), the Berkey Countertop Water Filtration System is a gravity filter. Unfiltered water in the top chamber flows through the filters, and filtered water collects in the bottom chamber.
Most Berkey systems can fit up to 4 Black Berkey elements. The more filter elements you use, the faster the filtration, and the longer the overall filter life.
LifeStraw
LifeStraw currently sells tens of different filters under different categories, including straw filters, bottle filters, dispenser filters, gravity-fed filters, and pitcher filters. For the sake of this comparison, we'll be reviewing the following filters, which are the most similar in design and performance to the Berkey Countertop Water Filtration System:
The LifeStraw Community and the LifeStraw Max are both water purifiers intended for outdoor or survival use. The Community is the most similar to the Berkey Countertop Filter, albeit with a blue plastic design rather than being made from stainless steel. It uses an ultrafiltration membrane . There's surprisingly little information on how to use this system, but from what we can tell, you need to pump the filter to send water through the UF membrane, making it safe for drinking. The Max uses a variety of filtration technologies to filter water, and should be used with a pressurized water system (like a pump or a tap) to send water through the filter stages.
The LifeStraw Home Dispenser is a gravity-fed filter system that's intended for indoor use. It has a membrane microfilter and a carbon filter, which remove pathogens and common chemical contaminants/heavy metals/other harmful contaminants found in drinking water. The LifeStraw Peak is a hanging gravity filter that uses an ultrafilter membrane to remove bacteria and other microorganisms from outdoor water sources.
🧫 What Contaminants do they Remove?
Both Berkey and LifeStraw can remove a range of contaminants from drinking water. The main difference between these two brands is that Berkey focuses on removing a broad range of contaminants, while LifeStraw's filters are predominantly intended to make water microbiologically safe (by removing bacteria, viruses, and other pathogens) and usually use a dedicated filter stage for this purpose.
We've shared contaminant removal datasheets for the LifeStraw and Berkey water filters below:
🚦 Performance Comparison
Berkey Filters
When it comes to contaminant removal and performance longevity, Berkey won't let you down.
The Black Berkey water filters are much more capable than standard activated carbon filter cartridges. They don't just reduce chlorine and a few other select contaminants – they'll virtually purify your water by removing pretty much everything. We recommend only using Berkey water filters for city water because they're not guaranteed to make your water microbiologically safe.
You can enjoy quality, reliable filtration from the Black Berkey elements for up to 3-4 years before replacement filters are needed, so Berkey ticks our boxes for long-lasting performance capacity.
Here's a summary of the performance of Big Berkey as assessed through our third-party laboratory analysis.
Contaminant
Test 1
Pre-Filtration
Test 1
Post-Filtration
% Reduction
Test 2
Pre-Filtration
Test 2
Post-Filtration
% Reduction
Aluminum
0 PPM
1.44 PPM
n/a
0.052 PPM
0.069P PM
32.69%
Barium
0.0317 PPM
0 PPM
100%
0.0127 PPM
0 PPM
100%
Bromodichloromethane
0.00404 PPM
0 PPM
100%
ND
ND
ND
Calcium
ND
ND
ND
8.8 PPM
34.6 PPM
+293.18%
Chloride
ND
ND
ND
6.9 PPM
8.7 PPM
+26.09%
Chloroform
0.023 PPM
0 PPM
100%
0.0352 PPM
0 PPM
100%
Cobalt
0.0031 PPM
0.003 PPM
3.23%
ND
ND
ND
Copper
0.255 PPM
0 PPM
100%
0.0434 PPM
0 PPM
100%
Fluoride
0.2 PPM
0.1 PPM
50%
0.1 PPM
0 PPM
100%
Iron
0.1PPM
0.03 PPM
70%
ND
ND
ND
Lead
0.0027 PPM
0 PPM
100%
0.0006 PPM
0 PPM
100%
Magnesium
ND
ND
ND
2.19 PPM
9.88 PPM
+351.14%
Manganese
0.0014 PPM
0 PPM
100%
0.001 PPM
0 PPM
100%
Potassium
ND
ND
ND
0 PPM
1.68 PPM
n/a
Sodium
ND
ND
ND
10.4 PPM
9.29 PPM
10.67%
Strontium
0.168 PPM
0 PPM
100%
0.062 PPM
0.138 PPM
+122.58%
Sulfate
16.6 PPM
1.6 PPM
90.36%
10 PPM
23 PPM
+130%
Total Coliforms
15 CFU/100mL
0 CFU/100mL
100%
ND
ND
ND
Total THMs
0.027039 PPM
0 PPM
100%
0.0352 PPM
0 PPM
100%
Flow rate is the only area of performance that Berkey doesn't excel in. Berkey systems are gravity-fed, which has portability and ease of setup advantages. However, it also means they have a restricted water flow and are unable to produce filtered water on demand. On average, if you use a Berkey filter with two Black Berkey elements, you'll filter water at a rate of around 1 gallon per 20 minutes. You can add more filter elements (up to 4) to the filter to increase the water production rate.
The Berkey water filter elements also aren't currently NSF certified, so there's no official proof to support the manufacturer's performance claims. With that said, you can at least view Berkey test data from third-party laboratories online.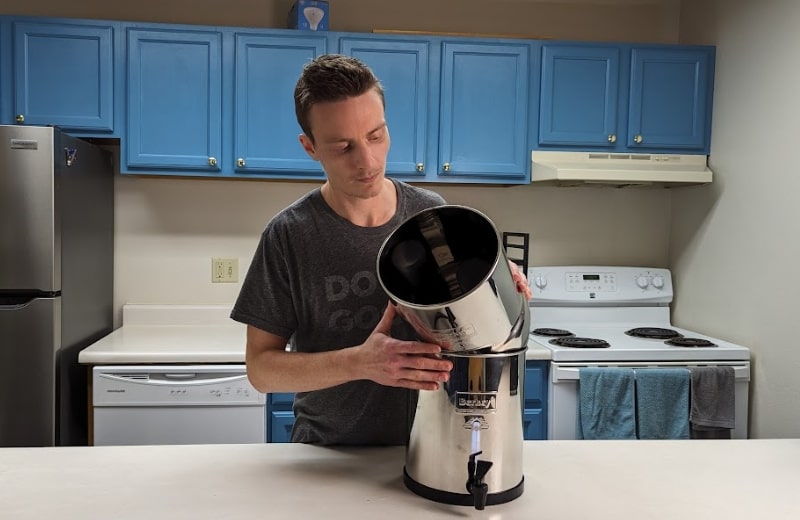 LifeStraw Filters
LifeStraw is also well known for its reliable performance, with many people choosing to use LifeStraw filters when camping or hiking in the wilderness, putting their full trust in their filters to make naturally sourced water potable and safe to drink.
The main performance benefit of LifeStraw filters is their ability to remove microorganisms. This benefit spans across all four filters we're reviewing in this guide, including the LifeStraw Home Dispenser, which is intended for home use. That means you can use LifeStraw filters to treat water that might contain bacteria, viruses, protozoa, and other pathogens, making it microbiologically safe.
When it comes to performance rate and longevity, this varies from one filter to the next. While the LifeStraw Community, Max, Home Dispenser, and Peak Series Gravity Purifier all offer a reliable performance, their flow and water production rates vary. The Community and Max both have high capacities and are best for delivering lots of water to families or even small communities, while the Home Dispenser and Gravity Purifier are intended for individual use or small families (which means performance-wise, they're not suitable for large parties due to their reduced water production capacities).
Many of LifeStraw's filters are NSF certified for their performance, too, including the LifeStraw Home, which has Standard 42, 53, and 401 certifications. However, it's worth noting that LifeStraw's performance claims arise from its own in-house lab testing, so there's always the potential for some bias. We'd prefer to see testing from a third-party laboratory at least.
💲 Models & Upfront Cost
Berkey Models
There are several different configurations of the Berkey water filter unit. Most of the units, including the popular Big Berkey Water Filter System, are made from stainless steel. The exception is the Berkey Light, a budget-friendly option that travels more easily thanks to its BPA-free plastic design.
Materials aside, all Berkey countertop filter units have the same cylindrical design, with a spigot at the bottom that you can open to deliver filtered water into your cup. Berkey gives you the option to upgrade some of its internal parts to stainless steel components.
At the time of writing this review, the Berkey filter units (including two Black Berkey elements) cost around $330-$500.
You can currently buy the following countertop water filtration systems on the Berkey website:
Berkey definitely isn't a budget-friendly manufacturer. You pay for Berkey's longstanding reputation and the long filter lifespans.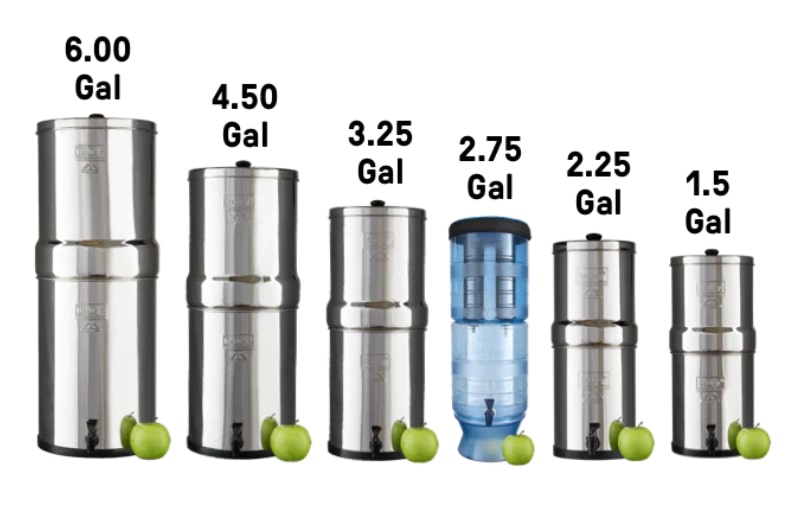 LifeStraw Models
As we mentioned earlier, LifeStraw has greatly expanded its product offering in just a few years. In this review, we've focused on the filters with the most comparable features to Berkey's water filters:
There are two different design configurations for the LifeStraw Community: the standard Community model (which requires manual filling), and the Community Autofill model (which includes a built-in, automatic water-filling system).
The LifeStraw Max, Home Dispenser, and Peak Series Gravity Purifier are available in a single configuration.
Price depends on the filter model you choose. The LifeStraw Community and Max, which are the most similar in design to the Berkey Countertop Filter System but offer the benefit of instant access to filtered water, have similar price points of $300-$500. The LifeStraw Home, which uses gravity filtration but has a smaller capacity compared to the Berkey units, costs around $65. The Peak Series Gravity Purifier costs around $190 – pretty expensive for what it is, but it also has a larger capacity and a sturdier design compared to most hanging gravity filters.
📆 Filter Lifespan & Replacement Costs
Berkey
One of the biggest selling points for Berkey filters is their long lifespan. A single filter lasts for 3,000 gallons, so if you use the recommended 2 filters in your countertop unit, you'll get 6,000 gallons of water – or around 3-4 years – from your filtration system before you need to buy replacement filters. If you add two additional filters to the system, you'll get double the lifespan. So, Berkey's filters might be expensive upfront, but at least their maintenance requirements are minimal, so value for money is certainly there.
The cost of two new Berkey filter elements is around $170. Keep in mind that this price will likely increase before you need to buy new filters (we've seen an increase of around $50 just in the last couple of years).
LifeStraw
LifeStraw can also boast about its filter lifespan, with long-lasting filters that rival Berkey's offering.
The expected lifespans for the LifeStraw filters we've reviewed here are:
| Product | Capacity | Duration |
| --- | --- | --- |
| LifeStraw Community High-Capacity Purifier | 26,000 gallons | 3 years for 25 people |
| LifeStraw Max High Flow Water Purifier | 4,000 gallons | – |
| LifeStraw Home Dispenser | 264 gallons | 1 year |
| LifeStraw Peak Series Gravity Purifier | 18,000 liters | 5 years |
As with Berkey, LifeStraw's upfront pricing suddenly seems a lot fairer when you consider how long its filters last. Paying hundreds of dollars upfront on a filter is more acceptable if the filter is set to last for years before a replacement is needed.
The average cost of replacement filters is $10-$50 per filter, depending on the filter. You can save money per filter by buying multiple filters upfront.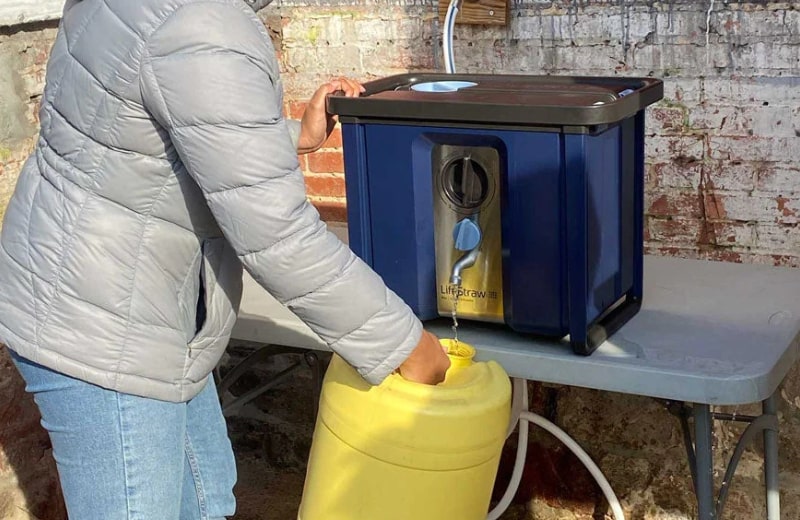 💬 Customer Reviews & Complaints
Berkey
Berkey systems are sold in a variety of locations online, and there are plenty of non-biased customer reviews to read through on marketplaces like Amazon.
Customers are generally pleased with Berkey's performance and value for money. On Amazon, Berkey products had an average star rating ranging from 4.2 to 4.6 out of 5.
Reviewers commented that they were impressed with the Berkey countertop systems' contaminant removal abilities, found the unit easy to set up, and were pleased with the long filter life. Some customers weren't happy with certain aspects of the unit design, and some noticed a rubbery taste in their water.
LifeStraw
LifeStraw's filters were slightly less popular with customers on Amazon, with an average rating ranging from 3.9 to 4.4 stars (for the four filters we've reviewed here).
Customers broadly praised the filters for the reliability of their contaminant removal, their ease of use, and their improved water taste and quality post-filtration.
Some customers had specific complaints for certain filters – a few LifeStraw Home and Peak Series Gravity Filter customers said that the filter flow rate is very slow, while some LifeStraw Max customers didn't realize they'd need a pump or running water to use the system (we think this could be made more obvious).
☑️ Pros and Cons of LifeStraw Vs Berkey
👍 Berkey – Pros
Removes most tap water contaminants – Berkey filters are tested to remove 200+ contaminants – something that even the best LifeStraw filters are unable to do. You can rely on Berkey to remove virtually everything from a municipal water supply, including chlorine, chloramine, lead, heavy metals, VOCs, and more.
Convenient, portable design – We appreciate the convenience and portability of the Berkey countertop gravity water filters. They take just five minutes to set up and can be used anywhere, without the need for flowing water or a pump, giving you easy access to purified water.
👎 Berkey – Cons
No guaranteed microorganism removal – Berkey has recently withdrawn its previous claims that its filters can remove microorganisms.
Limited filtering option – While LifeStraw sells a range of portable filtering options, Berkey sells just one system in various configurations. If you're not a fan of gravity-fed systems, tough – that's all you'll get with Berkey's offering.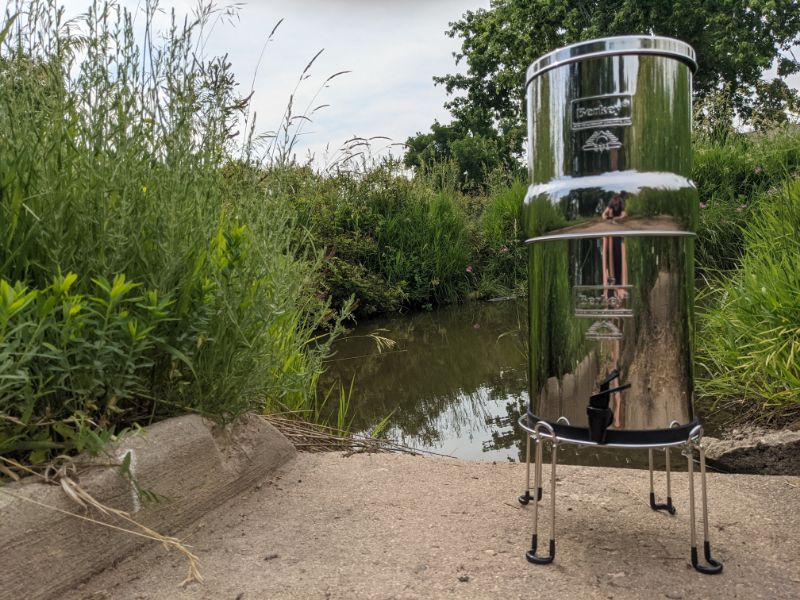 👍 LifeStraw – Pros
Different filters for different needs – With LifeStraw's range of filters, you're truly spoilt for choice. You fan find everything from portable filters for individual use, to high-capacity systems for groups of 20+ people.
Makes water microbiologically safe – Another major benefit of LifeStraw drinking water filters is that they remove harmful bacteria, viruses, and other microorganisms, so you can use these filters to treat natural water sources rather than being limited to city water treatment only.
👎 LifeStraw – Cons
Flawed testing system – We don't like the fact that LifeStraw's contaminant removal claims come from testing carried out at its own dedicated laboratory. We'd be more reassured if the company paid for a third-party laboratory to test its filters.
Less impactful on overall water quality – Most of LifeStraw's filters are designed to make your water safe and remove sediment, but they don't do much to improve your water taste and overall quality. Only the LifeStraw Home can remove a broader range of contaminants due to the inclusion of the carbon filter.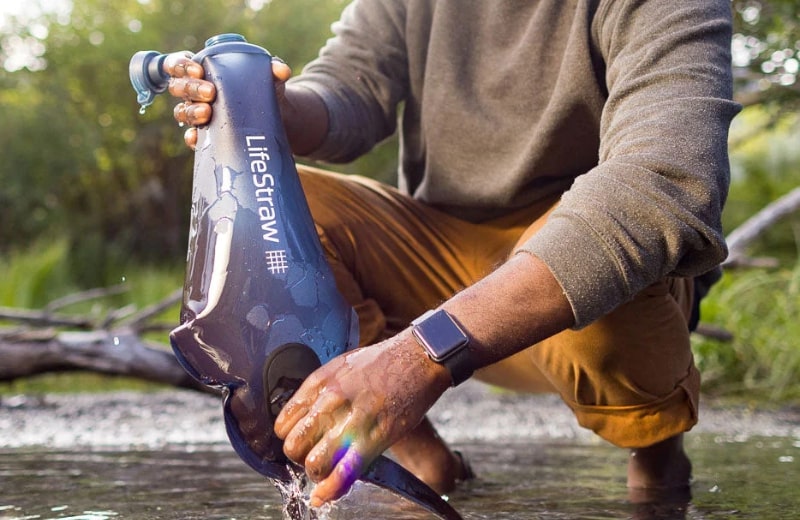 ❔ Should I buy LifeStraw or Berkey?
So, which brand sells the better filters – LifeStraw or Berkey?
In our opinion, both LifeStraw and Berkey are good manufacturers, and generally speaking, both brands have advantages when it comes to filter lifespan and ease of use. With that said, certain filters might be better for certain situations.
Berkey gravity water filters should tick your boxes if your priority is to remove hundreds of contaminants from your municipal drinking water, and you want a low-maintenance solution with long-lasting filters.
LifeStraw's filters should be best if you want the flexibility to choose the right emergency or outdoor water filter, with the right filtered water capacity, for your situation and party size, or your main aim is to remove pathogens from your water supply.
For both brands, you'll need a flexible budget for the upfront purchase, but maintenance costs should be minimal.