If you've ever shopped for household appliances, Kenmore is likely a name you know well. This manufacturer is nearly 100 years old and has built a solid reputation in the refrigerator, dishwasher, and water treatment niches.
Kenmore's water softeners are certainly good value for money. But are they up there with the top ten softeners of today?
In our opinion, no. We like Kenmore's products, but that's where it ends. We think you can get much more from investing in a SpringWell or SoftPro water softener.
In this Kenmore water softener review, you'll find short reviews of Kenmore's most popular water softening systems, and the advantages and setbacks of owning a unit from this brand.
❔ What Is Kenmore?
Kenmore is a household appliance brand that stems from the Illinois-based company, Sears. Nowadays, Kenmore products are sold in a variety of marketplaces online, including Amazon, Sears, Kmart, and Lowe's.
Kenmore's sales concept is traditional to the water softening industry. You can browse Kenmore softeners on the Kenmore Water Solutions website, read customer reviews, and compare prices online. The cost of installing and maintaining the system isn't included in the price of the products themselves.
🚿 Kenmore Water Softeners
Kenmore keeps it simple, offering just three different water softener systems: the Kenmore 350, the Kenmore 420, and the Kenmore 520.
Kenmore® 350 Water Softener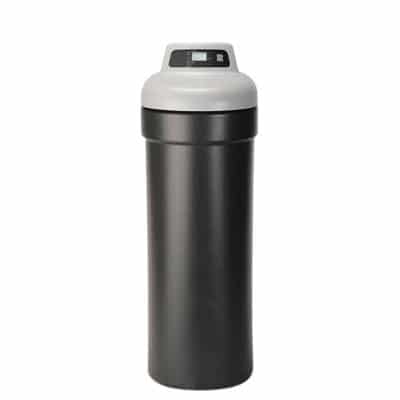 | | |
| --- | --- |
| Price | $ |
| Process | Ion Exchange |
| Grain Capacity | 32K |
| Water For | Up to 4 People |
| Flow Rate | 7.2 GPM |
| Regen Method | Metered |
| Warranty | 10 yrs (tank), 3 yrs (electronics) |
The Kenmore 350 is a 32,000-grain water softener that's suitable for homes with 1-4 people. This compact, single-tank unit is an all-in-one solution, providing salt storage and softening in the same location. According to Kenmore, the 350 offers "cost savings that other models can't match", thanks to its intuitive technology, which reduces water and softener salt usage.
👍 What We Like
The system is tested to NSF Standard 44, for structural integrity and softening performance, so you know you'll get soft water from this unit.
This Kenmore water softener has a high-flow valve that maintains steady water pressure in your home.
It's easy to install this unit, thanks to its single-tank design.
The softener tackles up to 90 grains per gallon of hardness and up to 8 parts per million of iron, making it a good option for well water treatment.
👎 What We Don't Like
Although the Kenmore 350's tanks have a decent 10-year warranty, the parts and labor only have a 1-year warranty, and the electronics have a 3-year warranty.
The single-tank design of this Kenmore softener makes it more prone to salt bridging than traditional two-tank systems.
Our verdict: The Kenmore 350 is a decent water softener. We like that it's tested to NSF Standard 44 and removes iron as well as hardness. However, the single-tank design makes it more prone to salt bridging, despite its easy installation.
---
Kenmore® 420 Water Softener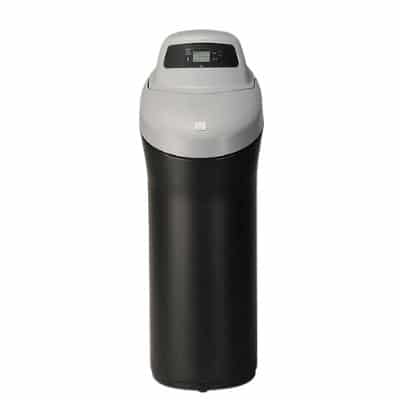 | | |
| --- | --- |
| Price | $ |
| Process | Ion Exchange |
| Grain Capacity | 40K |
| Water For | Up to 5 People |
| Flow Rate | 9.5 GPM |
| Regen Method | Metered |
| Warranty | 10 yrs (tank), 3 yrs (electronics) |
The Kenmore 420 is exactly the same as the Kenmore 350, apart from one thing: this Kenmore water softener is 40,000 grains, and is for households of 1-5 people.
See the pros and cons of the Kenmore 350 to learn what we think about this design.
---
Kenmore Elite® 520 Hybrid Water Softener + Filter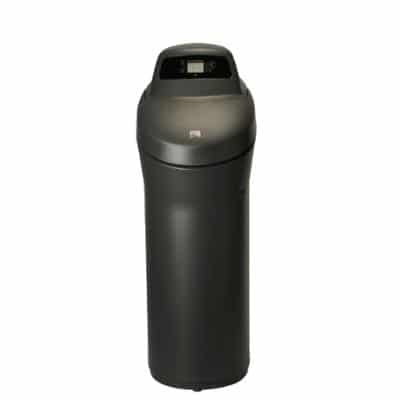 | | |
| --- | --- |
| Price | $$ |
| Process | Ion Exchange |
| Grain Capacity | 31K |
| Filter Capacity | 500,000 gallons |
| Water For | Up to 4 People |
| Flow Rate | 8 GPM |
| Regen Method | Metered |
| Warranty | 10 yrs (tank), 3 yrs (electronics) |
👍 What We Like
This Kenmore system does more than your average softener system. It can reduce hard water minerals, barium, radium, clear water iron, and chlorine taste.
The Kenmore Elite 520 is certified to NSF Standard 44 for hardness reduction and efficiency, 226/228 for barium and radium, and 372 for lead-free components.
This Kenmore softener has an automatic salt tank light that notifies you when the unit is running low on salt.
The standard high-flow valve keeps water pressure high around your home.
👎 What We Don't Like
The single-tank design more prone to salt bridging
Again, the warranty for the Kenmore water softener parts in this system could be better.
Our verdict: There are a lot of reasons to like this Kenmore softener and filter system. With an ultra-flow valve to maintain fast flow rates and an all-in-one easy-install design, it's easy to see the appeal of the 520. However, this system suffers the same salt issues as the 350. There are clear advantages to the single-tank design, but the salt bridging affects the performance of the system.
---
✅ What We Like About Kenmore Water Softener Units
Let's take a look at the benefits of the Kenmore water systems on offer today:
Single-Tank Design
All Kenmore water softeners currently available have a space-saving, convenient single-tank design. The brine tank and the resin tank are all maintained within a single free-standing unit.
Highly Efficient
Kenmore claims its products are the "most efficient water softeners", and while we wouldn't go that far, we're impressed with the features – such as the smart water monitoring system – that prevent excess salt consumption and water usage in the systems.
Easy Install
The single-tank design of the Kenmore units makes them a breeze to install. There's no separate salt tank to hook up to your water supply.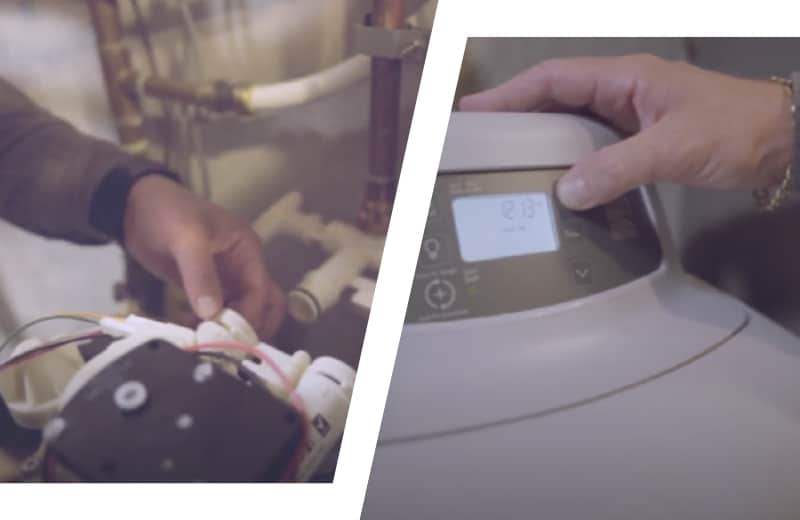 Affordable Softeners
The Kenmore brand offers a good selection of entry-level water softener systems. If your budget is small and you want to buy your first water softener, a Kenmore softening system may appeal to you.
Good Usability
There are several features in the Kenmore models that make them easy to use, including the low salt indicator, which lets you know when the unit's salt levels are low.
Durable Design
The Kenmore systems have an "ultra cleansing" feature that prevents a buildup of large sediment particles, ensuring high-quality long-term performance.
NSF Certified
Kenmore systems are tested and certified to various National Sanitation Foundation (NSF) Standards for softening and filtration (depending on the system). You should feel confident buying any of Kenmore's softening products.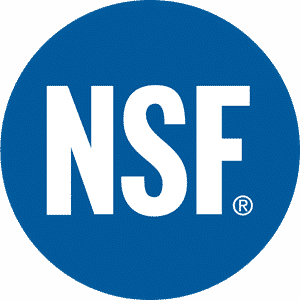 Effectively Tackles Water Hardness
The Kenmore softeners can tackle up to 35 grains per gallon of hardness. You're guaranteed to achieve soft water with these high-quality water softeners.
Softening and Filtration Potential
The Kenmore 520 acts as a water filter and a water softener. If you don't want to buy a separate water filter and softener, you can save money and space by installing this single unit.
Warranty
When you buy from Kenmore, your system will be protected by a 10-year warranty on the tanks, and shorter warranties on the parts and electronics.
❌ Potential Setbacks of Kenmore Water Softener Systems
Problems With Salt Brining
The Kenmore systems are prone to a buildup of solidified salt due to their all-in-one design. You can't do anything to prevent these hard salt formations; you can only check the tank regularly and remove buildups before they affect the system's performance.
No Salt-Free Alternatives
At the moment, Kenmore doesn't offer any salt-free softeners for people who want to keep their salt consumption to a minimum. All Kenmore systems can only operate with the use of softening salts.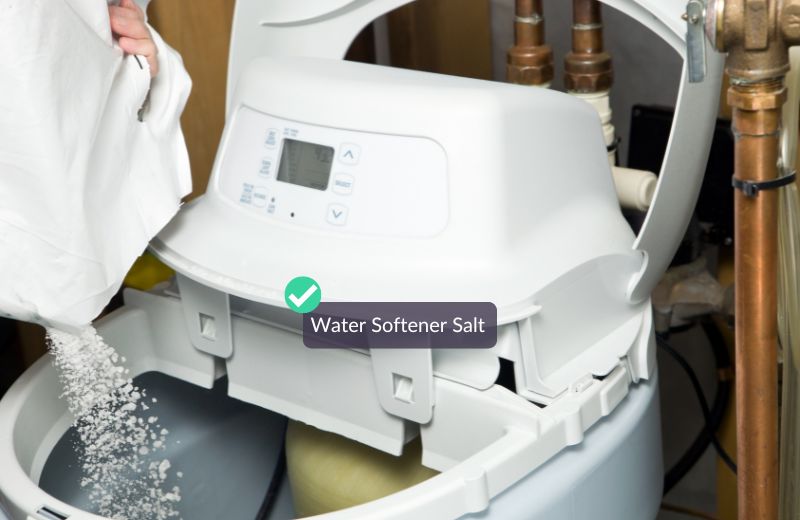 Electronic Controller Corrosion
Because of the compact design of the Kenmore tanks, many customers reported that the electronic controller is prone to corrosion and needs replacing in a matter of years. One customer suggested installing a flexible plastic liner beneath the controller to prevent this from happening, but it still isn't ideal.
🤔 Are Kenmore water softeners still available?
You may know that Sears, the manufacturer of Kenmore products, filed for bankruptcy in October 2018.
Luckily, the Kenmore brand still exists. Sears was acquired by Transformco, and you can still buy Kenmore water softeners on Amazon and similar websites.
What does this mean for product warranties? If you purchased a Kenmore softener before Sears' 2018 bankruptcy, your warranty is still valid.
📝 Kenmore Water Softener Reviews: Our Verdict & The Best Softener Alternatives
On the face of it, the pros of owning a Kenmore salt-based system far outweigh the cons. However, the cons are pretty significant, so we wouldn't ignore them.
Yes, Kenmore softening systems are affordable, and yes, they're efficient. You'll help to save money by minimizing your salt and water consumption with these units.
With that said, there are some potential issues regarding performance and durability. The classic single-tank design of the Kenmore softening systems might make them easy to install, but it also makes the tank prone to salt-bridging and corrosion of the electronic controller.
Our advice is to avoid the Kenmore company until or unless these issues are resolved. There are other water softening systems that provide the same high-efficiency softening results without the long-term damage. We're not sure how many years the Kenmore systems can realistically last, and how many replacements of various parts you'd have to make within that time.
Wondering what we do recommend?
We've reviewed tens of water softeners in our years of publishing at WaterFilterGuru, and the salt-based softening unit that consistently outshines its competitors is the SpringWell Salt Based Water Softener System.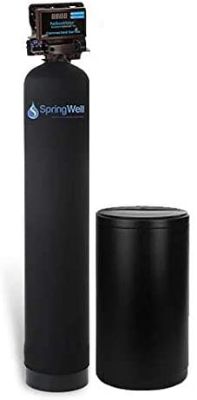 SpringWell SS Salt Based Water Softener System
The SpringWell SS is the best value-for-money traditional water softener for well water, eliminating scale with the most efficient performance on the market.
SpringWell also offers a fantastic salt-free conditioner, the SpringWell FutureSoft.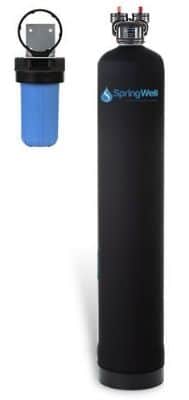 SpringWell Futuresoft Salt-free Water Softener
Using an effective salt-free softening method, the Futuresoft is the best low-maintenance water conditioner available to buy.
We've shared more information about the SpringWell softeners, and reviewed our other favorite water softeners, in this 2023 guide.
🧠 Kenmore Water Softeners FAQ
How much are Kenmore water softeners?
The price of a Kenmore system depends on where you're looking and which system you're interested in, but the average price for a single unit is $600-$1,000.
Where can you buy Kenmore softening units?
Amazon, Lowe's, Sears, and Kmart are all stores that sell Kenmore's softening products. You get better deals if you shop and compare prices online.
How long do Kenmore systems last?
When well-looked-after, Kenmore whole-house water softeners have a lifespan of about 10 years, but some customers have had issues with parts corroding after just a few years.