🧾 Overview
The iSpring DF2 is a faucet mount water filter with an impressive 500 gallon filter life and a flow rate of 1.5 GPM.
This filter can reduce both chlorine and chloramine, which affect water taste and odor. It can also deeply filter lead and bacteria (including E-coli), and moderately filter hydrogen sulfide.
As an affordable faucet filter option provided by one of the most well-known brands in water filtration, the iSpring DF2 has a lot going for it already – and it lives up to the brand's reputation for reliability and quality.
The filter can last for up to 8 months, which makes this product a very good value when compared to the average lifespan of other faucet filters (roughly 2 to 3 months). Keep in mind, though, that actual lifespan depends on your water usage and the level of contaminants present in your water. The DF2 system comes with everything you need for easy installation, and even has an incredibly handy universal adaptor for connecting up to a range of standard faucets.
💡 Features
Filter cartridge
The DF2's filter can reduce chlorine, chloramine, lead, bacteria and hydrogen sulfide at a rate of up to 1.5 GPM. It can filter roughly 500 gallons of water before it needs replacing.
Filter housing unit
The system's filter housing unit is made from chrome, so it'll blend in with your kitchen faucet and shouldn't crack or break as easily as plastic alternatives.
Universal adapter
With a universal adapter for connecting up to multiple standard faucets with external and internal threads, the iSpring DF2 makes installation far simpler. There's still a small chance that your faucet might not fit the adapter, though, so check sizing before you buy.
Installation instructions
Though installation is fairly simple, the DF2 still offers step-by-step instructions that you can use to make sure you're doing everything right.
🚦 Performance
The iSpring DF2 is one of the more advanced faucet filters available today, and that's largely reflected in its performance. The filter can last for up to 8 months, which will help you to get more use out of each cartridge before it's time for a replacement.
It's also capable of filtering water very quickly, at a rate of 1.5 GPM – roughly equating to 10 bottles per minute – so you won't need to wait around for your water when you turn on the tap.
The range of contaminants that the iSpring filter can remove is impressive, too. Most filters can only reduce either chlorine or chloramines in drinking water, but the iSpring can reduce both. It can also reduce lead, cysts, and irritable metals, like VOCs, lindane and atrazine.
The real bonus of the iSpring faucet filter is that it can remove bacteria, including E-coli, which the majority of faucet filters aren't capable of.
🔧 Installation & Maintenance
The iSpring DF2 comes with everything you need for installation, including a universal adapter that can be fitted to most standard faucets.This is pretty handy, as most filters come with five or six adapters that you have to add to your filter one-by-one to work out which will fit your adapter by process of elimination. Keep in mind, though, that the filter won't fit non-standard faucets, like sprayer faucets and faucets with a sensor.
It takes approximately 10 to 15 minutes to fully install the iSpring faucet filter. For external threaded faucets, you just remove your faucet's aerator if it has one, then place the sealing washer into the filter's metal connector, connecting it up to your faucet. Internal threaded faucets should be able to connect up to the metal adapter without the washer.
The only maintenance you'll need to do on the iSpring is filter changes, but as the filter can last up to 8 months, you won't need to spend too much time (or money) on that.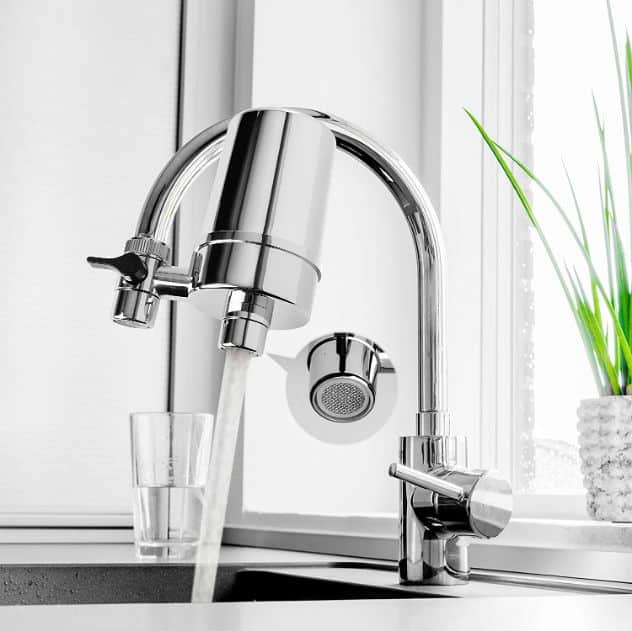 📝 Filter Info
The iSpring's filter is designed to filter water at an impressive flow rate of 1.5 GPM. It's one of the more advanced faucet filters of its kind, as it removes both chlorine and chloramines (most filters only remove one or the other), plus bacteria like E-coli (this is beyond the capabilities of most standard faucet filters). It can also reduce lead, VOCs and other taste-affecting metals in water, and reduces cysts.
One of the benefits of this filter is that it can handle hot water. You can run water through the iSpring DF2 at temperatures up to 176 degrees, and it won't melt or crack from the heat as many plastic devices would. This means you can use filtered hot water for cleaning your dishes and washing your hands if you wish.
🔔 Pros & Cons
Pros
500 gallon filtration rate
Can be used with hot water
Reduces chlorine and chloramines, as well as bacteria and cysts
Cons
Doesn't remove TDS
May not fit all faucets
❔ Frequently Asked Questions
Does this unit filter out sediments?
It's capable of filtering out a small amount of sediment, but not excessive amounts, which could clog the filter.
What material is the filter made of?
The filter is a carbon block design.
What micron rating is the filter?
It doesn't have a micron rating, as it has multiple layers of media with different micron ratings that can remove contaminants of different sizes.
How do you switch from filtered to unfiltered water?
You can turn the diverter handle to line up with the connector for unfiltered tap water, and turn it back again for filtered water.
Does this come with a filter cartridge?
Yes, one cartridge is included. Once this filter needs replacing, you will need to buy more filters directly from the manufacturer or other stores online.
Found this review helpful?
Comment below or share this article!