🧾 Overview
The iSpring CKC1C is a countertop water filter that's designed to remove over 95% of chlorine and other contaminants. The unit comes with everything that's needed for installation, including the first filter. The filter housing itself is clear, allowing you to keep an eye on the filter and determine when it needs changing without needing to take it out for inspection.
As a portable countertop filter, you can take the iSpring CKC1C with you when you move houses and travel to compatible destinations in the US. The filter system comes with an adapter, so if your faucet isn't standard, you may still be able to connect it up to the unit (though check with the manufacturer to be certain before you purchase).
With a 10-inch filter cartridge, the unit will remove any particles that are larger than 5 microns in size, like chlorine, pesticides and herbicides, chemicals, and sediment like sand, dust and rust.You can expect the filter to last approximately six months, or 500 gallons, before it needs changing.
💡 Features
Carbon Block Filter
The iSpring CKC1C's filter is a CTO carbon block design, and removes sediment, chemicals, and anything that may give water an unpleasant taste or odor.
Diverter valve, hose & washers
You can connect the iSpring CKC1C to your kitchen sink faucet using the diverter valve, the connecting hose, and 2 sealing washers.
Faucet adapter
The unit comes with a faucet adapter for non-standard kitchen sink faucets. This adapter won't fit all non-standard faucets, so communicate with the manufacturer when necessary before making a purchase.
Clear filter housing
The iSpring CKC1C's see-through housing lets you keep an eye on the filter and estimate when you'll need to change it.
Instructions manual
Installation is pretty simple, but if you want to check you're doing the right thing, there's a handy instructions manual that covers everything you need to know. iSpring also features images on its website that give a visual representation of what installation should look like.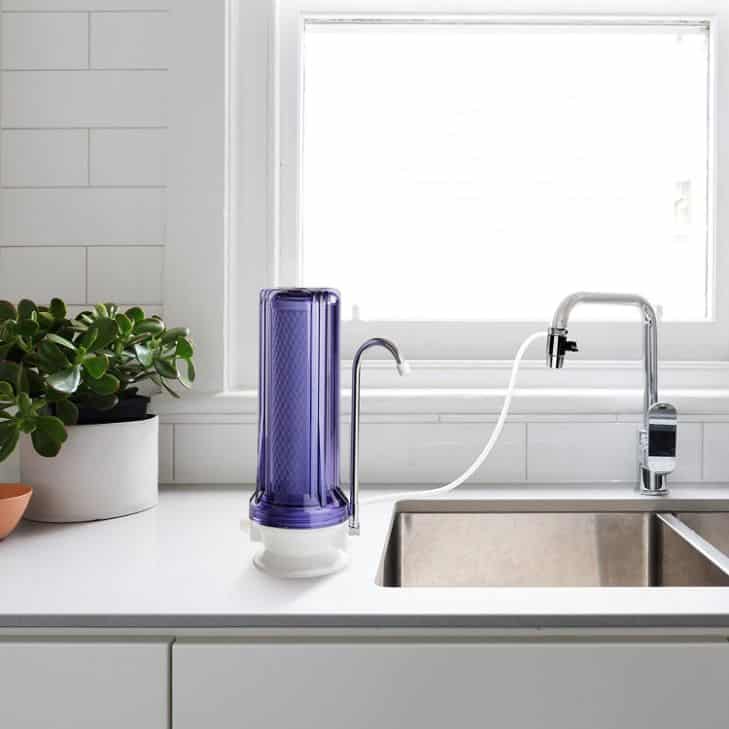 🚦 Performance
The name of the iSpring filter suggests that filtered water should taste like spring water. While the unit doesn't quite master this, the water still tastes and smells a lot fresher and cleaner than standard, unfiltered tap water.
Being connected to a kitchen sink faucet also means that filtered water is produced instantly, so there's no waiting around for the filters to do their thing. With the clear filter housing, you can watch the filter at work when your tap is turned on, making it easier to detect leaks and other filter issues if they ever arise.
It's advertised to remove a whole host of contaminants from tap water, and the iSpring CKC1C meets expectations for the most part. The unit removes chlorine from tap water particularly well – you can test this out for yourself using a chlorine testing kit. You'll need to run water through the unit for roughly five minutes after installation to get it to run clear, and you should benefit from better-tasting water from that moment on.
🔧 Installation & Maintenance
Installing the iSpring CKC1C is simple enough that everyone can do it, no plumber or handyman required. You'll just need to put the filter into the housing, then connect the unit up to your faucet with the hose and diverter valve attachment. If your faucet is non-standard, request an adapter, which should solve the connection issue.
You will need to replace the filter with another 2.5×10-inch filter cartridge after 6 months or 500 gallons of water. Just unscrew the unit, remove the old filter, and replace it with the new one. The unit is designed for the filter to slot snugly inside, but it's worth checking it sits right in the middle of the housing before putting the filter to use. Changing the filter is a one-minute job, and the user manual can offer any guidance if you need it.
📝 Filter Info
The standout of the iSpring CKC1C is that it uses a 10-inch filter, which is pretty rare for a countertop water filter. This essentially means that the filter has a bigger surface area to more effectively trap drinking water contaminants. It can remove particles bigger than 5 microns in size, including pesticides, herbicides, chlorine, sand, dust, rust, and other sediment.
If you're looking for a filter that can improve water's taste and odor, you'll be impressed with the iSpring CKC1C. Keep in mind, though, that it won't filter particles smaller than 5 microns. For this, you'll most likely need a reverse osmosis system.
The standard filter that comes with the iSpring CKC1C is effective at what it does, but you're free to replace it with any 10-inch filter of your choice – not necessarily one by iSpring. This flexibility of choice is particularly useful if you have a favorite filter that you have previously used on a larger unit.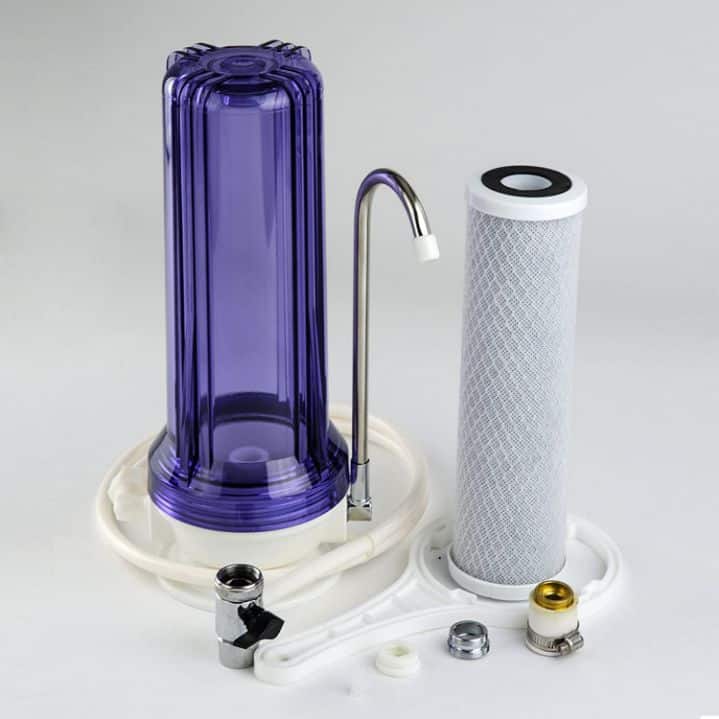 🔔 Pros & Cons
Pros
Clear filter housing for keeping an eye on the filter and changing when necessary
Larger filter at 10 inches (can also be used with other 10-inch filters)
Improves taste and odor of water
Slim, lightweight and portable
Cons
Doesn't react well to very high water pressure – no flow restrictor
Instructions aren't very clear
❔ Frequently Asked Questions
Does this filter remove chlorine?
Yes, the iSpring CKC1C removes chlorine
Can I use a higher grade filter than the one this system comes with?
Yes, you can use any 10-inch filter in this system
Where can I get replacement filters?
Because this system allows you to use any 10-inch filter, you can get replacement filters wherever is convienet for you. Online directly from the manufacturer or another distributor, or your local home improvement store
Does this system lower total dissolved solids (TDS)?
No, you need a reverse osmosis system to reduce total dissolved solids (TDS)
Found this review helpful?
Comment below or share this article!