🧾 Overview
The Isla is a stainless steel water distiller designed for at-home use. This compact distillation unit purifies water at a faster rate than a traditional distiller. It's easy to set up, comes with crystals to simplify cleaning, and requires virtually no maintenance.
📝 System Specifications
Size of unit: 8" x 14 ¼"
Size with collection jug: 8" x 16" x 14 ¼"
Voltage: 230V
Power: 800W
Weight: 3.5 Kg/ 7.7 lbs
Boiling chamber capacity: 4l
Collection jug capacity: 4l
Frequency: 50HZ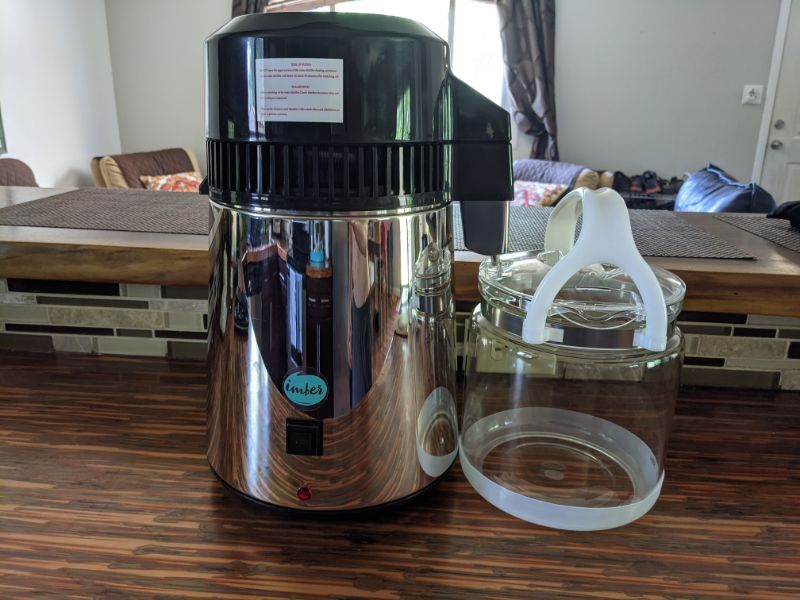 💡 Features
Durable, BPA-free materials
The body of the Imber Isla is made from 100% durable stainless steel. This includes the boiling chamber and the condensing coil. Any plastic components in this system are BPA-free.
4 liter collection jug
The Imber Isla includes a glass collection jug that holds up to 4 liters of water. The boiling chamber also has a 4 liter capacity, so the collection jug is large enough to hold a single batch of distilled water.
Automatic shut-off
You don't need to remember to switch the Imber Isla off once it has completed a distillation cycle. To prevent overheating or damage to the system, it will automatically shut off once distillation is complete.
Activated carbon sachets
Some impurities are capable of evaporating and condensing with water during the distillation process. As a final layer of defence, the Isla comes with activated carbon sachets to remove any remaining contaminants.
Cleaning crystals
200g of cleaning crystals are included with your initial purchase of the Imber Isla. These crystals make it easier to clean out the boiling chamber, removing scale and contaminant build-up. They can be bought separately from the manufacturer when you need more of them.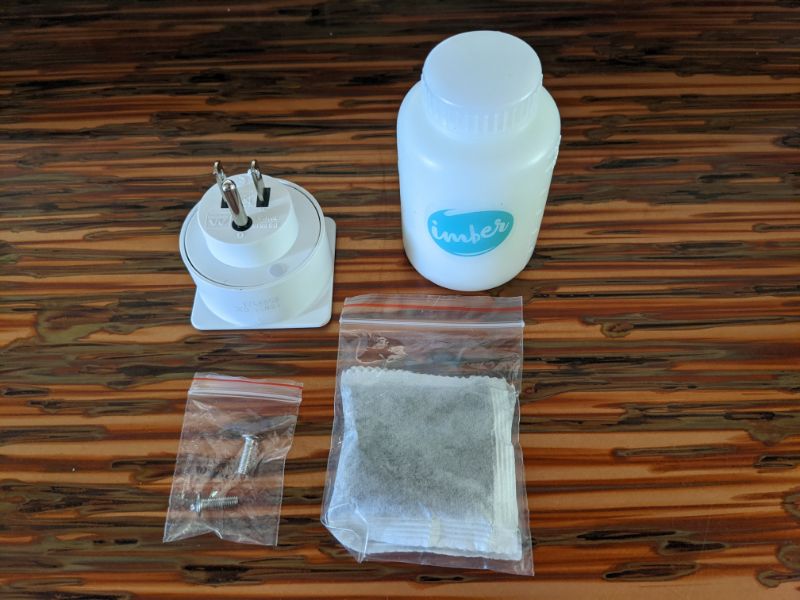 🚦 Performance & Efficiency
Distillers are known for being one of the most highly effective means of purifying water, and the Imber Isla is no different. Though relatively compact in size, this distiller is incredibly powerful, and can remove more than 99.9% of all impurities, from bacteria to lead, chlorine to hardness.
If your water contains VOC gases, these may still be present after the distillation process. The Isla comes with activated carbon sachets that remove these gases. In all, this results in the highest quality of clean, purified water.
In terms of heat output, the Imber Isla is pretty average for a distiller, using 800 W of power to operate. You'll likely notice an increase in your electricity bill, but at an average of 10-15 cents per liter of distilled water, it's not something that should make or break your buying decision.
What's really impressive about the Isla is that it offers a much faster distillation rate than a typical distiller. It's capable of distilling up to 24 liters of water a day – considering we should aim to drink around 1.5 to 2 liters a day, this would provide enough daily water for 12 people if the system was in constant use.
➰ Chamber, Heating Element & Filter Info
The boiling chamber is made from stainless steel, which tends to be the longest lasting material for systems that are exposed to high heat. It has a 4-liter capacity – enough to distill a batch of water large enough to provide for 2 people over the course of a day.
The Imber Isla uses a smaller heating element compared to the majority of other distillers out there. This heating element is actually more effective, as well as being safer. Water distillers that use a larger and more powerful eating element usually need something called a splash shield, which can be less effective in preventing contamination.
The activated carbon sachet sits inside the filter pour spout. It's important to use if your water contains VOCs, but if your water doesn't, you can operate the system without including this sachet.
Also at the spout is a porous, lead-free nozzle insert that's made from stainless steel, preventing your newly-distilled water from coming into contact with plastic.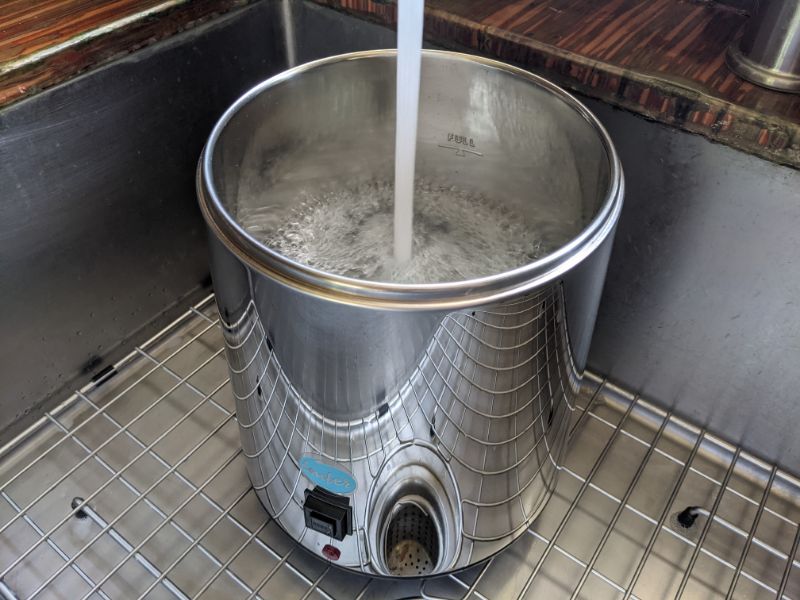 🧽 Cleaning & Maintenance
The stainless steel interior of the Isla is easy to clean – you can wipe it down by hand using a cloth and some water. The glass carafe can also be cleaned easily with warm, soapy water.
Occasionally, you'll need to tackle scale buildup inside the boiling chamber. The Isla comes with a 200-gram batch of cleaning pellets to get you started with this. Once you run out, you can buy some more from the manufacturer. An alternative is to use vinegar to clean out the system, though this will take a little extra work.
There's very little additional maintenance to think about with this unit. As a distiller, the Isla doesn't have multiple filters that require changing, and it doesn't need backwashing or regenerating. This makes it a great choice for anyone looking for a low-effort water purification solution that won't cost a lot of money to maintain.
If you choose to use the activated carbon sachets, these will need replacing every 6 months if you carry out 2-3 cycles of distillation per week, and more frequently if you use your system more often than this. A box of 10 sachets costs just over $10, so replacing these filters certainly won't break the bank.
🔔 Pros & Cons
👍 What I Like
Low-maintenance water purification
Highly effective – removes up to 99.9% impurities
Comes with cleaning crystals for boiling chamber
Fast – produces up to 24 liters of water per day
👎 What I Don't Like
Activated carbon sachets will likely need changing frequently
Not as fast as other forms of filtration
❔ Frequently Asked Questions
What's the warranty for the Imber Isla?
The distiller system has a 2-year warranty on all parts and labor.
Is the system easy to set up?
Yes, it's pretty self-explanatory. The unit gets shipped with a "welcome home" guide that offers instructions on how to complete the setup, too.
Are there any refund policies?
Yes. If you wish to return the system within 28 days of buying it, you can do so, and you'll receive a full refund. The product will need to be in its original packaging and in "as new" condition.