Flushing a tankless water is an essential maintenance task that you shouldn't avoid. Sediment and limescale accumulate in the heater over time, and periodically flushing the system gets rid of these impurities and prevents blockages, reduced flow, corrosion, and other associated issues.
In this guide, we've shared how to flush your tankless water heater in 8 easy steps.
📌 Key Takeaways:
You should flush your tankless heater to prevent sediment buildup and scale, which could affect the heater's performance and shorten its lifespan.
Ideally, flush your heater every 6-12 months to properly maintain the unit.
🚰 How To Flush A Tankless Water Heater In 8 Steps
Follow these 8 steps to flush your tankless water heater:
Step 1: Shut Off The Water And Gas Supplies
If your heater is gas-powered, you'll need to switch off the gas by finding the gas supply valve and turning it until it's at a right angle to the pipe. No need to shut off the heater's power.
Also shut off the hot and cold water valves (the cold water inlet valve should be blue, and the hot water valve should be red). Shut off the cold water valve first, then open a few hot water taps in your home to drain the water before shutting off the valve for the hot water.
Turn the valve until it's perpendicular to the pipe, which tells you that it's off.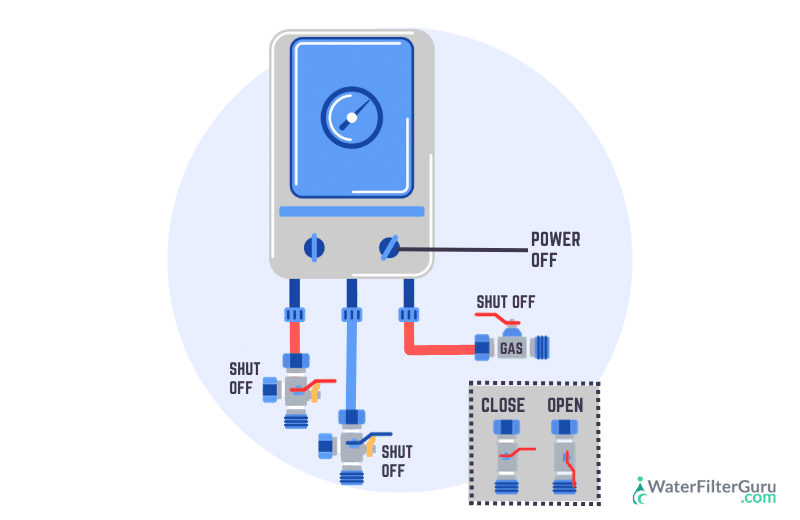 Step 2: Buy A Flushing Kit
We strongly recommend buying a water heater flushing kit to use over the next steps. These kits cost around $100-$130 and come with everything you need to flush tankless water heaters, including hoses, a submersible or sump pump, buckets, and adaptors.
You'll also need to buy your own cleaner to use in the kit. You can buy a tankless water heater descaler solution online for around $20-$40, or use white vinegar (an affordable natural cleaner).
Once you have your flushing kit and cleaner, you're ready to move on to the next step.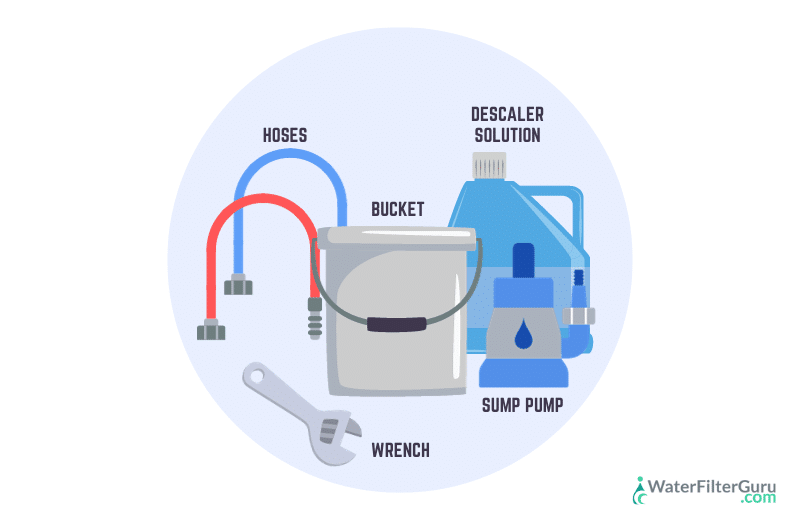 Step 3: Connect The Inlet And Outlet Hoses
Unbox your heater flushing kit and connect the hoses to the heater's inlet and outlet valves. Check the valves to see if you need to remove a cap before connecting the hoses.
If your hot water heater doesn't have isolation valves installed, you'll need to disconnect and drain it, then attach the hoses directly to the hot and cold connections.
Ensure the valves and hoses are watertight after connecting (use pliers if necessary) to avoid leaking while you flush the system.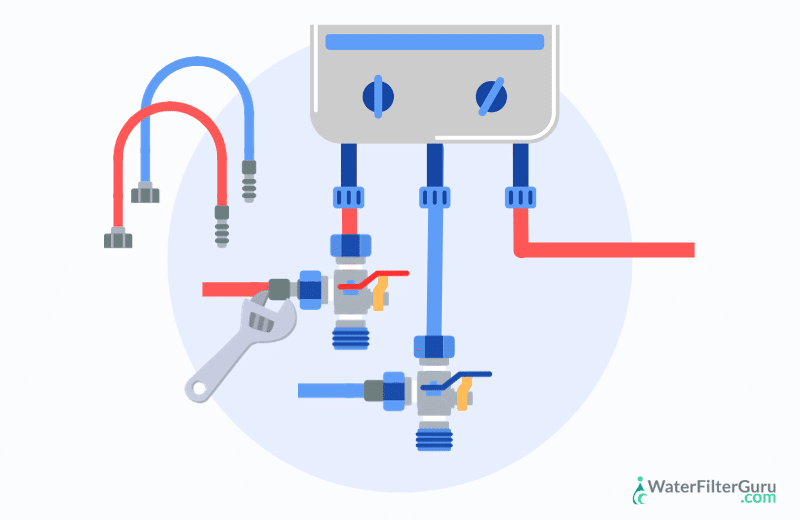 Step 4: Connect The Hoses To The Sump Pump
Next, connect the hoses to the circulation pump or sump pump included in the heater flushing kit.
One end of the cold water hose needs to be connected to the circulation pump. Place the hot water hose end in a bucket. Place the submersible pump in another five-gallon bucket.
This setup should allow the cleaning solution to travel through the heater, removing sediment and minerals.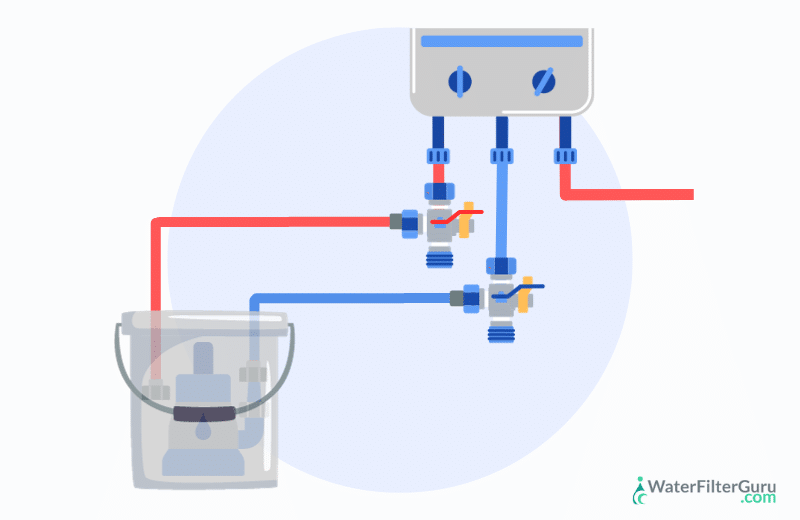 Step 5: Add A Cleaner
Follow the instructions included with the heater flushing kit to add 2-3 quarts (or however much is recommended by the manufacturer) of white vinegar or a heater descaling solution to the inlet bucket.
A cleaning agent will do a better job in less time, but you can still get good results from using vinegar as an affordable alternative.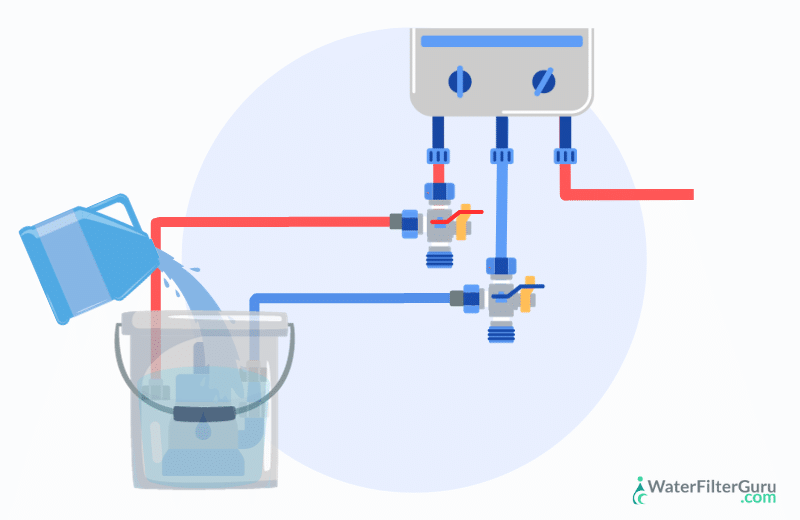 Step 6: Open The Water Valves
You can now begin the flushing process by opening the water valves, starting with the cold water valve. This will allow water to flow through the heater and activate the pump. You'll hear water rushing through the system.
From here, wait for 45-90 minutes for the heater to flush thoroughly. During this time, the cleaner will circulate through the heater again and again. Check the user manual for the cleaning agent for specific instructions for the kind of cleaner you're using.
If you're flushing your heater with vinegar, allow the heater to flush for at least 90-120 minutes.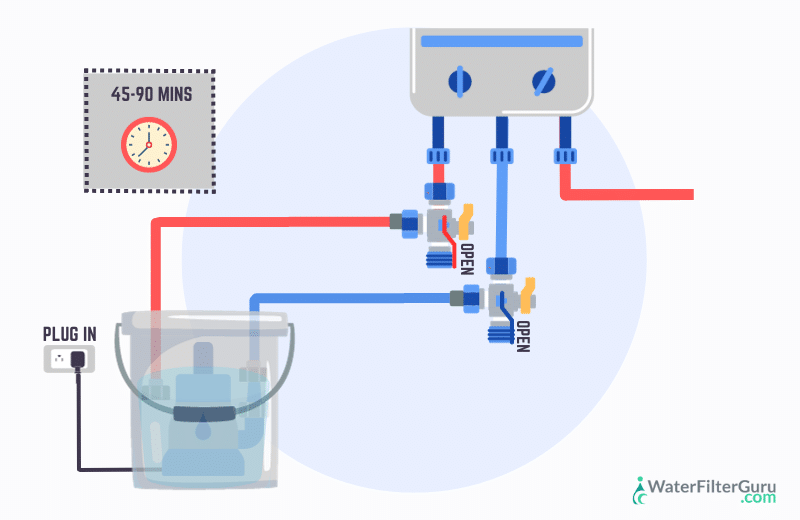 Step 7: Flush The Cleaner Out Of The Heater
The cleaner should now have done its job and can be flushed out of the heater. Turn the pump off, then turn off both the valves.
Disconnect the inlet valve hose and turn on the cold water intake valve, keeping the hose connected to the hot water outlet valve. The water will flush out of the hose and into the bucket. Continue this flushing process for 5-10 minutes. Turn off the cold water inlet valve and the service port and remove the hose.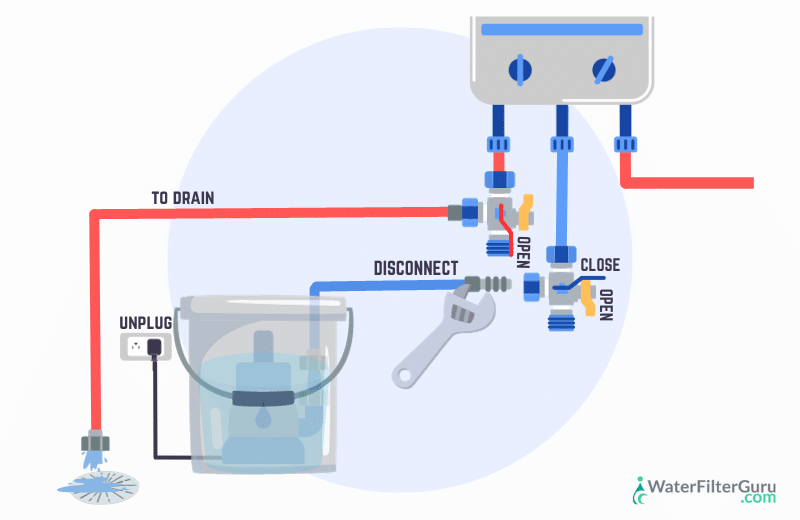 Step 8: Switch Water & Gas Back On
Now your heater is flushed, your final task is to turn on the gas and water supply valves. You can now return to using your tankless water heater as normal.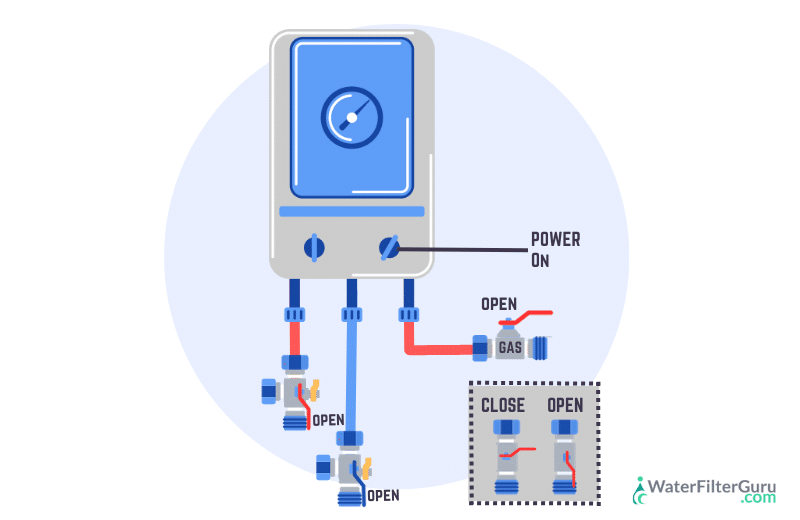 🤔 Why Flush Your Tankless Water Heater?
You should flush your tankless water heater to help maintain optimal performance and extend its lifespan – so you can get efficient heating for longer before having to invest in a new appliance.
Over time, mineral deposits, scale, and sediment accumulate within the heater's heat exchanger and other internal components. This buildup reduces the heater's efficiency, hinders heat transfer, and may even decrease hot water output and increase energy consumption.
Flushing the heater with a cleaning agent helps dissolve and remove these deposits. Regularly flushing your tankless water heater not only maintains the unit's efficiency but also prolongs its lifespan, reduces the risk of damage, and ensures that the water heater continues to deliver hot water at your preferred temperature, making it a necessary maintenance practice that you shouldn't ignore.
📆 How Often Should You Flush A Tankless Water Heater?
You should aim to flush a tankless water heater every 6-12 months – or every 24 months at the very least. The more regularly you can flush your tankless heater, the better you'll protect it against mineral buildup and sediment damage. However, there's generally no need to flush your heater more frequently than every 4-6 months.
Check your heater's user manual for guidance on flushing for your specific unit. You might need to flush the heater more often if you have hard or very hard water or high-sediment water (common if your water comes from a private well).
🆚 DIY Tankless Heater Flushing Vs Paying A Professional
You can follow the steps in this guide to flush your tankless water heater yourself. You don't need to be a plumbing expert or have a license to undertake this element of tankless water heater maintenance.
However, you might prefer to hire a professional plumber to flush your water heater tank's heating chamber on your behalf.
The advantage of DIY flushing a tankless water heater is that it's cheaper and more convenient. You can plan to flush the heater when you have enough time at home, without having to interrupt your schedule to make sure you're available for whenever a plumber might be free. Once you've bought a flushing kit, the only recurring cost is the cleaner.
Overall, you can spend less than $175 in your first year to flush the heater twice, and less than $20-$75 in the following years, depending on the type of cleaner you opt for.
Hiring a plumber, on the other hand, means you can sidestep the hassle of this routine maintenance job and let an expert handle it. Hiring a plumber also greatly reduces the risk of leaks and other adverse outcomes that could occur due to flushing by an inexperienced homeowner (you). However, the downside of professional flushing is that the cost adds up quickly.
Most plumbers charge $150-$250 per flush, so if you flush your heater twice a year, that'll set you back as much as $500 annually.
📑 Final Word
In this guide, we've discussed the general process involved in flushing a tankless water heater. But it's always best to check the instructions manual for your specific water heater to ensure you're following the right process for the unit.
Can't find your heater's user manual? You should be able to find it by Googling the heater product name. If you don't know this information, contact the manufacturer to see if they can help.
❔ FAQ
Can I flush my tankless water heater myself?
Yes, you can flush your tankless water heater yourself. You can buy flushing kits and cleaners for tankless water heaters online, and the flushing instructions are pretty straightforward.
What happens if I don't flush my tankless water heater?
If you don't flush your tankless water heater, sediment and hardness minerals will accumulate in the heater unit, preventing normal heating activity. The heating elements will work less efficiently and may eventually fail to heat water to your desired temperature, and water flow through the system may slow. Corrosion and scaling in the heater's components may also cause irreversible damage that shortens the heater's lifespan.
What do you use to clean a tankless water heater?
The best solution to use for a tankless water heater is a dedicated hot water heater cleaning formula. You can buy concentrated descaling solutions for tankless water heaters online. Alternatively, you can use distilled vinegar to flush your heater, but this natural solution isn't as effective.
How much does it cost to get a tankless water heater flushed?
The cost of getting a tankless water heater flushed is around $150-$250, depending on how much your local plumbers charge. We recommend contacting two or three plumbers for quotes before deciding on somebody for this service.