Water is an essential component of human life, necessary for the proper functioning of our bodies. We all know that drinking water is important for staying hydrated, but have you ever wondered how long it takes for our bodies to digest water?
This seemingly simple question has a surprisingly complex answer, involving multiple organs and biological processes.
In this blog article, we will explore the topic of water digestion in the human body.
We will discuss the various stages of water digestion, the role of different organs in the process, the difference between digesting a meal vs. water, and the factors that can affect how long it takes for water to be digested.
By the end of this article, you will have a better understanding of how your body processes the water you drink and the importance of staying hydrated for your overall health and well-being. So, let's dive in!
📌 Key Takeaways
Water is absorbed quickly – in as little as five minutes!
Several factors impact water digestion speed including your individual metabolism, if you have eaten recently, activity level, as well as certain medications and past medical history.
Water plays a key role in many processes of the body so it is important to stay adequately hydrated. Aim for a minimum of 8 cups daily.
🤔 What is Digestion?
Our digestive system is a collection of hollow-like organs that begin in the mouth and end where we have a bowel movement.
During the digestive process, our bodies break down food into smaller nutrients for absorption so our bodies function properly and ultimately stay healthy!
🔎 How Does Digesting Water Work?
There are three different stages in the process of water digestion. It begins with ingestion, absorption and then elimination. The process involves many organs including the esophagus, stomach, small and large intestine and kidneys.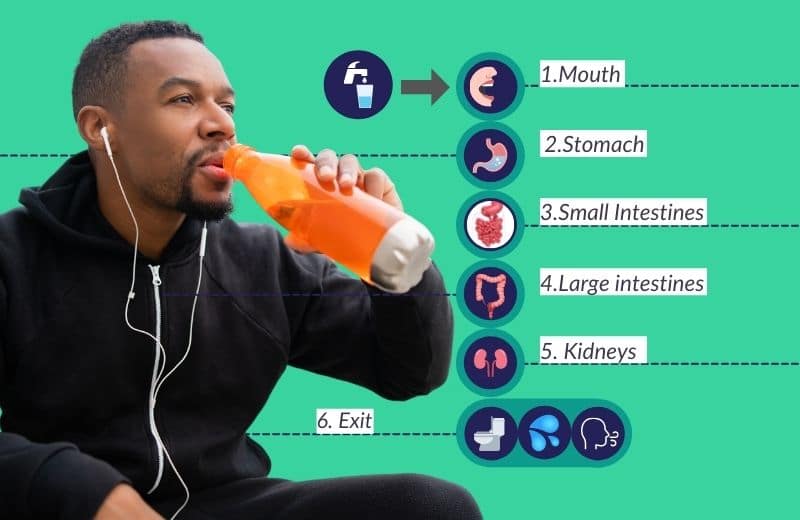 Ingestion
Ingestion is the first stage which of course involves drinking water. When we are drinking water, it goes down our esophagus, and into our stomach where it is mixed with stomach acid and other digestive enzymes. From here, it readily is emptied into the small intestine.
Absorption
The second stage is called absorption and occurs primarily through the small intestine. Nearly all the water is absorbed into the blood stress from the small intestine.
The small intestine absorbs the majority of water and other nutrients including vitamins, minerals, protein, carbohydrates and fats to be used for fuel and other processes in the body.
Elimination
From the small intestine, the water enters the bloodstream where excess water is then filtered out through our kidneys and excreted via urine.
This is a much quicker process than digesting a meal simply because the water doesn't have to go through the entirety of the digestive system like a meal would.
Any water that is not absorbed into the bloodstream passes into the large intestine AKA the colon.
In the large intestine, the water is mixed with waste products and eliminated from the body in the form of stool.
🆚 How Long Does it Take to Digest a Meal vs. Plain Water?
Digesting A Meal
When we eat a meal, it can take about 10-73 hours for our bodies to complete the digestive process through a bowel movement.
This is variable depending on what you have eaten, your individual metabolism and a variety of other factors.
In general, foods rich in fiber, protein and fat stay in your stomach for longer periods of time compared to simple carbs like rice, pasta, and juice.
Digesting Plain Water
Liquids can also be much more quickly digested and absorbed since it is a simpler form and less for our bodies to break down.
On an empty stomach, research has indicated that it can take as little as 5 minutes for water to enter the bloodstream and peaks about 20 minutes after you drink ordinary water. Complete absorption occurs within 75-120 minutes.
In contrast, if you are drinking water with a meal or after a large meal this also impacts how quickly your body will absorb that water. In addition, what you ate at the meal will also likely impact this. 
Related Article: Does Drinking Water Help You Lose Weight?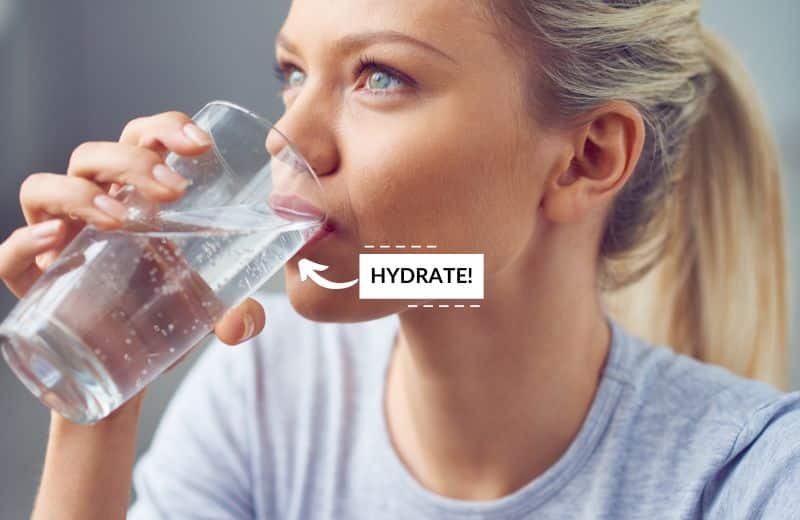 📝 Factors That Affect Digestion
How long it takes to digest food and water is highly variable depending on the individual.
Your metabolism. In general, as we age our digestive speed slows down. It is also highly variable depending on genetics. Some people digest food slower than others.
What you eat. As mentioned above, if you consumed water on an empty stomach vs. during or after a meal this will affect the absorption speed.
Certain medications. Antidepressants, high blood pressure, antispasmodic and pain medications may alter digestion speed.
Past medical history. This includes GI surgeries and some medical conditions.For example, gastroparesis (delayed gastric emptying) significantly affects how quickly the stomach empties food into the small intestine and therefore slows down the overall digestive process.
Movement. An active vs. sedentary lifestyle can impact how quickly your body completes the digestive process.
🩺 What is Water's Role in the Body?
You've heard that water makes up the majority of the human body – so it must be pretty important right? Water plays a key role in many different processes of the body and helps to maintain vital functions.
Below are a few examples of what water does for you:
Regulate body temperature. Water helps to regulate body temperature through sweating and evaporation.When the body gets too hot, water is released through the skin in the form of sweat, which helps to cool down the body.
Regulate bowel movements. Water is important for lubrication of your bowels and helps to prevent constipation.
Protect organs and tissues. Water helps to lubricate organs such as the eyes and the digestive tract.
Flush out waste products. Water is also involved in the removal of waste products from the body through urine and sweat.
Carries nutrients and oxygen to cells. Water is a key component of blood, which is responsible for transporting nutrients and oxygen to the cells of the body.
Helps to absorb vitamins and minerals. Water soluble vitamins require water for adequate absorption. Water is required to dissolve vitamins and other nutrients, making them available for absorption in the digestive tract.
Moistens and lubricates tissues. Water helps to lubricate joints, which reduces friction and minimizes the risk of injury.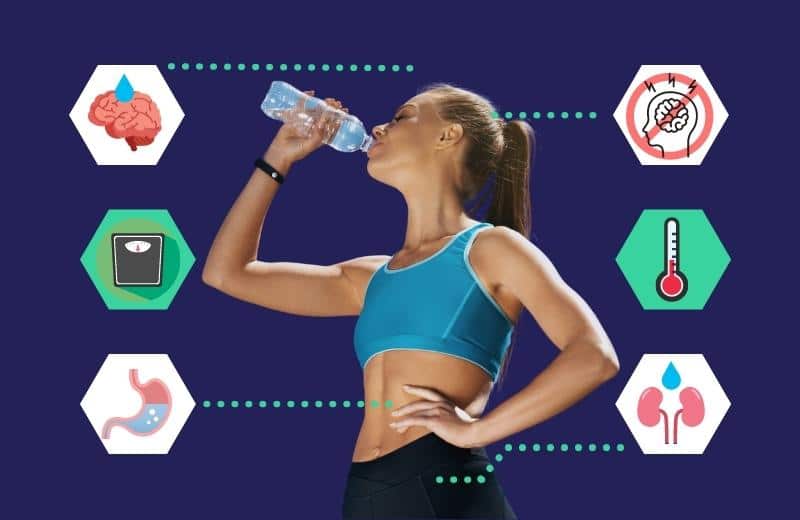 🚰 Importance of Staying Hydrated
As you can see, water does a lot for you! This is why it is so important to stay hydrated.
The most practical way to tell if you're well hydrated is based on urine color. If you have pale yellow urine this tells you that you are adequately hydrated.
If your urine is an amber color, you are dehydrated and need more water. Typically, at a minimum it is recommended to drink 8-12 cups of water daily.
Sometimes you may need more water depending on how much you sweat and where you live (altitude, humid climates).
Individuals who sweat large amounts such as athletes or heavy sweaters in general would benefit from additional hydration.
What Happens If I Don't Drink Enough Water?
Not drinking enough water can have serious consequences for your health. When you don't drink water, you can become dehydrated, which means that your body doesn't have enough water to carry out these functions properly.
Mild dehydration can cause fatigue and give you a headache. In addition to these immediate effects, chronic dehydration can have long-term health consequences.
For example, chronic dehydration can increase the risk of kidney stones, urinary tract infections, and other kidney related diseases or damage. It can also lead to digestive problems such as constipation.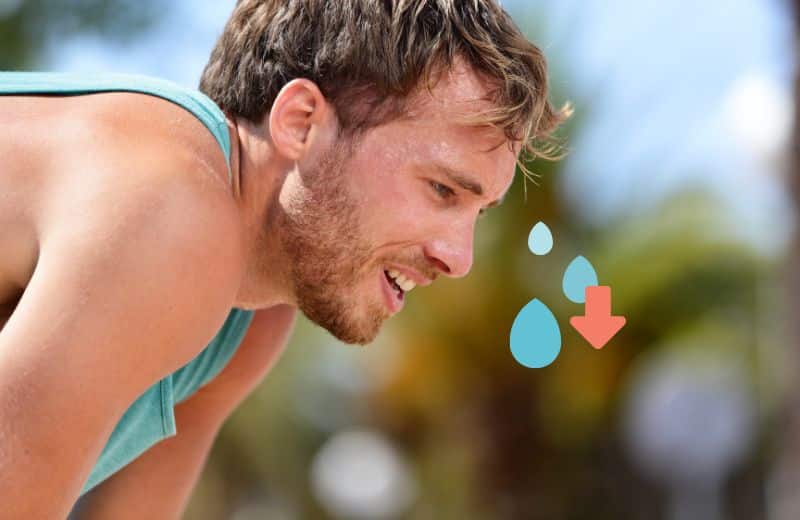 📑 Conclusion
In conclusion, water digestion is a complex process involving several stages and multiple organs. Water is absorbed into the bloodstream in as little as five minutes, and excess water is filtered out through the kidneys and excreted via urine.
The time it takes to digest water can be affected by various factors, including individual metabolism, the presence of medication, and past medical history.
While digesting a meal can take up to 73 hours, when you drink water it is much quicker, as it doesn't have to go through the entirety of the digestive system.
Staying hydrated is crucial for our overall health, as water plays a key role in many different processes of the body, such as regulating body temperature, protecting organs and tissues, and flushing out waste products.
Therefore, it is important to aim for a minimum of eight cups of water daily and pay attention to our body's hydration needs.
❔ Frequently Asked Questions
How Long Does it Take For Water to Digest and Pee?
When you drink water, it takes most people about 15 minutes to 2 hours to pee after. The exact amount of time truly depends on how much water is already in your body or how hydrated you are, whether or not you have an overactive bladder, the volume of water you drink, age and more.
However, if you are very dehydrated, it may take longer for your body to process the water and eliminate excess fluid. In some cases, it may take several hours for all of the water to be eliminated from your system.
How Fast is Water Absorbed in the Stomach?
Water is absorbed very quickly in the stomach. Once ingested, it goes down the esophagus and into the stomach, where it is mixed with stomach acid and other digestive enzymes.
From there, it readily enters the small intestine, where it is absorbed into the bloodstream. On an empty stomach, research has indicated that it can take as little as 5 minutes for water to enter the bloodstream and peaks about 20 minutes after consumption.
Complete absorption occurs within 75-120 minutes. However, if you drink water with a meal or after a large meal, this can slow down the absorption process.
Additionally, certain factors like individual metabolism, activity level, and medical history can also affect the speed of water absorption in the stomach.
How Much Water Can Your Body Absorb In An Hour?
The amount of water that your body can absorb in an hour depends on various factors such as your age, weight, gender, activity level, and overall health.
However, on average, the human body can absorb around 27 to 33 ounces (800 to 1000 milliliters) of water per hour.
It's important to note that the rate of water absorption can be affected by several factors, including the temperature and mineral content of the water, as well as the presence of other substances in the stomach or intestines.
Additionally, drinking large amounts of water at once can overwhelm the body's absorption capacity, leading to discomfort or even nausea. For optimal hydration, it's recommended to drink water in small, frequent sips throughout the day.
Does Drinking Water Digest Faster?
Yes, drinking plain water digests more quickly than a meal. In addition, if you were to drink water on a full stomach, digesting this water would take longer.
Since water doesn't have to go through the full "digestive process" and is absorbed in the small intestine it doesn't take as long as a meal.
As mentioned above it can take as little as five minutes for your body to start absorbing water after drinking water.