🧾 Overview
The Home Master Jr. F2 is a countertop water filter with an extra-long chrome faucet. It's white in color, making it suitable for most kitchen decors.
Installation of this unit is incredibly simple, and will only take minutes to carry out. The design is space-saving, so you'll be able to easily fit it at the back of your sink for convenient use.
In terms of water filtration, the Home Master Jr. F2 uses channel blockers which make sure filtration is evenly spread, helping your water to reach the highest possible quality.
Unlike some countertop water filters, this one will remove fluoride. It will also reduce arsenic, selenium, TOCs and VOCs, and chlorine, leaving better tasting water as a result.
The filter's lifespan is on the shorter side – you'll need to replace it after every 500 gallons of water, or roughly every three months.
💡 Features
Advanced multi-stage granular filter
The Home Master Jr. F2's filter sets it apart from other countertop water filters on the market. The unit uses compression disks at the inlet, outlet and between layers of its filter to ensure water is unable to bypass the filter without cleaning.
Filter housing
The unit that houses the filter is white in color, slim and compact. It features an extra long faucet, so if you don't want to place it right next to your sink, the faucet's end should still be able to reach over your sink area.
Faucet adapter, flexible tubing and diverter valve
Everything you need for installation is included in the kit There's a faucet adapter, sized 15/16 x 13/16, for if the diverter valve doesn't fit straight onto your faucet. The flexible tubing attaches the unit to your faucet. There's a lever to divert water out of your faucet when you don't want to use your filter.
Instruction manual
It takes just minutes to set the Home Master Jr. F2 up at your sink, and the instructions provide a handy reference for the job. You'll also find information about when and how to change the unit's filter.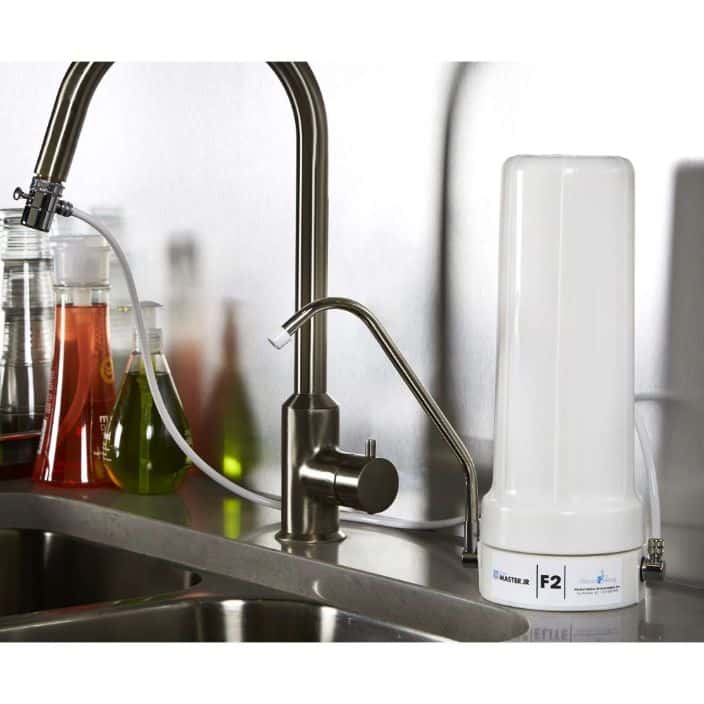 🚦 Performance
The Home Master Jr. F2's design makes it one of the more efficient filters on the market.
While some filter designs make it easy for water to bypass the filter entirely, this unit has a granular filter, which has compression disks at the inlet, outlet and between layers to ensure even filtration. This means that the filtered water is much cleaner, as all of the water has been treated, as opposed to only part of it.
The portability of the Home Master Jr. F2 also makes for an efficient feature. You can easily connect the unit up to any kitchen sink faucet, using the faucet adapter if needed, and produce clean drinking water right away.
Tap water flows straight from the faucet through the unit, then comes out the other side after being filtered. There isn't a wait for water to be produced – it's pretty much instant.
🔧 Installation & Maintenance
To install the Home Master Jr. F2, you just place it on your kitchen countertop and connect the hose from the unit to the faucet. There's a long-reach chrome faucet that comes with the unit, so you won't need to put it right up against your sink if that's not convenient for you. Once you've attached the diverter valve to the faucet (placing the adapter in between if you need to), the hose just needs to be attached onto the valve.
Installation is simple enough to do on your own, even if you don't have much plumbing experience or many handy skills. There's also an instruction manual that provides a few diagrams of installation to help you with the job. Once you've read up on what you need to do, installation is a 5-minute job.
📝 Filter Info
The filter in the Home Master Jr. F2 is a unique design that the manufacturer created in response to a known issue with many granular filters in countertop units. Essentially, these filters are designed in a way that quite a lot of the water can pass through without even coming into contact with the filter.
The Home Master Jr. F2's cartridge is completely filled, and it has compression disks at the inlet, outlet and between layers to make sure as much water as possible is filtered.
In terms of what can actually be filtered out of the water, according to the manufacturer, the unit reduces 93 percent of fluoride, chlorine, and other chemicals. This produces water that has a much more pleasant taste and odor.
Note that like all countertop water filters, the Home Master Jr. F2 isn't powerful enough to fully eliminate all TDS from water. For that level of filtration, you'll need a reverse osmosis system.
You'll need to change the filter roughly every three months, or after every 500 gallons of use. This is a little lower than the average lifespan of a filter (around 6 months or every 1,500 gallons). However, filters are fairly low-cost, no fuss to replace, and easy to purchase online.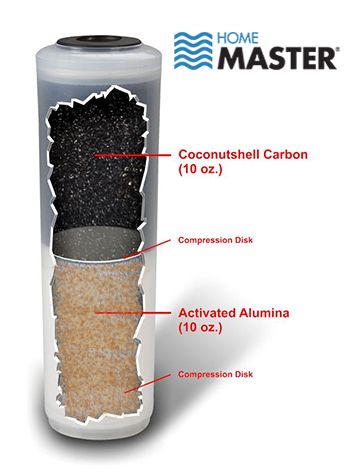 🔔 Pros & Cons
Pros
Unique filter design to prevent water from bypassing the filter
Very simple to install
The long-reach chrome faucet is a convenient feature
Can remove fluoride – not all countertop water filters are capable of this
Cons
Filters need replacing every three months
Won't remove TDS – not a reverse osmosis unit
Found this review helpful?
Comment below or share this article!