🧾 Overview
The Greatwell 400 GPD is a 3 stage tankless water filtration system that produces pure water at a ratio of up to 1:5:1. Compared to other reverse osmosis systems, the Greatwell 400 GPD is highly efficient and produces far less water waste during the RO process, enabling users to save money and get more out of their unit.
With a water flow of 0.3 to 0.4 gallons a minute, the Greatwell 400 GPD produces clean, pure water at a constant rate when in use. The system's leak-proof water route and slim, tankless design helps to maximize efficiency and save space.
💡 Features
3 in 1 carbon wrap filter
The system's 3 in 1 carbon wrap filter combines two polypropylene sediment filters and a carbon filter to save space with the same level of efficiency. The carbon wrap filter removes rust, sand, and other particles that may otherwise damage the RO membrane and filters, as well as chlorine and other chemicals that give water an unpleasant taste, odour or appearance.
High efficiency RO membrane
Tap water in this unit is filtered through a high efficiency RO membrane, which provides up to 40 ounces of pure water per minute. With a high efficiency 1:5:1 drain ratio, the reverse osmosis process minimizes wastewater production while removing up to 99% of over 1000 contaminants, including arsenic, lead, fluoride, hormones, bacteria, giardia and more.
Activated carbon filter
Before water leaves this unit for drinking, it is further polished with an activated carbon filter, which improves taste and removes any remaining odors or cloudiness.
Lead-free stainless steel inner tube
Filtered water produced by the unit passes through a lead-free stainless steel inner tube when the user turns on the faucet. The tube dispenses safe drinking water without adding additional contaminants, and can be connected to a refrigerator or ice maker for a more convenient user experience.
All-in-one design
The unit combines its filters and RO membrane in an all-in-one housing body for compact storage. This RO system does not contain a water storage tank. Water is filtered and purified as and when a user needs it.
Filter change indicator
The system's built-in true change filter indicator monitors the life of each filter individually and reminds users when they need changing to maximize RO efficiency.
🚦 Performance
The Greatwell 400 GPD uses a booster pump for maximized RO and has a fast water flow of around 0.3 to 0.4 gallons of water per minute. While the system does not have its own water tank, a user will not have to wait for water to be produced.
Wastewater runs out of the drain line only while the RO process is taking place, helping to produce water at a waste ratio of an estimated 1:5:1. As stated by the manufacturers, the Greatwell 400 GPD can save water waste by up to 450%.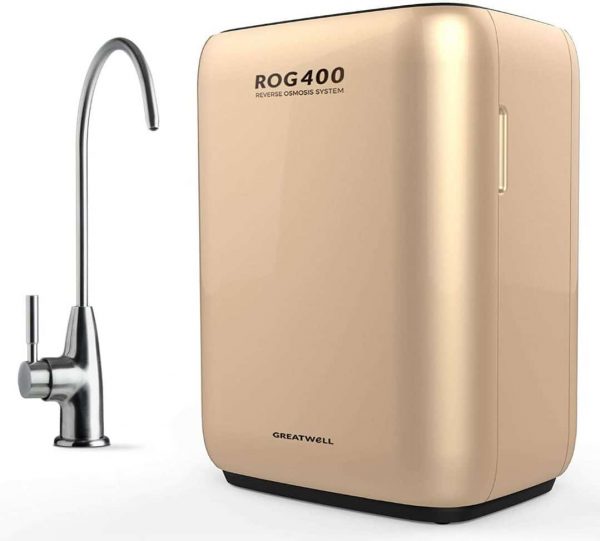 🔧 Installation & Maintenance
Because the Greatwell 400 GPD comes partially assembled, the installation process is fairly short and simple. A user will need to follow the system's manual to connect the tubing and the faucet to the main unit housing. Additional tubing may be required to connect to a fridge or ice maker. Most users will be able to install the Greatwell 400 GPD without the extra charge of hiring a plumber to carry out the task for them.
The unit's built-in true change filter reminds the user when it's time to change the filters. The user should follow the system's manual for guidance on long-term maintenance and cleaning. The RO membrane will require changing to ensure up to 99% of total dissolved solids are eliminated from water produced by the system.
📝 Filter Info
The system consists of 2 filters: a composite 3 in 1 carbon wrap filter, which removes sediment, chlorine, rust and larger particles; and an activated carbon filter to further polish the water and remove additional tastes and smells before water passes into the faucet. These filters require changing after around a year, or when the system indicates that a filter change is needed. Filters can be purchased online.
The unit's RO membrane needs replacing after around the 2 year mark, or when indicated by the system. The membrane can also be purchased online.
Both the filters and the RO membrane do not require an expert to carry out replacements. Filters are clip-in, and can be removed and changed in one or two minutes. Additional information about changing filters can be found in the system's guidebook.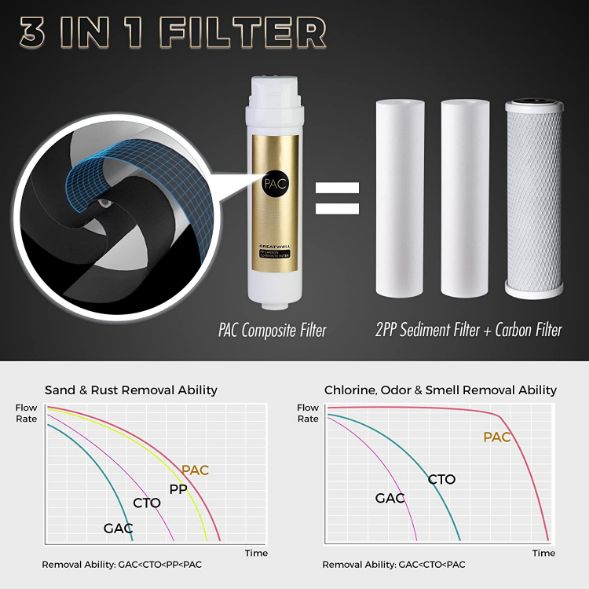 🔔 Pros & Cons
Pros
The system is all-in-one in design, and doesn't have a storage tank, making it slimmer and more compact for simple under sink or countertop storage. The system can be laid flat for better space saving if required.
Simple to install without the additional help of a plumber. The system arrives partially assembled and takes up to 15 minutes to set up in an under sink area. Both written and video instructions are available for installation support.
Filters can be changed by simply unclipping to remove and clipping new filters in place, and a user doesn't need to shut off water for the process.
With its leak-free integrated water route, the system is far less likely to experience leaks that can be common with other RO units.
Cons
For some users, an RO system that includes a tank may be preferable for water storage ahead of time. If a user requires a large portion of water at once, this filtration system would need to filter the water and send it directly to the faucet.
The system can be connected up to a refrigerator or icemaker, but depending on the location of unit storage versus fridge or ice maker location, extra leads would most likely be required to cover the distance.
Water is not remineralized after the RO process in this unit, which some users may prefer. A user would need to purchase a separate remineralization filter to add calcium and other healthy minerals to water if required.
❔ Frequently Asked Questions
Will this system work with well water?
Yes, but the manufacturer advises you may need to use a booster pump to ensure you have the correct water pressure for the system to function properly
What is the minimum water pressure needed for this system?
The system requires a minimum pressure of 30 psi
Is the pH of the water affected by this system?
No, pH of the filtered water is dependent on the pH and mineral content of the source water
Can this system be connected to my ice maker?
Yes, you can connect the Greatwell 400 with your ice maker
Found this review helpful?
Comment below or share this article!