Genesis Water Softeners are sold by Discount Water Softeners, Inc. We know that these water softeners are manufactured in the US, but it's not clear who the actual manufacturer is.
What do we know about Discount Water Softeners? The company is based in Huntley, IL, and has more than two decades of business experience. Alongside Genesis Water Softeners, Discount Water Softeners also sells water treatment systems from other big names, like Fleck and Logix, and systems that appear to be from the manufacturer's own line.
In this review, we've shared everything you need to know about Genesis Water Softeners.
By the end, you'll know which water softeners are available, the differences between these systems, and which (if any) is best for you.
📊 Genesis Water Softeners Comparison Chart
| Product | Genesis 2 Premier | Genesis Select | Genesis 2 Cabinet Style | Genesis 2 Iron Pro Max | Genesis 2 Duo Platinum |
| --- | --- | --- | --- | --- | --- |
| Process | Ion Exchange | Ion Exchange | Ion Exchange | Ion Exchange | Ion Exchange, KDF 85 |
| Ratings | 4/5 | 4/5 | 3.5/5 | 3.5/5 | 4/5 |
| Grain Capacity | 24K, 32K, 40K, 48K, 64K, 80K, 96K | 24K, 32K, 40K, 48K, 64K, 80K, 96K | 24K, 32K, 48K | 32K, 40K, 48K, 64K, 80K, 96K | 24K, 32K, 40K, 48K, 64K, 80K, 96K |
| Water For | Up to 5+ People | Up to 6+ People | Up to 4 People | Up to 6+ People | Up to 6+ People |
| Flow Rate | Up to 22 GPM | Up to 20 GPM | Up to 18 GPM | Up to 18 GPM | Up to 22 GPM |
| Regen Method | Metered | Metered | Metered | Metered | Metered |
| Warranty | Lifetime | Lifetime | Lifetime | Lifetime | Lifetime |
⭐ Reviews of Genesis Water Softeners
Genesis 2 Premier Upflow Water Softener
The Genesis Premier Water Softener is the most popular Genesis water softener available today.
The system is priced from just under $1,000 to around $2,000 and is available in 7 different sizes (measured in grain capacity) and flow rates (measured in gallons per minute):
24,000 – 12 GPM
32,000 – 16 GPM
40,000 – 18 GPM
48,000 – 19 GPM
64,000 – 20 GPM
80,000 – 21 GPM
96,000 – 22 GPM
The softeners in the Premier series all use upflow regeneration with a digital metered performance that provides highly efficient water softening, minimizing water waste and salt use. We've read controversial remarks about upflow systems, but you should save a bit of money from using a Genesis Premier Water Softener in the long run.
Included in the resin tank is a durable 10% crosslink resin. It's good to see this resin used in the system, and not offered as an upgrade, since 10% resin lasts about 10 years longer and is more resistant to chlorine and chloramine damage than the standard 8% resin.
What else should you know about this system? It has NSF certified parts (but no official NSF 44 certification), it comes with an included tank jacket to prevent humidity issues, and it flushes water automatically after one week of no activity to prevent a buildup of bacteria.
👍 What We Like
Considering everything you get from the Genesis Premier series, we think the softeners are fantastic value. Most families of 3-4 will do well with the 24,000-grain softener, which costs just under $1,000.
But if you do need a bigger softener, there are 6 increasing size upgrades – so plenty of sizes to choose from.
It's good to see a few features that reduce salt usage and improve the performance efficiency of this water softener, helping you to cut costs in the long term.
The resin quality is excellent. We appreciate that the 10% crosslink resin is included in the purchase, and not sold at an extra cost.
The control head/valve, brine tank, and resin tank are backed by a reassuring lifetime warranty.
👎 What We Don't Like
We've read reports from some customers who didn't have a good time with the manufacturer's customer service team.
A few customers said their softeners developed faults after a few months of use.
Our verdict: The Genesis Premier series is ideal for people who want an affordable, efficient water softener that they can size perfectly to suit their water usage and softening needs.
---
Genesis Select Water Softener
The Genesis Select Water Softener is Genesis' downflow version of its Premier upflow series. What does this mean? Water flows down through the tank rather than up during regeneration, which means that the resin is reached less precisely (rather than only the depleted resin being recharged), decreasing the system's efficiency.
Like the softeners in the Premier Series, there are seven softeners in the Select Series:
24,000 – 12 GPM
32,000 – 16 GPM
40,000 – 18 GPM
48,000 – 19 GPM
64,000 – 20 GPM
80,000 – 21 GPM
96,000 – 22 GPM
Because the Select Series softeners are slightly less efficient than the Premier Series, they're slightly cheaper upfront, with prices starting at around $750. Keep in mind, though, that you spend less upfront to spend more on salt and water waste in the long run.
Aside from the difference in the flow of water during backwashing, the Select Series water softener systems are identical to the Premier Series softeners.
You can expect the same features, including the 10% crosslink resin, the lifetime warranty on tanks and valves, and the on-demand metered control (although this is only 1 inch, versus the Premier softener's 1.25-inch control).
👍 What We Like
We're pleased to see so many size options for this system. Regardless of your family size and water usage, you'll find a water softener in the Select Series that's ideal for you.
The 10% crosslink resin is the best resin you can buy today.
It's good to be able to pay a bit less upfront if you're not bothered about upflow regeneration and don't mind spending a bit more per year to top up the salt tank.
The on-demand metered performance promotes performance efficiency, meaning the softener regenerates based on water use.
The lifetime warranty on the brine tank, resin tank, and control head is exactly what we want to see.
👎 What We Don't Like
The system's downflow design makes it slightly less efficient than the Premier Genesis water softener systems.
The softener has a slightly smaller 1-inch metered control versus the Premier softener's 1.25-inch control.
Our verdict: In our opinion, the Genesis Select Series softeners are a great choice for people looking for a more affordable upfront alternative to the Premier Series, who would rather pay less upfront for slightly higher annual maintenance costs.
---
Genesis 2 Upflow Premier Cabinet Style Softener
Genesis' answer to an all-in-one water softener is the Genesis 2 Upflow Premier Cabinet Style Softener. This water softener contains the brine tank and resin tank within a single cabinet, saving space and allowing for an easier install.
There are just three size and flow rate options for the Cabinet Style Series:
24,000 – 10 GPM
32,000 – 12 GPM
48,000 – flow rate not shared
Unfortunately, having a slightly smaller unit doesn't shave much off the upfront cost – the cheapest 24,000-grain unit still costs around $950. Plus, the flow rates for the various system sizes are 2-4 GPM slower than the Premier and Select Series softeners, which is a setback of the all-in-one system design.
Still, there are plenty of things to appreciate about this water softener style. The system is digital metered with an upflow design, so you can enjoy the same high-efficiency performance as you get with the Premier Series (saving up to 75% salt and 64% water on soft water production, according to the manufacturer).
There's also a Soft Water Recharge Mode, which ensures you get soft water even during periods of peak water usage, and an Automatic System Flush, which flushes stagnant water out of the system after one week of no use. The cabinet is just over 44 inches tall and 13 inches wide, and has a 20-inch depth, so it's shorter and more compact than a traditional water softener.
👍 What We Like
If you have limited space at your POE to install a water softener, you'll appreciate that the softeners in the Cabinet Style Series are smaller and more compact than the two-tank systems offered by other water softener brands.
You can enjoy all the performance features of the Genesis Premier Series, including backflow regeneration, automatic flushing after 7 days, and more.
It's great that you don't have to fuss about installing a separate brine tank and resin tank, and the quick-connect fittings make this unit easy for someone with DIY experience to install.
Customers are generally happy with the efficiency, money-saving potential, and eco-friendliness of this system.
👎 What We Don't Like
You don't really save on money for a smaller system, despite the reduction in flow rate, which is a shame.
The water flow is slower than you get from the other Genesis water softener models.
Our verdict: Based on our research, we think the Genesis Cabinet Style Series is ideal for people who prefer the convenience, ease of installation, and compact design of an all-in-one water softener, but still want to enjoy an efficient softening performance.
---
Genesis 2 Iron Pro Max (Water Softener & Iron Filter)
The Genesis 2 Iron Pro Max is a combination of the Genesis upflow water softening system and an iron filter in one.
This single system softens water and reduces up to 7 PPM of iron at once – something that no other single-tank system can do, according to the manufacturer.
There are six sizes and flow rates available for the Iron Pro Max Series:
32,000 – 14 GPM
40,000 – 16 GPM
48,000 – 16 GPM
64,000 – 19 GPM
80,000 – 23 GPM
96,000 – 25 GPM
Essentially, the Iron Pro Max softeners give you the benefits in one, providing soft water with a reduced iron content. This system is a good choice for treating well water, in which iron is a common problem.
What else is worth sharing? The 1-inch ports prevent a dip in flow rate; the on-demand control valve saves money by only programming regenerations when necessary; the extended backwash time provides more thorough resin cleaning, and the weekly automatic system flushes keep the softener clean when it's not in use.
All in all, there's not much new to say about this system. It provides the same features and perks as the other Genesis models, but with the added function of iron removal.
👍 What We Like
It's rare to find an all-in-one water softener and iron filter that removes so much iron. Usually, you'd have to buy two separate units sold together as a combi system.
Again, there are plenty of system sizes to choose from – six in total – so you should find the ideal size for your household size and water usage.
You get all the best benefits of a Genesis softener with this system, including good flow rates and efficient performance.
Enjoy a lifetime warranty for the brine tank, resin tank, and control head.
👎 What We Don't Like
This system won't work to treat high iron levels.
One customer complained that the system didn't make a difference to their water's iron smell, making us question the effectiveness of its iron removal.
Our verdict: Based on customer feedback and what we know about the Genesis Iron Pro Max, we think it's a good choice for well owners with mild iron issues alongside hard water minerals. You pay a fair price for this system – but don't expect it to eliminate very high iron levels.
---
Genesis 2 Duo Platinum (Water Softener & KDF 85 Filter)
For whole home filtration and water softening in one, the Genesis 2 Duo Platinum is the best Genesis system available, combining a salt-based water softener and a KDF 85 filter within the same unit to reduce chlorine, chloramine, heavy metals, and hard water minerals.
This system is available in 6 sizes and flow rates:
24,000 – 15 GPM
32,000 – 16 GPM
40,000 – 18 GPM
48,000 – 18 GPM
64,000 – 20 GPM
80,000 – 22 GPM
Due to the filtration media used in this system, we'd say it's definitely one for people whose homes are supplied with chlorinated city water, not well water. The aim of this system is to extend the lifespan of your appliances, eliminate limescale and reduce plumbing damage, as well as to improve your water's taste, smell, and overall quality.
How does this system work? The water softener resin/mineral tank contains about 60% resin. The top of the tank is filled with KDF-85 media. There's also a separate salt tank, since the system is a salt-based softener.
The unit is powered by an on-demand control head, and there are all the features of the Genesis softeners that we've already mentioned (10% crosslink resin, included tank jacket, upflow brining, reverse flow regeneration). There's also the sweet Genesis lifetime warranty on the tanks and control head.
👍 What We Like
Rather than having to invest in two separate water treatment system, Genesis gives you the option to save money by buying an all-in-one system that's ideal for city water.
As with all Genesis systems, the Genesis 2 Due Platinum softener has features to improve system efficiency and reduce long-term spend on water and salt.
The softeners in this series start at just $1,200, which saves you at least $1,000 (if you were to buy a softener and a KDF system separately).
Maintenance is minimal. The resin lasts around 20 years and the KDF media lasts 8-10 years.
The lifetime warranty is ideal.
👎 What We Don't Like
There's not a ton of KDF media in the tank, which makes us wonder whether the filtration is as effective as it would be in a separate tank.
Our verdict: People with moderately hard or hard chlorinated city water should enjoy the filtration and softening benefits of the Genesis 2 Duo Platinum softener, which improves water tastes and odors, makes it healthier to drink, and prevents appliance and plumbing damage.
---
✅ What We Like About Genesis Water Softeners
Great Lifetime Warranty
It doesn't get more promising than a lifetime warranty. We're pleased to see that all the most important components of Genesis softening systems – both tanks and the control head – are backed by lifetime warranties. That means you're covered at any point if the system develops a fault throughout its expected lifespan.
Competitive Prices
The average price range for a water softener today is $1,200-$1,800 – sometimes even higher for large or highly efficient systems. That's why it's great to see that Genesis offers its water softeners at competitive prices, starting at around $950 for a 24,000-grain system (which is ideal for most families of 2-4).
Certified Components
Note that the softeners in the Genesis Premier Series are NOT certified to NSF Standard 44 for their water softening performance, despite confusing information in the user manual and some Discount Water Softeners web pages, and claims by other sources.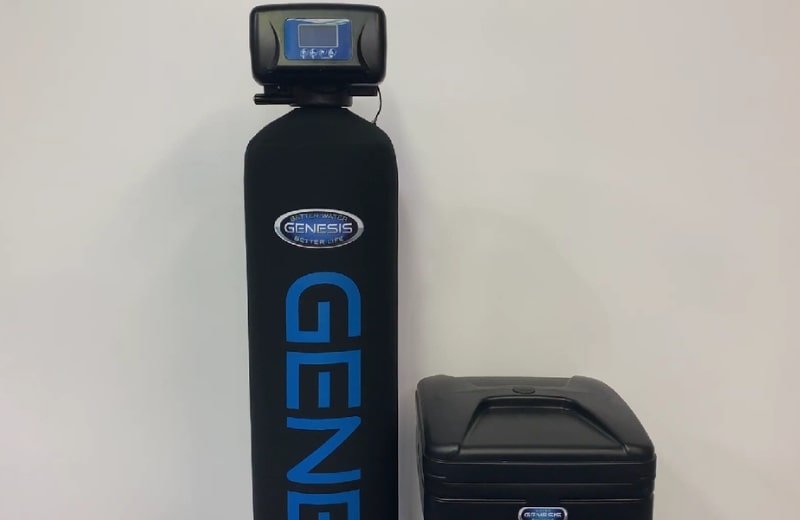 Engineered and Manufactured In The USA
Knowing that an expensive product is built to the USA's high standards is reassuring. That's why we appreciate that the Genesis softening systems are all engineered and manufactured in our country. While it doesn't guarantee quality, it's what most of us would prefer to see.
Combination Options Available
We appreciate that Genesis combines some of its best-selling whole-home water filtration systems with its water softeners for a discounted softening and filtration solution. There's something for private well owners and for people who get their water from a municipal supply. Alongside the KDF and iron filter systems, Genesis also used to offer a carbon filtration system alongside its water softeners (although it doesn't at the time of writing this review).
Eco-Friendly Performance
Genesis offers numerous water softeners that maximize water and salt efficiency with upflow brining and reverse flow regeneration. You should be able to save money on salt top-ups and reduce water waste with Genesis salt-based water softeners. These benefits are better for the environment, too.
❌ Potential Setbacks of Genesis Water Softener Systems
Iffy Customer Service
A big trend we noticed in customer feedback was related to poor quality customer service. Customers complained that they spoke to unfriendly or unhelpful members of staff, or that they were ignored altogether. The lifetime warranty might sound excellent, but not if the manufacturer doesn't actually honor that warranty when the issue arises.
Some Faults/ Design Flaws
A few customers mentioned that their softeners had developed faults, sometimes due to underlying design flaws. This could easily be a one-off situation, but it's not ideal if customer service isn't responsive when customers get in touch with a problem or a complaint.
Not Ideal For Well Water
You could use a Genesis softener with well water – especially if you buy the Iron Pro Max – but it doesn't offer the best iron reduction we've seen for a combi-softener and filter. We've seen better water softeners for well water elsewhere.
Sediment Filter Not Included
One of the ways that Genesis keeps its costs down is by selling its products with no included sediment filter. We strongly recommend installing a sediment pre-filter upstream of your water softener to prevent damage to the resin, which will shorten its lifespan significantly. You have to pay about $130 extra for a sediment filter kit.
📝 Genesis Water Softeners Review: Our Verdict & The Best Genesis Water Softener Alternatives
In writing these Genesis water softener reviews, we learned a lot about Genesis' products and the general customer response to the manufacturer. Genesis offers a varied range of water softeners, with something to suit every need – but what do we personally think of the brand and its products?
📌 In our opinion, Genesis water softening systems are worth considering if you have a hard city water supply and you want the reassurance of a USA-built, salt-based softening solution, with a fantastic warranty and the option to upgrade to softening and filtration solutions if needed.
You'll also love Genesis if you want a water softener that's relatively easy to install, low-maintenance, eco-friendly, and penny-saving with long-term use. We think the Genesis Premier Water Softener Series is best for most people, since it boasts the most efficient performance.
📌 However, although Genesis softening systems are good, they're not excellent. Numerous customers have complained about various system faults and poor-quality customer service, and you might be hesitant to spend your money on a brand that doesn't strive to help its customers when they have a problem.
Some of the most efficient, top-performing water softeners from brands with a history of excellent customer service are:
🧠 Genesis Water Softeners FAQ
Are Genesis water softeners reliable?
Yes, Genesis softeners appear to be reliable for the most part, based on our analysis of the features and customer reviews for every Genesis water softening product. However, some a number of customers complained about design flaws and system faults, which appear to be one-off problems.
Who makes Genesis water softeners?
Nobody knows exactly who makes water softeners for Genesis, which is likely due to proprietary reasons. The only information that we have is that the systems are sold on the Discount Water Softener website and are manufactured and engineered in the USA.
How long do Genesis softeners last?
The resin in a Genesis softener is 10% crosslink (the best kind) and should last about 20 years. The system itself should also last this long (the tanks and the control valve have a lifetime warranty, for extra reassurance), but you may need to replace the odd component over time due to wear and tear.
Does Genesis make a salt-free water softener?
No, Genesis doesn't currently sell a salt-free water softener, or a water conditioner. Some manufacturers choose to exclusively sell salt-based water softeners because these systems use the most proven method of water softening.
Can I use a Genesis softener for well water?
Yes, you can use a Genesis water softener for well water. In fact, it's better than other all-in-one systems at treating well water containing iron, removing up to 7 PPM of iron as well as water hardness minerals, giving two benefits in one. However, we still think there are better-value and better-performing well water filter and softener combos out there.