The Genesis Premier, or the Genesis 2 Premier Upflow On-Demand Water Softener in full, is the most popular water softener offered by Genesis, a brand sold by Discount Water Softeners.
In this Genesis Premier review, we've shared what we know about this Genesis water softener's performance features, installation and maintenance requirements, and more.
🧾 Overview
The Genesis 2 Premier Upflow Water Softener is a traditional salt-based water softener that uses the ion exchange process to remove hard minerals from water.
This softener is one of the most efficient systems offered by Genesis, with an upflow design that allows for more accurate resin regeneration and minimizes salt use and water waste during soft water production.
Prices start at just under $1,000 and extend to $2,000, depending on the size of the softener you choose. There are 7 different sizes (measured in grain capacity) and flow rates (measured in gallons per minute):
24,000 grains – 12 GPM
32,000 grains – 16 GPM
40,000 grains – 18 GPM
48,000 grains – 19 GPM
64,000 grains – 20 GPM
80,000 grains – 21 GPM
96,000 grains – 22 GPM
📌 What else is worth knowing about this water softener? Its components are NSF certified but the system itself isn't actually certified for its softening performance (despite the confusing information given by other sources) – something the manufacturer confirmed in a conversation with us.
📝 System Specifications
| | |
| --- | --- |
| Softener Type | Salt-based/ ion exchange |
| Regeneration Type | Meter initiated |
| Flow Type | Upflow |
| Resin Crosslink Percentage | 10% crosslink |
| Salt Storage Capacity | 240 lbs |
| Power Requirements | 120v/60hz |
| Internal Port Size | 1.25 inches |
| Country of Manufacture | USA |
| Warranty | Lifetime warranty on control head/valve, resin tank, and brine tank |
💡 Features
10% Crosslink Resin
The Genesis Premier uses the best, longest-lasting resin: 10% crosslink resin. That means better chlorine and chloramine resistance and less maintenance for you.
Multiple Sizes Available
You can buy this Genesis water softener in 7 different sizes, depending on your water usage and household size. The 24,000-grain softener is fine for homes with 1-3 people. If you're a family of 4, go for the system with the 40,000-grain capacity.
Metered Regeneration
The Genesis Premier Water Softener uses metered on-demand regeneration, meaning that it regenerates based on water use.
NSF Certified Components
The components in this softener are all NSF certified, which is a reassuring sign that they're built to last and won't add anything dangerous to your water.
Washable Neoprene Tank Jacket
Included with this softener is a washable neoprene tank jacket, which prevents humidity from damaging the resin and causing "sweating". The jacket doesn't protect the softener against the elements if you plan to install it outside – you'll need to build a shelter to prevent frost and block direct sunlight.
Lifetime Warranty on Tanks and Valves
The Genesis Premier Water Softeners all come with a lifetime warranty on the salt tank, the resin tank, and the control head. It's good to know that you're covered against manufacturer's defects throughout the system's predicted lifespan.
🚦 Performance
When we evaluate the performance of any water softener, we consider the following 5 factors:
The regeneration type (and the efficiency of regeneration)
The flow type (upflow vs downflow, and its efficiency) and flow rate
The system's max. softening abilities
NSF certifications or testing to NSF Standards for softening
Any additional performance features of note
These factors enable us to determine the efficiency and effectiveness of a softener's performance based on its softening abilities, and how much salt and water is wasted during the softening process.
Let's start by looking at the regeneration type.
The Genesis Premier Water Softener is a metered on-demand regeneration system. This means the system regenerates when a certain amount of water has passed through. On-demand metered regeneration is better than timed regeneration because the softener smartly regenerates only when it needs to.
Moving on to flow type and flow rate.
This Genesis water softener uses upflow, not downflow, regeneration, which means that water flows up through the resin during a regeneration cycle, rather than down. Upflow regeneration is said to be more efficient because it reduces channeling and targets the depleted resin more effectively – which, according to Discount Water Softeners, helps save 75% salt and 64% water per regeneration.
Keep in mind that not all experts agree that upflow systems are worth your money. Some say that manufacturers overhype upflow softening systems, and that upflow systems aren't worth the extra upfront cost for the small long-term cost savings you might get.
As for the flow rate, it starts at 12 GPM for the smallest 24,-000-grain water softener, and every system in the Premier Series has high-flow 1.25-inch ports. That's exactly what you want to see for a whole-home system, since the average household needs 6 to 12 gallons per minute of water.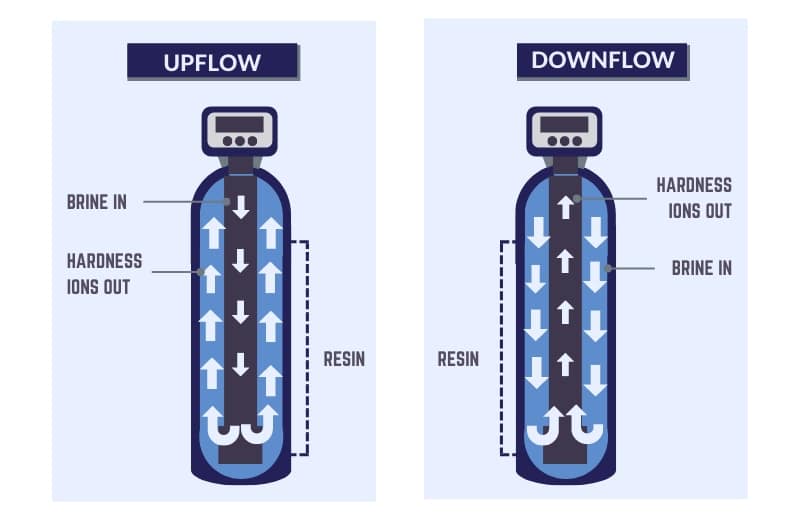 What about the system's maximum softening abilities?
Some manufacturers state how much hardness their systems can treat, in grains per gallon (GPG). Unfortunately, Genesis doesn't disclose this information. We recommend contacting Discount Water Softeners if this information is important to you. Since the system uses ion exchange, which is the most effective form of softening, we'd be pretty confident that it can treat very hard water.
Next: NSF certifications.
It's great to see that the Premier Softener has NSF certified parts, but equally disappointing that the system itself doesn't have an NSF 44 certification for its softening performance. This is despite information in the user manual and on various Discount Water Softener webpages that says otherwise.
📌 Overall, we think this Genesis water softener ticks many boxes when it comes to performance. Perhaps don't get too excited about the upflow regeneration, since the manufacturer's claims may be exaggerated. But if you want thorough water softening without interruption to your water flow rate, the Premier Series is a good choice.
Finally, let's look at the other notable performance features of this Genesis water softener.
A unique, useful feature that should prevent bacteria buildup is the softener's automatic system refresh. This flushes stagnant water out of the system after 1 week of non-use.
There's also a quick recharge feature that activates when the system's softening capacity drops below 3%. This means you should never go without soft water, even if you use more water than usual.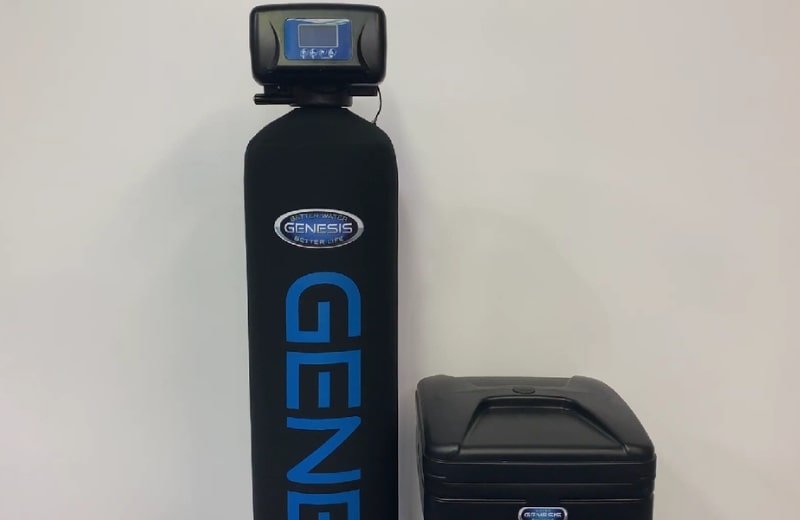 🔧 Installation & Maintenance
The Genesis Premier Water Softener is designed to be installed on a DIY basis. But if you're not a confident DIY-er, you might want to hire a plumber to install this soft water system. You'll need to cut into your main water line, install a drain line, and do a few other complicated tasks that not everyone will feel comfortable with.
Included in the package are:
Control head
Resin tank
10% crosslink resin
1″ bypass & integrated turbine meter
Neoprene tank jacket
Brine tank
We recommend watching this video or reading the user manual when installing the Genesis Premier Water Softener.
If you just want an overview of the setup and installation process, though, you can find it below.
Choose your installation location. It should be as close to the water's point of entry into your home as possible, close to a power outlet and a drain. If you use private well water, install the softener close to the pressure tank.
Shut off your water supply and turn off your electrical hot water heater, and your well pump and supply value (if applicable). Open a nearby cold water faucet to drain the water and relieve pressure in the line.
Remove the resin and brine tank from the box and place them to the side.
Clip the control valve onto the screen cone and lubricate the o-rings, then twist the control valve onto the resin tank.
Use the provided fittings to connect the inlet and outlet valves, then attach the unit to your water line.
Use the included allen key to set the softener to bypass mode, then attach and route the drain valve following the instructions in the user manual.
Open your water supply valve slowly, then slowly open a nearby cold water faucet.
Fill the brine tank with water and salt, and plug the system into a power outlet.
Set the system to perform a manual regeneration, then skip the brine cycle once it starts to count down.
Open the bypass inlet valve when the system begins to backwash.
Water should run into the brine tank when the refill cycle begins. Once this is finished, open the bypass outlet valve, then continue programming the softener.
You can find more information about installation and maintenance in the user manual.
📝 Resin Info
Included in the resin tank is a durable 10% crosslink resin. We appreciate that the resin is pre-installed and shipped in the system rather than sold as an upgrade, since 10% crosslink resin is the best you can get.
📌 What makes 10% resin superior to 8% crosslink resin? 10% crosslink resin is more resistant to chlorine and chloramine (chemicals commonly found in disinfected city water supplies), and lasts twice as long as 8% crosslink resin. On average, 8% crosslink resin lasts 10 years, while 10% crosslink resin lasts 20 years.
🔔 Pros & Cons
👍 What We Like
The 10% crosslink resin is the best option for city water that contains chlorine or chloramines.
The Genesis Premier system boasts some of the brand's best features for efficiency, including demand-metered control, upflow regeneration, and automatic system flushing after 1 week of non-use.
The lifetime control head valve warranty and the lifetime warranty on the salt brine and resin tanks are great.
We're always happy to see NSF certified components.
You can upgrade this system if you're also looking for water filtration for iron or chlorine removal. Check out our complete Genesis water softener reviews guide for more information about the Genesis Duo water softener options.
👎 What We Don't Like
We think it's a big setback that a sediment filter doesn't come with a sediment filter included in the price. You can pay about $130 to upgrade to a sediment filter, but we don't see a sediment filter as an upgrade – it's essential for protecting the resin.
A few customers complained about faults, problems, and design flaws with their water softeners. These could be one-off episodes caused by customer error, but the customer support offered by Discount Water Softeners is apparently poor. It's uncomfortable to know that the company providing the warranty might not honor this warranty if you contact them with a problem.
Some customers said that they didn't notice a huge reduction in their salt usage after installing this system – definitely not 75%, as the manufacturer claims.
❔ Frequently Asked Questions
Who makes Genesis water softeners?
Nobody knows who makes Genesis water softeners due to proprietary reasons. All we know is that the water softeners are sold on the Discount Water Softener website, along with products from a few other water softener brands.
Is the Genesis Premier softener efficient?
Yes, the Genesis Premier uses upflow brining for improved salt efficiency and minimized water waste. Essentially, upflow on-demand metered regen systems are designed to reduce salt usage and water usage by preserving the unused softening bed and only regenerating when necessary. Don't expect huge savings, but upflow systems are more efficient than downflow systems.
How long does the Genesis Premier last?
The 10% crosslink resin in the Genesis Premier should last 15-20 years, and the rest of the system should have a similar lifespan. You might need to make small repairs and maintenance jobs (such as replacing the o-rings) during this time.