The Genesis Duo, or the Genesis 2 Duo Platinum 1.25 Internal Water Softener & KDF 85 Filter in full, is a combination water softener and whole house water filter offered by Discount Water Softeners.
In this Genesis Duo review, we've everything you should know about this Genesis water softener's specs, features, installation and maintenance requirements, and more.
🧾 Overview
The Genesis 2 Duo Platinum 1.25 Internal Water Softener is a water softener with a twist: the resin tank also contains KDF-85 media, which provides filtration alongside water softening.
Most manufacturers of combination water softener/filter systems provide a dedicated tank for each media, but the Genesis Duo water softener cuts costs and saves space with an all-in-one solution.
The Duo Platinum Series is available in 6 sizes (measured in grain capacity) and flow rates (measured in gallons per minute):
24,000 grains – 15 GPM
32,000 grains – 16 GPM
40,000 grains – 18 GPM
48,000 grains – 18 GPM
64,000 grains – 20 GPM
80,000 grains – 22 GPM
If your home's water supply is chlorinated or chloraminated city water, the Genesis Duo should appeal to you. This unit combines regular salt-based water softening with a KDF filtration system, which reduces chlorine, chloramine, heavy metals, and calcium and magnesium hard minerals. The result? Soft, filtered water that tastes and smells great and doesn't damage your plumbing or appliances.
The unit has an on-demand metered control head, and boasts all the features of a standard Genesis water softener, including upflow brining, reverse flow regeneration, an included tank jacket, and an impressive lifetime warranty on the tanks and control head.
📝 System Specifications
| | |
| --- | --- |
| Softener Type | Salt-based/ ion exchange |
| Filter Type | KDF-85 |
| Regeneration Type | Meter initiated |
| Flow Type | Upflow |
| Resin Crosslink Percentage | 10% crosslink |
| Brine Tank Capacity | 200+ pounds |
| Power Requirements | 120v/60hz |
| Internal Port Size | 1.25 inches |
| Country of Manufacture | USA |
| Warranty | Lifetime warranty on control head/valve, resin tank, and brine tank |
💡 Features
Ion Exchange Water Softening
The Genesis 2 Duo Platinum 1.25 Internal Water Softener uses the traditional salt-based ion exchange water softening method – the best method of hard water treatment available today. Ion exchange removes hardness minerals in exchange for harmless sodium ions.
KDF-85 Water Filtration
Also packed into the resin tank is KDF-85 media, which filters water and removes chlorine, chloramines, and heavy metals.
Multiple Sizes Available
There are six sizes to choose from for this Genesis water softener, depending on your water usage and household size. Households with 1-3 people should do just fine with the smallest 24,000-grain model. If you're a family of 4, we recommend upgrading to the 32,000-grain system.
Metered Regeneration
The Genesis 2 Duo Platinum is an on-demand metered control water softener, which means it regenerates based on water usage, rather than at a certain time.
Washable Neoprene Tank Jacket
The resin tank is protected by a washable neoprene tank jacket, which prevents "sweating" caused by humidity.
Lifetime Warranty on Tanks and Valves
It doesn't get better than a lifetime warranty, and Discount Water Softeners honors your purchase with just that – on the resin/filtration tank, the brine tank, and the control valve.
🚦 Performance
We evaluate the performance of a water softener and filtration system by considering five things:
The type of regeneration (timed, metered, etc.)
The flow type (upflow vs downflow) and flow rate
The maximum hardness minerals treated/ contaminants filtered
Third-party testing and/or NSF certifications for water softening
Any additional performance features worth mentioning
By considering these performance features, we're equipped with the information we need to determine the efficiency and effectiveness of a softener's performance.
Let's start by looking at the type of regeneration.
The Genesis 2 Duo Platinum 1.25 Internal Water Softener uses metered on-demand regeneration. What does this mean? The softener monitors how much water passes through the resin tank and regenerates once it reaches a certain volume. Metered on-demand regeneration is good news from a performance perspective because it allows the system to perform much more efficiently, only regenerating when needed and reducing the water waste associated with timed regeneration.
Next, let's look at the flow type and flow rate of the system.
This Genesis water softener and filtration system is an upflow regeneration system. This means that water travels up through the resin during system regenerations (as opposed to in a downflow system, when water travels down). As a result, the resin is targeted more effectively and channeling is reduced, improving the efficiency of regeneration.
Discount Water Softeners claims that upflow regeneration saves up to 64% water and 75% salt, but we think these figures are slightly exaggerated. Some experts say that upflow regeneration is only slightly more efficient than downflow regeneration, and probably won't help you to significantly reduce your water or salt usage over time.
What do we know about the system flow rate? No complaints from us, there – the smallest 24,000-grain system has a service flow rate of 15 GPM. As a starting flow rate for a model designed for families of 1-3, a 15 GPM flow rate is ideal, especially since the average whole-home flow rate is 6-12 GPM.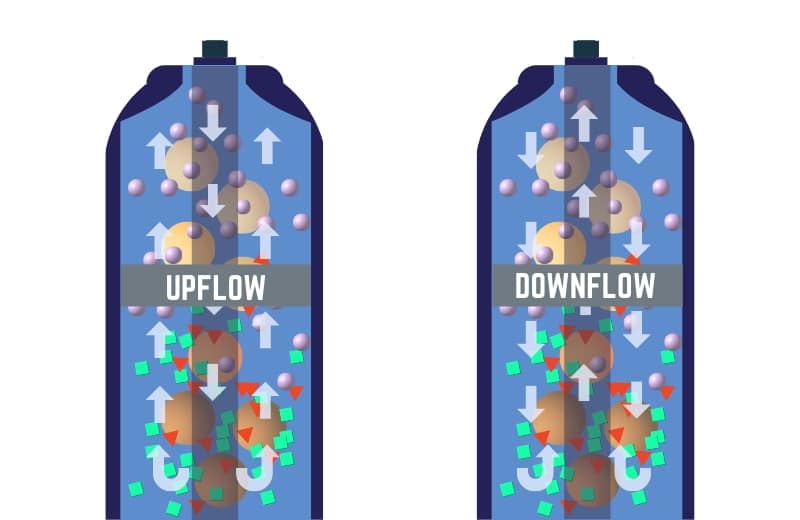 Next: the hardness minerals and contaminants removed.
Unfortunately, we can only guess at the maximum hardness minerals (measured in grains per gallon) removed by this water softener and filtration system. The Discount Water Softener website doesn't share this exact information, but since the Genesis Duo uses the most effective ion-exchange softening process, we think you'd be fine to use this system to treat hard or very hard water.
We're also missing test data or specific information about the system's contaminant removal abilities. We know that it "significantly reduces" the likes of chlorine, chloramines, mercury, lead, copper, nickel, chromium, and iron, which is great – but we'd like to see some figures to back these claims up.
As for third-party testing…
Again, we couldn't find any information online to say that the Genesis Duo is tested or certified to any NSF Standards, although the components in the system are all NSF-approved for safety and functionality.
Finally, additional performance features.
One feature worth mentioning is the automatic system refresh, which prevents bacteria buildup by flushing stagnant water out of the system after 1 week of non-use.
The system also prevents the possibility of running out of soft water with its quick recharge feature, which activates when the remaining softening capacity drops below 3%.
📌 In all, we think the 2 Duo Platinum Water Softener has some excellent and some not-so-excellent performance features. You shouldn't notice a drop in water pressure when you use this system, and its softening and filtration processes are good. Plus, there are undeniable performance benefits that come from whole-home filtration paired with water softening.
But we do think Discount Water Softeners is exaggerating slightly about the efficiency benefits of upflow regeneration, and the manufacturer hasn't shared important information about hardness/ contaminant removal.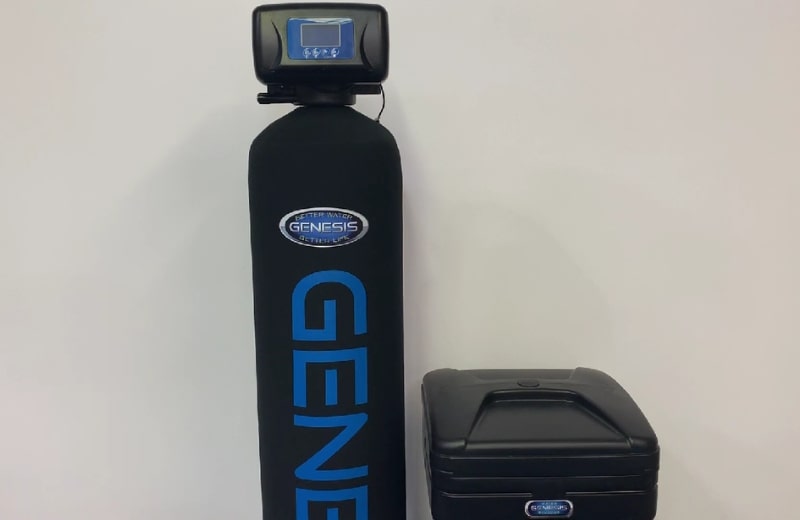 🔧 Installation & Maintenance
The Genesis Duo Platinum 1.25 Internal Water Softener can technically be installed on a DIY basis – the user manual contains all the information and guidance you need – but we don't recommend the job to inexperienced DIY-ers. There's quite a bit of work that goes into installing the system, including cutting into your water line and hooking up a drain line, which some people just won't feel comfortable with. If in doubt, hire a plumber (for an extra cost of around $200).
The package comes with:
Control head
Resin tank (pre-loaded with resin and KDF)
1″ bypass & integrated turbine meter
Neoprene tank jacket
Brine tank
To install the Genesis Duo, follow these steps:
Gather the necessary tools and equipment and ensure, before starting, that the installation process complies with your local and national plumbing codes and regulations
Choose a suitable location to install the system (ideally inside, as close as possible to your main water line's point of entry, upstream of your hot water heater)
Shut off your water supply. If your hot water heater is electric, turn it off. Turn off your well pump's supply valve (if applicable). Allow water to drain from the pipes by opening a nearby cold water faucet.
Unpackage the system and remove the resin and brine tank.
Attach the screen cone to the control valve, making sure to lubricate the O-rings. Twist the control valve onto the top of the resin tank.
Connect the inlet and outlet valves with the provided fittings, then attach each end to your water supply (ensuring the unit is installed in the right direction).
Set the softener to bypass mode with the allen key. Attach the drain valve and root it to a floor drain.
Slowly open your whole home water supply valve, then your closest cold water faucet.
Add salt and water to the brine tank. Plug the softener into the nearest power outlet.
Program the system to manually regenerate. Once the brine cycle begins counting down, skip this part of the cycle.
When the system started to backwash, open the bypass inlet valve.
Wait for the refill cycle to begin – water should run into the brine tank. Allow this entire cycle to run, then open the bypass outlet valve and continue to program the softener.
📌 Note that the exact instructions for installation can be found in the user manual.
As for maintenance, you don't have to do much to keep this system in good working order. Toe resin has a long lifespan of 15-20 years, and the KDF media lasts 8-10 years. You'll just need to clean the resin from time to time and buy replacement parts (such as o-rings) when necessary.
We recommend buying a separate sediment filter to protect the contents of the resin tank and extend the system's lifespan. Most whole-home sediment filters last 6-9 months before they need replacing.
📝 Resin & Filter Info
The Genesis 2 Duo Platinum 1.25 Internal Water Softener doesn't test the waters with any new or innovative resin or filter media types, here – and that makes us happy.
In our eyes, sticking to resin and media that are already known to be the best is more reassuring than introducing a brand-new softening or filtration media that is apparently the "next big thing" – but has little evidence to support this.
Since this Genesis softener doesn't have online testing, and it also doesn't have any official NSF certifications for performance (according to our conversation with the manufacturer), we prefer that the resin and media used are well-known and top-performing.
📌 The resin is 10% crosslink, which is the best type of resin used for ion exchange water softeners. Most water softeners come with the standard 8% crosslink resin, which is less resistant to chlorine and chloramine damage and only lasts 10 years (while 10% crosslink resin lasts up to 20 years). It's good to see the 10% crosslink resin being offered as a given, not a paid upgrade.
📌 KDF-85 media is also a respected, effective filtration media, backed by numerous studies that support their chlorine and heavy metals reduction abilities. The media is another low-maintenance solution, lasting 8-10 years on average.
Our only concern is that the KDF media is packed into the resin tank above the resin, which makes us wonder whether both the resin and the media can work as effectively as they would if they had their own dedicated tanks.
🔔 Pros & Cons
👍 What We Like
In our eyes, the biggest selling point of the Genesis 2 Duo Platinum 1.25 Internal Water Softener is that you don't have to buy a separate filtration system if you're interested in whole-home water filtration and water softening.
Considering the fact that you get two systems in one, the value for money is spot-on. Prices start at just over $1,200 – you'd have to pay at least $1,000 more to buy two systems separately.
The system's high-efficiency softening makes it ideal for families who want to minimize water and salt usage with an eco-friendly softener and whole-home filtration system.
We're pleased to see that the control valve, salt tank, and resin tank are all backed by reassuring lifetime warranties.
The unit is virtually maintenance-free, so it's a win for people looking for a "set and forget" style system.
👎 What We Don't Like
Discount Water Softeners hasn't shared any testing data for the Genesis Water Softeners in the platinum series, which means we can only put our trust in the manufacturer and hope that its marketing claims are true.
We wonder whether the system's filtered, soft water production abilities are as good as they'd be if the media and resin were loaded in two separate tanks, allowing for more media/resin in each tank.
We couldn't find any testing data to reassure us of the manufacturer's claims, and only its components are NSF certified.
You have to upgrade to include a sediment pre-filter, and we don't think you should have to pay another $100+ for an essential component of a whole home water softener system.
❔ Frequently Asked Questions
How long does a Genesis softener last?
The resin in the Genesis Due Platinum 1.25 Internal Water Softener should last at least 15 years, and so should the water softener itself. You'll probably need to buy replacement components within this time, and replace the media every 10 or so years.
How does Genesis compare to other water softener brands?
Genesis isn't as well-known as some water softener manufacturers, but still stays competitive with its upflow, high-efficiency systems and all-in-one softener and whole house water filtration solutions. We think Genesis water softeners are good, but they're not to the same standard as many SpringWell and SoftPro softeners.
What filter media does the Genesis Duo contain?
The Genesis Duo contains KDF-85, a media that's known for its chlorine, chloramine, and heavy metals reduction abilities. Also included is the 10% crosslink resin, which is essential for the ion exchange salt-based water softening process. The media and the resin are housed in the same tank for convenience.
Found this review helpful?
Comment below or share this article!