🧾 Overview
Fleck Iron Pro 2 combines water softening functions with an iron filter to produce water that leaves no staining or scale on appliances. With a 64,000 grain capacity, the system features a special fine mesh resin designed to last longer in the presence of water with a particularly high iron content.
With two-in-one benefits, the Fleck Iron Pro 2 is certainly a good value for money for households with high iron content in their water. The maximum flow rate is 15 GPM (gallons per minute), which is fairly strong compared to similar salt-based softeners.
The system uses a smart digital metered valve to measure water use before regenerating. This limits unnecessary water waste and helps you to get the most out of the unit. As a salt-based softener, the Fleck Iron Pro 2 removes calcium and magnesium minerals from water, replacing them with sodium ions. It also removes iron up to 8 ppm, and, as an added bonus, sulfur up to 2 ppm. Additionally, sediment, sand and rust are removed from water.
💡 Features
Mineral tank and brine tank for salt-based ion exchange.
Digital control head to monitor water usage and regeneration.
Free phone and/or email tech support.
DIY instructions for at-home installation.
Bypass valve for diverting water to main pipe during cleaning and maintenance.
🚦 Performance
The Fleck Iron Pro 2 performs more efficiently than a standard salt-based softener, as it uses a digital meter to regenerate only when needed and limit water waste. The resin should last for up to 5 years, but you'll need to top up the salt on a more frequent basis.
During regeneration, your home's ingoing water simply bypasses the tank, so while you won't get clean water during that time, your water won't be cut off altogether. It's possible to schedule your regeneration for times you know you'll be out and won't be using your water.
It's interesting that the system uses a type of resin that is said to remove more iron than a standard softener's resin, and not an actual iron filter. There are mixed thoughts about this online, with some experts claiming that there's no such thing as "iron removing resin" – but we've come across a large number of reviews that offer photo evidence of their improved water color and quality, so we're confident in whatever particular resin Fleck is using.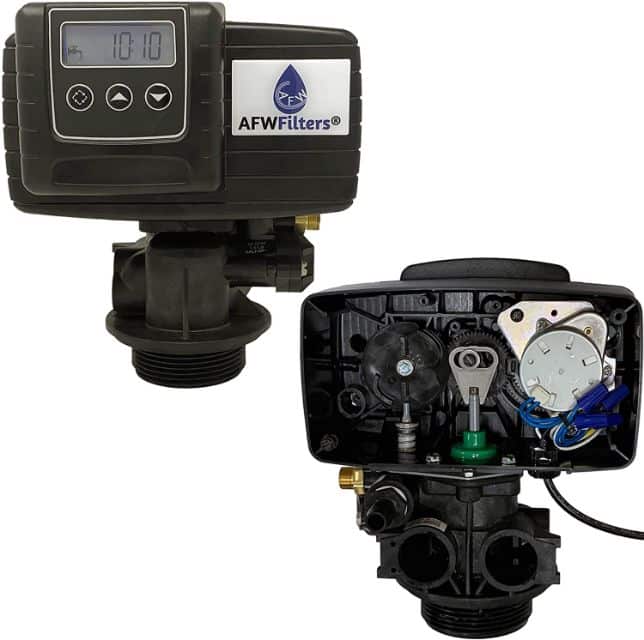 🔧 Installation & Maintenance
You're most likely going to need plumbing experience or the help of an expert to install the Fleck Iron Pro 2. If your home has never used a water softener before, you'll need to install the softener at your ingoing water pipe, which requires precision and hard work. Getting installation wrong could result in a major leak, so make sure you're prepared with all the tools you need in advance.
Installation instructions are offered for doing the job yourself, and Fleck offers phone or email support to help you out if you have any questions about the process. That said, some people will prefer leaving the task to a plumber or handyman, who'll be able to get everything installed in around an hour.
The two main areas of maintenance for the Fleck Iron Pro 2 are the resin beads and the sodium. The sodium will need topping up regularly to keep the system working as it should. Your resin beads should last for up to 5 years, and replacing them costs a couple of hundred dollars.
You'll also need to clean out the tanks regularly to prevent a build-up of nasty stuff. The Fleck Iron Pro 2's system manual should contain all the info you need to keep it in its best shape for longest.
📝 System Info
The Fleck Iron Pro 2 advertises as a 2-in-1 water softener and iron removal, but it actually offers even more than this. The resin is designed for removing water hardness up to 75 gpg, iron up to 6-8 ppm range, manganese up to 6 ppm, as well as sediment, sand, and rust.
Additionally, if your water has a funny smell, the system removes up to 2 ppm sulfur, which should improve the situation substantially.
As a salt-based softener, the Fleck Iron Pro 2 uses a standard mineral tank and brine tank to perform iron exchange. During this process, sodium-charged resin beads interact with hardness causing minerals in the water and switch places with these minerals. It's at this point that the iron particles and manganese are removed from the water.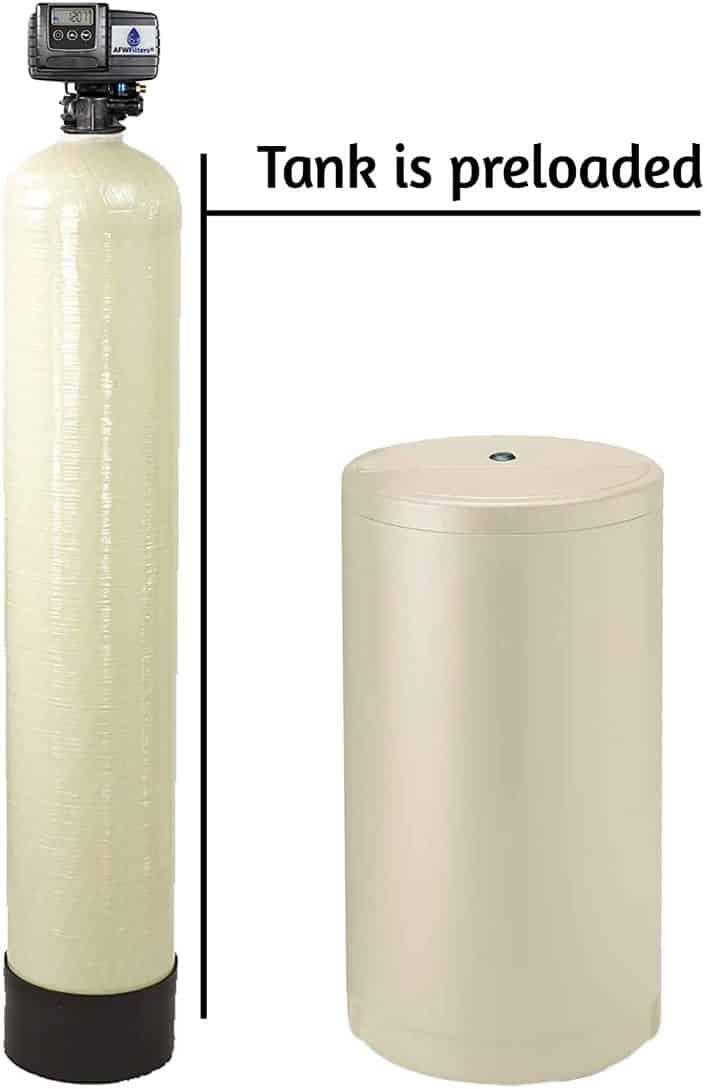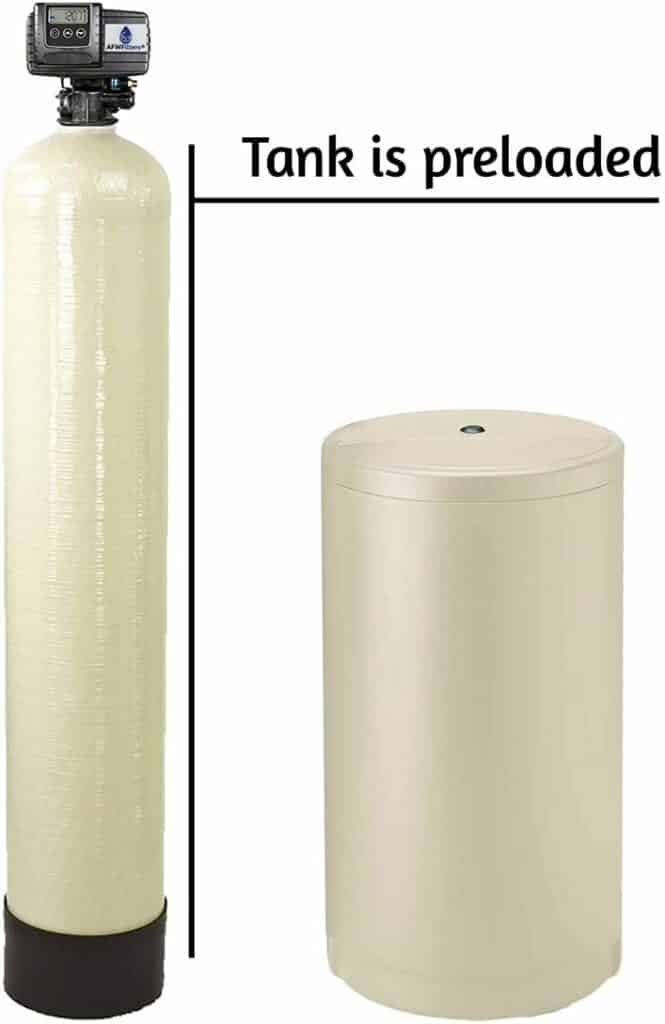 The Fleck Iron Pro 2 is referred to as a water softener and not a water conditioner, as it removes calcium and magnesium from water, rather than altering their make-up.
🔔 Pros & Cons
Pros
Also filters out iron – goes above and beyond the role of a standard water softener.
Phone or email support from the manufacturer after purchase.
Includes a bypass valve for convenience.
Resin will last for 5 years before changing.
Reduces water waste with a smart digital control meter.
Cons
Installation is difficult, and instructions aren't too clear.
On the more expensive side when compared with other water softeners.
May need to factor in costs for a professional plumber to install the system.
Found this review helpful?
Comment below or share this article!