🧾 Overview
The Epic Nalgene, termed "the OG travel bottle" by its manufacturers, is a reusable water bottle filter that can remove more than 70 contaminants from water.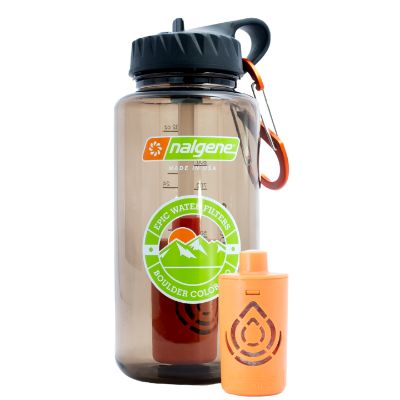 Our readers get 20% off at epicwaterfilters.com 👉 Click here to get your coupon.
📝 Specifications
| | |
| --- | --- |
| Price | $$ |
| Holding Capacity | 32 ounces |
| Filter Capacity (lifespan) | 100 gallons (3-4 months) |
| Materials | BPA- and BPS-free Tritan plastic |
| Pathogen Removal | Bacteria, Viruses, Microbial Cysts |
| Contaminants Removed | 70+ |
| Annual Cost | $90 – $120 |
| Warranty | Lifetime |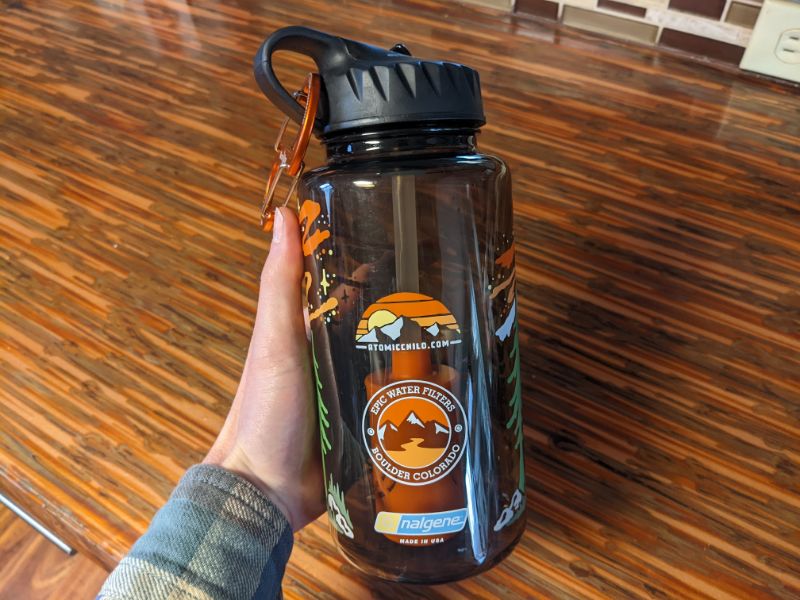 💡 Features
Bottle and filter are manufactured in the USA.
Filters last for up to 100 gallons, or approximately 3 months.
The bottle has an easy-clean design, with removable, dishwasher-safe parts.
Filters are recyclable with the manufacturer's recycling program.
The bottle is backed by a lifetime warranty – get a 100% refund if you're not happy.
Replaces the need for bottled water on trips or vacations, or for everyday use.
🚦 Performance
The Epic Nalgene is designed as an outdoor water filter – and for a relatively small, unassuming filter, it plays its part well.
I've judged the Epic Nalgene's performance on quality and speed of filtration, and in both areas, you won't be disappointed.
The Epic Nalgene removes more than 99% of most common water contaminants, as well as 96.8% chlorine and 68% fluoride. If you want to be protected from contaminants affecting water's taste and quality, this filter will tick your boxes.
The filter uses sucking force from the straw to send water through the filtration media. This allows for instant filtration – it takes seconds to fill the bottle and take a sip.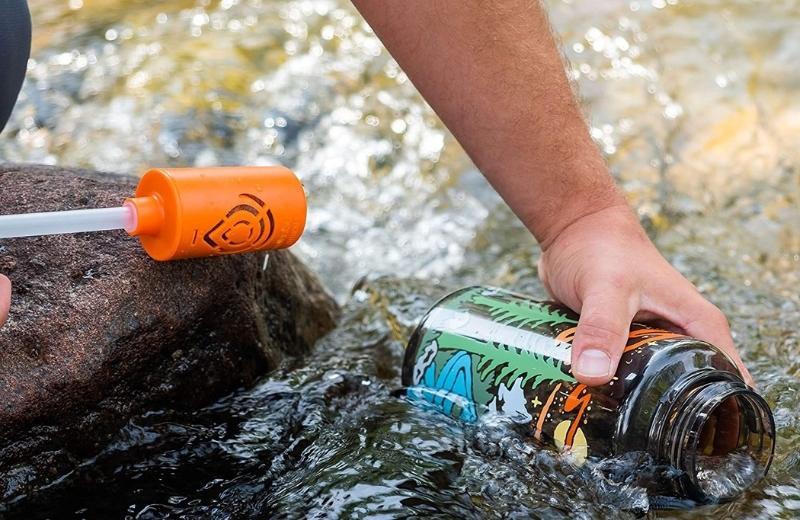 Our readers get 20% off at epicwaterfilters.com 👉 Click here to get your coupon.
👌 Ease of Use
As a straw filter, the Epic Nalgene requires minimal effort from you. Simply suck through the straw and the water inside the bottle will pass through the filter and through the straw to your mouth.
Straw filters can sometimes be a pain to use, but customers agree that the Epic Nalgene is easy to suck from. However, some customers noted that the straw isn't quite long enough for the bottle, so there's always some water leftover at the bottom.
Storing the filter is easy, as the bottle is small enough to fit comfortably in a backpack. There's also an integrated carry loop that can be attached to a carabiner.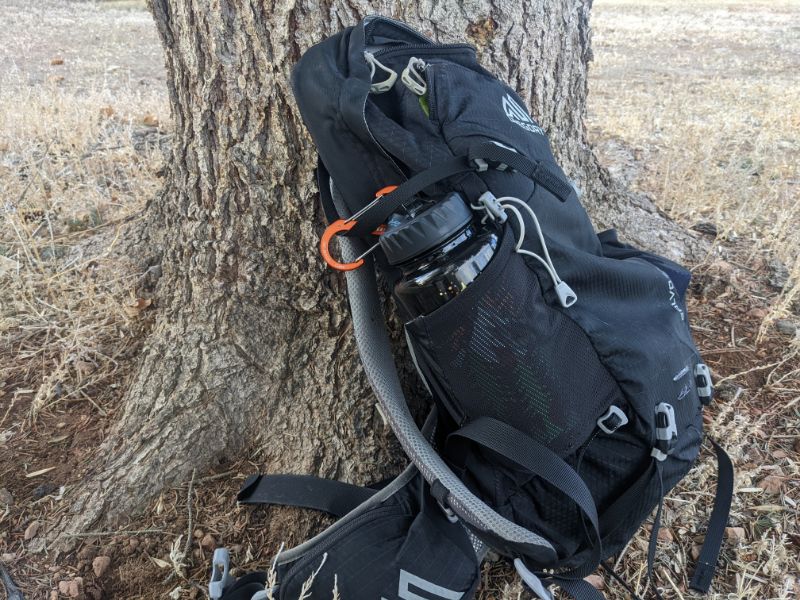 🧫 Contaminants Removed
The Epic Nalgene has been independently tested and certified to reduce or remove more than 70 drinking water contaminants for 100 gallons. Some of the contaminants removed by the Epic Nalgene are:
Chlorine
Lead
Fluoride
E. Coli
Giardia
Virus MS2 Phage
It's pretty impressive that the Epic Nalgene can remove microbiological contaminants like bacteria and viruses as well as the more common drinking water contaminants. However, the manufacturers say you should "never drink from water you know to be unsafe", and you shouldn't use the filter for turbid or stagnant water.
🔧 Installation & Maintenance
There's not much to the assembly of the Epic Nalgene: just fill the bottle with water, place the lid (which is attached to the straw) onto the bottle opening, and screw the lid in place. Whenever you're thirsty, you can suck the straw to drink filtered water.
The lid, straw, and bottle are dishwasher safe, so there's no manual effort required to keep them clean. However, the manufacturer recommends hand-washing with warm, soapy water for better results.
You shouldn't wash the filter – leave it in a dry location while you wash the other parts of the bottle. The filter lasts 100 gallons, or 3-4 months, before it needs to be replaced.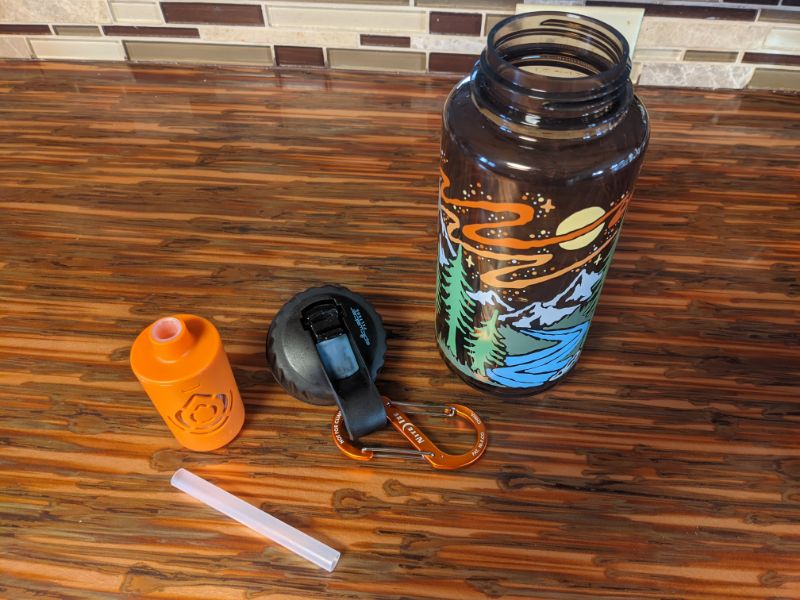 Our readers get 20% off at epicwaterfilters.com 👉 Click here to get your coupon.
📝 Filter Info
Epic doesn't provide information on exactly what type of filter is used in the Epic Nalgene. Even the filter's data sheet, which provides data on the testing results, doesn't mention the type of filter.
Based on the filter lifespan and the contaminants targeted, I think it's likely that the Epic Nalgene uses a combination of a carbon filter and a sub-micron filter to target chlorine, lead, bacteria, and viruses. This would involve capturing contaminants in the filter media and preventing them from passing through with the water particles.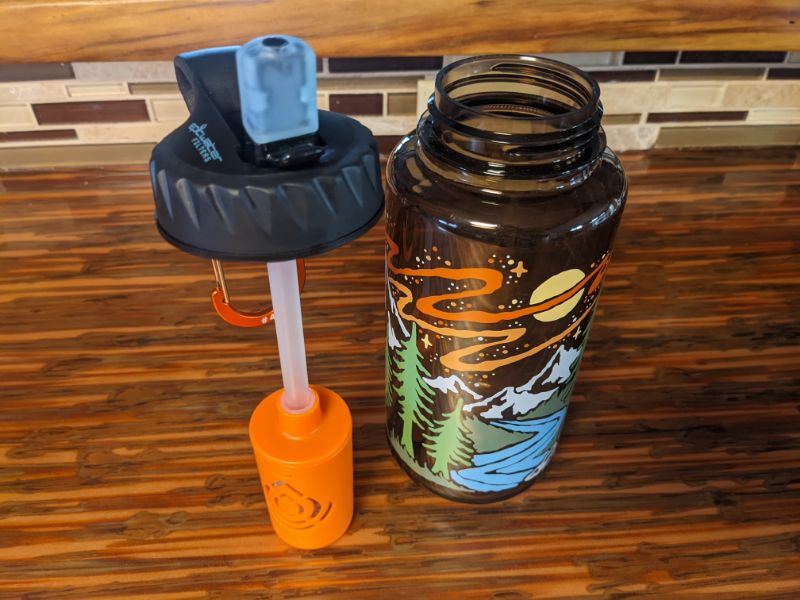 ✈️ How I Use My Epic Nalgene OG
I take my Epic Nalgene with me when I'm traveling abroad. You can't always guarantee clean tap water that agrees with you on your travels, and I used to buy bottled water on my trips. Now, I save money and take my Epic Nalgene.
I also use my Epic Nalgene for drinking water in the backcountry while I'm hiking or camping. I take several hiking trips a year, and it's handy having a filter water bottle, rather than carrying heavy water packs with me to last the whole trip.
🔔 Pros & Cons
👍 What I Like
The Epic Nalgene is easy to use, and sucking from the straw doesn't require much effort.
The bottle, lid and straw are dishwasher safe, cutting down on cleaning time.
You can use the Epic Nalgene to filter a variety of water sources, from municipal water to water from lakes and streams.
You don't need to wait for water to filter – it's immediate.
The filter comes with an impressive lifetime warranty.
👎 What I Don't Like
The straw is too short for the bottle, so there's leftover water that you can't access.
The filters don't last as long as some water bottle filters. You'll need to change them after 3 months.
You have to use the straw, because the filter is attached to it. If you're not a fan of drinking from a straw, this probably isn't the best filter choice for you.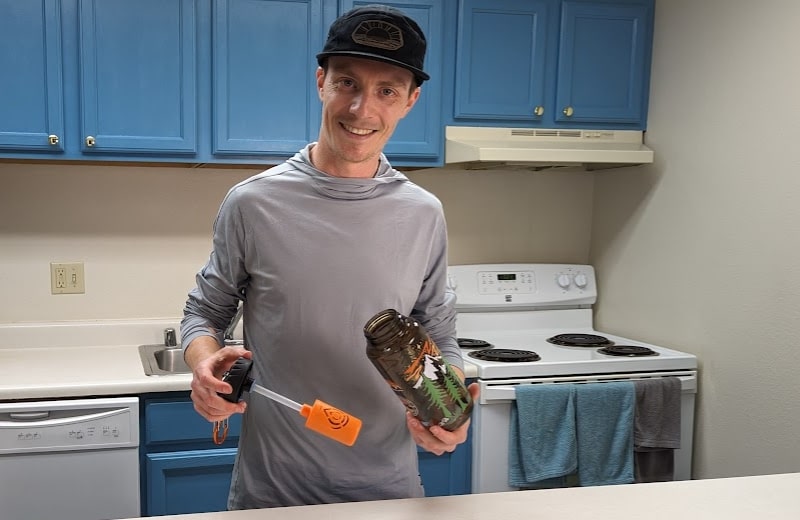 Our readers get 20% off at epicwaterfilters.com 👉 Click here to get your coupon.
❔ Frequently Asked Questions
Can you use saltwater in the filter?
No. Saltwater can damage the filter, so you should only filter freshwater sources.
How do you know if the filter needs changing?
It should become more difficult than usual to suck water through the straw. Otherwise, just change the filter every 3 months, as recommended.
Is the filter NSF certified?
No. The filter has been tested by a certified laboratory to remove certain contaminants, but it doesn't have an official NSF certification.
Can the filters be recycled?
Yes. You can learn more about the filter's recycling program here.
Found this review helpful?
Comment below or share this article!