🧾 Overview
The Engdenton Faucet Water Filter is a faucet filtration system that is certified to remove up to 99% of lead, plus 70 more contaminants from water.
The real selling point of the Engdenton filter is that it has a stainless steel exterior, which blends in with faucets far better than most of the white, plastic filters that are common on the market. The steel design is also more durable and leak-proof than plastic designs, which have a tendency to crack after a few months of use.
You can enjoy roughly 8 cups of water per minute with the Engdenton filter, thanks to its speedy flow rate. Installation is simple and quick, and doesn't require any tools for the job.
The maximum life of the filter is 6 months – which is a lot longer than the standard 2-3 month lifespan of a typical product of its kind, though, of course, actual lifespan depends solely on your water usage.
You can only use this filter on a standard faucet, and the manufacturer provides a useful photo guide showing which faucets are and aren't compatible.
💡 Features
Stainless steel filter housing
The filter housing is tough and durable, and is designed to match your kitchen faucet without looking odd or out of place. It holds the filter in the correct position and prevents it from becoming clogged up with particles from the air.
BY-SA-055C filter cartridge
Long lasting with a maximum 6-month lifespan, the Engdenton's filter cartridge can quickly and effectively reduce more than 70 contaminants from drinking water. Note that it doesn't remove TDS.
Faucet adapters
The Engdenton faucet water filter comes with several faucet adapters for fitting the system to a standard faucet. We'd recommend contacting the manufacturer directly or checking out their filter faucet guidelines to make sure the filter fits your faucet before purchasing.
User manual & instructions
Though installing the Engdenton faucet filter is simple, installation instructions are provided for reference. The user manual also contains important information about maintenance and filter changes.
🚦 Performance
This Engdenton filter is one of the better-performing faucet filters on the market, and that comes down to its speed at producing filtered water. There's no need to wait for your water when you're thirsty, as it will come out of the filter at virtually the same speed as it comes out of your faucet.
In fact, the manufacturer claims that their faucet water filter can produce 8 cups of water per minute, which is fairly impressive. Of course, when the filter needs changing, water will leave the unit at a slower rate, but you can resolve this immediately by replacing it with a new filter.
With certifications to remove up to 99% of lead, plus reduce up to 70 other contaminants, the Engdenton performs similarly to other faucet filters available on the market. But what sets it apart is its durability. It's not made out of cheap plastic, so it's much likelier to last for years on end without cracking, leaking or breaking.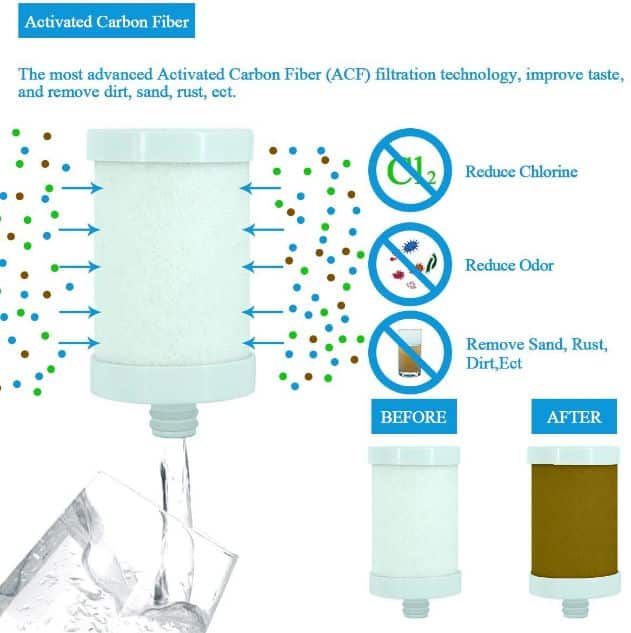 🔧 Installation & Maintenance
The Engdenton faucet filter fits most standard faucets. Before purchasing, it's worth checking your faucet type and being certain that it's a match for this system. Engdenton have produced a handy video that tells you exactly which faucets the filter definitely won't fit on, which you can watch before parting with your money.
Before installing the Engdenton faucet water filter, unscrew the cap on the filter housing, take out the filter and remove the wrap. Then insert the cartridge tightly into the base and screw the cap back in place over it. Remove the aerator from your faucet, then determine whether your faucet is internal or external-threaded.
Most external threaded faucets match the Engdenton system, but for some internal threaded faucets, you may need to use one of the provided adapters. Screw the faucet in place at the end of your faucet, and all that's left to do is turn it on and flush the filter for 1 minute before using.
The Engdenton filter is made of stainless steel, which makes it much sturdier and more durable than plastic filters. This eliminates the potential for leakage, and means that you can enjoy using the system for longer. You will still need to change the filter, though, as you do in all faucet filters. The good news is that it lasts for a maximum of 6 months, so you will only need to change your filter twice or three times a year.
📝 Filter Info
The Engdenton faucet water filter uses PAC-tech in its filters, which can remove water sediment and chlorine, improving taste significantly. There's virtually nothing about PAC-tech online at the moment, which may be because the manufacturer calls it "the latest" technology, but it does mean that we can only go off their word that this technology is efficient at what it does.
Luckily, something that is definitely backed by science is the activated carbon filter that the system uses. While activated carbon can't remove TDS, it can filter out chlorine and VOCs by trapping these contaminants in the filter pores, leaving only the smaller water particles to pass through.
The filter is advertised to be made out of Japan carbon fiber, which, according to Engdenton, has 10 times the filtration ability and an extended lifespan. If the filter is NSF certified, it isn't advertised anywhere by the manufacturer.
You can buy new filters from Engdenton or from a number of online retailers. Buying Engdenton's filters gives you the advantage of being able to use the filter for longer before needing to change it.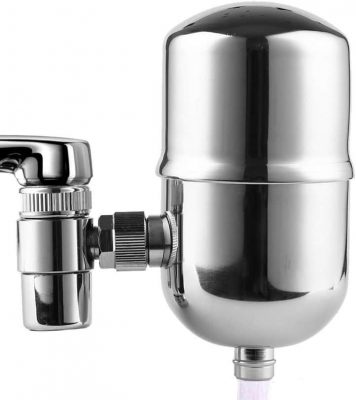 🔔 Pros & Cons
👍 What I Like
Made from much higher quality materials than plastic-made products
Filter lifespan is impressively long
Activated carbon filter scientifically proven to work
👎 What I Don't Like
There isn't much information available about PAC-tech yet
No evidence of NSF certification
No filter change indicator light
❔ Frequently Asked Questions
How many filters come with this unit?
Just one filter, which you can find inside the filter housing. You can purchase more filters from the manufacturer.
Does this filter reduce TDS?
No. At the moment, only reverse osmosis systems can reduce TDS. No faucet filters can do this job effectively.
How do I know when I need to change the filter?
Your water flow will decrease when the filter becomes clogged up. There isn't a filter change indicator light, so noticing changes in your water stream is the best way to know when the filter needs replacing.
Does the filter remove water cloudiness?
You can use this filter for cloudy water, as the polypropylene stage of the filter should remove sand, dust, rust and other sediment that can cause water to take on a cloudiness. Just keep in mind that you may need to change your filter more frequently if your tap water has a higher sediment content.
Are the faucet adapters also made of metal?
Yes, there are no plastic components in this filtration system.
Found this review helpful?
Comment below or share this article!