🧾 Overview
The Ecosoft Countertop Water Filter System is a countertop water filter with a 3-month filter cartridge capacity. It's small and lightweight, and can be easily installed without the help of a professional.
There are a whole host of contaminants that the Ecosoft system can reduce, including iron, manganese, fluoride, lead, sodium, larger sediment, and some organic compounds.
It connects up to the majority of kitchen sink faucets and can be used as and when you need it. If your budget is smaller, but you still want to enjoy the benefits of drinking water with reduced contaminants, the Ecosoft countertop filter ticks all the boxes.
The unit is low-maintenance, and the filter can handle 1,500 gallons of water before it'll need replacing.
💡 Features
Coconut shell carbon replacement filter
The first filter, a coconut shell carbon replacement filter, comes for free inside the system. It should last for around 6 months, after which you'll need to purchase a replacement filter from the manufacturer online.
Filter housing
The filter is housed in a slim unit that's dark blue in color. This unit is essentially already set up for use, and all you'll need to do is connect it up to your kitchen sink faucet.
Information flyer and user manual
Included in the box with the Ecosoft countertop filter is a small information flyer to help you get the most out of the unit.
This contains basic details about the product, how it works, and its benefits. There's also a user manual, which contains everything you need to know about installation and maintenance, including filter changes.
If you're more of a visual learner, the manufacturers have produced an online video that goes into detail about installation, with demonstrations on how to set the unit up properly.
Service wrench, adapters and hose
The Ecosoft countertop water filter comes with everything you need for installation – even a service wrench for tightening your connections. There are several adapters for connecting the unit to a non-standard faucet.
You'll also find a very generous length of extra hose, so you don't need to keep the Ecosoft right over your sink if you'd prefer not to.

🚦 Performance
This Ecosoft system is a great value for money in terms of performance. While the filter isn't one of the more advanced, thorough designs out there, it's still capable of reducing a wide range of contaminants, including heavy metals, chlorine, sediment, and unpleasant tastes and odors.
It works quickly to filter water, and there is a definite improvement in taste and odor of the water it produces.
With a filter that lasts for roughly 6 months (or 1,500 gallons of water), you'll get a lot of use out of the unit before it's time to purchase a filter replacement.
As a countertop water filter, the Ecosoft system doesn't waste water – it simply filters out the contaminants – so it is certainly energy-efficient. There's a simple lever to direct water flow into the unit, and it comes straight out of the tap, no waiting around required.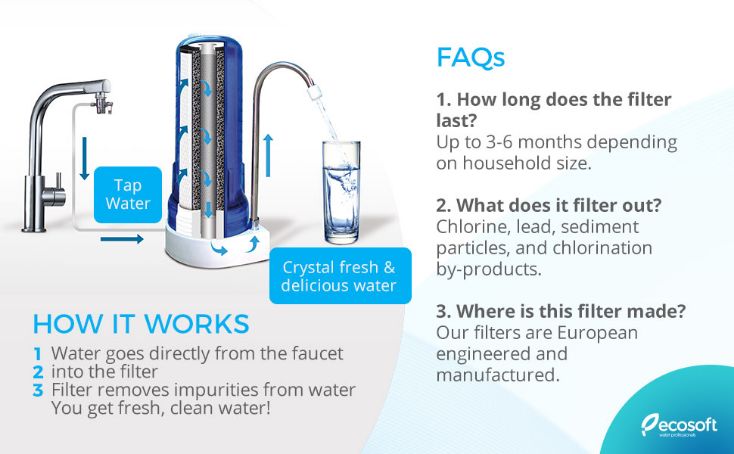 🔧 Installation & Maintenance
One of the biggest plus points of the Ecosoft countertop filter relates to installation. Not only does it come with everything you need to set the unit up – including a wrench, extra hose, and faucet adapters – there's also plenty of handy installation information to help you, both in paper form and online.
Countertop water filters don't require a complex installation that only a professional can manage. The Ecosoft system can be installed in under an hour, by simply screwing the correct faucet adapter to your faucet's gasket (if you need to), connecting the diverter, and connecting the hose from the diverter to the unit itself.
The filter has a handy calendar reminder that you can set to the month that you want to change it. As the exact date for changing your filter depends on your water usage, you should set this based on the manufacturer's recommendations for the number of people in your household. Generally, you'll need to replace your filter between every 3 and 6 months. You can buy new filters directly from the manufacturer online.
To replace the filter, just unscrew the filter housing using the provided wrench, take out the old filter, wash the filter housing, and add the new filter. Make sure you don't throw the o-ring away with the old filter, as you'll need to put it in place before adding the new one.

📝 Filter Info
The Ecosoft countertop filter uses an activated coconut based carbon shell filter to remove contaminants.
This filter type is BPA-free and is said to perform more efficiently than a standard coal carbon shell filter. It filters chlorine, lead, heavy metals, sediment particles, and chlorination by-products.
The resulting water that comes out of the filter will taste and smell much more clean and pleasant. It doesn't remove the healthy natural minerals from water, so the alkalinity won't be affected, either.
🔔 Pros & Cons
Pros
Great value for money – low in price for the quality of the filter
Very simple to change filter
Product comes with all the materials needed for installation, including a handy wrench
Cons
Written installation instructions aren't the best (luckily the online video is much more helpful)
Filter life isn't as impressive as other products
Found this review helpful?
Comment below or share this article!