🧾 Overview
The EcoPure EP7130 30,000 Grain Water Softener is an NSF-certified salt based softener for whole home use. It uses AutoSense Technology that automatically calculates how much salt and water it needs to regenerate, helping you to save money and prevent salt and water wastage.
Compact in design, the EcoPure EP7130 gives easy access to soft drinking water. It uses an integrated single tank design that can be used for treating municipal water and private well water of any hardness.
As a traditional salt based softener, the system is easy to program after installation, and has a high flow valve to ensure your home's water flow rates are at their max. You don't need to worry about predicting regeneration, as the EcoPure EP7130 handles it for you.
When your salt gets low, the system will let you know via a flashing alert light. You'll need to top up your salt regularly – at least once a month – to make sure the system continues to run properly.
💡 Features
Full system with tanks and fittings.
1-inch ready-to-connect male pipe thread for installation.
Bypass valve for diverting water during maintenance.
Lifetime of technical support from the manufacturer.
Autosense technology to alert you of low salt and calculate regeneration.
🚦 Performance
The EcoPure's additional performance features make it one of the more capable water softening units on the market. It's designed for the most efficient use, and ensures system safety by alerting you when salt levels are running low.
As the EcoPure calculates regeneration, you won't need to worry about remembering to do it yourself. The system uses smart measure technology to make sure the right amount of salt and water is used for regeneration, reducing salt and water waste. Although you'll get no water waste with a saltless softener, the EcoPure is one of the best salt-based systems in terms of minimizing the potential for unnecessary waste.
The EcoPure was designed in the USA and is NSF-certified, which means it performs exactly as advertised by the manufacturer. If you're skeptical about the benefits of a water softener, NSF certification is essentially a mark of reassurance.
🔧 Installation & Maintenance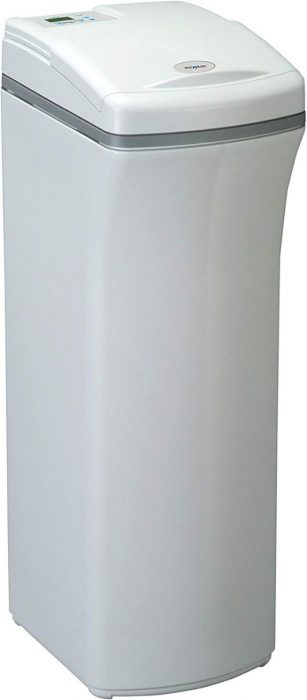 Being a salt-based softener, you'll need to connect the EcoPure up to your main water line, which will involve some fairly complex practices. As well as the contents of the package, you'll need a pair of 1-inch female NPT connectors and enough tubing to connect the EcoPure to your plumbing (there is tubing included in the package, but it may not be enough for some homes).
Some people prefer to hire a plumber for installation, and this is usually the time-saving option. A plumber can install a salt based softener like the EcoPure in 1 to 2 hours.
In terms of maintenance, you'll need to factor in for buying salt regularly to use in your top-ups. As the EcoPure uses ion exchange to soften water, replacing calcium and magnesium with sodium, salt plays a pretty important role in the process. The system won't work if your salt levels are low, so make sure you're prepared for once-monthly top-ups.
📝 System Info
The EcoPure physically removes calcium and magnesium from water in ion exchange. During this process, these hardness causing minerals are exchanged with sodium ions, eliminating the cause of limescale from water.
You should notice that after installing the EcoPure, your water lathers better and doesn't cause skin or hair dryness. You'll also be able to tone down your cleaning chores, as your soft water won't leave limescale deposits on the surfaces of your appliances.
🔔 Pros & Cons
Pros
Fully softens water, eliminating the minerals that cause hard water issues.
Uses predictive regeneration technology to save water and salt, cutting down on energy costs and maintenance.
Alerts you with a flashing light when salt is running low.
Offers lifetime technical support and 10 years' warranty on the tank.
NSF-certified to enable you to purchase with confidence.
Suitable for well water use.
Cons
Installation is quite difficult for the average user, and you'll need to purchase additional tools for the job.
Requires salt top-ups to continue running properly.
The user manual isn't always the clearest, so you might need to contact the manufacturer directly if you have any questions.
Found this review helpful?
Comment below or share this article!