🧾 Overview
The DuPont WFFM100XCH Faucet Mount Drinking Water Filter is a chrome water filter that can improve taste, odor and clarity of water. It looks stylish, designed with chrome components that don't look out of place at a kitchen sink, and offers impressively high-performance filtration for a filter of its kind.
The 100-series included filter reduces larger and smaller particles that are commonly found in drinking water, including sediment, benzene, chlorine, asbestos, lead and mercury. As many of these contaminants affect the taste and appearance of water, the DuPont WFFM100XCH produces water that's both healthier and more enjoyable to drink.
With a fairly average 100-gallon filter capacity, you can expect to get roughly 2 months out of the WFFM100XCH before needing to change your filter. You can attach the unit to most standard faucets, and there are 2 faucet adapters for you to use if you don't have the right fit. The unit handily comes with everything else you'll need for installation, including washers, a faucet mount, and even plumbing tape.
💡 Features
100-series filter
The DuPont WFFM100XCH's 100-series filter is designed to reduce taste and odor-altering contaminants in water, like lead, chlorine, sediment, cysts and asbestos. The filter lasts for roughly 2 months depending on your water usage.
Faucet mount & filter housing
The faucet mount attaches the filter housing to the faucet. It screws into the filter housing for simple installation. Made from stronger, more durable materials, you can expect the faucet mount and filter housing to last much longer than plastic alternatives.
2 faucet adapters
Most faucet filters come with at least 4 faucet adapters, so you may find that neither of these 2 adapters are the right fit for your faucet. Speak to the manufacturer to check the filter's fit on your own faucet if you want to save the fuss of having to look elsewhere for an adapter.
Installation parts
You won't need to make a trip to the hardware store to pick up extra pieces for installation providing your faucet fits with this DuPont system, as everything you need is included. You can find washers and enough plumbing tape to securely install the filter, plus some spare.
Installation instructions
Installing the WFFM100XCH takes a matter of 10 minutes, and instructions are provided in case you need a bit of guidance. You can also find handy info on maintenance and filter changes in the user manual.
🚦 Performance
The DuPont system is costlier than the majority of faucet water filters on the market, so you'd naturally expect some element of its performance to be standout.
What its inflated price really represents, though, is the quality of the materials used to make the filter housing. In some way, this does improve the performance, because using durable chrome prevents the housing from cracking or splitting, as is common with plastic models, thus ensuring the DuPont filter can be used consistently for longer without needing to replace the whole thing.
In terms of filter performance, the DuPont WFFM100XCH is pretty standard for a faucet water filter. You can expect to get around 100 gallons of use out of one filter cartridge, which isn't as impressive as some of its competitors – but you can still get at least 2 to 3 months of use out of it before it'll need replacing. You might be able to find replacement filters that last longer, which would mean you could benefit from longer-lasting filters and a filter housing unit that will stand the test of time.
🔧 Installation & Maintenance
Installing the DuPont faucet mount water filter is quick and simple. You just attach it to your faucet, using an adapter if required, and run it for 2 minutes to flush the filter.
The only issue is that the manufacturer only provides 2 faucet adapters with the filter, which doesn't give you the biggest range of options to choose from if you discover that your faucet doesn't fit naturally with the filter. You might need to purchase another adapter online or from your local hardware store, which is a bit of an annoyance on your end.
You won't be alerted by the system itself when you need to change the filter, but it should be fairly obvious by sight, as the filter will become so clogged that your water will only come out as a trickle. You can simply remove the old filter from the housing and add in a new one, which takes only minutes to do.
Because the DuPont WFFM100XCH is made out of better-quality materials, you won't struggle to unscrew the filter housing, and there's no need to worry about the unit cracking or buckling if you need to use a bit of force.
📝 Filter Info
The DuPont system's filter is WQA-certified to reduce lead, mercury, asbestos, sediment and cysts, which are commonly found in drinking water. It can also reduce factors that affect taste and odor of water, like chlorine. The WFFM100XCH doesn't remove chloramines, so keep that in mind if your water supplier uses chloramines instead of chlorine to disinfect your water.
You should only use the DuPont filter on chemically-treated municipal water. It can't be used on well water, which may contain bacteria and other harmful contaminants that the system isn't designed to remove. The DuPont filter also can't remove ions in water that cause limescale, like calcium and magnesium. Like 99.9% of faucet water filters out there, the WFFM100XCH is designed solely to improve water taste, odor and appearance.
New filters for the DuPont WFFM100XCH can be purchased directly from the manufacturer. You may also be able to find standard filters that aren't designed by DuPont that you can fit inside the filter housing. Just be aware that performance may vary.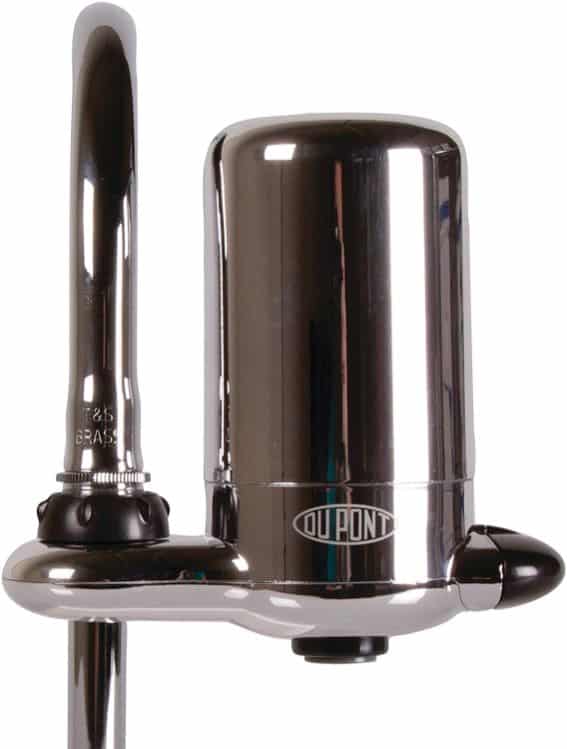 🔔 Pros & Cons
Pros:
WQA-certified – reassurance that you're spending your money on a filter that works
Designed from durable materials; far less likely to crack or break
Greatly improves taste and odor of water
Cons:
Can't be used to filter lead from water
Filter lifespan isn't the longest we've seen
Filter may differ in appearance from product photo – some people have received a silver matte product
❔ Frequently Asked Questions
Does this unit only run filtered water?
No, there is a switch on the side of the filter that you can use to turn it on and off. This means you won't need to use the filter when washing dishes or whenever you need hot water, which could damage the filter.
How much does this reduce water flow?
The DuPont WFFM100XCH reduces water flow noticeably, but not to an annoying level. Water flow is slowed down as your tap water needs time to pass through the filter, which removes its contaminants. However, it should still take you less than 10 seconds to fill a glass of water.
How do I know when I need to replace my filter?
You should replace the filter after every 100 gallons of water used, but it's not reasonable to expect you to be able to calculate how many gallons of water you use per day. The best way to know when to change the filter is when it starts taking two-to-three times longer to fill up a glass of water. That's an indication that the filter is becoming too clogged with sediment to work effectively.
Can this filter be used on a faucet with a pull-out spray hose?
No, it's designed to be used on a bar faucet without a pull-out sprayer. You probably won't find any faucet filter that fits a faucet with spray hose.
What happens if the unit doesn't fit my standard faucet?
Try one of the two adapters. If they don't work, take the filter to your local hardware store and ask for assistance in finding the correct adapter.
Found this review helpful?
Comment below or share this article!