🧾 Overview
The Culligan WSH-C125 is a showerhead water filter with a chrome design. This filter has a lifespan of 10,000 gallons, roughly equating to 6 months, to help you get maximum use out of the unit before paying for a replacement cartridge. The filter itself reduces chlorine and sulfur odor, as well as scale caused by hard water minerals like calcium and magnesium. It has 5 spray settings, including full-body spray and pulse.
Everything you need for installation of the Culligan shower head is included, even teflon tape and a handy cartridge reminder sticker that you can use to measure when it's time to buy a new filter. The filter can be installed on a ½-inch threaded shower arm, and can be used with a temperature range of 40 to 120 degrees Fahrenheit. If certification is important to you, you'll be reassured to know that the Culligan shower head filter is tested and certified to ANSI standard 177, and it also meets the EPA WaterSense standard of minimum of 1.8 gallons or less.
💡 Features
Shower head filter unit
The Culligan WSH-C125 filter unit isn't placed on the shower arm before a showerhead; it is a showerhead itself. You'll need to replace your current showerhead with this one to benefit from the filter stored inside it.
Filter cartridge
The WHR-140 filter is ANSI certified and can reduce the likes of chlorine, scale and sulfur, as well as limiting the growth of bacteria.The shower head unit comes with one cartridge included; you will need to buy replacements yourself.
Installation accessories
Teflon tape is included for installation, so you won't need to purchase any tools or accessories yourself. There's also a supplied cartridge reminder sticker for filter changes.
Instructions and user manual
As you would expect, the manufacturer doesn't leave you in the dark when it comes to installation and maintenance. Everything you need to know is included in the product's instructions manual.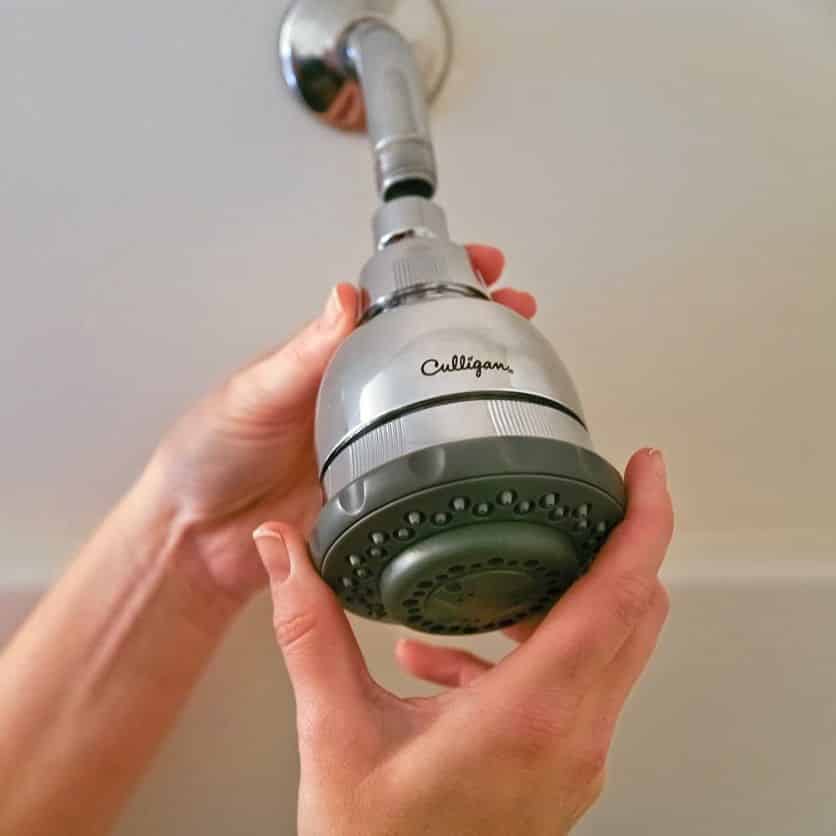 🚦 Performance
The biggest plus point of the Culligan shower head performance-wise is that it's certified to do exactly what the manufacturer claims. It has a certification to NSF/ANSI standard 177 for chlorine reduction, and it also meets the EP WaterSense certification standard of a minimum 1.8 gallons per minute or less. This means that not only can you be certain that this filter will remove chlorine from your water, it also won't affect your water pressure to the point of being inefficient.
The Culligan WSH-C125 lasts for up to 10,000 gallons of water, or 6 months, which is on the higher end of filter lifespans. Of course, this is only a generalization, as if your water is very hard or contains a higher level of contaminants, you will probably clog the filter up faster, which means you'll need to replace it more frequently. But this is still a good lifespan compared to many drinking water filters.
🔧 Installation & Maintenance
The Culligan shower head water filter cartridge comes inside its own showerhead, so you will need to remove your current showerhead and replace it with this one to benefit from water filtration. This is slightly limiting, as the Culligan WSH-C125 only comes in one color and style, so you don't get much say when it comes to appearance. Still, installation is simple, and the unit comes with everything you'll need to attach it straight onto your shower arm.
Providing your shower arm is a standard 1/2-inch threaded, the WSH-C125 should fit perfectly without the need for an adaptor. You just screw the showerhead in place, using the provided teflon tape to prevent leaking, and the job is done. You don't even need to fit the filter, as it comes pre-installed in the system. Just make sure to run the system through with water for 10 minutes to flush out any loose filter media.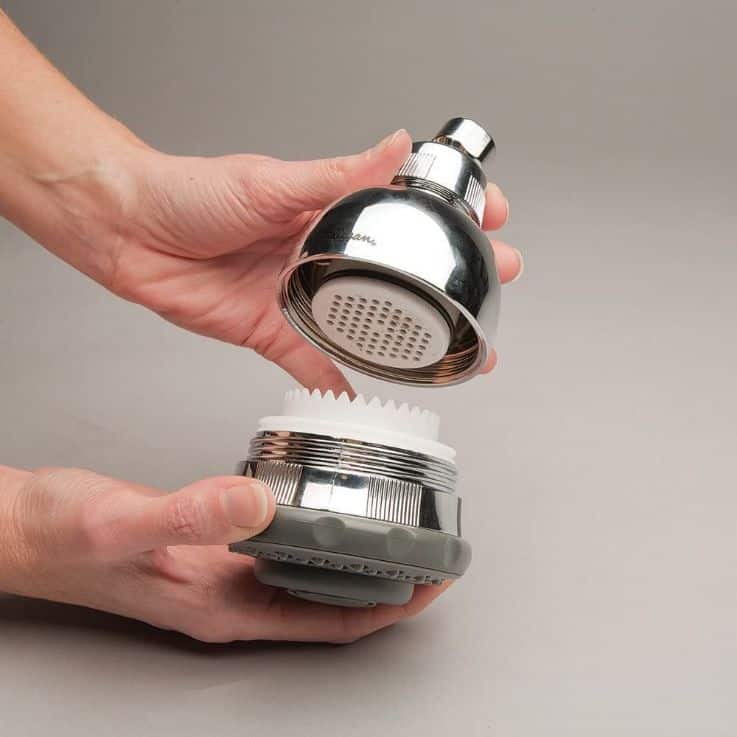 📝 Filter Info
You can rely on the Culligan WSH-C125 filter to remove chlorine, as it's NSF/ANSI-certified to do so. It will also reduce sulfur odor, and reduce the amount of scale. This helps to prevent a build-up of limescale on the showerhead itself, and also gives your hair and skin the hydrating nourishment it needs and prevents dryness.
The filter design is chemical-free, helping you to shower safely and healthily. It can be used for up to 6 months before it needs changing. When you want to replace the filter, just take the old one out and pop the replacement in its place. You can purchase replacement filters from the manufacturer or from other stores online. Just make sure the filter will fit in your showrhead if you buy one that isn't from the manufacturer.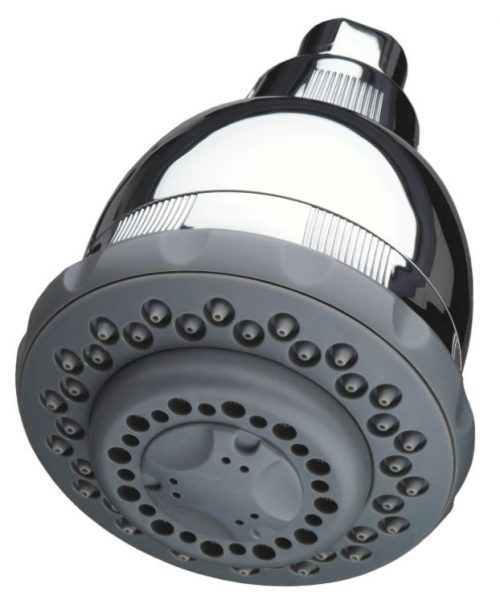 🔔 Pros & Cons
Pros
5 spray settings to choose from
Simple to install
Filter lasts for up to 6 months
Cons
Only comes in one color/design
Won't remove chloramine (only chlorine)
May affect water pressure slightly
❔ Frequently Asked Questions
How do you know when the filter needs changing?
The flow of the water will decrease, indicating that the filter is too clogged with sediment to work effectively. The filter should last for up to 6 months, but if your water is higher in contaminants, or you and your family enjoy long showers, you may need to replace it earlier than this. You can use the manufacturer's provided cartridge reminder sticker to remember changes if you think you may lose track of how long you've had it for.
Will this filter help with rust and iron issues?
No, the Culligan WSH-C125 is only designed to filter out chlorine and sulfur, and is not intended for removing rust-causing iron. There are filters out there that can remove iron, though you may need to limit your search a bit.
How many gpm (gallons per minute) does this filter produce?
The Culligan shower head can filter a maximum of 2.5 gallons per minute, though actual gpm may be affected by your ingoing water pressure. This is a good flow rate, and should mean that you don't have to deal with poor water output from your shower, aside from when your filter needs changing.
Does the unit allow for rotation?
Yes, you can move the showerhead from left to right and up and down. It's not fixed in one position.
How do you change the shower stream?
There are 5 showerhead stream settings. You can change from one setting to another by turning the head. If you do this while the water is on, you will be able to differentiate between the different streams.
Found this review helpful?
Comment below or share this article!