🧾 Overview
The Culligan FM-15A Faucet Mount Filter is a small, high-quality filter system that attaches straight onto a kitchen sink faucet.
With a small size and design, the system won't get in the way while it's mounted on your faucet. The filter fits into the unit with a screw-on cap for easy installation.
With ANSI certification for reducing chlorine, lead, and other microorganisms like pesticides and VOCs, the faucet filter comes with a package of adapters to help you fit the unit onto a non-standard faucet.
You will need to change your filter every 2 months or so, and as the Culligan FM-15A is a lower-cost machine, it comes with a basic filter reminder sticker to know when to do this.
💡 Features
Filter housing unit
The filter housing unit is the main body of the system, and attaches onto a faucet with an adapter. It stores a screw-in filter inside it, protecting it from particles in the air. This unit is small enough to fit nicely onto the end of a faucet without taking up too much sink space.
Faucet adapters
The Culligan FM-15A comes with a selection of faucet adapters. In today's world, when there is no universal faucet in the US, these adapters are incredibly handy, as they'll enable the filter unit to fit onto your own kitchen sink faucet.
Filter change sticker
For when it's time to change your filter, you can refer to your filter reminder sticker that comes with the unit. This unit doesn't have an electronic filter change alert, so you will need to make use of the sticker or note down your replacement date in your agenda.
Installation instructions & user manual
Though there is essentially no installation required for the Culligan FM-15A, the user manual can answer any questions you may have about your filter, and offer guidance where you need it. Culligan also offers its own online video demonstrating how to fit the unit to your faucet.
🚦 Performance
Though the Culligan FM-15A is only small in design, the filter performs well enough to meet the average customer's expectations. It is tested and certified by IAPMO against two notable ANSI standards to reduce chlorine taste, as well as reducing the likes of lead, light sediment, lindane, and particulate class 1.
As the filter lasts for up to 2 months, roughly equating to 200 gallons of water, efficiency is fairly standard of a filter of its size and make.
The nature of all filters is that they eventually become clogged up with sediment (which means that they're doing a good job in filtering your water), and you will need to replace your Culligan FM-15A according to the manufacturer's recommendations if you want to get the best use out of the unit.
🔧 Installation & Maintenance
Being a faucet water filter, the Culligan FM-15A doesn't require under-sink installation or connection via a pipe or tube.
You just need to remove the aerator from your sink faucet and attach your water filter to your faucet, using an adapter to connect the two if necessary. Then turn the swivel attachment to tighten it in place.
You don't want to overtighten it here, so don't use pliers for the job. Turn on your cold water and pull out the valve to allow the water to pass through the filter.
There is no cleaning or maintenance required for the Culligan FM-15A . Just make sure you don't use hot water in the system, and change the filter every 2 months or so. Filter changing is essential maintenance, as continuing to use your filtration system when the filter is completely clogged will be about as effective as drinking straight from your kitchen faucet.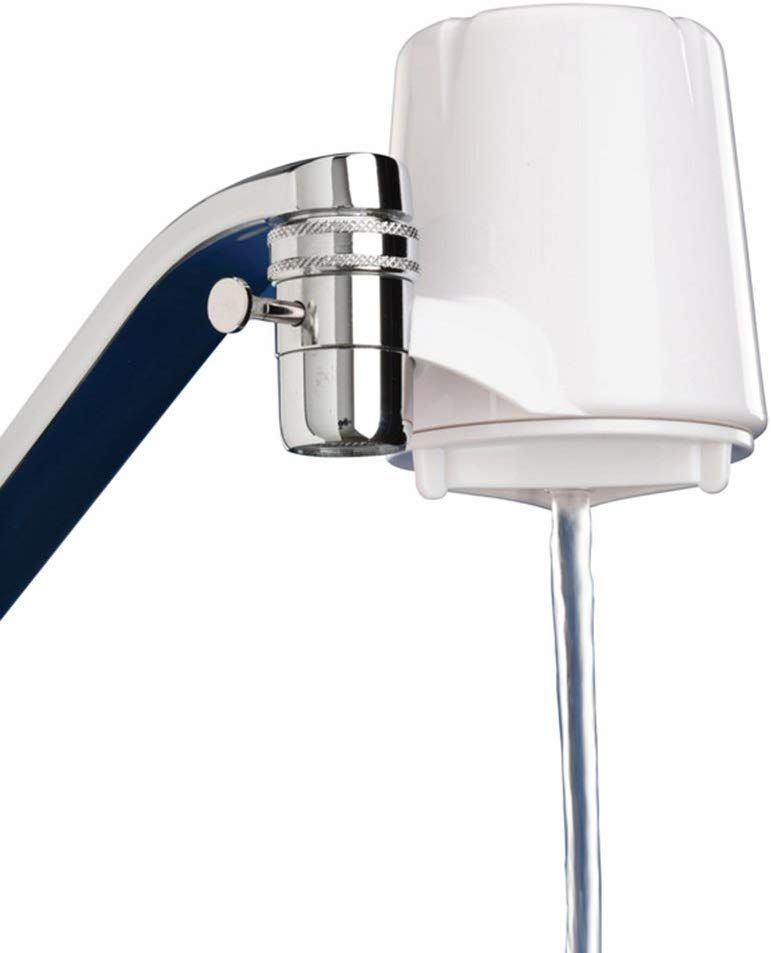 📝 Filter Info
The Culligan FM-15A uses a carbon block filter that has been ANSI-certified to reduce a number of contaminants in water that cause bad taste and odor, and may be harmful to our health.
These include chlorine, lead, sediment, lindane, and turbidity. You will need to change the filter every 2 months, though it's wise to keep a new filter to spare after 1 month of use, especially if you use your filter frequently throughout the day.
As a carbon block filter, the Culligan FM-15A's filter uses a process called adsorption to trap pollutants inside the pore structure of the filter. Each of the carbon granules is highly porous, which creates a large surface area to trap contaminants, even in smaller filters like the FM-15A.
The benefits of carbon filtering have been scientifically proven, and with its ANSI certification, you can be sure that this filter works as advertised – though it isn't powerful enough to remove all TDS.
🔔 Pros & Cons
Pros
Requires no tools for installation
ANSI-certified to reduce a number of contaminants
Basic and inexpensive; does what it says it can do
Cons
Culligan's replacement filter cartridges aren't the cheapest
Changing the filter is a little tricky, as it takes some force to open the filter housing
No filter change indicator light
❔ Frequently Asked Questions
Does this water filter come with a filter?
Yes, you will find a filter already inside the housing unit when you buy the Culligan FM-15A. You will need to purchase additional replacement filters for roughly every 2 months of filter use.
How easy is it to switch from filtered to unfiltered water after installing the Culligan FM-15A at a faucet?
It's incredibly simple. Obviously, as you can't use the Culligan FM-15A to filter hot water, you will need to switch to sending water out of your faucet instead of your filter. Just push in the valve on the side of the filter to stop water from flowing through it, and pull the valve out to allow water into it.
How do you know when the filter has reached its 200-gallon limit?
The water flow will likely diminish down from a steady stream to a trickle. There is no indicator light, so you will need to change the filter based on your observations.
Does this filter remove fluoride?
No, it does not.
Toggle TitleWill this filter fit my non-standard faucet?
It depends. The filter comes with a package of adapters for you to test against your faucet using trial and error, but they aren't designed to fit every single faucet that exists in America. The manufacturer recommends contacting them before making a purchase if you're unsure.
Found this review helpful?
Comment below or share this article!