If you're a hiker, backpacker or traveler, you more than anyone will know the importance of being well-equipped with an easy means of accessing clean drinking water. When your travels take you off the beaten path, you might not have the luxury of being able to fill up your water bottle with clean, treated city water – and that's why CrazyCap water bottles were invented.
In this review, I'll discuss the best features of the Crazycap bottle, helping you to ultimately decide whether it's the right water purifier bottle for you.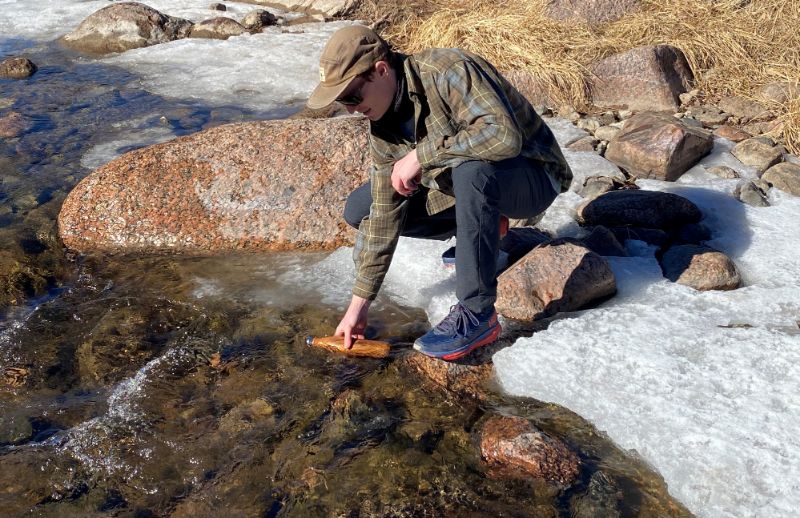 🧾 Overview
The CrazyCap bottle isn't like most filtered water bottles. It doesn't feature a bulky filter that needs to be changed every couple of months, and it doesn't require that you drink from it through an awkward straw.
Instead, this stainless steel bottle uses UV sterilization technology to disinfect the water in the bottle – and all it takes is a couple of taps on the lid.
Tap twice for normal water sterilization or 5 times for "crazy mode" sterilization, and the purifier will work in just 60 seconds to purify your water and make it safe to drink. The bottle also self-sanitizes between uses, so you don't have to worry about thoroughly cleaning it out yourself.
With a rechargeable cap, you don't need to bother with changing batteries with the CrazyCap filtration bottle. You just recharge the cap when it's not in use and it'll be good to go for your next backpacking or hiking trip.
💡 Features
Multi-fit design
While the CrazyCap lid comes with one of several water bottles, in a variety of colors and styles, a big bonus of this purifier is that you can fit it onto any cola-style bottle in 9, 12, 15 and 17 oz sizes (the diameter of the cap is 34mm). This means you can still drink from your favorite water bottle when you need to purify your drinking water to make it safe to consume.
Self-cleaning technology
Every 4 hours and 20 seconds, the CrazyCap purifier switches on and shines a deep UV light onto the inside of the bottle. This sterilizes the surface and ensures the likes of mold, viruses and bacteria can't build up in your bottle between uses. This product doesn't require backwashing multiple times like some water bottle filters.
Port-less UV charger
The CrazyCap comes with a UV charger that doesn't need to be connected up to a port. To charge the purifier, just place the charger on top of the cap and leave it for 4 hours to fully charge.
UV light for purification
Unlike a typical water bottle filtration system, the Crazy Cap uses deep UV light technology. This UV light is designed to alter the composition of contaminants like bacteria and kill them. This makes it a great option for using when you travel to locations where you can't guarantee access to clean water.
User manual
You can get access to top-quality customer service with CrazyCap, and this begins with your initial purchase. You get a thorough user manual included with this cap, which lets you know the best way to use and look after your bottle.
🚦 Performance
The CrazyCap is so effective in its purification that you can use it for sterilizing even the dirtiest of water sources, from contaminated tap water to lakes and streams. The device's 278 nm deep UV LEDs destroy all pathogens by rupturing the proteins that make up their cell walls, killing them and preventing them from replicating.
It removes pathogens from your water, and the CrazyCap doesn't add anything harmful or dangerous during the UV purification process, either. The purifier is designed to achieve optimal light spectrum without introducing mercury to your water, so you can rest assured that you'll only ever drink clean, safe water from the CrazyCap.
Depending on the mode you opt for, the CrazyCap offers two different levels of contaminant reduction. The Normal Mode, for example, boasts a 99.1% kill rate of E-Coli cells, while the more thorough Crazy Mode kills up to 99.99% of E-Coli cells.
As an added bonus, you can even use the Crazy Cap bottle lid to sterilize everyday items that accumulate bacteria over time, like computer keyboards and phones. The cap has been proven to pass the test in sanitizing even the most bacteria-prone locations, like airplane tray tables.
Purification time
The CrazyCap features two simple modes: Normal Mode and Crazy Mode.
After you've screwed the lid onto the bottle, tap twice for a one-minute Normal Mode purification (which is suitable for tap water and public water fountains), and five times for Crazy Mode (if you get water from lakes, streams or ponds), which takes 120 seconds to sterilize water from start to finish.
This purification period of two minutes or less stays the same no matter what water source you're purifying. Whether you come across a lake or stream during a travel excursion or you simply wish to purify tap water, this UV light technology works at the same speed no matter what.
🔆 Ease of Use
When you're out exploring, you don't want to have to spend hours of time filtering water and making it safe to drink. With the CrazyCap, there's no need to stop for any longer than the time it takes to fill the bottle and tap it twice or five times. This makes it one of the most easy-to-use portable water purification systems on the market.
There's no reason why you can't use the CrazyCap in your daily life, either, considering it requires no setup or waiting around for the water to filter. In the same amount of time it would take you to remove a water bottle from the fridge and open the lid, you can fill your CrazyCap bottle and tap the lid to commence water purification.
As mentioned above, there are two different CrazyCap purification modes: Normal and Crazy. Both modes require nothing more difficult than tapping the lid with your finger to operate. Even if your travel takes you out in the wild for hours on end, you'll only have to fill the bottle and tap the lid up to 5 times per 24 hours if you have a large enough water bottle.
🏋️ Weight & Portability
The CrazyCap weighs just 3.15 oz, making it light and portable when it's on its own. Of course, when you attach this product to bottles containing water, you'll also have to factor in the weight of the bottles. A 17oz bottle will weigh more than a smaller option – but a 17oz bottle will also provide you with a larger amount of purified water in one go.
If you have enough space in your bag for a standard-size water bottle, you'll have enough space for the Crazy Cap when it's attached to a bottle. If you'd rather go bag-free, you can also buy a handle for the device and attach it to your clothing.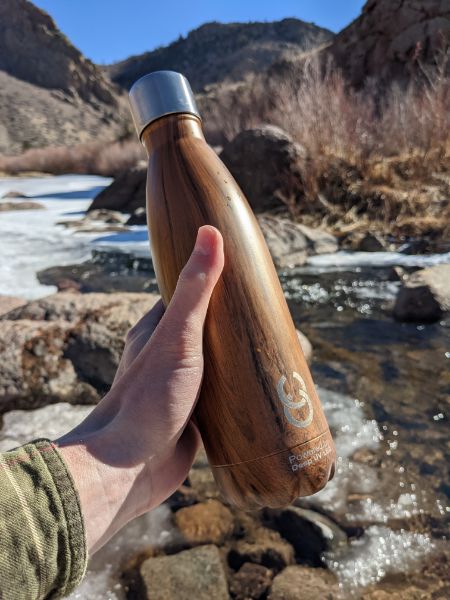 🔨 Durability
There's no avoiding everyday wear and tear, especially if you plan to buy the CrazyCap for using in backpacking or camping-style travel trips. But with its stainless steel design, you can at least be confident that the CrazyCap's UV sterilization ability won't be affected by the occasional bump and bang. Keep in mind that if you opt to attach the CrazyCap to your own bottle, the durability of your bottle has nothing to do with the durability of the CrazyCap.
The cap is designed to provide up to 8 million ounces of drinking water – and considering we drink roughly 64 ounces of water on a daily basis, you're safe to assume that with the right treatment, this bottle will stand the test of time. The product comes with a one-year warranty, which doesn't cover damage caused by everyday wear and tear or misuse.
🛠️ Maintenance
With its unique deep UV blue light technology, the CrazyCap bottle is completely maintenance-free for life. There are no filters to change or backwashing required – all you need to do is connect the bottle up to the included portless USB charging technology, which will ensure it's always ready to go whenever you need it.
You don't even have to wash the CrazyCap out with soap because of its self-disinfecting feature. You should still empty out stagnant water, though, and make sure the bottle is empty when you're not using it, which will help it to clean itself properly.
One charge is all it takes to enjoy several weeks' worth of safe drinking water in the CrazyCap's first-generation battery. When it's had a full charge, the purifier will last for as long as 30 days before it needs to be charged again. The second-generation battery isn't quite as impressive, but is still decent, lasting as long as 7 days after one charge.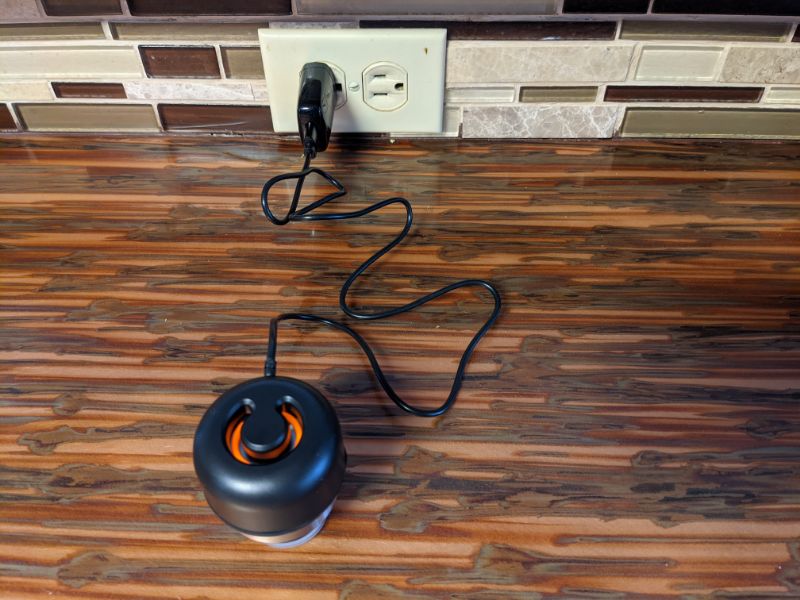 🔔 Pros & Cons
👍 What I Like
Fits multiple bottle sizes – You can enjoy using the CrazyCap with your own bottles of various sizes, from 9oz to 17oz, providing they're cola-style bottles. 17oz is the "typical" water bottle size, and holds 500ml of water at one time.
Helps cut down on water bottle usage – There was once only one option for people traveling or hiking in areas with no clean water source: stock up on plenty of water bottles in advance. Not only does this mean you're going through a whole host of single-use plastic in one go – but you'll also be weighed down by all the water you need to sustain you throughout your trip. With the Crazycap, you only require a single water bottle to access clean water, and it's reusable, too, so you're doing your bit for the environment.
Lasts for weeks between charges – Depending on which CrazyCap battery you go for, you can enjoy using the purifier for as long as 30 days before it'll require a recharge. This makes it a great option for taking on backpacking or remote travel trips – you won't even have to take your charger with you.
Effective contaminant removal – You could risk drinking potentially contaminated water during travel, or you could buy water bottles to save yourself the worry. It wasn't long ago that you only had the choice between these options. But if you buy the CrazyCap, you can get access to purified water on all your travel excursions without having to take risks. The CrazyCap uses UV light technology to kill pathogens like bacteria and viruses in water, making it completely safe to drink. It's one of the top bottles on the market for the job, and one of the first UV water bottle cap systems of its kind.
Cheaper water treatment solution – Most people opt to buy the CrazyCap for taking with them on trips away, but there's no reason why you can't treat your home's everyday water with this purification cap. It costs between $70 and $85 upfront, which is much kinder on your wallet than most at-home water filtration devices. Plus, its long lifespan and minimum required maintenance makes it one of the cheapest, fuss-free long-term water treatment solutions (and it's also capable of doing what most filters can't: eliminating pathogens).
👎 What I Don't Like
Requires charging – While the CrazyCap doesn't need to be attached to a charger 24/7 when it's not in use, you will need to remember to charge it from time to time – otherwise it'll effectively be useless. It's minimal maintenance compared to other water bottle filters, but if you don't chrge it, you won't be able to get any use out of the CrazyCap to clean your water.
Can't be used with debris-containing water – You can use the CrazyCap with any body of water – with one exception. Because this cap purifies water using ultraviolet light, rather than filtering it, it won't remove suspended solids from water. That means soil, leaves and pebbles will linger in your water even after it has been purified. For this reason, the manufacturer recommends that you only use the CrazyCap with clear, transparent water.
Only removes pathogens – The sterilizer doesn't remove other contaminants that may be found in natural sources, such as organic & inorganic chemicals or metals.
Doesn't adapt to large bottle sizes – At the moment, you can only attach the CrazyCap to bottles up to 17 ounces in size, which isn't ideal if you're hiking and you'd rather store a day's worth of purified water in one place.
❗ Final Verdict
If you're looking for a water bottle that can handle both tap water and natural water sources in travel or in everyday life, the CrazyCap bottle is a fantastic option.
It offers a far more convenient contaminant removal solution than water bottles with a physical filtration system, with its unique UV light technology that kills contaminants like bacteria and viruses in water, and its long-lasting battery life. You can enjoy using it as many times per day as you want, provided you've charged the cap up before heading out on a travel excursion.
Found this review helpful?
Comment below or share this article!