Interested in buying a water bottle from Clearly Filtered? Wondering which bottle is best, or whether any bottle is worth your money? We've shared everything you need to know in this Clearly Filtered Water Bottle Review.
🧾 Overview
Clearly Filtered currently offers three types of filtered water bottles:
| Bottle | Holding Capacity |
| --- | --- |
| Insulated Stainless Steel | 32, 20 or 12 ounces |
| Tritan Plastic | 24 ounces |
| Glass | 32 or 20 ounces |
All the bottles use the same filter, which reduces more than 220 contaminants using Clearly Filtered's Affinity Filtration technology (more on that later).
Are any of the Clearly Filtered water bottles best for you? Yes – if you're keen to drink clean, filtered water while you're out and about, all three bottles are well worth your money, since Clearly Filtered reduces more contaminants than virtually all other water bottle filters available today.
Clearly Filtered Tritan Filtered Water Bottle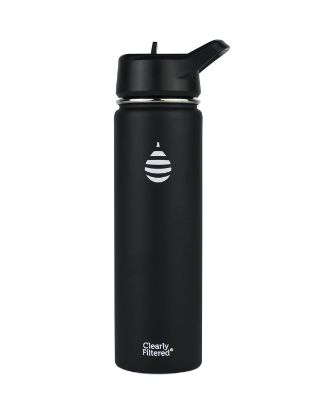 Clearly Filtered Insulated Water Bottle
Clearly Filtered Glass Filtered Water Bottle
📝 System Specifications
| | |
| --- | --- |
| Bottle Materials | Stainless steel, Tritan plastic, or glass |
| Filter Type | Straw filter |
| Filter Media | Affinity® media (a blend of a dozen different materials) |
| Filter Lifespan | 20 gallons |
| Capacity | 20 ounces or 32 ounces (stainless steel and glass bottles) or 24 ounces (Tritan plastic bottle) |
| Warranty/ Guarantee | Limited lifetime/ 90 days |
💡 Features
3 Bottle Materials & Sizes
You can choose between three bottle materials, including insulated stainless steel (which keeps water cold for up to 24 hours), Tritan plastic, and glass. Sizes range from 20 ounces to 35 ounces.
Advanced Filtration Technology
The Clearly Filtered bottles use the same Affinity Filtration technology as the brand's Water Pitcher Filter, but with slightly fewer contaminants reduced.
Limited Lifetime Warranty
No concerns about customer support or product longevity, here. Clearly Filtered offers a limited lifetime warranty with its filtered water bottles, as well as a 30-day money-back guarantee.
🚦 Performance
We evaluate the performance of any water filter based on three key factors:
The number of contaminants reduced (the effectiveness of filtration)
The filter flow rate (the speed of filtration)
The filter lifespan (the longevity of filtration)
Let's start with contaminants reduced. Clearly Filtered promises to transform ordinary tap water into safe, clean drinking water, and it certainly excels in this area, reducing a total of 220 contaminants, including:
>99.5% chlorine
>99.3% lead
>99.2% pharmaceuticals
99.5% fluoride
Pesticides
Herbicides
VOCs
An added reassurance is that Clearly Filtered's bottle filter has been tested by an EPA-approved third party to NSF Standards 42, 53, and 401. While we'd prefer an official NSF certification, we still appreciate Clearly Filtered's transparency in sharing its test results online.
As for flow rate, this is hard to measure. You send water through the filter by sucking on the straw. You'll get filtered tap water on demand, although a fair bit of suction force is required. Still, if you prefer instant access to water, any of the Clearly Filtered bottles will give you just that.
Finally, filter lifespan. You can get about 25 gallons or 6 months of use out of a single filter. That's about average for a water bottle filter. Considering the number of contaminants reduced, it's impressive that the filtration process can be sustained for so many months on end.
📌 In all, Clearly Filtered's water bottles might be expensive, but you only need to make two filter changes a year, and the exceptional performance equals fantastic value for money in our eyes.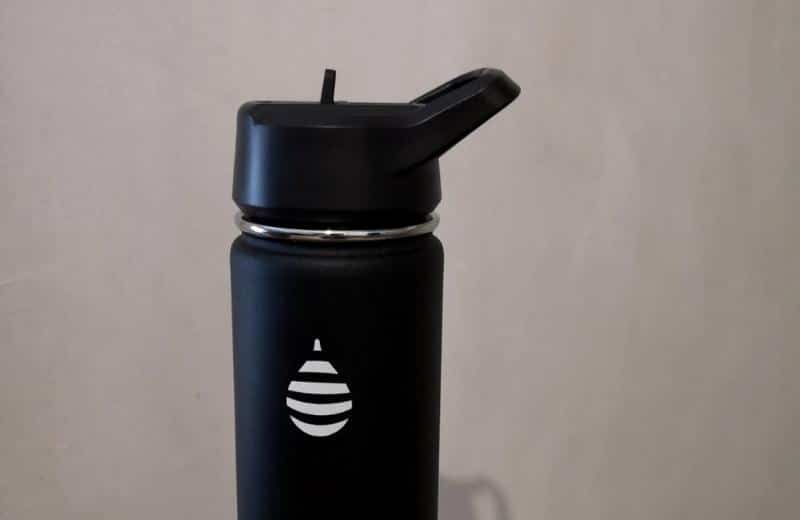 🔧 Installation & Maintenance
You wouldn't expect a major installation or setup process with any filtered water bottle – and the Clearly Filtered Water Bottle products are no different.
In fact, there's no setup involved at all – just follow the instructions in the user manual to insert the filter into the housing at the bottom of the straw, then fill the bottle with water and screw the lid in place.
Maintenance is easy, too. After 25 gallons (equal to about 160 bottle fills if you have the 20-ounce bottle, or 130 fills if you have the slightly larger 24-ounce Tritan plastic bottle), replace the filter. Replacement filters cost about $25 per filter (you can save money buy buying a 3-pack or a 6-pack). That's pretty costly, but still much more affordable than buying single-use bottled water.
Aside from changing the filters, make sure to keep the bottle itself clean by washing it with a soft sponge, warm water, and mild dish soap. This is especially important for the straw and mouthpiece, which are more challenging to clean, but shouldn't be neglected. Sadly, none of the parts are dishwasher-safe, so it's hand-washing only.
Related Article: Read Our Reviews of all Clearly Filtered Products
📝 Filter Info
Clearly Filtered is pretty secretive about the exact type of media in any of its water filters (which is probably why the brand hasn't obtained an official NSF certification, for fear of disclosing its manufacturing secrets to competitors).
📌 What we do know is that the filter contains a blend of a dozen different media types, creating what Clearly Filtered has dubbed "Affinity® media". We know that one of these media is activated carbon, and that there are other adsorption media in the filter, too.
Activated carbon is one of the most popular water filtration methods, showing in numerous studies to effectively reduce chlorine, tastes and odors, lead, and other contaminants with health effects.
But activated carbon alone couldn't reduce the hundreds of contaminants that the Clearly Filtered water bottle filters can reduce. We'd imagine that KDF, ion exchange, and other media types are used in combination with the carbon media to complement the adsorption process and reduce a wider range of impurities.
🔔 Pros & Cons
👍 What We Like
You'll struggle to find any other filtered bottle that can reduce as many contaminants as the Clearly Filtered water bottles. 220 contaminants is really impressive.
We love that you can choose between different bottle materials depending on your preference. The insulated stainless steel bottle is our personal favorite since it's the most durable and comes in two sizes, but you might prefer the aesthetics of glass or the affordability of plastic.
Using a Clearly Filtered bottle won't put anything nasty into your filtered drinking water. All bottle designs are BPA, BPS, and phthalate-free.
The lifetime warranty and 30-day money-back guarantee are the best you can ask for. It's reassuring to know that you can send the bottle back for a full refund within the trial period. Most other water bottle filter brands don't offer warranties beyond 1 or 2 years.
👎 What We Don't Like
One of the biggest complaints about the Clearly Filtered water bottles is that you need a lot of suction force to send water through the filter. All Clearly Filtered bottles use a straw filter, which means that water gets filtered as you suck through the straw. If you want a big drink, it'll take a bit of effort to sustain the amount of suction force required. Luckily, Clearly Filtered has recently addressed this issue with a filter redesign, so it should be easier to drink through the straw going forward.
We also read complaints from customers about leaking out of the bottle lid, but the folks at Clearly Filtered seem to think that this is due to an issue with a misplaced silicone ring.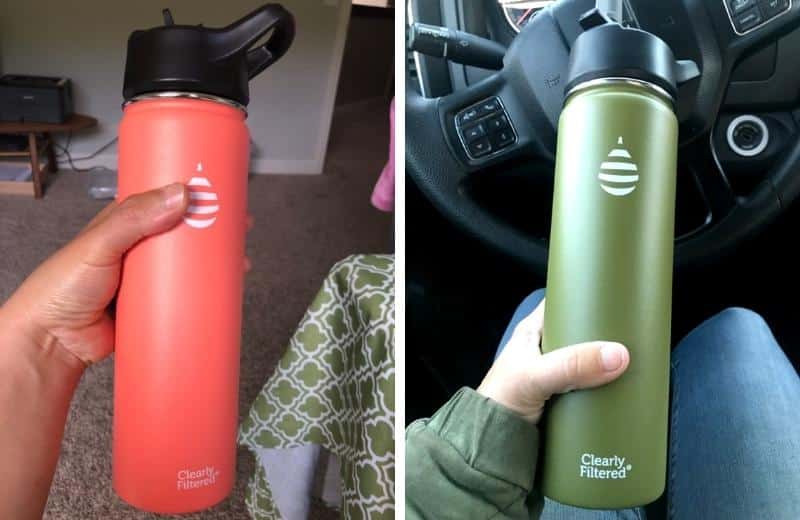 ❔ Frequently Asked Questions
Is Clearly Filtered legit?
Yes, Clearly Filtered is legit. The brand was incorporated in 2011 and is based in the USA (that's where its products – including their most popular pitcher – are manufactured, too). Clearly Filtered obtained testing by a legitimate EPA-certified laboratory called Envirotek Laboratories, based in Wilmington, DE.
Does Clearly Filtered water bottle reduce bacteria?
No, the Clearly Filtered bottled water filters don't reduce bacteria.
How does the Clearly Filtered water bottle work?
The Clearly Filtered filter water bottles work by filtering water as you suck through a straw. Simply fill the bottle with normal tap water and screw the lid in place. Holding the bottle upright, suck the straw to send water up through the filter, through the straw, and into your mouth. The harmful chemicals, heavy metals, and other contaminants will be trapped in the filter media.
Does Clearly Filtered filter bottle reduce E. Coli?
No, the Clearly Filtered bottle filter doesn't reduce E. Coli.
What does Clearly Filtered bottled filter reduce?
Clearly Filtered's bottle filter uses Affinity Filtration technology to reduce chemicals, heavy metals, VOCs, pesticides, herbicides, pharmaceuticals, and more from tap water.