🧾 Overview
The cleanwater4less Countertop Water Filtration System is a high-capacity water filter that doesn't require a filter change throughout its entire lifespan.
The unit is said to last for up to 7 years for a family of four, or a household that uses roughly 1,500 gallons of water per year. The majority of countertop water filtration systems require filter changes every 3 to 6 months, so the cleanwater4less filter is certainly appealing as a low-maintenance, money-saving alternative.
With a 5-stages granular activated carbon filter, the cleanwater4less system can handle around 10,000 gallons of water in total, and reduces chlorine, sediment, volatile organic compounds, and unpleasant taste and odor.
The idea is that you install the system just once (unless you plan to take it on your travels), use it for its 7-year lifespan, and dispose of the entire thing once you have finished with it. There's no warranty for the unit, though, just a 30-day returns guarantee, so keep that in mind when making a purchase.
💡 Features
5-stage granular activated carbon filter
The cleanwater4less countertop water filter has an all-in-one sediment pre-filter, depth pre-filter, high grade GAC filter, depth post-filter and final micron filter. This reduces sediment, chlorine, and VOCs, improving the taste of water.
Diverter valve
This is the component that attaches the filter unit up to your kitchen sink faucet. It attaches to the majority of standard faucets – you may need an adapter if your faucet is non-standard.
Unit housing
The filter housing is made from silver stainless steel, and is sealed, meaning you won't be able to open it to access the filter. As its filter is designed to last for 7 years, there's no reason to need to get into the unit, and the sealed feature is useful in keeping out dust and other tiny microparticles that could affect the efficiency of the filter.
User manual
The unit's user manual contains information about how to install the cleanwater4less system, and how to look after it during its 7 years of life. The manufacturer also offers a "lifetime commitment to customer service", so you'll be able to contact them with any issues if ever you need their support.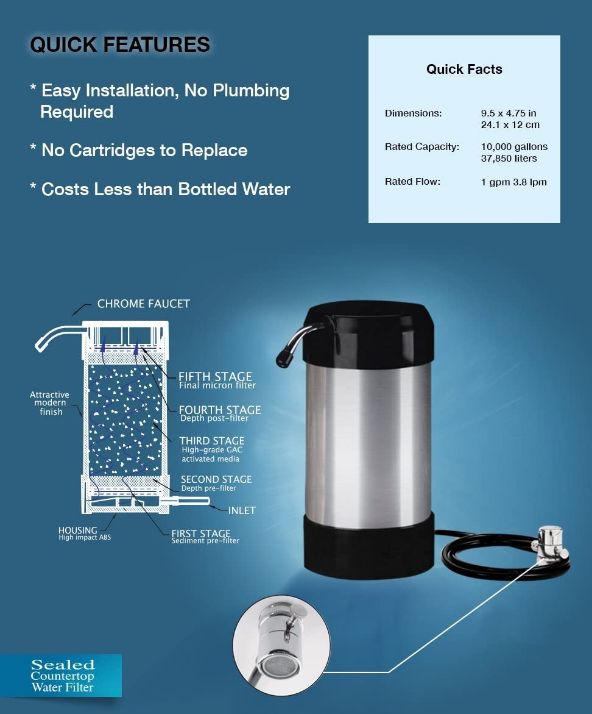 🚦 Performance
The cleanwater4less system is fairly well performing, especially when you consider the filter's lifespan. The average filter in a countertop water system is designed to last for 3 to 6 months, so the fact that the manufacturer claims this filter can last for 7 years is undeniably impressive.
Whether the filter legitimately does last for 7 years is debatable. If you get through quite a lot of filtered water every day, you may exhaust the filter more quickly, resulting in a shorter lifespan.
In terms of the performance, the clearwater4less filter does what it's designed to do. It produces cleaner, tastier water with a reduced number of contaminants. There's no waiting for the water to come out, as can sometimes be the case with countertop water filters.
Keep in mind, though, that if you're looking for a water filter for extreme water conditions like dirty well water, the cleanwater4less countertop filter isn't powerful enough to make the water safe to drink. It's best to look for a reverse osmosis system, which can eliminate up to 99.9% of all contaminants in water, for this purpose. You should only use the cleanwater4less filter for municipal water that has been treated at a plant before entering your home.
🔧 Installation & Maintenance
Installation of the cleanwater4less system is as simple as connecting the unit up to your kitchen sink faucet. It fits onto the majority of standard faucets, but the manufacturer recommends getting in touch if you have a non-standard faucet, like a pull-out design.
Maintenance is even easier – you essentially have to do nothing. As you don't need to change the filter, there's no need to keep track of dates, count how many months have passed, and order a new filter in advance. In fact, providing the components of the unit don't let you down, you won't need to spend any money in your quest for cleaner drinking water aside from on the initial purchase of the system.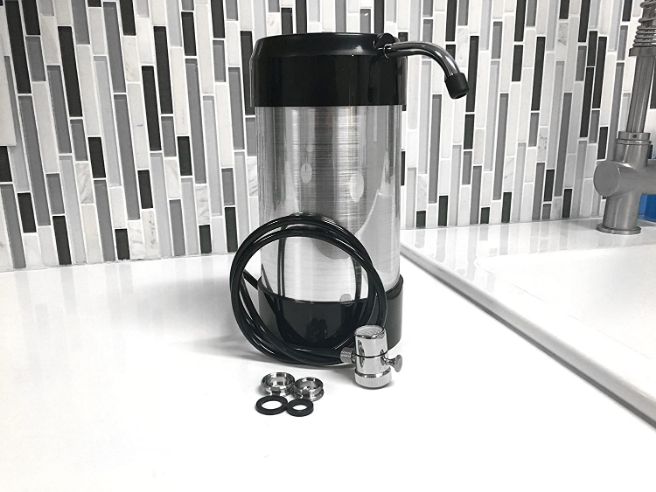 📝 Filter Info
The cleanwater4less system has a five-stage filter that reduces sediment and contaminants in water.
The first stage is a sediment pre-filter, removing larger particles of sand, dust and rust. The second stage, a depth pre-filter, removes any of this larger sediment that may have been missed.
This is followed by the third stage, the high grade GAC filter, which takes on the role of filtering out the majority of the contaminants in water, like lead, chlorine, and VOCs.
The fourth stage is a depth post-filter, which is followed by a final micron filter, which removes any remaining smaller contaminants. As we have outlined in this review, you won't need to change the filter, as it's designed with a lifespan to match the lifespan of the actual unit – roughly 7 years.
🔔 Pros & Cons
Pros
No need to spend money on filter replacements – the filter lasts for 7 years
The stages of filtration improve water's taste and odor
Portable and fairly easy to install
Cons
The filter may not last its advertised 7 years – dependant on water usage
Not suitable for using to filter well water
Found this review helpful?
Comment below or share this article!