🧾 Overview
The Brita Basic Faucet Filtration System is a water faucet filter with a filter change reminder, which fits standard kitchen sink faucets. The system offers an easy and convenient way to filter water – it simply screws onto your faucet, no installation tools required, and can be used as and when you need it.
This faucet water filter can reduce 60 contaminants, including 99% lead, asbestos, taste and odor of chlorine, and benzene from tap water. It can provide up to 100 gallons filtered tap water, roughly equating to two to three months of use, before you will need to change the filter. The filter has an extra layer that can trap larger sediment, allowing the filter to work more effectively for longer.
💡 Features
Filter unit
The main filter unit holds the filter in place, protecting it from dust and other outside air particles. It has a handy status indicator which lets you know when it's time to replace your filter.
Activated Carbon Filter
The Brita faucet filter is BPA-free and can filter up to 3 months-worth of tap water, reducing the likes of lead, chlorine and asbestos. It can be changed by removing from the original filter housing and fitting a new filter in its place.
Filter adapters
For non-standard faucets, the Brita basic faucet filter comes with a selection of adapters for connecting the system up to the unit. While this should help the majority of users attach their filters successfully, it's worth contacting the manufacturer if you have a non-standard faucet to ask about compatibility.
🚦 Performance
The Brita basic faucet filter system has a couple of important certifications that can give us an idea of performance. It is NSF-ANSI certified for Standard 53, which refers to the reduction of lead and asbestos up to 99%. It also has a Standard 42 certification, and can remove contaminants in water that give it an unpleasant taste and smell, namely chlorine. Brita is advertised to produce water that tastes as good as bottled water, thanks to its ability to reduce a total of 60 contaminants.
With filters lasting approximately 3 months, the basic faucet filter system is more efficient than similar products on the market, which tend to need replacing after approximately 2 months. This means you will get more use out of your filter before you need to replace it, which should help you to save money in the long run. There's also a useful filter indicator to let you know exactly when the filter isn't performing at top quality.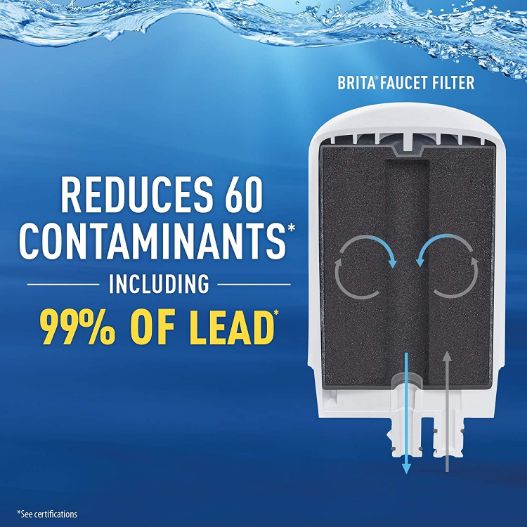 🔧 Installation & Maintenance
Like the majority of faucet-mounted water filters, this Brita filter can be installed with virtually no effort. You will just need to unscrew your aerator from your faucet, then either attach the filter straight to your faucet, or mount it using one of the provided adapters. The filter is compatible with most standard faucets, but not with spray-style faucets or pull-out faucets.
You will need to flush the filter by running water through for several minutes to remove any carbon particles. Then you're free to use it right away, and can enjoy filtered drinking water from that moment on whenever you need it. Just make sure never to run hot water through the filter, which will damage the system and stop it from working properly.
The only maintenance you will need to do is replacing the filter. Brita's filters last for 3 to 4 months, so you can get a lot of use out of them before it's time for a change. The filter indicator will flash orange at this point to take the guesswork away on your part. To change the filter, just press the release button on the side of the filter housing and lift the cartridge out. Place the new cartridge inside, making sure to press it firmly in place, then flush with water for a couple of minutes before use.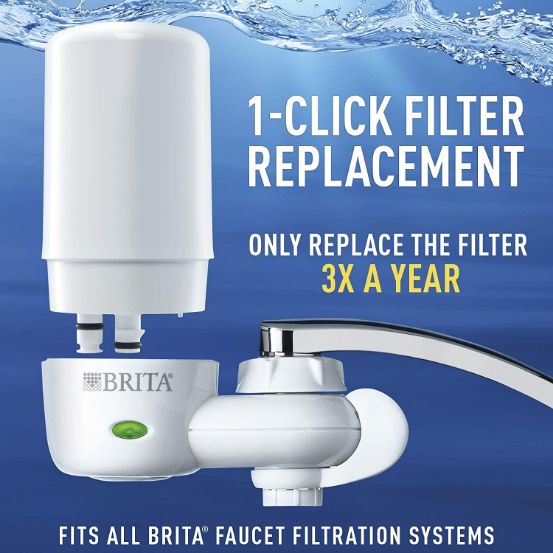 📝 Filter Info
The Brita basic faucet filter system uses an activated carbon filter that removes more than 60 contaminants in water, and is NSF certified to do so. The filter doesn't remove chloramines, so it's worth testing your water before making a purchase to see whether your home's tap water contains a high content of this chemical, which is sometimes used in place of chlorine for disinfecting purposes.
The filter is an activated carbon material, which has a large surface area that traps contaminants in its pores, preventing them from passing through with the smaller water particles. Activated carbon is a proven filtration technique that is used in everything from air purifiers to face masks.
You can buy replacement Brita filters online or at your local home improvement store. Filters are a little more expensive than competitor products, but the majority of customers are happy to pay more for the Brita logo.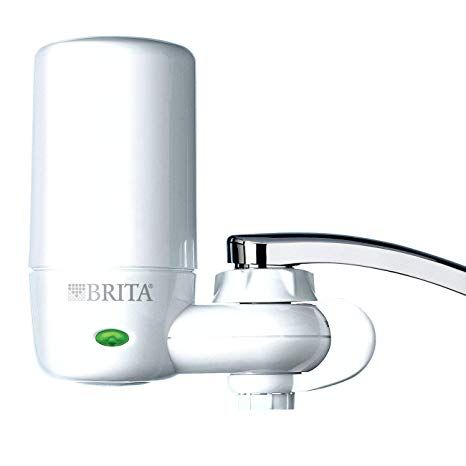 🔔 Pros & Cons
Pros
NSF-certified to remove chlorine and lead
Filter change reminder to alert you when filter needs changing
Simple, 10-minute installation
Cons
Doesn't reduce chlorine
Doesn't entirely reduce all contaminants (you'll need a reverse osmosis system for that)
Prone to leaking and breaking
❔ Frequently Asked Questions
Is this filter suitable for well water?
No, activated carbon filters don't filter the contaminants found in well water. This is the case with almost all faucet water filters.
How can I clean the unit?
You can clean the unit with a damp sponge and some washing up soap, but don't use abrasive cleaners like bleach, or harsh scrubbers like scouring pads, which could damage the material.
How do I get a stuck filter out of the unit?
There is a release button for easily popping the filter cartridge out of the unit. It should never actually get stuck, so make sure you press the button while lifting.
Where is this product made?
The filter is made in Canada, and the system is made in China.
Does this unit include the first filter?
Yes, the unit comes with a filter included. You will need to purchase additional filters for continued use.
Found this review helpful?
Comment below or share this article!