BPA, or Bisphenol-A, was first discovered in the early 1980s and was quickly used all over the world. It wasn't until nearly 30 years later that the dangers of BPA in food and beverage items were discovered.
Since the September 2008 National Toxicology Program of NIH released a report discussing the numerous health concerns of BPA, this industrial chemical has gradually been phased out of production. However, despite the known risks of BPA, nearly 15 years on, there are still no official FDA safety standards for BPA, and many BPA products are still sold today.
Thankfully, a number of brands protect their consumers by no longer using BPA in their products, including several popular bottled water brands. This article will look at the top 8 bottled water brands with BPA-free water bottles. Scroll to the bottom of the guide to learn more about BPA and why it's dangerous in water.
🥇 Top 8 Bottled Water Brands with BPA-free Water Bottles
JUST
Essentia
Dasani
Fiji
VOSS
Core
LIFEWTR
Icelandic Glacial
---
⭐ Reviews – BPA Free Bottled Water 2023
JUST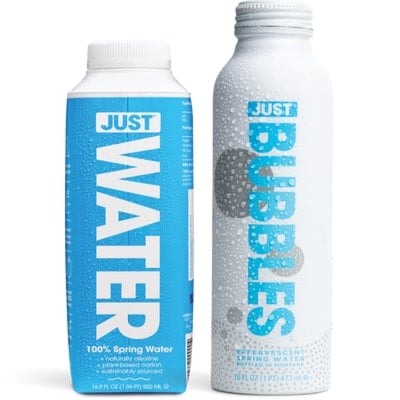 JUST Water is a BPA-free 100% natural spring water product offered in two packaging options: an 88% plant-based carton and a reusable aluminum bottle. You can buy JUST water in various sizes, including 1-liter sizes.
JUST is a certified B Corp, meaning that it balances profit with people and the planet. Used JUST water bottles are recycled into other products, such as building materials and tissues. JUST water has a pH of 8.0 and is enhanced with great-tasting minerals and electrolytes.
Pros
BPA-free; no plastic used in water bottles
Sourced from a natural spring
Various sizes and water types available
Offered by a certified B Corp
Cons
Plant-based cartons aren't as strong as plastic
---
Essentia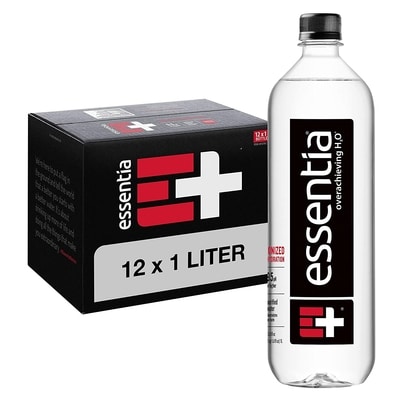 Essentia Water is a BPA-free ionized alkalized bottled water product with a pH of 9.5 or higher. Not only does Essentia Water have an enjoyable alkaline taste, but the water has been treated with microfiltration and reverse osmosis, making it 99.9% pure.
As well as being BPA-free, Essentia Water contains no chlorine, fluoride, heavy metals, or microbiological contaminants. This purified drinking water meets standards set by the FDA, EPA, and IBWA.
Pros
BPA-free water
Enjoyable mineral taste
Proven to better rehydrate
Boxed water also provided by the brand
Cons
---
Dasani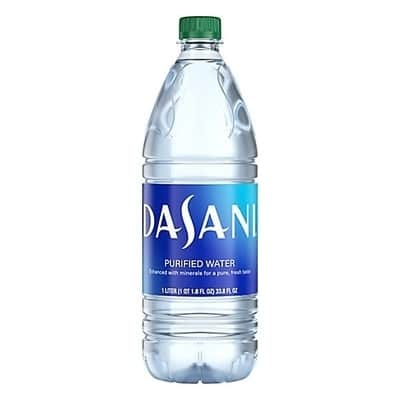 Dasani is a Coca-Cola product that's purified using reverse osmosis and remineralized with healthy minerals. Dasani Water is BPA-free and comes in different options, including still, flavored and sparkling water.
Dasani water contains no GMOs and has a pH of 5.6. Dasani's bottles are also more sustainable than some bottled water brands, as they're made from recycled PET plastic and 50% plant-based renewable material. Dasani has a water quality report that offers more information about its production process.
Pros
BPA-free brand
Sustainable packaging
Pleasant mineral taste
Different options available
Cons
More acidic than other waters, which may affect taste
---
Fiji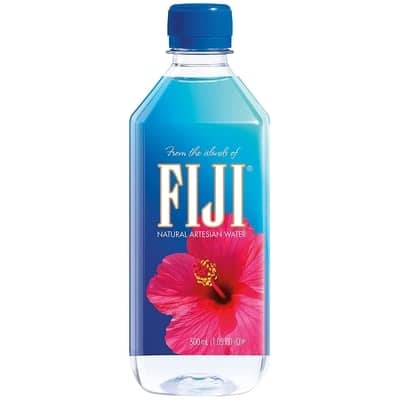 Fiji water originates from a sustainable aquifer in – you guessed it – Fiji. Every water bottle containing Fiji water is BPA-free, and Fiji has also published a sustainability pledge and recently announced that two of its bottle sizes are made with 100% recycled BPA-free PET plastic.
Fiji water has a soft taste and a pH of 7.7. The ingredients in Fiji water, including natural minerals and electrolytes, are compliant with requirements set by the EPA, FDA, and IBWA for purified water.
Pros
BPA-free water bottles
Pure, fresh, mineral-rich taste
Various sizes available
Made from recycled plastic
Cons
Costlier than other bottled water
---
VOSS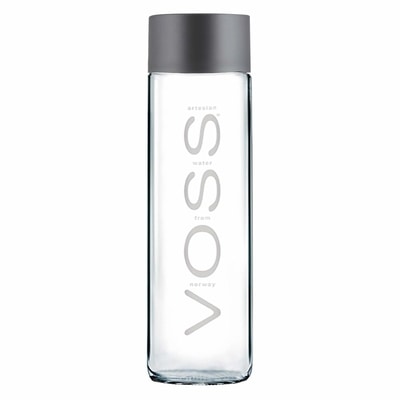 VOSS is a water brand offering still, sparkling, flavored sparkling, and vitamin-enriched water products. VOSS manufactures PET plastic water bottles that are BPA-free, and VOSS' products are sustainable, too – the company exclusively uses 100% recycled plastic bottles, reusable glass bottles, or aluminum cans.
VOSS spring water is available in three sizes and is sourced from an underground aquifer at the southern tip of Norway. VOSS has a water quality report that highlights what its water products contain.
Pros
BPA-free water bottles
All products available to buy in reusable glass bottles
Vitamin-enriched and flavored options available
Great-tasting spring water
Cons
---
Core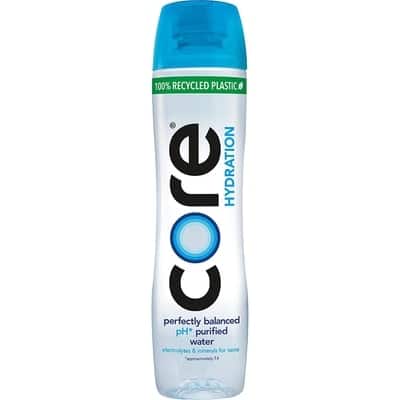 Core is a purified, balanced, mineral and electrolyte-rich water product sold in BPA-free water bottles. 100% recycled plastic is used to make a Core water bottle, excluding the cap and the label. You can buy Core as "plain" water or in different flavors, including blueberry and tropical coconut.
Core water is ultra-purified, undergoing a 7-stage process including carbon filtration, ultrafiltration, and reverse osmosis. This drinking water is 99.9% pure and is free from chlorine, fluoride, arsenic, and more. Core water has a pH level of 7.4.
Pros
BPA-free plastic bottle
Enriched with minerals and electrolytes
99.9% pure
Several flavors available
Cons
Bottles aren't very sturdy
---
LIFEWTR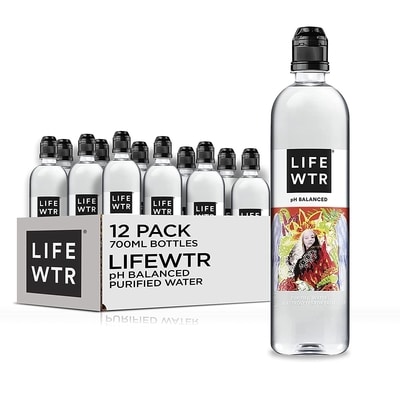 LIFEWTR is purified electrolyte-balanced water with a pH range of 6.4 to 7.4. This BPA-free drinking water brand purifies its water using reverse osmosis, before adding magnesium sulfate and potassium bicarbonate to improve taste.
LIFEWTR has shared a water quality report that highlights exactly what its bottled water contains. There are various water bottle sizes available, each with unique packaging displaying artwork from emerging and developing artists.
Pros
BPA-free design
Purified with reverse osmosis
Available in various sizes
Balanced with magnesium sulfate and potassium bicarbonate
Cons
Bottles are easily damaged during shipping
---
Icelandic Glacial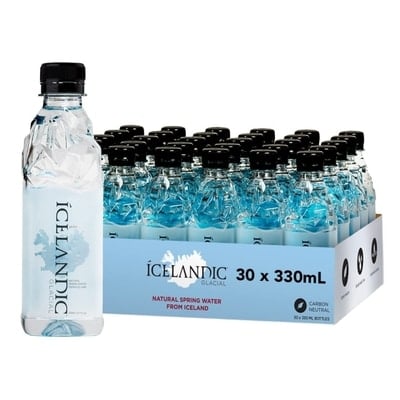 Icelandic Glacial water is sustainably sourced carbon neutral certified water sold in BPA-free bottles. Icelandic Glacial products come from the Ölfus Spring in Iceland, and the alkaline-rich water has a naturally high pH of 8.4. Despite its high pH, the water has a naturally low mineral content.
Icelandic Glacial is a sustainable water bottle brand, too – the business is fuelled entirely by geothermal and hydroelectric power. Icelandic Glacial offers still, sparkling, and flavored sparkling water products.
Pros
Available in BPA-free bottles
Enjoyable fresh flavor
Produced by a sustainable brand
Comes in different flavors and types
Cons
Not as commonly available as other water bottle brands
Related: Bottled water pH levels tested
---
💀 What is BPA and Why is it Bad For You?
BPA is an industrial chemical that has been used since the eighties to make a variety of products, including plastic packaging and hygiene products. BPA is often found inside plastics, but it's also used as a coating for metal products. The purpose of this chemical is to protect foods and drinks from spoilage and contamination.
You're most likely to find BPA in plastic containers, water bottles, and baby bottles. You may also find BPA in the coating inside metal cans that carry canned food.
At first, BPA was considered safe, but it is now a concern all over the world.
Why exactly are BPA chemicals harmful to our health? Let's take a look at some of BPA's health effects, according to research and studies: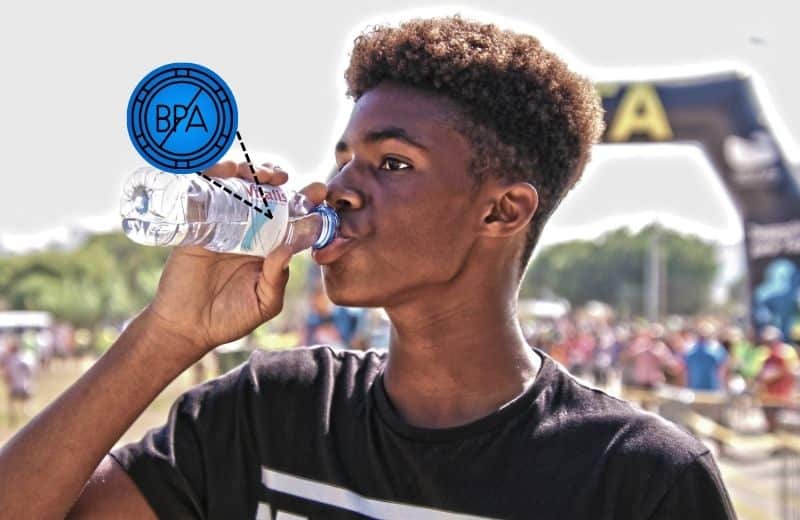 BPA Negatively Influences Body Processes
BPA is said to mimic the structure of estrogen, enabling the chemical to bind to estrogen receptors and affect energy levels, growth, fetal development, and reproduction. Exposure to this chemical could also affect thyroid function.
BPA Could Cause Infertility
BPA could cause infertility in men and women, according to several studies. One study found men who had the highest exposure to BPA were up to four times more likely to have a low sperm count and concentration. In another study, women with successful pregnancies were found to have about three times less BPA in their blood than women with frequent miscarriages.
BPA Affects Fetal Growth Rate
Pregnant women exposed to toxic BPA chemicals are more likely to give birth to smaller babies, according to a study that found that children born to moms exposed to BPA were up to 0.5 pounds lighter at birth. Research also suggests that children born to mothers with high BPA blood levels have more problems with depression, nervousness, and hyperactivity.
BPA is Linked to Diabetes and Heart Disease
Several studies and surveys indicate the risk of heart disease and diabetes (type 1 and type 2) in people with high levels of BPA in the blood. One survey found that high BPA levels were associated with a 21–60% greater risk of diabetes and an 8–63% greater risk of heart disease compared to low or no BPA levels.
BPA May Increase Obesity Risk
Studies have found that overweight or obese people have higher BPA levels in their bodies. In one study of obese women, it was reported that these women had 47% higher BPA levels than normal-weight women. A related study found that people with the highest BPA levels are up to 85% more likely to be obese than people with low or no BPA levels.
BPA Is Linked to Other Health Problems
There are a range of other health issues of concern that are linked to BPA, including:
A higher risk of PCOS, or polycystic ovary syndrome
A higher risk of abnormal liver function
A higher risk of asthma, especially in infants
Worsened immune function
Lack of connections between brain cells
Abnormal levels of thyroid hormones
In short, there's a lot we still don't know about BPA and its health risks. Information continues to emerge about the dangers of consuming BPA in foods and drinks. What we know so far suggests that BPA may contribute to obesity, health problems like heart disease and diabetes, reproductive issues, and growth problems. More research is needed for us to understand exactly how BPA plastics affect human health in the long term.
💧What Does BPA Do to Water?
BPA is sealed into plastic drinking water bottles. When the water is added, some of the BPA breaks free from the bottle and mixes with the water.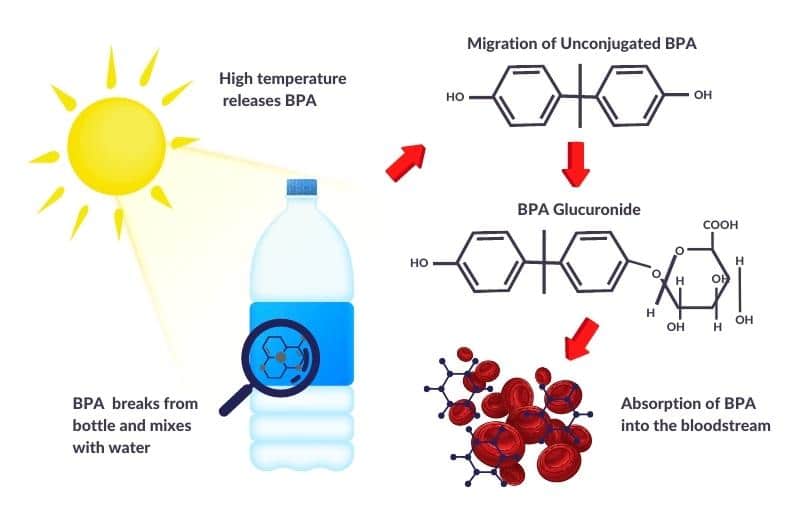 Essentially, this means that BPA contaminates water in the same way that this chemical contaminates food. When you drink bottled water containing BPA, you end up drinking small amounts of BPA in your water. Our diets – including the food we eat and the drinks we drink – are the biggest source of BPA.
BPA doesn't technically affect water quality. However, BPA is a toxic chemical that pollutes a safe, filtered water beverage and makes it harmful to health.
Most people know that contaminants like lead and bacteria are harmful to drink, but don't think about the damage that consuming drinks containing BPA may have on their bodies. Unlike lead, very low levels of BPA are considered safe to drink, according to the FDA, because low-dose exposure has shown no risk of health problems. However, this doesn't account for how BPA in food and drink may combine or build up over time.
🔎 How to Tell if a Water Bottle is made from BPA Free Plastic
There's no way to know from looking at a water bottle whether or not it contains Bisphenol-A. In most cases, you'll have to do your research to learn more about what the bottle is made from.
First, check the bottle label for number 7 or the letters "PC" (which stand for polycarbonate). These indicate that a bottle most likely contains BPA, and if you drink from the water inside, it may not be safe.
Note that some water bottle manufacturers may label themselves as BPA-free, but they've replaced BPA with BPS or BPF, which can still be harmful to health. If a product is number 7 or 3 recyclable or has the letters "PC" on its label, it most likely contains either BPA, BPF, or BPS.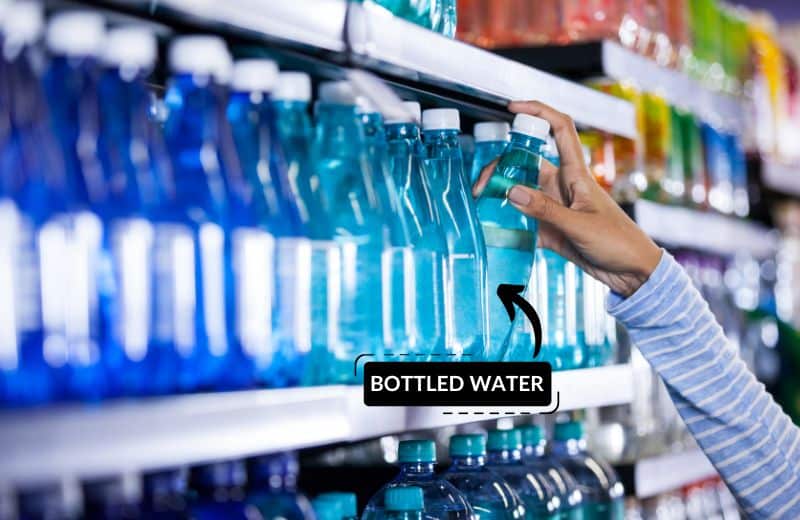 If you're unsure, contact the manufacturer. Even if a manufacturer has a water quality report available to view, this report isn't guaranteed to discuss the exact chemical construction of the bottles used to store their products. Ask for a report on the water bottle materials and check for potentially toxic or harmful chemicals.
The best way to ensure a product doesn't contain BPA is to buy a glass or aluminum bottle. Glass and aluminum are safe, reusable materials that are free from toxic chemicals like BPA.
Alternatively, you can filter your bottled water to remove BPA using an at-home filter system.
However, this can be quite a lengthy process, and the easier solution is definitely to make plastic-free bottle purchases or simply filter your tap water.