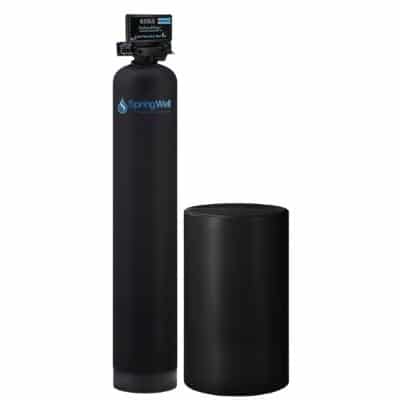 SpringWell SS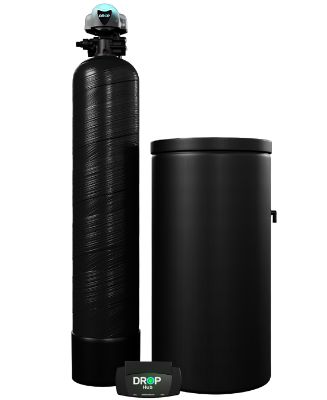 DROP Smart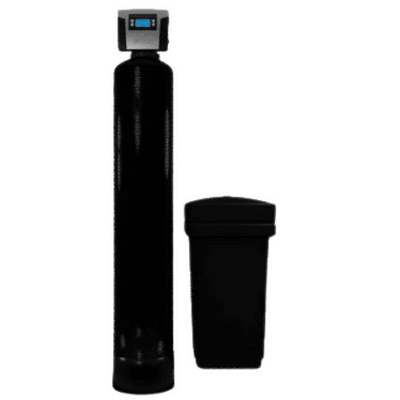 SoftPro Elite for Well Water
Looking for a water softener that's suitable for using in a property with a septic system?
Water softeners can protect your septic tank from the effects of hard water, but any old softener won't do. You need a highly efficient water softener that only regenerates when necessary and limits the amount of sodium that ends up in the drain field.
We've researched and compared the best water softeners for septic systems available today, and shared our top recommendations in this guide.
Why trust us? We've been reviewing, testing, and researching water treatment systems for over a decade, so we know exactly which features to look for in a capable, reliable water softener.
We've dedicated hours of our time to assessing all the most popular water softeners sold by manufacturers big and small, comparing their features, reading customer reviews, and weighing up their pros and cons. We've also tested many of these softeners ourselves, so we have our own customer experience to base our reviews on.
🥇 Best Water Softeners For Septic Tank
📊 Comparison Chart of Best Water Softener For Septic Systems
Product

SpringWell SS

DROP Smart

SoftPro Elite for Well Water

Fleck 5600 SXT
Ranking
1st
2nd
3rd
4th
Ratings
5/5
5/5
5/5
4.5/5
Price
$$$
$$$
$$
$$
Process
Ion Exchange
Ion Exchange
Ion Exchange
Ion Exchange
Grain Capacity
32K, 48K, or 80K
32K, 48K or 64K
24K-96K
24K-64K
Water For
Up to 6+ People
Up to 6+ People
Up to 6+ People
Up to 3+ People
Flow Rate
Up to 20 GPM
Up to 12 GPM
Up to 11+ GPM
Up to 20 GPM
Regen Method
Metered
Metered
Metered
Metered
Warranty
Lifetime for valves
10 yrs for tanks
7 yrs for electronic head
5 yrs
Limited lifetime for valves
Lifetime for tanks
7 yrs for circuit board
5 yrs for valves
10 yrs for tank
---
⭐ Reviews – Best Water Softener For Septic Systems 2023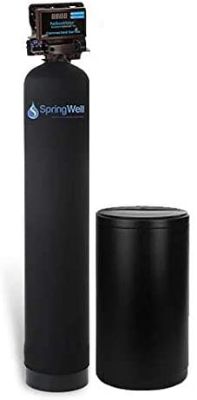 SpringWell SS
In our opinion, the SpringWell SS Salt-Based Water Softener System is the best water softener for septic systems.
Not only is this water softener one of the best-value softeners we've found, it also has a few features that make it ideal for using upstream of a septic system. It uses metered regeneration, so it backwashes a smaller volume of brine solution less frequently, and it can be used with either sodium or potassium chloride, so you can avoid the potential issues of salt in your septic tank if you're concerned.
There are several softeners in the SS range:
32,000-grain SS1 (ideal for homes with 1-3 bathrooms)
48,000-grain SS4 (for 4-6 bathrooms)
80,000-grain SS+ (for 7 or more bathrooms)
Key Features
Ion exchange softening – The SpringWell SS uses the conventional ion exchange water softening process, which can be used with either sodium or potassium to eliminate hardness minerals, preventing the issues associated with scale build-up in your home's plumbing system.
Demand regeneration – The SS line of softeners are metered systems that use demand regeneration, meaning they only regenerate when a pre-determined volume of water has been used, regardless of how many days this takes. This helps you save money and resources and limits how much sodium chloride ends up in your septic system.
Bluetooth control – The SpringWell systems are Bluetooth operated and connect to the Legacy View app on your Android or iOS mobile device, so you can adjust backwash, regeneration cycles, salt use, and timing remotely.
Lifetime warranty – Your purchase is protected when you buy the SpringWell SS thanks to its unbeatable lifetime warranty and6-month money-back satisfaction guarantee.
Best for
Anyone who wants the most capable, efficient water softening system that limits salt water backwash and can be used with potassium chloride, making it adaptable for households with a septic tank.
Pros
The key benefit of the SpringWell SS Water Softener, both for its ability to save money and protect your septic tank's performance, is its metered regeneration. It's one of the most efficient water softeners we've reviewed, using a vortech tank design to improve backwashing efficiency by 30% and regenerating based on water volume, rather than a timer, reducing the volume and frequency of sodium chloride solution that's released when the system regenerates.
We also appreciate that the system is equally effective when used with potassium rather than sodium chloride, so you can avoid salt in your softener altogether if you prefer.
As well as the reduced need for salt top-ups thanks to the metered regeneration, you can avoid having to spend money on a new resin any time soon. The 10% crosslink resin is quality and durable, lasting 15-20 years – up to twice as long as the standard 8% crosslink resin found in most softeners.
Cons
Installing this system is quite a task, and you may need to hire a plumber if you're not a confident DIY-er.
Read the full review: Springwell Salt Based Water Softener System Review
---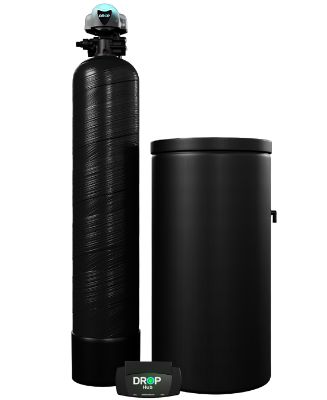 DROP Smart Water Softener
Our top pick for the most advanced water softener for septic systems is the DROP Smart Water Softener.
This softener offers the same performance perks as the SpringWell SS, including metered regeneration to prevent too much salt from being wasted during backwashing, and the option to use potassium in place of sodium chloride in the brine tank. It also boasts its own unique techy features, including integration with the DROP App and DROP Hub, allowing you to monitor the system remotely and turn off your home's water supply if a leak is detected.
You can buy this water softener in three configurations:
27,000 grains – treats up to 60 grains of hardness
40,000 grains – treats up to 80 grains of hardness
64,000 grains – treats up to 100 grains of hardness
Key Features
Metered regeneration & ion exchange softening – The DROP Smart Water Softener is another efficient softener that uses metered regeneration, reducing brine discharge, and its conventional ion exchange performance means you can use either sodium or potassium, depending on what you think is best for your septic system.
DROP Hub integration & smart app connection – This smart water softening system integrates with the DROP Hub water monitor, and, thanks to its patented piston design, it will shut off your water if a leak is detected (leak detectors come at an extra cost). It also connects to the DROP app, so you can program and monitor the softener from anywhere.
Fast flow rate – Another efficiency feature of the DROP softener range is fast system flow. The smallest S-32 system has a 10 GPM service flow rate; the S-48 has an 11 GPM flow rate; and the S-64 has a flow rate of 12 GPM. This should further limit salt usage and prevent excess brine waste during regeneration cycles.
Best for
People with big budgets who want to invest in a high-tech premium water softener for a septic system, offering the perks of a high-efficiency performance and the ability to integrate the system with a smart hub.
Pros
It's great to see that the DROP Smart Water Softener regenerates based on your initial water hardness programming and your water usage, so regenerated backwash only ends up being wasted when absolutely necessary – reassuring if you want to preserve the performance of your septic tank.
As well as eliminating the effects of water hardness in your plumbing system, the DROP softener can also reduce up to 5 PPM of clear water iron and manganese.
The DROP softener is one of the smartest we've reviewed. If you love products with clever tech features, you'll appreciate that this smart water softener can be paired with the DROP Leak Detectors, giving you access to a premium water softener, home leak protection, and a water conservation system in one.
Cons
Unlike the SpringWell SS series, the DROP softener doesn't come with a 10% crosslink resin as default – you can choose to upgrade to this resin from 8% crosslink resin, but it costs extra.
The DROP leak detectors are sold separately at an extra cost.
---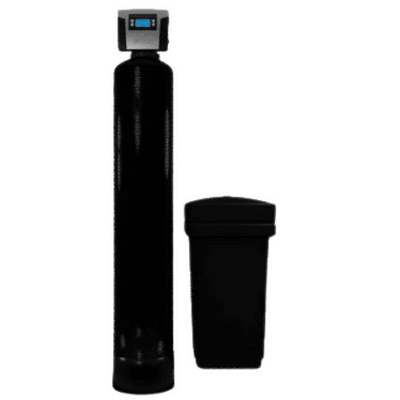 SoftPro Elite Water Softener for Well Water
Based on our research, the SoftPro Elite Water Softener for Well Water is the best water softener with a range of options and configurations for septic tanks. It's available in an impressive seven grain capacities (most other water softeners have two or three grain capacity choices) so you can choose the exact size for your water demand without the salt wastage of a larger system.
This system is also highly efficient – exactly what you need in a softener for septic tanks – with an upflow design and demand initiated regeneration, which restricts backwashing to only when absolutely necessary.
The seven grain capacities for the SoftPro Elite series are as follows:
24,000 grain – 10 GPM flow rate
32,000 grain – 11 GPM flow rate
40,000 grain – 13 GPM flow rate
48,000 grain – 17 GPM flow rate
64,000 grain – 20 GPM flow rate
80,000 grain – 23 GPM flow rate
96,000 grain – 25 GPM flow rate
Key Features
Highly efficient performance – The SoftPro Elite is another of the most efficient softeners we've reviewed, keeping water consumption to a minimum and saving between 336 and 1,396 pounds of salt per year. The system uses upflow technology to promote a more precise resin recharge.
Demand initiated regeneration – We know by now that demand-initiated regen is best in a softening system for septic tanks. This SoftPro model goes the extra mile, regenerating only when necessary and using auto-variable backwash, which means the softener only backwashes completely every 5th regeneration, further helping to save water and salt.
Packed with useful features & functions – This SoftPro Elite has a whole host of useful features and functions to make the most of, including vacation mode, auto-refresh, and auto reserve. These are easily accessible on the unit control head.
Best for
Anyone who appreciates being able to choose the exact softener size for their needs, reducing salt usage, or people looking for one of the best high-efficiency softeners available today.
Pros
A major benefit of the SoftPro Elite series is that there are seven system sizes to choose from. That means you can precisely choose the system size that's ideal for your home, rather than having to size up to a system that has a larger grain capacity and uses more salt than necessary per regeneration cycle – ideal if you want to limit how much salt enters your septic system.
Saving salt is something that the SoftPro Elite excels in. The manufacturer has shared a salt bag savings table that shows the system can save between 2.4 and 13.2 bags of salt per year compared to a traditional softener, depending on the unit size. Again, this is a good feature to look for in a softener for septic systems because it means you're using less salt and therefore discharging less salt into your tank.
This softening system's resin lasts up to 20 years – that's twice as long as an 8% crosslink resin found in conventional softeners – and has an unbeatable lifetime warranty. Plus, Quality Water Treatment is a reputable brand that, according to customer feedback, offers outstanding support.
Cons
Too much choice can be overwhelming. You might find it more difficult to pick the right system size when there are so many options and price points.
Read the full review: SoftPro Elite Softener Review
---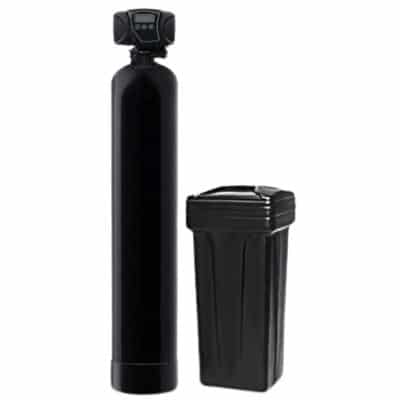 Fleck 5600 SXT
You don't have to spend a fortune on a water softener that's highly capable and suitable for installing upstream of septic tanks – as proven by the Fleck 5600 SXT.
This affordable water softening system boasts all the features of a more expensive model, including on-demand digitally metered regeneration, a long-lasting 10% crosslink resin, and long warranties on the tanks and control valve.
The system is available in 5 grain capacities:
24,000 grain – 7 GPM
32,000 grain – 9 GPM
40,000 grain – 11 GPM
48,000 grain – 13 GPM
64,000 grain – 15 GPM
Key Features
Great for small budgets – The smallest Fleck 5600SXT model costs around $1,300 (at the time of writing), making it brilliant value for money for all the features you get.
Metered on-demand regeneration – This softening system is another high-efficiency unit, using metered regeneration that prompts the softener to backwash the resin only when a certain volume of water has passed through the tank, rather than regenerating on a timer.
Great manufacturer warranty – Buying a lower-cost product shouldn't mean compromising when it comes to the manufacturer's warranty. The control head has a 5-year warranty, and the tanks and valves have a 10-year warranty.
Best for
Anyone with a smaller budget who wants an affordable softener that still has a high-quality build and offers an efficient performance that makes it suitable for installing before a septic system.
Pros
You'll struggle to find a better softener for septic systems at this low price point. You can spend less money upfront and still enjoy the efficient performance of demand-initiated regeneration.
The Fleck 5600SXT is pre-loaded with high-capacity resin and is ready to be installed on arrival. If you're a handy person, you'll be able to install this softener yourself.
There are five grain capacities to choose from, so you can settle on the right system size for your water usage and household size, helping to limit salt waste during regenerations.
Cons
While it does offer demand initiated regeneration, that's where this system's efficiency features end. It's not as salt-saving as some of the other softeners on this list.
Unlike SpringWell and SoftPro products, the Fleck 5600SXT doesn't have an IAMPO certification and doesn't use certified parts.
Read the full review: Fleck 5600 Review
---
🧾 Water Softener For Septic Systems Buyer's Guide
Here, we've shared everything you should know about water softeners for septic systems before you start shopping.
Septic Systems: An Overview
To understand how a water softener will affect a septic system, we need to know how this system works.
A septic system is a container located underground, which consists of a septic tank and a distribution box. The drain field is the area around the tank.
Septic systems are connected to a property by pipes. Wastewater travels through these pipes into the septic tank, and the materials separate, with the heavy solids sinking to the bottom and the lighter material remaining at the top.
The waste in the septic tank gradually decomposes, supported by the presence of aerobic and anaerobic bacteria, which occur naturally. As the tank fills with more and more wastewater, the decomposed water is released into the drain field.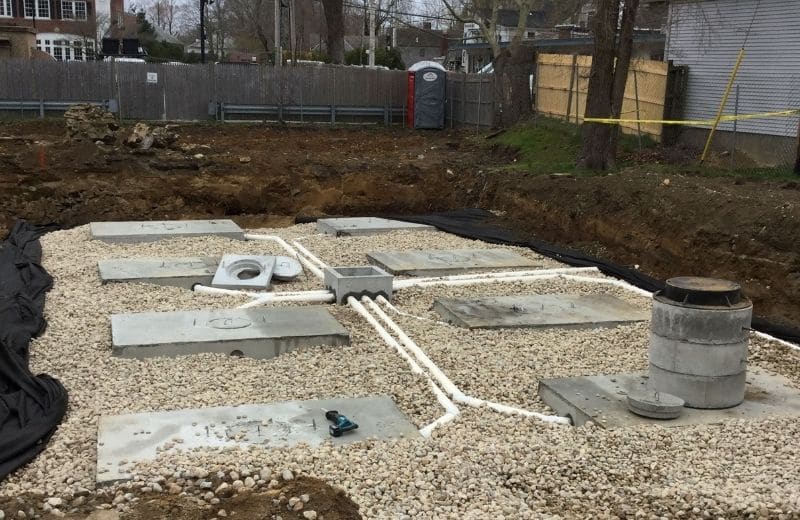 How Water Softeners Affect Septic Tanks
There's some debate about how water softeners affect septic tanks, but here's what we know from research.
A water softener's purpose is to remove calcium and magnesium ions, softening water and preventing it from forming limescale on surfaces and in pipes and fittings.
Due to the nature of a septic system, it's unlikely that a water softener will do much to prevent scale build-up in this environment – and unlikely that scale will form in the first place.
📌 The main purpose of a water softener is to protect the appliances in your home – and the reason why this guide exists is not because your septic system will benefit from water softening, but because you should make a few additional considerations when choosing a water softener for a septic tank.
Some sources say that water softeners might negatively affect septic tanks, theorizing that the sodium in water softener backwash may compromise the septic tank bacteria, in turn causing problems with anaerobic digestion (needed for the breakdown of waste).
But should you believe this? A study conducted in the 1970s by the National Sanitation Foundation (NSF) and endorsed by the Water Quality Association (WQA) and the Environmental Protection Agency (EPA) found that water softeners didn't have any detrimental effects on septic systems.
We're backing the experts on this one, since we trust these organizations to remain impartial and speak honestly based on their findings.
Additionally, a University of Wisconsin study found that the sodium in water softener brine might actually aid the growth of aerobic bacteria, therefore optimizing the organic waste treatment process.
If you are concerned about the potential for salt in your water softener brine to harm your septic system, there are a few smart buying decisions you can make to reduce this possible impact. Read on to find out how.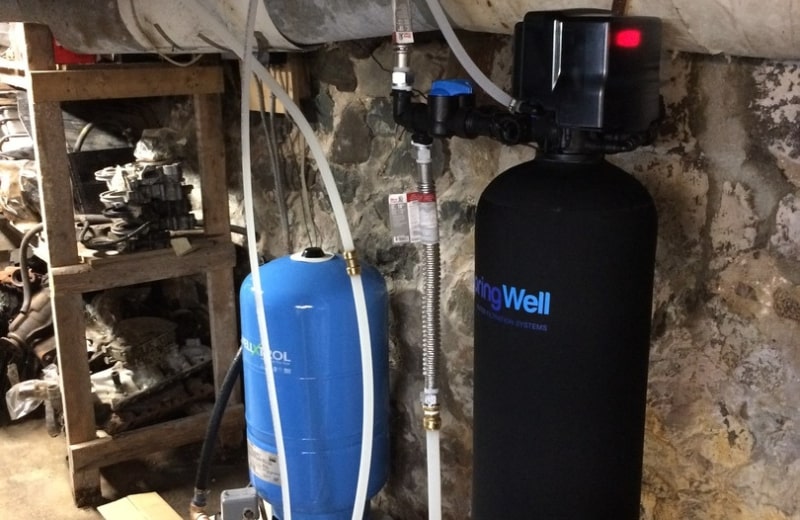 📄 5 Considerations When Buying a Water Softener for a Septic System
Here are 5 of the most important considerations to make when you're shopping for a water softener to use upstream of a septic system.
Regeneration Type
The way that a water softener performs and regenerates determines the amount of sodium chloride that the softener will waste, and the frequency of backwashing, affecting the sodium levels in the septic tank.
💡 We recommend choosing a high-efficiency water softener that uses a demand-initiated regeneration process.
A demand-initiated water softener only regenerates when absolutely necessary, based on the volume of water that has passed through the softener tank and your water hardness setting.
This type of regeneration means that the softener saves salt and water usage compared to a timer-based water softener system, which regenerates on a set schedule, regardless of how much water has been used, resulting in excess brine waste.
A demand-initiated regeneration water softener releases a smaller volume of water – around the same volume as from doing a laundry load – and the brine discharge has more calcium and magnesium to sodium, reducing the potential effects of sodium on your septic tank performance.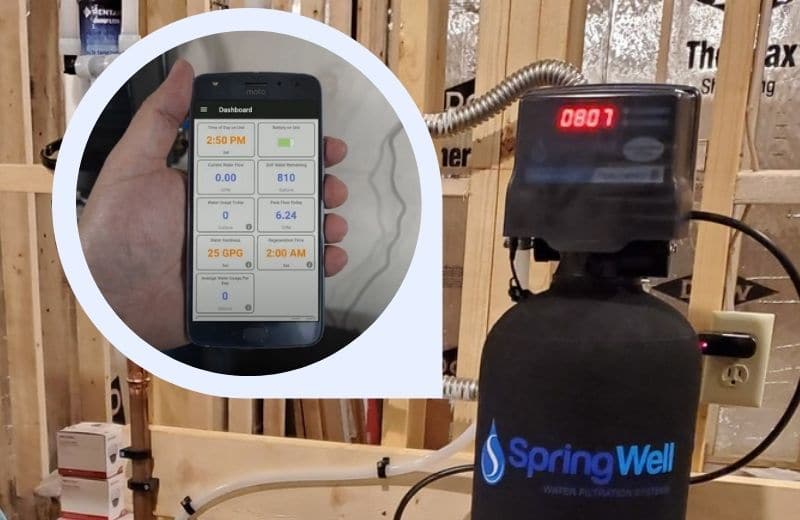 Salt vs Potassium
If you're looking at salt-based water softeners, remember that these systems can take potassium instead of sodium.
Potassium chloride has the same function as sodium chloride in the ion exchange process, replacing calcium and magnesium minerals to produce soft water. It's costlier than salt, and you need more potassium chloride to do the same job, but there are no concerns about its possible effects on anaerobic digestion in septic systems.
If you don't want to discredit the research into the possible effects of sodium on bacteria's ability to digest organic waste in a septic tank, consider using potassium chloride instead of sodium chloride in your septic system.
Check the water softener's user manual (you can usually find this on the product page on the manufacturer's website) or contact the manufacturer if you want to double-check that the system takes potassium before you spend your money.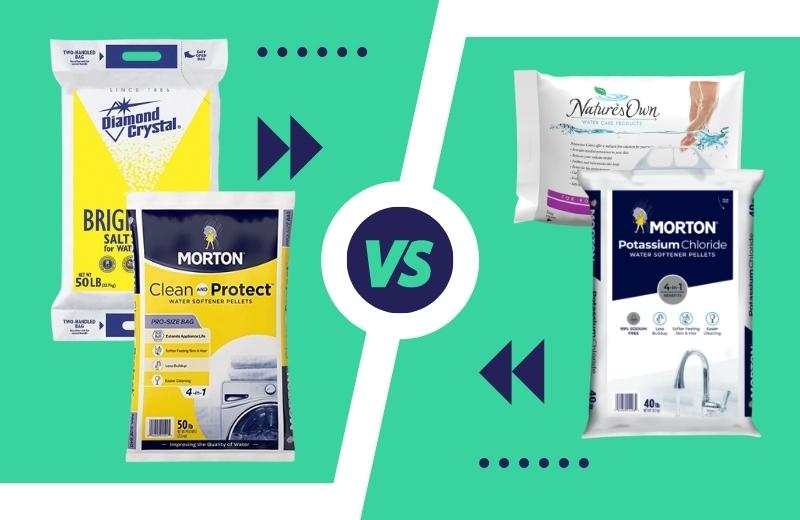 Salt Regeneration Requirements
If you do decide to use salt in your water softening system, look into the system's salt regeneration requirements before you purchase it.
Typically, the higher the softener capacity, the bigger the resin bed, and the more salt it'll require to flush the resin during the regeneration process.
So, for instance, a 48,000-grain softener might require 300 pounds of salt to regenerate, while a smaller 24,000-grain softener might require just 100-150 pounds of salt to regenerate.
Your priority should be to choose the softener size that's right for your water usage. So, if you have a big family and multiple bathrooms, you'll need to invest in a larger softener that can deliver soft water to meet demand, even though that means the softener will use more salt during regeneration.
Remember, studies have found that sodium chloride shouldn't upset the naturally-occurring bacteria in septic tank systems. But if you are concerned, look for a water softener that uses the lowest volume of salt per regeneration cycle while still being adequately sized for your home.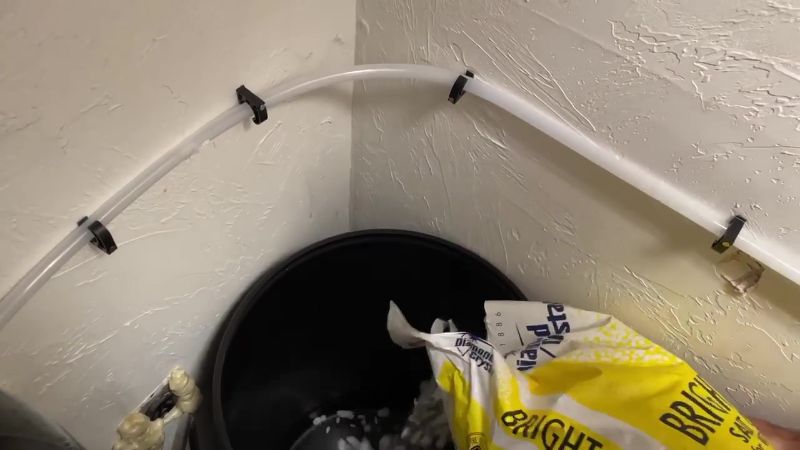 Your Budget
You don't have to spend a fortune on a water softener for a septic tank, but you should be prepared to budget for at least a mid-range softener.
The average starting price of a water softening system for septic tanks is $1,300. This might seem expensive, but you're paying for a few things:
A quality softener with a durable build
Efficiency features that limit salt waste in regenerated backwash
Adaptable ion exchange softening that can be used with sodium or potassium
Fast water flow rate that prevents unnecessary salt or water waste
These features will help you to get the most out of your softener and limit or eliminate its potential effects in your septic tank.
So, while there are timer-based water softeners that are cheaper upfront, we think it's much better to save for a high-performance water softener that won't let you down or increase your spend in the long run.
| System Type | Average Price Range |
| --- | --- |
| Single Tank Ion Exchange | $800 - $2,000+ |
| Dual Tank Ion Exchange | $1,500+ |
| Salt-free Conditioners | $500 - $2,800 |
| Portable Ion Exchange | $150 - $400 |
| Commercial Systems | $2,000+ |
| Electronic/ Magnetic Descalers | $50 - $300 |
| Tanks Only | $100 |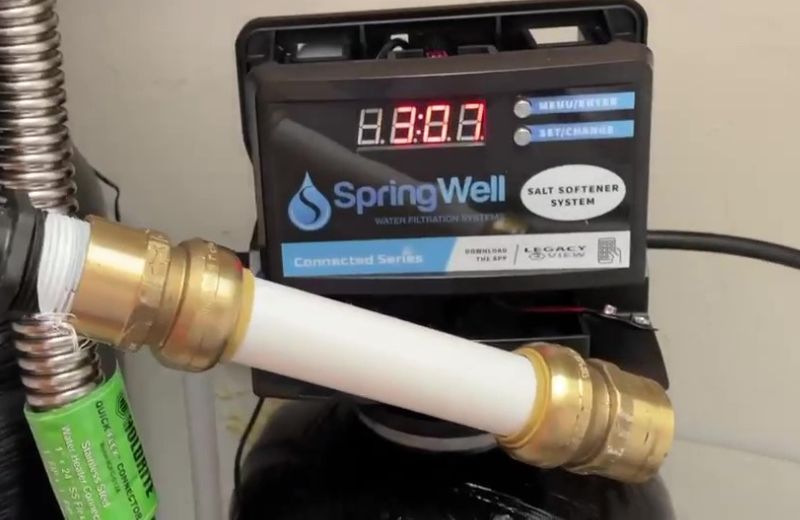 Installation & Maintenance Requirements
All water softeners for septic tanks require some level of installation and maintenance.
In this review, we've featured high-efficiency water softeners that require minimal maintenance due to their salt-saving features. However, you will still need to check the sodium chloride levels and add more salt (or potassium chloride, if that's what you're using) when necessary.
Unfortunately, installation is an unavoidable part of owning any kind of point-of-entry water treatment system.
If you're a handy person, you should be able to install a soft water system yourself, following the instructions in the user manual. Or, if you're not keen on DIY, you might need to factor in the extra cost of a professional install when you buy the softener.
Once you've installed a water softener, that's it – it should last you 10-20 years, and there should be no difficult plumbing work within this time.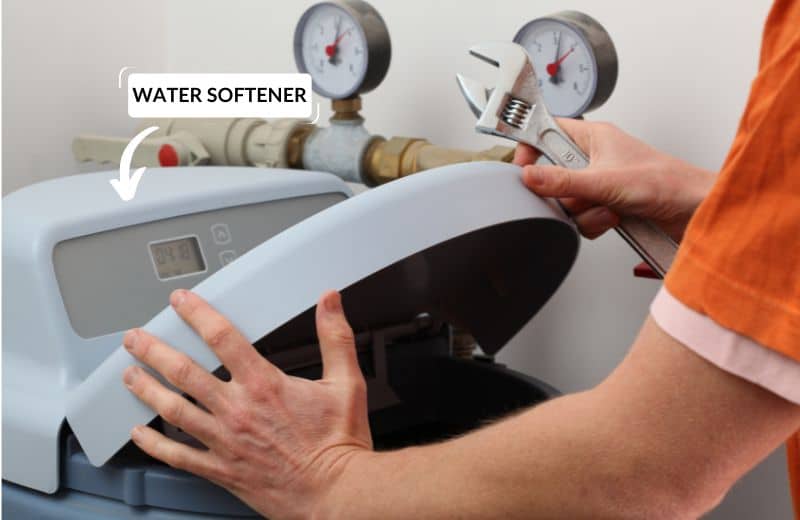 ❔ FAQ
Is it bad to have a water softener with a septic system?
Different sources say different things about the potential for a water softener to be bad for a septic system. We don't think there's enough conclusive evidence to say for certain that water softeners are bad for septic tanks, but it's still best to look for an efficient softener that limits brine discharge, and consider using potassium instead of sodium for softening.
Can you use salt in water softener if you have a septic tank?
Yes, you can use salt in a water softener if you have a septic tank since there's no definitive proof that salt is bad for septic tanks (in fact, EPA-endorsed research shows that softening salt might actually be good for a septic tank's performance). However, if you're wary about the possible effects of salt on your septic system, you can always use potassium in your brine tank instead, which hasn't been linked to any septic issues.
Does hard water affect septic systems?
Hard water might result in scale formation inside a septic tank, but there's no true way to avoid this. Even if you install a water softening system, the system will flush regen water (which is saturated with calcium and magnesium minerals) into your septic system. However, due to the nature of a septic system, there's unlikely to be much opportunity for minerals to accumulate on the tank surfaces.
Where do I drain my water softener discharge?
You should drain your water softener's discharge into your home's drainage system, whether that's connected to a main sewer pipe or your own private septic system. There isn't enough evidence to suggest that using water softeners and septic systems together will negatively affect the way that the septic system works.