Get all the health benefits of alkaline water and more with these crème de la crème ionizers.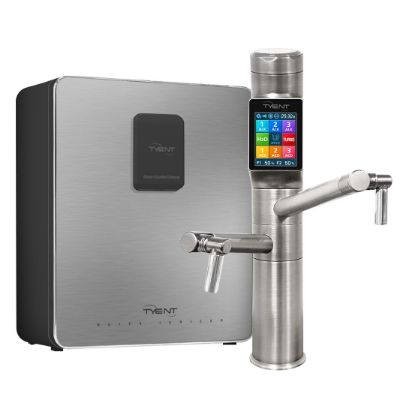 Tyent UCE-13 Plus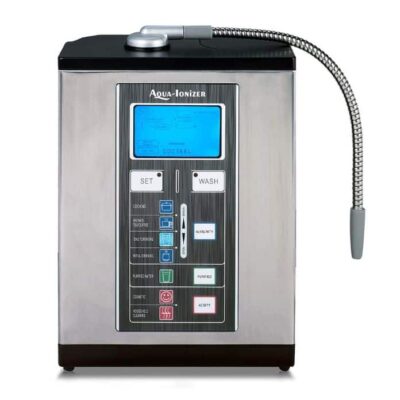 Aqua-Ionizer Deluxe 9.0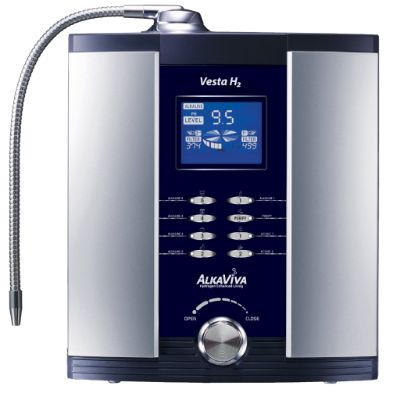 AlkaViva Vesta H2
Alkaline water isn't a short-term trend. As more and more people realize the health benefits of drinking water with a high alkalinity, the market continues to grow. Between 2013 and 2018 alone, bottled alkaline water sales almost doubled. But what if you could save yourself the cash and make alkaline water at home?
Before we jump into my best water ionizers list, why should you care about what I have to say?
I've come a long way since first launching WaterFilterGuru.com. Having made it my mission to become as knowledgeable as possible about all things water treatment, the information I have shared – on this website, as well as for publications like HowStuffWorks and WQP Magazine – has proved invaluable to hundreds of thousands of readers.
The best water ionizers I've featured in this guide were selected based on their ionizing capabilities, ease of use, durability, additional features, and more. I only recommend products that have a history of long-term customer satisfaction.
By the end of this guide, you will know:
Which 7 best ionizers I highly recommend buying in 2023
What features to look for in a water ionizing machine
Things to consider before buying a water ionizer
🥇 Best Alkaline Water Machine
📊 Comparison Chart of Alkaline Water Machines
| System | Tyent UCE-13 Plus | Aqua-Ionizer Deluxe 9.0 | AlkaViva Vesta H2 | Aqua Ionizer Deluxe 7.5 | Bawell Platinum | Pure Hydration Water Ionizer | IntelGadgets IONtech IT-757 |
| --- | --- | --- | --- | --- | --- | --- | --- |
| Ranking | 1st | 2nd | 3rd | 4th | 5th | 6th | 7th |
| Ratings | 5/5 | 4.5/5 | 4.5/5 | 4/5 | 4/5 | 4/5 | 4/5 |
| Price | $6,995 | $2,795 | $4,193 | $2,795 | $2,019.40 | $515 | $799+ |
| pH Range | 1.7 – 12.5 | 3.5 – 11.5 | 3 – 11 | 4 – 11 | 3 – 12 | 9 – 9.5 | 4 – 11 |
| Antioxidant Potential | -1150 ORP | -850 ORP | -800 ORP | -820 ORP | -800 ORP | -450 ORP | -850 ORP |
| Molecular Hydrogen | 1.8+ PPM | 1.2 PPM | 1 PPM | 0.85 PPM | – | 1.5 PPM | – |
| Warranty | Lifetime | Lifetime | Lifetime | Lifetime | Lifetime | 1 year | 2 years |
---
⭐️ Best Water Ionizer Reviews 2023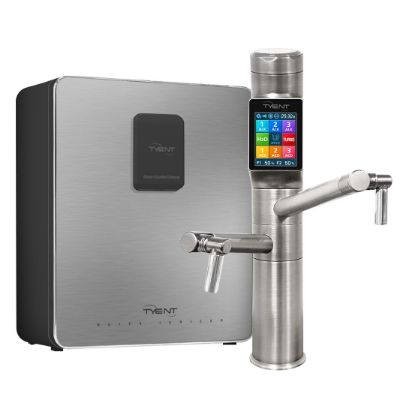 Tyent UCE-13 Plus
Living in the future is no longer a thing of the past with this Tyent UCE-13 Plus water ionizer. This under the counter water ionizer boasts a sleek design and features a touch screen that makes it easier than ever to get the water that you want.
With no bells and whistles this water ionizer provides 3 Alkaline, 3 Acidic, 1 Turbo (for both alkaline and acidic output, one from each faucet) and 1 Neutral presets. Each preset is fully customizable and designed to provide you with the best alkalized water available using the tune dial. The eco mode sets the display to only show the current time during non-use, saving on energy usage.
The Tyent water ionizer has some of the most premium electrolysis plates in the industry and uses cutting-edge technology to deliver the best ionized water available. This ensures that you get the maximum benefits from your water, and provides different modes for your ever-changing needs. This water ionizer is installed under the counter and provides a sleek spout above the counter.
Pros:
Touch screen for different presets
Discrete under the counter design
13 plates to provide maximum electrical conductivity
Lifetime guarantee
3 colors to choose from
Cons:
Difficult to install
Expensive
---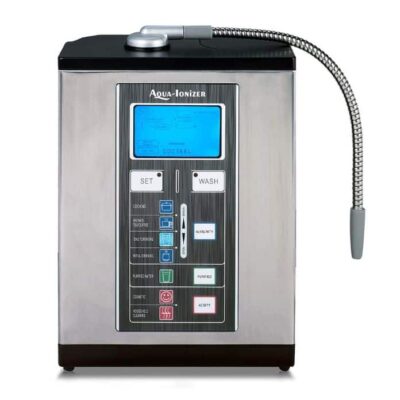 Aqua-Ionizer Deluxe 9.0
The Aqua-Ionizer Deluxe 9.0 is a nine-plated water ionizer that has seven presets available for everyday and household use. These seven water settings allow you to adjust the alkalinity and add antioxidants to your drinking water.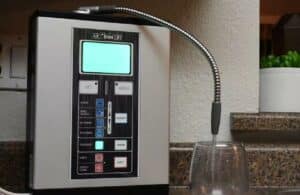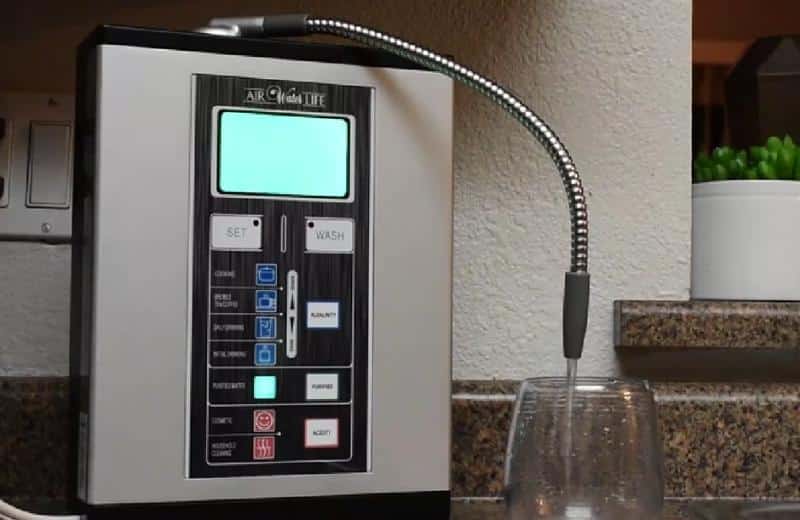 The inner filter will need to be replaced after treating 4,000 liters. This powerful water ionizer is easy to install either on the counter or under the counter – whichever you prefer, and comes with all necessary pieces and tutorials to get the job done in 10 minutes.
Pros:
Under counter or over counter
Customizable presets for everyday and household use
Produces pH 3.0 to 11.5 Alkaline Water
Antioxidant potential -860 to +1000 ORP
Easy to Install
Cons:
Filter needs to be changed after 4000 liters
Lithium-ion battery required
Less than 110 volts only
---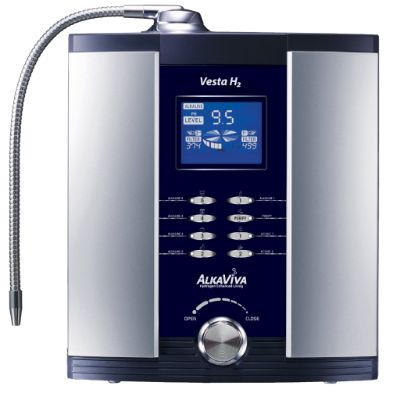 AlkaViva Vesta H2
The AlkaViva Water Ionizer comes in four product model variations: Vesta H2, Delphi H2, Athena H2, and the Melody II.
The main difference between the variations is the number of electrode plates, pH range, and ORP capacity. This selection is really nice, which is one of the reasons the AlkaViva has made it on my list. These units in the H2 series now also include hydrogen in addition to pH and ORP.
These ionizers also include an UltraWater filtration stage which has been tested to NSF standards to remove 249 contaminants, in addition to ionizing your water. An auto adjust feature automatically regulates the power being drawn into the unit, preventing the burnout of its electrodes.
Pros:
4 product model variations to choose from
Includes hydrogen infusion
Also filters out 249 contaminants
Self-cleaning
Efficient, smart-electrodes
More efficient with less power consumption
Optional water hardness filter
Cons:
Filter needs to be replaced every 1,000 gallons
---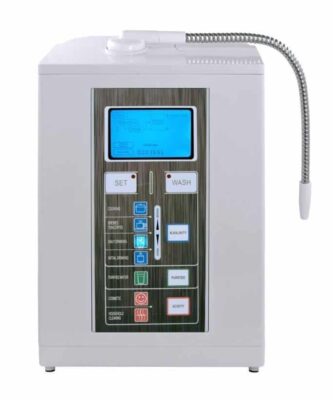 Aqua Ionizer Deluxe 7.0
The aqua ionizer deluxe 7.0 features seven electroplates to provide you with clean alkalized water. This water ionizer features seven settings for drinking, cooking, cosmetic, and cleaning purposes.
With the aqua ionizer deluxe 7.0 you can cut down on plastic waste and save money. Not only does this Aqua Ionizer provide you with all these benefits but it gives you full control over your water. This stylish and effective product is easy to install and sits on the counter. Providing you with fresh, ionized alkaline water within minutes of installation.
Pros:
Customizable presets for everyday and household use
Produces pH 4.0 to 11.0 Alkaline Water
Antioxidant potential -800 to +1000 ORP
Easy to install
Lifetime warranty
No battery required
Cheaper than the Aqua Ionizer Deluxe 9.0
Cons:
Not as powerful as the Aqua Ionizer Deluxe 9.0
Can only install on counter
Filter needs to be changed every 4000 liters
---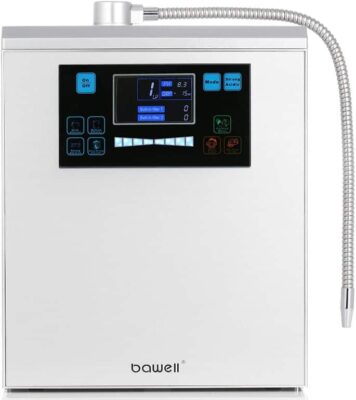 Bawell Platinum Alkaline Water Ionizer Machine
This Bawell Platinum Alkaline Water Ionizer Machine is one of the best available on the market to date. Not only is this water ionizer able to make purified drinking water, but it also can provide alkaline and acidic water.
With the display features on the water ionizer, it is easier than ever to choose the exact PH or ORP of your water. With just the press of a button you can have the perfect water for any situation. The two filters provide 1320 gallons of filtered alkalized water between filter changes. With the lifetime warranty provided you can enjoy your new water ionizer with peace of mind.
Pros:
Multiple modes for different water needs
Displays PH and ORP of the water
Lifetime warranty
Cons:
Cannot be installed under the counter
Needs water pressure of 20psi
---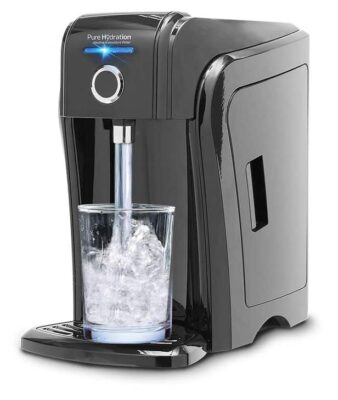 Pure Hydration Water Ionizer
If you just want pure, alkaline antioxidant water right at the turn of the tab, then the Pure Hydration Water Ionizer is about to become your best friend.
Pure Hydration removes 99% of contaminants and filters the water through four cartridges. The result is alkaline antioxidant rich water right in your home and on-demand. Unlike other designs, this water ionizer sits on the counter in a discrete Keurig-like design. This product does not need any electricity and it produces no water waste in the creation of your healthy alkaline water. The water ionizer is easy to install and simple to use. Within minutes you can be enjoying your new ionized water in the comfort of your home without the hefty price tag.
Pros:
No electricity needed
Simple to install and use
pH rating of 9.0-9.5
Removes 99% of contaminants
-450 ORP
Under sink installation available
Cheap
Cons:
AA batteries required
No customization available
Cannot get a wide range of alkaline water
No ORP or pH ranges available to choose from
---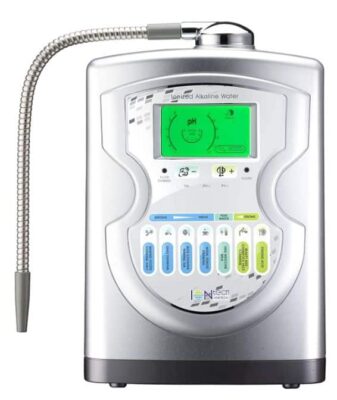 IntelGadgets IONtech IT-757 Advanced Alkaline Water Ionizer
Choose from multiple filtration and pH levels with this IntelGadgets IONtech IT-757 Advanced alkaline water ionizer. With seven different stages of electrolysis you are sure to get an antioxidant rich glass of water every time.
This water ionizer is self-cleaning and alerts you when the filter needs to be changed – ensuring that no contaminants get into your water at any time. The LCD display screen displays information like filter life, pH level, ORP, and more. This company is so sure of their product that they send a pH testing kit with your purchase – so you can have peace of mind and confidence in your new water ionizer.
Pros:
pH adjustment options
Self-cleaning
Easy to install
Cheap
Customizable options
Cons:
Only installs on counter
Only 110 volts
Filter needs to be changed
Not as many ionized water options available as some others on the market
---
🤔 What are water ionizers and what do they do?
Water ionizer machines increase the alkalinity of water by altering its pH.
Water that has traveled through an ionizer machine is known as ionized water. A standard alkaline water machine contains metal plates, usually titanium and platinum. These use the process of electrolysis to divide up the key ions in the water, resulting in a water with a more alkaline pH level.
So why do people prefer alkaline water? Actually, it's more than just a case of personal preference. Alkaline water is thought to reduce impact of oxidation on the body.
It's also said to provide key nutrients for hydration, energization and detoxification. We'll cover the benefits of alkaline water in more depth later on in this guide.
💧 Difference between alkaline and regular water
The key difference between alkaline water and plain tap water is their pH. While normal drinking water has a pH of around 7, alkaline water has a pH of 8 or 9. Alkaline water contains added minerals that give it a higher pH. Water can be alkalized in a number of ways, but the most popular at-home method is through electrolysis.
Alkaline water has a slightly sweet aftertaste, while plain water might not have much going for it in flavor, especially if it's contaminated with chemicals and metals.
The problem with standard tap water is that it's often packed with contaminants that may have minor effects on our health, aside from making water taste unpleasant. Alkaline water from an ionizer tastes better, boasts a higher quantity of minerals, and contains far less contaminants.
😋 What's so good about alkaline water?
Alkaline water has a number of properties that you won't find in normal tap water, including:
A higher quantity of calcium and magnesium ions, known as mineral hydrates. Magnesium and calcium are recognised as sources of nutrition, and we need them to maintain healthy bone structures.
The ability to hydrate better than standard tap water, because its minerals hydrates make it easier for water to be absorbed.
A better taste, with a slight sweetness that many people prefer to normal water taste, which can be quite bitter in comparison.
A higher alkalinity, which makes it easier for water to neutralize acid.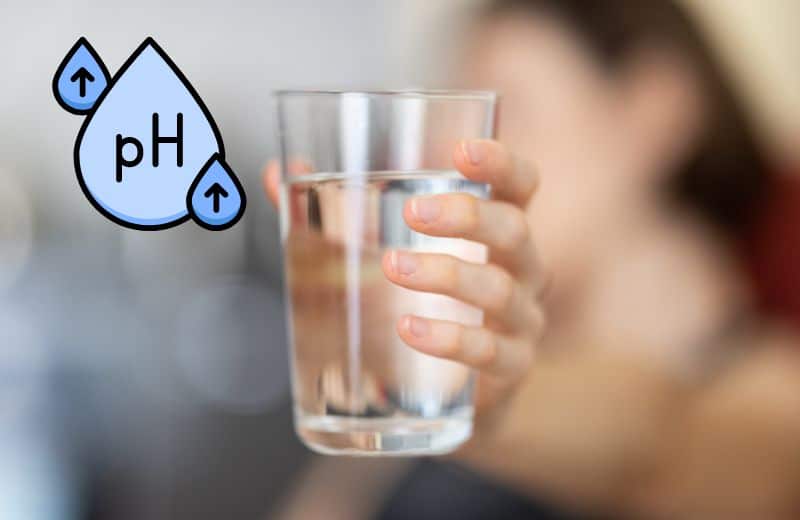 There are many more specific features of alkaline water that may benefit some people more than others. For example, if you suffer with acid reflux symptoms like heartburn and nausea, it is claimed that alkaline water at pH 8.8 stops an enzyme that is connected to reflux disease. It can also reduce the acidity of the stomach.
Others believe that drinking alkalized water can provide benefits for people with high blood pressure, high cholesterol, and diabetes. It's thought that alkaline water can help improve the speed and efficiency in which blood flows through blood vessels, improving oxygen delivery throughout the body.
Alkaline water is also said to have a number of beauty and weight loss benefits. Switching acidic drinks like coffee for alkaline water can hydrate your body, rather than filling it with fluids that disrupt your internal functions. The hydration effects of alkaline water can even improve your skin, giving it a natural, healthy glow.
⚙️ How does a water ionizer work?
Water ionizing machines are plastic or metal electronic filter units, normally around the size of a toaster, that contain all the necessary components for alkalizing water.
You'll usually need to connect a water ionizer to a kitchen faucet, giving it direct access to your water supply. This means that all your tap water will be ionized by your ionizing machine before you use it for drinking, cooking or cleaning.
When normal tap water enters the ionizer unit, its carbonate minerals – that's the calcium and magnesium minerals – are converted into hydrate minerals. This is known as a controlled process of electrolysis.
Let's break it down even more. Water passes into an ionizing machine through an attachment, usually a flexible plastic tube, from your faucet. Once inside the unit, water is first filtered to remove typical harmful contaminants, like chemicals, heavy metals and pathogens. This filtered water then makes its way into a chamber containing electromagnetically charged platinum-coated titanium electrodes.
The negative electrons attract the positive ions from the water, while the negatively charged ions are attracted to the positively charged electrons. In this process, reduced ionized water is produced, as well as oxidized water, which are stored separately in the ionizing system.
The oxidized, or acidic, water comes out of a separate flexible plastic hose leading to the sink. The reduced ionized, or alkaline, water comes straight out of the faucet. You'll be able to use the oxidized water for sterilization purposes, like washing dishes and cleaning your hands. The reduced ionized water can be used for drinking and cooking.
Each type of water coming out of the ionizing machine contains a different minerals. Essentially, the ionizer splits the mineral carbonates in drinking water in half, separating the minerals and the carbonates. The minerals end up in the alkaline water, and the carbonate ends up in the acid water.
Related: The Best Alkaline Water Filters of 2023
📌 Considerations when buying a water ionizer
There are a number of different water ionizers available to purchase, which might feel slightly overwhelming. Ultimately, though, being able to choose from such a large selection of options can help you narrow down your search based on your exact preferences.
Here are the key important factors to consider when buying a water ionizer:
Under counter vs countertop
The amount of free space you have in your kitchen may determine whether you would prefer a countertop water ionizer or one that can be stored underneath a counter. These units are designed to be small and compact, but you might not want to leave yours out on show, especially if side space is limited.
Filter efficiency
The majority of water ionizers come with a built-in water filter, which offers the additional benefit of removing contaminants like lead and chlorine from water, making it safer and more enjoyable to drink.
The efficiency of this built-in water filter might vary in efficiency from model to model. The most efficient water filter will be able to quickly reduce the number of contaminants from water, regardless of water pressure. You can also use a water ionizer with a built-in filter for well water.
You should consider the lifespan of a water ionizer's filter before you make a purchase. Some filters can last for up to 12 months before they need changing, while others will last for 6 months or less. All filters need changing regularly to prevent a build-up of sediment, so you'll need to factor in costs for replacement filters when you're making a purchasing decision.
The quality of your water and the level of use your ionizer gets will also determine how often your filters need changing. If your water contains a higher-than-average quantity of contaminants, you'll find that your filters become clogged more quickly, and will need changing more regularly.
pH Range
You're probably most interested in buying a water ionizer because of its ability to affect your water's pH, producing alkalized drinking water. The pH range of an ionizing unit refers to its capability of altering the pH of a water source.
Water pH is a measure of how acidic or alkaline water is. A pH level of 1 suggests a highly acidic water, while water with a pH range of 14 would be very alkaline. The neutral pH of water is 7.
Some water ionizers allow for flexibility with pH range, letting you produce water at a pH that suits you. Low pH water is not so great for drinking, but is effective when used for cleaning and sterilizing. Water with a higher pH, and therefore more alkalinity, is mostly used for cooking and drinking, thanks to its enjoyable taste and health properties.
ORP range
ORP stands for oxidation-reduction potential, and refers to how capable a water oxidizer is in reducing oxidation levels and oxidizing inside the unit. The lower the OPR range, the healthier the water produced by an alkaline water ionizer machine.
Number of plates
The platinum-coated titanium plates are essential in the water ionizing process. The plates are used to convert the water from acid to alkaline when they come in direct contact with the water.
The more plates used in an ionizer, the better its efficiency in alkalizing water. This is because more plates equal more power, enabling an ionizer to produce water with the best ORP range. Make sure you're aware of the number of plates in an ionizing machine before you buy it. Most lower-cost models consist of 5 plates, while the more expensive ionizers can use up to 11. Keep in mind that the more plates an ionizer uses, the more electricity will be required in the ionizing process.
Simplicity of installation
If you're not so skilled in DIY, you'll be relieved to know that water ionizers generally require very little installation, especially countertop models. In this case, you normally won't need any tools, and the unit will come almost fully assembled.
Under counter water ionizers are slightly more complex to install. That said, installation is by no means impossible, even for somebody with very few mechanical skills.
Budget
Before you can determine how much you're willing to spend on a water ionizer, you need to know how much they cost.
On average, you can expect to pay between $600 and $2,500 for a standard alkaline water ionizer. The best water ionizers can cost even higher than this, while some more basic ionizing machines may fall below the price range.
Manufacturer support
Most water ionizers are designed to be installed and used without professional support, but it's always a selling point if a manufacturer offers 24/7 support for their customers. If you ever have an issue with your ionizing machine, or you just have a question you can't find the answer to, using live manufacturer's support is an easy and convenient way to get answers.
Warranty
One big factor to look for in a water ionizer is a minimum 6 month or 1 year warranty offered by the manufacturer. A product warranty gives you peace of mind that you can return your water ionizer or request free replacement parts if the machine doesn't live up to your expectations.
A warranty is also a good sign that the manufacturer has faith in their product. If a manufacturer offers a warranty for a product they knew to be poor quality, they would waste a considerable amount of money on free replacements.
👀 Features to look for in a water ionizer
Water ionizers are complex in design, and, while they all produce alkalized water, they don't all carry out exactly the same functions. Be aware that you might not find the same features in one product as you do another. In all cases, though, there are a number of features that should be present in all water ionizers.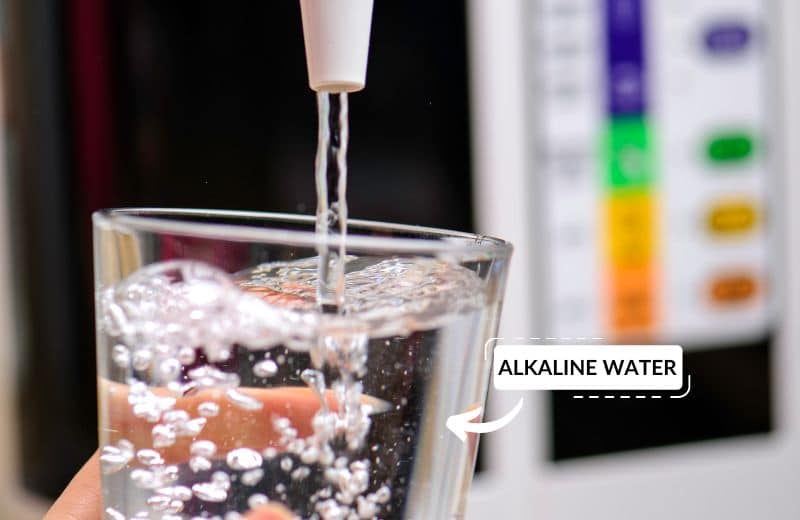 Filtration system
As we've already mentioned, a filtration system is an added bonus in a water ionizer that can produce the highest-quality contaminant-free drinking water. You'd be surprised at just how contaminated tap water is, even after going through the water treatment process.
While water is usually safe to drink, if you've just moved to a new location with different levels of contamination, it might take some getting used to. Many contaminants, lead and chlorine in particular, can give water an unpleasant taste, odor and color.
Water ionizers provide the best source of clean drinking water, because not only is the water alkalized for health purposes, it's also much cleaner after having its contaminants filtered out.
In an electric water ionizer, you'll find either a single or dual filter. Unsurprisingly, dual filters are better, as they remove a higher quantity of contaminants from water, giving you the highest nutritional benefits. There are plenty of dual filtration machines available today, so it's worth considering these over systems with only a single filter.
Most water ionizers use ceramic filters, which are effective at removing the likes of bacteria, lead, chlorine and other harmful contaminants that may have entered your water before, during or after the water treatment process.
If you need more robust water filtration, check out my in-depth guides to learn more about the best reverse osmosis systems, countertop, and whole house systems.
Best quality Ionizer plates
Without its ionizer plates, a water ionizer would lose its purpose. As we've covered already, the quality and quantity of plates used in ionizer machines vary, and this determines how effectively an ionizer can convert regular water into alkaline water through the electrolysis process.
There are 3 types of ionizer plates to be aware of: solid, mesh, and solid/mesh.
As the name suggests, solid plates are the more durable option of the three. However, they tend to be less effective in the actual electrolysis process.
Mesh plates are shaped for more efficient electrolysis, but they're far less durable than solid plates.
Solid/mesh plates are a good balance between the two. They offer both durability and efficiency, and generally perform well while lasting a long time. That's not to say, though, that you should only consider water ionizers that use solid/mesh plates. They might be more durable and efficient on the whole, but they can still vary on quality depending on their manufacturer.
🔧 How to install your water ionizer
Installing a water ionizer doesn't take too much time or hard work. There's no need to call a plumber or handyman for help either. You'll want to make sure you're clear on exactly what to do, though, so you can ensure you get the most out of your machine right from the very beginning.
All types of water ionizers come with their own specific instructions for installation, but if you haven't yet bought a machine and just want to know the process, we've provided a more general step by step process that applies for the majority of ionizer machines. Be sure to check out a specific instruction manual for installing an ionizer after you've bought it.
If you have little or no plumbing experience, this DIY installation process should provide you with the prior knowledge you need.
You'll need:
A faucet diverter (almost always included in your purchase)
Plumber's tape
An adjustable wrench
Screwdriver and adapter
Locate a place to store your water ionizer – Whether you've bought an under counter or countertop water ionizer, you'll need to install it somewhere within close proximity to your kitchen sink. Clear a space and make sure you have a good permanent space for your water ionizer to sit.
Turn off your water supply – It's best to switch off your water supply while you're installing your water ionizer. You can usually find a lever for doing this underneath your kitchen sink. Turn the lever and then lift the faucet to prevent any build-up of pressure in the pipes.
Install your faucet diverter – Connect your faucet diverter up to your faucet following instructions from your user manual. This will allow you to divert water through your ionizer machine whenever you want. If threads don't match up to the size of your faucet, you might also need to purchase an adapter.
Add the connections to the ionizer unit – First of all, find the metal tube and attach it in the required location on your unit. Return to the faucet and remove the aerator. Make sure to properly link the faucet diverter to the faucet. Next, use your plumber's tape to wrap around the inlet elbow, and use a screwdriver to attach it to the inlet at your ionizer machine.
Connect the ionizer to the faucet diverter – Take the flexible plastic hose and connect it to the inlet elbow, then attach the other end to the faucet diverter. Connect the last hose to the bottom of your machine where you'll find the outlet hole.
Connect to your power – If you're using an electric water ionizer, you'll now need to connect it up to your power. Plug your machine into the connection outlet and, if necessary, switch it on at the wall.
Turn on the water – Your actual water ionizer unit should already come installed, so you won't need to assemble the filter or metal plates yourself. All that's left to do is to turn on your water and turn on your faucet to channel water into your ionizing machine.
You might feel a little daunted at the process of installing your own water ionizer, but the process is far more simple to understand when you have your ionizer unit in front of you, along with a visual instruction manual and online video support. In all, the installation process should take you from half an hour to an hour to complete.
🛠️ Water ionizer maintenance
Water ionizers won't work as effectively if you forget about upkeep and maintenance in its years of use. Not properly maintaining your machine runs the risk of sediment building up inside the unit, preventing it from producing the cleanest and healthiest alkaline drinking water benefits.
The majority of water ionizers are self-cleaning, which means you won't need to remember to clean yours after every use. However, some machines don't follow very effective cleaning routines, so you might need to intervene from time to time.
Take a look at your machine's user manual to find out whether it has a manual, automatic, single or periodic cleaning system. If your ionizer has single or periodic cleaning, you'll need to clean it yourself fairly regularly. If it has a manual cleaning system, you'll need to use a cleaning cartridge every 3 to 6 months to manually clean it according to product instructions.
The best water ionizer machines use automatic cleaning, meaning they clean themselves automatically before the machine starts up and shuts down. This will ensure the system lasts for longer and ionizes water the most efficiently.
How to know if a water ionizer needs cleaning
There are a few signs to look out for that will let you know your water ionizing machine is in need of a clean. Here are the main ones to be aware of:
Your water ionizer automatically shuts off during the electrolysis process. This probably means that the system knows it can't perform the job it's designed to do, most likely because of an issue with sediment build-up.
Your water's pH levels start to fall. The best performing water ionizers will produce water at a pH of 8 or 9, but it's a good idea to test your water pH with a pH testing kit when you know your system is performing optimally. That way, if your pH starts to fall, you know your machine is no longer working as efficiently.
Water flow starts to slow down, or your ionizer generates no water at all. There's something wrong if the water that's flowing out of your faucet is starting to resemble more of a trickle. It's most likely a sign that your filters need changing.
Your water tastes unusual or not as pleasant as normal. This is another sign that your pH levels have dropped.
You can't see any small hydrogen bubbles in your water. You'll notice thousands of these tiny bubbles in alkalized water from a working water ionizer, but in an alkalizer that's losing efficiency, they might not be present at all.
Your water ionizer no longer produces water with a negative OPR of between -200 and -400. You can find out what your OPR levels are by using an OPR metre.
There's an obvious coating of limescale in the system's pipes, plates and tubing that prevents the machine from working properly. If you live in an area with particularly hard water, limescale is a common issue.
Maintaining your water ionizer – do's and don'ts
If you want to safely use your water ionizer for long into the future, here are the top dos and don'ts for looking after your machine:
Do's
Make sure to replace your filters after every 6 months to a year of use. Filters will eventually become clogged up with sediment, which will stop them from being able to remove contaminants as effectively. This risks damage to the rest of your unit, especially if your water contains a high quantity of contaminants. You can find more information about changing your filters in your user manual. Make sure to replace filters as regularly as your manufacturer advises, and flush new filters under cold, running water for a minimum of 5 minutes before installing them in your machine.
Use a cleaning cartridge to remove mold and bacteria and clean out the inside of your machine following guidance from your manufacturer. There may be other cleaning protocols that are recommended for your ionizer, which you should carry out as frequently as is needed. Get in touch with your manufacturer if there's no clear guidance for cleaning your machine with either a cartridge or another cleaning method.
Wipe down your machine's exterior at least once a week to keep it looking shiny and new. Normally, a damp sponge or cloth followed by a dry cloth is all it takes to clean the outside of your ionizer effectively.
Don'ts
Don't use any harsh at-home cleaners to wipe down the outside of your ionizing machine. These could damage the finish and the machine's display panel. They could also cause the labels on the machine's buttons to wear off.
Don't carry out an internal clean if you haven't allocated enough time to do the job thoroughly and completely. You need to take your manual cleaning seriously if you want to avoid a build-up of mold and bacteria, which could affect the quality of your alkalized water, and might even be harmful to your health.
Never make up your own cleaning protocols for a water ionizer. It's important that you follow a manufacturer's specific instructions at all times if you want your alkalized water to be safe for drinking.
Cleaning instructions for a water ionizer
As we've mentioned above, it's very important that you follow the guidance given by the manufacturer of your water ionizer for giving it an internal deep clean. If you're just curious to see how a general cleaning filter process would work, though, we've covered the steps below:
Switch off your machine and remove the filter unit. If your machine has two filters, you only need to remove the second.
In the filter housing, install the special cleaning filter for your system. If you have a refillable cleaning filter, make sure you've already filled it with cleaning powder before you install it in your machine.
Find the neutral water setting on your machine and switch it on. This is the mode that gives neutral pH water, and may be named differently depending on your model of machine.
Leave your fitler inside the machine, and allow it to sit for a minimum of three hours without use.
Remove the cleaning filter from the water ionizer and switch it back on.
Run water on its neutral water setting once more for about five minutes to remove any lingering sediment.
Switch off your machine, add your standard filter in place of the cleaning filter, and switch it on once more.
Use a pH tester to determine the pH levels of your water. If pH is low, you might need to repeat the process, or simply flush your ionizer for a couple more minutes.
You should aim to clean your water ionizer at least once a year to ensure it continues to work efficiently. If your water is particularly hard, it's a good idea to clean your system more frequently.
❔ Frequently Asked Questions
How do I know which water ionizer is for me?
First off, all water ionizers do basically the same job, so don't worry too much about getting something totally unique to you. However, you might want to check out the quality of your water if you want to find a system that can most effectively remove certain contaminants from your water.
The simplest way to do this is to request a water quality report from your water provider. This will tell you exactly what your water contains, and compare this to water contaminant quantities in other parts of the country.
You can also test your own home's water quality using a water testing kit. These contain paper strips that you simply hold under running tap water until they turn a certain color. You can then compare this color to the provided color chart to determine the sorts of contaminants your water is highest in.
Can I still use my normal tap water when I connect my faucet to an ionizer?
Yes, you can. You just need to flick the lever on your water diverter to send water straight out of your faucet without passing through your ionizer. This means that you can still use your normal water for cleaning purposes, while you're performing system maintenance, or just if you want to give your ionizer a break.
What are some harmful contaminants that a water ionizer can remove?
The most common contaminants removed by a water ionizer include bacteria, parasites, organic compounds, heavy metals, fluoride and some chemicals. The electrolysis process then removes acid minerals like sulfates from water. Some water ionizers remove different contaminants than others, so always check a product description before you purchase.
How do I know I can trust a manufacturer?
Water ionizers are a big investment, so it's understandable if you're hesitant to put your full trust in a manufacturer of a product. Usually, though, you can't go wrong with an ionizer that's highly rated and reviewed, a best-seller, and NSF or WQA certified. This means that not only do customers enjoy a water ionizer enough to leave a positive online review, a third party water testing body has also given assurance that the machine does what it says it can do.
If you want even more peace of mind, buy a water ionizer with a good returns policy and product warranty. This will ensure that you can easily replace a product or a component, or get your money back if a water ionizer doesn't live up to your expectations.
Can I use a water ionizer for my pets?
Yes, water ionizers are suitable for dogs, cats, horses – any animal can benefit from alkaline water.
What advantages does a water ionizer have over a standard or reverse osmosis water filter?
Water filters and reverse osmosis systems remove all impurities from water – including the minerals that give water an alkaline quality. Usually, if you buy one of these filters, you'll need to also purchase a remineralization filter for adding the beneficial minerals back in.
Water produced by reverse osmosis is very acidic. It usually has a pH of between 4.5 and 6.5, which gives it a bitter taste, and isn't the best for drinking in the long term. This water is also far more oxidizing than ionized water, which is known to be an effective antioxidant.
Although prices aren't too varied, you'll generally have to pay more for a reverse osmosis system than a water ionizer. Most water ionizers cost between $1,000 and $2,000, while some reverse osmosis systems can cost up to $4,000.
Why do some water ionizers let me change pH levels?
If you're not used to drinking alkaline water, you might feel more comfortable working your way up from a lower pH. This is why most water ionizers will let you alter the pH of the water that comes out of your machine.
It's recommended that you start at a lower pH of around 7.5, before gradually adjusting pH to a higher alkalinity of around 9 to 9.5. If you feel you've moved up too quickly, you can simply adjust your pH back down to a less alkaline level.
You might have different members of your household who prefer water at different pH levels. Being able to manually adjust pH yourself means that everyone can get the most enjoyment out of your home's drinking water. You can also use higher alkalinity water for your cooking.
There are reasons for using water with a lower, more acidic pH too. Acid water can be useful for cleaning, or using in your skincare and hair care routine. You can bathe in acid water, use it for watering your plants, apply it as a hand sanitizer, or treat sunburn and cuts with it. Most water ionizers will let you produce water to your acidity requirements, helping you to get the most benefit from your water.
Can I store alkaline water?
You might want to produce alkaline water and store it for use if you're out and about during the day. It's fine to do this – just make sure you keep it in an airtight glass or plastic bottle. It's best to store your water in the fridge, where it can keep cool. Avoid keeping alkaline water in metal bottles, especially aluminum.
You should try to drink your alkaline water within at least a week. After this, the water's alkaline properties will start to diminish, which will affect its quality and taste. If you want to benefit from the antioxidant properties in alkaline water, keep in mind that these start to wear off after between 24 and 48 hours.
Make sure that if you're storing your water in a plastic bottle, it's a good-quality, BPA free material. This is to prevent harmful chemicals from leaching into your water from the plastic, which would ruin the water's composition.
Some factors that affect how long water retains its pH and ORP are light, heat and the type of storage bottle. It's best to keep your water stored in a cool, dark place to ensure it stays at optimum quality for longest.
Do different people need to drink water at different pH levels?
No, we all benefit most from drinking water at an alkaline pH level of around 9. Each of us has slightly varying levels of acidity in our bodies, but generally, scientists have found that due to poor diet and lifestyle choices, environmental pollutants and stress, we're all too acidic.
Even if you don't struggle with increased acidity in your body, you'll get the same benefits from alkaline water for cooking and drinking. It allows for natural detoxification and can have a positive effect on your body's pH.
You might prefer to drink water at a slightly different alkalinity to someone else, and this is fine. Find the pH that you enjoy the most and, providing it's between 7.5 and 9.5, you'll be able to benefit from drinking it.
Can I use a water ionizer in a boat or an RV?
Yes, so long as you have AC power or DV power and a transformer. Water ionizers can be installed anywhere, providing you have enough space to store one. They're not permanent fixtures either, so if you're planning to use your home's ionizer on a vacation away, you'll just need to unplug it and uninstall it from your faucet, then reinstall in another location.
Do I need a plumber to install a water ionizer?
This depends on your level of confidence in your DIY skills. Generally, even if you have very little to no plumbing experience, you should be able to follow a manufacturer's instructions and install a water ionizer by yourself. But if you're just not comfortable with leaving the job to yourself, you can call in a plumber to do it for you.
It's recommended that you at least give installation a go yourself before looking for outside help. Once you have the instructions and the water ionizer in front of you, it will usually make sense as to how to go about installation.
Why are some water ionizers more expensive than others?
There's not always a reason for an increase or decrease in a product's price. Sometimes, a water ionizer costs more because it's sold by a reputable manufacturer, and that's that. Other times, there might actually be a more legitimate reason for an inflated cost.
For example, a water ionizer with a higher proven efficiency rate, longer shelf life, or higher quality components might cost considerably more than an average model. Make sure these claims are backed up by a WQA or NSF certification for assurance that a manufacturer is providing truthful information about a product.
💭 Final Thoughts
Water ionizers offer a highly effective water quality improvement method for cleaner, better tasting alkaline water. They're ideal for anyone looking to benefit from water with fewer contaminants and a more alkaline pH.
If you've decided that water ionizers are for you, it's time to start your hunt for the right product. This is where reading reviews is essential. Find out what customers are saying about a water ionizer, but don't miss out on reading third-party, impartial reviews to find out the basic facts and figures about a product.
There are hundreds, maybe even thousands, of water ionizers to choose from, so doing your research is essential for helping you wean out the excellent from the good. Take your time looking for a product, and always get in touch with a manufacturer if you have any questions that aren't answered online.