These are the top systems to ensure your water is biologically safe for consumption.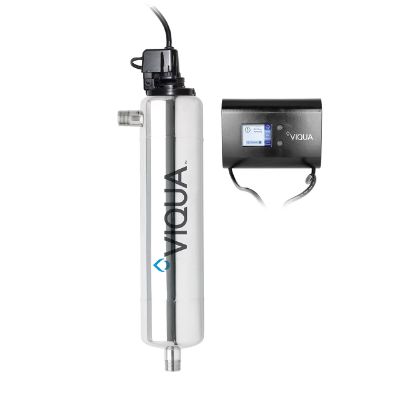 VIQUA D4 Premium UV System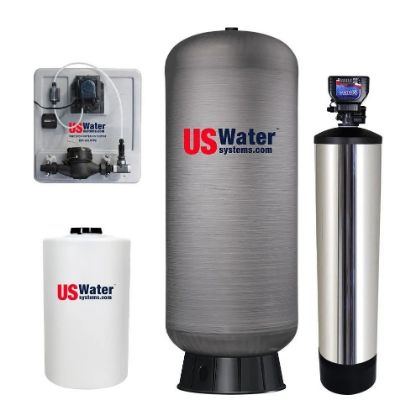 US Water Systems Matrixx Liquid Chlorination System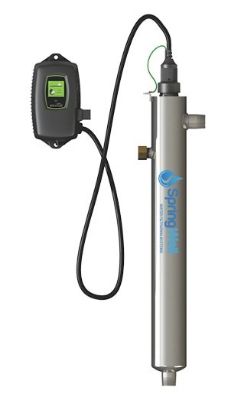 Springwell Blackcomb UV Water Filter System
Hey, well owner! Welcome to our best water filter for coliform bacteria guide.
If you're looking for a highly capable, 100% reliable water filter to remove coliform bacteria from your well water supply, welcome. We've tested, compared, and reviewed dozens of the best filters for coliform bacteria removal with raw, untreated water from our own private wells in the US.
Feel free to spend your money on a water filter that's cheap and cheerful – but is likely to let potentially harmful bacteria enter your home in your drinking water. However, we strongly recommend spending your money wisely on one of the best, most reliable filters for coliform bacteria on the market.
#1 is our favorite, but #2 is the best system that uses chemicals and #6 is one of the best gravity-fed filters you'll find for coliform bacteria removal.
This guide is split into two sections:
A reviews section, where we've reviewed and compared the very best coliform filters money can buy in 2023
A buyer's guide, which features all the information you need to know when buying a coliform filter
🥇 Best Water Filters for Coliform Bacteria
📊 Comparison Chart of Water Filter for Coliform Bacteria
System
Viqua D4 Premium

USWS Matrixx Chlorination System

Springwell Blackcomb UV

Springwell Chemical Injection System

Acuva Arrow 5 POU UV

Epic Nano Water Filter Dispenser

Ranking
1st
2nd
3rd
4th
5th
6th
Ratings
5/5
5/5
4.5/5
4.5/5
4/5
4/5
Price
$$
$$$
$$
$$$
$$
$
Microorganism Reduction Rate
99.9%
99.9%
99.9%
99.9%
99.9%
99.9%
Certifications or Testing
NSF 55
Uses NSF certified components
-
-
NSF 55, 372
NSF 42, 53, 401, P473, and P231
Process
UV
Chemical Oxidation + Carbon
UV
Chemical Oxidation
UV
Mechanical + Electroadhesion + Ion Exchange
Consumable Replacement
1 year
Varies
1 year
Varies
10 years
3 – 4 months
Annual Cost
~$150
~$100
~$100
~$100
<$50
~$140
Warranty
Chamber: 10 Years
Electric: 3 Years
Lamp & Sleeve: 1 Year
Tanks: Lifetime
Valve & electronics: 10 years
Injection panel: 5 years
Lifetime
Lifetime
2 years
Lifetime
---
⭐️ Coliform Water Filter Reviews 2023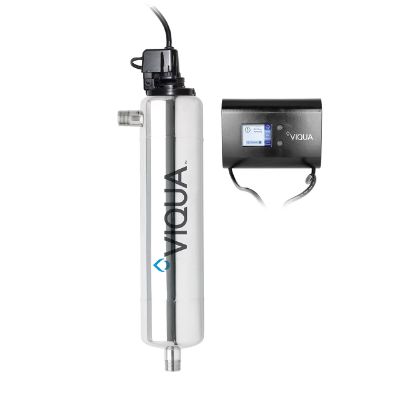 Viqua D4 Premium UV System
Our top choice for the best water filter for coliform bacteria is the Viqua D4 Premium, a UV purification system that uses high UV output lamp technology to kill harmful pathogens in contaminated water, including the presence of coliform bacteria.
Key Features:
Highly effective UV bacteria removal – The Viqua D4 Premium removes the presence of coliform bacteria using the simple, no-nonsense yet effective method of UV disinfection, inactivating the bacteria and preventing it from reproducing.
Compact design – This compact water treatment system has a smaller, space-saving eco-footprint while offering the same high level of performance as a longer, standard-size UV unit.
9,000-hour lifespan – Most UV lamps have a lifespan of 10,000 hours, but with its slightly smaller size, the Viqua has a (still impressive) lifespan of 9,000 hours.
12 GPM flow rate – With a maximum flow rate of 12 GPM, the D4 Premium won't affect your water flow.
Best For: Anyone looking for the best value-for-money UV filter money can buy, with a reassuring warranty and a long lifespan.
Pros:
We found that installing the Viqua D4 was simple and non-invasive. You simply connect it to your waterline and plug it into a source of electricity. Regardless of your DIY skill, you shouldn't need a plumber for the job.
Our testing found that this system was one of the best at UV purification, and we felt completely safe using it to disinfect our raw well water.
The Viqua D4 Premium is much more eco-friendly than RO systems when it comes to reducing total coliform content, as it doesn't waste water during use, and only requires a small amount of electricity to operate.
Cons:
This system will likely need some form of pre-treatment to remove sediment and heavy metals that might be contributing to water's turbidity. It's only effective on clear water.
The Viqua D4 Premium is only designed to kill living microorganisms, so you don't get any extra benefits of additional contaminant removal.
Read the full review: Viqua D4 Premium UV Disinfection System Review
---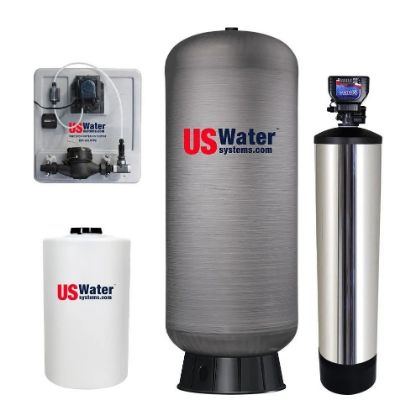 US Water Systems Matrixx Liquid Chlorination System
The US Water Systems is the best system for coliform bacteria that uses chemical disinfection to kill pathogens in well and city water. This system is one of the most advanced, cost-effective chemical injection systems we've reviewed.
Key Features:
The most effective solution for bacteria and other pathogens – You can rely completely on the Matrixx Liquid Chlorination System to remove bacteria like E-coli fecal coliforms, fungi, viruses, and some protozoa. As a bonus, this system also oxidizes iron and manganese – two heavy metals that are commonly found in well water.
Safe, proportional injection – This Matrixx model injects a precise amount of chlorine into water based on its flow rate, which is constantly measured to ensure that too much or too little chlorine is never added to the water supply.
Affordable long-term operation – This chemical disinfection system uses only 12 volts of electricity and should add less than $2.00 per year to your electricity bill.
Backwashing carbon filter – After chlorination, water passes through a carbon whole house filter, which removes excess chlorine and ensures your water is safe and great-tasting.
Best For: Anyone looking for the best, most reliable whole-home filtration system using chemical injection to eliminate E-coli fecal coliforms and other dangerous pathogens from water.
Pros:
In our testing, we found the Matrixx Liquid Chlorination System easier to program than any other chlorine injection system we've used. There were no confusing codes to enter – and setup took minutes, not hours.
We love that this chlorine injection system is built to last for decades, with a solid, durable design and a high-quality chrome tank protector that keeps the system in like-new condition.
If you're like us and you believe the manufacturer's claims aren't enough, you'll be pleased to know that the Matrixx Liquid Chlorination System's parts are NSF certified and the system is backed by a couple of impressive warranties: lifetime on the tanks and 10 years on the valves and electronics.
Cons:
The Matrixx Liquid Chlorination System is a premium product that comes at a premium price. Not everyone can afford a $4,000 whole house filter system.
You might not like the idea of adding chlorine to your water, even with this system's safety features, like proportional injection.
---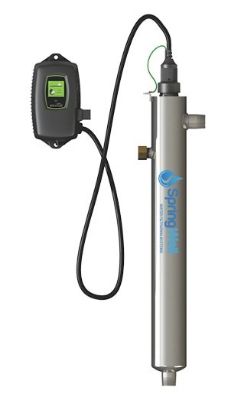 Springwell Blackcomb UV Water Filter System
The SpringWell Blackcomb UV Water Filter System is a close contender to the Viqua D4 Premium UV System. This SpringWell UV filter is about $400 more expensive than the Viqua D4, but it has a faster flow rate of up to 15 GPM, and has the same filter life of 1 year.
Key Features:
Eliminates 99.9% of bacteria – Offering almost 100% protection against E-coli fecal coliforms, other bacteria, and viruses, the SpringWell Blackcomb UV Water Filter System won't let you down.
Maximum flow rate of 15 GPM – This high GPM UV filter treats water flowing at speeds of up to 15 gallons per minute, so you shouldn't need to reduce your water pressure for the system to work.
Expandability port – You can easily add to the Blackcomb UV Water System in the future thanks to its "future-proof" expandability port.
Best For: Anyone looking for a chemical-free, no-fuss whole house filter system from a reutable brand, that kills microorganisms like coliform bacteria with UV light.
Pros:
In our testing, the Blackcomb UV Water Filter System proved to be one of the most user-friendly UV filtration systems to set up and operate. The color user interface that gives you a visual on remaining lamp life is particularly useful.
The 1-year lamp life is good, and we enjoyed the low-maintenance, set-and-forget operation of this system.
SpringWell is a reputable brand that consistently makes our top water filter reviews, and the Blackcomb UV Water Filter System is another reliable SpringWell product, backed by 10-year, 3-year, and 1-year warranties on the stainless steel reactors, electronics, and UV lamp.
Cons:
At just over $1,000, this SpringWell UV light isn't the cheapest you can find on the market (although you pay more for the reliability that comes from a SpringWell product).
As with all UV light filters, this Blackcomb UV system won't work on turbid water, and prefiltration may be required to remove suspended sediment.
---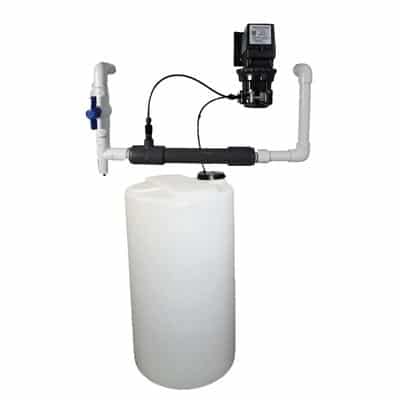 Springwell Chemical Injection System
The SpringWell Chemical Injection System is another top SpringWell product to make this list, and our second choice for chemical disinfection purifiers. This model is a quarter of the price of US Water Systems Matrixx Liquid Chlorination System, but it doesn't come with an included carbon filter.
Key Features:
Targets iron, bacteria, and sulfur – The SpringWell Chemical Injection System is one of the best defenses against coliform bacteria, iron, sulfur, and iron bacteria.
Controlled chlorine dosages – This unit has a flow sensor that controls how much chlorine is added when water passes into the tank, providing optimal, consistent results.
Good warranty and guarantee – The tanks and valves in this model have a reassuring lifetime warranty, and the unit has a 6-month money-back guarantee, so you can try it at no risk whatsoever.
Best For: Anyone looking for an affordable chlorine injection system that offers the same impeccable performance of a system double its price.
Pros:
The SpringWell Chemical Injection System has one of the best flow rates that we've ever seen: up to 30 GPM. No matter what your water pressure, you won't notice reduced flow from using this system.
We love that this system eliminates coliform bacteria – and also tackles iron bacteria, a notoriously difficult contaminant to remove.
This SpringWell system costs just over $1,000, so it's a much more budget-friendly choice for bacteria removal.
Cons:
Unlike our top pick for chemical injection on this list, the SpringWell Chemical Injection System doesn't come included with a carbon filter for chlorine removal. However, you could pair the system with SpringWell's whole house filtration system, adding just $1000 extra to your purchase.
You need to physically mix bleach and water and add it to this system, so it requires more maintenance than other methods of purification.
---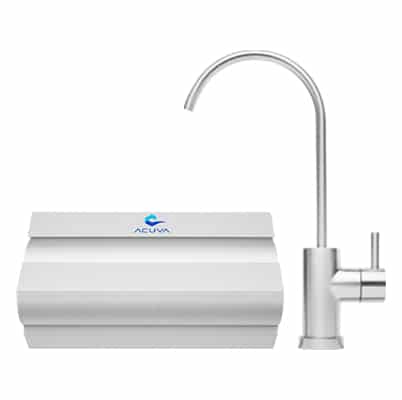 Acuva Arrow 5 UV-LED Water Purifier
The Acuva Arrow 5 UV-LED Water Purifier is our top wild card pick on this list. This filtration system isn't your typical solution for bacterial removal – it's an under-sink unit using physical filtration to remove up to 99.9999% of viruses and coliform bacteria.
Key Features:
Best under-sink UV purification The Acuva Arrow is one of the most effective under-sink UV filters available, removing 99.9999% of bacteria and viruses with targeted UV light treatment.
Compact, space-saving design – One of the biggest perks of choosing this under-sink drinking water system is that it's much more compact than whole-home filtration systems. The entire system is stored in a single unit, so it's space-saving and easy to install.
Comes with an advanced pre-filter – While the UV purifier might be the most important feature for you, the system's pre-filter is also ideal for well water treatment, removing mercury, fluoride, chromium-6, turbidity, asbestos, and poor tastes and odors.
Best For: Anyone looking for an affordable under-sink filtration system that's designed to remove coliform bacteria from drinking water only.
Pros:
We felt safe and reassured using this system to purify our drinking water, and we enjoyed the additional contaminant removal, too.
The system looks and feels like it's built to last, with sturdy aluminum casing, and its 900,000-liter, or 10-year, lifespan, is really impressive.
We like that this system comes with an optional smart faucet, which has a self-cleaning feature that keeps the unit in good working order.
Cons:
This system is only designed to treat drinking water in your kitchen faucet. You can't use it to treat your entire home's water supply.
The Acuva Arrow costs more money than some of the whole home systems on this list.
---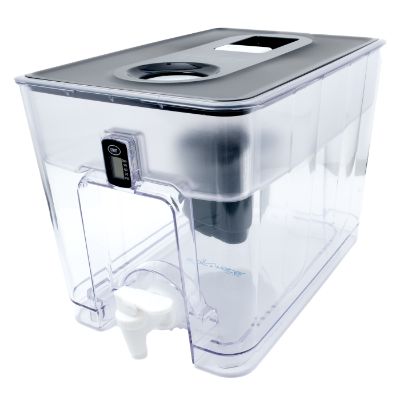 Epic Nano Water Filter Dispenser
The Epic Nano is a compact, portable, gravity-fed filter for coliform removal that uses gravity filtration to eliminate 99.999% of more than 200 common drinking water contaminants.
Key Features:
Targeted pathogen removal – The Epic Nano is one of the only gravity filters that can greatly reduce bacteria like E-Coli, Legionella Pneumophila, Hepatitis A and Salmonella, and viruses, and cysts like Giardia, Cryptosporidium.
Removes a broad range of contaminants – Pathogen removal isn't the only thing the Epic Nano is capable of.The filter also removes heavy metals like lead, pesticides and herbicides, volatile organic compounds, chlorine, and much more.
3-month lifespan – Lasting for 150 gallons, or 3 to 4 months, the Epic Nano has a fairly average filter lifespan for a countertop gravity filter.
Best For: If you have a smaller budget or you're looking for the convenience of a filter that requires little setup and can be taken with you on the go, the Epic Nano is a good option.
Pros:
We like that the Epic Nano has a large capacity, but is still compact enough to fit in your fridge. It can hold up to half a gallon of water, and is made from clear, BPA-free plastic.
If you hate DIY, you'll be impressed with how easy it is to set up this filter. It took us less than five minutes from start to finish – no complex installation required.
Costing less than $70, the Eric Nano is almost 100% cheaper than the majority of filters on this list. If you're looking for a budget option for E-coli removal, you've found it here.
Cons:
The Epic Nano's filter lifespan is only 3-4 months, so maintenance is frequent. Changing the filters on time is essential to prevent bacteria growth.
This countertop filter doesn't deliver on-demand purified water like the other filtering systems on this list. It could take up to 20 minutes for an entire batch of water to be filtered.
---
🧾 Buyer's Guide
If you're keen to learn more about Coliform water filters, this buyer's guide covers everything you need to know.
🦠 What Are Coliform Bacteria?
Coliform bacteria, known as coliforms for short, are a common type of bacteria that usually live in the digestive tract of humans and warm-blooded animals. These bacteria pass out in excrement, and can also be found in soil, plant and organic matter.
When coliform bacteria are present in food or water, it's typically an indication of unsanitary conditions. Not only can coliform bacteria cause ill health, they also indicate that disease-causing pathogens are present in the substance that they're found in.
🩺 What Are the Health Risks of Coliform Bacteria?
You might wonder whether coliform bacteria can really be dangerous if they're found in warm-blooded animals, like us. The reality is that most coliform bacteria don't cause disease, but some do. Consuming coliform bacteria in food or drinking water is a bit like playing a game of Russian roulette – you can never be sure whether the bacteria will cause you harm.
Some common coliform bacteria found in contaminated water are not disease-causing to humans. But certain types of E-coli (Escherichia coli), which is a sub-group of fecal coliform bacteria, can cause serious illness. Some of the health risks associated with E-coli fecal coliform bacteria include:
Vomiting and diarrhea
Severe stomach cramps
Dehydration
Fever
Loss of appetite and nausea
Blood in urine
Urinary tract infections
Health complications including kidney failure
When fecal coliform and E-coli is found in contaminated water, it's also an indication that other pathogens are present, which may cause viruses and disease in humans, including:
Protozoa that cause dysentery
Bacteria that cause typhoid fever and cholera
Types of viruses that cause hepatitis and polio
Helminths like tapeworm, which can cause malnutrition and diarrhea
🧫 How Do Coliform Bacteria Get Into My Water?
Fecal coliform bacteria usually get into water supplies through surface water runoff in the natural environment. Rainwater washes animal fecal matter from cattle and other animal livestock into small streams that lead to larger streams, lakes and rivers.
Occasionally, coliform bacteria are transported into surface water as a result of fecal contamination from human sewage treatment plants that haven't disinfected the sewage to the standard required. You're likely to get high coliform levels in your well water if your well casing is cracked or damaged, and there's a septic system weeping bed located close by.
Different kinds of coliform can also be found in soil, and can pass through the soil in surface water and into your well water supply. Without a proper bacteria filtering process, these bacteria may pass through your plumbing and into your home along with your well water.
🧪 How Can I Test My Water for Coliform Bacteria?
The most accurate way to test for surface water coliform bacteria in drinking water supplies is to send off a water sample to a specialist laboratory. The laboratory should send you a sample bottle to collect your water in. You should then follow the provided instructions to collect your sample and send it for testing within 24 hours. You'll be informed of which contaminants are found in your water, along with your fecal coliform bacteria total levels.
There are also at-home bacteria testing kits that you can buy online. While many of these are accurate, they can't offer results as in-depth as a laboratory.
It's important that you regularly test your well or public water supply for fecal coliform bacteria if you live in the United States, and there are certain circumstances in which you should always ensure that your water is tested. No matter what the situation, you need to get your well checked for coliform bacteria once a year. You should also test for this type of bacteria when you construct a new private well or begin to use an existing well that hasn't been used recently.
Additionally, if and when any part of your well water system requires repairing, it's recommended that you test your water supply just in case. Finally, if you have any reason to suspect bacterial contamination – perhaps a member of your household falls ill, or your neighbor reports contamination in their well or water source -you should carry out a coliform bacteria test sooner rather than later.
🔠 What Kind of Water Filter Removes Bacteria?
Coliform bacteria isn't the sort of contaminant that can be removed from a drinking water supply with your average chlorine filtering solution. Only a small number of select types of treatment are effective at the job, including:
UV Purification Systems
UV purification is one of the most popular treatment methods for eliminating bacteria in drinking water.
In the UV disinfection process, UV, or ultraviolet, rays penetrate the harmful contaminants that live in contaminated water. They attack the genetic core of these pathogens, killing them at around a 99.99% success rate and making them unable to reproduce. So while the harmful contaminants are still present in your water, they can't cause any harm. As well as being effective against bacteria, UV purification systems can also treat water that contains protozoans, such as Cryptosporidium or Giardia.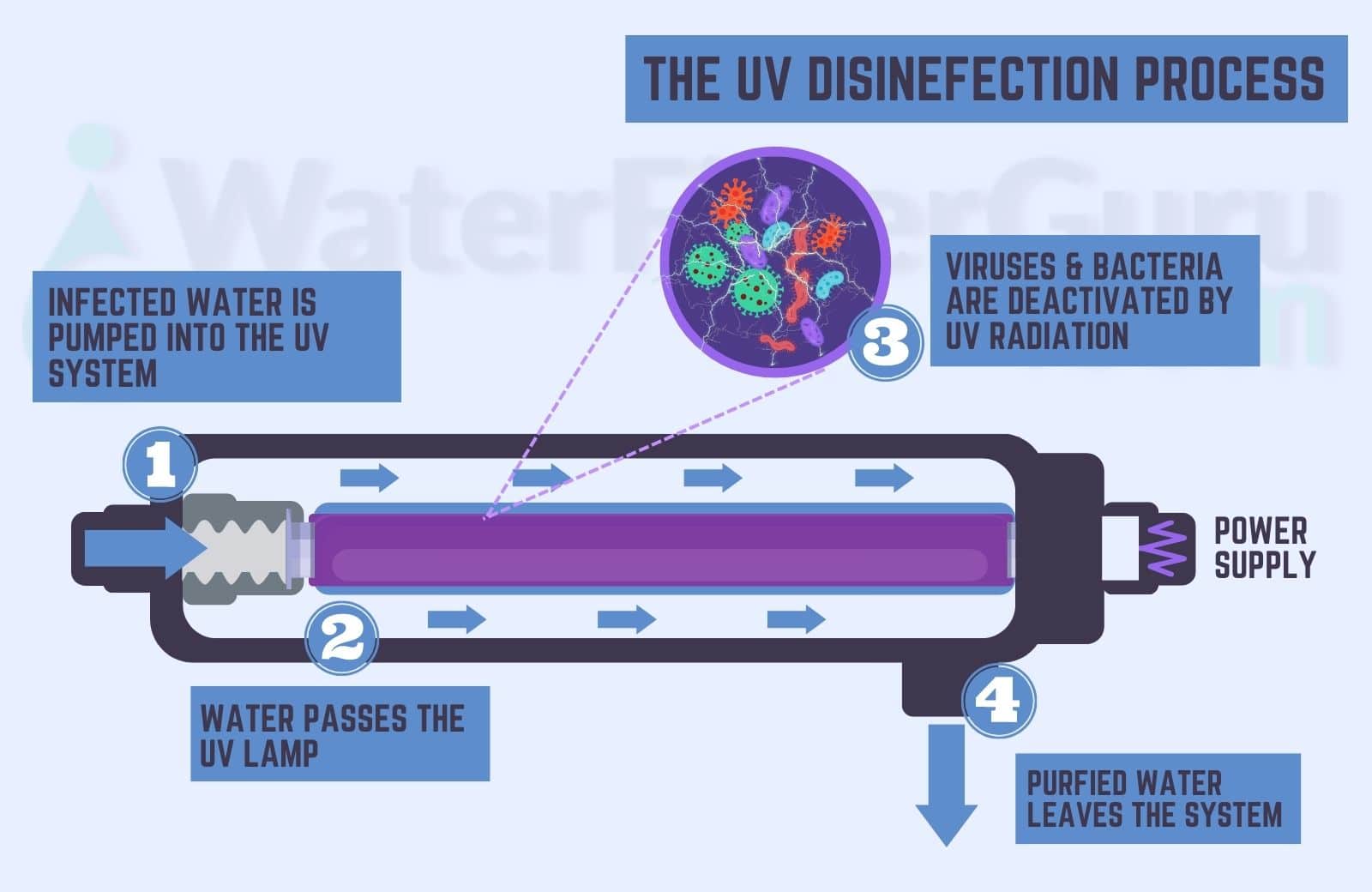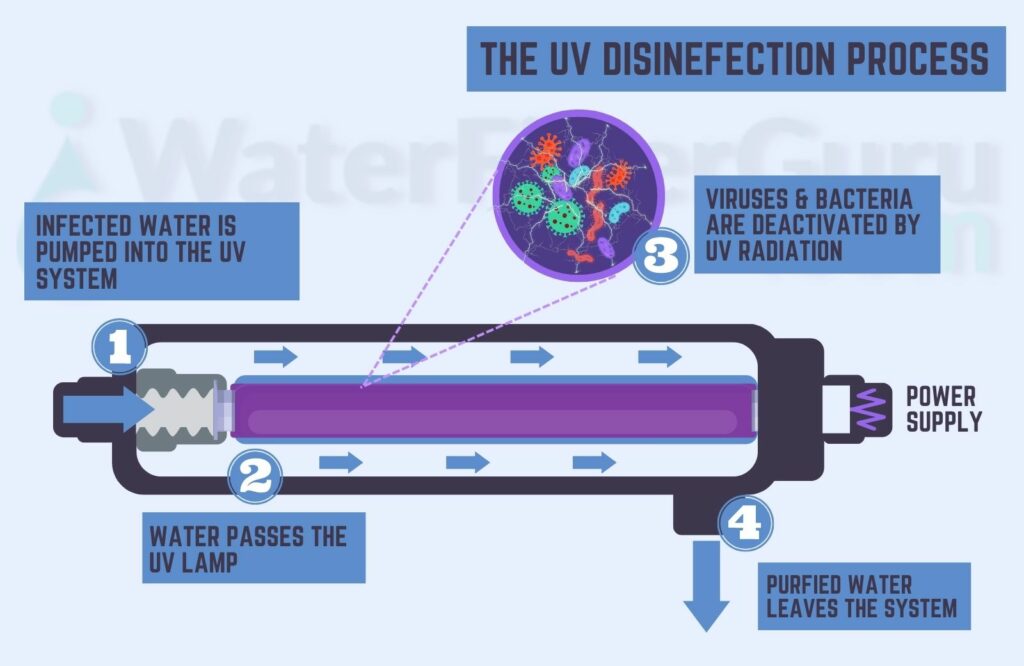 Chemical Disinfection Systems
Chemical disinfection systems use the same method of disinfection as public water treatment facilities: chlorine disinfection.
A chemical disinfection system sends water into a tank, then injects the water with a measured amount of chlorine. The water stays in the tank for as long as it takes for the chlorine to take effect. Then, the chlorine leaves the tank and passes through a carbon filter, which reduces the chlorine to a level that's safe to drink. Chemical disinfection is a highly effective way to remove coliform bacteria, but some people don't feel comfortable adding chemicals to their water.
Distillers
Water distillers work by heating up contaminated drinking water to boiling point, causing it to evaporate and condense. When water evaporates, the majority of harmful contaminants, bacteria included, are unable to turn into a gaseous form. They remain in the boiling chamber, and can be washed or wiped away after use.
The condensed water drips out of a distiller into a clean, separate pitcher, preventing re-contamination of the water. Distillers are a good option for removing bacteria from small amounts of water, but because the distillation process is long, they don't tend to be best for consistent use for the average family.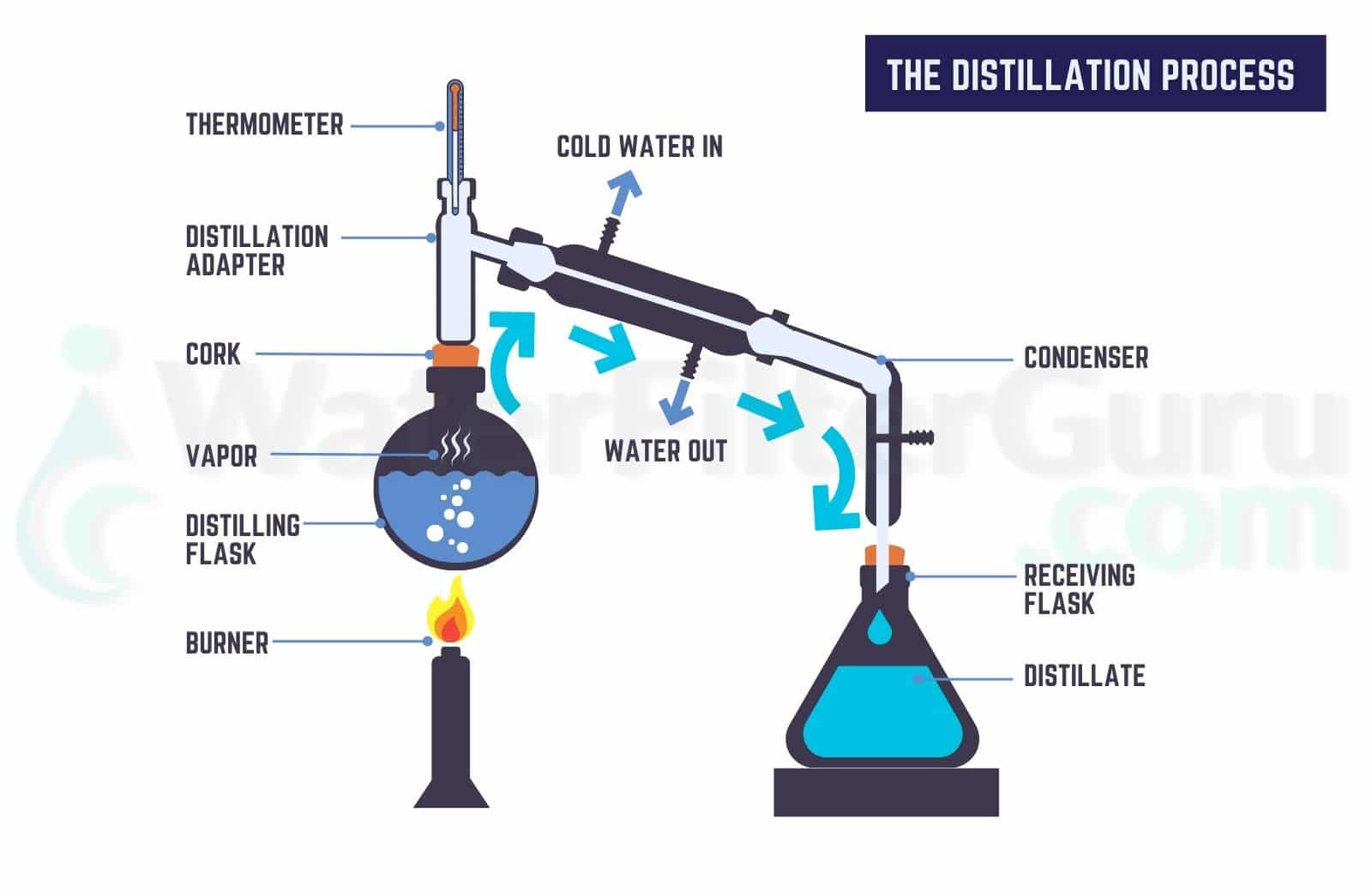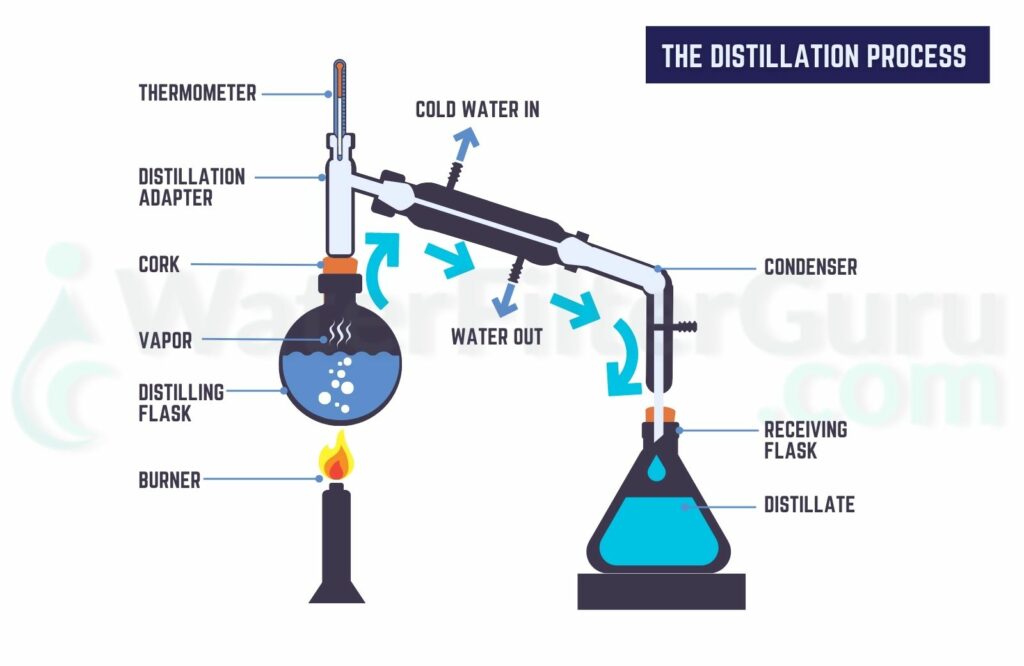 Reverse Osmosis
We mentioned that the majority of water filters can't remove bacteria from a water supply, but reverse osmosis systems are the exception. This type of filtration is so thorough that it can remove 99.9% of all total dissolved solids (TDS) from water – and that includes bacteria.
In the reverse osmosis process, water flows through a series of filters, before passing through a reverse osmosis membrane. This membrane contains thousands of tiny micro-pores that allow only the smallest water particles to pass through. Any coliform bacteria in drinking water gets flushed away with the rest of the contaminating particles down the water waste pipe.
Reverse osmosis filters, like UV disinfectant systems, can be installed at your home's point of entry. However, keep in mind that if you're filtering a well water supply with a relatively high bacterial content, RO isn't the ideal method, as bacteria can deteriorate the RO membrane over time. In fact, reverse osmosis water filters should never be used as a primary method of bacteria removal – you simply can't trust them as much as UV or chemical disinfection.
Other Lab Tested Filters
There are a few filtering options, such as several countertop models, that go above and beyond in their water filtration offerings and can be used to effectively remove bacteria. If a model claims to remove bacteria, it's important that it has lab testing documents as proof of its ability to do so.
💭 Key Considerations When Choosing a Coliform Water Filter
Water Quality
If your overall water quality is poor, you may need more than just a coliform water filtration solution. For instance, you could opt for a UV purification system alongside a whole home water solution to eliminate the presence of coliform in your water supply while also reducing or removing the other bad stuff. You could also opt for a distiller if you only need to make small, less frequent batches of filtered water.
If your water quality is poor, and your total coliform bacteria is relatively low, it's worth considering a reverse osmosis model for your home.
Water Flow Rate
If you haven't already measured your home's water flow rate, it's recommended that you do this before buying and installing a solution for treating coliform bacteria in drinking water.
When water flow rate is too high, it might damage certain inline water filters. It may also mean a less effective treatment when it comes to the speed at which water passes through a UV filtering device. A flow rate that's too low, on the other hand, may affect the power of the water that comes out of your faucets, as a water treatment option will already slow down flow rate somewhat.
Physical Space Available
It stands to reason that if you don't have any countertop space you're willing to dedicate to a portable solution for coliform bacteria, you should opt for an inline filtering option instead – and vice versa. It's important to measure your available space at your chosen installation location to make sure your coliform bacteria filtering solution of choice fits comfortably in place, with room for maintenance if needed.
Installation & Maintenance
Some styles of filtration system for coliform bacteria require more in-depth installation and maintenance than others.
RO systems have several cartridges and media that need to be changed fairly frequently, and, being installed at your home's waterline, you may prefer to pay a plumber for setup.
UV purification models require a less invasive installation on the outside of your home's waterline, and virtually no maintenance, while water distillers generally require no installation at all – you just need to make sure they're set up near to a source of electricity.
Costs Involved
All filtering options require a little extra money spent after the initial purchase:
RO filtration requires cartridge changes every 6 months to 2 years, costing around $20-$50 per cartridge.
UV purification models are almost free to run – you just need to buy a replacement UV lamp after every year, which costs between $50 and $100.
Water distillers generally last for a long time with no associated maintenance costs, but some have optional carbon filters on their spouts that need replacing every 6 weeks or so.
❔ Frequently Asked Questions
Why aren't most filters capable of removing bacteria from water?
Coliform and E-Coli (Escherichia coli) bacteria are typically too small to be filtered out by a standard water filtering solution. This means the bacteria will simply pass through the media with water particles, hence why more specialist filtering methods are needed for the job.
How can I be certain that a water treatment solution removes fecal E-Coli bacteria from water?
Look for lab reports online. If you can't find them, ask the manufacturer to provide you with the information in the form of the actual report (and not just a copy-pasted section or a screenshot).
How can I be certain that my well water is safe for drinking after filtering it?
An option here would be to get your water source tested at a laboratory for contamination before and after using the filtration solution, which will give you the best indication of how it has reduced or eliminated the total coliform bacteria in your water. You can also check that a filtering system is certified to standards regulated by the Environmental Protection Agency (EPA).
How much coliform bacteria is safe in well water?
If you look at the EPA's Maximum Contaminant Level for bacteria in city water, the answer would be 0. However, your water may be safe if you have less than 5 total coliform colonies per 100 millimeters. "May" is the word – it's best to stay on the safe side and remove all bacteria from your water supply using a capable filtration system.