Here are the top 6 water filters with the highest chloramine removal capability for different applications.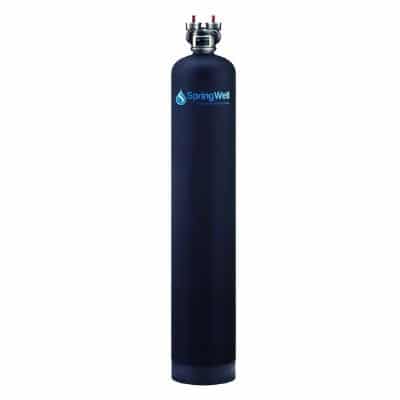 SpringWell CF Whole House Filter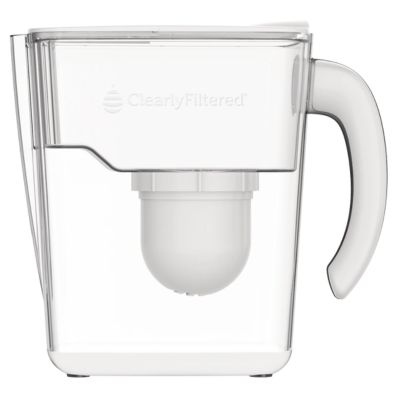 Clearly Filtered Water Filter Pitcher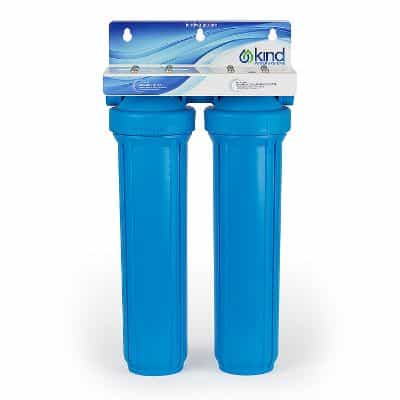 Kind E-1000 Whole House Water Filter
Hey, chloramine hater! Welcome to our best water filters for chloramine removal guide.
If you hate drinking chloramine in your treated tap water supply, you've come to the right place. We've tested and compared some of the best water filters for chloramine-treated water in various states in the US.
Feel free to make an impulse purchase of a water filter that isn't capable of removing chloramine – then regretting it. But we strongly recommend doing your research and investing in one of the best chlorine removal water filter systems available today.
#1 is our top pick, but #2 is the best portable, affordable choice, and #3 is best if you just want to filter your drinking water.
In this guide, you'll learn:
Which 6 chloramine water filters are the most capable chloramine removal solutions, as proven by our testing.
How we tested, compared, and selected the shortlisted products in this guide.
Everything to consider when you're buying a filter for chloramine for your home.
🥇 Best Water Filter that Removes Chloramine
📊 Comparison Chart of Water Filters for Chloramine Removal
| Product | SpringWell CF | Clearly Filtered Pitcher | Kind E-1000 | Epic Smart Shield | ProOne Big+ | Pentair Shower Filter | Waterdrop G3P800 |
| --- | --- | --- | --- | --- | --- | --- | --- |
| Ranking | 1st | 2nd | 3rd | 4th | 5th | 6th | 7th |
| Ratings | 5/5 | 5/5 | 4.5/5 | 4.5/5 | 4.5/5 | 4.5/5 | 4.5/5 |
| Price | $1016.44+ | $90.00+ | $776.12 | $108 | 229.95+ | 88.37+ | $999.00 |
| Chloramine Reduction | 99.6% | 99.7% | 99% | 95.5% | 99.99% | 96% | 99.9% |
| Contaminants Reduced | 10+ | 365+ | 10+ | 70+ | 200+ | 2+ | 1000+ |
| Certifications or Testing | – | NSF 42, 53, 401 & 473 | – | NSF 42, 53, 401 | NSF 42, 53, P231 | NSF 177 | NSF 58, 372 |
| Filter Life | 1,000,000 gallons | 100 gallons | 80,000 gallons | 651 gallons | 1,000 – 1,200 gallons | 15,000 gallons | 6, 12, 24 months |
| Warranty | Lifetime | Lifetime | Lifetime (limited) | Lifetime | 1 year | 1 year | 1 year |
⭐ Reviews – Best Chloramine Water Filter 2023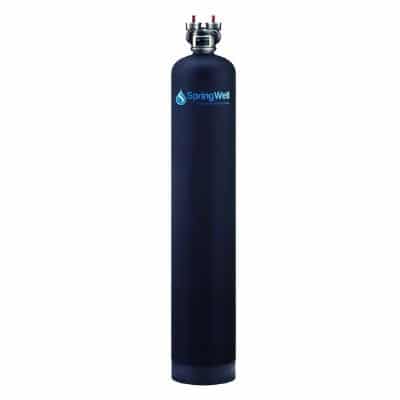 SpringWell CF Whole House Water Filter System
The SpringWell CF Whole House Water Filter System is our top pick on this list. This high-capacity system uses catalytic carbon filter media – the best media for removing chloramine – and protects your entire home from this drinking water chemical.
Key Features:
Virtually eliminates chloramine – Our testing found that the SpringWell CF Whole House Filter System removed virtually all chloramine below the minimum detection level.
Removes tens of other contaminants – Alongside chloramine, the SpringWell CF also removes disinfection byproducts (found commonly in drinking water and often produced by chloramine), pesticides, herbicides, PFOA and PFOS, haloacetic acids, chlorine, and more.
6-year media lifespan – The media in this chloramine water filter lasts for an impressive 1,000,000 gallons, or 6 years.
Includes sediment pre-filter – The SpringWell CF comes with an included sediment pre-filter, which protects the media from sediment damage, so you don't need to worry about buying your own separate filter.
| SpringWell CF Configurations | Price |
| --- | --- |
| 1-3 Bathrooms | $1016.44 |
| 4-6 Bathrooms | $1199.66 |
| 7+ Bathrooms | $1737.20 |
Best For:
Anyone who wants to invest in the most capable, low-maintenance filtration system that can remove chloramine from the water in your entire home.
Pros:
In our testing, we found that the SpringWell CF Whole House Filter System is a truly reliable system. It contains two of the most capable filtration media – catalytic carbon filter media and KDF-55 media – which guarantee the removal of chloramine, chlorine, and more.
We like that you can choose between three system sizes – the CF1 system (1-3 bathrooms), the CF 4 (4-6 bathrooms), and the CF+ (7+ bathrooms) – depending on your required flow rate and the number of bathrooms in your home.
We found that this water filtration system was one of the easiest to install at our water supply and maintain. If you're handy, you won't need a plumber for the installation. Maintenance simply involves changing the sediment filter every six months.
| Upgrades | Price | Uses |
| --- | --- | --- |
| UV Water Purification System | $1100.99 | Boil water advisory protection |
| Reverse Osmosis Water Filter System | $442.23 | Drinking water |
| Easy Installation Kit (Single Tank) | $157.49 | Clack connectors add-on |
Cons:
Some of the fittings are plastic. We'd prefer them to be metal, which is more durable.
Like the majority of whole house water filters, the SpringWell CF is expensive. If you can't, or don't want to, spend $1,000 on a whole house filtration system, you're best considering a more affordable point of use filter.
Read the Full Review: SpringWell CF Whole House Water Filter System Review
---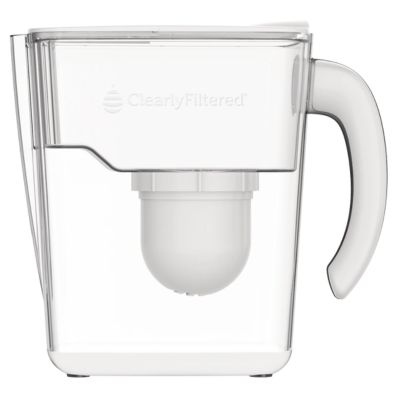 Clearly Filtered Water Pitcher
Our top pick for the best water pitcher that can reduce chloramine is the Clearly Filtered Water Pitcher. This pitcher filter is yards ahead of even its closest competitors, reducing more than 365 contaminants – including chloramine.
Key Features:
Reduces 99.7% of chloramine – Performance Data on the Clearly Filtered website demonstrates that the Clearly Filtered Pitcher can reduce virtually all chloramine from water – more than 99.7%.
Reduces 365 additional contaminants – Chloramine is far from the only contaminant that this pitcher can reduce. It's also capable of reducing chlorine, lead, chromium, arsenic, fluoride, VOCs, pharmaceuticals, and more, all according to NSF testing Standards.
4-month filter lifespan – Each filter cartridge in the Clearly Filtered pitcher lasts up to 4 months. This is a better-than-average lifespan for a water filter pitcher.
Good warranty and guarantee – Impressively for a water pitcher filter, the Clearly Filtered Water Pitcher is backed by a 30-day money-back guarantee and a limited lifetime warranty.
Best For:
People looking for a filter to reduce chloramine that's portable, affordable, small, easy to use, installation-free, and highly capable.
Pros:
We love that the Clearly Filtered Water Pitcher has third-party testing data that you can review online. This data validates the manufacturer's claims – essential for gaining customer trust.
The quality of the filtered water produced by this Clearly Filtered pitcher is exceptional. Our water tasted clean, chemical-free, and fresh, but still had a pleasant alkaline taste (the filter media retains healthy minerals).
This water pitcher offers a highly convenient chloramine reduction solution. We enjoyed being able to assemble the pitcher in seconds and take it with us – whether around the house or on our travels.
Cons:
Like all water pitchers, the Clearly Filtered pitcher takes a few minutes to filter your water. You don't get filtered water on demand.
The replacement filters for this pitcher are expensive.
Read the Full Review: Clearly Filtered Water Pitcher Review (2023)
---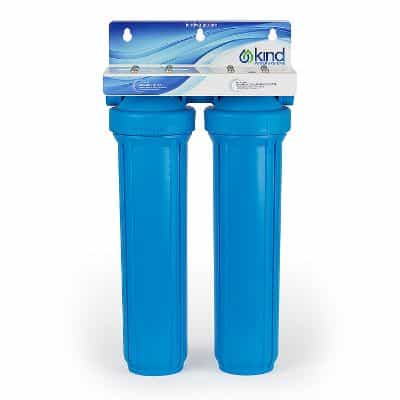 Kind E-1000 Whole House Water Filter
Based on our research, the Kind E-1000 Whole House Water Filter is the best cartridge-based POE carbon filtration system for chloramine removal. This water filtration system has an impressively fast flow rate and long filter life for a cartridge filter, and we were impressed with its ability to remove 150 contaminants – including chloramine.
Key Features:
Catalytic carbon block media – The primary media in the Kind E-1000 is catalytic carbon. This type of carbon media does more than standard activated carbon. It doesn't just reduce chlorine, tastes, and odors – the media can also remove up to 99.9% of chloramine.
Removes chloramine, chlorine, & hundreds more contaminants – Combining carbon with sediment filtration, the Kind E-1000 removes more contaminants than most carbon-based filters with just two cartridges. The unit reduces more than 150 contaminants, including chlorine and chloramine, tens of common disinfection byproducts, and more.
Up to 15 GPM flow rate – The Kind E-1000 shouldn't reduce your water pressure. It has a faster flow rate than similar systems (up to 15 GPM) – better than the average POE flow rate without a filter of 6-12 GPM.
Best For:
Folks who prefer the easier install and lower upfront cost of a cartridge-based whole home chloramine filter and don't mind the extra maintenance involved in changing the filter cartridges.
Pros:
The Kind E-1000 has lower installation and maintenance demands than similar cartridge-based POE filters. The sediment filter's washable, reusable design is super convenient, and we appreciate that the carbon filter lasts a full year.
We're impressed by this Kind model's ability to remove hundreds of contaminants, including chloramine. It's also good to see that the filter is made from solid carbon block, which doesn't leak black specks of carbon into water.
We love how easy it is to get the Kind E-1000 up and running. No need to hire a plumber, even if you're DIY-adverse – there are just two connections and two filters in the entire unit.
Cons:
We have no choice but to trust the manufacturer's claims with no third-party certifications for support.
The test results for this Kind model don't tell us exactly how much chloramine the filter can remove.
Read the full review: Kind E-1000 Whole Home Municipal Water Filter Review
---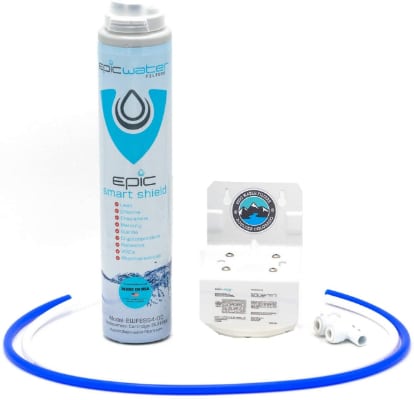 Epic Smart Shield
Our favorite budget under-sink filter to remove chloramine is the Epic Smart Shield. Don't think that this filter is less capable than others due to its affordable price – with just a single filter cartridge, the system removes over 99.99% of over 70 contaminants, including chloramine.
Key Features:
Removes 95.5%chloramine – Private testing shows that the Epic Smart Shield removes up to 95.5% chloramine. That's not quite as much as some of the other filters on this list, but it's still an impressive amount.
Removes 70+ contaminants to NSF Standards – This under-sink system has been tested according to NSF Standards 42, 53, and 401 for the reduction of both chlorine and chloramine, lead, asbestos, mercury, VOCs, pharmaceuticals, and more.
12+ month filter life – The Epic Smart Shield uses an activated carbon coconut shell media and has a filter lifespan of 651 gallons, or 12+ months – longer than the average under-sink filter.
Best For:
People who want to spend less money upfront without sacrificing quality. This chloramine filter is affordable and offers a top performance.
Pros:
The Epic Smart Shield is ideal for small budgets, costing just over $100 for the entire filtration system.
Epic Water Filters is a reputable brand selling a selection of reliable products, and the Epic Smart Shield lived up to our expectations. The taste and smell of our water was much improved after installing this activated carbon filter. Plus, each filter is 100% recyclable.
As an under-sink filter, the Epic Smart Shield is a good balance between countertop filters and whole house filters. We enjoyed that the filter produced clean water on demand but didn't require the tricky installation of a POE system.
Cons:
The Epic Smart Shield doesn't come with a built-in sediment filter, so you'll need to buy your own if sediment is an issue in your water.
Some customers experienced issues with leaking.
Read the Full Review: Epic Water Filters Smart Shield Under Sink Filtration System Review
---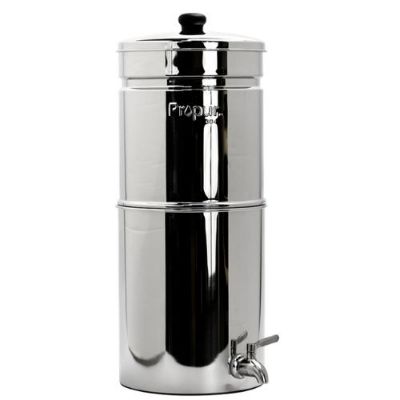 ProOne Big+ Gravity-Fed Water Filter
The best countertop gravity-fed water filter for removing chloramine is theProOne Big+ Gravity Water Filter. This 2.75-gallon stainless steel unit uses a carbon ceramic filter to remove up to 99.9% of chloramine, and is tested to NSF Standards for its performance.
Key Features:
Removes more than 99.99% of chloramine – According to lab results shared online, the ProOne Big+ Gravity Water Filter can essentially eliminate chloramine from water, leaving just 0.001% behind.
Removes over 200 additional contaminants – Alongside chlorine and chloramine, this ProOne unit also reduces or removes contaminants including chromium, lead, mercury, cadmium, sediment, bacteria, and fluoride (no need to use a separate fluoride filter).
1,000-1,200-gallon filter life – Filters in the Big+ last up to 1,200 gallons, or around 1 year with regular everyday use.
Best For:
Families who are looking for a larger-capacity chloramine removal alternative to water pitcher filters, with the convenience of portability and a no-install design.
Pros:
The ProOne Big+ Gravity Water Filter is one of the most convenient countertop water filters we've used to remove chloramine. It's large, so you don't have to fill it very often, and you can access filtered water via the stainless steel spigot at any point.
This ProOne model is also the best of its kind that we've used for eliminating fluoride. You won't find any other countertop gravity filter that can remove as much chloramine as the Big+, as well as removing the likes of fluoride and arsenic (most stainless steel countertop filters require a separate fluoride filter for this).
It's easy to assemble and use the ProOne Big+. Our filtered water tasted great, and it's reassuring to know that the unit is made from BPA-free food-grade stainless steel, so it won't leach anything into your water.
Cons:
So far, the ProOne Big+ only has private testing to NSF Standards. We'd love to see an official NSF certification for the G2.0 filters' contaminant removal abilities.
The bottom chamber leaks if it's full and you add more water to the top.
Read the Full Review: ProOne Big Plus Review (Updated for 2023)
---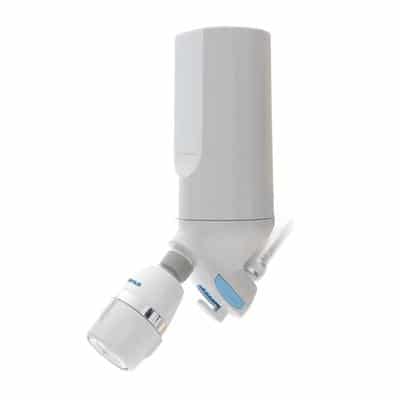 Pentair Premium Shower Filter
The most capable shower filter for removing chloramine is the Pentair Premium Shower Filter. This smart shower filter uses a combination of zinc oxidation and activated carbon media to greatly reduce free chlorine and chloramine in shower water.
Key Features:
Reduces chloramine, chlorine, and synthetic chemicals – The Pentair Premium Shower Filter uses zinc oxidation media to remove up to 96% of chlorine, and steam-activated carbon media to filter out synthetic chemicals and chloramine.
6-9 month lifespan – Each filter cartridge in this Pentair showerhead filter unit is designed to last for between 6 and 9 months, or 2,000 10-minute showers.
1-year warranty – The Pentair Premium Shower Filter is backed by a decent 1-year warranty (you need to register the filter online to be eligible).
Best For:
People who just want to use the most effective shower head filter to remove chloramine from their shower water supply, perhaps due to skin conditions or hair problems.
Pros:
The Pentair Premium Shower Filter is one of the few shower filters that can remove chloramine. Most can only remove chlorine.
We found this showerhead chloramine filter very easy to install. If you're not the handy sort, you won't struggle to assemble and attach this system to your shower line.
We were pleased with the flow of water from this filter in our testing. If you like powerful showers, you won't be disappointed by the Pentair shower filter.
Cons:
The Pentair Premium Shower Filter is one of the more expensive shower filters we've come across. Although it's a good value for money, it may be too pricey for some people.
This model is a complete showerhead filter, so you'll need to replace your current showerhead to install it.
---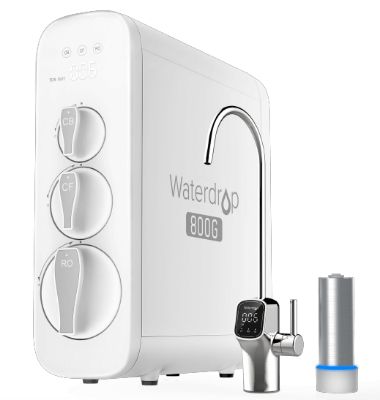 Waterdrop G3P800
The Waterdrop G3P800 is our top pick for the best premium under-sink system that can remove chloramine. This high-tech, space-saving reverse osmosis water filter uses a 7-layer reverse osmosis membrane to remove virtually all contaminants from water, including chloramine.
Key Features:
Removes hundreds of contaminants – The Waterdrop G3P800 removes all contaminants that are larger than 0.0001 microns – including chlorine and chloramine, VOCs, chemicals, heavy metals, pharmaceuticals, and bacteria.
Reduced water waste – This Waterdrop model wastes only 1 gallon of water for every 3 gallons of filtered tap water produced. This is one of the best wastewater to pure water ratios we've seen for a reverse osmosis system.
Prevents scale formation and kills microorganisms – The Waterdrop G3P800 doesn't only make water safe to drink by removing chemicals and metals; it also uses a built-in UV light to provide 99.9% sterilization and scale-inhibiting technology to prevent hard water scale.
Best For:
Anyone prepared to pay a top price for a top product. The Waterdrop G3P800 is one of the smartest, most efficient under-sink water filters, offering a guaranteed means of eliminating chloramine.
Pros:
We were impressed by just how smart the Waterdrop G3P800 is compared to other RO systems. It wastes minimal water, monitors TDS and filter life, and takes just six seconds to produce a full glass of filtered tap water.
Compared to other under-sink reverse osmosis systems, this Waterdrop unit is easy to install. It's tankless and space-saving, combining all its filters into a single unit.
We noticed a huge improvement in our water quality after installing this system. The chloramine chemical taste was eliminated.
Cons:
There are three filters that need changing in the Waterdrop G3P800, so the system requires more maintenance – and more money spent on maintenance – than other models in this list.
As one of the best under-sink reverse osmosis filters available, the G3P800 is expensive, costing more than $900.
Read the Full Review: Waterdrop G3P800 Reverse Osmosis System Review
---
🕵️ Our Research
Here, we'll be sharing everything you need to know about chloramine in your water, including what it is, how it gets there, and how to remove it. We've also shared our testing process for the water filters on this list.
🤔 What Is Chloramine?
Chloramine is made from free chlorine and ammonia. There are several forms of chloramines, but the form that's commonly added to disinfect water supplies is inorganic monochloramine (NH2Cl), as this is the most stable.
📥 How Chloramine Enters a Drinking Water Supply
Chloramine enters a drinking water supply through water chloramination. Some states disinfect their water with chloramine, not chlorine, because chloramine provides longer-lasting disinfection than chlorine, protecting water for longer as it travels through pipes to your home.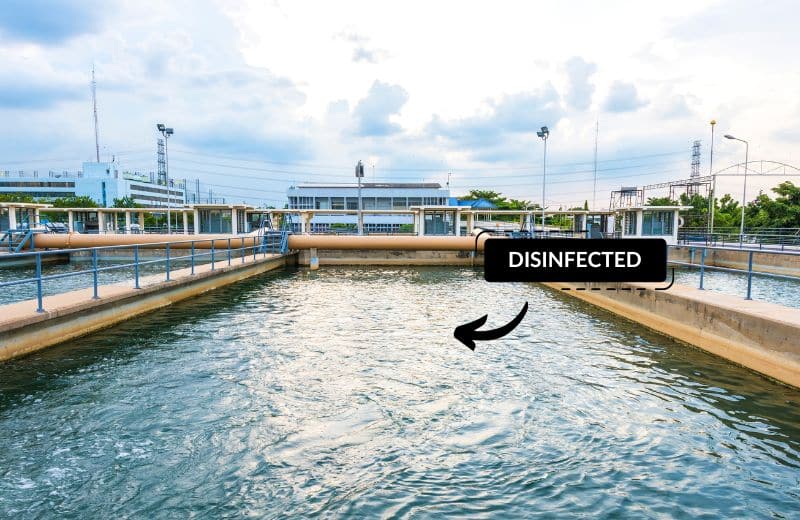 Potential Side Effects of Chloramine
Compared to chlorine, chloramine produces fewer disinfection byproducts. That's a good thing, since certain disinfection byproducts are known to cause cancer.
However, there are several potential effects of drinking chloramine in tap water to be aware of:
Unpleasant Taste and Smell
Just like chlorine, chloramine causes water to take on an unpleasant chemical taste and smell. This taste is so off-putting to some people that they resort to drinking bottled water instead of the free water from their faucets.
Hair and Skin Irritation
Showering in chloraminated tap water can cause skin and hair issues, including dryness, rashes, dandruff, itchiness, and irritation.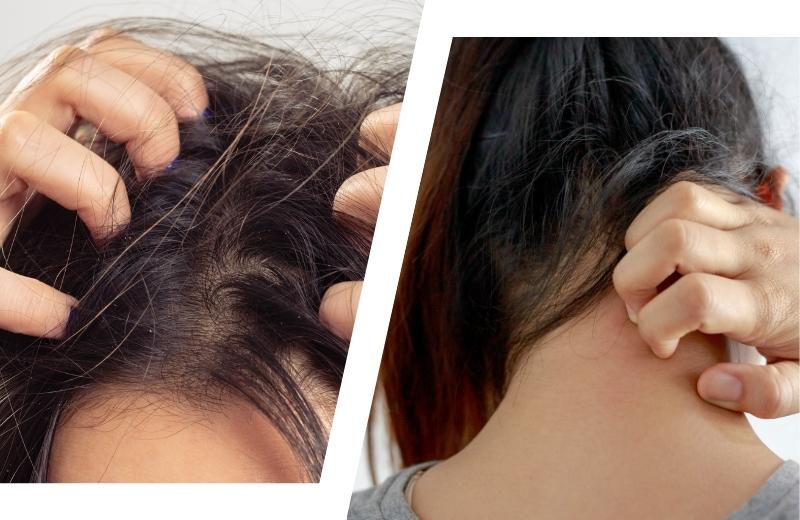 Respiratory Irritant
Chloramines are all respiratory irritants, and repeatedly showering in chloraminated water may cause a cough, phlegm, and shortness of breath.
Leaches Lead from Pipes
Chloramine causes lead to leach from pipes and fixtures, potentially leading to elevated levels of this toxic metal in water. Chloramine can also cause leaks in copper pipes.
Causes elevated nitrosamine levels
Finally, chloramine has been linked to elevated levels of nitrosamine, carcinogenic organic compounds that currently aren't regulated by the EPA.
♨️ Does Chloramine Evaporate from Water?
You might have heard that leaving your drinking water to sit on the side causes the chloramines to evaporate. Is this true?
Yes – chloramine will eventually evaporate from water if you leave it for long enough. The problem is that chloramine is relatively stable and doesn't dissipate as quickly as chlorine. You'd need to leave your water sitting for over 100 hours before all the chloramine would dissipate.
What does this mean? The evaporation method isn't the best way to remove chloramines from drinking water. Unless you have a highly organized system in place, and you can keep your water somewhere clean and safe while it evaporates, we don't recommend this method as a long-term chloramine removal solution.
Do I Need a Drinking Water Filter for Chloramine?
As it's highly uncommon for chloramine to naturally enter a water supply, you only need a chloramine reduction filter if your water is treated with chloramine disinfection.
All water treatment facilities must legally provide information on how they treat their public drinking water, so your local water quality report should let you know how your city water is disinfected.
If you want to know for sure whether or not your water contains chloramines, and to what extent, you can also conduct your own water test for this chemical.

How to Test for Chloramine in Water
The best way to test for chloramine in tap water is to buy a testing package from your local certified laboratory.
SimpleLab Tap Score is our trusted laboratory for our water testing. The Essential City Water test is the best-value test for chloramine – it also tests for chlorine, heavy metals, and a host of other common city water contaminants.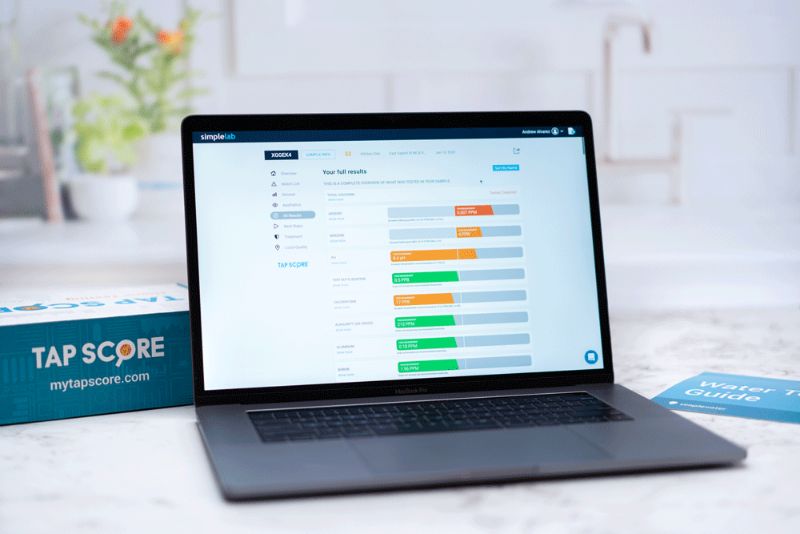 🙋‍♀️ Who This Guide is For
This guide is for:
Anyone who's open to different options for filters that can remove chloramines. We've shared multiple forms of water filtration in this guide.
People with at least $50 to spend on a filter. We've shared several options for small budgets, and a few for large budgets.
Anyone who wants to invest in a product from a trusted, reputable manufacturer. We've only shared filtered water systems that have consistently proven to be reliable.
🧾 How We Chose
For this guide, we focused purely on water filtration systems that are designed to greatly reduce or remove chloramine.
We chose the filters on this list based on their ability to remove chloramine, their customer feedback, their component quality, and their value for money.
Chloramine Removal Capability
If you're specifically looking for a filter that can remove chloramines, it makes sense that performance should be the most important feature in any filter offering chloramine reduction.
We shortlisted the filters that could remove at least 95% chloramine. Many on this list can remove virtually all chloramine – more than 99% – for complete protection against this secondary disinfectant.
We value NSF 42, the official certification for chloramine reduction, the most. However, not all emerging manufacturers can afford an official NSF certification, so we also look for third-party testing to NSF Standards.
Customer Response & Feedback
We know that customer feedback can be varied, but the overall customer response can tell you a lot about the quality of a chloramine water filter.
We read hundreds of customer reviews during our research and comparison process, which gave us an invaluable insight into how some of the most popular products lived up to everyday expectations.
We prioritized the filters that received consistently positive feedback, and disregarded those that failed to satisfy customers' basic requirements.
Component Quality
The durability and value of a chloramine filter ties into its component quality. Once we'd shortlisted products based on our research, we tested them all in our homes to determine their quality of construction.
To get an understanding of a chloramine water filter's quality with long-term use, we reviewed customer feedback – specifically from customers who had returned to their reviews after several months or years to post an update.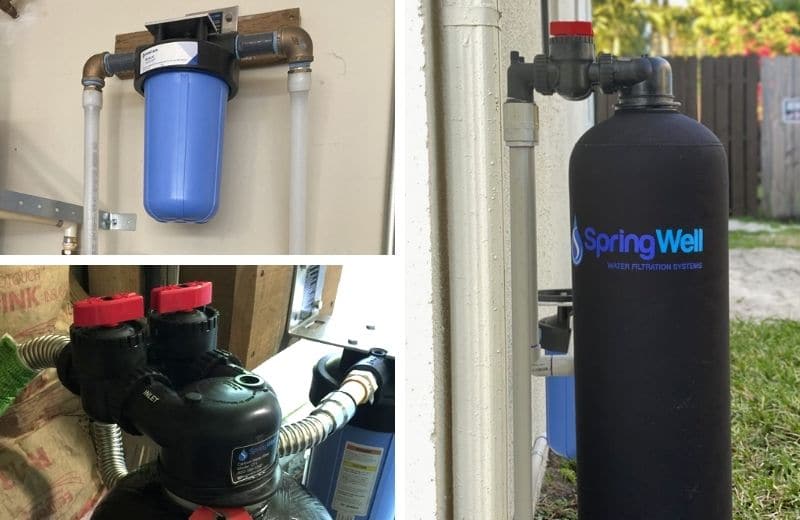 Value for Money
Finally, we combined everything we knew about a filter's performance, quality, and durability, and considered the overall value for money it offered.
We asked ourselves whether a filter was worth the upfront costs, and the costs of installation and maintenance. If we were completely confident in a filter's value for money, we shortlisted it for this list.
🧪 How We Tested
We originally used Tap Score to conduct our own drinking water tests to determine a water filter's chloramine reduction capabilities – but this testing was limited.
Our own water sources are far less contaminated than those used by third-party laboratories in industry-standard testing. This means we were unable to properly put our filters to the test and understand their true performance capabilities.
We now focus on testing our shortlisted products for everyday usability, combining our experience with professional testing results to get a clear overview of a chloramine water filter's abilities.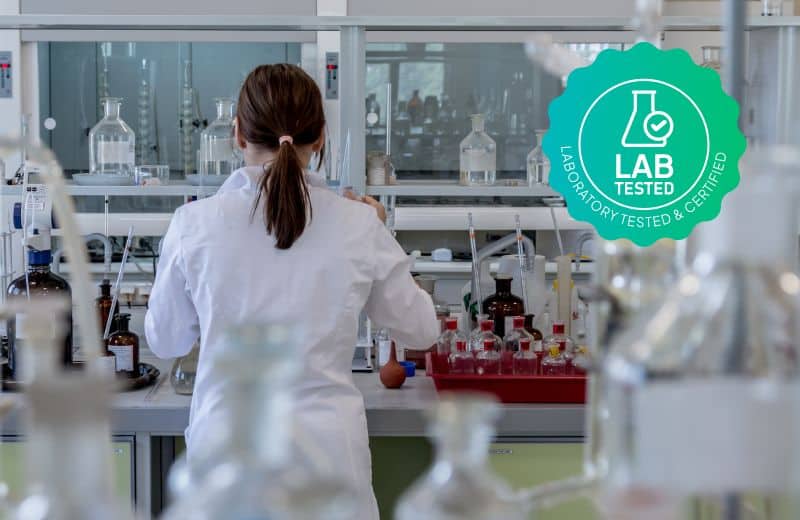 💯 Best Ways to Remove Chloramine from Water
In many ways, it's a good thing that chloramine is more stable than chlorine and provides longer-lasting disinfection – and that's why it's favored by so many municipalities. However, these qualities make chloramine more difficult to remove once water reaches your faucet.
A simple activated carbon filter doesn't provide guaranteed chloramine removal. Some of the best specialized filters that can remove chloramine are:
Carbon Filters
There are several types of carbon filters that can greatly reduce or remove chloramine from water, including activated and catalytic carbon filters.
Catalytic carbon filters are the best filter type for removing contaminants that most filters struggle to remove, including chloramine, VOCs, and TTHMs. A catalytic carbon filter can be found in whole-home systems and smaller under-sink units.
Activated carbon filters can remove both chlorine and chloramine – but only if the filter is large enough and has a very slow flow rate. For this reason, activated carbon isn't a preferred method of reducing chloramine.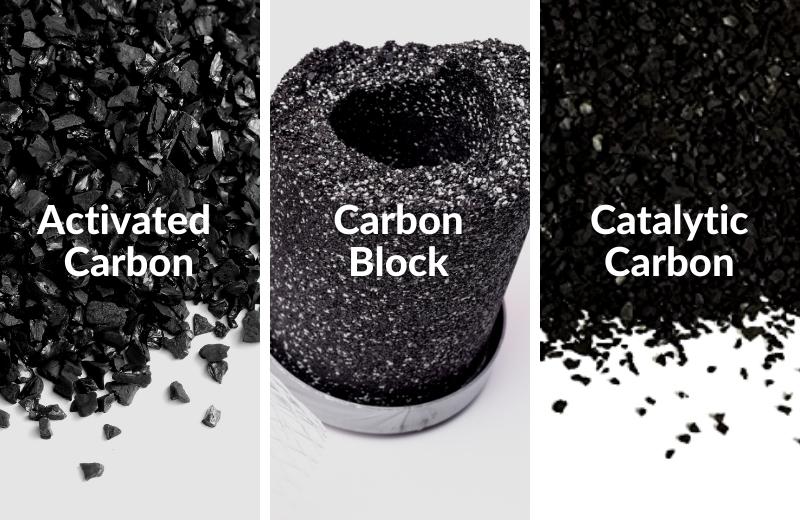 Reverse Osmosis Filters
Reverse osmosis is the second most effective way to remove chloramines from tap water.
In fact, reverse osmosis doesn't only remove chlorine and chloramine – it also removes virtually every other total dissolved solid, including volatile organic chemicals, heavy metals, and bacteria.
An RO system essentially purifies city water, so it's a good choice if you have water containing chloramines and a whole host of other dangerous contaminants.
UV Purifiers
Not many people know that UV disinfection is a good method of removing chloramines from water.
The primary purpose of a UV purification system is to disinfect water by killing microorganisms like bacteria, viruses, and protozoans. However, a UV light can also destroy chloramines in water. Compared to an RO system or carbon filtration, UV is virtually hassle-free – you just need to change the lamp once a year.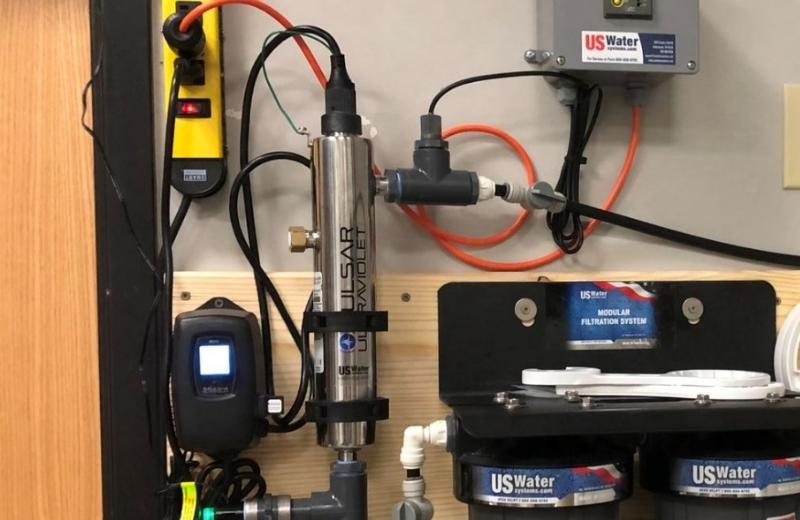 Vitamin C
Ever wondered why shower filters add vitamin C to your water? It's because vitamin C is capable of removing chloramines. In fact, vitamin C was originally used to dechloraminate water for kidney dialysis patients before the rise of carbon filtration.
Adding fresh oranges to your drinking water should neutralize its chloramine content. You can also add 1000 mg vitamin C to bath water containing chloramines.
📖 Chloramine Water Filter Buyer's Guide
In this section of the guide, we've outlined the information you need to make the smartest investment in a chloramine reduction filter for your needs.
📝 How to Choose the Best Chloramine Filter For Your Needs
There are tens of chloramine water treatment filters on today's market, but not all of them are worth your money.
Here, we'll be sharing tips on how to choose the best chloramine water filter for your contaminant removal needs.
Learn What your Water Contains
You might know that your water is disinfected with chloramine. But how much chloramine does it contain? And what else is in your tap water?
Test your water with a DIY testing kit or a laboratory test to find out what it contains.
Once you know this information, you can set out to find a filter that targets all the contaminants you're most concerned about.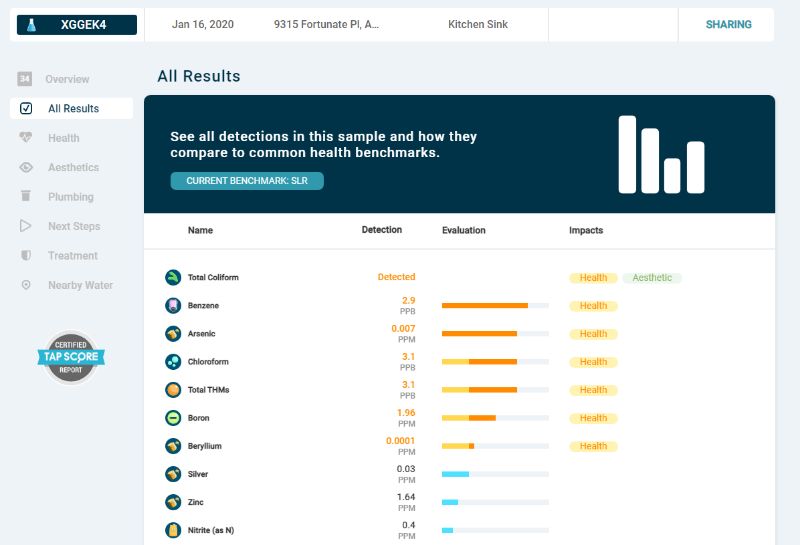 Determine your Budget
Before you even begin looking at your options, work out your budget – both for the upfront cost of a filter, and the annual cost of maintenance.
You'll need at least $100 upfront for most filters. Some cost beyond $1,000, depending on their contaminant removal abilities and media types.
The average annual spend for a chloramine water filter is $50-$300, depending on the type of filter system.
Choose a System Type
Once you have your budget in mind, decide on the type of system you want to install. Your budget may determine which filters are out of bounds, as some systems are more expensive than others.
If you want to remove chloramines from your entire home's drinking water supply, a whole home water filtration system is the best choice. If you want to remove all total dissolved solids from your water, consider a reverse osmosis filter. Or, if you're looking for a portable, affordable water filter, consider a countertop filter or a water filter pitcher.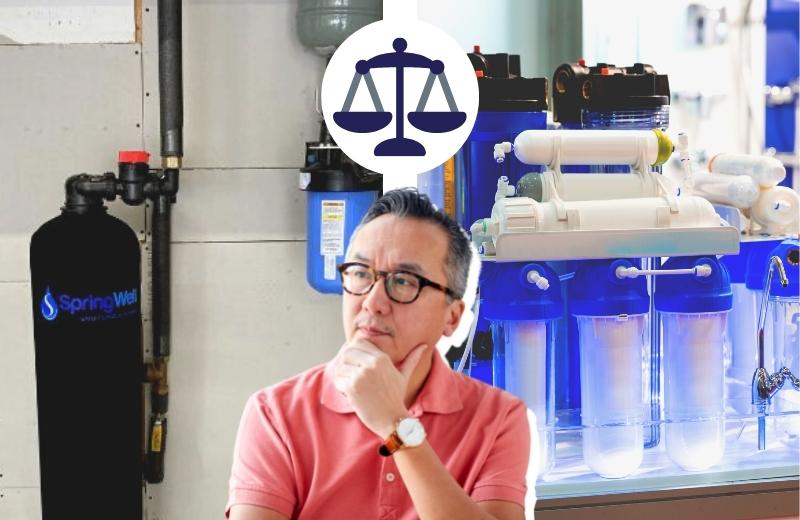 Consider Flow Rate and Capacity
A water filter's flow rate and capacity affect how quickly it can deliver water to your faucet, and how long the filter will last.
If you buy a system that's installed at your waterline, make sure to choose the right flow rate and capacity for your home. Most filtration systems have several size options to choose from.
Keep in mind that gravity-based filters, like pitchers and countertop filters, will have a much slower flow rate and won't provide filtered water on demand.
Consider Installation and Maintenance
Different chloramine filters require different installation and maintenance processes. Consider your preferred installation and maintenance tasks before you buy a filter.
If you're DIY adverse but you still want to set up a filter yourself, a countertop chloramine filter or pitcher filter is best for you. Alternatively, consider hiring a plumber to install an under-sink or whole home filter (cost: $50-$200).
As for maintenance, some filters require more frequent filter changes than others. Decide how much maintenance you want to do per year, and how much you want to spend. Whole house chloramine filters tend to require the least maintenance.
🧠 Best Water Treatment Filters for Chloramine FAQs
What's the difference between chlorine and chloramine?
There are a few key differences between chlorine and chloramine:
Chlorine is a single compound, while chloramine is made by combining free chlorine and ammonia.
Chlorine produces disinfection byproducts, while chloramine produces far fewer.
Chloramine is more stable than chlorine, so it remains in water for longer – despite being a weaker disinfectant.
For this reason, chloramine is more difficult to remove and takes longer to dissipate than chlorine.
Chlorine can be removed by a standard activated carbon filter, while chloramine needs a catalytic carbon filter.
How do I know if my water contains chloramine?
Your annual water quality report should indicate whether your water is disinfected by chlorine or chloramine. You could also test your water for chloramine, or buy an ammonia test – if ammonia is present, chloramine will be, too.
Which water filter removes chloramine?
The best water filter for reducing chloramine are made from catalytic carbon. A catalytic carbon cartridge contains media that is enhanced to improve its catalytic capability. Essentially, this type of filter is capable of removing contaminants that standard activated carbon cannot.
What filter removes chlorine and chloramine?
There are several filters that remove chlorine and chloramine. A reverse osmosis system can remove both of these chemicals. Catalytic carbon water systems can also remove both chemicals, and so can activated carbon media (to some extent).
How do you get rid of chloramine in water?
The best way to get rid of chloramine in water is to use a filtration system. A chloramine reduction system will treat your water as it flows through the system, providing filtered drinking water that's chloramine-free.
Do Brita filters remove chloramine?
No, Brita filters don't remove chloramine. There's a lot of misinformation online stating that Brita filters can remove chloramine, but they can't – the standard activated carbon found in a Brita filter is only capable of chlorine reduction.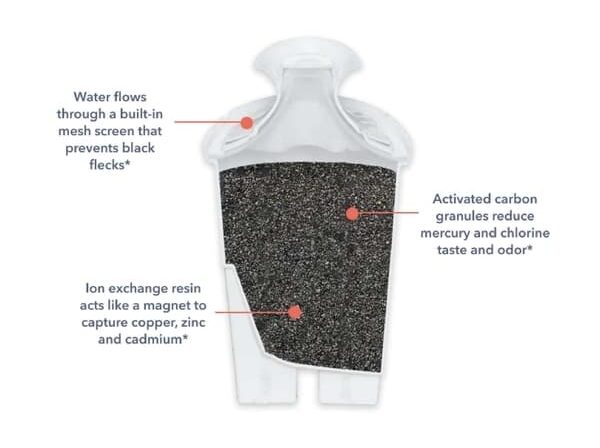 Does Zero Water Filter remove chloramine?
No, the ZeroWater Filter doesn't currently remove chloramine according to testing data on the manufacturer's website.
Does AquaBliss shower filter remove chloramine?
Yes, the AquaBliss shower filter combines activated carbon, calcium sulfite, and redox media to reduce both chlorine and chloramine. However, our testing found that the Pentair Premium Shower Filter offers more thorough chloramine reduction than the AquaBliss.
Can activated carbon remove chloramines?
Yes, activated carbon can remove chloramines – but it's nowhere near as effective as catalytic carbon. To be capable of reducing chloramines, an AC cartridge must be large, or the flow of water through the system must be very slow.
Does boiling water remove chloramine?
Yes, boiling water can remove chloramine. However, it's a lengthy process. It takes nearly 30 minutes to remove just 50% chloramine from 10 gallons of water.
Do refrigerator filters remove chloramine?
No. Unfortunately, most refrigerator filters don't remove chloramine. These water treatment filters are usually made from an activated form of carbon, and they're too small to remove chloramine.
Does reverse osmosis remove chlorine and chloramine?
Yes. An RO system is one of the best defenses against chloramine and chlorine. Reverse osmosis water treatment also removes the likes of volatile organic compounds, bacteria, and heavy metals. How much chlorine and chloramine can an RO system remove? Usually more than 99%.