After extensively researching the arsenic removal filters available today, I've compiled a list of the most effective systems. I ranked the following products based on their ability to remove arsenic from water, their quality of build, filter lifespan, and customer satisfaction.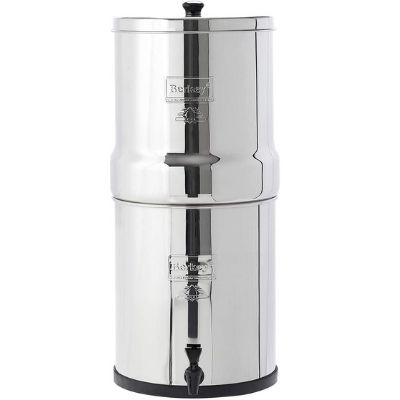 Big Berkey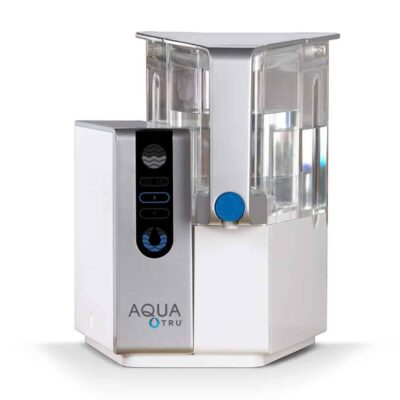 AquaTru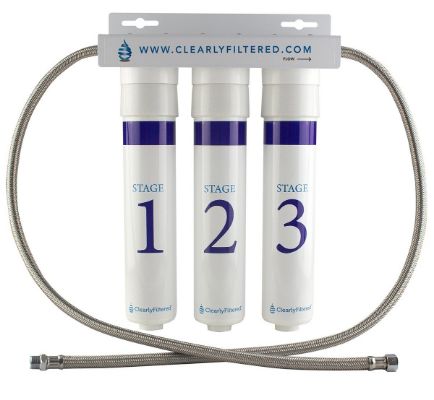 Clearly Filtered 3-Stage Under the Sink System
Arsenic in drinking water is far from ideal. According to the World Health Organization, being exposed to arsenic in drinking water in the long term can increase the risk of lung, bladder, skin and kidney cancer. Arsenic has also been associated with diabetes and cardiovascular disease.
Nowadays, you can remove arsenic from your home's water supply with a water filter – but which products on today's market work best?
For most of us, arsenic isn't a contaminant that can be tolerated. If you're looking for a water filter that can remove arsenic, it has to do the job properly.
With my years of industry experience, including working as a featured writer for WQP Magazine, WWD Magazine and Sawyer Products, I know how to separate the good from the bad.
In this guide, I'll share:
The top 6 arsenic removal filters I can confidently recommend in 2022
What to know before buying an arsenic removal system
How to choose the right arsenic filter for you
🥇 Best Arsenic Removal Systems
---
⭐ Reviews – Best Water Filter for Arsenic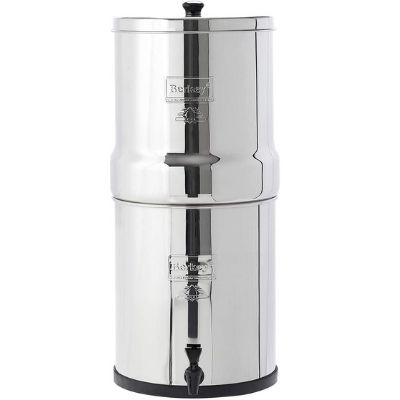 Big Berkey Gravity-Fed Water Filter
The Big Berkey is the most popular countertop filtration offering by Berkey. The system can be used with up to 4 Big Berkey elements, which use gravity filtration to remove 270 impurities, including over 99.9% arsenic.
Each Berkey filter element is packed with 6 types of filtration media. The filters sit between the top and bottom chambers of the countertop unit, and water has to pass through the media before it can reach the bottom chamber, ready for dispensing.
Along with arsenic, the Big Berkey can reduce or remove an impressive range of contaminants, including bacteria, chlorine, pharmaceuticals, and lead.
As a gravity filter, the Big Berkey can be used anywhere. It doesn't need to be connected up to electricity or a water supply line. The filter elements last for 2 years, so you won't need to remember to replace them frequently.
As long as you have access to water, you can use this filter, which makes it a highly convenient option for travel or use in a rented home. However, the gravity filtration process is fairly slow, and the Berkey won't provide you with clean water immediately after filling the chamber.
👍 What I Like
Highly effective arsenic removal
Can be used in any location
Long filter lifespan
👎 What I Don't Like
Gravity filtration is fairly slow
No NSF certification
Read the full review: My updated 2022 Big Berkey Review
---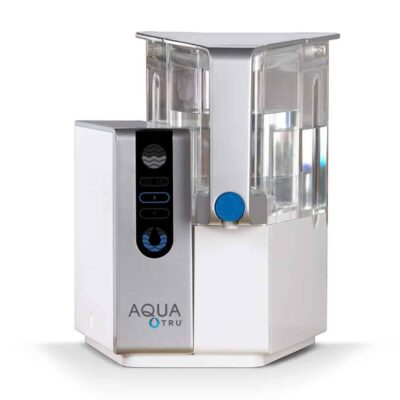 AquaTru
Another countertop arsenic removal system is the AquaTru, which uses 4 stages of reverse osmosis to remove up to 99% TDS (total dissolved solids) from water.
Most reverse osmosis systems are under-sink models, but the AquaTru operates without needing to be hooked up to your water supply – you'll just need to power it with electricity.
The system uses a mechanical pre-filter, reverse osmosis pre-filters, a semi-permeable membrane and an activated carbon filter to produce clean, pure drinking water. To use the unit, simply add water to the holding tank and switch it on. It'll take 15 minutes to filter a full tank of water.
The AquaTru wastes only around 25% of water in the process, which makes it a lot more efficient than most under-sink RO systems (which waste around 3-4 gallons of water for every 1 gallon produced).
You'll need to replace the pre-filters every 6 months, while the semi-permeable membrane should be changed every 2 years, and the carbon filter will need replacing every 1 year.
👍 What I Like
No major installation or hooking up to water line required
Visually appealing design
Wastes less water than a standard RO unit
👎 What I Don't Like
Removes healthy, tasty minerals from water
Can only filter 1 gallon of water at a time
Read the Full Review: AquaTru Countertop RO System Review (Updated: 2022)
---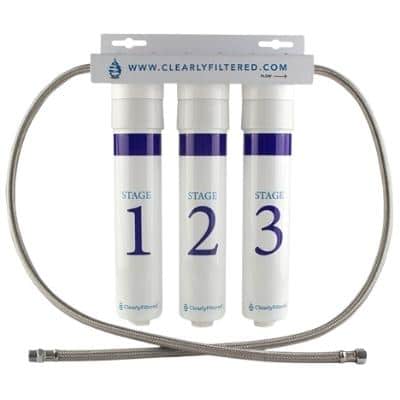 Clearly Filtered Under Sink Filtration System
With three stages of filtration, the Clearly Filtered is an under-sink water filter for arsenic removal. This system can remove more than 232 common drinking water contaminants, and uses a dedicated filter stage specifically for eliminating arsenic.
This filter needs to be installed at your cold water line underneath your kitchen sink. It's designed to provide you with instant clean drinking water whenever you open your faucet. Most people find that installing this system is easy enough to do themselves.
There are three filter stages in the Clearly Filtered: a granulated coconut carbon filter, a "special blend" filter, and a dedicated arsenic and fluoride filter. Exactly what is used in the final two filter stages isn't listed, which is a little unhelpful from a buyers' perspective.
The Clearly Filtered system isn't a reverse osmosis filter, like most under-sink systems. That means you don't have the disadvantage of water waste. There's also no RO membrane to replace, making filter changes quick and simple.
The filters last for 2,000 gallons, or approximately 15 months, before they'll need replacing.
👍 What I Like
No RO water waste
Dedicated arsenic water filter stage
Easy to change the filters
👎 What I Don't Like
Can't remove bacteria
Pricier under-sink filtration option
Read the full review: Clearly Filtered Under Sink Filter System Review – Updated: 2022
---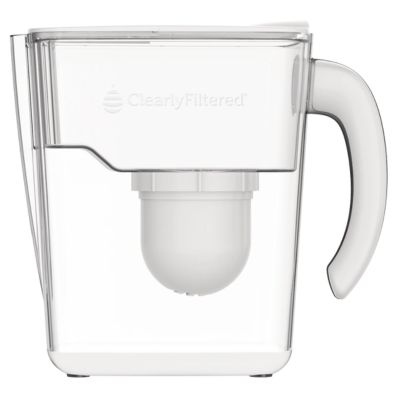 Clearly Filtered Water Pitcher
The Clearly Filtered Water Pitcher is one of the best small, portable gravity filtration options to remove arsenic from water.
Using a dual-technology approach, Clearly Filtered's gravity pitcher removes more than 270 contaminants, including just over 98% arsenic.
The pitcher is fitted with an activated carbon filter, which has a unique structure that prevents water from being able to pass straight through. With more twists and turns on its journey from top to bottom, water has a longer contact time with the media, which allows for more contaminants to be removed at once.
The design of the Clearly Filtered pitcher allows you to fill the top chamber with water, then pour clean water from the spout, even while water is still filtering through the top reservoir. This handy design is especially beneficial for a water pitcher, as the gravity filter takes between 15 and 20 minutes to filter a full batch of water.
Many people find filters like the Clearly Filtered more convenient, as they're small and compact enough to be stored away when not in use, taken with you to the office or on vacation, and carried easily from one room in your home to another.
Each Clearly Filtered filter lasts for 4 months, which is just above the average lifespan of a gravity filter for a pitcher.
👍 What I Like
Small, compact and portable
Removes more than 98% arsenic
Eliminate more than 270 impurities
👎 What I Don't Like
Slow filtration time
Filter lifespan isn't as good as others on this list
Read the full review: Clearly Filtered Pitcher Review (Updated: 2022)
---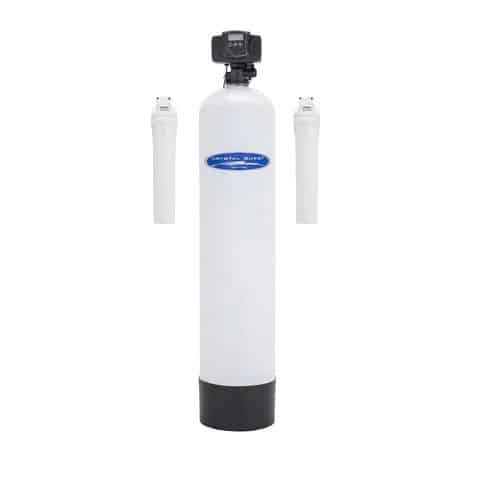 Crystal Quest Arsenic Whole House Water Filter
One of the best arsenic point-of-entry filters is the Crystal Quest Arsenic Whole House Water Filter. This water filter comes with a pre-filter, a post-filter, and an arsenic removal filter. To improve your water quality further, you can choose from the optional add-ons, including a GAC/redox filter and a water softener.
In the pre-filter stage, water flows through a sediment filter that filters out any larger particles of sand, dirt and silt. Next up, water flows through an arsenic-reducing mineral tank, before flowing through a final solid carbon filter.
As well as removing arsenic from water, the Crystal Quest can also remove VOCs, pesticides, insecticides, industrial solvents, chlorine, and some heavy metals. However, this filter is first and foremost for arsenic removal, and the manufacturer recommends purchasing the filter alongside their GAC/redox filter to improve overall water quality.
The system comes in two capacities: 1.5 or 2 cubic feet of resin. You can also choose between fiberglass and stainless steel for the outer casing. Costing more than $3,000, this certainly isn't the cheapest filter on this list, but for the whole house benefits it offers, it's still a great value for money.
Installation is a little more tricky, with the Crystal Quest being a whole-home system, but many customers commented on how helpful the user manual is for setup.
👍 What I Like
Two resin capacity options
Can customize to your requirements with additional filters
Installation instructions are easy to follow
👎 What I Don't Like
Not for smaller budgets
Additional filters cost extra
---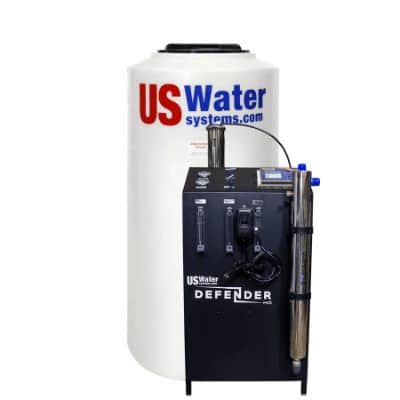 US Water Systems Defender Whole House RO System
For homeowners looking for a filter that can remove far more than just arsenic, the US Water Systems Defender is an option well worth considering. This POE reverse osmosis system provides whole-home water purification, and targets an impressive range of common well water and city water contaminants.
Using a reverse osmosis system like the Defender means that your whole home will benefit from water that's free of arsenic, lead, PFAS, PFOAs, chlorine, bacteria, sediment, and much more.
There are 4 comprehensive stages to this system: a pre-filter, a reverse osmosis membrane, optional pH neutralization and remineralization, and UV treatment. Purified water is held in a storage tank before use, ensuring you always have access to clean water for washing, drinking, showering, and using in your home's appliances.
You can choose from a number of options to custom-build the system that's right for you. Choose a tank size (either 140 or 250 gallons), a pre-treatment option, and your water production rate (from 2,000 to 8,000 gallons per day, or GPD). With these options, you can make sure to pick the right system size and water flow for your family.
Buying the Defender will set you back a good chunk of money, but for the amount of arsenic it can remove and the quality of purified water it produces, many homeowners see this system as a worthy investment.
👍 What I Like
Lifetime warranty on tanks and and two years on all other parts
More efficient – only wastes 1 gallon of water for every 5 gallons made
Provides whole-home clean water benefits
👎 What I Don't Like
Very expensive
Produces water waste
---
📊 Comparison Chart of Arsenic Removal Systems
System
Big Berkey

AquaTru

Clearly Filtered Under Sink Filtration System

Clearly Filtered Water Pitcher

Crystal Quest Arsenic Whole House Water Filter

US Water Systems Defender Whole House RO System

Ranking
1st
2nd
3rd
4th
5th
6th
Ratings
5/5
4.5/5
4.5/5
4.5/5
5/5
5/5
Price
$$
$$
$$
$
$$$
$$$
As Reduction Rate
99.9%
>98%
94.3%
99.9%
99%
99%
Contaminants Removed
200+
83+
232+
365+
10+
100+
Testing/ Certifications
NSF 53
NSF 42, 53, 58, 401, P473
NSF 42, 53, 401
NSF 42, 53, 244, 401 & 473
–
–
Process
Carbon + Ion Exchange
Mechanical + RO + Carbon
Carbon + Ion Exchange
Carbon + Ion Exchange
Carbon + Ion Exchange
RO
Filter Life
3,000 gal./ cartridge
600 – 1,200 gallons
2,000 gallons
100 gallons
750K or 1M gallons
–
Annual Cost
~$40
~$80
~$320
~$150
~$30
–
Warranty
Lifetime
1 year
Lifetime
Lifetime
1 year
Lifetime_x000D_
2 years (Tanks)
🧾 Arsenic Water Filter Buyer's Guide
Looking for more information about arsenic in drinking water? You'll find it in this buyer's guide.
🤔 What is Arsenic?
Arsenic is a contaminant that's found naturally in the earth's crust. It is distributed through water, land and air, and can be very dangerous to human health.
Types of Arsenic in Water
There are two types of arsenic that are commonly found in water: arsenic 3 and arsenic 5.
Arsenic 3
Arsenic 3, otherwise known as arsenite or arsenic III, is the most toxic form of the two. Reductive well waters are most likely to contain arsenite.
Arsenic 5
Drinking water that contains free available chlorine will typically oxidize arsenic 3 into arsenic 5, or arsenate. You're most likely to find arsenate in aerated surface waters.
❔ How Does Arsenic Get Into Water?
Arsenic is present in groundwater in a number of countries in North and South America. It can be found in particularly high quantities in Mexico, Chile, and Argentina.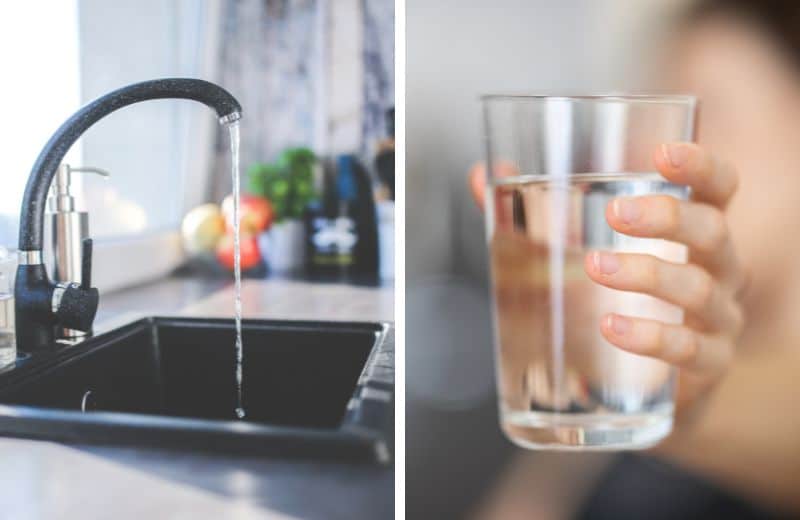 A study found that around 2.1 million people in the US may be impacted by dangerously high levels of arsenic, which have been found in wells across 25 different states.
Because arsenic is widely and naturally present in the ground, it leaches into water that seeps through the earth and into private well systems. When rainwater falls onto a surface that contains arsenic, it will pick up some of this arsenic as a result.
Arsenic is also used industrially. It serves a number of purposes, including processing glass, alloying, and hide tanning.
We can be exposed to water containing arsenic through drinking it, using it in food preparation, and in irrigation of crops.
☠️ What Are the Risks of Arsenic in Drinking Water?
Immediate Effects
If you drink water with particularly high arsenic levels, your body will react immediately. Vomiting, diarrhea and abdominal pains are all signs of acute arsenic poisoning. You may also experience muscle cramping and tingling of the extremities.
Long-Term Effects
The long-term effects of drinking arsenic in water are usually noticed in the skin.
Arsenic exposure can cause pigmentation changes, hard patches on the soles of the feet and palms of the hands, and skin lesions. This type of reaction usually occurs after 5 years of continuous exposure, and can be avoided if you act fast.
Skin conditions related to arsenic exposure can be a precursor to skin cancer. Additionally, lung and bladder cancer have been linked to ongoing arsenic exposure. Arsenic in water is classed as carcinogenic (cancer-causing) to humans.
Aside from cancer, drinking water containing arsenic has also been linked to diabetes, cardiovascular disease, developmental delays, and pulmonary disease.
In pregnant women, arsenic consumption in water can result in a higher rate of infant mortality, and the health of the fetus may also be impacted.
A child exposed to arsenic in the womb is more likely to suffer from lung disease, kidney failure, cancer, and heart attacks in early adulthood. Arsenic has also been shown in studies to affect memory, intelligence, and cognitive development.
🧪 How to Test For Arsenic in Water
The quickest and simplest way to test your water for arsenic is to buy an at-home test kit. This kit usually comes with test strips that can be dipped in a sample of water. When testing for arsenic, the strip will change color to indicate how much, if any, arsenic is detected.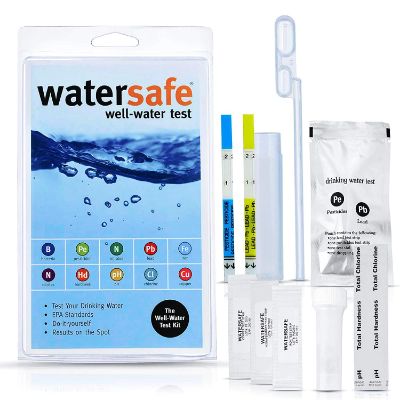 An at-home test kit will give you an estimate of how much arsenic your water contains. Most tests will have a color chart with around 5 different shades, from light to dark. Each shade will represent a specific bracket.
For instance, completely white might represent 0 ppm of arsenic in your water, while completely orange might represent more than 0.5 ppm of arsenic. The darkening shades of yellow between these colors will represent your water's arsenic levels in brackets up to 0.5 ppm.
Alternatively, if you're looking for more accurate results, you could send a sample of your water to a certified laboratory.

The advantage of laboratory testing for arsenic is that it's a little more complex than choosing to test your water for arsenic at home. Your testing company will provide you with a report that will tell you exactly how much arsenic is in your water, in parts per million (ppm) or μg L−1.
Keep in mind that the EPA's goal for arsenic in drinking water is 0 µg/L, so if any test detects arsenic, you should act accordingly.
🚰 Water Treatment Methods For Arsenic Removal
There are plenty of options for removing arsenic from drinking water.
The most effective water treatment methods are absorption, activated alumina, iron oxide, oxidation and filtration, coagulation and filtration, reverse osmosis, anion exchange, and distillation.
Adsorption
There are several types of adsorption media that can be used to remove arsenic and other contaminants from water.
In the adsorption process, the media grabs onto arsenic particles, binding to them and preventing them from passing any further through the system.
Most adsorption media have limited lifespans and will need to be replaced regularly to continue to provide a high standard of arsenic removal.
The two most common types of adsorption media are activated alumina and iron oxide.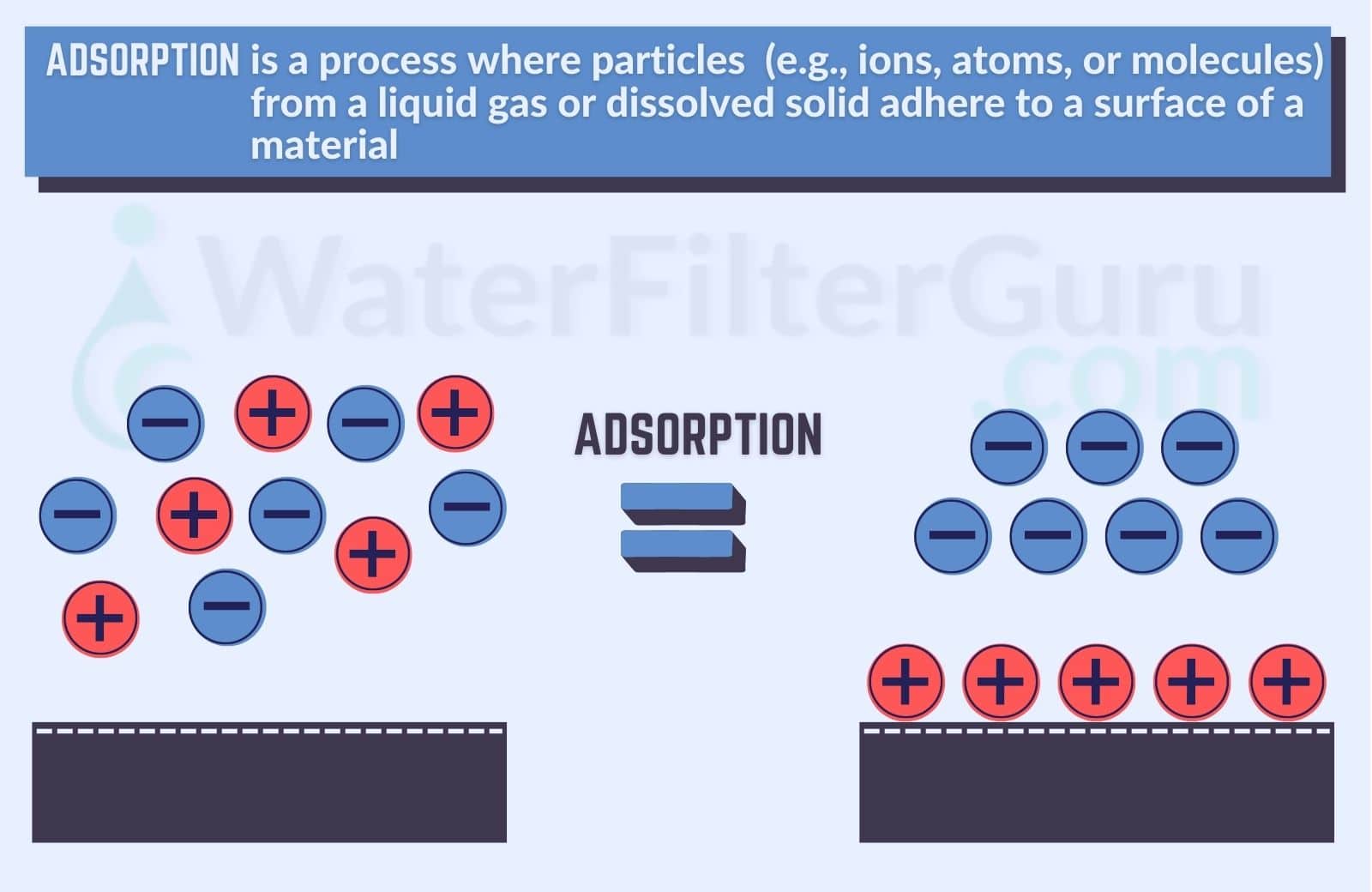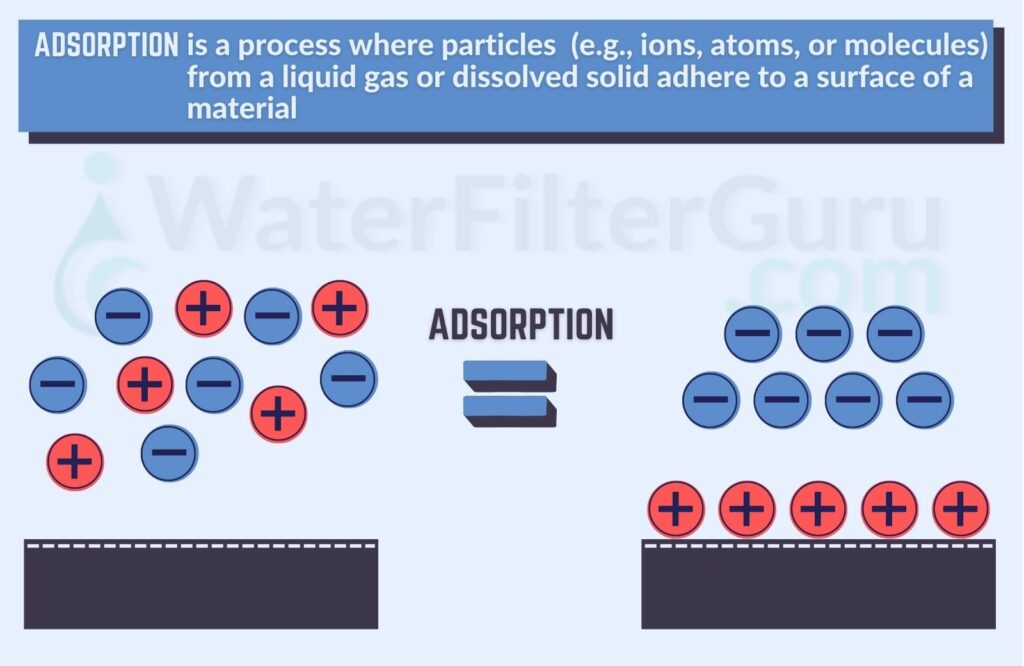 Activated Alumina
Activated alumina, AA for short, is suitable for treating water that contains both arsenic 5 and 3. This type of arsenic removal has the ability to remove more than 95% arsenic from drinking water.
A benefit of AA is that it can also reduce fluoride, another difficult-to-remove contaminant that many homeowners are concerned about.
Because no backwashing is required with AA, it's easy to handle, and no wastewater is produced.
Iron Oxide
Iron oxide is a granular hydroxide-based media. This media is most similar to carbon media – it has a large surface area and tiny pores that grab onto arsenic in flowing water.
Like activated alumina, iron oxide won't need to be cleaned by backwashing. This means that the media bed will eventually become exhausted, and will need to be replenished regularly.
Oxidation & Filtration
Oxidation and filtration is a two-step process that first oxidizes arsenic, then filters it out of water. This process is ideal for treating well water that contains iron, manganese and sulfur as well as arsenic.
In the first stage of oxidation, the problem contaminants are oxidized. In the case of arsenic, this causes it to take on the form of arsenic 5 (or arsenic V).
There are a number of chemicals that may be used for oxidation, including potassium permanganate, ozone, and chlorine. Note that chemicals must be used here; air oxidation doesn't work for removing arsenic.
Now that arsenic has been oxidized, it can be adsorbed by the oxidized iron. Both of these contaminants will be trapped in a filter media, such as birm or manganese greensand.
When the filter media becomes saturated with contaminants, the system will regenerate, flushing the media and freeing up space to allow the oxidation/filtration process to continue smoothly.
If your water has an iron-to-arsenic ratio of 20:1, minimum, and its pH level is relatively low, oxidation/filtration is capable of removing between 80 and 90% arsenic from your water.
Coagulation & Filtration
Coagulation and filtration is a similar process to oxidation and filtration. The difference is that this water treatment method uses a coagulant in the first stage, instead of a chemical for oxidation.
Most coagulation water filters use ferric sulfate or chloride to remove arsenic. When arsenic binds to this coagulant, it causes a reaction that forms larger particles.
These particles can now be removed from water using a filtration media. A filter membrane may also be used to remove arsenic at this stage.
Reverse Osmosis
Reverse osmosis is one of the best methods to remove arsenic from water. RO systems can remove more than 95% of arsenic V, making them one of the most effective options on this list.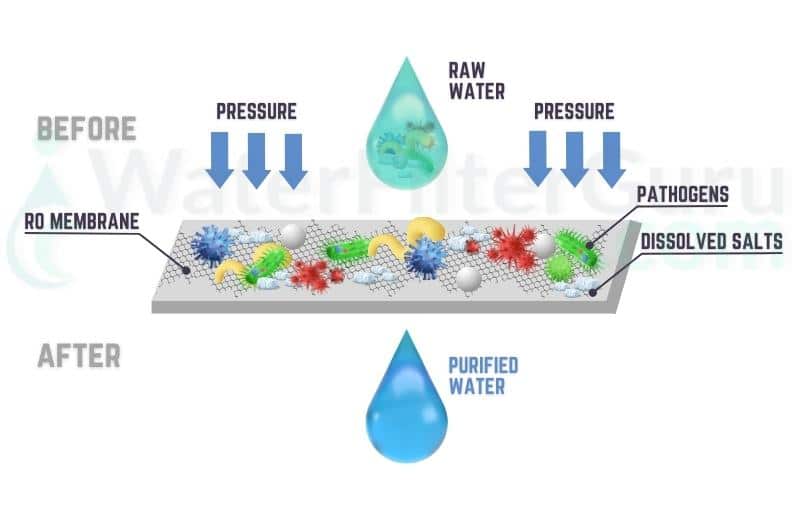 The majority of water filtration systems can only reduce or remove specific contaminants. Reverse osmosis, however, can remove up to 9.99% of all total dissolved solids (TDS). This makes this method a great option for anyone looking to remove arsenic and other impurities, resulting in pure, clean water.
Whether you get your water from a well or from a city supply, you can use a reverse osmosis water filter to remove arsenic. However, if you're a well owner, you may need to install a sediment, iron or manganese filter to protect the reverse osmosis membrane from damage.
The majority of reverse osmosis filter systems are designed to be installed underneath a sink. Alternatively, you can choose reverse osmosis filter units for countertop use. There are even some whole-home reverse osmosis systems available nowadays.
Anion Exchange
Anion exchange, or ion exchange, is a whole house arsenic removal option that uses the same exchange process as a water softener.
During anion exchange, arsenic ions are attracted to a resin bed. When these ions bind to the resin, chloride ions are released, effectively "exchanging" the arsenic for equal parts chloride.
Chloride in drinking water doesn't pose any health risks, making it an ideal element to add to water in place of arsenic.
Note that anion exchange is only suitable for removing arsenic V. If you have arsenic 3, you will first need to first use an oxidizing system to convert it into arsenic V.
Though an anion exchange resin can last for many years, it will eventually need to be replaced. Regular regeneration is also required in this system, which will produce some water waste.
It's also worth noting that ion exchange systems work best when treating water with a low TDS (less than 500 PPM). Your water's sulfate levels should also be lower than 50 PPM. You may need to use a water filtration system to improve your water quality before using an anion exchange system.
Distillation
Along with reverse osmosis water filters, distiller units provide a top means of arsenic removal. These countertop machines remove a broad range of impurities, including heavy metals, fluoride, chemicals, bacteria, and, of course, arsenic.
In the distillation process, water is heated up in a chamber until it reaches boiling point. This will cause the water to evaporate and rise up as steam.
The majority of waterborne contaminants have much higher boiling points than water. That means they are unable to evaporate, and end up getting left behind in the boiling chamber.
This evaporated water travels down a small corridor, where it is cooled, causing it to condense back into water droplets. These droplets of clean, purified water collect in a pitcher or container, ready for drinking.
📋 Considerations When Looking For an Arsenic Removal System
Before you purchase a water filtration system to remove arsenic, consider the following:
Type of Arsenic
There are several forms of arsenic, and not all of them are easy to remove.
Most high-end water filtration systems, like RO systems, can filter arsenic 5 out of water. But arsenic 3 (or arsenic III) is more difficult to deal with.
If your water tests positive for arsenic III, you will need to consider one of the following options:
Oxidation and filtration
Coagulation and filtration
Iron oxide or activated alumina adsorption
Distillation
You won't be able to use anion exchange or reverse osmosis to filter arsenic in your water unless you're only dealing with arsenic 5. That's why it's important to know what to tackle before choosing from the arsenic water filters on this list.
POE vs POU
Are you looking to remove arsenic from your whole home, or do you just want to drink water that's free from arsenic? This will determine whether you need a point-of-entry, whole-house arsenic filter, or whether a point-of-use, under-sink or countertop filter system is the better option for you.
Whole house arsenic filters are more expensive, bigger, and generally require more maintenance. But their benefit is that they don't only remove arsenic from your drinking water – they'll also remove it from the water you shower in and wash with. If you want to eliminate arsenic from your home entirely, a whole-house system will do the job.
On the other hand, you might only want a system that can filter arsenic from the water you drink. In that case, a point-of-use filter, like an under-sink system or a countertop reverse osmosis filter, can provide the water treatment you're looking for.
Other Contaminants Present
The majority of arsenic water filter systems are capable of removing more than just arsenic from your water. I would advise testing your water to determine whether you're dealing with any other contaminants that you might want to remove.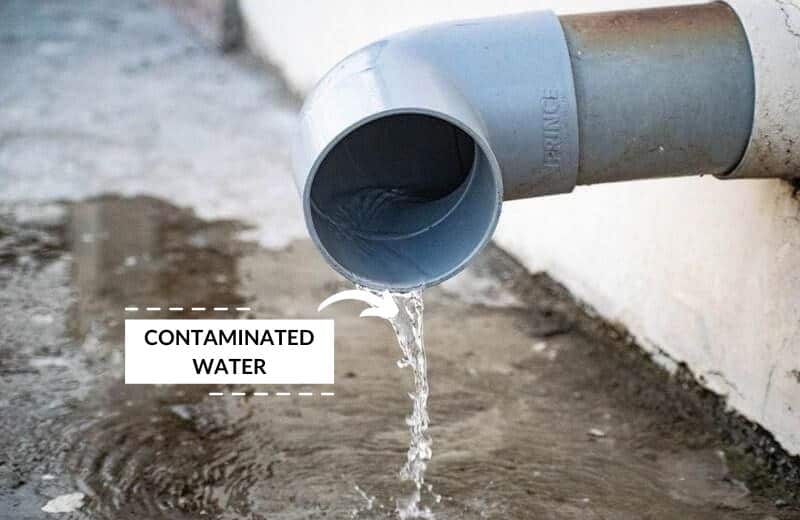 In city water, common contaminants are chlorine, lead, nitrate, sulfate, calcium, magnesium and sodium.
Well water is most likely to contain iron, sulfur, manganese, microbiological contaminants, and heavy metals.
To remove the broadest range of contaminants, distillers or under-sink reverse osmosis are the best choices. But if you're only dealing with one or two common contaminants, it may be cheaper to go with another option.
You can check out my Common Drinking Water Contaminants Guide for more information on what your water might contain.
Filter Lifespan & Maintenance
The maintenance required for an arsenic filter depends on the type of filter you opt for.
If you choose a system that uses a filter cartridge or cartridges, you will need to replace these as advised by the manufacturer.
The average filter cartridge has a lifespan of around 6 to 12 months. In a multi-stage filtration system, like reverse osmosis, this may mean making multiple filter changes on a yearly basis.
For arsenic water filters with a resin, such as oxidation and ion exchange systems, you will need to replenish the resin when it becomes exhausted. Some resin has a lifespan of months, while others can last for years.
Resin-based water filters may also need to regenerate. This is usually an automatic process that you won't need to remember to do yourself, but it does cause some water waste.
Flow Rate
If you're looking at a whole house water filter for arsenic, you need to make sure the system is designed to provide adequate water flow to your home.
Most whole-home water filters for arsenic will come in a range of sizes. You can choose the size that's best suited to you based on how many bathrooms you have.
It's important not to under-size, as you may end up dealing with issues when you try to shower at the same time as doing the laundry, for instance. Equally, you don't want to buy a system that's too powerful, or it could damage your home's plumbing.
Budget
The water filters on this list range from less than $100 to the mid-$7000s. Consider your budget carefully before choosing an arsenic filter.
The more affordable filters are point-of-use filters, including under-sink filters, water pitcher filters, and countertop water filters. You'll typically pay more for a point-of-entry, whole-home system, like an ion exchange system, a whole-home reverse osmosis system, or an oxidation filtration system.
You shouldn't only think about what you can afford to pay up-front. Some water filters need expensive yearly maintenance, including filter changes.
While they're not the most affordable upfront, distillers are the cheapest to maintain. Most come with an optional carbon charcoal filter that you can buy in packs of little bags for cheap. But the distiller will do the majority of impurity removal work anyway, and you don't have to use these filters. That means you could get away with paying nothing throughout your distiller's lifespan.
🙋 Frequently Asked Questions
Does boiling water remove arsenic?
No. Boiling water will actually increase the arsenic concentration in your water. That's because, while water molecules will evaporate during boiling, arsenic won't. You'll end up with the same amount of arsenic in a smaller batch of water.
The only way to remove arsenic using the boiling method is to allow your water to evaporate and condense into a separate container. Using a distiller is the simplest way to do this.
Can activated carbon remove arsenic?
Sometimes. There are some types of activated carbon that can remove arsenic, although this method of filtration is generally less effective than the methods mentioned in this guide.
Typically, an activated carbon water filter cartridge can remove between 30 and 70% arsenic. Usually, this type of filter is used within a larger water filtration system to allow for more thorough carbon removal.
Can a water softener remove arsenic from water?
No. You might assume that a softening system could remove arsenic, considering it uses the ion exchange method. But water softeners are designed to remove hardness minerals, as well as low levels of iron, from water. While they can improve water quality, they won't have any effect on your water's levels of arsenic.
There are so many kinds of arsenic removal – which one is best?
There is no number one arsenic removal water filter system out there. I recommend doing your research and determining what is best for you. For instance, if you get your water from a well water source, you might want to consider an oxidation filter, which will remove arsenic and common well water contaminants.
If you're just looking for a water filter system that purely removes arsenic, your options are endless. Focus your search on filter systems that are NSF certified to remove more than 95% arsenic for the best results.
How do I install an arsenic filter?
This depends on the type of water filter system you go for. The majority of systems, unless you opt for a countertop unit, are designed to be hooked up to your main water line.