We're all trying to do our bit for the environment, but how many of us still drink bottled water? A shocking 60 million plastic bottles are wasted every day, with many people still choosing to take bottled water to work or drink refrigerated bottled water at home.
Thankfully, alternative solutions that greatly reduce plastic waste are becoming increasingly popular nowadays, and the water cooler dispenser is one of them. But when there are so many options available, how do you choose the right dispenser for your home or business?
That's where I can help. Since launching WaterFilterGuru.com, I've helped millions of people buy the ideal water treatment solution for their needs. I've written for publications like HowStuffWorks, Simply Recipes and Sawyer Products, and I pride myself on having the most up-to-date industry knowledge as the market continues to expand.
In this guide, I've ranked my top 10 water cooler dispensers based on a number of factors, including ease of installation and refill, convenience, capacity, quality of construction, and handy additional features (such as self-cleaning).
There are tens of cooler dispensers available to buy today, but I would only recommend spending your money on these 9 products, as they're the best value in 2022.
By the end of this guide, you'll know:
Which water cooler dispensers are the best investment this year
What you should consider before you buy a water cooler dispenser
How to get the most out of your water cooler dispenser in the long run
🥇 Best Water Cooler Dispenser
Avalon A5 Self Cleaning Bottleless Water Cooler Dispenser
Brio Self Cleaning Bottleless Water Cooler Dispenser
Crystal Quest SHARP UF+RO Bottleless Water Cooler
Avalon Countertop Self Cleaning Touchless Bottleless Cooler Dispenser
hOmeLabs Bottom Loading Water Dispenser
Whirlpool Self Cleaning Bottom Load Water Cooler
Primo Bottom Loading Water Dispenser
Giantex Top Loading Water Cooler Dispenser
Avalon A1 Top Loading Cooler Dispenser
COSTWAY 2-in-1 Water Cooler Dispenser with Built-in Ice Maker
Dispenser
Details
Avalon A5 Self Cleaning Bottleless Water Cooler Dispenser

Type: Bottleless
NSF certified
Dual filtration
3 temperatures
Self cleaning
Dimensions: 41 x 12 x 13 inches


Brio Self Cleaning Bottleless Water Cooler Dispenser

Type: Bottleless
2-stage filtration
3 temperatures
Self cleaning
Dimensions: 45.5 x 17.5 x 14.5 inches


Crystal Quest SHARP UF+RO Bottleless Water Cooler



Type: Bottleless
Minimum 4 stages of filtration
2 temperatures
Built in holding tanks
Child safe
Dimensions: 13 x 13 x 42 inches

Read Our Review
Avalon Countertop Self Cleaning Touchless Bottleless Cooler Dispenser


Type: Bottleless Countertop
Dual filtration
Hot/ cold
Self cleaning
Child safe
Night light
Dimensions: 15 x 12 x 19 inches
Primo Bottom Loading Water Dispenser


Type: Bottom Loading
Hot/ cold
No plumbing required
Child safety lock
UL Certified and Energy Star Rated
Dimensions: 14.2 x 12.2 x 40.9 inches


hOmeLabs Bottom Loading Water Dispenser


Type: Bottom Loading
Fits 3 - 5 gallon jugs
No plumbing required
Child safety lock
Night light
Dimensions: 40.9 x 14.2 x 12.2 inches


Whirlpool Self Cleaning Bottom Load Water Cooler

Type: Bottom Loading
Automatic self cleaning
LED display
No plumbing required
Dimensions: 15 x 12.6 x 40.5 inches


Avalon A1 Top Loading Cooler Dispenser


Type: Top Loading
No plumbing required
Hot/cold
Child safe
Slim design
Dimensions: 11.25 x 10.75 x 42 inches


Giantex Top Loading Water Cooler Dispenser


Type: Top Loading
No plumbing required
Child safety lock
Storage cabinet
Dimensions: 11.8 x 11 x 31.5 inches


COSTWAY 2-in-1 Water Cooler Dispenser with Built-in Ice Maker

Type: Top Loading
No plumbing required
Child safety lock
3 temperatures
Ice maker included
Dimensions: 12 x 14 x 39 inches


---
⭐ Best Water Cooler Dispenser Reviews 2022
Avalon A5 Self Cleaning Bottleless Water Cooler Dispenser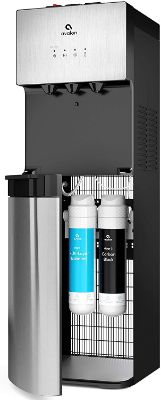 The Avalon A5 is a water cooler dispenser that includes dual filters – a sediment filter and a carbon block filter – that can filter up to 1,500 gallons (or 6 months' worth) of water. Being completely bottle-less, the Avalon cooler can help you to save money on bottled water, while still providing the same quality and taste.
With three temperature settings, you can customize the Avalon to suit your preferences. You can opt for cool or crisp cold water, or even set the temperature to piping hot for tea or coffee. The hot water spout has a safety lock to make the system safe for use by children, and there's a built-in night light, too, so you can safely pour yourself a cup of water in all light levels.
The biggest selling point of the Avalon A5 is that it's NSF certified (though for which Standard, the manufacturer doesn't mention). The filters in the water cooler can remove up to 99.6% lead, 99.7% particulates, 99.9% cysts, 97.4% chlorine, 100% bad odor or taste, and 99.9% visible objects. Not many filter companies go into such precise detail with which contaminants their products can remove, and it's useful to know exactly what you'll get with this dispenser.
Another major advantage of the Avalon is that it's self-cleaning. The machine will sanitize and purify itself, preventing the accumulation of harmful bacteria.
Pros:
NSF certified
Easy to install
Cons:
No detailed info about the NSF certification
Some users found the water flow too slow
---
Brio Self Cleaning Bottleless Water Cooler Dispenser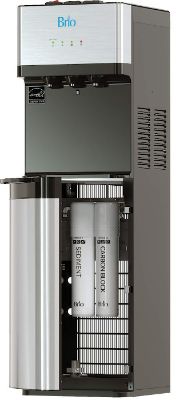 The Brio filtered water dispenser comes with two free filters on your initial purchase. The cooler has a two-stage filter system, featuring a carbon block filter and a sediment filter, that filters dust and rust from water, and contaminants that give water a bad taste or odor.
There's no information online that lists exactly which contaminants the Brio targets, and it isn't NSF certified either. But we can assume here that the sediment filter will work like all other sediment filters to remove suspended particles from water, and the carbon block filter will remove chlorine and VOCs, which affect the taste of water.
Both the carbon and sediment filter last for 1,500 gallons, or approximately 6 months. With the filters being easy to access via a cabinet inside the cooler, they're simple to remove and replace. There's also a removable drip tray, making one of the only maintenance jobs this system needs much easier.
The Brio has both hot and cold water options – with a child safety lock to prevent accidental pouring of hot water. There's also a bright light to help you see what you're doing if you're pouring a glass at night, and the cooler self-cleans to prevent any extra labor on your part.
Pros:
Lots of safety and easy-clean features
Improves water taste and quality
Cons:
No NSF certification
No clear indication of which contaminants are removed
---
Crystal Quest SHARP UF+RO Bottleless Water Cooler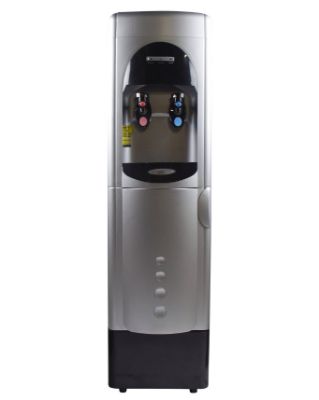 The Crystal Quest SHARP is a bottleless water cooler that uses reverse osmosis and ultrafiltration to produce clean, pure water.
With a 1-gallon cold water storage capacity and a 0.5 gallon hot water capacity, the SHARP provides instant access to filtered water in a range of temperatures.
There are a number of filter stages that are used in this system. After a sediment filter, a granular activated carbon (GAC) filter is used to remove chlorine, lead, and any contaminants that affect taste and odor.
This is followed by an ultrafiltration membrane, which removes a variety of total dissolved solids from water. Finally, water is treated in an RO membrane, which eliminates the majority of remaining contaminants.
The SHARP isn't designed out-of-the-box to remove fluoride, arsenic, nitrite or microbiological contaminants from water. It also can't remineralize water or boost water's pH. However Crystal Quest does offer extra filters at additional cost to cover each of these needs, unlike many other bottles dispensers that only target a select few aesthetic contaminants.
With its tankless design, the SHARP filters water directly from your cold water line. The RO process wastes water, and the unit is designed to be hooked up to a kitchen drain. This can make installation slightly more challenging, but the user manual's instructions are clear.
Pros:
Eco-friendly bottleless design
Removes a large variety of contaminants
Good safety features
Cons:
Additional filters cost extra
Wastes water
No NSF certification
Read the full review: Crystal Quest SHARP UF+RO Bottleless Water Cooler Review 2022
---
Avalon Countertop Self Cleaning Touchless Bottleless Cooler Dispenser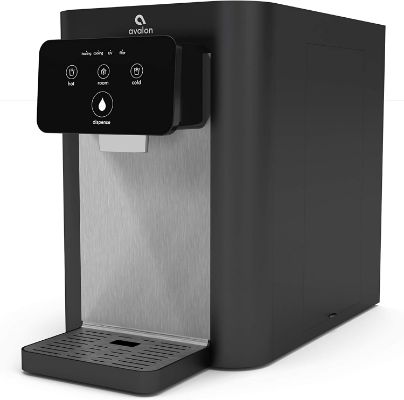 As a countertop self cleaning water bottless dispenser, this Avalon gives easy, no-fuss access to contaminant-free water. This water cooler has an NSF certified carbon block filter that removes chlorine and heavy metals like lead, as well as a sediment filter that removes suspended particles like dust and rust.
The unit comes with a full kit for installation, including tubing, an under-sink adapter, and a shut-off valve. The filters in the system are designed to last for 6 months – this is fairly average for a countertop cooler dispenser – and you can access them easily at the back of the unit when they need replacing.
There are two water spouts – one for crisp cold water (at around 47° F) and one for piping hot water (af around 185° F). There's a child safety lock on the hot water spout to help prevent dangerous mistakes. Speaking of safety, there's also a built-in night light to give you better vision in the dark hours.
With a self-cleaning feature, the Avalon dispenser automatically sanitizes and purifies itself, preventing germs and bacteria from accumulating inside the unit. Unusually, though, some users were unable to find the self-cleaning button on their dispenser.
Pros:
Carbon filter is NSF certified
Dual filters for extra thoroughness
Cons:
Replacement filter cartridges are quite expensive
Some users couldn't find a self-cleaning button
---
Primo Bottom Loading Water Dispenser

The Primo black bottom-loading water dispenser ticks all the boxes when it comes to design. With a sleek outer exterior, this water cooler looks less like the unit you'd find at your local gym and much more modern and kitchen-friendly.
Setup of the Primo is simple, and you don't need any tools for the job. Because it's a bottom-load dispenser, there's no need to connect the unit up to your plumbing – you just slot the drip tray in place, slide your water bottle into the bottom water storage section, and attach the nozzle and spout.
The Primo doesn't contain a water filter, so this one is only really an option for you if you plan to use already-filtered water in the machine, or you're just looking for easy access to hot and cold water. It seems that if you buy Primo's bottled water for this cooler, that water has been treated with reverse osmosis, which removes and reduces a whole host of contaminants from water.
Using the Primo doesn't get more complex than pushing a button for hot or cold water. The hot water spout has a child-resistant safety feature, so the Primo is safe for use by children and toddlers.
Pros:
Sleek, modern design
Setup is easy and takes less than 5 minutes
Cons:
Doesn't contain a water filter
Refrigerator is fairly noisy
---
hOmeLabs Bottom Loading Water Dispenser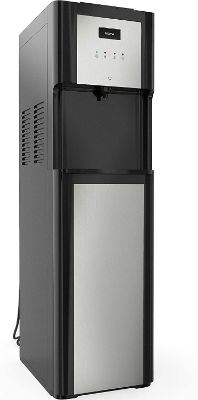 The hOmeLabs water dispenser with a bottom-loading design makes it easier to stay hydrated. When you need to refill the system's water bottle, simply open the drink dispenser door, take it out, fill it with water, then load it back inside and insert the water probe. There's no flipping the bottle upside down or lifting it up high to load.
This water cooler dispenser fits bottles between 3 and 5 gallons in size. As it's recommended that we drink around half a gallon of water per day, this would last a family of 2 between 3 and 5 days, or a family of 4 between 1.5 and 3 days, before the bottle would need refilling. Though it fits a relatively large bottle, the unit is 40.9 x 14.2 x 12.2 inches in size, and is designed to fit into any home or office space.
There's no filter in the hOmeLabs cooler dispenser. Its job is to provide you with cool or hot water at the touch of a button, so if you're looking for filtered water, this isn't the dispenser for you.
With an easy-clean drop tray, you can simply rinse clean and replace when the tray becomes full. There's also an LED night light to make it easier to pour yourself a drink at night, and a child safety lock to prevent hot water scalding.
Pros:
Easy bottom-load design
Easy and safe for the whole family to use
Cons:
No water filter included
Refrigerator is quite loud
---
Whirlpool Self Cleaning Bottom Load Water Cooler
The Whirlpool self-cleaning stainless steel bottom-load water cooler dispenses both hot and cold water. This water cooler uses a technology called 6th Sense Cleaning, which automatically injects unstable oxygen into water to eliminate contaminants. This oxygen, known as ozone, works just as well as chlorine to disinfect water, but is natural and chemical-free.
With an LED display screen, the Whirlpool lets you know the exact temperature of your hot and cold water (and you can adjust this to suit your preferences), and displays a notice when the system's self-cleaning is running. Being built to commercial grade standards, you can use this water dispenser in a home or office for many years, as it's designed to last.
There are a few design and safety features of the Whirlpool that make it more durable and safe to use by your whole family. The water faucets are designed to be unbreakable with normal use, and the hot faucet is toddler-resistant, so you don't need to worry about accidental burns.
Many water coolers struggle to maintain 50°F for their refrigerated water, but the Whirlpool goes one better and delivers water at 40°F, so it's a good choice for you if you're a fan of ice-cold water. Thanks to the unit's simple bottom-loading technology, you'll end up with less water left behind in the bottle, and there's a heavy-duty water pump that sucks water powerfully and gets it to where it needs to be.
Pros:
Chemical-free disinfecting with unstable oxygen injection
Cools water right down to 40°F
Cons:
No information on exactly what contaminants are removed
No dispenser spouts – makes it difficult to see exactly where water pours from
---
Avalon A1 Top Loading Cooler Dispenser

The Avalon A1 is a water cooler with a basic top-loading design. At around $100, this water dispenser cooler is a fantastic option for lower budgets, and requires just a little more work than a more expensive bottom-loading alternative.
With separate hot and cold water spouts, you can use the Avalon for both hot beverages – or even foods like instant ramen – and cold refreshments. The dispenser is Energy Star approved, so you won't waste energy and have to pay higher-than-necessary bills with it installed in your home or office. It also has a child safety lock on the hot water spout, so you can trust it in a home with young children.
For a top-loading water cooler, the Avalon A1 has a slim, fairly stylish design. It won't look bulky, even in small spaces around your home. It's also simple to set up, with the top portion of the unit designed to hold water bottles at 3 to 5 gallons in size.
With the water bottle being on show, you can spot when water is running low and arrange for more water ahead of time. It will take a bit of extra lifting work to get the bottle up on top of the unit, so keep this in mind if your mobility is impaired.
The Avalon A1 doesn't have a water filter – it's just designed for providing hot and cold water at the touch of a button. But there's plenty of flexibility with this system, so you could choose to use your own choice of filtered bottled water, which would also help to keep the machine clean.
Pros:
Great for smaller budgets
Slim, compact design
Cons:
Doesn't filter water
Some customers experienced leaking
---
Giantex Top Loading Water Cooler Dispenser

The Giantex is a traditional top-loading water cooler with a twist: it has a useful storage cabinet underneath the dispenser unit. Offering both hot (between 190°F and 203°F) and normal-temperature (between 42°F and 50°F) water, the Giantex is a more basic water cooling and dispensing option, with a functional, simple design that's perfect for lower budgets.
There are three lights on the Giantex that let you know the working status of the system – there's a light for "hot", a light for "power" and a light for "cold". As a top-loading water cooler, the system requires that you turn a water bottle upside down and slot it in place on the machine's water barrel set. This seat is detachable, making it easy to remove and clean.
If you don't want to cool or heat your water, there are a couple of switches at the back of the Giantex that let you turn off either the heating or the refrigerating feature, or both at once. There's also a user-friendly safety lock on the hot water dispenser that you can activate to prevent little hands from scalding.
The traditional and ergonomic design of the Giantex makes it a water cooler for all occasions – whether you're looking for something for your home office, a meeting room, or your kitchen. Just don't expect it to win any design competitions – it's pretty basic in appearance.
Pros:
Great value for money
Basic and user-friendly
Cons:
Doesn't filter water
Not the most modern design
---
COSTWAY 2-in-1 Water Cooler Dispenser with Built-in Ice Maker

The COSTWAY is a top-loading water cooler with a unique feature: a built-in ice maker for extra-cold beverages. The hot and cold dispensers are in the middle portion of the unit as normal, but the space beneath these dispensers, which is usually left empty, is a slot where you can dispense ice into a basket (which can hold up to 4 lbs of ice) and scoop it into your cup before filling.
This extra feature does come at a higher cost – the COSTWAY is about three times the average price of a basic top-loading water dispenser cooler. But if you think you'd get a lot of use out of the feature, it makes sense to buy an all-in-one unit instead of buying a separate ice maker.
With an elegant, sleek design, in either black or silver in color, there's nothing ugly or dated about the COSTWAY. It has three buttons for three temperature options: hot, cold and room-temperature water, each of which have their own designated spout. The dispenser's LED screen makes it easy to see when the machine is on or off, and whether it's cooling, heating, or making ice.
The hot water spout produces near-boiling water, which can be used for hot beverages or instant meals. It has a user-friendly security lock to prevent children from using it. The COSTWAY doesn't filter water, so you'd have to buy your own bottled filtered water or a separate filter if that was important to you.
Pros:
Unique ice-making feature that can't be found in most water dispensers
Sleek, attractive design
Cons:
Doesn't filter water
More expensive option
---
🧾 Water Cooler Dispenser Buyer's Guide
Trying to select the perfect water dispenser for your home or office can be a bit overwhelming with all the options available. That's why we compiled the following buyer's guide to help you learn the ins and outs of water coolers and make an informed choice.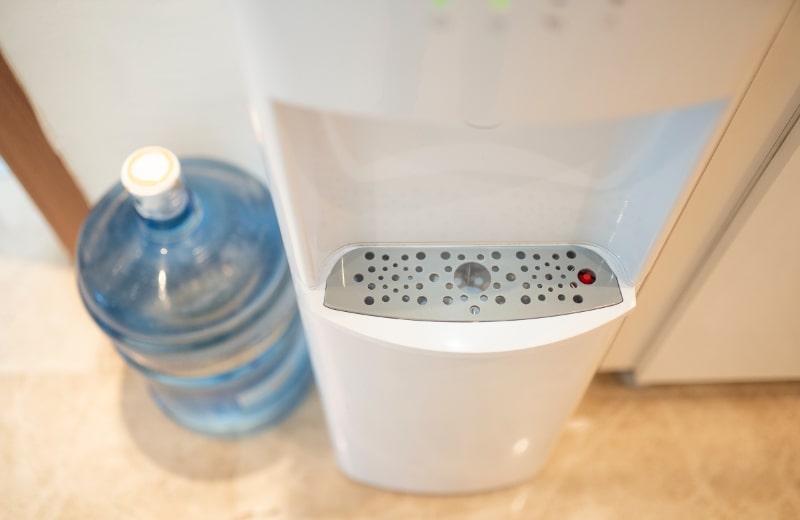 ☑️ Benefits of Water Coolers & Dispensers
Having an office water cooler or a water cooler for home can help you to save money and enjoy clean water at your preferred temperature throughout the day.
Some of the advantages of a water cooler dispenser are:
Convenience
When you want to drink clean, filtered water, in both your hot and cold drinks, a water dispenser gives you immediate access. There's no need to make a trip to the supermarket to pick up a crate of water bottles. Water coolers give you access to clean water in your own home or workplace.  
Environmentally Friendly
Bottleless water coolers eliminate the need for buying bottled water, which means you can do your bit for the environment and massively cut down on plastic waste. As water filter dispensers essentially give water the same treatment that bottled water receives, you can enjoy a near-identical taste without having to stock up on water bottles.
Temperature Options
Most water coolers have a cold water spout as well as an option for filtered boiling water, which you can use for your hot drinks. This gives you more flexibility than most water filters, which don't work with hot water.
In this case, water dispenser coolers heat water to boiling after filtering it, so the hot water won't cause any damage to the filters.
Ease of Refill
You don't need to constantly refill a water cooler, which is one of its biggest conveniences. If you get a countertop water dispenser, you can usually just connect it up to your main water line and use water from your plumbing.
Top-loading and bottom-loading water dispensers require more work – they contain a large water bottle (around 3 to 5 gallons in size), which you'll need to take out and refill when empty.
This job is easiest in bottom-loading water dispensers, which allow you to put the bottle inside the unit with no lifting. Top-loading water coolers require a bit more strength and precision, as you'll have to flip a heavy water bottle upside down, attach it to the dispenser's cap, and slide it in place.
Cost Savings
The biggest cost saving of owning an own at-home water dispenser is that you'll no longer need to buy bottled water. Though water coolers are a bigger up-front investment at around $150 to $400, if you spend $30 to $50 on water bottles each week, you'll quickly earn back that initial spend.
📝 Types of Water Dispensers
Although other common appliances like a kitchen faucet or water filter pitcher are technically also water dispensers, there are three types of water dispensers that are popular today which we will cover: countertop, top-loading and bottom-loading.
Top-Loading
Top-loading water dispensers, as the name suggests, have an upside-down water bottle that connects up to the cooler from the top. The bottle has a cap and hose connected to it, which fits it properly into the water cooler when it's slid in place.
Bottom-Loading
Bottom-loading water dispensers have an opening at the bottom of the unit for water bottles. Bottles sit upright on the base of the unit, and connect up to the system via a water probe inserted into the bottletop.
Countertop Water Cooler
Countertop water coolers sit on a kitchen countertop and are usually connected up to a kitchen sink cold water line. These coolers are smaller and more compact but don't have limited storage space, as they take their water straight from your plumbing.
Water dispensers are ideal for those who want access to clean, filtered water without the need to install an expensive whole house filtration system. They offer a nice alternative to other ways of getting filtered water such as a refrigerator water filter or countertop filtration system.
📌 Considerations When Buying a Home Water Dispenser
There are a number of considerations you should make when deciding on a home water dispenser for you, including:
Capacity
Most top-loading and bottom-loading home water dispensers are designed to hold water bottles of up to 5 gallons in size. You should expect a unit to hold a 3 gallon water bottle at the very least – this will reduce the number of times you have to refill the bottle during use.
Bottleless drinking water dispensers have the advantage of having no maximum capacity, as they're connected up to your home's water line.
Ease of Use
There's no complex science to using any type of filtered water cooler – you just press the hot or cold water button depending on what you want – but some do require a bit of extra maintenance.
Top and bottom-loading water dispensers need to be refilled every 2 to 4 days, depending on the size of your household and how much water you use. If mobility is an issue for you, you might struggle with a top-loading cooler in particular, which requires lifting a heavy water bottle up high.
Energy Efficiency
Most water coolers are constantly switched on, which allows you access to hot and cold water all the time. If you don't want to wait around for your water to heat up or cool down, look for a water cooler dispenser that has an Energy Star rating, which means it's been designed to be energy conscious and won't waste energy while switched on.
You might not want to use your machine for hot or cold water all the time. If, for instance, you wanted hot water for cups of tea or coffee only in the morning, there are plenty of machines that allow you to turn off the heating function in the afternoon and only have the refrigerator running, which would help you to cut down on energy-wasting. The same also goes for the cooling function.
Temperature Features
The basic expectation for a water dispenser, whether it's a countertop, top-loading or bottom-loading unit, is that it'll have both hot and cold temperature options.
The hot should be near-boiling, hot enough to use in hot beverages and instant foods. The cold is usually around 50°F, or 10 degrees cooler than room temperature. Some water coolers also have a room temperature water option, but this isn't common.
Safety Features
If you're planning to have your whole family use your water cooler, you'll want to look for one that has a safety lock on the hot water spout.
Accidents can happen, and you don't want your young children to scald themselves by switching the hot water on when you're not around. Luckily, almost every water dispenser we've come across has some sort of hot water locking feature, so you're not limited for choice.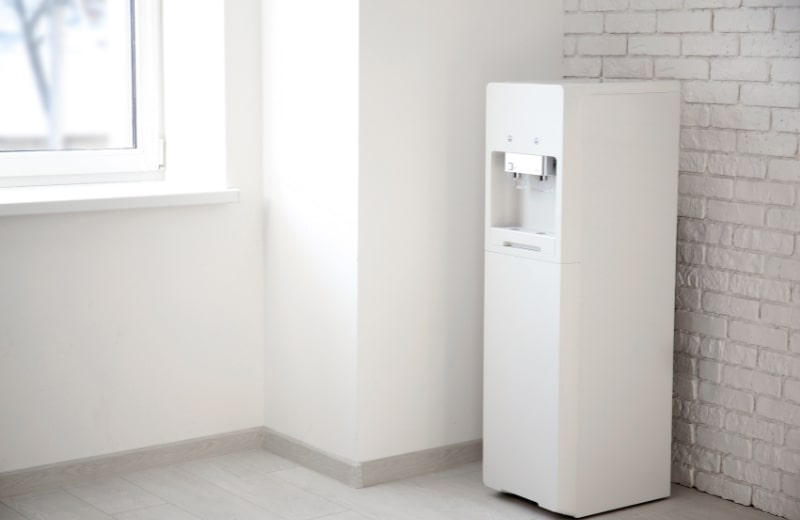 Material It's Made Of
Some water cooler dispensers have a plastic exterior, which can make them look a little clinical and practical. The more expensive water dispensers have a chrome or stainless steel exterior, which tends to look a lot more natural and attractive in a modern kitchen. Plastic may not be as durable as stainless steel, but, for the most part, you shouldn't experience any issues with opting for plastic instead of metal.
The inside components of a water cooler dispenser are generally made up of stainless steel. There may also be plastic involved, though the majority of manufacturers use food-grade plastic that won't leach chemicals into your water. If this is important to you, look for "food-grade", "BPA-free" or "BPS-free" in a product's marketing material.
Household Size
If you have a big, thirsty family, it's worth considering carefully whether you would fare better paying slightly more upfront for a countertop water dispenser that connects straight to your plumbing.
The setback of a top-loading or bottom-loading water cooler dispenser is that both need their water bottles refilled or replaced when the water is used up. Most dispensers can hold a water bottle of 3 to 5 gallons, and with the rule of thumb being that 1 person drinks 1 gallon of water per day, a family of 4 will use roughly a whole water bottle in one day.
Smaller households, on the other hand, wouldn't have to change or refill their water bottles quite as regularly, because they'd naturally consume less water per day.
Available Space to Put It
The majority of water dispensers are designed to be space-saving, at around 10-12 inches wide and 10-12 inches deep, but if you don't have any floor-to-mid-wall space available, a full-size dispenser (at around 35 to 40 inches high) might not be the best option for you.
Countertop water dispensers are designed to fit on kitchen counter space, so if you've got plenty of that free, opt for a countertop system instead. Most people choose to store their water dispensers in the kitchen, but you could also put yours in your study or your dining room if those rooms had more available space.
Maintenance
No matter what type of water dispenser cooler you buy, maintenance is a must. Your water cooler will have specific cleaning instructions, which will probably include draining your system from time to time and filling it with a cleaning solution, then scrubbing the inside to get rid of any scale or contaminants. Water coolers also have drip trays, most of which can be removed for easy cleaning in your sink.
Another maintenance job for some water cooler owners is replacing or refilling the water bottle.This is only applicable if you opt for a top-loading or bottom-loading water dispenser cooler, which refrigerates or heats water from an attached bottle. The regularity of this maintenance task depends on how much water you use on a daily basis, and, therefore, how quickly your water bottle runs out.
For water dispensers with filters, changing these filters as advised by the manufacturer is an unavoidable maintenance requirement. Water filters only last for so long – in the case of water dispenser filters, around 1,500 gallons or 6 months – before they need changing.
Failing to change the filters will result in unclean water, which devalues the whole point in having a filter in your machine. It will also slow down your water flow, which would result in waiting a lot longer than necessary for your glass to fill.
Associated Costs
It is possible to buy a water dispenser cooler and pay nothing (aside from the odd repair) after your initial purchase. But it would mean buying a countertop water dispenser that doesn't contain filters, which would limit your selection somewhat.
In most cases, you should expect to pay one of several associated costs when buying a water dispenser.
If you buy a bottom or top-loading dispenser that doesn't contain a filter, it might be important to you that you only use bottled mineral water in your machine. If you need to replace your bottle every 1 to 3 days, at a price of $5 per 5-litre bottle, that cost will add up over time. With that said, if you buy bottled water for your family anyway, the cost will be no different from usual.
Another associated cost to be aware of is the cost of replacement filters. If your water dispenser cooler filters water, it probably has two filters: a sediment pre-filter and an activated carbon filter.
Universal filter replacement kits for water coolers, which include the sediment-pre filter and the activated carbon filter, cost anything between $40 and $60, depending on the brand. It's quite a high cost, but you'll only need to pay it once every 6 months, which isn't too bad.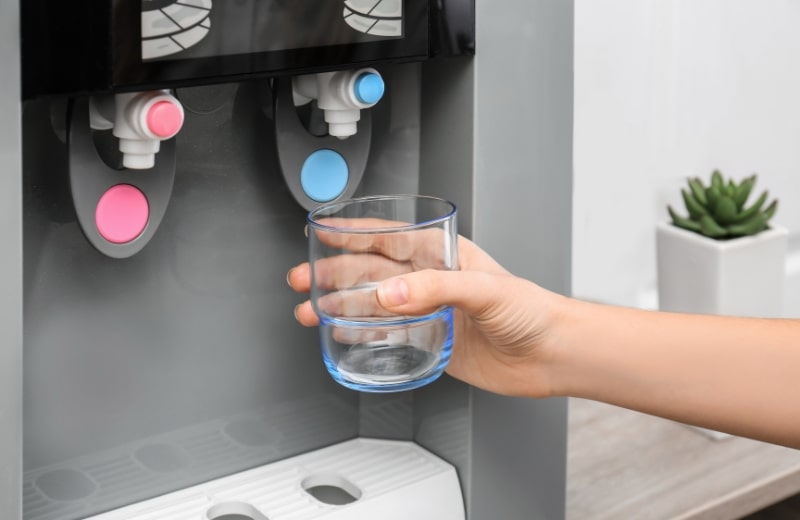 🛠️ Water Dispenser Cleaning And Maintenance
Unfortunately, even so-called self-cleaning water cooler dispensers require some manual cleaning from time to time. Cleaning your system prevents harmful microbes from accumulating inside your water tank, so it's important that you do it as often as your cooler's manufacturer recommends.
How to Clean a Water Cooler system (step by step)
To clean your drinking water dispenser, here's what to do:
Water Hoses
Remove your hoses
Take your water hoses out of your water cooler system, being careful not to damage them in the process.
Make a white distilled vinegar solution
White distilled vinegar is a great natural cleaner, owing to the fact that it has a high acidity that cakes it capable of lifting hard-to-reach stains. To clean your hoses, you just need to fill a small bowl (big enough to fit your hoses) with distilled vinegar. Make sure the vinegar is white and not colored, so that it won't stain your hoses.
Add your hoses to the solution
Put your hoses into the vinegar solution, making sure it's fully submerged, and leave it for 10 minutes for the acid to get to work.
Remove the hoses and re-attach them to your cooler
Once the 10 minutes is up, remove your hoses and run them under your kitchen faucet to clear out the vinegar from their insides. Then re-attach them to your water dispenser unit and continue to use as normal.
Sanitizing
Make your cleaning (sanitizing) solution
Before you get started on sanitizing the inside of your water cooler, you will need to make the solution for the job. (Note that you can also buy a cleaning solution specifically for water coolers online, but it'll do no better of a job than you can with your own products). Take 15 ml of 5%, unscented bleach, and combine it with 5 liters of warm, clean water. Make sure that your bleach is approved for use on food contact surfaces before you use it in your cooler.
Prepare your water cooler
To ensure your water gallon dispenser is safe and ready for cleaning, unplug it from its power socket and remove the empty water bottle. There may still be some water inside the cooler, which needs to be drained from the system's plug, known as the spigot. Remove the baffle and the drip tray, and leave them on the side for washing in your sink or dishwasher.
Fill the cooler reservoir with your cleaning solution
Carefully pour the cleaning solution into the water reservoir inside the cooler. Take a long-handed brush with bristles, such as a scrub brush, and use it to scrub the inside walls and base of the reservoir. Opt for a brush with softer bristles, so you don't damage the reservoir during cleaning.
Drain the cleaning solution
Drain some of the cleaning solution out of the spigot, then leave it for 2 minutes to allow the solution to clean the inside of the spigot. Don't leave the solution in your machine for any longer than 5 minutes, as corrosion could occur. Drain the rest of the solution into a bucket and tip it into your toilet.
Fill the reservoir with clean tap or bottled water
To properly rinse away your cleaning solution, fill your reservoir three times with clean tap or bottled water, draining the water through the spigot each time. Once you've finished draining the last of your water, you can wash and replace the components you removed, then add a new water bottle to the unit.
External Cleaning
Make a cleaning solution
For cleaning the outside of your cooler, you only need a mild cleaning solution. Mix 5 parts water to 1 part dish soap, and you have a solution that should remove any dust or dirt build-up from your surfaces.
Dip a cloth in your cleaning solution and dab it on your cooler
Turn your cooler off or unplug it from the wall, then rub it with your damp cloth to clean away the stains. Be sure to get into all the nooks and crannies, including around your machine's water spouts (if it has them) and its buttons.
Finish off with a dry clean
To wipe your cooler dry, take a paper towel and rub it around the areas you've cleaned. Once you're done, switch your cooler back on, or plug it back in, making sure there is no leftover water on your surfaces.
💡 Frequently Asked Questions
Are water gallon dispensers noisy?
It depends on the product, but you will hear some noise from your machine's refrigeration unit. Many people prefer to keep their water coolers in the kitchen, alongside other appliances that are known for "humming" while they're switched on. The noise shouldn't be overwhelming, but you might not be able to sleep with it.
How fast does water come out of the spouts?
Again, it depends on the product. If you buy a water dispenser cooler with a filter, it may take slightly longer – nothing more than a couple of seconds – for water to start flowing out of the spouts. In all cases, the water should come out fast enough to fill a tall glass of water in less than 10 seconds.
Do I have to use branded water for my dispenser?
No. There's no obligation for you to use the manufacturer's own water for your dispenser. Just make sure that if you buy unbranded, the bottle is designed to fit in your unit.
Where can I buy replacement filters?
For water dispensers with filters, you can find replacement filters online, in both independent stores and on online marketplaces like Amazon. You don't necessarily need to buy your manufacturer's own filter, either – there are plenty of off-brand filters that are made to fit the majority of water dispensers. Just be sure to double-check before you make a purchase, and read customer reviews to ensure a filter is good quality.
How long do water dispensers last?
To determine how long a water dispenser cooler will last, check out the manufacturer's product warranty. Most offer a 5-year warranty, but if you look after it well, you can expect your gallon water cooler to last up to 10 years. You may need to carry out the odd small repair every now and then, but nothing too major. Electric faults are more difficult to deal with yourself, and it's at this point that it's probably wise to buy another system.
Should I clean a dispenser before I first use it?
Yes, you'll be instructed to do this by the manufacturer in your dispenser's user manual. Cleaning your dispenser before use will help rid it of any contaminants or chemicals that may have entered into the system while it was in storage. You can clean the dispenser as per your manufacturer's instructions or by following our own cleaning tips mentioned earlier in this guide.
Are there any advantages to buying a water cooler dispenser instead of renting?
You might have previously rented a water cooler, or you might be renting one currently. Though the monthly payments feel smaller and more manageable than splashing out on your very own water cooler, those "small" fees soon add up. By the time you've rented a water cooler for a year, you've paid the rental company more than what it would cost to own one. It's worth putting the cash aside to buy instead of rent.