With superior hydrogen sulfide removal capabilities, these are the best sulfur water filters on the market as tested by our experts.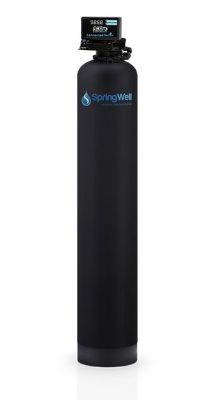 SpringWell Whole House Well Water Filter System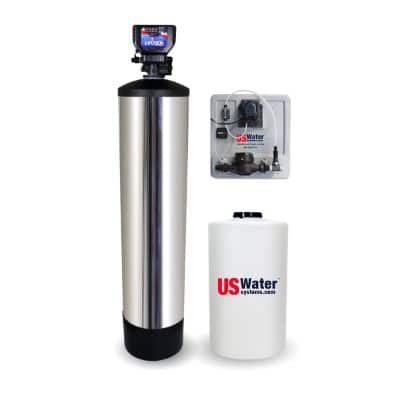 US Water Systems Matrixx Infusion Iron & Sulfur Removal System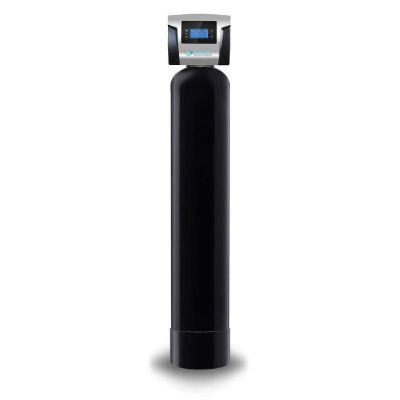 SoftPro IronMaster Water Filtration System
Sulfur in water stinks – and it can encourage bacterial growth, such as iron bacteria, making your water both corrosive and potentially harmful to health. It's no surprise that there is such a large selection of well water filters that remove sulfur on today's market.
If you're looking for the best sulfur filter for well water in 2023, you're in the right place. We share reviews, news and guides on WaterFilterGuru.com to a yearly audience of more than 3 million. We've spent years reviewing at-home water treatment systems, and we know that for many homeowners, well water filters are essential for safe water for drinking.
We've scoured the market for sulfur well water filters, read customer reviews, and approached manufacturers directly with questions regarding their products. This list of the top sulfur water filters is ranked based on filter quality, customer satisfaction, reduced water smells, efficiency, and overall performance.
In this guide, we've shared:
Which sulfur water filters are worth the investment in 2023
Features to look for in the best sulfur water filters
What to consider before you buy this kind of well water filter
🥇 Best Sulfur Removal Systems
📊 Sulfur Filter for Well Water Comparison Chart
System
SpringWell WS System

US Water Systems Matrixx

SoftPro IronMaster

Pelican Sulfur Water Filter System

AquaOx RE Edition

Ranking
1st
2nd
3rd
4th
5th
Ratings
5/5
5/5
4.5/5
4.5/5
4/5
Price
$$$
$$$
$
$$
$$
Contaminants Removed
Hydrogen Sulfide, Iron, Manganese
Hydrogen Sulfide, Iron, Manganese
Hydrogen Sulfide, Iron, Manganese
Hydrogen Sulfide, Iron, Manganese
Hydrogen Sulfide, Iron, Manganese
Max Sulfur
8 PPM
30 PPM
5 PPM
20 PPM
8 PPM
System Process
AIO + Greensand
Hydrogen Peroxide + Carbon
AIO + Katalox
Chlorine + Carbon
AIO
Media Life
10 years
5 years
8 – 10 years
5 years
10 years
Flow Rate
12 – 20 GPM
10 – 25 GPM
6 – 12 GPM
20 GPM
6 – 12 GPM
pH Range
6.5 – 10
6 – 9
5.8 – 10.8
6.5 – 11
>6.8
Warranty
Lifetime
Lifetime on tank
10 years on valve & electronics
5 years on injection panel
Lifetime on tank
7 years on circuit board
1 year
10 years
---
⭐ Sulfur Water Filter Reviews 2023
Why It's My Top Pick
Uses 4 stages to thoroughly filter sulfur, iron and manganese out of water.
Requires minimal upkeep.
Comes with a life-long warranty and a lengthy 6-month satisfaction guarantee.
Included installation kit gives you everything you need for installing the system yourself.
This System's Unique Features
The SpringWell uses four stages of filtration to get rid of hydrogen sulfide from water.
Water flows through an air pocket that sits at the top of the system. This oxidizes the sulfur, as well as any iron or manganese in the water.
Oxidized sulfur is much easier to be filtered out of water, and the SpringWell system then uses a green sand fusion bed to trap the particles, before washing them away with a backwash function. The air pocket is replenished and the system is ready to go again.
By reducing sulfur, iron and manganese in your water, the SpringWell filter will give you clean, pleasant-tasting water with no water smells or staining ability – and all this with virtually no maintenance. Because the SpringWell doesn't use filters, you'll only need to set the backwash cycle and let the system operate intelligently.
Who It's Best For
The SpringWell is ideal for people looking to remove high quantities of sulfur out of their well water, with minimal maintenance and easy control of the system using the Bluetooth app. You'll need a bigger budget for the SpringWell, but it's certainly worth the extra spend.
👍 What I Like
Doesn't use filters or require major maintenance
Can amend system settings using the SpringWell Bluetooth app
👎 What I Don't Like
Costs more money than most sulfur filters
You may need to pay for professional installation
---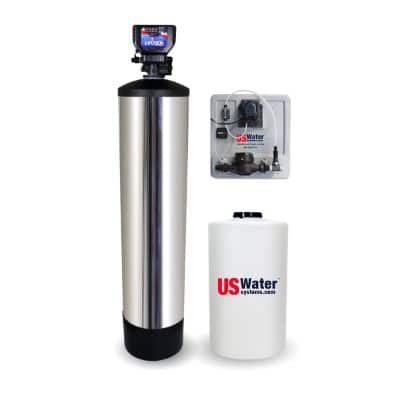 US Water Systems Matrixx Infusion Iron and Sulfur Removal System
The Matrixx Infusion is a chemical injection and oxidation system designed to reduce up to 30 PPM of hydrogen sulfide and up to 20 PPM of iron.
Why It Made the List
Very impressive hydrogen sulfide gas removal of up to 30 PPM.
Also removes iron and sulfur reducing bacteria.
Made from NSF approved components.
Uses a vortech tank that requires 30% less water during backwashing.
Requires less than $2 electricity to operate throughout the entire year.
This System's Unique Features
The Matrixx comes with a peroxide tank, precision I section panel, infusion filter, and 5 gallons of hydrogen peroxide.
This system reduces large particles of sand, silt and sediment, as well as up to 30 PPM of hydrogen sulfide gas.
Hydrogen peroxide is injected into water during the filtration process. With strong oxidizing capabilities, this chemical can destroy a variety of impurities, both for disinfection and odor control (such as eliminating the smell of rotten eggs and similar water smells).
With only one moving part, the Matrixx is easy and affordable to maintain, and the efficient vortech tank helps reduce water waste during backwashing.
Who It's Best For
The Matrixx can handle very high levels of hydrogen sulfide, making it ideal for eliminating rotten egg smell from well water sources containing high quantities of hydrogen sulfide gas.
👍 What I Like
Removes up to 30 PPM of hydrogen sulfide gas
Also disinfects water
Affordable and easy to maintain
👎 What I Don't Like
Very expensive – not suitable for all budgets
Only removes up to 1 PPM manganese
---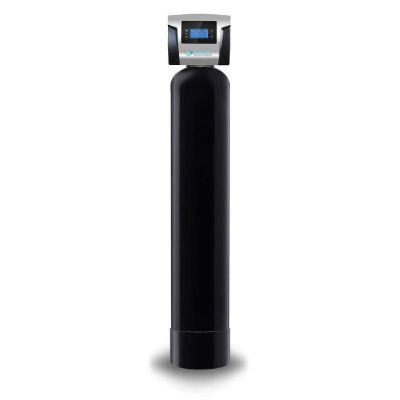 SoftPro IronMaster Water Filtration System
The SoftPro IronMaster can reduce up to 5 PPM of hydrogen sulfide, as well as 7 PPM of manganese and an impressive 30 PPM of iron. Using no chemicals or expensive pumps, the IronMaster is efficient and economical, using air injection to eliminate problem well water contaminants.
Why It Made the List
Costing just over $1000, this is one of the more affordable water treatment options for sulfur.
If iron is also a problem for you, the SoftPro IronMaster is equipped to reduce up to 30 PPM of this contaminant.
Comes with a life-long warranty on the tank, a 7-year warranty on the circuit board and a limited lifetime warranty on the control valve.
Control head features battery backup and vacation mode for convenience.
This System's Unique Features
The IronMaster oxidizes manganese, iron and sulfur by sending water through an air bubble in the tank. Water then flows through a media, which grabs onto the oxidized particles and prevents them from leaving the system with your water supply. Once the oxygen in the air bubble is depleted, the system will regenerate, replenishing the oxygen and flushing the collected minerals out of the media.
Like the SpringWell, the SoftPro requires very little maintenance, as the system is self-cleaning, and contains no filters that need to be replaced. A unique feature of the system is its horizontal piston, which prevents a build-up of contaminants in the valve.
You can use the system's touchpad digital control screen to access and settings. The screen is backlit, enabling it to be viewed in dark locations.
Who It's Best For
The SoftPro IronMaster is a good choice for people who are dealing with iron and sulfur water smells, and want to prevent the effects of both sulfur bacteria and iron bacteria in their water supply.
👍 What I Like
Doesn't use chemicals to reduce water sulfur, iron and manganese
Ideal for treating high levels of iron as well as sulfur
Affordable option for the value you get
👎 What I Don't Like
You may need to pay a plumber to install the system
May not be ideal for larger homes
---
Pelican Sulfur Water Filter System
With a flow rate of up to 20 GPM and a specialized retention tank for mixing chlorine with water, the Pelican Sulfur Water Filter system is ideal for well water with a strong rotten egg smell.
Why It's a Top Pick
Backed by a full system warranty for tanks, valve and electronics.
Disinfects water and eliminates smell of rotten eggs.
Great value for money, suitable for smaller budgets.
Improves taste and smell of well water.
Operates at up to 20 gallons per minute.
This System's Unique Features
The Pelican uses chlorine injection to oxidize hydrogen sulfide in water. This system uses a specialized retention tank that can mix chlorine at a 5x faster rate than a standard tank, allowing for fast, efficient water treatment.
This hydrogen sulfide water treatment system can eliminate rotten egg smells and reduce hydrogen sulfide, so water smells better and tastes fresher.
Included with the Pelican unit is a feed pump, a 35-gallon solution tank, and a retention tank. The full system has a 1-year warranty, and the tank, valve and electronics are warrantied for 5 years.
Who It's Best For
The Pelican is one of the more affordable options on this list, making it suitable for smaller budgets. If you're looking for disinfection and hydrogen sulfide removal, this is a system worth considering.
👍 What I Like
Reduces hydrogen sulfide, eliminates rotten egg smell and disinfects water
Works quickly to mix chlorine in specialized retention tank
Up to 29 GPM flow rate
👎 What I Don't Like
Doesn't say how much hydrogen sulfide is removed
Warranty could be longer
---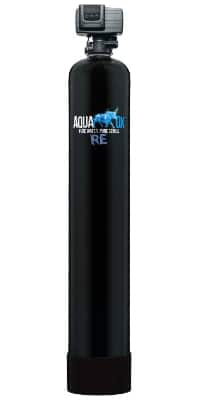 AquaOx RE Edition
The AquaOx RE Edition is a filter that was designed to treat water supplies with "extreme rotten egg smell situations". This unit can reduce up to 8 PPM of sulfur, as well as 2 PPM of iron.
Why I Like It
Designed specifically to tackle high sulfur issues and rotten egg smells.
Backed by a 10-year warranty and should last for more than 20 years.
Uses double vortech technology for backwashing efficiency, reducing water waste.
Affordable means of reducing hydrogen sulfide, with no chemicals required.
This System's Unique Features
The AquaOx is unique in that its performance specifically focuses on treating water with an overbearing rotten egg smell.
The system uses a compressed air bubble to oxidize hydrogen sulfide gas and iron as water passes through. To facilitate this process, oxygen is also added to the water.
Once oxidized, iron and sulfur particles are left in a media bed. The system backwashes daily, flushing out the media and introducing a fresh air pocket to the tank.
You can adjust the unit to regenerate more frequently if required; for instance, for higher-than-average water usage or high iron levels.
Who It's Best For
If you have to bend down to your faucet to smell rotten eggs, you don't necessarily need a system that's so focused on reducing hydrogen sulfide gas. But if there's a regular or constant rotten egg smell in your home, and you're certain that it comes from your water, the AquaOX is well worth considering.
👍 What I Like
Designed to eliminate the smell of rotten eggs
No chemicals or pumps required
Easy to adjust backwashing with control head
👎 What I Don't Like
Not suitable for homes with over 80 PSI water pressure
Not ideal for high iron levels
---
🧾 Whole House Water Filter for Sulfur Buyer's Guide
Hydrogen sulfide is a largely aesthetic contaminant, and can make water taste and smell so unpleasant that you may feel that you have no choice but to switch to drinking bottled water. But what if you could save money with an eco-friendly alternative? In this buyer's guide, I've covered everything you need to know about removing hydrogen sulfide gas from your water with an at-home well filter.
🤔 How Does Hydrogen Sulfide Get Into Water?
Hydrogen sulfide is formed when organic matter, like plant material, decays and decomposes. This gas occurs naturally in soils, and can enter groundwater when rain or snow seeps through these soils.
You're more likely to have a hydrogen sulfide problem in your water if you use an underground well. Wells supplied by surface water generally have a lower hydrogen sulfide content, as much of the gas will escape from the water when it comes into contact with the air.
You're not exempt from hydrogen sulfide contamination if you get your water from a city source. The EPA considers hydrogen sulfide a secondary contaminant, and limits it to 250 parts per million (ppm) in public drinking water. It's highly likely that you will still taste sulfur in your water if it contains around 200-250 ppm of sulfur. Some states have naturally higher sulfur levels than others.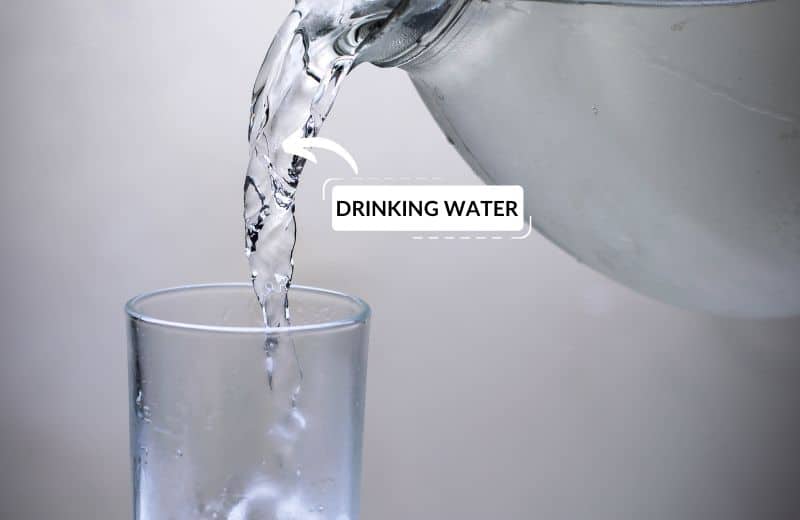 💡 Rotten Egg Smell & Other Effects of Hydrogen Sulfide Gas
Some of the effects of hydrogen sulfide that you'll likely notice are listed below:
Rotten egg smell
The rotten egg smell is perhaps the most distinguishable indicator of hydrogen sulfide in your water. You may also notice that your water tastes bitter or like rotten eggs, which may make it too unpleasant to drink.
Laxative effects
In high quantities, sulfur can have laxative effects when consumed, according to a report by the WHO. In the long run, drinking well water with high sulfur levels may result in dehydration.
Stains on fixtures
Hydrogen sulfide can also have aesthetic effects in your home. Water containing hydrogen sulfide can stain kitchen and bathroom fixtures with yellow or black discoloration.
Discoloration of brass and silverware
When you wash your dishes and cutlery in sulfur-laced water, you may notice damage to certain materials, such as tarnishing and discoloration. Copper, brass and silver utensils can all be tarnished by hydrogen sulfide.
✔️ Methods for Removing Sulfur from Well Water
The two most common methods of removing hydrogen sulfide from well water are oxidizing media filters and chemical oxidating systems.
Oxidizing Media Filters
Oxidizing media filters send water through an air bubble, which oxidizes hydrogen sulfide, as well as magnesium and iron.
When hydrogen sulfide is oxidized, it is converted into a solid or sediment form that can be eliminated from your water supply with filtration.
Sulfur and similar contaminants are trapped in a media bed of manganese greensand or a similar material. When the unit automatically flushes itself out, sulfur will be washed out of the media bed and out of the unit through a drain line. The media bed will then be ready to trap more sulfur going forward.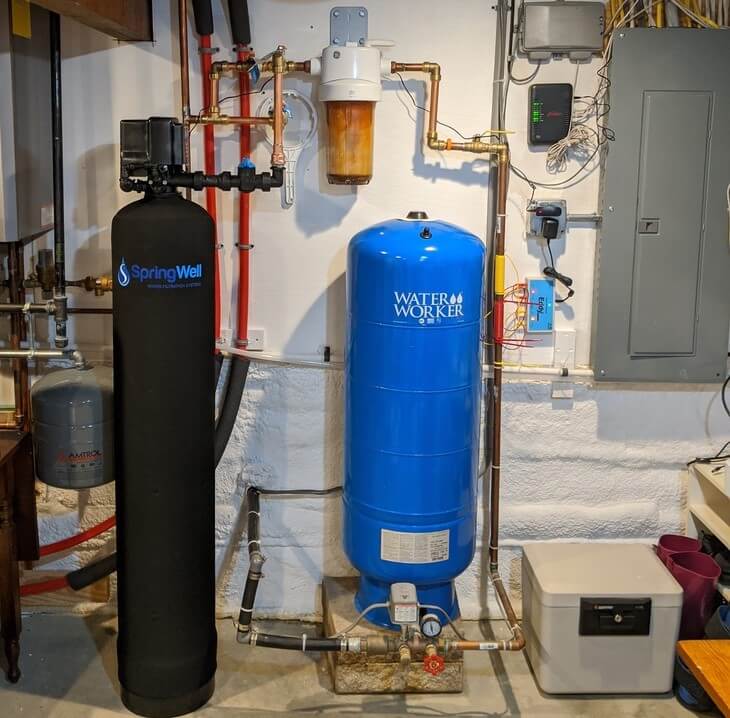 The advantage of oxidizing media units is that they don't use expensive pumps or chemicals to remove hydrogen sulfide from water. This means you can filter your water economically and safely.
Very similar to oxidizing media filters are air injection, or aeration units. These systems inject oxygen into water, which enables gases to escape.
Chemical Oxidation
A chemical oxidizing filter is a point-of-entry unit installed at your main water line, which injects a chemical, such as chlorine, into the water. This chemical reacts with hydrogen sulfide, which is oxidized into a form that can be filtered out by a later filtration system.
Chemical oxidizing tends to be more expensive, and requires more upkeep, than an oxidizing media filter. The unit must be topped up with chemicals, which is also more dangerous than simply using an oxygen-rich air bubble.
An advantage of adding chlorine to your water, however, is that it also disinfects it, which is ideal if you're dealing with well water that has microbiological contaminants, or you just want to stay protected in case of emergencies.
💭 Considerations When Buying a Filter to Remove Hydrogen Sulfide
Before you buy a filter to reduce hydrogen sulfide, it's important to consider the following factors:
Other Contaminants Present
Oftentimes, if you're dealing with hydrogen sulfide in your water, you're probably dealing with other contaminants, too. Sulfur bacteria, iron and iron bacteria, and manganese are all commonly present alongside sulfur.
You can test your water in advance to find out exactly what's in it. I recommend using an accredited testing laboratory, such as SimpleLab, to test for a broad range of common well water contaminants.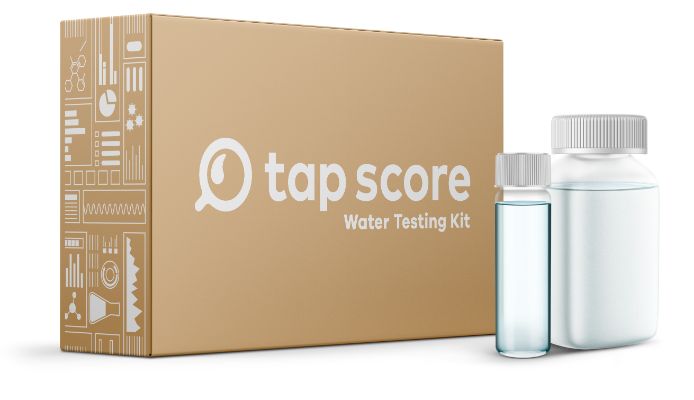 You can also find testing packages for city water, which can test for the likes of chlorine and lead alongside sulfur.
Once you know which contaminants you'd like to remove, you can choose the most suitable filtration system for your needs. In some cases, you may have to combine multiple filtration systems to reduce a broader range of contaminants.
System Type
As I mentioned earlier in this guide, there are two common water treatment systems for hydrogen sulfide: oxidation filtration systems and chemical oxidizing systems.
The kind of system you opt for will likely come down to preference. Some people are attracted to hydrogen sulfide removal systems that inject chemicals into water because of the convenience of their disinfecting benefits. However, if you don't need to disinfect your water as well as reduce sulfur, you may prefer the lower upkeep requirements and cheaper operating cost of a system that uses air injection or an oxidizing bubble.
No matter what kind of filtration system you opt for, you can expect to pay between $1,000 and $2,000 upfront, depending on the filter's capabilities and the brand you buy from.
Filter Capacity
The capacity of a hydrogen sulfide filter will determine how much water it can filter before the system needs to regenerate.
It's common for units to be available with different tank sizes, typically ranging from 1 to 2 cubic feet. The bigger the tank, the more media the system uses, and the more sulfur, iron and manganese it can collect before the media needs to be washed out.
It's important to get the right system capacity for your family size and daily water usage. The unit needs to be able to operate effectively enough to provide multiple appliances in your home with water whenever you require it.
If you're not sure which system is the right size for you, discuss your options with the manufacturer.
Installation & Maintenance
Hydrogen sulfide removal systems should be installed at your home's point of entry, before your hot water heater. This means that both your cold water and hot water will be free from hydrogen sulfide.
Some oxidation filtration systems might be deemed suitable for DIY installation by the manufacturer. However, if you're not handy, or you're not a fan of DIY, it may be necessary for you to leave the job to an expert.
The cost of installation depends on local competition, but you can expect to spend around $200 on average.
If you're talented with tools, you should be able to install an oxidation filtration unit yourself. The filter systems on this list come with clear instructions that most people should find easy enough to follow.
Your maintenance tasks will depend on what kind of system you buy. A chemical oxidation system will need to be topped up with chemicals periodically, while a unit that uses an oxidating media will only require the media to be changed every 6-8 years or so.
There are no filter cartridges to change in an oxidating unit, so upkeep is a less frequent or costly task.
Warranty
Without a doubt, you should make sure that whatever unit you buy comes with a warranty of at least 5 years.
Warranties tell you that a manufacturer trusts in the quality of their product. It also means that you're covered if the system arrives faulty or becomes damaged through no fault of your own while it's in use.
It's common for sulfur filter systems to have different warranties on different parts. For instance, the tanks usually have to longest warranties of around 10 years, while the media, valves and fittings might have shorter warranties of 2-5 years.
The most desirable warranty is a limited lifetime warranty, which covers the unit throughout the entirety of its expected lifespan. Be sure to check limited lifetime warranties carefully to know exactly how long they will be in place.
❔ Frequently Asked Questions
Do all water filters remove sulfur?
No. Not all water filters are guaranteed to eliminate sulfur, as this gas is difficult to filter out using traditional processes. While standard filter systems can remove sediment, they're not capable of removing gases. This is why sulfur must be treated with a filter that can first convert it to a form that can be filtered out of water.
Most well water filters are capable of removing sulfur, especially if they can also remove iron and manganese.
I would recommend checking that your water really does contain sulfur before you look for a filter to remove it. Sometimes, the rotten egg "sulfur" smell is actually caused by something else, like raw sewage. That's why water testing is so important – you need to know exactly what you're dealing with.

I've filtered my water and it smells like sulfur – why is this?
This should only happen if you've purchased a filter that doesn't actually get rid of sulfur in water, or your sulfur filter has reached the end of its lifespan.
For instance, oxidation filters require very little upkeep, but you'll still need to replace the media eventually. If you don't do this, the media might be unable to hold onto contaminants, and you'll end up drinking water that still contains sulfur.
If you've been performing the required upkeep for your whole-house sulfur filter, you might need to contact a specialist to assess the issue.
Should I drink water containing sulfur?
Generally, yes, you can drink water containing sulfur. Low levels of this gas aren't dangerous to humans, though you might experience symptoms like nausea and diarrhea if you drink sulfur-laced water for long periods of time.
The biggest sulfur-related issue is unpleasant taste and water smells. For this reason, many people prefer not to drink sulfur in their water.
Note that the presence of sulfur may indicate that there are other contaminants in your water, including bacteria. It's wise to get your water tested for a broad range of common well water contaminants if you think you have a sulfur problem.
Will an activated carbon filter remove sulfur?
No. A standard activated carbon filter isn't capable of filtering out sulfur. However, these filtration cartridges can remove tastes and odors from water, so you can expect an activated carbon filter to at least remove the hydrogen sulfide smell.
To properly eliminate sulfur, you'll need to use one of the recommended filter systems in this guide. You're better sticking to filter units that combine oxidation with filtration, which will remove the sulfur smell and the contaminant itself.
Do water softeners remove sulfur?
No. Most water softeners won't remove water sulfur or the smell of rotten eggs. In fact, sulfur can damage water softeners.
Why do I need a whole home water filter for sulfur?
Perhaps your goal is just to get rid of the hydrogen sulfide rotten egg smell in your drinking water. Is there a reason why you should pay more for a system that removes sulfur from your whole home?
Yes. In fact, you'll struggle to find a sulfur filtration system that isn't designed for whole home use.
Using a whole home system for sulfur removal means that your cold water and hot water will be free from hydrogen sulfide.
Hot water from your taps and showers, cold and hot water used in your dishwasher and washing machine, and cold water in your toilet can all be affected by hydrogen sulfide.
Removing this gas from your whole home water system means that you won't have to deal with a rotten egg smell in any of your faucets or appliances. Remember, the sulfur smell is only part of the problem – hydrogen sulfide can also cause staining and expensive damage to your pipes.