ZeroWater 11 Cup Stainless Steel Water Filter Pitcher
Brita Medium 8 Cup Water Filter Pitcher
Invigorated Water pH Vitality Water Filter Pitcher
Looking for a water filter pitcher with a twist?
Here, we've reviewed the best stainless steel water filter pitchers based on their design, performance, customer feedback, and overall value for money.
Why trust us? We test water filter pitchers for a living – and have done so for over a decade. We know which features make a water filter pitcher a standout for all the right reasons, and we only recommend filters that meet or exceed our high standards for water treatment.
🥇 Best Stainless Steel Water Pitcher Filters
📊 Comparison Chart of Stainless Steel Water Filter Pitchers
| Product | ZeroWater | Brita | Invigorated Water |
| --- | --- | --- | --- |
| Ranking | 1st | 2nd | 3rd |
| Ratings | 5/5 | 4.5/5 | 4/5 |
| Price | $ | $$ | $$$ |
| Contaminants Removed | 20+ | 5+ | 3+ |
| Certifications or Testing | NSF 42 & 43 | – | – |
| Holding Capacity | 11 cups | 8 cups | 8 cups |
| Filter Lifespan | 20 gallons | 120 gallons | 105 gallons |
| Annual Cost | ~$120 | ~$60 | ~$100 |
| Warranty | 1 Year | 1 Year | 1 Year |
---
⭐ Reviews – Best Stainless Steel Water Filter Pitcher 2023
ZeroWater 11 Cup Stainless Steel Water Filter Pitcher
If you're looking for the best stainless steel water filter pitcher in terms of performance, value for money, and design, we think the ZeroWater 11 Cup Stainless Steel Water Filter Pitcher can't be beaten.
This high-capacity pitcher has a stainless steel accent and removes up to 99.6% of all total dissolved solids (TDS) with its 5-stage filtration process.
Key Features:
Plastic & stainless steel design – The ZeroWater 11 Cup Stainless Steel Water Filter Pitcher is plastic with a stainless steel accent. The plastic portion of the pitcher is transparent and allows you to see the water levels inside, so you know when a top-up is needed.
5 Stages of filtration – Like all ZeroWater pitchers, this stainless steel pitcher uses the ZeroWater Premium 5-Stage Water Filter, which treats water with a blend of 5 different filter media: an ion exchange resin, a coarse filter screen, a carbon and oxidation reduction alloy, a foam distributor, and an ultra-fine screen and non-woven membrane.
Reduces metals, chemicals, and more – ZeroWater advertises its filters as being capable of reducing almost all TDS from a tap water supply, but what's most important is the actual contaminants removed. Some of the metals and inorganic non-metals removed by this water filter pitcher are chlorine, fluoride, nitrite, asbestos, mercury, lead, arsenic, and other heavy metals. View the data sheet here.
Best For:
Anyone looking for the best-value NSF-certified stainless steel water filter pitcher with the most attractive design and a high water holding capacity.
Pros:
Value for money is an obvious benefit of this stainless steel pitcher. It's priced competitively, even while removing more contaminants than many other pitchers and having a superior stainless steel design.
The stainless steel accent around the bottom half of the pitcher improves its durability – ideal if you want a pitcher that can withstand knocks and drops without cracking.
It's great to see an NSF certification to support the ZeroWater pitcher's ability to remove PFOA/PFOS, lead, and chromium. You don't have to simply take the manufacturer's word for it.
Cons:
There's still plastic included in the design, so it's not the best choice if you want to avoid plastic wherever possible.
We don't like that ZeroWater markets its filter for the benefit of TDS reduction. Many TDS are healthy impurities (such as calcium and magnesium) that are actually beneficial in water.
---
Brita Medium 8 Cup Water Filter Pitcher
Another attractive stainless steel water filter pitcher to consider is the Brita Brita Medium 8 Cup Water Filter Pitcher. From what we can tell, a greater portion of this water filter pitcher's design is made from stainless steel compared to ZeroWater's offering. However, the inside of the pitcher is still plastic, and the filter itself doesn't remove as many contaminants as the ZeroWater filter.
Key Features:
Stainless steel & plastic design – Like ZeroWater, the Brita 8 Cup Water Filter Pitcher has a BPA-free plastic design with a stainless steel overlay, giving it an attractive finish.
Works with both Brita filter cartridges – You can use either the Brita Standard filter (removes a handful of contaminants including chlorine, cadmium, and mercury) or the Brita Elite filter (removes more contaminants, including lead, asbestos, and particulates class I) in this stainless steel pitcher. The pitcher comes with one included Standard filter.
Included electronic filter indicator – This pitcher has a useful feature for determining when to replace the filters: an electronic indicator light. That means you don't have to guess when to buy new filters, so you can enjoy consistent high-quality filtration throughout your use of the pitcher.
Best For:
Anyone who wants a budget-friendly stainless steel pitcher filter with an attractive design and a reliable (if not basic) filtering performance from a reputable manufacturer.
Pros:
We think this Brita pitcher's stainless steel design makes it visually appealing and much more functional than a standard plastic Brita Pitcher. Plus, stainless steel is stronger and more durable than plastic, so this pitcher should last longer than Brita's plastic offerings.
We appreciate the choice between Brita's two filters in the pitcher. That means you can decide whether you prefer the budget-friendly Standard filter that removes fewer contaminants, or you have a bigger budget to spend on the costlier Elite filter that removes more impurities and has a huge filter capacity of 6 months.
Brita is a trusted brand name with a long history of reliable, effective filtered water jugs, so you don't have to risk investing in an unknown brand for the benefit of a stainless steel pitcher.
Cons:
Again, the pitcher simply has a stainless steel overlay, which looks much more attractive than clear plastic but doesn't help you to avoid plastic entirely.
Brita filters only offer basic water filtration. While we love the design of the pitcher, we wouldn't recommend it to anyone looking to remove as many contaminants as possible from their water.
---
Invigorated Water pH Vitality Water Filter Pitcher
If design is essential to you and you're looking for a unique stainless steel water filter pitcher that will look the part in any modern kitchen, we think you can't go wrong with the Invigorated Water pH Vitality Water Pitcher. This uniquely shaped pitcher looks more like a decorative vase than a functional pitcher, but it's still capable of filtering water with a multi-stage alkaline water filter.
Key Features:
Stainless steel build – The Invigorated Water pH Vitality Water Filter Pitcher is the only pitcher we've reviewed that has an all-over stainless steel build, so it's a good option for you if you want to avoid plastic as much as possible.
Pouch-style filter – The filters for this pitcher come in little pouches, rather than sitting in plastic housing. Again, this helps to eliminate the need for plastic in the pitcher.
Blends 5 media in one – Each filter pouch contains a blend of calcium balls, ORP balls, maifan stones, ceramic balls, zeolite, far-infrared balls, and activated alumina, which remove the likes of chlorine taste and odor, heavy metals like lead, and some fluoride, and enrich the water with healthy minerals.
Best For:
Anyone who specifically wants an attractive stainless steel water filter pitcher that filters and alkalizes water.
Pros:
We think design is one of the standout features of the Invigorated Water pH Vitality Water Filter Pitcher. It has a modern look, with a sleek stainless steel pitcher and a wooden handle. We can find no mention of plastic, either, which suggests this is the only pitcher on this list to be actually made from stainless steel, rather than plastic with a steel overlay.
Another major benefit of this pitcher is that it doesn't just filter your water – it also alkalizes it. Calcium balls, ORP balls, and maifan stones are all used to increase water pH and enhance it with healthy minerals like calcium, magnesium, zinc, iron, selenium, and other minerals.
You get up to 105 gallons of filtration from a single filter pouch, or about 1,300 cups, so the long-term value for money is pretty good.
Cons:
We saw a few customer complaints about rusting in the pitcher.
We don't think this pitcher filter is for anyone who prioritizes water filtration. The filter pouches (essentially tea bags) don't appear to be as effective as the flow-through filters you find in most other pitchers.
---
🤔 What Are Stainless Steel Water Filter Pitchers And How Are They Different From Normal Filter Pitchers?
Stainless steel water filter pitchers are pitchers that use stainless steel in their design.
The selling point of stainless steel is that it's durable, food-grade, and (supposedly) corrosion-resistant, so it's safer to carry water than any type of plastic and it should also last longer and be more resistant to drops and bumps.
The use of stainless steel in a pitcher also better insulates the water, so it'll keep water cold for longer on a hot day. Stainless steel is free from potentially harmful chemicals, which can't be said for plastics (even plastics sold as "BPA-free" might contain other harmful chemicals).
Aside from their design, stainless steel pitchers are otherwise the same as their plastic competitors. Many manufacturers of stainless steel pitchers also sell plastic pitchers, and they use the same filter in all their pitcher models.
The standard filtering process for most water filter pitchers is flow-through gravity filtration. Water is added to the top of the pitcher and flows through the filter into the bottom compartment. When you tilt the jug, filtered water leaves this compartment and fills your glass.
Some stainless steel pitcher brands have experimented with different types of filtration in their pitchers. For instance, Invigorated Water uses a filter pouch that you simply place in the water inside the pitcher (a bit like a tea bag) and leave it to do its work.
📋 7 Factors To Consider When Choosing Ther Best Water Filter Pitcher With A Stainless Steel Design
Before you buy a stainless steel water filter pitcher for your tap water, make sure to consider the following things:
% Of Stainless Steel
Ask yourself why you want to buy a stainless steel water pitcher. Is it just because you prefer the look and durability of this material, or do you want to want to avoid plastic altogether? If avoiding plastic in your water pitcher is your priority, make sure to check the percentage of plastic vs steel in a pitcher's design.
The "stainless steel" design of some pitchers is a bit misleading. For instance, both Brita and ZeroWater filter pitchers are advertised as "stainless steel" pitchers, but they actually have a BPA-free plastic body with a stainless steel overlay. They also use plastic filter housing. This doesn't make them bad pitchers, but they might not be right for you if you want to stay away from plastic in your pitcher.
Only a few pitchers, like the Invigorated Water pitcher, have a complete steel design. Stainless steel has the obvious advantage of being free from any of the chemicals that you might find in plastic water pitchers, and it should be resistant to rust and corrosion. With that said, we've read reviews from customers who bought stainless steel pitchers or other countertop dispenser units and had issues with rusting after a few months or years.
Make sure you know what you're buying, and you're happy with your purchase, before you spend your money.
Quality Of Water Filtration & Contaminants Removed
Because not a lot of manufacturers sell stainless steel pitchers, you have a smaller pool of products to choose from. This means you can be less picky with the water filters that are used in the pitchers, and the quality of filtration that they provide.
The best water filter pitchers are plastic, with no option for a stainless steel design upgrade. With that said, you can still enjoy quality filtration from a stainless steel pitcher, even if its water filter isn't as capable of thorough contaminant removal as other filters.
Set your standards appropriately. We haven't found any steel pitchers that can remove hundreds of contaminants from tap water, but you can still remove many of the common impurities and improve water taste. The ZeroWater pitcher is the best we've found for contaminant removal, despite its focus on reducing total dissolved solids rather than removing harmful contaminants.
If you want confirmation that a pitcher can remove specific contaminants, look for testing by the two main certifying bodies in the US: NSF International and the Water Quality Association. That tells you that the pitcher has third-party approval for its performance abilities.
Related: The Overall Best Water Filter Pitchers We've Reviewed in 2023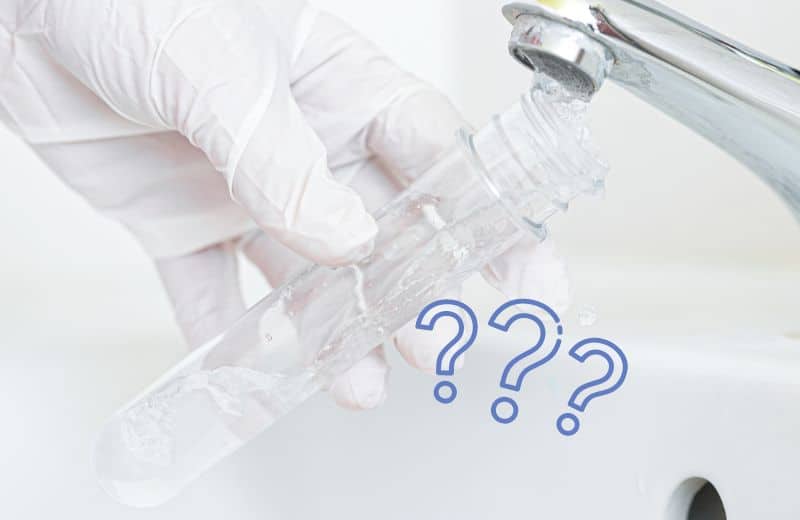 Alkalization/Mineralization
Alkalization or mineralization is a unique feature of a few filtered water pitchers. It means that the water filter in the pitcher filters out contaminants while also adding healthy minerals to the water and increasing its pH and alkalinity.
Alkaline water is appealing because it's healthier due to its added minerals. Plus, it has an improved water taste because of its alkaline pH.
The Invigorated Water pitcher is a good choice if you're specifically looking for a stainless steel water pitcher that removes common tap water contaminants and enhances the water to boost its alkalinity, mineral content, and pH.
Your Budget
Stainless steel is costlier to use in manufacturing than plastic. For that reason, expect to spend 10-30% more on a pitcher made from this material compared to a plastic pitcher.
The good news is that pitcher water filters are affordable anyway, typically costing less than $80-$100 upfront. So, you can still stay within the $100 range when buying one of these pitchers upfront.
After that, the only cost to account for is the filter replacements. Remember, stainless steel filtered water pitchers use the same replacement filters as plastic water pitchers, so you don't need to pay extra for a special water filter replacement for your pitcher.
Filtration Speed
Filtration speed is determined by the flow rate of water through the filter inside the pitcher.
Flow rate in a stainless steel water filter pitcher will be no different than in a plastic pitcher. The materials used in the pitcher design won't affect how quickly water flows through the filter.
Water filter pitchers use gravity filtration, so even the best water filter pitcher will produce water at a slow and steady rate. It typically takes 10-20 minutes for a full pitcher of water to be filtered, depending on the filter age and design.
It's important to note that filtration speed is not synonymous with performance. Actually, slow filtration in a new filter indicates that the filter has a comprehensive design, with numerous filter stages that water has to travel through in order to be thoroughly filtered. If water filtered quickly through the filter, it wouldn't have enough contact time with the filtering media for effective contaminant reduction.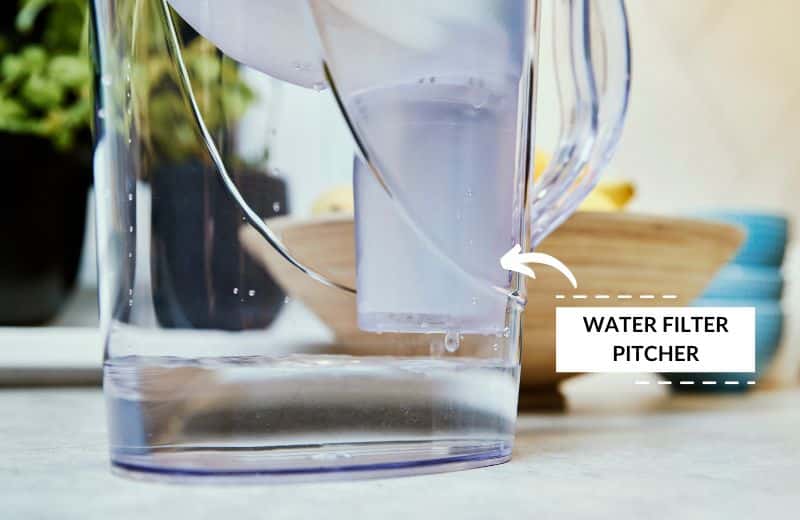 Pitcher Size
Again, because there are fewer stainless steel pitchers to choose from, you'll find that you have less of a say on the pitcher size.
Most stainless steel water filter pitchers have an 8-11-cup capacity. This is pretty standard sizing for water filter pitchers.
Consider your family size and your water usage, as well as any personal factors that might affect the pitcher size you choose.
If you're concerned about the weight of a large stainless steel jug when it's full, opt for a smaller model. But if you have a big family and want to limit your refills as much as possible, go for a bigger pitcher.
Maintenance & Filter Changes
Finally, consider the maintenance and filter changes you're happy to commit to for a stainless steel drinking water filter pitcher.
Like any pitcher with or without a filter, your pitcher will need to be washed regularly with warm, soapy water. Stainless steel is usually dishwasher-safe, which gives it an advantage over plastic. However, check your user manual to confirm that your pitcher can be loaded in the dishwasher, because this isn't a guarantee.
You'll also need to commit to replacing filters as often as recommended by the manufacturer. Most pitcher filters have a 2-3-month lifespan. There are exceptions, like the Elite Brita filter, which lasts up to 6 months.
Make sure to buy a filter replacement as and when needed so that your pitcher can consistently improve your drinking water quality. Our advice is to buy new filters in bulk, since multipacks of filters are usually sold at a lower price per filter.
❔ FAQ
Is stainless steel water filter better?
Stainless steel is better as a water filter pitcher material because it's more durable than plastic and doesn't contain any chemicals. However, it's also more prone to rusting, and there aren't many brands that currently sell stainless steel filter pitchers. Those that are available aren't the best we've seen in terms of tap water contaminant reduction.
Is stainless steel water filter safe?
Yes, stainless steel is safe in a drinking water pitcher. In fact, it's safer than plastic because it doesn't contain harmful chemicals like BPA or BPS, so it won't leach anything into your drinking water.
Do stainless steel filter pitchers actually work?
Yes, filter pitchers made from stainless steel do actually work. They use the same filters as used in plastic pitchers, and many have testing or certifications to support their ability to remove various common contaminants.