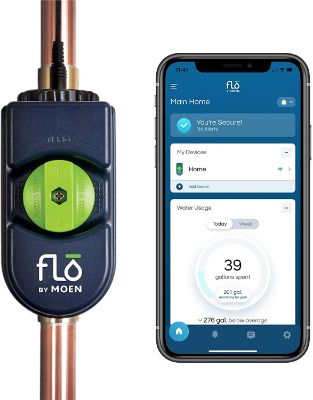 Flo by Moen Smart Water Detector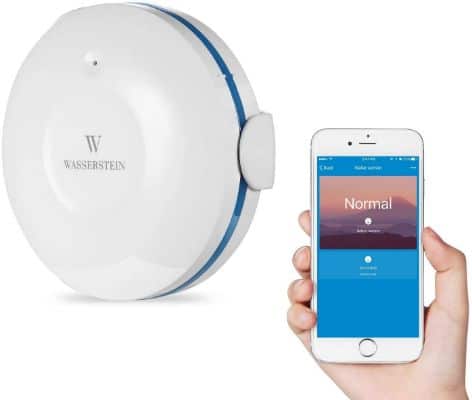 Wasserstein WiFi Water Leak Sensor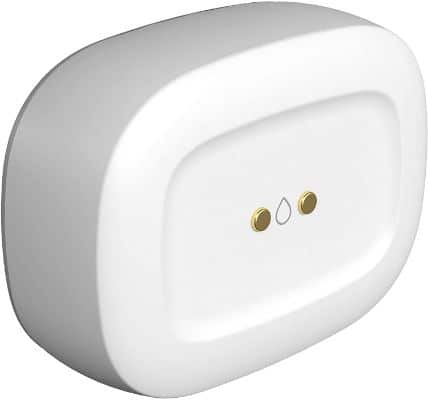 Samsung SmartThings Water Leak Sensor
We'd all hope that we wouldn't be unfortunate enough to experience a water leak. But the reality is, leaks and flooding happen more often than you'd think. In fact, 14,000 people in the US experience a water damage emergency every year. Even more worryingly, 98% of basements experience some form of water damage during their existence.
Damage limitation is best here. You can prevent a water leak entirely by using one of the smart leak detectors featured on this list.
Why read this guide? Since setting up WaterFilterGuru.com, I've taken a deep dive into all things water treatment. I pride myself on my industry knowledge, having written for the likes of HowStuffWorks and Simply Recipes, and more than 150,000 readers visit my site per month for advice and guidance in this field.
If you're going to invest in a smart water leak detector, it's highly important that it provides superior security. That's why I've extensively researched the smart leak detectors on the market to find those that proved to be best in performance, ease of use, customer satisfaction, support from the manufacturer, and much more.
In this guide, you'll learn:
Which 8 smart leak detectors are the best in 2023
Why a smart leak detector is a worthy investment
What to consider when buying a smart leak detector
🥇 Best Smart Water Leak Detector
---
📊 Comparison Chart of Smart Water Leak Detectors
| Product | Flo by Moen | Wasserstein | Samsung SmartThings | Honeywell | D-Link | Proteus AQUO | Flume 2 | Phyn Plus |
| --- | --- | --- | --- | --- | --- | --- | --- | --- |
| Ranking | 1st | 2nd | 3rd | 4th | 5th | 6th | 7th | 8th |
| Ratings | 5/5 | 5/5 | 4.5/5 | 4.5/5 | 4.5/5 | 4/5 | 4/5 | 4/5 |
| Price | $499.97+ | $35.99 | $49.99 | $132.95 | $39.99 | $99 | $249 | $699.99 |
| Type | Pipe connection | Sensor | Sensor | Sensor | Sensor | Sensor | Sensor | Pipe Connection |
| Power | Wall outlet | Battery | Battery | Battery | Battery | Wall Outlet | Battery | Battery |
| Water Shut-Off | Yes | No | No | No | No | No | No | Yes |
| Dedicated App | Yes | Yes | Yes | Yes | Yes | Yes | Yes | Yes |
| Operating Requirements | Alexa or Google Assistant | Dedicated App | SmartThings Hub or Wi-Fi | Dedicated App | Dedicated App | None | Dedicated App | Dedicated App |
| Warranty | Limited lifetime | 90 days | Limited 1 year | 1 year | 2 years | 90 days | – | 1 year |
---
⭐ Smart Water Leak Detector Reviews 2023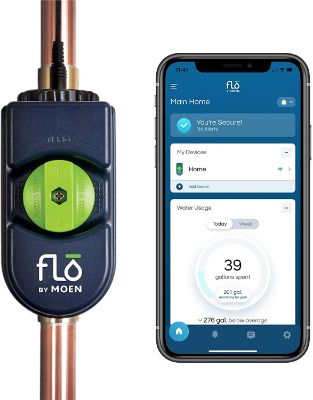 Flo by Moen Smart Water Detector
The Flo By Moen smart leak detection device protects every space in your home from leaks, from your toilet and shower to the pipes behind your walls and in your building's foundation. Using the Flo By Moen smart mobile app, you can monitor and control your water system, whether you need to remotely shut off water, run daily tests to identify leaks, or receive maintenance and leak alerts.
Throughout the day, the Flo By Moen smart water detector continuously checks for leaks, running tests to ensure your water system is working at its peak. On the Flo By Moen app dashboard, you can see the exact amount of water you're using daily, and set goals for saving money. You can also use the Flo By Moen control panel to check out your flow rate, pressure and temperature at any given moment.
You can install the Flo by Moen smart water leak detector yourself – though you may prefer to leave the job to a licensed plumber. The device needs to be installed at your home's main water line, as close to the point of entry as possible. There are also three sensors that you need to install to enable the Flo by Moen smart water detector to detect water temperature, flow and pressure.
| Flo by Moen Smart Water Detector Options | Price (1 in) | Price (1.25 in) | Price (3/4 in) |
| --- | --- | --- | --- |
| Smart Water Shutoff | $549.98 | $799.99 | $499.98 |
| Shutoff + Detector 1-pack | $454.15 | $799.97 | $499.97 |
| Shutoff + Detector 3-pack | $503.61 | $849.42 | $549.42 |
👍 What I Like
Detects water flow, temperature & pressure
Tests line for leaks on a daily basis
Notifies users of excessive water use
👎 What I Don't Like
If someone turns on water during leak test, it detects a leak
Takes 15 minutes to shut off water when excessive water use is detected
Some features require an additional monthly fee
---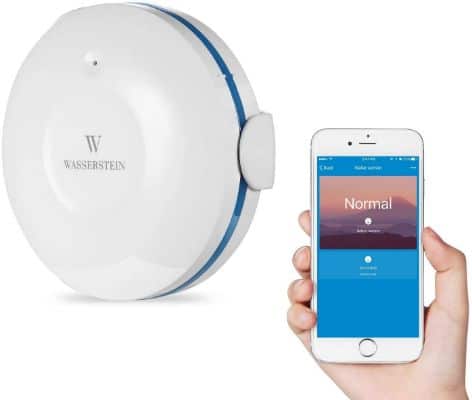 Wasserstein WiFi Water Leak Sensor
As a WiFi water leak sensor and smart flood detector in a single wireless package, the Wasserstein is the best water leak sensor for people looking for a no-hassle system that doesn't require invasive installation. With a low energy consumption, the Wasserstein runs off battery power, and has a 6-month operation lifespan when in standby mode. The sensor needs virtually no installation, and it easy to set up and use.
With its compact design, the Wasserstein can be installed in the smallest of spaces, and doesn't make for a noticeable feature in a home. It works best when placed near to plumbing and appliances where leak detection is important, such as your sinks, dishwasher, and heater. At the bottom of the sensor are 3 gold-plated probes that create a circuit when exposed to water, which triggers an alert that's sent to your phone.
You don't have to subscribe to a service to use the Wasserstein water leak sensor. You just connect the sensor to your WiFi network and download the Wstein App, available both for Android and iOS. The app will send push notifications directly to your phone's home screen if a water leak is detected. You can also head onto the app to check your device's battery level, so you can plan ahead for when it needs changing.
👍 What I Like
Comes with a secure mounting bracket
Can be installed in tight spaces
Sends alerts directly to your phone
👎 What I Don't Like
Can't be linked to Google Assistant
Some users had issues connecting the device to WiFi
Some users failed to receive remote notifications
---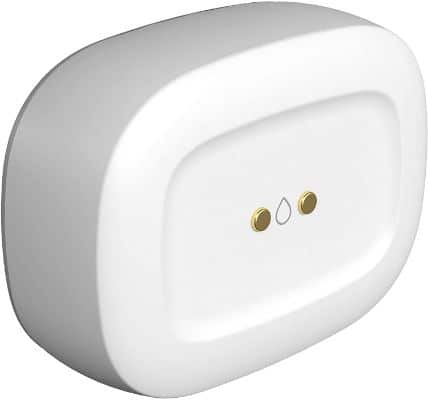 Samsung SmartThings Water Leak Sensor
One of the best water leak detectors for simple installation is the Samsung SmartThings Wi-Fi water leak detector. This device can be mounted underneath sinks, washing machines, or any other water-based appliances to detect excess water, sending you an immediate alert to your phone if water leaks are detected.
The Samsung SmartThings can be connected to other smart appliances, which you can program to shut down if the flood sensor detects water, preventing electrical faults. You must use the system in conjunction with Samsung's SmartThings Hub and SmartThings Wi-Fi for a fully integrated smart home system.
You'll need to download the SmartThings app to connect with your water leak detector. The app will let you monitor your water usage and receive alerts if a leak is detected in your water supply. This flood sensor is battery operated and should last for at least a year before you need to replace the battery.
👍 What I Like
Non-invasive installation
Can be connected to other smart appliances
Water alarm as well as mobile alerts
👎 What I Don't Like
Must be used with a SmartThings Hub
Requires a battery to operate
Battery type isn't very common
---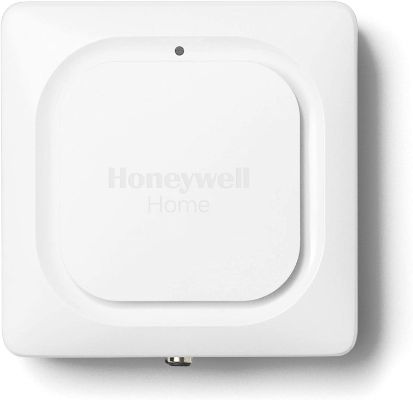 Honeywell Home Water Leak Detector
If you're looking for a leak detector that has both an audio alarm and the ability to send alerts to your smartphone via WiFi, the Honeywell Home Water Leak Detector is one of the best for your needs.
This smart home leak sensor detects leaks in drops, helping you to resolve an issue before it results in thousands of dollars in damage. It comes with a handy 4-feet water cable sensor that you can use for detecting water across the base of a unit – something that not all water leak sensors are capable of. The sensor can even detect humidity and below-freezing temperatures, which are common causes of frozen or damaged pipes.
To use the Honeywell Home Water Leak Detector, you simply install the device and connect it up to the Lyric app (downloadable on Google Play Store and the App Store), which instructs you on how to set up the leak and freeze detector. You can see all your devices via this app, and you can even use it to adjust your thermostat to prevent temperatures from dropping too low inside your home.
If you're heading away on vacation, you can have a friend install the Lyric app and receive alerts on your behalf if a leak is detected. The sensors will also record and log the temperature and humidity levels of your monitored location, which you can review whenever you want.
👍 What I Like
No major installation required
Detects leaks and temperature changes
Can be connected to multiple devices for additional monitoring
👎 What I Don't Like
Some users had WiFi connection issues
Only measures and reports humidity up to 3 times a day
Notifications don't come through immediately
---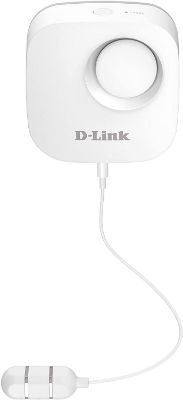 D-Link Wi-Fi Water Leak Sensor
The D-Link is a battery-powered leak sensor and alarm that can be installed in minutes – without the need to connect up to a hub. This is one of the few water leak sensors that comes with a loud alarm as well as a phone app to send alerts to, making it one of the best smart water leak detectors for instant physical alerts. You might not always have your phone to hand while you're at home, after all.
With two long-lasting AA batteries, the D-Link is designed to last up to 1.5 years if kept on power-saving mode. But this long lifespan doesn't have any negative ramifications on the actual device, which features a loud, localized 90 dB siren to alert you of leaks as they're detected.
Whether you're at home or elsewhere, provided you have your phone close by, you'll benefit from immediate notifications to your phone via the mydlink app (available on Google Play and the App Store) if anything unusual is detected by the D-Link smart leak sensor. You just need to connect the device – or multiple devices, as you can buy as many as you need – to your WiFi to enable it to work.
👍 What I Like
6-feet cord is a good length
Sensor detects water easily
Loud alarm alerts people inside a home to a water leak
👎 What I Don't Like
Not compatible with Google Assistant or Amazon Alexa
Device itself isn't waterproof
Some customers had issues with setup
---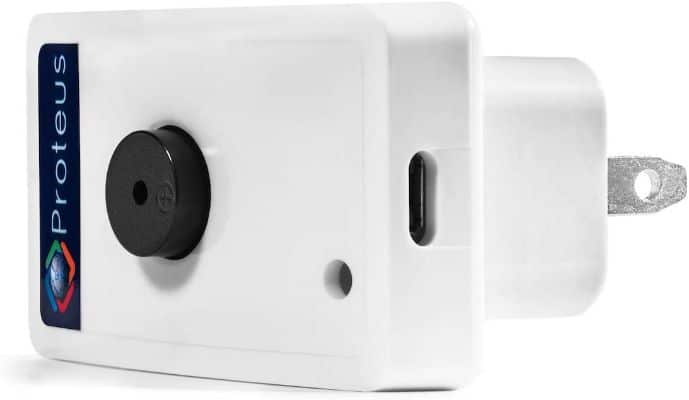 Proteus AQUO – WiFi Water Detector
The Proteus AQUO is a leak detector & water monitor, which sends alert messages to your inbox or phone's home screen as soon as water is detected where it shouldn't be.
This device is unique in that it requires plugging into an electricity supply to operate – there are no batteries to replace in this case. It's small enough not to block out your second wall outlet, making it convenient for use in most homes without the need to compromise an entire pug socket.
You can set up this Wi-Fi water sensor on any device, including your phone, tablet and laptop, making it easy to check on your home' s water status using a means that suits you best. To set the device up, you simply power up the sensor and connect your phone to the Proteus setup network. Select your WiFi, enter your password, enter your email address, and you're all set to get started.
This particular leak sensor doesn't require connecting up to an app – instead, it'll send you email alerts to let you know of any potential alerts. It's also integrated with Amazon Alexa for convenience.
👍 What I Like
Not battery powered
No app required
Easy to set up
👎 What I Don't Like
Some users may prefer to use an app
Water detection consists of 2 small tabs, making it harder to detect water
Quite expensive compared to similar models
---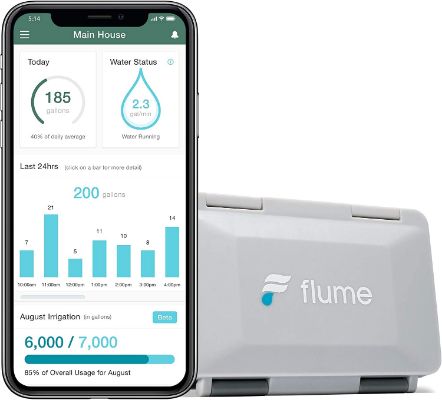 Flume 2 Smart Home Water Monitor
The Flume is a WiFi water leak sensor that can alert you to not only water damage in your home, but also in your garden and lawn. Whether you're at home or not, the Flume app will send immediate notifications through to your phone if a leak is detected.
This smart home leak detector gives real-time insight into the going-ons of your water supply. The water monitoring technology will offer data down to the one-hundredth gallon of water use, letting you know exactly how much water you consume, every minute of every day.
Managing your water bill is also easy if you're looking to save money on a monthly basis. The Flume 2 is a device that will do more than just detect leaks – you can use it to create your own daily, weekly or monthly water use budgets and save 10 to 20 percent on your water bill. You can even differentiate between your indoor and outdoor water use on the Flume app, so you know exactly how much water is being used, and where.
There's no plumbing required for installation of the Flume 2, and the system can conveniently be integrated with Amazon Alexa and Google Assistant.
👍 What I Like
Detects leaks and monitors water usage
Can be used to create water budgets
Can connect to Amazon Alexa or Google Assistant
👎 What I Don't Like
Relatively new product – few reviews to go off
Doesn't shut off water when excessive usage is detected
Doesn't tell you how much water each device is using
---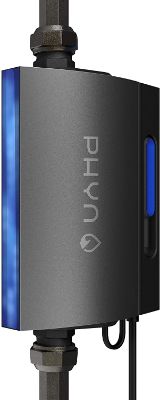 Phyn Plus Smart Water Assistant
The Phyn Plus water leak sensor is installed at your main water line and monitors your water pressure 240 times a second, alerting you to potential plumbing problems before they arise. This smart system will shut off the water flow into your home to prevent potentially costly damage, and allows you to manage water flow throughout your entire home.
After installing the Phyn Plus, you simply download the Phyn app, which allows you to view trends in your water usage and cut down where possible. This leak detector will also send an alert to your phone's home screen if a leak is detected at any time, keeping you in the know whether you're at home or away.
Unlike some main water line leak detectors, the Phyn Plus doesn't require placing sensors around your home to detect leaks. Instead, you use the single included device for peace of mind that your home 's water appliances are working as they should be.
When Phyn Plus measures the pressure of each of your appliances, it gets to know what's what, and what the pressure should be when an appliance is working properly. When an unusual change in water pressure is detected, you'll be immediately alerted to this change. The manufacturer recommends that a professional plumber installs the Phyn Plus on your main water line, usually where the shut-off valve is located. You'll also need a power outlet close by to the device.
👍 What I Like
Doesn't require multiple sensors around the home
Works with Google Assistant and Alexa
Doesn't use batteries
👎 What I Don't Like
Installation is fairly difficult
Costs money to hire a plumber to install
More expensive than similar devices
---
🧾 Smart Water Leak Detector Buyer's Guide
🚰 What is a smart water leak detector?
A smart water leak sensor, otherwise known as a flood detector or a leak detector, is a small device that senses excess water or unusual water pressure and alerts you to the problem. This may also include shutting off a home's water supply when a potential leak is detected.
Smart water leak detectors get their name because they're connected up to your home's Wi-Fi. Many of these devices come with an app that you'll need to download onto your phone or tablet, which you can use to monitor your water usage and receive water leak alerts.
The best water leak detectors generally don't need to be connected up to a specific smart hub to work, but it's worth double-checking before you buy, because some of them do.
🤔 How do smart home water monitors work?
Smart home leak monitors work slightly differently depending on what type you buy.
Water leak sensors that are installed on your main water line, at the shut-off valve, detect the pressure in your entire home's water supply. These sensors are smart, and, the more you use them, the more familiar they become with your water use at home and what can be considered a "normal" water pressure.
If these water sensors detect an unusual change in water pressure, they will send you an immediate alert, either through their app, to your email inbox, or both. These water sensor types can also usually shut off the water supply to your entire home.
There are also smart home leak detectors that don't require any major installation or setup. These detectors work in a similar way, but instead of detecting water pressure, they detect the water itself. These tiny devices are usually mounted on a wall bracket underneath appliances that may risk leaking or flooding, like washing machine or sinks.
When water is detected, they send out an alert to your phone. Some systems can also connect with your other smart home devices and switch them off, preventing further damage to your home.
✅ What are the benefits of using a smart water leak detector?
You just never know when you might encounter a leak in your home. It's not something that anyone plans for, and the chances of it happening are minimal – but you want to be prepared for it if the situation does arise.
The benefits of using the best water leak detectors are as follows:
Prevents catastrophic damage to your home
The most obvious benefit of a smart home leak detector is that it can alert you immediately to an issue in your home, helping you to address a potential leak before it can cause excessive damage.
Helps you save money on repairs
Some of the best smart home leak detectors alert you to a potential problem in your plumbing that's only going to get worse. By knowing about this problem as it arises, you can solve it straight away, rather than having to spend hundreds of dollars on repairs when the problem escalates.
No maintenance required
Once you've installed a smart water leak detector, it'll keep on detecting water damage for years, no maintenance required. The most you'll have to do is change the battery in certain systems – but many have a battery life of at least a year, so this isn't something you'll have to do often.
Versatile
Several water damage detectors are also capable of acting as a freeze detector, preventing the cold from damaging your water heater or pipes. If you're out of town in the cold season and have switched your heating off, these systems can switch on your heater and warm up your home to a safe temperature, helping to protect your appliances.
Allow for water monitoring
The great thing about connecting water leak detectors to your phone is that you can monitor your water use in general, based on reports produced by your sensor. If you're looking to cut down on water use and save money on your bill, monitoring your water is a great way to do this. Easily keep track of which appliances use the most water, such as your water softenerdishwasher and outdoor sprinkler system.
Can be integrated with smart home devices
If you have a smart home hub like Amazon Alexa, you can integrate most water leak sensors with this hub for even more convenient use.
🛠️ Where should I install my smart home water monitor?
The manufacturer of your purchased smart water monitor will usually advise where you need to install it. As a general rule, though:
Smart water leak detectors that measure the pressure of your home's water supply should be installed at your water line.
Any sensor that detects excessive water should be installed underneath your water-based appliances, or as close to your appliances as you can get. You can buy and install as many sensor devices as you'd like, and use them as you'd wish. For instance, you may install a device next to your sump pump, beneath your washing machine, next to your bathroom sink, and so on.
📌 Considerations when shopping for a water leak detector
Whether you're a first-time buyer or you've bought a water leak sensor before, here's what you should keep in mind when shopping for the best device in 2023:
Integration with other smart home devices
Most of us have at least one smart home device nowadays, so it makes sense that it's a big selling point if a water leak detector can be integrated with these devices. Imagine the convenience of having a leak sensor that alerts other smart devices when a leak has been detected, enabling them to shut off and prevent further electrical damage or fires.
Notifications & Alerts
How you receive your notifications is a thing of personal preference. The best water leak detectors will send notifications straight to your smart device, whether they have apps or they simply notify you via text message or email. If you can't count on having your phone on you at all times while you're at home, look for a system that has an alarm that will sound if a leak is detected.
Number of sensors
No matter what smart water leak detector you go for, you'll usually find that it's only sold as a single sensor. That means that you'll have to purchase additional sensors with your initial kit to make sure you have a sensor to detect water leaks in every preferred location in your home.
It's a good idea to have more than one sensor if you want to best protect your home from potential water leaks. The cost of additional sensors depends on which manufacturer you buy from, but they're usually around the $30 to $50 range.
The good thing about the best water leak detectors in the US is that their sensors are usually designed to detect water across a large surface area. For instance, a sensor may have a 6-feet range, meaning if you place it in your bathroom, it could prevent water damage from leaks coming from your toilet, sink and shower unit.
Wi-Fi range
There's nothing more aggravating than losing Wi-Fi connection. This could be due to the Wi-Fi range of a device, and not the strength of the Wi-Fi you're using. You need a sensor that has a big enough Wi-Fi range for it to work properly no matter where you place it in your home.
The last thing you want is to set up your flood detector in your kitchen, only to discover the Wi-Fi range is too small to connect it to the router in your living room. Checking customer reviews is a good way to see how a leak detector has performed in general when it comes to Wi-Fi connection – though keep in mind that some customers may have poor Wi-Fi strength in their home that has little to do with their device's connectivity capabilities.
Power source
Power source is something to think about when buying a leak detector, because you may prefer one option over another.
If you choose a device that's battery-operated, you'll need to be prepared to change batteries every now and again to keep your device working properly. The best water leak detectors have a battery life of between 6 months and 2 years, so changing the battery isn't a huge ordeal – but if you prefer the totally maintenance-free option, you're better off with a device that runs off electricity.
The biggest inconvenience of electric water leak detectors is that you need a power outlet relatively close to your water-based appliances, enabling the device to detect leaks from its plugged-in location. You may also not be fond of the fact that because these devices rely on electricity to operate, they will contribute to your energy bill – even if only by a small amount.
Smart sensors that detect the pressure of your water, rather than checking for water itself, usually always connect up to electricity and are installed at your home's point of entry (usually where the shut-off valve is located). For that reason, if you're considering one of these devices, you need to make sure you have a power supply relatively close by, or that the sensor has a power cord that's long enough to span between its installation location and your power outlet.
Automatic water shutoff
A huge bonus of the best leak detectors is that they can automatically shut off your water supply if a leak gets detected. You will need to pay a little more for this benefit, but paying an extra $20 on your initial purchase could save you hundreds of dollars in repairs if your device is unable to switch off your water when your home is at risk of flooding.
Temperature monitoring
Finally, some smart water leak detectors are capable of doing more than just detecting leaks – they can also monitor temperature and ensure your home environment is safe for your plumbing and water-based appliances.
When plumbing and pipes are subjected to freezing temperatures, the water inside them freezes, causing them to expand. Then, when the water melts, it creates pressure that could ultimately rupture the pipes.
A smart water leak detector and temperature monitor alerts you when temperatures could harm your pipes, and some can even connect to your heater and switch it on while you're away from home. This is ideal if you don't want to waste money by heating your home while you're out, but you equally don't want to return to a flooded house.