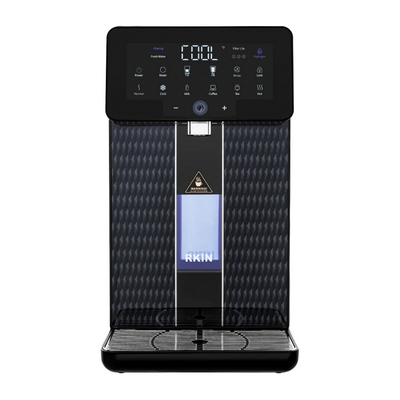 RKIN U1
Piurify Hydrogen Water Generator
IonBottles Pro Hydrogen Water Bottle
Hydrogen water is said to help you stay hydrated, boost your energy levels, provide antioxidant benefits, and more – but the setback of buying this water in bottles is the expense.
That's where hydrogen water machines come in, allowing you to enjoy the benefits of hydrogen water at a much lower ongoing cost. In this guide, we've shared our reviews of the best hydrogen water machines based on their performance abilities, their appearance and functionality, and their overall value for money.
🥇 Best Hydrogen Water Machine
📊 Comparison Chart of Hydrogen Water Machines
| Product | RKIN U1 | Piurify Hydrogen Water Generator | IonBottles Pro Hydrogen Water Bottle | H2WaterForLife Sport MAXX |
| --- | --- | --- | --- | --- |
| Ranking | 1st | 2nd | 3rd | 4th |
| Ratings | 5/5 | 4.5/5 | 4/5 | 4/5 |
| Price | $ | $$ | $$$ | $ |
| Hydrogen Content | 800+ ppb | +1.3 ppm | +1.3-3.0 ppm | .0-1.5 ppm (standard), +2.0 ppm (double cycle) |
| Contaminants Removed | Up to 99% of all contaminants | Chlorine and chloramine | Not indicated | Not indicated |
| Certifications or Testing | NSF 58 (in progress) | – | – | – |
| Process | Mechanical + Carbon + RO + Alkaline + Hydrogen infusion | Solid Polymer Electrolysis (SPE) + Proton Exchange Membrane (PEM) | PEM + Titanium SPE | Solid Polymer Electrolysis (SPE) + Proton Exchange |
| Filter Capacity | 792-1,200 gallons | 3 months | – | – |
| Holding Capacity | 0.5 gallons | 1500ml | 414 ml | 400 ml |
| Annual Cost | ~$100 | ~$50 | No filter change needed | No filter change needed |
| Warranty | 1 year | 1 year (limited) | 1 year | 1 year |
---
⭐ Best Hydrogen Water System Reviews (2023)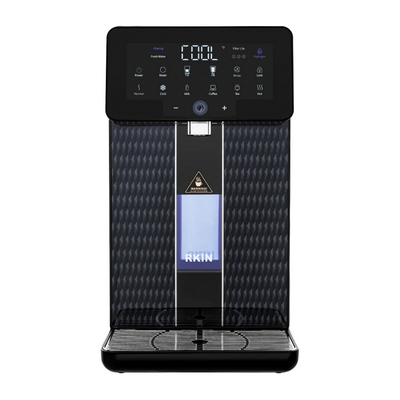 RKIN U1
Our top choice for the best hydrogen water system is the RKIN U1. This highly capable countertop water filtration system combines style with a superior performance to deliver RO purified, hydrogen water at the touch of a button.
Key Features:
Countertop treatment system – The RKIN U1 is a countertop treatment unit, which means it's designed for setup on your kitchen countertop. To use the system, you simply fill the water tank, place it on the system, and use the touchscreen interface to select your water type.
Hydrogen infusion stage – The unit has a hydrogen function that delivers negative ORP readings from -330 to -347 on average. This treatment stage is optional, so you can opt out and enjoy water with a normal hydrogen concentration if you ever want a break (just press the "hydrogen" button).
RO purification – This countertop system does much more than hydrogen gas infusion. It also uses reverse osmosis purification (which includes numerous filtration stages and an RO membrane) to eliminate virtually all dissolved solids from water – then reintroduces alkaline minerals with a remineralization filter.
Third-party certified performance – The U1 hasofficial IAPMO testing for removing fluoride, chromium, PFAS, and more, and it's in the process of being NSF certified for its performance.
Best For:
Anyone looking to invest in the very best hydrogen water unit that produces purified, alkalized, hydrogen-rich water at your required temperature.
Pros:
The RKIN U1 is one of the only countertop reverse osmosis systems we've come across that also offers hydrogen gas infusion. If you want to enhance your water quality significantly with RO purification, remineralization, and hydrogen infusion, this system offers all three benefits in one.
RO systems are generally known for having a slow flow rate, but the RKIN U1 has a pleasantly fast filtered water production rate of 75 GPD. That means you won't have to wait a long time to access purified, hydrogen water.
We appreciate the convenience of having all the numerous filter and treatment stages packed into a single countertop unit. The setup process takes less than 10 minutes, and if you're a DIYaphobe, you'll be pleased with the lack of installation.
A few other features to love in this system are its temperature control (choose from hot, cold, and room-temperature hydrogen-infused water, or select your exact desired temperature), the smart, easy-use touchscreen control panel, and the UV light that enables the system to self-clean, preventing microbiological growth in the filters.
Cons:
At around $750, the U1 is on the pricey side. It's not a budget-friendly option.
Like all reverse osmosis systems, this RKIN model wastes a small amount of water. Its efficiency ratio (1:1) is better than the average (1:4), but water waste is still inevitable from this treatment method.
Read the full review: RKIN U1 Review 2023
---
Piurify Hydrogen Water Generator
The Piurify Hydrogen Water Bottle Generator is our runner-up choice for drinking water hydrogen infusion on this list.
This countertop unit has the advantage of being about a third of the price of our top pick U1 model, and it has a few unique benefits, too, including an integrated mixer to retain hydrogen in water for longer. However, it doesn't actually filter water, so you'll need to pair it with an additional filtration system if you also want to remove contaminants from your drinking water supply.
Key Features:
Countertop hydrogen infusion – Like the U1, the Piurify Hydrogen Water Bottle Generator is a countertop treatment unit. It looks a bit like a blender, with a vertical water tank that sits on a base with various buttons for programming different performance elements.
Boosts hydrogen concentration – This hydrogen water machine uses solid polymer electrolyte (SPE) and polymer electrolyte membrane (PEM) technology, which splits water into hydrogen and oxygen gases in an electrolysis process, to add up to 1.3 PPM of hydrogen gas to water. Its integrated mixer helps to retain hydrogen for three times as long.
Choose your hydrogen infusion concentration – You can choose between two hydrogen infusion settings: H2 Water Standard (which takes 8 minutes and offers standard infusion) and H2 Water Higher (which takes 13 minutes and offers stronger infusion).
Optional "magnetic water" function – Pressing the "magnetic water" button before one of the H2 options will give you additional benefits, including increased oxygen and pH levels, and three times the retention of hydrogen in the water after treatment.
Best For:
People with smaller budgets who are specifically looking for an affordable dedicated hydrogen water machine that infuses hydrogen into water, increases its pH, and helps retain hydrogen for longer.
Pros:
Price is a reason to love the Piurify Hydrogen Water Bottle Generator. It's less than $300 – impressive given that there are no water filters to change and no ongoing spend.
User-friendliness is another key benefit of this hydrogen water machine. It has a simple interface with just a few buttons, and a self-cleaning mode that eliminates the need to take the machine apart for manual cleaning.
The technology used by this Piurify machine to infuse hydrogen gas into water is both durable and efficient, and we appreciate being able to choose how much hydrogen you add to your water (either 0.7–0.9 PPM or 1.3 PPM).
We also love the machine's unique magnetic vortex feature, which retains hydrogen in water for up to three times longer – ideal if you want to take your water on the go and enjoy longer-lasting benefits of H2 infusion. This feature also allows atmospheric oxygen to enter the machine while dissolved oxygen exists, increasing gas exchange.
Cons:
The unit design seems a little outdated to us.
You don't get the benefit of water filtration as you do with the U1.
---
IonBottles Pro Hydrogen Water Bottle
For folks looking for the best rechargeable H2 infuser bottle, we think the IonBottles Pro Hydrogen Water Bottle can't be beaten.
This modern, attractive glass water bottle uses advanced PEM and Titanium SPE technologies to add 1.3 – 3.0 PPM of molecular hydrogen to water, and has the advantage of portability – you can infuse your water with hydrogen and take it with you in your car or backpack around the world.
Key Features:
Bottle hydrogen infusion – The IonBottles Pro Hydrogen Bottle is a glass, battery-powered water bottle that you can use for infusing hydrogen into your water on the go. Just fill the bottle, make sure it's charged, and press the button on the lid to prompt the infusion process.
Infuses up to 3.0 PPM hydrogen – You can use this bottle to add 1.3 to 3.0 PPM of pure hydrogen into your drinking water, delivering an ORP of -650 mV.
Uses PEM & Titanium SPE technologies – Like the Piurify machine, this IonBottles hydrogen bottle uses SPE/PEM technology to split water into hydrogen and oxygen molecules using an electrolysis process, releasing the hydrogen gas into the water.
Easy-clean, food-grade design – The bottle is made of glass, not plastic, so it's BPA-free and there's no risk of chemical leaching. The wide-mouth design makes it easy to clean between uses.
Best For:
Anyone who wants a portable hydrogen water ionizer that provides on-the-go water treatment at a more affordable upfront cost.
Pros:
We love the convenience of portability that the IonBottles Pro Hydrogen Water Bottle offers. Unlike the RKIN and Piurify models, it's not limited to use on a countertop inside your home. You can easily fit the 414 ml bottle in a bag or backpack, so you can enjoy hydrogen water on the go.
This Pro version is a step up from IonBottles' original version and offers superior design and performance features, including the option to infuse more hydrogen into water (1.3 – 3.0 PPM vs the original bottle's 1.6 PPM) and a lighter-weight glass and polycarbonate design (compared to the original bottle's glass and stainless steel build).
Some hydrogen water bottles take more than 10 minutes for the infusion process, but in this IonBottles model, the speed of hydrogen infusion is pretty fast. If you want to infuse a smaller amount of molecular hydrogen into your water, it takes just three minutes – great for when you're in a hurry.
Cons:
Because the IonBottles Pro Hydrogen Water Bottle isn't plugged into a power source, you'll need to charge it manually with a USB charger from time to time. The battery life also isn't the best.
Again, there are no filtration processes involved, so you might also need to invest in a separate water filter bottle.
---
H2WaterForLife Sport MAXX
In our opinion, H2WaterForLife Sport MAXX is the best-value hydrogen water machine with an included inhaler for anyone who wants to inhale pure hydrogen as well as drinking it in their water.
This glass bottle hydrogen infuser also uses SPE/PEM technology for hydrogen infusion, delivering a negative ORP reading ranging from -350 to -600 Mv. You can use the included inhaler whenever drinking water isn't an option.
Key Features:
Water bottle with inhaler – There are two different ways to enjoy the benefits of hydrogen-infused water on the go. TheH2WaterForLife Sport MAXX can be used as a normal water bottle, or you can use the included inhaler to inhale hydrogen gas when drinking isn't practical (such as long car journeys with no rest stops).
Single or double infusion for varying hydrogen concentrations – You can choose to treat your water with a single 5 or 7-minute cycle to add 1.0-1.5 PPM of hydrogen to your water, or do a double cycle to increase your water's hydrogen concentration to 2.00 PPM+.
SPE & PEM treatment – The Sport MAXX bottle uses PEM and platinum-coated titanium (SPE) electrolysis plates to efficiently dissolve diatomic molecular hydrogen into your drinking water.
Best For:
Folks who want a portable hydrogen water generator that comes with an included inhaler, offering an alternative to drinking hydrogen water.
Pros:
Unlike the IonBottles infuser, the H2WaterForLife infuser offers the advantage of a self-cleaning mode, so the pressure's off you for manual cleaning.
This is another hydrogen water machine that's quick and easy to use. We like that you can double cycle to increase the overall hydrogen content, too.
Using the inhaler is also simple, even for first-time users – just attach the included cannula tube to the bottle cap adaptor and fill the bottle 3/4 with water. The hydrogen gas will accumulate in the air pocket, and the pressure inside the bottle will cause the gas to escape up the tube andinto your nostrils.
The 5-7-minute infusion cycle is nice and quick, although the manufacturer recommends repeating the cycle for the best results.
Cons:
The price is pretty steep for a water bottle.
Some people had issues with a leaking bottle.
---
🤔 What Is A Hydrogen Water Machine?
A hydrogen water machine is a water treatment system that adds hydrogen gas to water. The purpose of this is to create hydrogen-rich water, which is said to have several potential health benefits due to its antioxidant properties.
✅ What Are The Benefits Of Hydrogen-Rich Water?
It's important to note that a lot of the proposed benefits of hydrogen water haven't been widely researched or proven.
However, according to Healthline, the possible benefits of drinking water infused with hydrogen include:
Improved performance in athletes – Hydrogen water is thought to boost athletic performance by increasing energy levels, speeding up post-workout recovery times, and reducing inflammation.
Reduced risk of disease – It's also thought that hydrogen water is a source of antioxidants, which help to prevent cell damage caused by oxidative stress. This reduces the likelihood of diseases like heart disease.
Reduced radiation therapy side effects. People undergoing radiation therapy who drink hydrogen water may benefit from the additional hydrogen gas content. One study found that people who consumed hydrogen water had higher quality of life scores than those that didn't.
There's still a lot that we don't know about the possible health benefits of hydrogen water. So, don't expect a hydrogen water machine to work miracles – and you might not notice any benefits of hydrogen water even if it's having positive effects inside your body.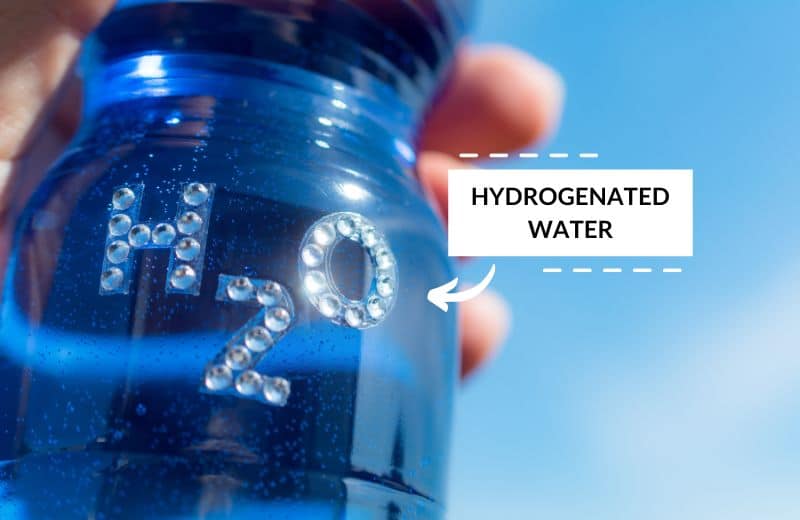 💭 10 Things To Consider Before Buying a Hydrogen Water Machine
When deciding between the best hydrogen water generators, you should consider the following things:
Your Budget
Start by determining your budget.
The average cost of a hydrogen water machine is $250-$2,000.
Price depends on several factors, including the size of the machine, its performance features, and whether it offers any additional water treatment stages, like filtration or alkalization.
Smaller systems, like hydrogen water bottles, are usually the most affordable, costing within the $200-$350 range. These are the best option if you have a smaller budget.
Also consider the long-term spend of a particular hydrogen machine. Basic hydrogen water machines can be reused for years without the ongoing spend of water treatment units. More advanced systems may combine hydrogen infusion with filtration stages (like alkaline water filters and RO membranes), so you'll need to pay to replace the filters as recommended by the manufacturer.
Method Of Hydrogen Infusion
Also consider your preferred method of hydrogen infusion.
We've found that the best hydrogen machines use technology that combines solid polymer electrolyte (SPE) and polymer electrolyte membranes (PEM). This technology efficiently hydrogenates water, and it also delivers better results than other hydrogen infusion processes, without the production of harmful byproducts like hydrogen peroxide, chlorine, and ozone.
Other methods of increasing water's hydrogen concentration are infusing H2 gas into water under high pressure, and reacting water with magnesium metal or its hydride.
If you're looking for a specific hydrogen infusion method, check the product description or contact the manufacturer if this information isn't easy to find.
Hydrogen Infusion Time
Make sure to check the hydrogen infusion time when comparing hydrogen water machines.
The average hydrogen infusion time is 3-15 minutes, depending on a few factors including:
The volume of water treated
The size and scope of the machine
The quality and type of hydrogen infusion
Generally, the longer the infusion time, the more hydrogen gas can be added to the water. Many manufacturers recommend infusing the water twice over to enjoy water with the highest hydrogen concentration.
Amount Of Hydrogen Added
The amount of hydrogen added is another factor that might be important to you.
The average amount of H2 that hydrogen water machines can add to water is 0.7-3.5 PPM (parts per million).
If you want to add as much hydrogen as possible to your water, look for a machine that adds at least 1.5 PPM of hydrogen. However, your water's end hydrogen concentration isn't the only important consideration – so if a machine has everything you're looking for and produces water with a hydrogen concentration of 0.8-1.2 PPM, there's no point looking elsewhere.
Hydrogen Retention In Treated Water
Hydrogen is only retained in treated water for a certain period of time, which may be influenced by the treatment it receives in the machine itself.
The average maximum hydrogen retention time is 8 hours. After this, your water will start to lose its H2 content.
There are some hydrogen water machines, like the Piurify hydrogen water bottle generator, which use additional treatment (such as magnetic vortex treatment) to retain hydrogen in water for longer. Consider one of these machines if, for whatever reason, you don't think you'll be able to drink your hydrogen-enhanced water within 8 hours and want to retain the hydrogen for as long as possible.
Additional Water Treatment
At the very least, hydrogen water machines produce water that has higher levels of hydrogen than normal tap water.
But some hydrogen systems come with additional treatment stages, helping you to improve other aspects of your water quality at the same time. Consider whether you would rather pay extra for a machine with multiple functions, or you just want to focus on hydrogen infusion.
Some hydrogen machines have built-in filter stages that remove common harmful contaminants from your drinking water, so you can enjoy hydrogen-enhanced water that's cleaner and purer than a normal city water supply.
Some systems also use remineralization or alkaline filters, producing alkaline water that tastes better and offers the health benefits of trace minerals like calcium and magnesium.
The reason why the RKIN U1 is our top pick is because it offers thorough reverse osmosis purification, water alkalization, and hydrogen gas infusion in one. It protects your water supply from harmful trace impurities like fluoride, lead, and VOCs, while further enhancing it with a hydrogen and mineral boost.
System Type & Materials
Before you buy a hydrogen water machine, read up on the system type and the materials used in its design.
Make sure the hydrogen machine you choose is made from BPA-free materials. Stainless steel, glass, and other plastic alternatives are best, although plastic has the advantage of being lightweight, which may be best for certain situations.
There is no specific system type that's better than the rest. You might prefer a countertop system if you want to treat your water at home (and you can easily fill a bottle and take your hydrogen water with you). Or, you might be more attracted to a lower-cost portable hydrogen infusion water bottle, providing your own personal supply of hydrogen-enhanced water.
Water Holding Capacity
Consider your preferred system water holding capacity before you click "buy".
The bigger a hydrogen machine's water holding capacity, the greater the volume of water it can treat at a time. Countertop machines have an average capacity of 1,000-2,000 liters, while water bottle machines have smaller holding capacities of 250-500ml.
If you have a big family and prefer to produce larger batches of water, a countertop hydrogen machine is best for you because you'll have access to plenty of hydrogen water without having to refill the system multiple times.
If you just want a personal solution, a hydrogen water bottle generator should provide enough water for a single person, with only 3-6 refills per day (depending on the bottle size).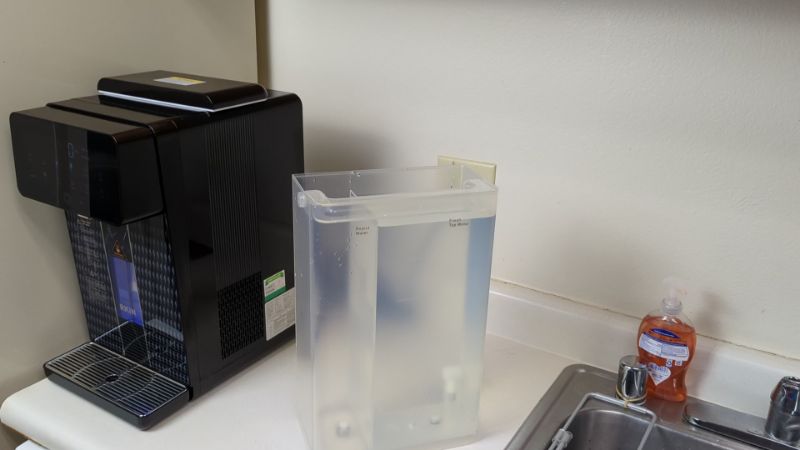 Power Type
All hydrogen water machines need electricity to infuse the water with molecular hydrogen (H2).
A countertop hydrogen machine can be plugged directly into a power supply, offering the convenience of hydrogen water at any time (as long as your home has power).
Portable hydrogen machines, like hydrogen water bottles, are battery-powered and have USB chargers. That means there's a bit more work required from you because you'll need to remember to charge the battery, but the good news is that you don't have to keep the machine connected to a power supply at all times.
Customer Feedback, Manufacturer Reputation, & Warranty
Finally, if you're interested in a specific hydrogen water machine, be sure to check the manufacturer's reputation, read customer reviews, and check the warranty for the system.
At the very least, a manufacturer should offer a one-year warranty for a hydrogen machine. The warranty will protect your purchase if the product fails during use due to a manufacturing defect. Some manufacturers offer a lifetime warranty, which sounds great – but make sure to find out exactly how long this will cover you for (it might not be as impressive as it seems).
Customer reviews will tell you a lot about how a product performs with everyday use. You can read reviews to learn about the experience that customers have had with your chosen hydrogen water machine, and if there are a lot of red flags, you know to look elsewhere.
❔ FAQ
Do hydrogen water machines really work?
Yes, hydrogen water machines really do work. What we mean by that is that these systems use proven methods to infuse small amounts of hydrogen into water (usually around 1-3.5 PPM). Whether the hydrogen water produced will have noticeable health benefits is another question. There's currently not enough evidence to say for certain that hydrogen water is superior to normal water (although what we know so far is promising).
Is there a downside to drinking hydrogen water?
No. According to experts, there are no known risks of drinking hydrogen water. That means you can drink as much hydrogen water as you like and you won't have to worry about any possible side effects.
What is the best way to get hydrogen water?
The best way to get hydrogen water is to use a hydrogen machine to infuse your own tap water supply with H2. Increasing your own water's hydrogen concentration is cheaper and more convenient in the long term than buying hydrogen water in bottles. Most hydrogen water generators are low-cost to run and work out more affordable than sustaining a hydrogen bottled water habit.
Is hydrogen water worth it?
At the moment, there isn't enough evidence to tell us that hydrogen water is definitely better than normal tap water – so whether or not hydrogen water is worth it depends on how inclined you are to believe its possible health benefits while keeping this in mind. Hydrogen water is worth trying if you're an exercise or fitness enthusiast and you want to see if this water type will help reduce muscle fatigue, improve your endurance, and speed up your recovery time.
How long does hydrogen water stay fresh?
Usually, hydrogen water stays fresh for around 8 hours. After this time, the hydrogen concentration will start to dissipate, and within 24 hours, the water will have returned to its state pre-treatment.
How often can you drink hydrogen water?
You can drink hydrogen water as often as you want – whether that's once a week, once a day, or exclusively. There are no known health effects of drinking too much hydrogen water.