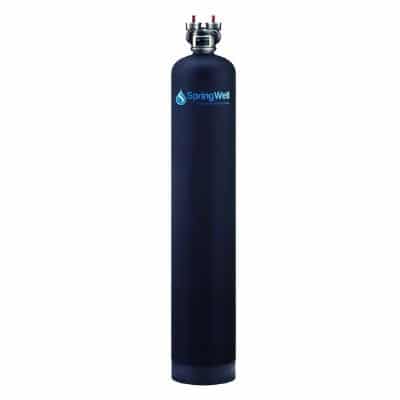 SpringWell CF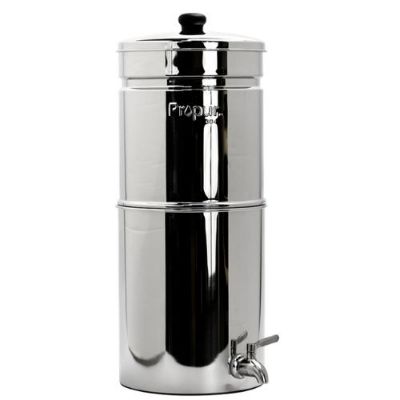 ProOne Big+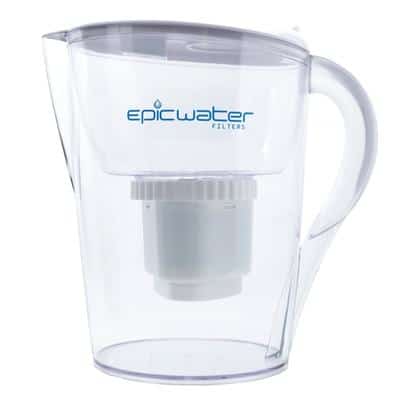 Epic Pure
Buying a water filter system is a more environmentally friendly choice than sustaining a bottled water habit.
But that doesn't mean that water filters are eco-friendly, period. Many water filters are associated with plastic waste, and many aren't responsibly sourced and offer limited disposal options.
If you want to make the most environmentally conscious choice when buying a water filter, this guide is for you. We've shared our reviews of the best eco-friendly water filtration systems based on a number of factors, including their design materials, filter lifespan, recycling potential, energy efficiency, and overall value for money.
🥇 Best Environmentally Friendly Water Filters
📊 Comparison Chart of Eco-Friendly Water Filters
| Product | SpringWell CF | ProOne Big+ | Epic Pure | LifeStraw Home | Epic Water Filters Vostok |
| --- | --- | --- | --- | --- | --- |
| Ranking | 1st | 2nd | 3rd | 4th | 5th |
| Ratings | 5/5 | 4.5/5 | 4.5/5 | 4.5/5 | 4/5 |
| Price | $$$ | $$ | $ | $ | $ |
| Contaminants Removed | 10+ | 200+ | 200+ | 30+ | 70+ |
| Certifications or Testing | NSF Certified Components | NSF 42, 53, P231 | NSF 42, 53, 401 & P473 | NSF 42, 53, 401, P231, P473 & US EPA for removal of bacteria | NSF 42, 53, 401, P231 & P473 |
| Process | Catalytic Carbon + KDF | Ceramic + Carbon | Solid Activated Carbon Block | Activated Carbon + Ion Exchange | Carbon Fiber Block Layer |
| Filter Life | 1,000,000 gallons | 1,000 – 1,200 gallons | 150 gallons | 40 gallons | 75 gallons |
| Holding Capacity | – | 2.75 gallons | 10 cups | 7 cups | 34 oz |
| Annual Cost | ~$40 | ~$100 | ~$150 | ~$85 | ~$70 |
| Warranty | Lifetime | 1 year | Lifetime | 3 years, limited | Lifetime |
---
⭐ Best Eco-Friendly Water System Reviews (2023)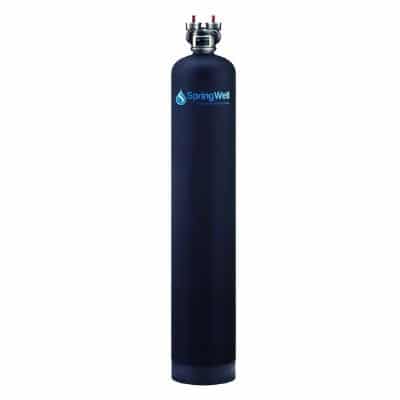 SpringWell CF
In our opinion, the SpringWell CF Whole House Water Filter System is the best environmentally friendly whole home water filtration system available today.
This point-of-entry filter has a massive 1,000,000-gallon capacity – meaning you'll only have to replace the media every 6 years or so, eliminating the high disposal rate of cartridge-based filters. Plus, it uses high-quality certified parts that are built to last, so there should be no waste associated with repairs and replacements, and it doesn't produce any wastewater – all while removing a range of harmful contaminants from your entire home's water supply.
Key Features:
Whole house filtration – The SpringWell CF is a point-of-entry water filtration system, which means it's designed to be installed at your main water line to provide filtered hot and cold water throughout your home.
Made from NSF-certified, USA-made components – All the components in this SpringWell system are NSF-certified, and, importantly, they're made in the USA, so you're supporting a company that has a smaller carbon footprint for shipping.
Removes chlorine, heavy metals, & more – The filter can remove 10+ common drinking water contaminants, including chlorine, chloramine, heavy metals (including lead), PFOS, PFOA, and pesticides.
Good warranty and guarantee – SpringWell honors any purchase of the CF with a lifetime warranty on the tanks and valves and a 6-month money-back guarantee. That's a reassuring sign that the manufacturer trusts the quality and durability of its systems.
Best For:
Folks who want to enjoy the benefits of filtering their entire water supply, including all the hot and cold water in their appliances and fixtures, with the most capable eco-friendly whole house water filtration system.
Pros:
We think media lifespan is the obvious advantage of the SpringWell CF. Most comparable whole-house cartridge-based filters need three or four cartridge replacements per year, but as a tank-based unit, the CF system combines all its filter media into a single tank and has a much longer 6-year media lifespan.
Build quality is another eco-friendly benefit of this filter. The tank is solid and built to withstand years of service, and there are few plastic parts, so the unit should last for years without the need for repairs and replacements.
We appreciate that SpringWell uses multiple filtration media to target different sets of contaminants. Not many whole home filters can remove the likes of chloramine and PFAS. There's even a final filter stage that eliminates channeling, helping to protect the media and maintain its long lifespan.
Cons:
The sediment pre-filter is cartridge-based and needs to be changed around twice a year, so the system doesn't completely eliminate the need for cartridge replacements.
Read the full review: SpringWell CF Whole House City Water Filter System Review
---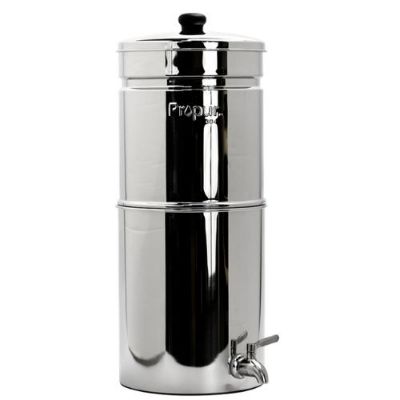 ProOne Big+
If you're looking for a stainless steel water filter system with a plastic-free design, we think the ProOne Big+ can't be beaten.
This 2.75-gallon countertop gravity-fed water filter is made from two stainless steel tanks and uses limited plastic in its ceramic water filters. Plus, the filters have long 1,000-1,200-gallon lifespans and only need replacing once a year (if you use two filters), limiting your waste production associated with filter disposal.
Key Features:
Countertop gravity filtration – The ProOne Big+ is a large 2.75-gallon counter water filter that uses gravity filtration to send water from the top chamber through the filter and into the bottom chamber. The total filtration time for a full batch of water is around 2.5 hours with 3 filters, or 3.5 hours with 2 filters. You can access filtered water at any point.
Durable stainless steel build – Folks who want to avoid plastics where possible will appreciate the Big+ unit's stainless steel build. Stainless steel is durable and BPA-free, and doesn't pose the same environmental problems as plastic. You even get an included stainless steel spigot (no need to upgrade from a plastic part as you have to do with similar units).
NSF-tested to remove 200+ contaminants – This ProOne unit is one of the most capable countertop gravity filters we've reviewed in terms of contaminant removal. It has been third-party tested to NSF Standards 42, 53, P231, P401, and P473 for the removal of 200+ contaminants, including chlorine, chloramine, lead, bacteria, chromium-6, and fluoride. Its components are also officially NSF-certified to Standard 42. Test results can be viewed here.
Best For:
Anyone looking for a high-performing countertop water filtration system that has a very low-plastic design and a long filter lifespan, and uses gravity filtration to limit unnecessary energy use.
Pros:
If you want to avoid plastics in your water filter design, the ProOne Big+ is a great filter to consider. It's made from stainless steel, and the filter elements have a ceramic outer shell that contains the media inside, limiting the plastics used in the filter design.
The long filter lifespan is another great benefit if you want to reduce the frequency of filter disposal. If you use three filters in the system, you can enjoy up to 18 months of filtration before the filters need to be replaced.
The ProOne Big+ is a gravity filter, so there's no extra energy associated with electricity use or water pressure from your plumbing system. It doesn't produce any wastewater – all water that's added to the top chamber filters through to the bottom chamber.
Cons:
While the ProOne Big+ is assembled in Michigan, it's made from both domestic and imported components, so its carbon footprint for production is likely higher.
ProOne doesn't currently offer a filter recycling program, and the filters are non-recyclable (the manufacturer says to dispose of them in the trash).
---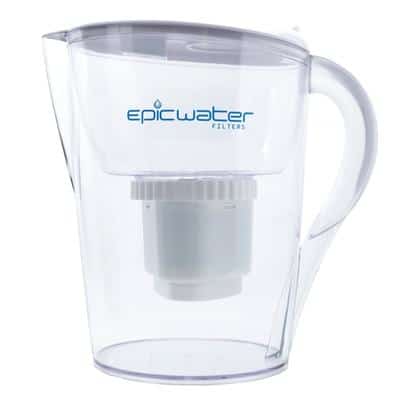 Epic Pure
A great budget-friendly pitcher that offers an environmentally responsible water filter recycling program is the Epic Pure Pitcher.
Not only does this pitcher offer one of the most thorough contaminant removal processes of all the pitchers we've reviewed, removing 200+ contaminants, but it's also an environmentally friendlier solution to the average water filter pitcher thanks to Epic's incentivized recycling program.
Key Features:
Gravity water pitcher filter – The Epic Pure Pitcher is an 8-liter water pitcher filter that uses gravity filtration to send water through the solid carbon block filter and into the main pitcher unit. There's no energy use associated with electricity or water pressure from your plumbing system.
USA-made filtration technology – All of Epic's water filters, including the Epic Pure, are made and tested in the US.
NSF tested performance – Epic has arranged third-party testing for the Pure pitcher to NSF Standards 42, 53, 401, and P473372, for its ability to remove up to 99.99% of more than 200 contaminants, including chlorine, PFAS, VOCS, microplastics, chromium-6. and lead.
Best For:
People who prefer the portability, affordability, and convenience of a water filter pitcher and are specifically looking for a manufacturer that offers a top-quality pitcher with a responsible solution for used filter cartridge disposal.
Pros:
If throwing your used filter cartridges in the trash doesn't sit right with you, you'll be pleased to know that Epic offers a recycling program for its filters. It's rewards-based, too – you get a free replacement filter for every 4 used pitcher cartridges you save and send back, giving you extra reason to do your bit for the environment.
You might think that sending the filters back is too much effort. In this case, you can also recycle your filter at your local recycling center with #7 plastics.
It's reassuring to know that Epic isn't making its filters overseas and unnecessarily shipping the products across the world. For an American audience, Epic's filters have a smaller carbon footprint because they're made and tested in the US.
Epic is one of the most eco-conscious filter brands we've reviewed. The company has partnered with environmental organizations and artists to produce custom water bottles to support a variety of non-profits, uses 100% compostable packaging, and has monthly creek clean-up initiatives to help protect the environment from waste. We're impressed.
Cons:
Environmentally friendly or not, Epic's pitcher filters still only last around 3-4 months before they need replacing, so you'll need to be happy to commit to more maintenance for this pitcher.
The pitcher is 100% recyclable and BPA-free, but it's still made from plastic – not ideal if you're looking for a low-plastic or plastic-free water filter.
Read More: Full Epic Water Filter Pitchers Review
---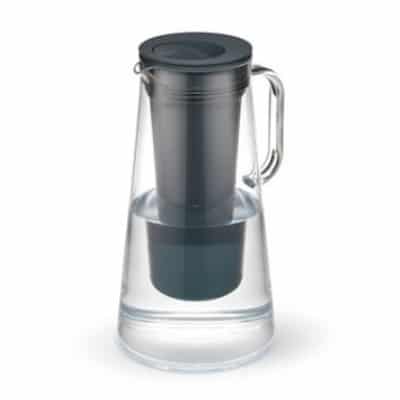 LifeStraw Home
We think the LifeStraw Home is the best water filter pitcher for folks who want to avoid plastic in their water filtration system as much as possible.
This attractive 7-cup pitcher is made from hand-blown borosilicate glass and has a silicone base, available in several attractive neutral colors. Its contaminant removal abilities are second to none compared to the other glass water filter pitchers available today, and uses two separate filters to further enhance water quality.
Key Features:
Glass pitcher filtration – The LifeStraw Home is an upgraded version of a conventional plastic pitcher. It has a sleek, modern glass build with a silicone base, and it filters water using gravity filtration (no electricity needed).
NSF tested to reduce 30+ contaminants – This glass pitcher has obtained independent test results against NSF/ANSI Standards P231, 42, 53, and 473 for its ability to reduce more than 30 drinking water contaminants, including chlorine, taste and odor, PFOA and PFOS, lead asbestos, pharmaceuticals, and pesticides. Check the performance data sheet here.
Two filter cartridges for thorough filtration – Most pitchers use a single filter, but this LifeStraw model combines a membrane microfilter and an activated carbon/ion exchange filter to provide more thorough contaminant removal. 100% of the water in the pitcher is filtered, with no wastewater production.
Best For:
People who prefer water filter pitchers because they're affordable and portable, but would rather use a pitcher that's made from glass to limit the environmental effects of plastic use.
Pros:
The LifeStraw Home is the best solution if you don't like the usual plastic design of most water filter pitchers. Glass is a more eco-friendly choice because it's highly recyclable, stain-resistant, and durable, so you should get more use out of the pitcher compared to plastic alternatives. It also has the advantage of being non-toxic and won't leach BPA, BPS, and other bisphenols into your filtered tap water.
It's good to see that LifeStraw has implemented a few environmental sustainability practices, including measuring and tracking its carbon footprint, and partnering with several climate action associations, including the PrAna Responsible Packaging movement.
Aside from its attractive design features, the LifeStraw Home pitcher is more functional than other pitchers we've reviewed, too. To fill the jug, you simply hold it under your faucet with the lid still on, and the lid will flip to allow water to enter. No messing with flimsy lids – a common problem amongst plastic water filter pitchers.
Cons:
The filter cartridges are still made from plastic, so it's not a completely plastic-free solution.
The 40-gallon filter lifespan isn't the best we've seen, and there are two filters to replace, which means more maintenance and more plastic cartridge disposals.
---
Epic Water Filters Vostok
If you're looking for an eco-friendly portable water filter, we think you can't go wrong with the Epic Water Filters Vostok.
This stainless steel water bottle filter provides the eco-friendly solution to buying single-use water bottles or even using a plastic reusable water bottle. It's a double-walled insulated bottle that should keep your water cool for as long as possible, and the tiny filter offers an impressive performance, removing 70+ common drinking water contaminants.
Key Features:
Portable bottle filtration – The Epic Water Filters Vostok is a water bottle filter that contains a 75-gallon straw filter. When you suck through the straw, it sends water up through the filter and into your mouth.
Removes 70+ contaminants – The Everyday Filter used in this sustainable water filter bottle has been tested to NSF/ANSI Standards 42, 53, and 401 for the removal of more than 70 contaminants, including chlorine, lead, arsenic, pesticides, pharmaceuticals, THMs, and VOCs. It also has additional testing for the reduction of PFOA and PFOS. View the test results here.
USA-made – Like all of Epic's products, the Vostok bottle is 100% made in the USA, eliminating the unnecessary shipping of products from overseas locations.
Large holding capacity – The bottle's 34-ounce capacity has enough room to hold around half of your daily water intake, so you'll have access to plenty of filtered water to keep you hydrated.
Best For:
Folks who want a portable environmentally friendly water filtration solution that removes more contaminants than similar bottle filters, sold by a brand with a reputation for its forward-thinking sustainability practices.
Pros:
We've already mentioned Epic's sustainability efforts in our mini-review of the Pure pitcher. To recap, Epic sells custom water bottles to support a range of environmental organizations, gets stuck into local initiatives with creek clean-ups, and uses 100% compostable packaging.
Epic's Vostock water bottle also benefits from Epic's filter recycling program, so you don't have to feel guilty for trashing your used filter cartridges. You get a free replacement filter when you return 4 used filter cartridges to Epic – winning.
You could also recycle your used filters yourself if you prefer. They're classed as hard to recycle plastics or #7 plastics.
The bottle's stainless steel design doesn't only help you to reduce your plastics consumption – it also keeps your water cool and protects it from sunlight.
The convenience of having a filter built into the water bottle should appeal to a lot of people. You can take your filtered water anywhere in the world.
Cons:
The filters have a 3-4-month lifespan, and although Epic offers is convenient recycling program, you'll still have to pay a higher ongoing cost to make up to four lots of cartridge replacements per year.
---
🪴 What Features Makes A Water Filter Eco-Friendly?
Wondering which features to look for in the best eco-friendly water filter?
From our research, we've found that many eco-friendly filters have at least some of the following features:
Plastic-Free
First, the best environmentally friendly water filters are plastic-free – or as close to plastic-free as possible.
Aside from the known health effects of many plastic types, we all know that plastics are terrible for the environment.
The biggest issue with plastic is that it's non-biodegradable, which means it does not naturally break down over time. Plastics can persist in the environment for hundreds of years, accumulating in landfills, oceans, and ecosystems.
So, an eco-friendly water filter should have an almost or completely plastic-free design, meaning that when the system inevitably ends up being disposed of, its parts can be easily reused or will degrade quickly.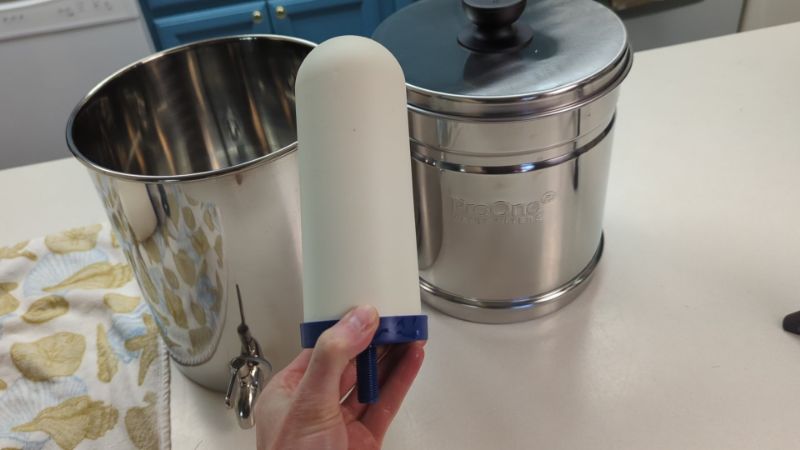 Long-Lasting Filter Media
Another key feature of an eco-friendly water filter is a long-lasting filter media.
A big part of leading an environmentally responsible lifestyle is to reduce your waste. Wasting less means you're using fewer resources and reducing the pollution associated with the disposal of used goods.
Using a water filter with a longer-lasting filter media, such as a tank-based whole house water filter system (with a media that lasts 7-10+ years), means you can avoid the high waste associated with systems that have replaceable filter cartridges.
Responsibly Sourced Construction Materials
Also look for an eco-friendly water filter that uses responsibly sourced construction materials.
Prioritize filters made from recycled or sustainably produced metals, with filter media made from materials that have minimal environmental impact. Some filter media can be made from natural fibers like coconut shells or sustainable ceramic materials.
If a filter does contain plastics, look for filters made from recycled plastic or those that use biodegradable or plant-based plastics. Additionally, choose filters from companies that prioritize sustainable plastic sourcing.
Filter Recycling Programs
Filter recycling programs provide a solution to the problem of single-use filter cartridge waste, so this is definitely a feature to look for if you want to enjoy filtered water without the pollution associated with cartridge disposal.
Many water filter manufacturers, especially water pitcher filter brands, offer filter recycling programs, allowing you to send back your used filters to be recycled and reused, often for the same purpose. Some brands even offer incentives for returning filters, such as a free replacement filter for every 5 used filters returned. This is a great way to save money in the long run and responsibly dispose of your used filters.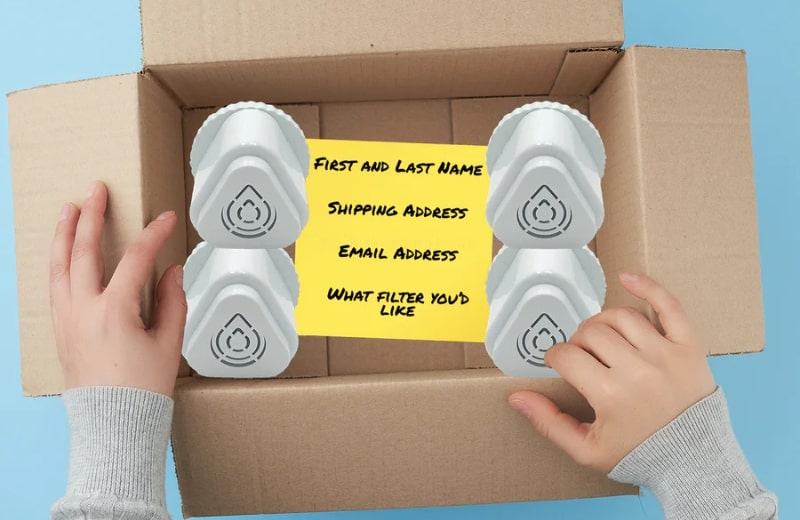 Locally Produced
Although this isn't always possible in the world we live in today, we recommend looking for water filters that have been produced locally where possible.
Buying a filter that has been designed and manufactured in the US is an eco-friendly move because it means the company's carbon footprint is smaller than a manufacturer that makes and ships its product from overseas locations, like China. Many manufacturers will do this because it's cheaper, but some have made the environmentally conscious decision to manufacture in the US.
Energy-Efficient Performance
The filter's performance will also play a role in its eco-friendliness.
If you want to use a filter without producing energy from the actual filtration process, look for a gravity-fed filter. Gravity filters, as the name suggests, filter water with the force of gravity, so they don't require an electricity-powered pump or the force of water pressure to work.
Avoid water filters that are powered by electricity, such as countertop reverse osmosis filters, since these will contribute to your daily energy use.
Don't Produce Wastewater
Another feature of an environmentally friendly water filter is the ability to produce 100% filtered or purified water with no wastewater production.
That means avoiding reverse osmosis systems, which produce wastewater during the membrane separation process.
If you do want to use an RO system for its ability to reduce total dissolved solids, look for one with a high efficiency rating. Conventional reverse osmosis systems waste 4 gallons of water for every 1 gallon of pure water produced, but modern filters waste less water – only 1 or 2 gallons per 1 gallon produced.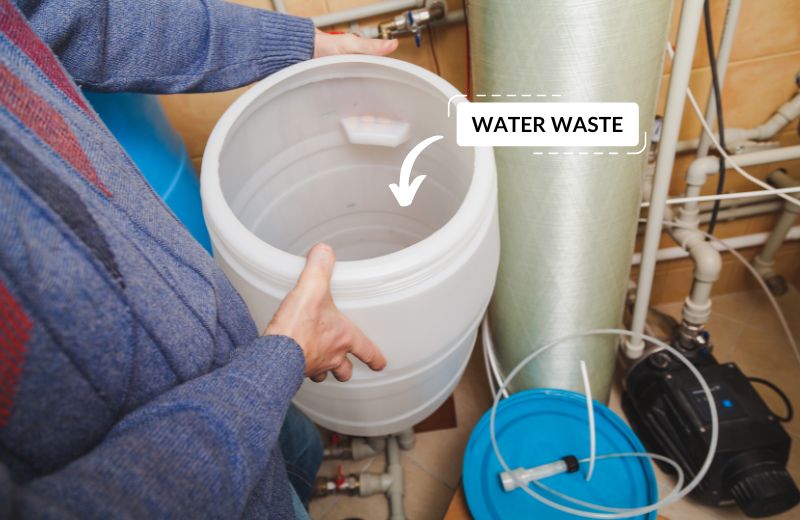 Minimal Packaging & Recyclable Packaging Materials
Finally, look for a water filter that has been responsibly packaged.
There are a few different ways that a manufacturer can reduce the environmental effects of the packaging, including by using minimal packaging materials, switching from plastics to other materials where possible, and using recycled materials that can be easily recycled again through multiple recycling programs.
📝 6 Things To Consider When Choosing The Best Environmentally Friendly Water Filter
When you're deciding between the eco-friendly water filtration solutions available today, make sure to consider the following things:
Your Budget
Start by considering your budget for an eco-friendly filter.
The good news is that you generally don't have to pay any more than usual just for a water filter's eco-friendly status. Depending on the type of filter you're looking for, the average cost of an environmentally friendly filtration solution is $30-$250.
If your budget is on the smaller end, look at water pitcher filters or bottle filters, which cost less than $100 upfront and remove tens of common drinking water contaminants.
If you have a bigger budget, you can also consider countertop water filtration systems, which have a larger capacity and can usually remove hundreds of contaminants from your tap water.
Your Environmental Priorities
What are your priorities when looking at the features of an environmentally friendly filter?
Keep in mind that very few filters will be able to tick all the boxes in terms of eco-friendliness. Take a look at our list of what makes certain filters environmentally friendly (shared earlier in this guide), then make a note of the features that you want to prioritize.
For instance, if your goal is to reduce your plastic consumption as much as possible, look for plastic-free water filters or water filters with a recycling program, allowing you to recycle your used cartridges or return them to the manufacturer (often with an incentive).
Or, if you're keen to buy from a manufacturer that is working on a large scale to implement sustainable practices, go for a company that documents these efforts (with physical proof to support their claims) online.
The good news is that more and more businesses are adopting eco-friendly initiatives as a given nowadays, so your options shouldn't be limited if finding environmentally conscious manufacturers is your priority.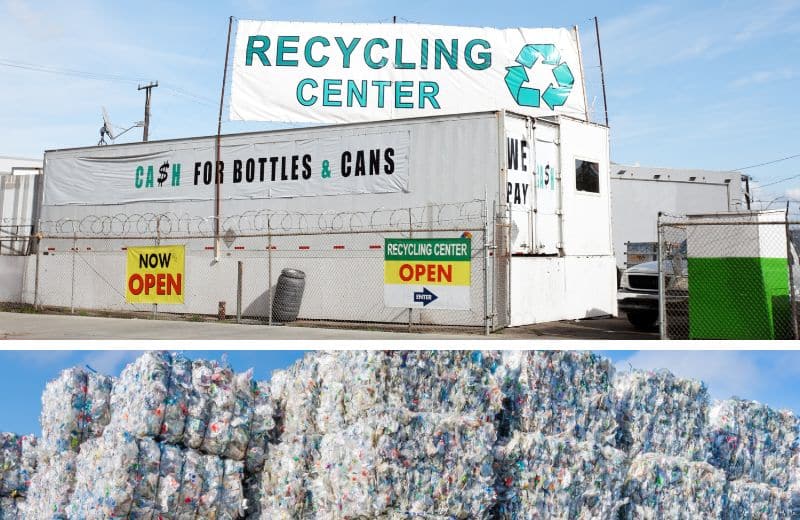 Filter Performance & Contaminant Removal
Even if, for you, the most important feature of a filter is its eco-friendliness. you obviously still want it to perform reliably and capably.
Look for filters that can remove tens of common contaminants, ideally with official NSF certifications or third-party laboratory testing to prove this.
There are tens of filters on the market that have been tested and certified to remove a broad range of impurities (like heavy metals, chlorine, chloramine, fluoride, PFAS, volatile organic compounds, and chromium-6) from drinking water, so there's no need to compromise with a filter that can only reduce chlorine taste.
If you have specific contaminants in your water that you want to address, keep this in mind when shopping for eco-friendly filters. Filters with advanced filtration technology (those that combine multiple filtration media) often provide the best performance because their filtration process is much more thorough, and different filter media target different contaminants.
Some of the filter media you might come across in an eco-friendly filter are:
Activated carbon media, like coconut shell carbon media
Ion exchange resin
KDF media
There are even more advanced filtration systems out there, like reverse osmosis filters. However, we don't generally recommend these to people looking for a sustainable water filter and striving to lead a zero-waste lifestyle because the RO purification process wastes water.
Filter Type & Use Point
Where would you rather use a water filter? Do you prefer to set it up at home or take it with you? And what size range are you looking for? These are all questions to ask when choosing an environmentally friendly filter.
The most common eco-friendly filter types are:
Water filter pitchers
Stainless steel gravity countertop filters
Water bottle filters
Choose the filter type that delivers water in a way that best suits your lifestyle. Handily, most of the sustainable filters we've reviewed in this guide are portable to some extent because they don't need to be hooked up to a water pipe or plugged into an electric outlet.
But portability might not be important to you – you might prefer a filter that connects to your main water line and delivers filtered water throughout your home, like a whole-home system.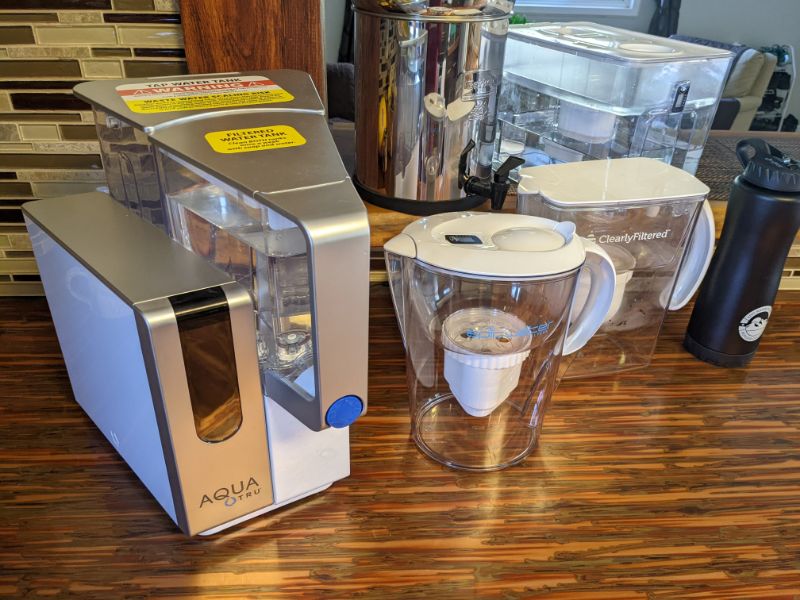 Setup & Maintenance Preferences
Next, consider your setup and maintenance preferences for a sustainable filter.
If you hate DIY and you want the simplest solution to improve your drinking water quality, you're best opting for a no-install filter, like a pitcher filter or a water bottle filter. However, the setback of these filters is that they can only supply you with limited batches of filtered water at a time, and they only treat your drinking water.
If you specifically want to filter your whole home's water supply, you'll need to be okay with a bigger install job (whether you choose to do it yourself or hire an expert plumber).
Also consider your maintenance preferences. Some systems, like tank-based whole house filters, have very long-lasting filter media, which is great news if you want to reduce your plastic pollution and avoid the hassle of regular maintenance.
Smaller filters, like pitchers and bottle filters, require around 3-4 filter changes per year, so they're more of a commitment to own. Countertop gravity filters sit somewhere in the middle, with filters that last 6-12 months on average.
Manufacturer Reputation, Customer Feedback, & Warranty
A few final considerations you should make are ensuring that the manufacturer you plan to buy your filter from has a good reputation, and checking that your chosen filter is backed by some form of warranty or guarantee.
The best way to learn about a manufacturer's reputation is to check customer feedback. Customers honestly share their experience with a product, helping you to understand how it performs with everyday use. Even if you find a sustainable, plastic-free water filter, customer reviews might tell you that, for one important reason, the filter isn't worth your money.
Even the more affordable pitcher and bottle filters should have a warranty of some sort. A warranty tells you the manufacturer is confident in their product's ability to live up to customer expectations and maintain its quality throughout its intended lifespan. It also means your purchase will be covered if a filter stops working due to a manufacturer defect within the warranty period.
❔ FAQ
Are there any eco-friendly water filters?
Yes, several water filter manufacturers have made an effort to produce filters with eco-friendly features, such as less packaging or recyclable/compostable packaging, filter recycling schemes, plastic-free designs, and environmentally conscious manufacturing processes.
Are Brita filters eco-friendly?
Brita filters are eco-friendly in some respects because they help reduce the plastic waste associated with drinking water from single-use plastic bottles, and Brita also offers a recycling program for its filters. However, Brita doesn't offer completely plastic-free filters, so they won't eliminate your plastic use entirely.
How do you filter tap water without plastic?
You can filter tap water without plastic by using one of the plastic-free water filters available today. Many filter systems have glass or stainless steel designs and use little to no plastic in their construction. The best plastic-free water filters have a non-plastic filter cartridge, too, eliminating plastic throughout the filter design.
Are glass water filter jugs better than plastic?
Glass water filter jugs are better than plastic for anyone who wants to reduce their plastic intake and avoid possible leaching, but they're less practical for lightweight travel and portability, and they're also more likely to shatter.