These are the top systems to keep you and your family safe – with any budget.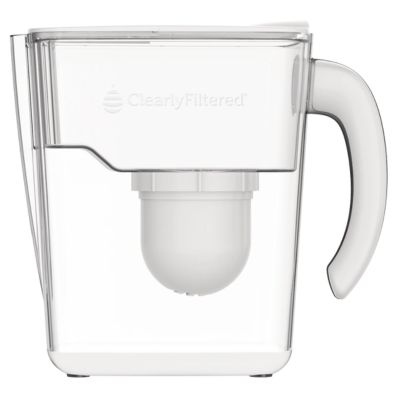 Clearly Filtered Water Filter Pitcher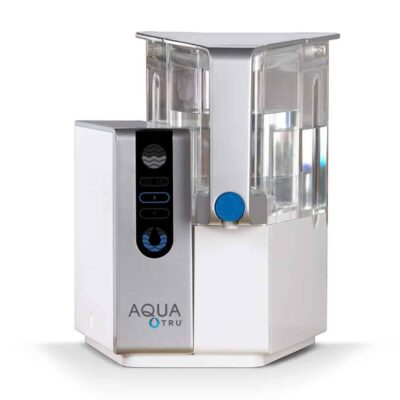 AquaTru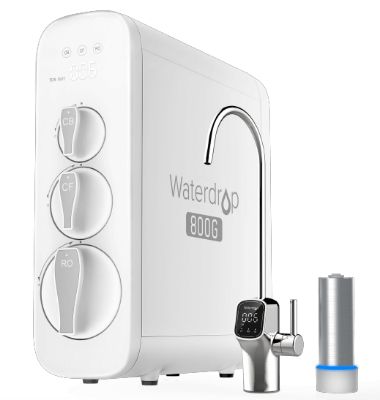 Waterdrop G3P800
Hey, concerned homeowner! Welcome to our best chromium-6 water filter guide.
If you're worried about chromium in drinking water, this guide is for you. We've tried and tested over a dozen of the most capable chromium-6 water filters and shortlisted the best-performing systems.
Feel free to invest unwisely in a filter that's all talk, no action, but we strongly recommend choosing a water filtration system that removes at least 90% of this harmful contaminant from your water.
#1 is our favorite, but #2 is good for big families and #4 gives you instant access to filtered water.
In this guide, you'll learn:
Which 6 filters are superior to any other filter on the market for removing chromium-6
Why chromium-6 is such a dangerous contaminant, and the best methods for getting rid of it
How to get the best value for money from a chromium-6 water filter that's ideally suited to you
🤝 Why You Should Trust Us
Wondering why you should trust thousands of monthly readers who trust our product reviews, comparisons, and guides?
We've been testing, comparing, and reviewing water treatment products for over a decade, and we pride ourselves in offering a level of expert guidance that you'll struggle to find elsewhere. We're considered industry experts, and have shared what we know with our own readers and readers of publications including Simply Recipes, HowStuffWorks, and WWD Magazine.
We've combined our own knowledge with real-life testing of all the products featured in this guide, as well as information from our direct conversations with manufacturers, and our research into testing data online. Our reviews feature everything you need to know about a product, even things information that isn't listed on the product page.
We're confident that our shortlisted chromium-6 water filters are better than any other water filter out there at removing this dangerous chemical. We've only recommended products that have proved to us – and other customers – that they're the most worthy investments, based on their capabilities, user-friendliness, features, and durability.
🥇 Best Water Filter That Remove Chromium 6
📊 Comparison Chart of Best Chromium 6 Water Filters
Product

Clearly Filtered Pitcher

AquaTru Countertop RO

Waterdrop G3P800

Epic Nano Dispenser

Clearly Filtered Under Sink

Big Berkey Gravity-Fed
Ranking
1st
2nd
3rd
4th
5th
6th
Ratings
5/5
4.5/5
4.5/5
4.5/5
4.5/5
4.55/5
Price
$$
$$
$$$
$
$$
$$
Chromium-6 Reduction
97.8%
97.2%
96.9%
96.6%
99.4%
99.85%
Testing/Certifications
NSF 42, 53, 401 & 473
NSF 42, 53, 58, 401 & P473
NSF 58, 372
NSF 42, 53, 401, P473 & P231
NSF 42, 53 & 401
–
Process
Mechanical
Carbon
Ion Exchange
Mechanical
Activated Carbon
Reverse Osmosis
Activated Carbon
Reverse Osmosis
Mechanical
Electroadhesion
Ion Exchange
Reverse Osmosis
Carbon
Ultraviolet
Activated Carbon
Ion Exchange
Filter Life
100 gallons
600 – 1,200 gallons
6, 12, 24 months
1.50 gallons
2,000 Gallons
6,000 gallons
Annual Cost
~$140
~$80
~$145
~$140
$396-$440
~$40

Warranty
Lifetime
1 year
1 year, 30-day guarantee
Lifetime
Lifetime
Lifetime
---
⭐ Reviews – Best Chromium 6 Water Filters 2023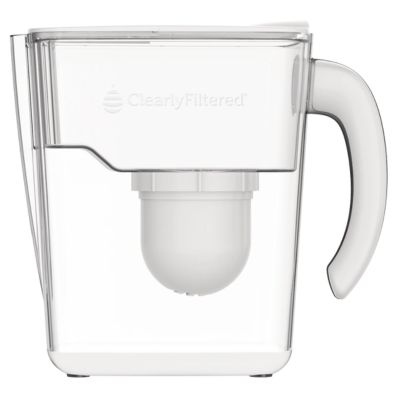 Clearly Filtered Water Pitcher
The Clearly Filtered Water Pitcher is the best chromium-6 water filter pitcher. This portable, affordable filter is tested to reduce 97.8% of chromium-6, and also reduces more contaminants than any other filter on this list.
Key Features
Reduces 97.8% of chromium-6 – The Clearly Filtered is tested to reduce up to 97.8% of chromium-6 from drinking water.
Tackles 365 impurities – Why find a filter that can only reduce your water's level of chromium-6? This filtration pitcher also reduces more than 350 impurities, including lead, chlorine, chloramine, bacteria, and VOCs.
NSF tested – The Clearly Filtered has been tested to NSF Standards 42, 53 (for impurities harmful to public health, like chromium-6), 401, and P473.
Best for: Anyone looking for the best-value chromium-6 filter offering impressive contaminant reduction, with no complex installation or maintenance required.
Pros
We love the Clearly Filtered's simple pitcher design. It's easy to put this unit together, and setup takes just minutes.
You won't find any other water filter that can greatly reduce chromium-6 and more than 350 additional contaminants.
Cons
It takes more than 10 minutes for the Clearly Filtered Pitcher to produce a batch of filtered water. You won't get clean water on demand.
Read the full review: Clearly Filtered Water Pitcher Review
---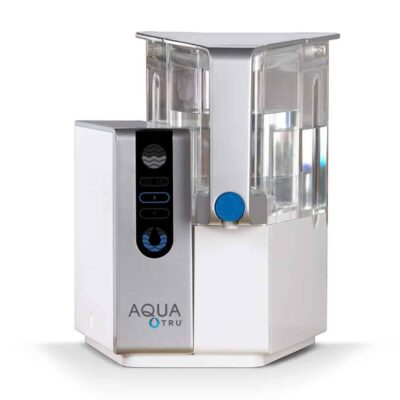 AquaTru
The AquaTru is the best countertop RO system for removing chromium-6, with IAPMO certifications for 99.99% pure water – and 97.2% chromium-6 removal.
We've reviewed the AquaTru Classic in this guide, but there are three system upgrades to be aware of:
The AquaTru Connect, which features WiFi connection (additional $50)
The AquaTru Alkaline Classic, which features an alkalizing mineral-boost VOC filter instead of the standard VOC filter (additional $20)
The AquaTru Alkaline connect, which features both a WiFi connection and an alkalizing mineral-boost VOC filter (additional $70).
Key Features
Removes 97.2% chromium-6 – The AquaTru RO system is one of the only NSF-certified filters on this list for removing chromium-6, targeting more than 97.2% of this chemical.
Reduces 82 contaminants – This reverse osmosis system also removes more than 80 impurities, including chlorine, lead, heavy metals, cysts, fluoride, heavy metals, and overall TDS.
Officially Certified to NSF Standards- The AquaTru holds IAPMO certifications to NSF Standards 42, 53, 58, 401, and P473.
Best for: Anyone who enjoys the thoroughness of RO filtration, but prefers a portable solution, or doesn't want to deal with the hassle of installing a filter under their kitchen sink.
Pros
We enjoyed fast filtration from this reverse osmosis system thanks to the included booster pump, which allows for 1 gallon of water to be produced every 10-15 minutes.
Our testing found that the system wastes less water than a traditional reverse osmosis unit – only 20% of water was wasted.
Cons
Some customers had issues with leaking, which isn't ideal if you want to leave the system to its own devices.
Read the full review: AquaTru Countertop RO System Review
---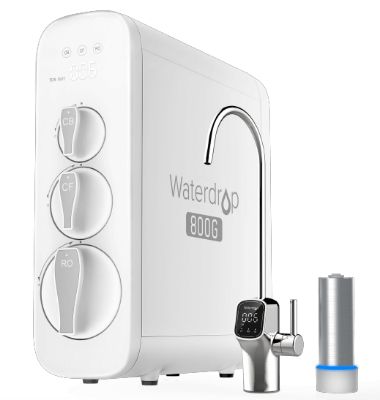 Waterdrop G3P800
The Waterdrop G3P800 is the best under-sink reverse osmosis filter for removing chromium-6, and is tested to remove up to 99.99% of all impurities.
Key Features
Capable of chromium-6 removal – Chromium-6 is listed as one of the impurities the Waterdrop G3P800 can remove, although there's no information on exactly how much is removed.
Targets nearly 100% impurities – This under-sink reverse osmosis system removes up to 99.99% of all impurities, including heavy metals, fluoride, viruses, chemicals, and more.
Thorough filtration process – The Waterdrop G3P800 has 3-stage filters and 7 layers of RO membrane to thoroughly target common drinking water impurities.
Best for: Anyone looking for the most thorough under-sink contaminant removal solution that's more affordable to maintain than a whole-house system.
Pros
We were pleased with this filter's minimal wastewater production. Only 1 cup of wastewater is produced for every 3 cups of filtered water.
There are plenty of smart features in this system that we love. The unit has a TDS monitor that displays water quality, and a filter life tracker that lets you know when you need replacements.
Cons
We'd like to know exactly how many contaminants this system removes, and what percentage of chromium-6 it removes. A datasheet would be handy.
Read the full review: Waterdrop G3 P800 Reverse Osmosis System Review
---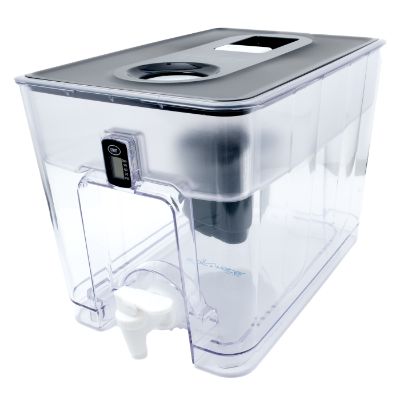 Epic Nano Water Filter Dispenser
The Epic Nano is our top water dispenser for chromium-6 removal, having been tested to remove more than 200 contaminants – including 96.6% of chromium-6.
Key Features
96.6% chromium-6 removal – You won't find many other water dispensers that even reduce chromium-6, let alone more than 96% of the contaminant.
Reduces more than 200 contaminants – The Epic Nano dispenser greatly reduces up to 99.99% of contaminants, including heavy metals, chlorine, pesticides, emerging contaminants, fluoride, bacteria, and viruses.
Tested to NSF Standards – This dispenser is tested to NSF Standards 42, 53 (for harmful contaminants including chromium-6), 401, and P473.
Best for: Anyone who wants a bigger countertop chromium-6 filtration solution than a pitcher, that can still be stored in the fridge to provide cool, filtered water.
Pros
Our water tasted great after using the Epic Nano dispenser, and we love that it's capable of tackling microorganisms – making it ideal for chromium-6-contaminated well water.
We found this dispenser really easy to set up and use, and we didn't have to do many top-ups as the unit holds up to 1.5 gallons at once.
Cons
We noticed that the speed of filtration slowed down significantly after just a few weeks. This was a problem for customers, too.
---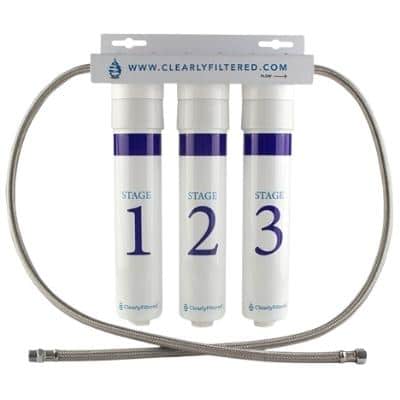 Clearly Filtered Under Sink Filtration System
The Clearly Filtered Under Sink Filtration System offers an unbelievably impressive performance for an under-sink filter, considering that no reverse osmosis is involved. This system can reduce 99.4% of chromium-6, and reduce more than 230 contaminants in total.
Key Features
Impressive chromium-6 reduction – The Clearly Filtered Under Sink Filtration System reduces essentially 100% of chromium-6. It doesn't get more reassuring than that.
Reduces more than 230 impurities – This under-sink system tackles a range of other impurities, including heavy metals like lead, fluoride, arsenic, and VOCs. Plus, it retains healthy minerals.
Tested to NSF Standards – The Clearly Filtered Under Sink Filtration System is backed by testing to NSF Standards 42, 53, and 401.
Best for: People looking for on-demand access to a highly-filtered, virtually chromium-free water supply, without the water waste of RO or the expense of a whole house unit.
Pros
We enjoyed getting instant access to purified, tasty water from this unit, with healthy minerals retained.
We found it easy to install the system, and the non-permanent installation process is suitable for renters and people who aren't fans of DIY.
Cons
We noticed that our water pressure dropped by about 15% after installing this system.
Read the full review: Clearly Filtered 3-Stage Under the Sink Water Filter System Review
---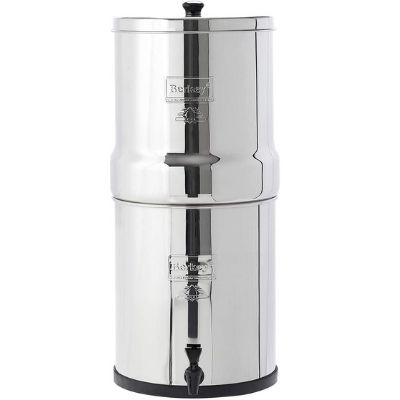 Big Berkey Gravity-Fed Water Filter
The Big Berkey is our top choice as a great gravity system to reduce chromium-6. This stainless steel gravity countertop filter has an incredibly high chromium-6 removal rate of 99.85%.
Key Features
Removes 99.85% of chromium-6 – If you want to get rid of the most chromium-6 as possible in your public water supply, the Big Berkey is your solution.
Filters water down to submicron level – Some of the 200 + contaminants removed by the Big Berkey are chlorine, chloramine, lead, VOCs, pesticides, herbicides, pharmaceuticals, bacteria, and viruses.
Tested for contaminant removal – Berkey shares its test results online, so you can see exactly what it removes, and to what level.
Best for: Big families looking for a portable, highly effective chromium-6 removal solution that will give them bigger batches of water at once.
Pros
We're impressed with the Big Berkey's ability to drastically reduce the level of chromium-6 in drinking water. We didn't find any other water system that can remove the contaminant so thoroughly.
The stainless steel design of the unit is sturdy and durable, and there are several different system sizes to choose from.
Cons
Berkey systems don't have any official NSF certifications, and they're not tested to NSF Standards.
We (and many customers) noticed a flaw in the Berkey's design. Even when the bottom chamber is full, water continues to flow into the chamber.
Read the full review: Berkey Water Filter Review (Updated for 2023)
---
🕵️Our Research
In this section of the guide, we've shared the info you need to know about chromium-6, and whether you need to remove this chemical from your water. We've also shared how we selected the products in this guide, and offered advice on how to decide whether a chromium-6 water filter is suitable for you.
🤔 What is Chromium 6 (Hexavalent Chromium)?
Chromium-6, or hexavalent chromium, is a form of the element chromium in the +6 oxidation state. Chromium-6 is often referred to as the "Erin Brockovich chemical" because it was brought to the public's attention after being featured in the 2000 Erin Brockovich movie.
Research from the Environmental Working Group (EWG) has found that more than 200 million Americans across all 50 states are exposed to this dangerous chemical, which is known to cause cancer, skin irritation, and respiratory problems.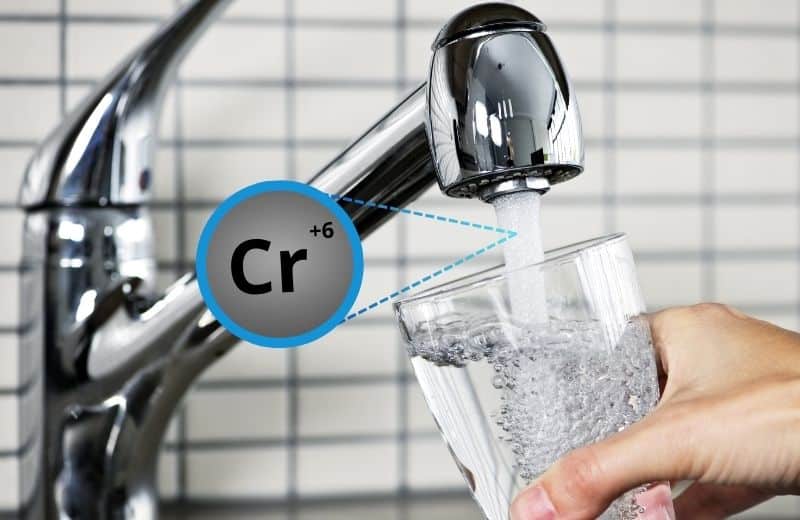 🚰 Do I Need a Drinking Water Filter for Chromium 6?
Given just how widespread chromium-6 is in municipal water supplies, there's a good chance that your water contains this chemical.
Request to see your local water quality report to find out exactly how much chromium-6 your water contains. (Note that the Environmental Protection Agency has a Maximum Contaminant Level of 0.1 mg/L for total chromium, but no official MCL for hexavalent chromium).
If you'd rather trust your own testing, you can arrange to get a sample of your tap water tested by a private laboratory to find out its chromium-6 content in mg/L.

The health effects of this chemical are so serious that if your tap water even contains it in trace amounts, you'll most likely want to remove it. The best way to protect yourself against hexavalent chromium is to install a drinking water filter.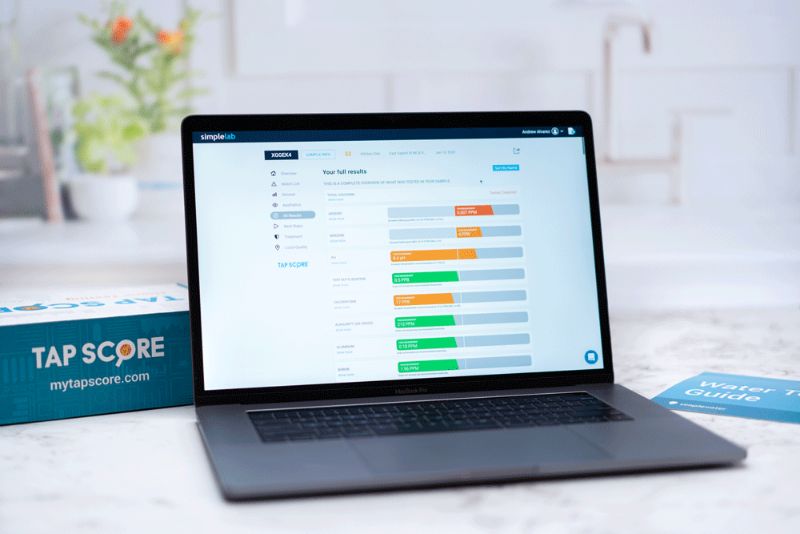 🚱 How Does Chromium-6 Get Into Drinking Water?
Despite its dangers to public health and to the environment, chromium-6 is still used commonly in industrial processes today, including in the manufacture of textiles, steel, and anti-corrosion coatings. The chemical is also used in leather tanning.
Industrial pollution is the biggest cause of environmental chromium contamination. Chromium leaches into groundwater and surface water supplies, which travel to reservoirs and lakes, where they're treated and used for public water access.
Large-scale water treatment isn't thorough enough to remove this chemical entirely, which is how contaminated water ends up coming out of our faucets.
🩺 What Are the Health Risks of Chromium 6?
The biggest health risks of chromium-6, according to Clean Water Action, are:
Hexavalent chromium is a carcinogen, meaning that it's known to cause cancer.
The chemical is a reproductive toxicant for females and males, and adversely affects fertility.
Chromium causes respiratory irritation and associated issues, like asthma.
The chemical irritates the skin and eyes, and causes nasal ulcers.
Hexavalent chromium leads to long-term liver or kidney damage, or failure of these organs.
Although many of the health risks of this form of chromium relate to inhaling the chemical, emerging data shows that ingesting the chemical also has severe health effects.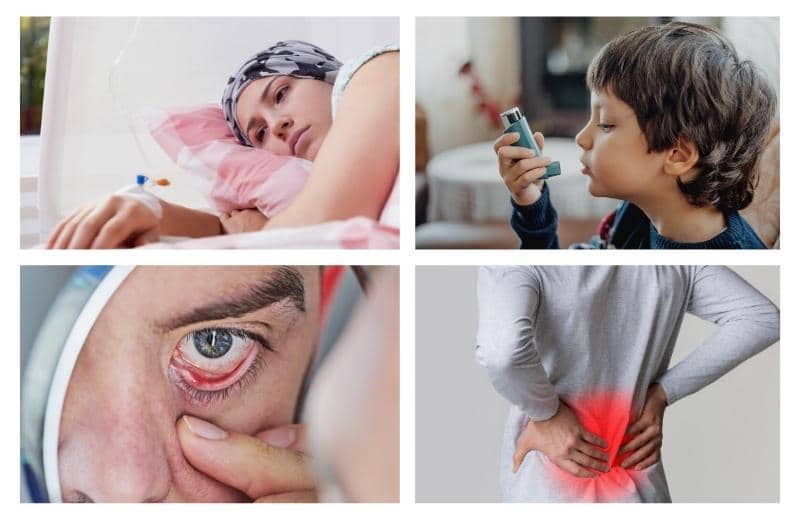 🧪 How to Test for Hexavalent Chromium in Water
The best way to test for chromium-6 in drinking water is to arrange for private testing from a certified laboratory.
We trust SimpleLab Tap Score for our water testing. A dedicated hexavalent chromium test isn't cheap – it costs around $165 – but a private test from a certified laboratory is the most accurate measure of this chemical in your water.

🙋‍♀️ Who This Guide is For
This guide is for:
Anyone looking for multiple forms of water filtration to remove chromium-6. We've shared plenty of options in this guide.
People with flexible budgets. If your budget is small, we have several suitable options for you. If your budget is more flexible, all the options in this list are worth considering.
Anyone who wants to buy from a trusted, recommended manufacturer. We've only shared products from reputable manufacturers who have been in the industry for a long time.
🧾 How We Chose
For this guide, we researched, compared, and reviewed water filter systems that were advertised – often with third-party proof – to remove chromium-6.
We chose the filters on this list based on their chromium-6 removal capability, their customer feedback, their component quality, and their running costs.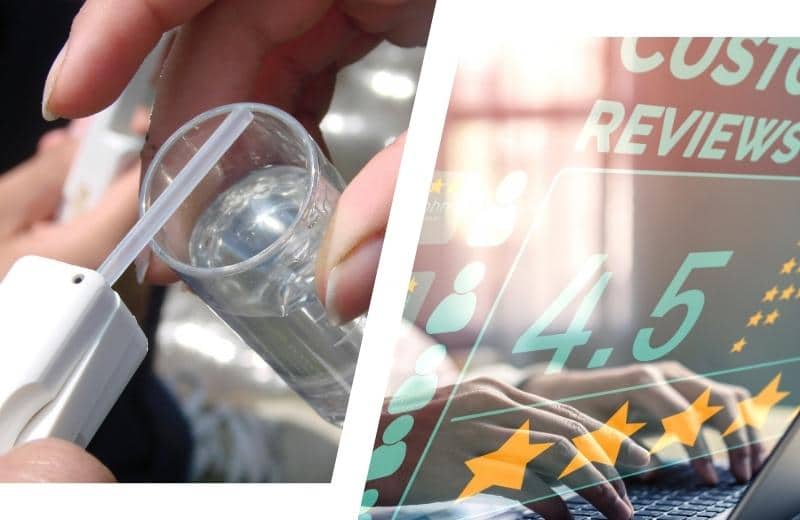 Chromium 6 Removal Capability
The more chromium-6 a filter can remove, the better.
We favored the filters that could remove at least 90% of chromium. Many on this list can remove up to 99% of this impurity, providing as much protection as possible against this dangerous chemical.
If a filter is certified to remove this chemical, even better – but we also consider third-party testing to NSF Standards as a sign of good performance.
Customer Response & Feedback
It doesn't matter what kind of picture a manufacturer paints of their product. If customers don't agree, it's a red flag.
We read hundreds of customer reviews while making this guide. We know that customer experience is subjective, but if tens of customers are sharing the same positive or negative feedback, it tells us how the product lives up to customer expectations with real-life use.
Any filters that received consistently good praise moved closer forward in our list, while those with repeatedly negative reviews moved down.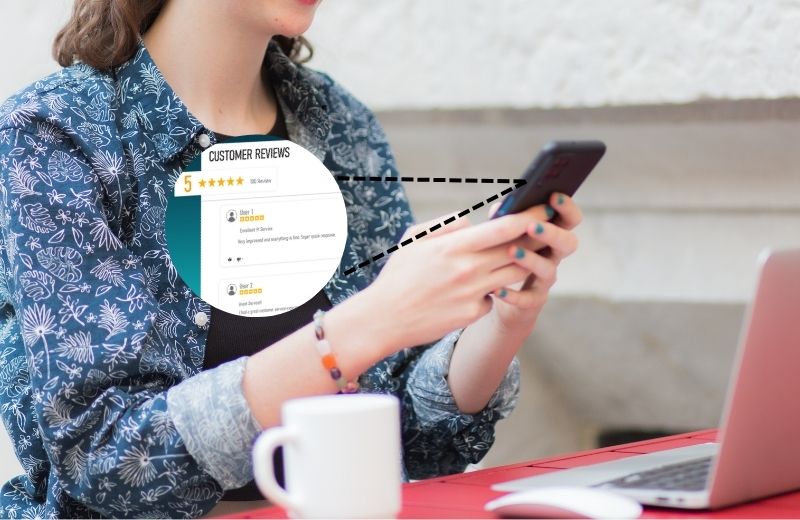 Component Quality
The quality of a drinking water filter affects its longevity, and therefore its value for money. Having tested all the filters on this list ourselves, we were able to determine their quality by look, feel, and use.
We also reviewed customer feedback to determine whether units and their filters lasted as long as they were advertised to with proper use.
Costs Involved
Finally, we considered the costs involved in buying and operating a filtration unit. Some filters – like whole-house filters and reverse osmosis water systems – are bigger, more complex, and more expensive than others.
Rather than looking at cost, we focused on value for money. Did we think a filter was worth its purchase, installation, and maintenance costs, based on its performance and contaminant removal? If the answer was a confident "yes", it moved up on our list.
🧪 How We Tested
We originally conducted our own drinking water testing to determine a water system's ability to remove hexavalent chromium – but we quickly realized that our testing was limited.
We were unable to get a good idea of just how much chromium-6 a filter could remove when using our own water sources. Third-party laboratories and organizations often use highly-contaminated water sources when testing filtered water systems for contaminant removal, which gives a much clearer idea of the filter's capabilities.
For this reason, our own testing focused on the usability of a product with everyday use, which we combined with professional testing data available online to get a well-rounded overview of a filter's performance.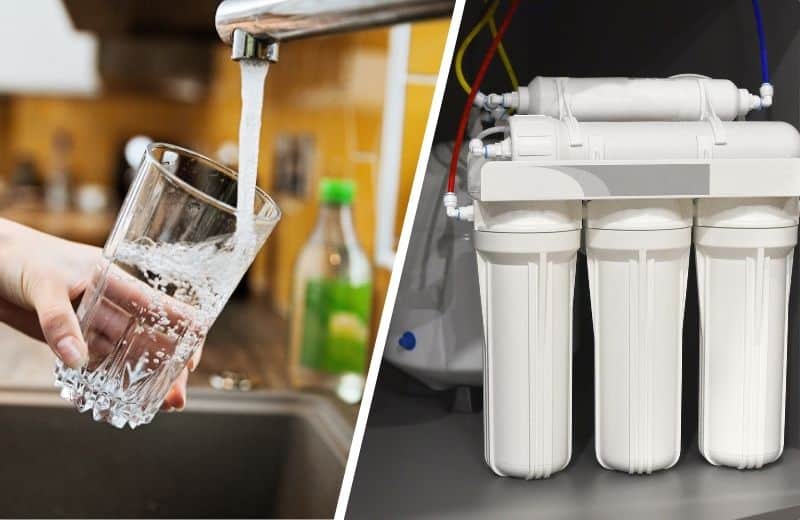 💭 Considerations When Purchasing a Filter to Remove Chromium 6
Before you buy a chromium-6 water filter, consider the following:
Other Contaminants Present
You know that your water contains some form of total chromium, but what else is in there? Most water filters can remove a whole host of contaminants, so find out which ones are most dominant in your water supply.
Treatment Method
Do you prefer a specific treatment method?
Would you rather connect a water filtration system to your water line for on-demand access to water?
Are countertop models more convenient for you?
Consider what best fits your lifestyle.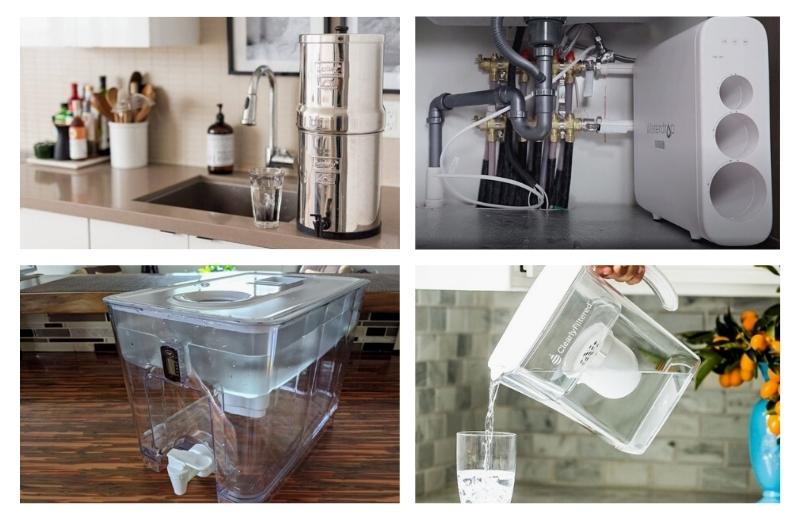 Filter Capacity
How big is your family? How much water do you need at once? How often do you want to replace the filters? These are all things to consider when deciding on a filter capacity. If you're buying a water filtration unit that needs to be hooked up to your water line, filter capacity is especially important – too small, and your flow rate might be affected.
Flow Rate
The flow rate of a filter is the speed at which water leaves the unit after it has been filtered. You need an adequate flow rate to prevent a noticeable reduction in water pressure if the system is installed at your water line. Gravity-based countertop water filters typically have a much slower flow rate – fine if you don't mind waiting a few minutes for filtered water.
Certifications
Many water filter manufacturers get their products certified by NSF/ANSI for contaminant removal. NSF/ANSI certification is a mark of reassurance, telling you that the water filter has been third-party proven to remove what it's advertised to remove. Water filters can be certified to NSF Standard 53 for chromium-6 removal, and reverse osmosis water filters can be certified to NSF Standard 58, for TDS reduction (including chromium-6).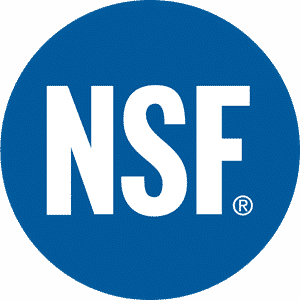 Installation & Maintenance
How handy are you? Can you fit a water filtration unit at your water line, or are you prepared to pay a professional to do it for you? Or would you rather simply connect the parts and start using the filter straight away? Countertop units tend to be much easier to set up than under-sink or whole-home systems.
❔ Frequently Asked Questions
Does a water filter remove chromium-6?
Yes, a water filter can remove chromium-6 – but not all of them do. Don't just assume that a filter will get rid of this tricky contaminant. The water filters in this guide are best at removing this chemical.
Does bottled water have chromium-6?
There's no legal limit for chromium-6 in bottled water, so there's no guarantee that your favorite bottled water brand doesn't include this contaminant. Contact the manufacturer and ask for a data or testing sheet to find out what their water contains.
Does Brita filter remove chromium-6?
No. Brita filters only remove a handful of contaminants, and chromium-6 isn't one of them.
Do carbon filters remove chromium-6?
No. Activated carbon isn't capable of removing chromium. AC can only adsorb contaminants affecting drinking water taste and odor, like chlorine.
Does Zero Water filter out chromium?
Yes, the Zero Water pitcher has been tested to remove up to 99% of chromium from tap water. It's a good pitcher, but it doesn't remove as many contaminants as the Clearly Filtered pitcher.
Does Berkey water filter remove chromium-6?
Yes. The Black Berkey filters remove more than 99.8% of chromium-6, and are some of the best on the market for doing so.