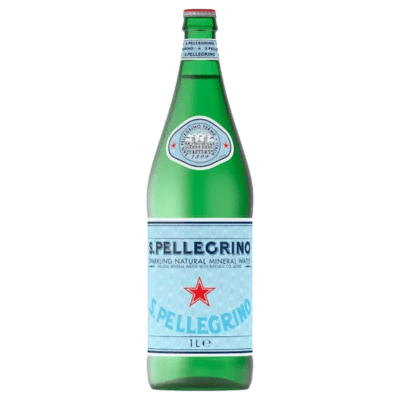 San Pellegrino
Mountain Valley Spring Water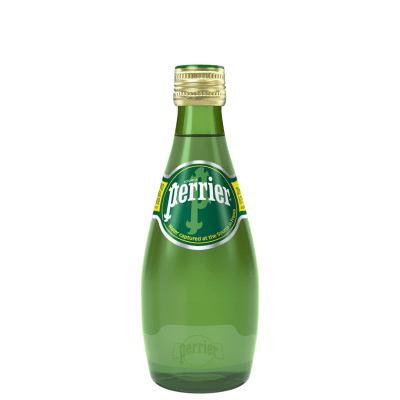 Perrier
Hate tap water but trying to cut down on your plastic consumption? Or looking for a facier alternative to plastic bottled water for a dinner party or a date night in?
Here, we've reviewed the best bottled water brands that use glass bottles, based on their taste, water sources, reputation with customers, and more.
🥇 Best Bottled Water Brands In Glass Bottles [Year]
📊 Comparison Chart of Best Bottled Water Brands In Glass Bottles
| Product | San Pellegrino | Mountain Valley | Perrier | Hildon | Clearly Canadian | Antipodes |
| --- | --- | --- | --- | --- | --- | --- |
| Ranking | 1st | 2nd | 3rd | 4th | 5th | 6th |
| Ratings | 5/5 | 5/5 | 4.5/5 | 4.5/5 | 4/5 | 4/5 |
| Price | ~$2.60 (8.45 oz) | ~$24 (1 lt) | ~$1.39 (11 oz) | ~$6.90 (25.3 fl oz) | ~$3.75 (325 ml) | ~$6.25 (16.9 oz) |
| Source | San Pellegrino Terme Springs | British springs | Underground water | Underground water | Canadian aquifer | Bay of Plenty aquifer |
| Carbonation | Still | Sparkling and still | Sparkling | Still | Sparkling and still | Still |
| Origin | Bergamo, Italy | Arkansas, USA | Vergèze, France | Hampshire, South of England | British Columbia, Canada | Aotearoa, New Zealand |
| TDS | 1,109 mg/l | 220 mg/l | 475 mg/l | 312 mg/l | 250 mg/l | 130 mg/l |
| pH | 7.7 | 7.3-7.7 | 5.5 | 7.2 | 7.4 | 7.0 |
---
⭐ Reviews – Best Bottled Water Brands In Glass Bottles [Year]
Read on to learn about our top recommended bottled water brands in glass bottles in 2023.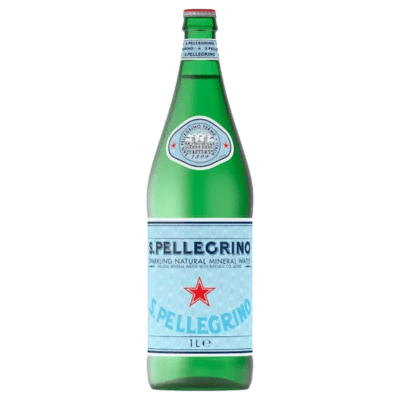 San Pellegrino
In our opinion, the San Pellegrino Sparkling Natural Mineral Water is the best overall bottled water in glass bottles available today.
This Italian sparkling spring water is sourced from natural springs in the Italian Alps and is carbonated and naturally enriched with mineral salts. It takes 30 years for the water to travel underground before being collected and bottled for drinking.
San Pellegrino is refreshing and crisp, with a hint of mineral that finishes with a slightly bitter note (due to the acidity of the carbonation). You've probably seen this iconic glass bottle served in restaurants around the world, as the water's distinct and unique taste makes it ideal for pairing with food.
Pros:
Several flavors to choose from
Great for pairing with food
Well-known, reputable brand
Cons:
---
Mountain Valley Spring Water
Mountain Valley Spring Water is our top-recommended water in glass bottles for folks who prioritize good taste over everything else. The water has a rich mineral taste that's fresh, crisp, and clean, and you can choose between still and sparkling waters, depending on your taste preferences.
This naturally purified water has been bottled in glass since 1871 and comes from the Ouachita Mountains in Little Rock, Arkansas. The water is filtered through granite-based aquifers, where it picks up potassium, calcium, and magnesium, before it's bottled at the source.
Mountain Valley Spring water is naturally alkaline, with a pH of between 7.3 and 7.7. Being bottled in glass helps to preserve the water's mineral blend and naturally balanced pH.
Pros:
Winner of the most awards in America, including best water in the world
Naturally alkaline and rich in healthy minerals
Sparkling and still waters available
Cons:
---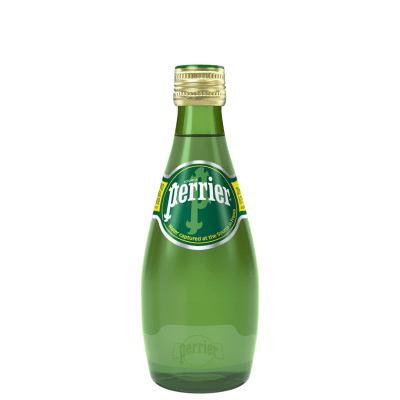 Perrier
Perrier is another of the better-known glass bottled drinking water manufacturers, and the Perrier Sparkling Natural Mineral Water is our top pick for the best sparkling or carbonated water product in glass bottles.
This popular bottled water product is sourced from springs in Vergèze, France, located in the Gard département. The water source is naturally carbonated, but the water is obtained independently, then re-carbonated and purified before it's bottled at the source.
Perrier contains 475 mg/L of total dissolved solids and is a good source of natural minerals like calcium, which give it a subtly sweet taste, and has also been described as "tart" and "refreshing". There's more bubble in Perrier than in San Pellegrino's comparable carbonated water product.
Pros:
Also available in a variety of flavors
Zero calories and sugar-free
Popular, reputable brand with more than 60 years in the industry
Cons:
Slightly cheaper than other brands, but still expensive
---
Hildon Glass Bottled Water
The Hildon Natural Mineral Water is, in our opinion, the best table water in glass bottles for serving in restaurants or on the dinner table for special occasions at home.
This award-winning mineral water is sold in clear glass bottles and has a neutral pH, and its refreshing but indistinctive taste complements all foods and wines. It's sourced from aquifers in the United Kingdom's Hampshire countryside, where water flows through layers of chalk rock in a 50-year journey of filtration and purification.
If sparkling water isn't your thing, the Hildon Natural Mineral Water is likely to appeal to you. It's fresh and crisp, without the bubbles or the acidity of carbonated water.
Pros:
Enhances the flavors of foods and wine
Pure, pH-neutral, and no bubbles or carbonation
Unaltered taste & no additives – tastes exactly how it does underground
Cons:
You may prefer water with a more distinctive taste
---
Clearly Canadian Sparkling Water
If you're looking for the best flavored water in glass bottles, we think you can't go wrong with the Clearly Canadian Sparkling Water.
This flavored water is sold in several flavors, including Orchard Peach, Summer Strawberry, Mountain Blackberry, Country Raspberry, and Wild Cherry. You can also buy the flavorless Clearly Sparkling water or opt for the variety pack if you prefer to mix and match your flavors.
The Clearly Canadian Sparkling Water is made with all-natural flavorings and is sodium-free. It's sourced from various springs across Canada and sweetened with non-GMO cane sugar, fruit essence, and citric acid.
Pros:
Great variety of flavors
Made with simple, natural flavorings
Naturally filtered spring water origin
Cons:
---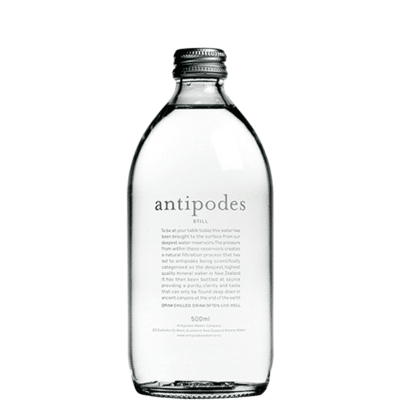 Antipodes Still Water
In our opinion, anyone who appreciates good design and wants their drinking water choices to have aesthetic appeal in their homes will love the Antipodes Still Water.
This natural spring water product, sold as sparkling and still water, is bottled in trendy, understated glass bottles and should look the part in any modern kitchen or dining room. It's sourced from a deep aquifer in the Bay of Plenty, New Zealand, and is unaltered, giving you the freshest, most natural taste from the bottle.
The water is low in natural minerals, and is comprised mainly of silica, which prevents it from drying or flavoring the palate. This makes it another great table water offering because it won't have a negative impact on the taste of your foods or wines.
Pros:
Aesthetically appealing bottles
Unaltered and subtle minerality
Smooth, pure taste
Cons:
---
⚖️ Pros And Cons Of Water In Glass Bottles
Before we jump into our buyer's guide, let's take a look at some of the pros and cons of buying water from glass bottled water brands:
Pros
Safe, natural material. Glass is a natural, chemical-free material that won't leach anything into water, so glass bottled water products should have a clean, fresh taste and are safer to drink than water stored in plastic bottles.
High-quality water. Because glass is a more expensive material, glass bottled water brands often stick to high-quality spring water and mineral-rich sparkling water products. Unlike water in plastic bottles, you're unlikely to come across tap water in a glass bottle.
Visually appealing. Glass looks much nicer than plastic or aluminum. If you like to leave your water bottles on display, glass bottles will add visual appeal to your environment.
Sophisticated drinking water. Whether you want to bring an air of sophistication to a dinner party or you think plastic water bottles look cheap, bottled water in glass bottles is your answer.
Reusable glass bottles. You can easily recycle your glass bottles, or reuse them for a variety of purposes (from holding spices and seasonings to doubling as vases or table centerpieces).
Cons
Expensive. Water in glass bottles is often twice the price of water in plastic bottles. Most people won't be able to justify buying from glass bottled water brands unless on special occasions.
Glass shatters. You'll need to take more care when handling glass bottles compared to plastic bottles, since glass easily shatters.
Harder to find. There are hundreds of water products in plastic bottles, but only a few in glass. Many manufacturers don't sell their water in glass bottles because of the expense and the hassle of shipping breakable items.
Heavier material. If you're heading out on a trip or you just want to pack light, you'll achieve this les successfully with a glass water bottle. Glass is much heavier than plastic, so even when your bottle is empty, it'll still add weight to your bag.
🧾 Buyer's Guide: What To Consider When Buying The Best Bottled Water In Glass Bottles
Here are some of the key considerations you should make when buying the best bottled water in glass bottles:
Cost
Be prepared to pay more money for water in glass bottles than you would for plastic or aluminum water bottles.
Glass is more expensive to manufacture and ship, and glass bottled water manufacturers usually sell premium waters, such as natural spring waters and carbonated waters, which adds to the upfront cost.
Make sure you're happy to pay for a high-quality water product in an aesthetically appealing bottle. A pack of 12 300-500ml bottles costs anything from $30-$80, depending on the water brand.
Related Post: The Most Expensive Bottled Water in the World
Water Source
Also consider your preferred water source.
The majority of the glass bottled water manufacturers we found in our research sell bottled natural spring water.
Spring water is known for its crisp taste and natural minerals, and it benefits from being naturally filtered and often contains fewer pollutants than surface water.
However, that doesn't mean that spring water is free from all contaminants, and the water may need to be treated to make it safe for manufacturers to sell in bottles.
Check the product's website, read the ingredients label, or contact the manufacturer to learn exactly what a certain water product contains (we're talking trace contaminants, not just healthy minerals) and how the water is treated before it's bottled.
Still/Sparkling
Are you a fan of still or sparkling water? You can find both options in glass bottles.
Sparkling water is the most widely available option. Some brands sell naturally sparkling spring water, which is carbonated by passing through aquifers that are rich in carbon dioxide. Other manufacturers produce synthetically carbonated water.
Still water is normal water without the carbonation.
If you have a specific preference, make sure to double-check whether a glass bottled water is still or sparkling before you spend your money.
Taste/Flavors
The good news is that pretty much every water product in glass bottles tastes great because of the quality of the water source (typically natural springs) and the lack of leaching from the bottle material.
Although different water sources and locations might have slightly different tastes (due to their difference in total dissolved solids concentrations) most bottled spring water products have a crisp, refreshing taste.
Some brands that sell water in glass containers add fruit flavors to their products, offering an option to anyone who prefers something a bit more exciting than "plain" water.
Regulation
Your chosen brand selling water in glass bottles should adhere to The Food and Drug Association's (FDA's regulations for bottled water products.
The FDA produces guidelines, including maximum contaminant allowances for lead, VOCs, microorganisms, and other impurities, that all bottled water manufacturers must legally comply with.
Bottled water companies have a huge financial incentive for adhering to FDA guidelines, and all of the best brands are FDA-compliant. You can contact the manufacturer if you're concerned or you just want to double-check before spending your money.
Brand Reputation & Customer Feedback
Finally, check the water brand's customer feedback and see what experts are saying about their product.
This is especially important when you're spending a bit more money upfront on water in glass bottles. You want to make sure you're spending your money wisely on a product that most people agree is good value.
Check marketplaces like Amazon for impartial customer reviews, especially regarding taste and quality.
Keep in mind that shipping often affects a product's overall rating. For instance, some customers may have complained about receiving smashed bottles, which is always the risk of buying online, but doesn't actually pertain to the quality of the water.
❔ FAQ
Can you get bottled water in glass bottles?
Yes, you can get bottled water in glass bottles. Not all bottled water brands offer this option, and glass bottles have a higher price tag. However, if you want to enjoy the luxury of drinking water from a glass bottle at home, you have plenty of options.
Is it better to buy water in glass bottles?
It's better to buy water in glass bottles if you want to cut down on your plastic consumption and be certain that your bottle material won't leach anything dangerous into your drinking water. Plus, water in glass bottles is considered more sophisticated and is often used in restaurants, so it's better if you're hosting an event or a dinner party – but glass water also has a sophisticated (read: expensive) price tag.
What water comes in green glass bottle?
Perrier is the brand you're probably thinking of if you're picturing water in a green glass bottle. Perrier is a natural sparkling mineral water product that comes in dark green glasses with gold lids and is often served at restaurants and bars.
Is it OK to drink water from glass bottle?
Yes, it's OK to drink water from a glass bottle. Glass is chemical-free and made from natural materials, so it's safer than all other water bottle materials and won't contaminate your drinking water. Just make sure to store, handle, and transport glass water bottles carefully since they're more prone to shattering.