LIFEWTR Premium Purified Water
Perfect Hydration 9.5+ pH Alkaline Drinking Water
Talking Rain AQA Alkaline Ionized Bottled Water
Looking for the best bottled water brands with electrolytes?
In this guide, we've shared our top picks for the best electrolyte bottled waters available today, based on water source, treatment, taste, quality, and more.
🥇 Best Bottled Water With Electrolytes 2023
📊 Comparison Chart of Best Bottled Water With Electrolytes
| Product | LIFEWTR Premium | Perfect Hydration | Talking Rain AQA | | CORE Hydration | Waiakea | Splash Blast Lemon |
| --- | --- | --- | --- | --- | --- | --- | --- |
| Ranking | 1st | 2nd | 3rd | 4th | 5th | 6th | 7th |
| Ratings | 5/5 | 5/5 | 4.5/5 | 4.5/5 | 4.5/5 | 4/5 | 4/5 |
| Price | $$ | $$$ | $$ | $ | $$ | $$$ | $ |
| Source | Municipal Supply | Municipal Supply | Himalayan Stream Aquifer | Municipal Supply | Municipal Supply | Kea'au aquifer | Municipal Supply |
| Carbonation | Still | Still | Still | Sparkling | Still | Still | Still |
| Origin | United States | United States | Preston, Washington, United States | United States | Southern California, Los Angeles | Mauna Loa volcano, Hawaii | United States |
| Packaging | rPET | rPET or Aliminum | rPET or Aliminum | rPET or Aliminum | rPET | rPET | PET |
| TDS | 21 ppm | 50 ppm | 48 ppm | 1000 ppm | 78 ppm | 82 ppm | not listed |
| pH | 6.4-7.4 | 9.5+ | 9.5 | 9.0 | 7.4 | 8.2 | 9.5 |
---
⭐ Reviews – Best Brands Of Bottled Water With Electrolytes 2023
LIFEWTR Premium Purified Water pH Balanced with Electrolytes
In our opinion, the best overall bottled water with electrolytes is the LIFEWTR Premium Purified Water. This bottled water is purified with reverse osmosis before two electrolytes – magnesium sulfate and potassium bicarbonate – are added back in for their taste and health properties (magnesium sulfate supports healthy muscles and joints, while potassium bicarbonate ensures healthy bones, muscles, and kidney function).
LIFEWTR has a neutral pH of 6.4 to 7.4 and is packaged in 100% recycled plastic bottles. You can buy the water in multipacks of up to 20 500ml bottles on Amazon, giving you the best value per bottle.
LIFEWTR has been described as having a "clean" and "crisp" taste. It doesn't have a distinctive flavor due to its neutral pH balance.
Pros:
Packaged in recycled plastic bottles
Contains 2 added electrolytes
Treated with reverse osmosis for high purity
Cons:
Quite expensive
Electrolyte content might be too high for some people
---
Perfect Hydration 9.5+ pH Alkaline Drinking Water
If you're looking for bottled alkaline water with electrolytes, we think the Perfect Hydration 9.5+ pH Alkaline Drinking Water can't be beaten.
This alkaline water has a pH of 9.5 or higher and contains a "proprietary blend" of electrolytes: potassium carbonate, potassium bicarbonate, and magnesium sulfate. We need these electrolytes to support healthy bones, muscle contraction, and functional digestive health. The manufacturer says its water doesn't contain sodium, fluoride, or chlorine – good if you want to avoid these unwanted impurities.
Perfect Hydration 9.5+ pH Alkaline Drinking Water is sourced from US-based sources (more sustainable and environmentally friendly than sourcing from overseas) and purified with 9 stages of filtration to remove harmful contaminants. The water is bottled in 100% BPA-free recycled plastic.
Pros:
Filtered to remove harmful contaminants
Sold in BPA-free recycled bottles
Contains 3 added electrolytes
Cons:
Expensive
The exact filtration process isn't disclosed
---
Talking Rain AQA Alkaline Ionized Bottled Water
Based on our research, the Talking Rain AQA Alkaline Ionized Bottled Water is the best purified bottled water with electrolytes.
There are four main stages of purification involved in treating this bottled water, including reverse osmosis, which removes up to 99.99% of all impurities, ozone disinfection, electrolysis, which introduces healthy electrolytes, and remineralization, which adds alkaline minerals back into the water. The three electrolytes added to the water are calcium chloride, magnesium chloride, and potassium bicarbonate, which help to maintain bone health and prevent muscle spasms.
The Talking Rain AQA Ionized Alkaline Water has a pH of 9.5+ and is sold in 20-ounce and 1-liter recyclable bottles. The water is free from chlorine and fluoride and is described as having a clean, smooth taste.
Pros:
High pH with pleasant mineral taste
Enhanced with 3 electrolytes
Sold in recyclable bottles
Cons:
No information on where the water is sourced
Pricey
---
Propel Kiwi Strawberry Sports Drinking Water
We think the Propel Kiwi Strawberry Sports Drinking Water is the best bottled sports water with added electrolytes.
Created by the makers of Gatorade, this water is flavored with kiwi and strawberry and contains added vitamins C and E, B vitamins (B3, B5, and B6), as well as electrolytes – the key one being sodium, which stimulates thirst and supports hydration. You can enjoy Propel after a workout in the knowledge that it's sugar-free (it's sweetened with sucralose and Ace K).
A 12-pack of Propel is around $5-$7 cheaper than the other waters on this list, making it a good option for smaller budgets. The water has a sweet taste thanks to its fruity flavorings. There's no word on where the water was sourced or whether or not it's filtered.
Pros:
Specially formulated for hydration during sport & exercise.
Tasty fruit flavor for people who prefer flavored waters.
Affordable price.
Cons:
We couldn't find out whether or not the water is filtered.
Sodium in water isn't for everyone.
---
CORE Hydration Nutrient Enhanced Water
If you're looking for the best pH-neutral bottled electrolyte-enhanced water, we think you'll love the CORE Hydration Nutrient Enhanced Water.
CORE has a neutral pH of 7.4, so there's no risk of disrupting your body's natural pH balance with water that's too acidic or alkaline. It contains electrolytes including calcium chloride, magnesium chloride, and potassium bicarbonate for hydration and to improve its taste (the water is purified by reverse osmosis which leaves it tasting "flat" without post-mineralization).
The unique bottle design allows you to hydrate quickly when working out, and the bottle cap is large with a good water-holding capacity, so you can use it for sharing. The water is free from chromium 6, MTBE, fluoride, arsenic, and chlorine, and has a taste that's described as "fresh" and "clean".
Pros:
Neutral, balanced pH level
Contains 3 added electrolytes
Bottles are 100% recyclable
Cons:
Bottle cap and label can't currently be recycled
Expensive
---
Waiakea Naturally Alkaline Hawaiian Volcanic Water
In our opinion, the Waiakea Naturally Alkaline Hawaiian Volcanic Water is the best natural mineral alkaline water infused with electrolytes that's available today.
This natural spring water is sourced at the Mauna Loa volcano in Hawaii and is filtered through thousands of feet of organic rock, which removes harmful contaminants and added traces of minerals and electrolytes, including sodium, calcium, potassium, magnesium, and chloride. It also contains just over 30 mg of silica – that's almost twice the recommended daily value for this mineral.
Waiakea water has a taste that's described as soft, smooth, and slightly sweet. It has a slightly alkaline pH of 8.2, making it one of the most alkaline natural waters in the world, and is sold in BPA-free recycled plastic bottles.
Pros:
Contains naturally occurring electrolytes
No artificially added electrolytes, minerals, or sweeteners
Naturally filtered
Cons:
Very expensive
We couldn't find information on how (if at all) the water is filtered/disinfected before bottling
---
Splash Blast Lemon Flavored Water
If you're looking for a bottled electrolyte water that your kids can get on board with, we recommend the Splash Blast Lemon Flavored Water.
This still, sugar-free electrolyte drink is mixed with lemon flavors, giving it a more appealing-to-children taste than plain water, and contains electrolytes including sodium polyphosphate, magnesium sulfate, and zinc sulfate. You can also buy the water in other flavors, including wild berry, orange, watermelon, raspberry, and pineapple mango.
Splash Water is calorie-free, caffeine-free, and sugar-free, so it should appeal to a sweet tooth without the negative health effects of sugary sodas and energy drinks (it's sweetened with sucralose and acesulfame potassium). It's sold in recyclable bottles in a variety of sizes, from 8 Fl Oz to 20 Fl Oz, in multipacks of 6, 12, and 24.
Pros:
Sweet taste with no added sugar
Smaller bottles available – perfect for lunch boxes
Lots of flavors to choose from
Cons:
Contains artificial sweeteners
Don't know the water source
---
🤔 What Is Bottled Electrolyte Water?
Bottled electrolyte water is a type of bottled water product that contains electrolytes.
Often, this water is filtered or purified before select electrolytes are added to improve its taste and health properties.
Other times, the water is sourced from a natural spring or a similar source, which contains naturally occurring electrolytes in trace levels.
Some of the electrolytes found in electrolyte water are sodium, potassium, calcium, chloride, and magnesium.
There are different types of electrolyte waters for different purposes. Some drinks are designed for everyday drinking, while others are intended for one-off or occasional use (such as during exercise or for rehydration after an illness).
🚰 Is Electrolyte Water Better Than Normal Water?
There are a few possible health benefits of electrolyte water, which brands use to their advantage when marketing this water.
However, if you follow a healthy diet, you don't usually need electrolyte-enhanced water because you should be getting plenty of minerals and nutrients from the foods you eat.
There are a few reasons why you might think that electrolyte water is better than plain water for your needs, including:
Added electrolytes and minerals often give water a better taste.
You might be more encouraged to drink water that you enjoy the taste of, leading to better hydration.
Many electrolyte drinks are also purified, which means they're cleaner than tap water supplies (which often contain traces of chlorine, heavy metals, and other pollutants).
You may feel more refreshed when drinking electrolyte drinks in hot weather compared to normal water.
There are several circumstances where drinking electrolyte-enhanced water is better than drinking plain water. For instance, if you've sweated a lot during a workout, drinking sports drinks containing electrolytes like sodium can help with electrolyte balance and replenish electrolytes lost in your sweat. You can also benefit from electrolyte water for optimal hydration if you've been ill with diarrhea or sickness.
Generally, however, electrolyte water that's intended for daily drinking is unlikely to have many more benefits than normal tap water.
🧾 Buyer's Guide: What To Consider When Buying The Best Bottled Water With Added Electrolytes
Want to spend your money wisely on the best electrolyte water for your situation and preferences? Here, we've shared the top considerations you should make when buying bottled electrolyte water.
Water Source & Type
There are two main water sources for electrolyte water products: spring water (which usually contains natural electrolytes) and municipal water (which has been purified and treated with added electrolytes – discussed in more detail below).
You might personally prefer water from a natural source compared to a municipal source. Or, you might actually prefer municipal water because this water is usually thoroughly purified and mineralized to enhance its taste and quality as much as possible, and it's often a bit cheaper than water from a natural source, too.
Often, electrolyte water is blended with other water types. For example, some brands sell alkaline water with enhanced electrolytes, and some sell flavored water with electrolytes. Electrolyte water may be still or sparkling, but still water is more popular.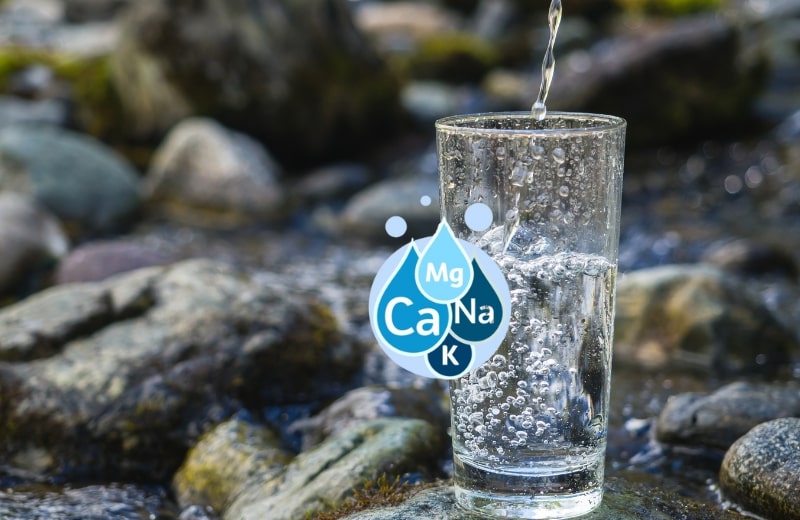 Naturally Occurring Vs Added Electrolytes
First, ask yourself whether you prefer a water with naturally occurring electrolytes or a water that has been enhanced with artificial electrolytes.
We couldn't find any evidence to suggest that adding electrolytes to water has any different outcomes compared to drinking water with natural electrolytes in terms of taste or quality, so this decision comes down to personal preference.
You might be more attracted to bottled waters that contain natural electrolytes that have been picked up from rocks and soils in the source location. However, this can sometimes mean that the water contains a lower electrolyte content, while manufacturers of waters with added electrolytes can control the type and concentration of electrolytes added. So, choose the water type that's best suited to your desired electrolyte intake.
🧑‍🔧 Continue reading: How to Make a Homemade Electrolyte Drink (Quick and Easy Recipe)
Water Quality & Purity
Just because a water product contains electrolytes, that doesn't guarantee that the water is high-quality or pure. Quality and purity are two things you should consider when deciding on an electrolyte drink that's right for you.
Some electrolyte-infused water products are purified with reverse osmosis, usually because they come from a municipal water supply and need to differentiate their product from water you could get from the tap for free. Reverse osmosis water has the advantage of being almost completely pure and contaminant-free, and most brands reintroduce healthy minerals and electrolytes to the water to improve its taste and quality.
Some bottled waters, such as those that are sourced from natural springs, might not be purified because they're naturally filtered underground. There's more of a risk that these waters may contain traces of harmful contaminants, so check the ingredients list or contact the manufacturer for more information. You may prefer the quality of these waters because they have been naturally filtered over years or decades, rather than being artificially purified.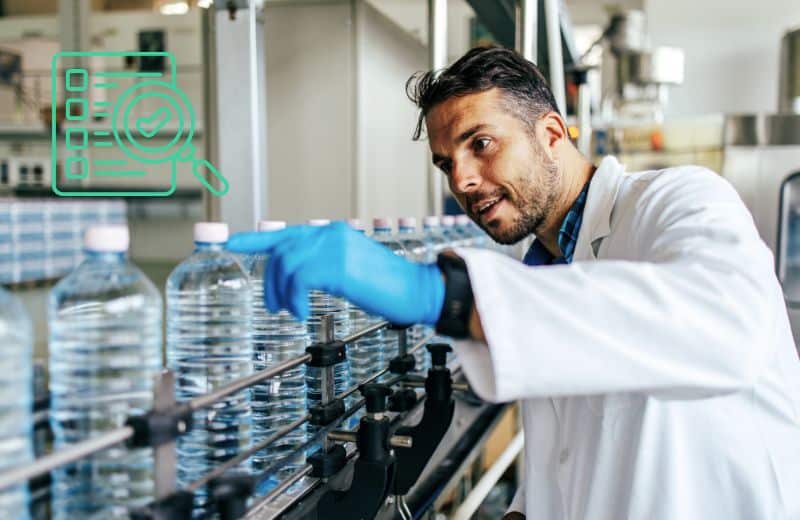 Other Water Treatments
Aside from adding electrolytes, there are a few other water treatments that an electrolyte water brand might implement to further improve the water quality or taste.
Remineralization is a process that's often carried out alongside adding electrolytes, especially if the water has been treated with a purification process like reverse osmosis. The process involves adding healthy alkaline minerals back into the water to improve its taste.
Some water brands also infuse their electrolyte drinks with artificial fruit flavorings. Some may use sugar to sweeten their waters, but it's more common for artificial sweeteners to be used to enhance the water's taste. If you or a family member thinks that plain water tastes bland, it's worth looking at an electrolyte-packed fruit-flavored water.
You might hear a water brand refer to its product as "ionized alkaline water". Ionization is essentially just the process of adding dissolved minerals.
Cost
Cost is a big factor to consider when you're deciding on a suitable electrolyte beverage for your needs.
Cost varies widely depending on how a water product has been marketed. Most electrolyte water products are around 20-40% more expensive than normal bottled waters because they have the added benefit of electrolytes and are often marketed as luxury or premium waters.
On average, you can expect to spend around $9-$16 on a 12-bottle pack of 500ml electrolyte water bottles.
If your budget is tight, look at the artificially flavored electrolyte-enhanced waters – these are often on the lower end of the price scale. The most expensive waters are those that are purified with multiple treatment processes and those that are sourced from unique overseas locations and contain naturally occurring electrolytes.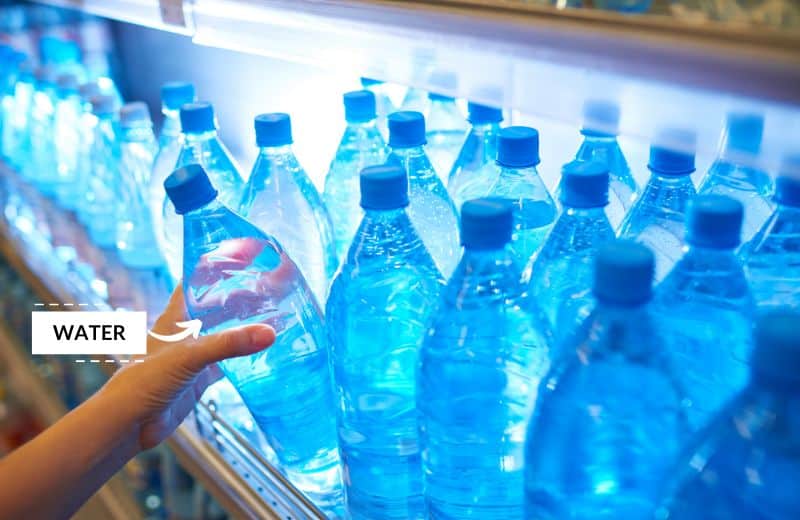 Brand Reputation & Customer Feedback
The reputation of a brand selling an electrolyte drink can tell you a lot about whether or not a product is worth your money.
You can read customer reviews to get a good idea of how an electrolyte water brand appeals to customers, and any shortcomings of the brand or product.
If you see a lot of negative reviews relating to water quality, move on to a better-reviewed product. But keep in mind that lots of customers complain about factors like price and taste, which are subjective (you might feel that a quality water product has a justifiable price, while somebody else doesn't, or another customer might dislike the taste of a water that you love).
So, read reviews and learn why customers are giving good or bad ratings. You should soon have enough feedback to decide whether an electrolyte water product is right for you.
Serving Circumstances
Different electrolyte water brands sell their waters for different purposes.
The reality is that most waters can be used for any purpose, whether that's daily drinking, drinking while exercising, or saving for special occasions. But it can still be helpful to understand the benefits of particular drinks for particular circumstances.
For example, if you want an electrolyte water to drink while working out, looking for water with added sodium and potassium is a good idea because they support hydration and fluid balance, and help to maintain muscle contractions – essential for a productive workout. You lose these electrolytes as you sweat, which is why it's helpful to replenish them during exercise.
Or, if you want a water that you can encourage your children to drink, choosing a flavored electrolyte water is a good idea. Most children prefer the taste of sweet flavored drinks compared to plain water, so you should be able to encourage your children to drink more (and the good news is that many flavored electrolyte water products are sugar-free).
For anyone who wants an electrolyte water they can drink every day, prioritizing a more affordable water may be best.
❔ FAQ
What is the best water to buy that has electrolytes in it?
In our opinion, the LIFEWTR Premium Purified Water is the best water to buy with electrolytes. It contains magnesium sulfate and potassium bicarbonate and is one of the most popular electrolyte water products available today, with 14,000+ positive customer reviews on Amazon (at the time of writing).
Does all bottled water have electrolytes?
No, not all bottled water has electrolytes. For instance, some bottled waters might be purified to remove any trace minerals or electrolytes. With that said, most waters contain very low levels of electrolytes – but not as many as water that has been deliberately treated to enhance its electrolyte concentrations.
Can I drink electrolyte water everyday?
Yes, you can drink electrolyte water every day. However, you should make sure not to overdo it. For instance, if you're drinking electrolyte water when you don't actually need electrolyte replenishment (i.e. you're not doing any sport or physical activity, you're not ill, and you don't have an electrolyte imbalance), then consuming electrolyte drinks daily can be harmful.
What are the best electrolytes to put in your water?
The best electrolytes to put in your water depends on your situation. For instance, if you want to hydrate after exercise, add sodium and potassium to your water. Or go for a more general blend of electrolytes if you just want to focus on electrolyte balance after getting sick.
What are the side effects of electrolyte water?
Many electrolyte water products don't have side effects and are safe to drink, with no maximum daily limit. However, drinking an excess of electrolyte water containing sodium could cause dizziness, vomiting, and diarrhea, so make sure to limit your intake of sodium-containing electrolyte sports drinks and drink them only when you need them.
What bottled water has natural electrolytes?
A few bottled waters contain natural electrolytes. Our top recommended water with naturally occurring electrolytes is Waiakea Naturally Alkaline Hawaiian Volcanic Water, which is sourced from a spring beneath a Hawaiian volcano and contains natural trace levels of sodium, calcium, potassium, magnesium, and chloride.