Sawyer Micro Squeeze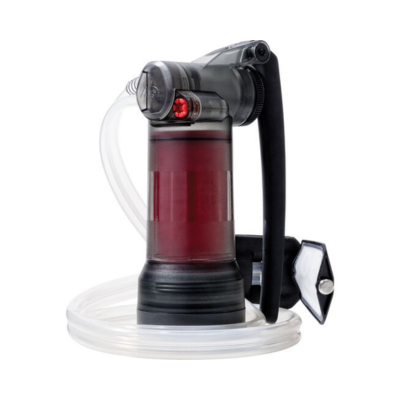 MSR Guardian
Platypus GravityWorks
Looking for a reliable water filter for your next backpacking trip?
We've researched and compared the best backpacking water filters available today, and shared our top recommendations for different scenarios in this guide.
Why trust us? We have an extensive background in the water filtration industry so we have a keen understanding of all the features and technologies a backpacking water filter should have.
🥇 Best Backpacking Water Filters
📊 Comparison Chart of Best Backpacking Water Filter
| Product | Sawyer Micro Squeeze | MSR Guardian | Platypus GravityWorks | LifeStraw Peak Squeeze | Grayl GeoPress | Aquamira Drops | CrazyCap Pro |
| --- | --- | --- | --- | --- | --- | --- | --- |
| Ranking | 5/5 | 4.5/5 | 4.5/5 | 4.5/5 | 4/5 | 4/5 | 4/5 |
| Ratings | 1st | 2nd | 3rd | 4th | 5th | 6th | 7th |
| Price | $32.95+ | $302+ | $118.55+ | $37.95+ | $99.95 | $11.02+ | $99+ |
| Weight | 1.85 ounces | 20.5 ounces | 11.5 ounces | 3.8 ounces | 19.4 ounces | 3.15 ounces | 16.2 ounces |
| Type | Squeeze pouch filter/straw filter/bottle filter attachment | Pump purifier | Hanging gravity filter | Collapsible bottle filter | Water bottle filter | Chemical treatment drops | UV purification system |
| Technology | Hollow fiber membrane | Hollow fiber membrane | Hollow fiber membrane | Hollow fiber membrane | Electroadsorptive activated carbon, ion exchange | Chlorine dioxide | Ultraviolet light |
| Flow Rate | 1.4-1.9 liters/minute | 2.5 liters/minute | 1.75 liters/minute | 3 liters/minute | 2 liters/minute | N/A | N/A |
| Filter Life | 100,000 gallons | 2,642+ gallons | 330 gallons | 500 gallons | 55 gallons | 30 gallons | 62,500 gallons |
| Warranty | Lifetime | 3-years | Lifetime | 3 years | 10 years | 2 years | 10 years |
⭐ Reviews – Best Backpacking Water Filter [Year]
Sawyer Micro Squeeze
Our top pick for the best backpacking and hiking water filter is the Sawyer Micro Squeeze. This squeeze pouch filter is ideal for backpackers because it's super lightweight, and the bag itself can be folded up small when it's not in use, so it takes up virtually no room and won't weigh your pack down.
The Micro Squeeze is a smaller version of the Sawyer Squeeze, and it's just as adaptable. You can attach the filter to the included drinking pouch, drink directly from a natural water source using the included straw, or connect it to the tubing of your own hydration pack or your water bottle (with a 28mm thread).
Key Features:
Ultra-compact filtration – The Sawyer Micro Squeeze weighs just 1.85 ounces when it's empty and is tiny enough to fit in the palm of your hand. You can fold the bag in storage, and use the adaptable filter as you prefer, including in conjunction with the equipment you usually take with you (like a hydration pack).
Hollow fiber filter technology – This Sawyer filter uses hollow fiber filtration with a 0.1-micron pore size that removes protozoa and bacteria, including cryptosporidium and giardia.
100,000-gallon lifespan – You can enjoy this filter for around 3-4 years, or 100,000 gallons. Simply backflush the filter to remove the sediment after every use.
Best For:
Folks looking for the best value, most versatile, compact, and lightweight filter to fit easily in their backpacks and provide multiple clean drinking water options on their backpacking trips.
Pros:
The 0.1-micron filter means you can filter even the nastiest water source and enjoy guaranteed clean, fresh water on the other end.
Filtering water with this device is quick and easy. If you use the squeeze pouch, you can get instant results by squeezing the pouch to send water through the filter while you drink from the mouthpiece. The same concept applies to using the filter with a bottle or hydration bladder. You also get instant access to water when using the straw filter.
You won't find a better-value backpacking filter on the market today. The Micro Squeeze is lower-cost than the standard Sawyer Squeeze, but offers the same fast performance, weighs less, and takes up less room.
Cons:
This filter can't be used to remove viruses, so keep this in mind if you plan to travel internationally.
You'll need to carry the included syringe with you and flush the filter after every use, which isn't hard, but requires a bit of extra effort when backpacking.
---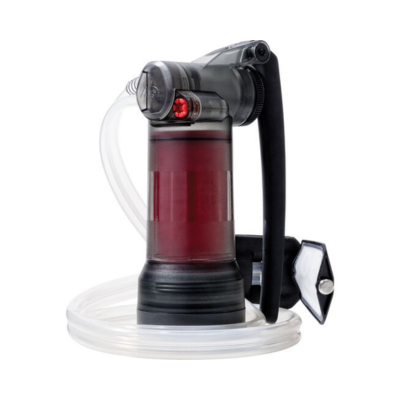 MSR Guardian
In our opinion, the best premium backpacking water filter is the MSR Guardian purifier. This pump filter was originally designed for military squads, so everything about its design prioritizes efficiency, speed, and reliability.
The MSR Guardian purifier meets NSF protocol for the removal of all types of microorganisms – including viruses, which are notoriously difficult to remove with a filtration method alone – and boasts a super easy operation and minimal maintenance.
Key Features:
Fast, reliable pump filtration – The MSR Guardian purifier is one of the fastest and most efficient pump filters available today, with a high water output and the ability to filter turbid, hot, or freezing water with equal effectiveness.
Filters bacteria, viruses, and protozoa – This pump water filter uses a hollow fiber membrane with a 0.02-micron pore size andmeets NSF protocol P248 for the removal of bacteria, viruses, protozoa, and sediment in even "worst case" water quality situations.
2,600 gallon+ lifespan – The filter itself has a 10,000-liter or 2,600-gallon + lifespan, which is the best we've seen of any of the pump filters we've reviewed.
Best For:
Anyone who prefers to spend extra on a premium backpacking filter that uses military-grade technology to reliably filter water in any part of the world.
Pros:
The huge benefit of this filter is that it removes viruses, so you can use it when backpacking in parts of the world where viruses are a problem in the natural water sources.
As a pump filter, the MSR Guardian purifier offers a faster flow rate than most other backpacking filters. You get 2.5 liters per minute of water from this device – that's substantially quicker than any squeeze or gravity filter.
We love how easy it is to use and maintain this filter. It has a self-cleaning feature that activates every time you pump water, and it comes pre-assembled in the box, with no loose parts that might get lost in your backpack.
Cons:
You might not want to pay so much money for a backpacking water filter, even one that's widely known for being the most powerful and easy-to-use pump filter available.
At 20.5 ounces and about 4 times the size of the Sawyer Micro Squeeze filter, the MSR Guardian purifier might not be best for you if you're specifically looking for the smallest, most lightweight filter for your backpack.
---
Platypus GravityWorks
It makes sense for groups of backpackers to reduce their overall luggage weight and share a portable filtration solution between them – and we've found that the Platypus GravityWorks is the best hiking water filter for this occasion.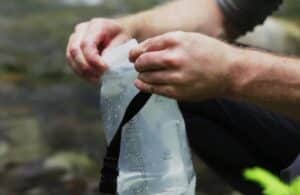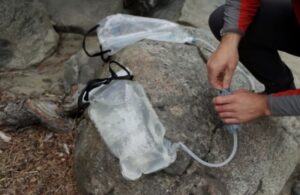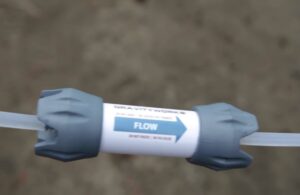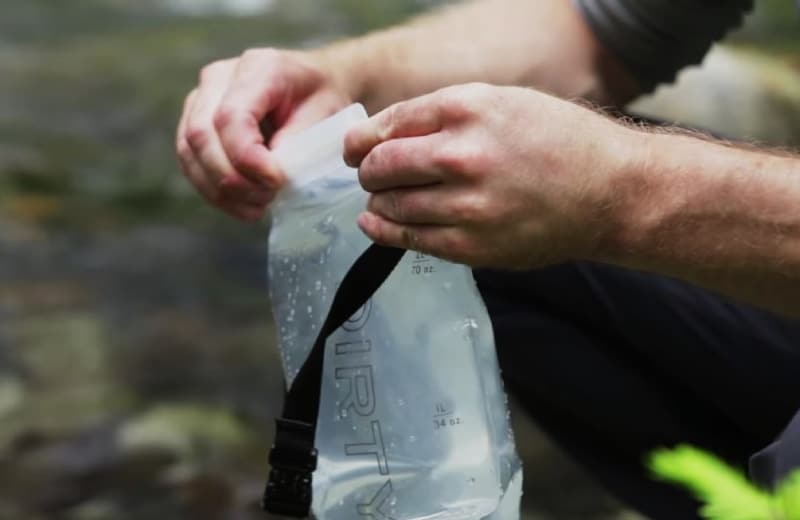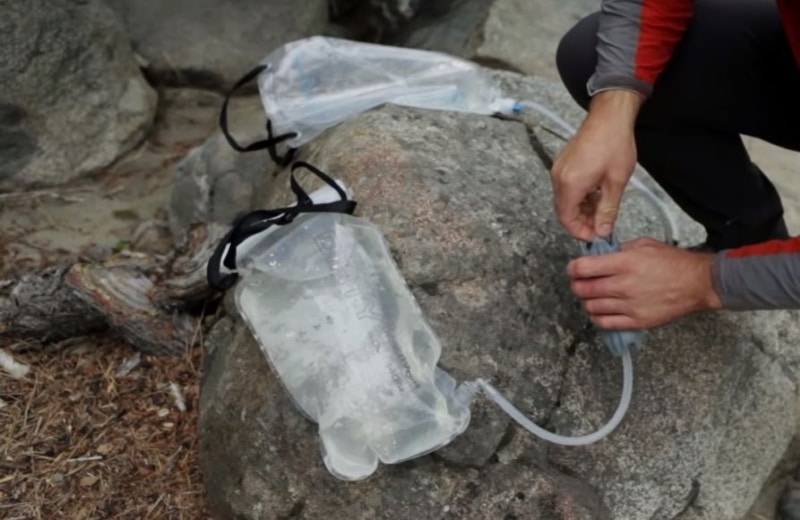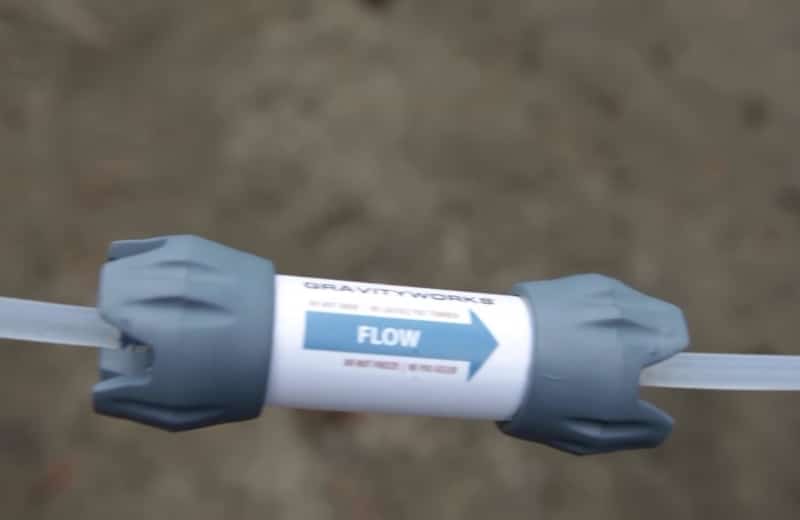 The hanging gravity filtration takes longer than squeeze or pump filter methods, but shouldn't be a problem if you're smart about when you fill and filter the pack. It's easy to use and can filter 4 liters of water in less than 5 minutes – and reliably removes both protozoa and bacteria.
Key Features:
Hanging gravity filtration in 2 sizes – The Platypus GravityWorks has a simple but effective design: water is added to the "dirty" water bag and filters gradually into the "clean" water bag. You can buy this system in two sizes: an 8-liter option (2 x 4 liter bags) for smaller groups, or a larger 12 liter option (2 x 6 liter bags) for big groups.
Filters bacteria and protozoa – This hanging gravity filter removes both bacteria and protozoa, including giardia and cryptosporidium, so it's a good choice to use when backpacking throughout North America.
1,500-liter lifespan – The filter lifespan is around 1,500 liters, or 330 gallons, and you can flush the filter by sending water through the filter in the opposite direction if the flow rate gets slow.
| Platypus GravityWorks Options | Price |
| --- | --- |
| 2-Liter | $125.95 |
| 4-Liter | $118.55 |
| 6-Liter | $149.93 |
Best For:
Groups of people who want a convenient backpacking water filtration solution that filters large quantities of water at a time.
Pros:
The Platypus GravityWorks is one of the most reliable and versatile gravity filters we've reviewed. The 4 or 6-liter bags give you access to large quantities of filtered water, so there's enough to go around without the need for filtering multiple batches.
Setup is easy: just connect the "clean" and "dirty" water bags with the included tube and filter, add water to the "dirty" water bag, and wait for water to filter into the "clean" water bag.
Using this gravity filter as a group of backpackers is super convenient. You can filter water while you're enjoying a meal or settling down for the night, then fill your empty water bottles, so you don't have to bulk up your backpack with full water bottles before you set off. Plus, the device doubles as a handwash or shower station.
Most gravity filters need to be hung vertically, but you can place the Platypus GravityWorks filter on a rock or a slope and it'll still filter your water at a good speed.
Cons:
The 330-gallon lifespan isn't as long as the other filter lifespans on this list.
This filter isn't the best solution if you plan to be constantly on the move and want instant access to filtered water.
---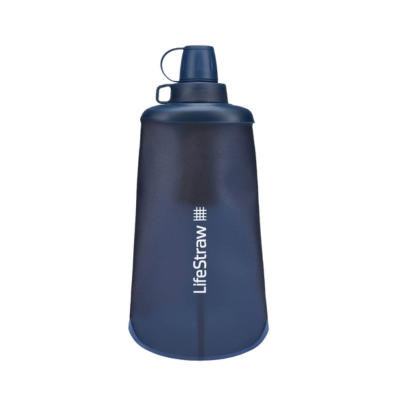 LifeStraw Peak Squeeze
If you like the familiarity of using a water bottle on your backpacking ventures, but you don't want the hassle and extra weight of carrying pre-filled water bottles, the LifeStraw Peak Squeeze is the best hiking water filter for you.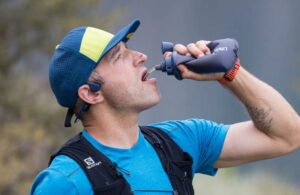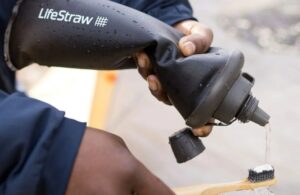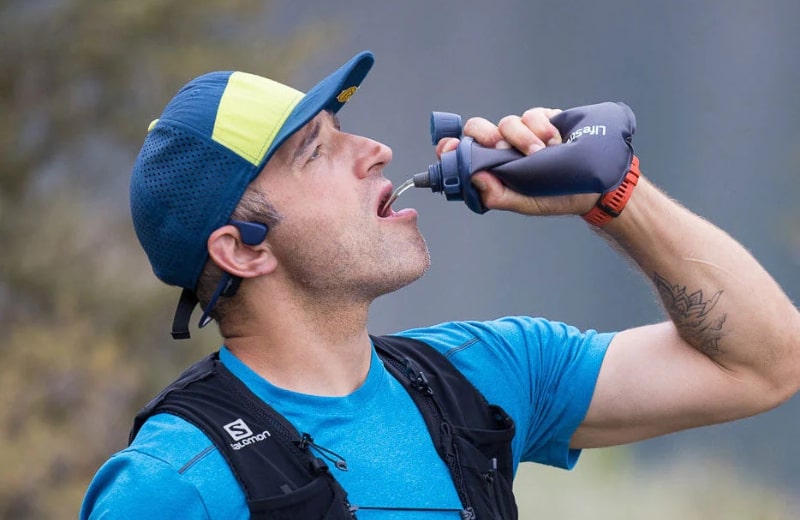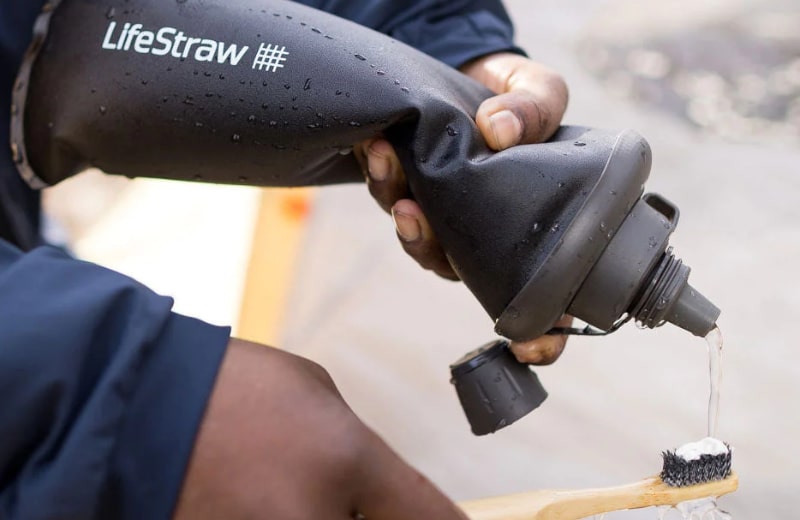 We think this device is the best collapsible water bottle filter available because it's so quick and easy to use, with a sleekly-designed soft bottle that folds up small when empty, reducing its footprint in your pack. It's versatile, too – either drink from the bottle or detach the filter to drink directly from a water source.
Key Features:
Squeeze bottle filtration – The LifeStraw Peak Squeeze is a collapsible bottle filter with a sleek, smart design and a simple use case: just fill the bottle, attach the filter, and squeeze the bottle to send the water through the filter into your mouth.
Hollow-core membrane microfiltration – This lightweight backpacking filter uses a 0.2-micron hollow fiber filter that meets the EPA and NSF P231 drinking water standards for the removal of parasites and bacteria, as well as microplastics, sand, silt, and turbidity, producing water that's clean, clear, and safe to drink.
2,000-liter lifespan – The filter lasts 2,000 liters, or 500 gallons. For safety purposes, water will stop flowing through the filter when it's reached the end of its lifespan, so you'll know for certain when it should be replaced.
| LifeStraw Peak Squeeze Options | Price |
| --- | --- |
| 650 mL | $37.95 |
| 1L | $43.95 |
Best For:
Folks looking for a better and more convenient alternative to a separate water bottle and attachable filter, which takes up less space and offers an all-in-one bottle filtration solution.
Pros:
We love the simplicity and convenience of this backpacking water filter. You don't have to familiarize yourself with a foreign concept – we've all used a water bottle before and the only unique feature of this one is the attached filter.
The 3 liter/minute flow rate is fast enough to give you instant access to filtered water when you drink from the spout. You don't have to drink all the water in one go, either – just remove the filter and use the bottle for storage until you next feel thirsty.
This bottle filter won't take up endless space or weigh your pack down. It weighs just under 4 ounces thanks to its lightweight BPA-free plastic design, and it easily fits into the side pocket of a standard-sized backpack.
Cons:
Maintenance is a bit of a nuisance for this filter. You'll have to backwash it after every use to maintain a substantial flow rate.
Drying out the bottle after use is difficult, which makes us worry about mold and bad smells.
---
Grayl GeoPress
Based on our research, the best bottle filter for backpackers is the Grayl GeoPress. This durable water bottle has a press filtration function that's super easy to use and removes microorganisms (including viruses!), heavy metals, and microplastics, producing clean, great-tasting drinking water.
This device takes up more space than the Lifestraw collapsible water bottle, but it's even more convenient for folks who want something that looks and functions just like a normal reusable water bottle, but has the added perk of purification.
Key Features:
All-in-one bottle filtration – The Grayl GeoPress provides convenient filtration in a bottle with built-in purification. It's the bigger version of the Grayl UltraPress, with a larger capacity of 24 ounces (or 709 ml) for storing more filtered water at once and a longer lifespan.
Ion exchange and electroadsorptive carbon filtration – This bottle filtration strays away from the norm and uses ion exchange and electroadsorptive carbon media rather than the standard hollow-fiber membrane, which removes microorganisms and heavy metals.
Lasts for 350 presses – The filter has an average lifespan of 55 gallons or 250 liters, which equates to about 350 presses, meaning you can use it to filter up to 350 batches of water before a replacement filter is needed.
Best For:
Anyone who has enough space in their pack for a bigger bottle and prefers the convenience, water storage capacity, and easy use of the best press bottle filter.
Pros:
We love the unique design of the Grayl GeoPress, which makes it one of the easiest filters to use. No need to squeeze, pump, or wait for gravity to take effect – simply fill the bottle with water and push the base of the bottle to send the water through the filter, ready for drinking.
A standout feature of this water bottle filter is that it doesn't just remove particulates, microplastics, protozoa, and bacteria like most backpacking filters. Its unique filtration media enables it to also remove heavy metals like arsenic, lead, and cadmium, which you're likely to find in any US surface water source, as well as viruses, which are common in water sources abroad.
The GeoPress is super quick to work, filtering a full batch of water in less than 20 seconds, so you can get instant access to purified water whenever you want.
Cons:
Size and weight is the only real setback here. If you want to pack as light as possible or you have a smaller pack, this bottle might be too big for your needs.
The 40-gallon filter lifespan is shorter than the other recorded filter lifespans on this list.
---
Aquamira Drops
In our opinion, the best chemical treatment for making water potable on your backpacking trips is the Aquamira Drops.
This two-part treatment eliminates the need to bring any sort of filtration device on your travels – which, let's face it, always carry the risk of breaking or failing to work – and its ability to destroy bacteria, viruses, and protozoa means it can be used to provide safe drinking water all over the world.
Key Features:
Two-step filtration – The Aquamira Drops consists of two separate bottles: a part A and a part B bottle. The liquids in both bottles are activated when they're combined, and take 20-30 minutes to sterilize your water.
Chlorine dioxide treatment – The key ingredient in this chemical treatment is chlorine dioxide, a chemical disinfectant that kills microorganisms like viruses, bacteria, and protozoa (including giardia and cryptosporidium).
Treats up to 30 gallons – A single two-bottle purchase can be used to treat up to 30 gallons of water, which costs around 12-15 cents per liter (depending on where you buy the drops and at what price).
Best For:
Anyone who prefers a chemical water treatment method instead of a physical filtration device and is looking for the best, most powerful option available.
Pros:
The Aquamarina Drops are superior to most other chemical treatments because they destroy giardia and cryptosporidium. Most other treatment chemicals don't kill cryptosporidium, so the Aquamarina drops allow you to be better protected when hiking and camping.
Using these drops to purify water is easy. You simply pour a couple of drops from each of the bottles into the mixing cap, then leave them for 5 minutes to activate before adding them to your water and waiting another 20-30 minutes for the chemicals to take effect.
We appreciate that you don't have to fuss about with a filtration system for each member of your group. The two small bottles of chemicals should provide enough treatment for everyone throughout your trip.
Cons:
If you don't want the hassle or fiddliness of using a chemical treatment, the Aquamira Drops might not be right for you. You can't prepare the solutions in advance – the measuring and mixing need to be done in real-time.
You won't get instant access to purified water, either. The total wait time is 25-35 minutes – not ideal if you're parched or you want to get back on the trails as quickly as possible.
---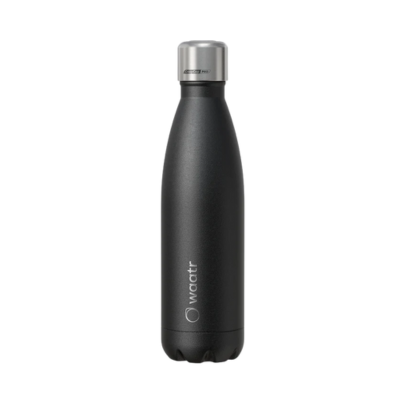 CrazyCap Pro
Our top recommended choice for the best UV water purifier for backpackers is the CrazyCap Pro. This bottle cap purifier can be used on any 740ml stainless steel water bottles, including the manufacturer's own bottle, and purifies water at the touch of a button.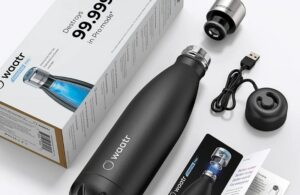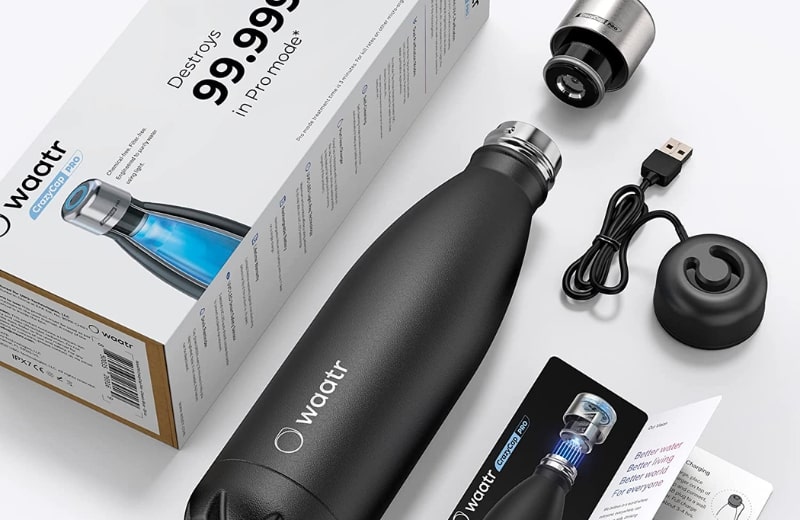 Like all the best backpacking filters, the CrazyCap Pro has a lightweight, compact design that makes it a convenient hiking and camping companion. What makes this purifier unique is that it doesn't use physical filtration – instead, it eliminates disease-causing microorganisms with ultraviolet light.
Key Features:
Instant UV purification – The CrazyCap Pro works instantly to purify water with UV. You simply touch the lid to purify the contents of the bottle. There are two modes: the first lasts 60 seconds and kills up to 99.1% of microorganisms, while the second lasts 90 seconds and kills 99.99999% of microorganisms.
Ultraviolet light treatment – There are no filters in this system. The device emits ultraviolet light with a 278nm wavelength, which effectively kills bacteria, particulates, and protozoa by scrambling their DNA.
Lasts for 500,000 treatments – The UV technology in this purification bottle cap has an impressive62,500 gallon or 236,588 liter lifespan, which equates to 10 years or 500,000 treatments.
| CrazyCap Pro Options | Price |
| --- | --- |
| 17 oz | $99 |
| 25 oz | $119 |
Best For:
Folks who want the fastest and easiest backpacking water purification solution that guarantees safe, microorganism-free drinking water.
Pros:
If you love getting your money's worth, the CrazyCap Pro is the backpacking water filter for you. It lasts 10 years – that's longer than any other filter lifespan on this list – and costs just $80 upfront.
We think this UV light water purifier is easier to use than any other treatment method for backpackers. No pressing, pumping, assembling gravity bags, or sucking a straw with resistance – just touch the lid once to activate the UV light and your water will be purified within 60-90 seconds.
The bottle is both lightweight and durable, so it won't weigh your backpack down and it can withstand bumps, bangs, and accidental drops.
Cons:
Because the CrazyCap Pro isn't a filtration system, it can only handle microorganisms. It won't remove physical contaminants from water, like heavy metals, sediment, and turbidity.
You have to charge the bottle every so often (frequency depends on your use case), so it's not the best solution if you need a backpacking purification system for weeks of hiking in the wilderness.
---
🧾 How To Choose a Backpacking Water Filter or Purifier
Here are some of the most important factors to consider when deciding on the best water filter for your backpacking trip:
Filter Type
First of all, get familiar with the different types of water filters available for backpacking and decide on which types are best suited to your situation.
Popular types of backpacking filters are:
Straw filters – Can be used to drink directly from a water source; the sucking force sends water up through the filter and into your mouth.
Squeeze filters – Come with a squeeze pouch that can be filled with water; squeezing the pouch drives water through the filter as you drink.
UV purifiers – Use UV light to purify water in a bottle; kill microorganisms but can't remove turbidity or sediment.
Hanging gravity filters – Filter water from a "clean water" bag to a "dirty water" bag, connected by a pipe with a filter attached, using gravity filtration.
Water filter bottles – May have press/plunge or straw filtration systems, meaning that you press the base of the bottle or suck on the straw to filter water.
Pump filters – Use the force of manual pumping to send water through the filter for instant purification.
Chemical cleaning drops – Such as chlorine dioxide drops, which purify water within 20-30 minutes of being added; can kill microorganisms but can't physically remove contaminants.
You might prefer a certain filter type because you trust the technology or you find the treatment method the most convenient for you.
Or, you might choose one type of filter over another due to its suitability for your budget, setup and maintenance preferences, or some of the other factors we've listed below.
Budget
Your budget will determine the types of backpacking water filters that are available to you. The bigger your budget, the more choice you'll have.
If your budget is small, consider chemical cleaning drops, straw filter devices, and squeeze filters, which cost around $15-$60.
Folks with moderate budgets can also consider UV purifiers and hanging gravity water filters, which cost around $70-$120.
If your budget can stretch as far as it needs to, you'll also have your choice of pump filters, which typically cost $150+.
Aside from filter type, there are a few other things that affect the cost of a backpacking water filter:
The manufacturer's reputation – Manufacturers who are well-known in the industry or have revolutionized a particular product can charge higher for their products than new, up-and-coming brands.
The filter size and complexity – The bigger the filter and the more complex its design, the more it costs to build; and the more it'll cost to buy.
The quality of construction – Filters made from expensive, high-quality components typically cost more than filters made from cheap, poorer-quality materials.
Expected filter lifespan – If the manufacturer anticipates their filter should last for 10 years of use, they can price their products higher than filters that only last 1 year or 3 years because you get a full decade without having to buy a filter replacement.
Number of attachments/configurations – Some filters have numerous different attachments for different uses, and you'll typically pay more for these extra components.
Regardless of how much money you spend upfront, you're pretty much guaranteed to get great value for money when you buy one of the best backpacking water filters.
All the different filter types have long lifespans, and most can be backwashed to extend their use and speed up water flow.
Flow Rate
Speaking of water flow, this is something else to think about when shopping for a filter for your backpacking trips.
Picture your ideal water drinking scenario. Do you want instant access to filtered water on demand, or are you happy to take a leisurely break, admire the view, and have a snack while your water gradually filters? Your answer to this question will determine the most suitable filter type for you.
If you're always racing to the next trails and viewpoints and want the fastest filtration solution, consider straw filters, squeeze filters, and pump filters, which have flow rates of around 1.5-3.5 GPM and provide purified water within 0-10 seconds.
If you don't mind a short wait, you can also consider UV purifiers, which kill microorganisms within 60-90 seconds once the UV light is activated.
If you're not in a rush to filter your water, you might prefer hanging gravity filters, which have an average flow rate of 0.8-2 gallons per minute and take slightly longer to filter a full bag of water.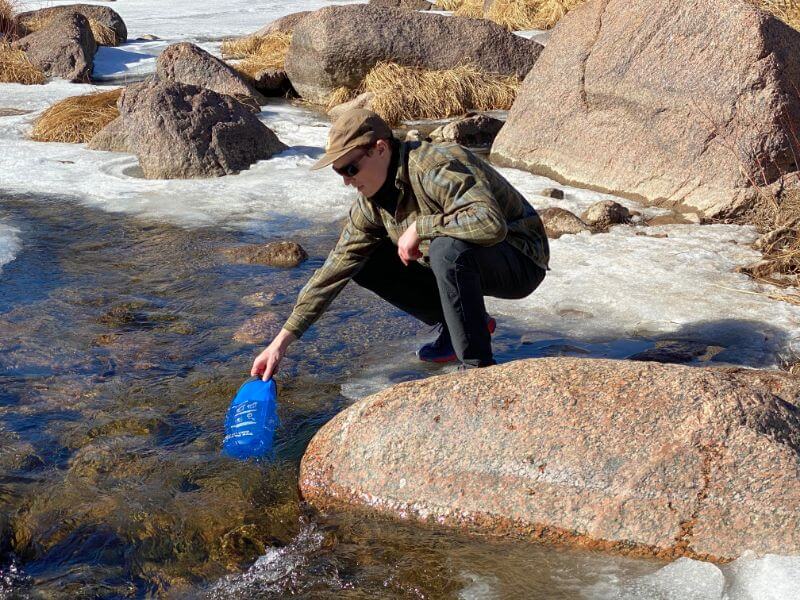 Physical Size
Size is another important factor to consider when you're comparing the best backpacking water filters.
Consider the size of your pack and how much you need to carry with you. This will determine how big you can go with your backpacking filter of choice.
If your backpack is relatively small and you've already taken up a lot of space with meals, camping equipment, bathroom essentials, and first aid gear, you'll be better off with one of the smaller filtration devices, like a collapsible water bottle filter, a straw filter, or a squeeze filter.
If you have a bit more room but still want something that takes up minimal space, you an also consider a hanging gravity filter, which has a few more components but can still be easily folded up to reduce its overall footprint.
Or, if your backpack is roomy and you don't want to be restricted by size, you can have your pick of all the backpacking filters and water purifiers, including rigid bottle filters and UV purifiers, and pump filters.
Filter Weight
Weight and size don't always come hand-in-hand. Some filters are larger but lighter, while others are smaller but heavier.
The good news is that most filters for backpacking use are specifically designed to be lightweight for easy carrying, but some are still heavier than others.
If your backpack is already weighed down with heavy gear, look for water filters that won't add extra pounds onto your back. Straw filters, gravity filters, and squeeze filters are all super lightweight because they're made from various plastics, so they weigh as little as 1-5 ounces.
If you don't mind the extra weight, you can also consider water pump purifiers and bottle filters, which are heavier because they're made from metals and other weighty components.
Still, the weight range for these filter types isn't excessive – they weigh around 10-20 ounces, which is lighter than a basketball.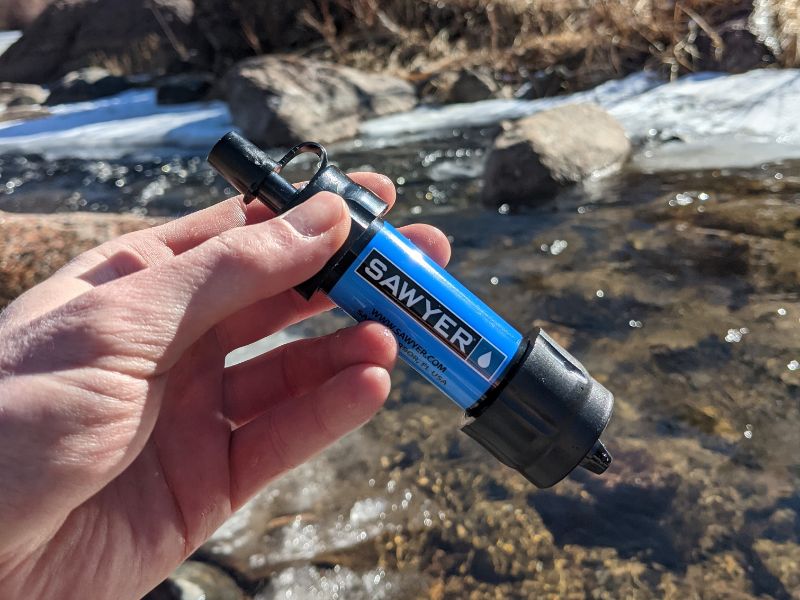 Filter Capacity & Lifespan
The lifespan of a backpacking water purifier or filter depends on the filter type, brand, and quality.
On average, backpacking water filters last 3-5 years.
Some of the best filtration systems last up to 10 years, while some models have lower lifespans of 1-2 years.
Hollow fiber filters, which are commonly found in squeeze filters, inline filter cartridges in gravity filters, and straw filters, have the advantage of being backwashable.
That means you can flush the filter by sending water back in the opposite direction, which will improve its flow rate and prevent you from having to replace a clogged filter with a brand-new one.
UV water purifiers tend to have the longest lifespans because they don't have a physical filter cartridge that could degrade or wear over time.
Filter Pore Size
If you buy a filter that provides physical filtration (as opposed to UV or chemical purification), consider the filter pore size that you need for removing specific contaminants.
Most water filters for backpacking have a pore size of 0.1-0.2 microns or smaller, which means they're capable of filtering out protozoa. The required pore size for removing this microorganism is 1 micron according to this CDC backcountry water treatment guide.
Viruses are more difficult to remove with physical filtration because they're a lot smaller – as small as 0.02 microns in size.
However, some filters do have small enough pore sizes to remove viruses, making them suitable for using to treat water in countries outside of the US.
If you're really concerned about viruses in your source water and you want to be completely protected from these microorganisms on your backpacking trip, opt for a UV purifier, which is guaranteed to eliminate viruses, rather than a physical filter.
Setup & Maintenance Preferences
You might have specific preferences for setup and maintenance that means you can rule out certain filters before you even begin your search.
If you want a water purifier that's ready to go as soon as you unbox it, you'll do well with a squeeze filter, a straw filter, or a water bottle filter.
You'll usually need to attach the filter to the device, then fill it with water and start using it immediately.
If you don't mind spending a bit more time on setup, you can also consider a hanging gravity water filter, a pump filter, or water purification drops, which have more components and take slightly longer to assemble or prepare.
As for maintenance, all the filtration types that use a physical filter will need to be periodically backwashed to maintain a fast flow rate. The manufacturer may also advise on how to store the filter between uses to extend its lifespan and prevent the filter media from drying out.
If you want to avoid maintenance as much as possible, opt for a UV light filter. You'll only have to clean out the bottle as you would with any reusable water bottle. Or, consider water purification drops, which have a one-time use case and therefore don't require maintenance.
Ease Of Use
We know which backpacking water filters take the longest to work – but which filters are the easiest to use?
If you want a filter that requires as little physical effort from you as possible, choose a UV water purifier. This type of filter is activated at the touch of a button, so all you have to do is fill up the bottle, touch the lid, and wait 60 seconds.
Don't mind using a filter that requires slightly more effort? Consider a squeeze filter, a straw filter, or a collapsible bottle filter. There's a bit of extra work that goes into sucking the straw or squeezing the bag or bottle, but you certainly won't tire yourself out.
If you're open to any kind of work involved in filtering water on your backpacking adventures, you should be happy to commit to the pumping effort of a pump filter or the additional job of preparing and hanging the bags of a hanging gravity filter.
None of the backpacking water filters take any real effort to use, so you can't go wrong no matter which filter type you choose.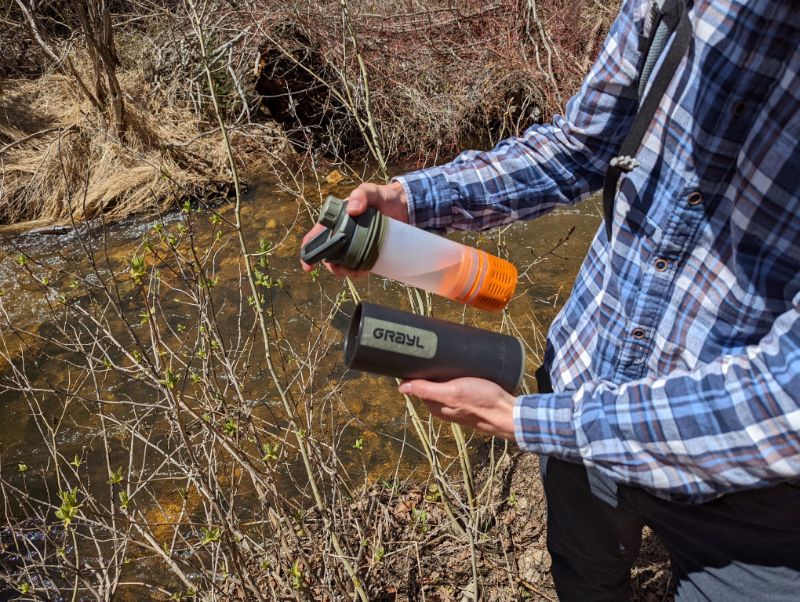 Design Quality
A water filter for backpacking isn't going to sit calmly on your kitchen countertop. There's a good chance that this filter will be crammed in your backpack, subjected to a few bumps, bangs, and accidental drops, and treated with less care and forethought than you'd probably have for items at home.
In short, a backpacking water filtration system needs to be rugged and durable enough to withstand the kind of treatment that it's likely to experience when it's being used on-the-go for outdoor water treatment.
Most water filters for backpacking are made from lightweight, sturdy plastics that aren't heavy enough to shatter when dropped, but aren't flimsy, so they shouldn't fall apart when you apply a bit of pressure (like the weight of other items in your backpack).
Some water filter types, like water bottle filters and pump filters, may use metal parts, such as stainless steel. Metal is even sturdier than plastic and should last longer, but it's also heavier, so it'll add more weight to your pack.
Regardless of design materials, a water filter for backpacking should be durably built with as few parts as possible, reducing the likelihood of small components breaking off or going missing.
Most of the best backpacking water filters fit this description, with a basic design that consists of a detachable filter cartridge and a vessel for storing the unfiltered/filtered water. Some devices come with a separate siphon for flushing or backwashing the filter.
Contaminant Removal
Your planned backpacking destination will determine the type of filter you buy, and the filter' contaminant removal abilities.
Most backpacking water filters remove bacteria and protozoa, including guardian and cryptosporidium. If you're just planning to hike in North America, these filters should protect you from the likely contaminants in the surface waters you're likely to come across.
Some filters remove additional impurities, like sand, silt, turbidity, particulates, and heavy metals, which further improves your water safety and gives it a cleaner appearance and a smoother taste.
A few of the best water filter devices also remove viruses, which is an important trait to look for if you plan to travel to overseas locations that have known problems with viruses in their surface waters.
If you want to be certain of a filter's contaminant removal abilities, check the manufacturer's website for third-party test data that supports their claims. Ideally, a filter should meet NSF protocol P248 for the removal of various microorganisms and impurities.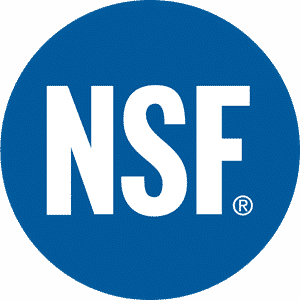 Chemical/UV Vs Physical Filtration
There are two categories of water treatment you can receive from a backpacking filtration system: physical filtration with filter media and purification with UV or chemical treatment.
Physical filtration uses a single filter media or a blend of media that physically traps contaminants in its pores, preventing them from passing through with the water particles.
The filter should be flushed periodically, which involves sending water in the opposite direction through the filter media to dislodge the accumulated contaminants and clear the filter surface, allowing for continued filtration and a consistent flow rate.
UV or chemical treatment uses water purification chemicals (like chlorine dioxide) or ultraviolet light to kill microorganisms by damaging their DNA. The contaminants aren't physically removed from water, but in their altered form, they're unable to make you sick when you ingest them.
There are pros and cons to each of these methods, which you should consider when you're choosing the best filter for your needs.
The obvious advantage of physical filtration is that it offers extra peace of mind by removing contaminants from water, and it also improves water's taste and texture by removing turbidity and sediment. However, physical filters require more maintenance and backwashing, and the speed of filtration can be impacted by high-turbidity water.
UV and chemical treatment is easier to maintain and doesn't affect flow rate. UV water purification is especially efficient because it takes a single minute for the UV light to treat a batch of water. The disadvantage of these methods, however, is that they don't remove suspended particles or improve water's taste. Chemical treatments also have the potential to be dangerous if the dosage instructions aren't followed correctly.
Pre-Filtering
You shouldn't need to use a pre-filter to treat your water before using a backpacking water filter – as long as you aim to collect water from the clearest flowing water source you can find.
However, you can't always afford to be picky with your water sources when you're backpacking in the wilderness. If you anticipate that you'll only have access to turbid or boggy water on your hiking trip, you might want to consider using a pre-filter method. This will reduce clogging of your primary treatment method and speed up the water flow rate.
A pre-filter is a dedicated water filter that removes large particles of sediment and debris from water, such as sand, silt, and soil.
Rather than carrying an additional water filter around with you, make your own pre-filter out of a bandana or a similar item of clothing.
Simply place the material over a bucket or water jug, then hold it tight on either side while another member of your group slowly pours water over it. The water will flow through the material into the jug, while the sediment will sit on the top surface.
Another slightly less effective method of pre-filtering your water is to fill a Ziploc bag with water, then wait for the sediment to settle at the bottom and scoop out the top half of the water and put it in a separate container for additional treatment.
Emergency Backup
By now, you should have all the information you need to choose the best water filter for your backpacking trip.
But keep in mind that your chosen method of water filtration might let you down.
The best water filters for backpacking have high success rates, but there's always a chance that a filter could become damaged, broken, or even lost in the middle of your backpacking trip.
For that reason, we strongly recommend carrying an emergency backup system that you can use if your main treatment method is no longer usable.
This is especially important if you're backpacking alone or your entire group plans to use the same water filter, meaning that without a backup, you'd be left with nothing if your primary filter stopped working.
A simple straw filter or chlorine dioxide purification drops should suffice. The whole point of this device is that it's intended for emergencies, so you don't have to spend a fortune on one of the best treatment methods. Just check customer reviews and the manufacturer's reputation before you buy.
Make sure to pack the spare treatment method in a different location to your main filter, so if you lose a pack or an item of clothing, it doesn't mean you've lost all possible access to clean water.
❔ FAQs
What is the safest water filter backpacking?
The safest way to filter water on a backpacking trip is to use a hollow fiber filter with a small enough pore size to remove microorganisms like bacteria, protozoa, and particulates. If you want to be protected when drinking water sources abroad, look for a filter that also removes viruses. You could choose to filter your water, then follow up with a chemical water treatment, for extra reassurance.
What is the best way to purify water backpacking?
The best way to purify water when backpacking is to use a portable water filter or purifier that's designed specifically for purifying untreated source water. Gravity water filters, straw filters, squeeze filters, and UV bottle filters are all good choices for a backpacking excursion.
Do water filters work in backpacking?
Not all water filters work for purifying water while you're backpacking. The average activated carbon water filter isn't designed to remove microorganisms, so this filter can't be effectively used to treat the surface waters you're likely to come across on the trails. You need a dedicated backpacking water purification system that uses a hollow fiber filter or UV light to remove or kill these impurities.
How safe are backpacking water filters?
Backpacking water filters are safe and reliable, as long as you buy a popular, highly-reviewed product from a reputable brand and follow the manufacturer's use and maintenance instructions carefully. Make sure you know a filter's contaminant removal capabilities and check its suitability for a certain water source. For instance, many water sources around the world contain viruses, which not all backpacking water filters will remove.
How long do backpacking water filters last?
Backpacking water filters last 3-5 years on average. The filter lifespan depends on its size, capacity, and quality of build, as well as the filter type and technology, and how frequently you use it. The device will become much slower and less efficient at filtering water, even with backflushing, when it's nearing the end of its lifespan.