The most affordable way to get all the health benefits of alkaline water.
Invigorated Water pH Restore Alkaline Water Pitcher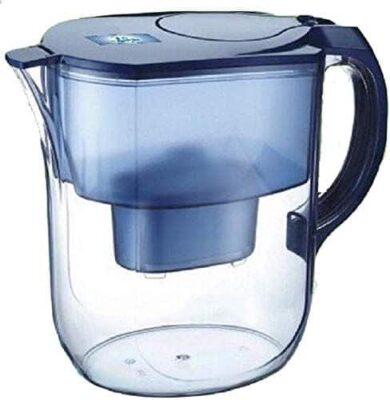 Ehm Alkaline Water Pitcher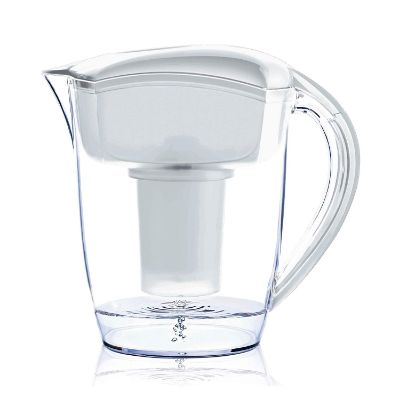 Santevia Water Systems Alkaline Water Pitcher
Alkaline water is becoming more and more popular, with emerging evidence suggesting that it boasts a number of impressive health benefits. If you currently buy bottled alkaline water because you enjoy its taste, it's time to think about saving money and purchasing an alkaline water pitcher.
Alkaline water pitchers are pretty smart – despite the fact that they're some of the cheapest alkaline water solutions on the market. They're capable of removing contaminants that might affect the taste and quality of your water. Of course, as the name suggests, they also increase the alkalinity of your water, usually by adding minerals.
There are plenty of alkaline water pitchers to choose from, so you're bound to find an option that suits your requirements best. I'll be sharing my top picks for alkaline water pitchers in 2023, and discussing anything worth considering if you're thinking of buying one.
🥇 Best Alkaline Water Pitcher
📊 Comparison Chart of Alkaline Water Pitchers
| Pitcher | Invigorated Water pH Restore Alkaline Water Pitcher | Ehm Alkaline Water Pitcher | Santevia Water Systems Alkaline Water Pitcher | Hskyhan Alkaline Water Filter Pitcher | Seychelle pH2O Alkaline Water Filter Pitcher | Lake Industries7000 Alkaline Water Filter Pitcher |
| --- | --- | --- | --- | --- | --- | --- |
| Ranking | 1st | 2nd | 3rd | 4th | 5th | 6th |
| Ratings | 5/5 | 4.5/5 | 4.5/5 | 4/5 | 4.5/5 | 4/5 |
| Price | $$ | $$ | $$ | $$ | $$$ | $$ |
| pH Adjustment | +2.0 | +2.5 | +2.0 | +2.0 | +2.5 | +2.0 |
| Capacity | 8 cups | 8.4 cups | 9 cups | 3.5 liters | 32 oz | 2.5 liters |
| Filter longevity | 96 gallons | 50 gallons | 80 gallons | 37.5 gallons | 100 gallons | 40 gallons |
| Annual Cost | ~$50 | ~$30 | ~$120 | ~$70 | ~$100 | ~$50 |
| Warranty | 1 year | – | 30 days | – | 90 days | – |
---
⭐ Reviews – Best Alkaline Water Pitchers 2023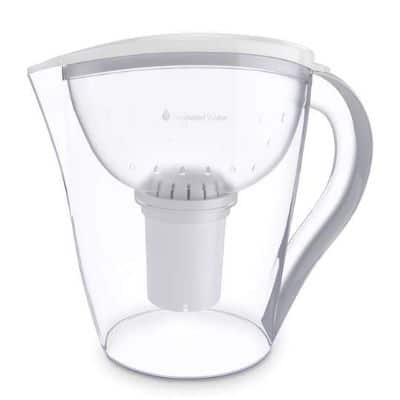 Invigorated Water pH Restore Alkaline Water Pitcher
The Invigorated Water pH Restore Alkaline Water Pitcher offers an affordable, two-in-one filtration solution, adding minerals and boosting water's pH, as well as removing a broad range of common drinking water contaminants.
This pH boosting filter cartridge, made from a proprietary media blend, has a 96-gallon lifespan, making it one of the longer-lasting pitcher filters on this list.
The pitcher itself is easy to fill, though the reservoir capacity could be bigger, at just 1.3 liters. You'll need to fill this pitcher several times throughout the day if you're using it to supply clean, alkaline water to your whole family.
Water from the Invigorated Water pitcher is free from fluoride, chlorine, pollutants and heavy metals, and has an enhanced taste and smell. Added calcium and selenium minerals boost the nutritional value of your tap water.
As well as increasing alkalinity, the Invigorated Water pitcher uses high negative Oxidization Reduction Potential to eliminate free radicals and deliver water that is naturally high in antioxidants – which are key for increased energy levels and immunity.
The Invigorated Water pitcher offers an impressively fast filtration performance for a gravity filter. According to the manufacturer, this is due to the adsorption process that takes place inside the cartridge.
👍 What We Like
Offers thorough water treatment
Adds calcium and selenium to water
Impressively fast filter performance
👎 What We Don't Like
Reservoir capacity could be bigger
Leaking carbon particles is a common issue
---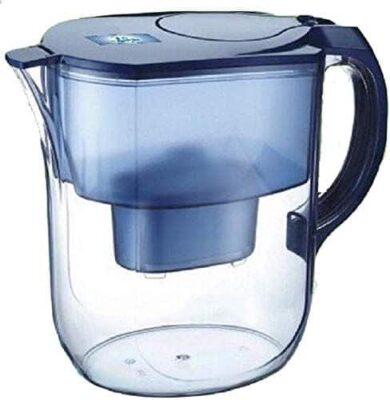 Ehm Alkaline Water Pitcher
Considered the best alkaline water pitcher by thousands of satisfied customers, the EHM Ultra-Premium Alkaline Water Pitcher produces clean, contaminant-free mineral water within a matter of minutes. This 3.8-liter jug can hold enough water to keep a small family hydrated with just a few refills needed per day.
The design of the jug is smart and compact, designed for easy storage when not in use. It won't take up too much room on your countertop, either, making it a great choice for homes with limited counterspace.
As an ionizer water pitcher, the EHM Ultra-Premium Alkaline Water Pitcher micro-clusters and reduces the molecule size of water, producing alkaline water that's more easily absorbable by your body's cells. The 6-stage filter used in this pitcher features an ion exchange layer and an activated carbon layer that work to remove heavy metals and chlorine, as well as a few other contaminants.
The EHM produces water with a pH of between 8.5 and 10, depending on the water source. To improve water quality further, the EHM adds potassium, magnesium and calcium minerals during the filtration process. There's a micro-screen included in the filter that prevents the release of black carbon particles into water – a common issue with carbon filters.
If you use the EHM pitcher for approximately 3 liters of filtration per day, the pitcher should last you for approximately 2 months. It takes just a few minutes to filter the full jug of water.
👍 What We Like
Produces great-tasting water
Thorough 6-stage filtration
Alkalizes water and adds 3 healthy minerals
👎 What We Don't Like
Lid is a little loose – could be fitted better
A little more expensive than similar pitchers
---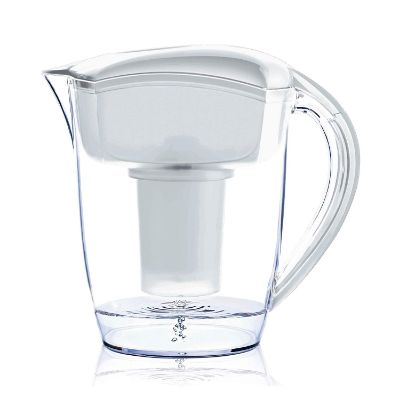 Santevia Water Systems Alkaline Water Pitcher
The Santevia Water Systems is one of the best alkaline water pitchers within its price range, offering a host of handy features at no extra cost. This alkaline pitcher comes in three colors: blue, black and red. It's slim enough to fit in your refrigerator door, and has a pretty decent 9-glass capacity.
Each filter included in this system produces more than 80 gallons of water – that's almost double the lifespan of the average water filter pitcher. The included filtration countdown clock makes it easy for you to know when the filter needs changing, with no guesswork on your part, so you can make sure you're always drinking clean, alkalized water from the pitcher.
As well as raising the alkalinity of your water, the Santevia pitcher adds essential minerals to increase quality. The pitcher's multi-stage filtration process removes chlorine, heavy metals like lead, and herbicides, resulting in better tasting, healthier water.
If you're keen to be environmentally friendly where you can be, you'll be happy to know that the Santevia's cartridges are fully recyclable. The only reported issue with this filter is black carbon particles in water, but if you rinse the filter 3 times before using, you should be able to clear the majority of these particles out.
👍 What We Like
Relatively long lifespan
Recyclable filter cartridges
Handy filtration countdown clock
👎 What We Don't Like
Some customers had issues with leaking carbon particles
Leaky seal may let some unfiltered water into the filtered water chamber
---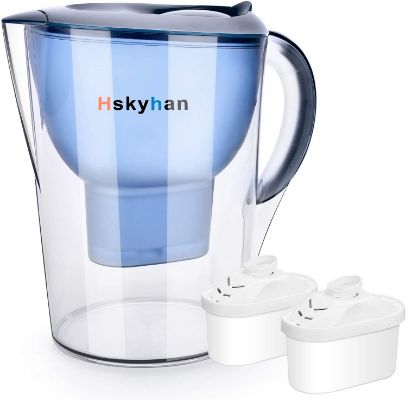 Hskyhan Alkaline Water Filter Pitcher
As one of the most popular alkaline water pitchers available, the Hskyhan is one of the market leaders for alkaline filtration. The large-capacity pitcher produces 10 cups of clean, mineral-rich water. Included with the pitcher is a timer, which measures how much time the system has left before the filter requires replacing.
With 7 layers of alkaline filtration, the Hskyhan can increase the pH of water by 0.5 to 2 (depending on the water source). The filter can remove lead, chlorine, dirt, and – impressively for a pitcher filter – more than 95% of fluoride. With an oval design, this pitcher filter fits into most fridges, and the ergonomic handle makes it easy to lift and pour.
You get two filters with your initial purchase of the Hskyhan pitcher, which is a good bonus for the price you pay. You can store filtered water in the pitcher for up to 4 hours without the taste being compromised. As well as adding calcium and magnesium to water, this pitcher adds other beneficial minerals, including potassium and sodium.
The filter offers a fairly fast rate of filtration. You'll need to replace the filter every 60 days, as reminded by the timer, which is pretty standard for a water filter pitcher.
👍 What We Like
Removes more than 95% of fluoride
Handy countdown clock for filter changes
Comes with two filters
👎 What We Don't Like
Lid isn't well-fitting
Some customers had issues with the filter timer
---
Seychelle pH2O Alkaline Water Filter Pitcher
Designed to tackle an impressive list of contaminants, the Seychelle pH20 Alkaline Waer Pitcher can increase water pH from 7 to 9.5, resulting in much cleaner, healthier water. Each filter delivers up to 100 gallons of filtered water – or roughly more than 750 bottles of water.
If you're looking for the best alkaline water pitcher that removes the broadest range of tap water impurities, you'll be impressed by the Seychelle pH20. Not only can this pitcher remove aesthetic contaminants like bad taste, odors, 99.99% chlorine, and sediment, but it can also remove chemical contaminants like herbicides, pesticides, detergents and benzene. Inorganic contaminants like lead, copper, aluminum and arsenic are also removed by this filter, as well as fluoride.
You can rest assured that the Seychelle pH20 will only remove contaminants, not add any into your water, as it's made from BPA-free materials. The jug has a 4-cup capacity, which isn't the best on this list for families, but it should be enough to provide constant access to water when you want it.
The pitcher's lid is designed for quick filling and the jug fits nicely in refrigerators. The jug is also pretty lightweight, making pouring easier.
👍 What We Like
100-gallon filter life
BPA-free materials
Retains beneficial minerals
👎 What We Don't Like
Doesn't actually add minerals
Relatively slow filtration (upwards of 15 mins for a full jug)
---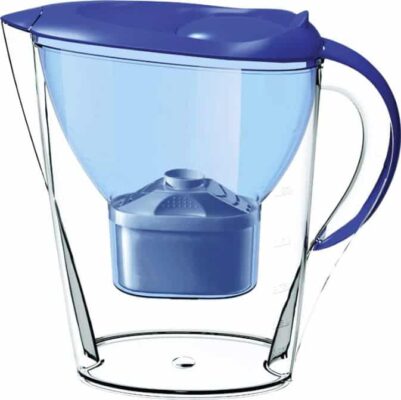 Lake Industries 7000 Alkaline Water Filter Pitcher
The LakeIndustries7000 is one of the most affordable alkaline water filter pitchers that doesn't compromise on quality. This pitcher uses a 7-stage filter cartridge that combines an ion exchange resin with caron, mineral balls, and tourmaline, enabling the removal of free radicals, chlorine, odors, and heavy metals to a 90% effectiveness.
Made from food-grade, BPA-free materials, the LakeIndustries is an eco-friendly filtration option that uses recyclable plastic filter cartridges. The slim design fits in most refrigerator doors, and the easy-fill lid simplifies topping up the reservoir without having to remove the cover. The ergonomic handle and well-thought-out spout design make it easy to carry and pour from the pitcher.
The ceramics and stones inside the cartridge help to naturally alkalize water by reducing water molecule size. The filter can even reduce limescale thanks to the included ion exchange resin – though this is a little strange, as limescale is caused by calcium and magnesium, two of the most common beneficial alkaline minerals. Most alkaline pitchers actually add these minerals back into water.
You'll need to replace the filter in this alkaline water pitcher every 40 gallons or two months, whichever comes first. It takes less than 2 minutes for an entire pitcher of tap water to be filtered.
👍 What We Like
Food-grade & BPA-free
7 stages of filtration
Ergonomic design
👎 What We Don't Like
No filter change indicator/reminder
Ion exchange resin for limescale is a little confusing
---
🧾 Alkaline Filter Pitcher Buyer's Guide
One of the simplest and most affordable filtration methods is the water filter pitcher. With the pitcher itself costing less than $50 and replacement filters usually priced at $15-$25, this water treatment solution is ideal for people with tighter budgets who still want to benefit from drinking clean water.
While there are plenty of filter pitchers out there to choose from, not all of them will alkalize your water. Alkalizing water pitchers are particularly effective as they offer a two-in-one when it comes to benefits: they filter water and alkalize it. The best alkaline water pitchers also add trace amounts of healthy minerals into water, which increases water's pH.
In this guide, you'll learn the ins and outs of alkaline water pitchers, including their benefits, how they work, and any considerations when purchasing this type of filter.
🤔 What is an Alkaline Water Pitcher?
An alkaline water pitcher looks just like your average water jug. The key difference is that it features a lid with a filter connected to the underside.
When you add water to the pitcher, water will pass through the filter, which will remove contaminants. Most alkaline pitchers also add minerals like calcium and magnesium into the water. Water will then pass into the bottom chamber, which connects up to the pouring spout, ready for drinking.
Once all the water has been used up, you will need to refill the pitcher to begin the filtration process again. It can take up to 10 minutes for a full pitcher of water to be filtered. Usually, you'll need to refill the pitcher between 3 and 5 times per day, depending on the size of your family.
Alkaline pitchers are widely available and pretty affordable. They're a great option for anyone looking for a simple alkalized water solution, especially people who currently spend a lot of money per year on bottled alkaline water. You can find alkaline pitchers in a variety of sizes to suit families of 1 to 5, and most are made from BPA-free plastic.
✔️ What Are the Benefits of Using Alkaline Water Filters to Increase pH?
Easy to Use
There are a number of types of alkaline water filters out there, but the best alkaline water pitchers are designed with ease of use in mind. Simply fill the easy-to-fill lid with water and wait for the filtration and alkalizing processes to take place. You can then pour yourself a glass of water and enjoy its fresh, mineral-rich taste.
Affordable
A great benefit of alkaline water pitchers is their affordability. You can spend less than $50 on your initial purchase and pay around the same amount for your filter replacements over a year. Many alkaline water pitcher manufacturers offer deals on their filter cartridges, allowing you to buy multipacks for a greatly reduced cost per filter. If you don't have the biggest budget, alkaline pitcher filters are an ideal affordable solution.
Non-Invasive Installation
There's nothing to install when it comes to setting up an alkaline water pitcher. Usually, you'll just have to take out the pitcher from the packaging and slot everything together. The filter will need to be flushed to remove any loose carbon particles. This entire process should take less than 10 minutes and is pretty straightforward – no connecting to your waterline required.
Hassle-Free Option
Using an alkaline water pitcher to improve the alkalinity of your tap water is the simplest option available. Alternatively, you could add mineral drops to your water, but this solution isn't as effective and takes more effort.
Constant Access to Healthy Water
Alkaline water is said to be healthier than normal tap water because it's more easily absorbable by the body's cells, helping with hydration. As many of the best alkaline water pitchers add healthy minerals into water, you can also benefit from contributing to your daily mineral intake whenever you have a drink. The great thing about alkaline water pitchers is that they give you instant access to alkaline tap water whenever you want it.
Better-Tasting Water
One of the best things about the water produced by an alkalizing pitcher is its taste. Many people prefer the taste of alkaline water, which is typically smoother and silkier than normal tap water. The additional minerals in alkaline water also contribute to its pleasant taste. Using alkalized water from a pitcher to make your tea and coffee and in cooking will enable you to better enjoy your meals and beverages.
Cheaper than Bottled Water
You might currently drink bottled alkalized water instead of the water from your tap – which means you'll be spending hundreds of dollars per year that could be saved if you purchased a pitcher alkaline filtration system. It's much cheaper to use an alkaline pitcher, which only requires money spent on filter replacements (frequency depends on filter life but is usually around once every 2 months – a far less regular cost than your weekly bottled water cost).
⚙️ How Do Alkaline Water Filter Pitchers Work?
Most pH restore alkaline water pitcher filters will offer two stages of tap water treatment: filtration and alkalization.
To filter water, an alkaline water pitcher will typically use an activated carbon filter. This type of filter adsorbs unhealthy contaminants, including heavy metals, chlorine, and aesthetic impurities that affect taste and odor. There may be other filter stages involved too, depending on the system you opt for, but an activated carbon filter will usually do the bulk of the work.
In the alkalization process, an alkaline water pitcher will micro-cluster and reduce the size of water molecules, which makes them more easily absorbable. Most pH restore alkaline water pitcher products will also add traces of healthy minerals at this stage. This helps to increase pH (and therefore alkalinity) as well improving tap water quality further with alkaline minerals.
These two filter processes are combined within a single filter cartridge for simplicity. The cartridge is installed in the underside of the pitcher lid. To use the pitcher, fill the lid with tap water and wait for it to pass through the filter into the bottom chamber, which holds clean water. You can then pour directly from the bottom chamber when enough water has been filtered (it usually takes 5-10 minutes to filter a pitcher full of water).
🩺 Health Benefits of Alkaline Water
Many of the benefits of alkaline water are yet to be backed by definitive scientific proof, but what we know so far is certainly promising. Below are some of the potential health benefits of drinking alkalized water:
Boosts Immunity
Alkaline water with a higher pH level is said to play a part in neutralizing acid in the body – a result of unhealthy diets or lifestyles, environmental toxins and stress. This helps to boost immunity and support your body's illness-fighting capabilities.
Ups Your Mineral Intake
Alkaline water has a higher calcium and magnesium content. Our bodies couldn't survive without these minerals – we need them for building healthy bones and teeth, supporting immunity, helping us sleep better and improving mood.
May Slow Aging
No beverage can act as a magic potion against aging, but emerging research suggests that the antioxidant content of alkaline water may prove beneficial in this area. Antioxidants fight free radicals, which damage the cells and cause skin aging. While alkaline water won't keep you young, it'll help you to look that way.
Hydrates the Body
Alkalizing water pitchers reduce the size of H20 molecules when producing alkaline water. Alkaline water, for this reason, is more easily absorbed by our bodies' cells. When you drink water with a high pH level, you should be better hydrated than if you consumed the same amount of neutral drinking water.
💭 Considerations When Purchasing an Alkaline Water Pitcher
You might know for certain by now that an alkaline water pitcher is exactly what you're looking for. But before you jump into making a purchase, make sure you keep the following things in mind.
pH Increase Ability
Not all water pitcher filters can increase the pH level of tap water with the same effectiveness. The best alkaline water pitchers can increase your pH level by around 2.0, but this depends on your water source as well as the quality of the filter. Check out alkaline water pitcher reviews before buying if you're looking for a pitcher that can increase your pH level to a certain figure.
If you don't know your water's current pH, it's worth testing it beforehand so you know whether an alkaline water pitcher can help you achieve your preferred pH level. You can buy a pH meter online for the job, or order an at-home DIY water kit that indicates your pH using test strips and a color chart.
Contaminant Removal Capability
Do you see filtration as an added benefit of an alkaline water pitcher, or do you see it as a necessity? This will likely determine the level of contaminant removal you're looking for. The best alkaline water filter products can remove more than 10 types of contaminants from water. At the very least, a filtered water pitcher should be able to remove chlorine and heavy metals. If you're looking for something more specific, though, like fluoride removal, your options may be narrowed down somewhat.
Holding Capacity
An alkaline water pitcher's holding capacity determines how much drinking water, usually measured in gallons or cups, it can hold. Most pitchers can hold around 5-10 cups of filtered water.
You might think that the bigger the holding capacity, the better, but this isn't always the case. While a bigger holding capacity allows you to enjoy more cups of water before refilling, making it the better option for larger families, it will make the pitcher heavier to hold when it's full, so it might not be ideal for children or people with reduced mobility.
Filter Lifespan
The typical lifespan of this type of alkaline water filter is 2 months. Once that time is up, the filter will become pretty much unusable, because clogging will slow down the flow of water or block it altogether. You may find the occasional alkaline water filter that has a slightly longer filter life, but 2 months is the general time frame.
You'll find it really helpful to look at alkaline water pitcher reviews when it comes to filter lifespan, as customers can give a much better idea of how long a filter lasts with daily use. Keep in mind, though, that a filter's lifespan can be affected by water quality, so if your water is particularly sediment-heavy, you may need to change your filter more often than every 2 months.
Filter Type
Though the average alkaline water filter will use the same general idea for filtering and alkalizing water, they all vary slightly in design. Some filters might use remineralization beads; some might use processes alongside carbon filtration to remove contaminants like chlorine, heavy metals and even fluoride. Some filters might have a 3-stage filtration process, while others may use more than 6 stages.
What I will say about filter stages is that this isn't always a sign that a filter will remove more contaminants – it just sounds good in marketing copy! A really good 3-stage filter might actually remove more than a filter that has more stages, so focus on the list of contaminants removed rather than how many stages of filtration the manufacturer has managed to cram into one cartridge.
Budget
Most alkaline water pitchers are priced around the $40 mark, so it's wise to look at your budget in terms of value for money. For instance, some of the best alkaline water filter products come with an extra one or two filters as well as the initial filter, and if you're still paying around $40 for this, you've got yourself a great deal. Pitchers with filters that can remove a large number of contaminants or have a longer lifespan are also worth choosing over similarly-priced filters that offer less.
I would suggest putting aside an initial sum of $50 for the filtered water pitcher purchase. You'll then need some budget for the filter changes, which, as you now know, are generally required every 2 months or so. You can usually buy a pack of 3 replacement filters for $25-$50, depending on the brand and the quality of the product. It works out a lot cheaper in the long run to buy multipacks of water filters than buying them singularly, so my tip is to buy in bulk whenever you can.
❔ Frequently Asked Questions
What pH range is classed as alkaline?
Alkaline water has a pH of 7 or above. Alkaline drinking water shouldn't surpass a pH of 10. You should expect an alkaline pitcher to bring your water up to a pH of 7-8.5, depending on your water's original pH.
I've read a lot of filters that say they can increase pH by "microclustering". What is that?
Microclustering is a term that's used to describe the process of reducing the size and number of water particles. This process is said to make water particles more easily absorbed by your body's cells, helping to improve overall hydration.
How much alkaline water should I be drinking every day?
The recommended amount of water that we should drink, whether alkaline or not, is 8 tall glasses a day. It's best to stick to this recommendation when drinking alkaline water – don't think that because it'll better hydrate you, you can drink fewer glasses every day. And by the way, your body can't become too alkaline from switching to alkaline water. It's virtually impossible to achieve that from drinking alkaline water alone.
Are there any alternatives to alkaline water pitchers?
Yes. While alkaline water filtration pitchers are easy to use, you might not like the relatively short filter life or slow filtration time of these products. A few alternatives to alkaline water pitchers are as follows:
Ionizers
If you're looking for complete control over your drinking water pH, an ionizer is one of the best options for you. This countertop unit typically has its own dedicated faucet and can generate alkalized drinking water at the press of a button. Not all ionizers add minerals to water, though.
RO remineralizing filters
Water that's treated by a reverse osmosis filtration system is nearly 100% pure. While it's very clean and healthy to drink, it tends to have a lower pH, as its minerals have been removed. Luckily, there are plenty of remineralization filters that can be added onto an RO water filtration unit as a final stage. These filters increase pH by adding trace minerals back into water.
Filtered water bottles
One of the best, easy-to-use options for on-the-go alkaline water filtration is the filtered water bottle. Just like a water filter pitcher, an alkaline bottle filter removes chlorine, heavy metals and other common contaminants, while alkalizing water and introducing healthy minerals. Water typically gets filtered as you drink through the straw, so you'll always have instant access to alkaline water as long as you have a tap water source for refills.
Is it safe to use an alkaline water pitcher?
Yes, as long as you buy a filtration system from a trusted brand. Look for a system that's made with BPA-free materials, which will prevent accidental contamination of your alkalized water. Considering alkaline water is generally seen as healthier than normal tap water, you'll only benefit from switching to drinking water with a higher pH.
Is it easy to change an alkaline water filter?
The average alkalizing pitcher filtration system is very simple to maintain. Changing the filter is as easy as disconnecting the old filter from the underside of the lid and clicking or sliding a new filter in place. You'll find instructions from your manufacturer on how to do this if it's your first time, but it's certainly not an invasive job.
Do all alkaline pitcher filters remove contaminants?
Generally, yes, the best products will offer contaminant removal. But not all filters will remove the same contaminants. While you can expect all alkalizing pitchers to remove chlorine and lead at the very least, impurities like fluoride may not be tackled by every pitcher out there. Don't expect an alkaline pitcher to be as effective as a dedicated water filter, either. Check product details carefully if you're looking to remove a specific contaminant from your alkalized water.
Do I need to find an alkaline pitcher that adds minerals?
No. You may have noticed that some alkaline pitchers don't add minerals to your water; they just increase pH. The added minerals are a nice benefit, but you get the majority of your healthy mineral intake from your diet anyway, so they're not essential. If you think you're not getting enough, you may need to assess your current diet.
How long does alkalized filtered water last?
You should find information on the storage and shelf life of your alkalized water in the user manual of your pitcher. Generally, though, alkalized water will last in the fridge for up to 1 week. You can also bottle your alkalized water and take it with you when you're leaving home. Over time, water will oxidize, which will decrease its quality. That's why it's best to drink it within a day of filtration wherever possible.
Can my pets drink alkaline water?
Yes, alkaline water is safe for animals to drink, but it's always worth consulting with an expert before feeding your pet alkaline water. Drinking alkaline water exclusively may not be the right option for some pets.