Berkey Filters is a popular manufacturer of gravity water filtration systems, based in Pueblo, Colorado. Founded in the late 1990s, Berkey Filters is best known for its Black Berkey filter elements, which can be installed in the majority of Berkey countertop filter models.
In this Berkey water filter review, we've shared what we know about the most popular Berkey filter systems available today, and given you the information you need to decide whether or not a Berkey filter is right for you.
📊 Berkey Water Filter Systems Comparison Chart
| Product | Big Berkey | Berkey Shower Filter | Sport Berkey |
| --- | --- | --- | --- |
| Type | Countertop | Shower | Bottle |
| Ratings | 4.5/5 | 4.5/5 | 4/5 |
| Contaminants Removed | 200+ | Chlorine, hydrogen sulfide, scale, & heavy metals | 225+ |
| Certifications or Testing | NSF 53 | NSF 177 | – |
| Process | Activated Carbon + Ion Exchange | KDF 55 | Ionic Adsorption & Micro Filtration |
| Holding Capacity | 2.25 gallons | – | 22 oz |
| Filter Life | 6,000 gallons | 25,000 gallons | 100 gallons |
| Annual Cost | ~$40 | ~$50 | $60-$70 |
| Warranty | Lifetime | Lifetime | Lifetime |
⭐ Reviews of Berkey Water Filter Systems
Berkey Countertop Filter
The most popular filters offered by Berkey are the filters in its countertop water filter range. There are currently 6 countertop filters offered by Berkey today:
The 1.5-gallon Travel Berkey
The 2.25-gallon Big Berkey
The 2.75-gallon Berkey Light
The 3.25-gallon Royal Berkey
The 4.5-gallon Imperial Berkey
The 6-gallon Crown Berkey
All of these filters are designed to fit 2-4 Black Berkey filters (more on those later) and are all made from stainless steel (with the exception of the Berkey Light, a more affordable option that's made from BPA-free plastic).
The Berkey countertop filters use gravity filtration to send water from the top chamber to the bottom chamber, with an intercepting filter stage in between. Berkey claims that you can use its countertop filters to treat any water source – including lake and stream water – and get the same fresh, clean outcome after filtration.
The main filters used in the Berkey countertop units are Black Berkey filters. These filters have a 3,000-gallon capacity each and are designed to reduce up to 203 contaminants, according to various test results provided by Berkey. Berkey's contaminant removal claims include 99.85% chromium 6 reduction, 99.9% lead removal, and 99.9% chlorine and chloramine reduction. You can clean and reuse these filters again and again.
If you have a major problem with fluoride in your water, Berkey recommends installing separate PF-2 filters in the lower chamber, which are designed specifically to reduce arsenic and fluoride (two contaminants that the Black Berkey filters can't remove effectively in the long run).
⚠️ We WOULD NOT recommend the PF-2 filters based on our own independent testing, which found that the filters introduced an unacceptable amount of aluminum into the water. View our test results below:
👍 What We Like
The Berkey countertop water filters are quick to assemble and easy to transport. They're not attached to your water line, so they're a good option for RVs, renters, and camping. The Travel Berkey is ideal as an on-the-go filtration solution.
We like that you can choose between multiple size options depending on your family size, and you can choose the Berkey Light if you prefer to spend less money on a BPA-free plastic model.
You can't complain about the Berkey system's performance. The Black Berkey purification elements reduce a whole host of harmful contaminants down to submicron level. Berkey's detailed test results from numerous laboratories are good to see. If we're to believe Berkey's marketing materials, the filters' contaminant removal abilities are impressive.
The Black Berkey water filters last a really long time, saving you the time and money involved in making frequent filter replacements.
👎 What We Don't Like
The countertop Berkey water filter doesn't have any official NSF certifications, which leaves some people wondering about the legitimacy of Berkey's test results.
You'll need to clean and re-prime the filters every now and then to keep them working well.
Some customers complained about leaking due to the bottom chamber overflowing. This is because the filtration process doesn't stop when the bottom chamber is full.
You'll have to buy a separate glass or stainless steel water view spigot if you want to see how much water is left in the bottom chamber without taking the unit apart.
Our verdict: The countertop Berkey water filtration system is Berkey's most popular filter for good reason: the Black Berkey filter elements remove more than 200 contaminants and have an impressively long lifespan, despite a few design flaws with the system. We recommend the Big Berkey water filter as the best-value, most suitably sized filter for families of up to four people.
---
Berkey Shower Filter
Berkey's contribution to the shower filter market is the Berkey Shower Filter. This filter has secured a spot in our Best Shower Filter guide in the past, but its performance has recently slipped below its competitors' offerings.
What can you expect from the Berkey Shower Filter? 95% chlorine reduction is the filter's biggest selling point. According to Berkey, the filter also reduces hydrogen sulfide, scale, and water-soluble heavy metals, like lead. This is pretty much as expected for a shower filter, since chlorine and scale are the main issues in shower water.
We know more about the materials in Berkey's shower filter than we do for the countertop filter systems. The Berkey Shower Filter uses a bacteriostatic (bacteria-resistant) blend of copper, zinc, and calcium to reduce free chlorine odors, reducing vapor inhalation and chemical absorption in your showers. Essentially, your skin and lungs should be protected by using this filter.
👍 What We Like
We're pleased with the Berkey Shower Filter's ability to reduce 95% chlorine, plus heavy metals, hydrogen sulfide, and scale in shower water.
You should notice healthier hair and skin after installing this filter and taking a few showers. There'll be virtually no chlorine in your water, and chlorine is known for stripping your skin and hair of their natural oils and causing irritation.
Good to see that the filter is bacteriostatic – meaning that it inhibits the growth of bacteria and mold.
You can get a whole year (or around 20,000-25,000 gallons) out of a single filter before a replacement filter is needed. That's about 6 months longer than the average shower filter.
👎 What We Don't Like
Again, the Berkey Shower Filter doesn't have an official NSF certification, so we can only take Berkey's word for it that the filter reduces 95% chlorine.
Some people complained that the filters didn't last as long as Berkey advertised.
Other customers said they noticed no difference in their water quality.
Our verdict: The Berkey Shower Filter is a solid choice for anyone looking for a showerhead filtered water solution that lasts longer than its competitors – but we've reviewed other filters that offer more effective contaminant removal than this filter.
---
Sport Berkey Water Bottle
The best portable Berkey filter is the Sport Berkey Water Bottle. This bottled water filter uses adsorption and microfiltration to reduce 225 contaminants (according to test results) from lakes, streams, or sub-standard public drinking water supplies in foreign countries.
Berkey claims that the Sport Berkey uses the same filtration technology as its large gravity filters – but there's the obvious convenience of this filtered water bottle being small enough to carry in a backpack.
Some of the contaminants reduced or removed by the Sport Berkey are chlorine and chloramine (99.9%), arsenic (99.9%), lead (99.9%), various pharmaceuticals, VOCs, and more.
The 22-ounce bottle is BPA-free and provides filtered water on demand with straw filtration. How does this work? You fill the bottle with water, then secure the top and open the cap on the top of the straw. It seems that sucking the straw and squeezing the bottle is the most effective way to send water through the filter into your mouth.
👍 What We Like
The Sport Berkey produces near-purified water, and you can tell by comparing water from this filter bottle with normal tap water. Water from the Sport Berkey tastes pure and refreshing.
There are plenty of design features that make this bottle filter ideal for taking on your travels. It's pretty small, lightweight, and compact, with a 22-ounce holding capacity, and the loop on the lid makes it easy to hang from a carabiner or a strap on your backpack.
We think the Sport Berkey's upfront cost (less than $50) is really decent, considering the depth of filtration you get and the refill capacity (up to 640 refills if you use the bottle with normal water, or up to 160 refills if you use the bottle with any water source).
The squeeze and suck design makes it easy to access filtered water on demand.
👎 What We Don't Like
The Sport Berkey is deliberately designed with a soft exterior (since squeezing the bottle helps drive water through the filter and takes some pressure off your sucking force) but we have to question the long-term durability of a malleable plastic bottle, especially if you plan to travel off the grid.
The bottle leaks unless you overtighten the lid.
Because the bottle is about 8 inches tall, it's too big to fit in some sinks to fill with water. Customers complained that they could only fill the bottle over halfway due to having to tilt it in a small sink.
Our verdict: We think the Berkey Water Bottle is ideal for anyone who loves the impressive contaminant removal of the Berkey Black filter elements but doesn't want to (or can't) take a full countertop Big Berkey gravity system on their travels. You can ditch the single-use water bottles and reuse the same bottle again and again, knowing you'll have filtered water whenever you need it.
---
✅ What We Like About Berkey Water Filter Systems
Removes Hundreds of Contaminants
Berkey's most capable filters, the two Black Berkey filters in the Berkey countertop water filter systems, offer impressive contaminant removal, producing almost purified water. You'll struggle to find any other countertop water filter system that can reduce as many contaminants as a Berkey water filter. Heavy metals, chlorine, chloramine, and PFAs are all greatly reduced by Berkey. Berkey's Sport Filter is also impressive when it comes to contaminant removal.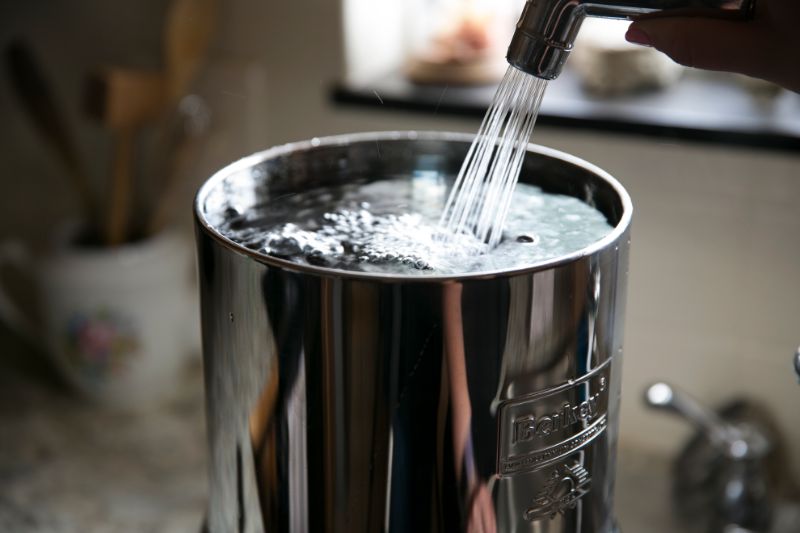 Long Filter Lifespan
The lifespan of the Black Berkey filters is also really great. You can get 3,000 gallons of use out of each filter, and Berkey claims that these filters may even last beyond 10 years (but you're advised to replace them after 5 years of daily use, max). That means the long-term maintenance costs for a Berkey water filter are low.
Great-Tasting Water
The filtered water from a Berkey system is virtually contaminant-free, but it still contains healthy minerals. The result is clean, great-tasting, mineral-rich water.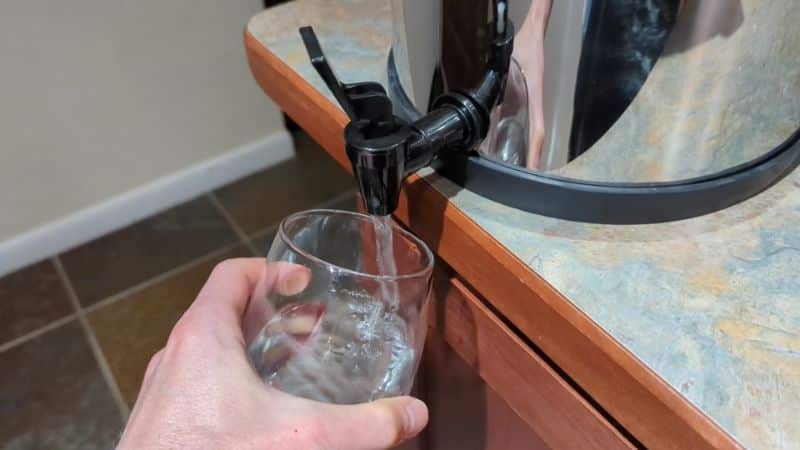 Multiple Sizes Available
We appreciate that there are so many different sizes available for Berkey's countertop filters. You can choose the perfect size based on your daily water usage and available space. The Big Berkey is the most popular choice for families of 4, but there are options for bigger and smaller families, too.
Portable Solution
The Berkey system uses gravity filtration, which doesn't require water pressure or electricity. That means you can take your countertop Berkey water filter to any location that has water (even a lake or a river). Just keep in mind that you'll probably need to buy replacement filters more frequently if you consistently use the Berkey system with dirty water due to the elevated contaminant levels.
Relatively Easy Install
The Berkey water filter system doesn't have a difficult installation process. Setup is easy – just click the filters into the upper chamber and slot all the components in place. If you're DIY adverse or you live in a rental property that can't be altered, Berkey's countertop filters are a great choice.
❌ Potential Setbacks of Berkey Water Filter Systems
Not Officially NSF Certified
The biggest setback of Berkey filters is that no Berkey system has an official NSF certification, and not even NSF testing (as Berkey originally falsely claimed). So, to believe Berkey's impressive contaminant removal claims, we can only go off Berkey's test results. There's a problem with this, though…
Potential Scam?
Some people think that Berkey water filters are a scam. Why? Because Berkey won't share the exact filter media used in its Black Berkey elements, and Berkey's competitors claim that the manufacturer's test results are fake. Plus, Berkey falsely claimed it had testing to NSF Standards when it didn't, and won't obtain official NSF certifications, which means that Berkey products can't be sold in California and Iowa due to certain state laws.
We think the idea of Berkey being a complete scam is a bit extreme, but we do have some concerns about some of its contaminant removal claims, and we do wonder why Berkey doesn't just end the controversy by simply obtaining official NSF certifications.
Not a Purification Solution
You'll often hear Berkey systems labeled as "water purifier systems" (usually by Berkey), but this isn't strictly true. A water purifier removes all impurities from water, including all minerals and salts. Reverse osmosis systems and water distillers are two well-known water purifiers. Berkey systems don't filter water to this level of perfection – microorganisms, nitrates, and healthy minerals are retained – so Berkey filters aren't truly drinking water purifiers.
Flawed Design
Berkey countertop water filter systems have a design flaw that doesn't (at the time of posting) appear to be fixed, even after numerous customer complaints. The filtration process won't stop even when the bottom chamber is full, which means it overflows into the upper chamber and sometimes even leaks out of the system. You have to be careful not to overfill the upper chamber for this reason.
Fluoride Filters Are Problematic
Our own laboratory testing has found that the PF-2 fluoride filters add a significant amount of aluminum to drinking water. Since the whole point of any tap water filter is to reduce contaminants, we think it's unacceptable that Berkey's fluoride filters add a contaminant to water. We don't currently recommend the PF-2 filters for this reason.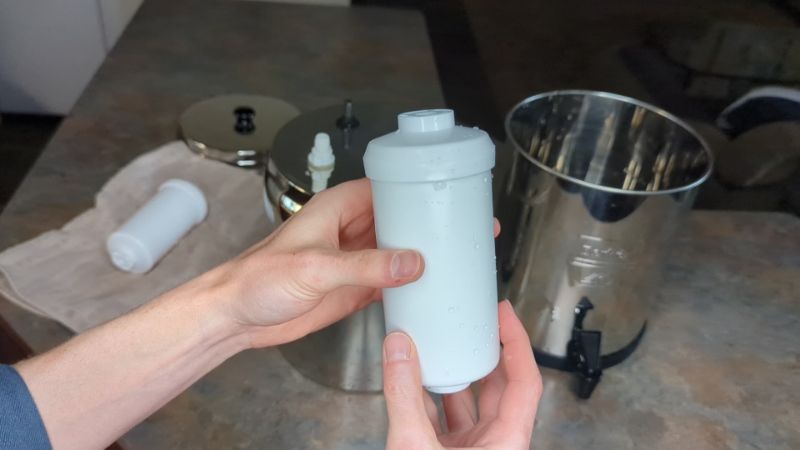 No Way to See Water Level
On the standard countertop filter models, there's no way to see how much water is left in the bottom chamber. Berkey has recently introduced a glass spigot and a stainless steel water view spigot that resolve this issue, so it's good to know that it's listening to its customers in some respects. But we don't like the fact that these parts are only offered as optional extras, rather than just being included with the unit in the first place.
Slow Filtration
We've read numerous customer complaints about a decreased filtration speed after using the Black Berkey water filter elements for a few months. If you want to continue using the filters for their expected minimum lifespan of 3 years, you'll need to clean them every time the flow rate decreases significantly to remove the accumulated contaminants.
📝Berkey Water Filter Systems Review: Our Verdict & The Best Water Filter Alternatives
Let's round up this Berkey water filter review.
We think Berkey water filter systems have a lot going for them, and Berkey's countertop systems routinely feature in our Best Countertop Water Filter guides for their durable build, impressive filtration abilities, and long filter lifespan.
With that said, we do think Berkey as a company has some flaws that would be really easy to resolve.
Getting official NSF testing would be a start. We also think that Berkey should disclose its filter media – even if it means inspiring competitors to copy their design – for the sake of being transparent with its customers.
Also, the fact that the Berkey fluoride filters add silly amounts of aluminum to your water is a big problem.
📌 We like the Black Berkey elements, and so do hundreds of customers. You can find plenty of positive reviews – from experts and customers alike – praising the Berkey filters for their contaminant removal abilities. But until Berkey obtains an NSF certification, we think the controversy will remain.
Looking for some good alternatives to the Berkey filters? We've listed some of our favorites below.
🧠 Berkey Water Filter Systems FAQ
Do Berkey filters Really Work?
Yes, Berkey filters really work, but there's some controversy over just how effective the filters really are. There have also been questions raised about the efficacy and conclusiveness of Berkey's testing, which we're currently investigating. In short, Berkey filters do work – but it's possible that Berkey might be exaggerating its filters' contaminant removal abilities.
How long do Berkey filters really last?
According to Berkey, the Black Berkey elements should last 10 years or more, but Berkey recommends replacing the filters every 6,000 gallons, or 2-5 years. The exact filter lifespan depends on your water quality, how often you use the filters, and how well you clean and maintain the filters.
Why is Berkey not certified?
It's likely that Berkey filters aren't certified because Berkey doesn't want to share its manufacturing secrets with the public (and its potential competitors), which is essential for obtaining an NSF certification. Plus, NSF testing is expensive, and Berkey has stated in the past that it wants to avoid the fees associated with obtaining an official certification.
Is Berkey better than Brita?
Yes, Berkey is head and shoulders above Brita. While all of Brita's water filters can only reduce a handful of contaminants, the Black Berkey filters can remove more than 200 impurities from water.
What does Berkey filter not remove?
The Berkey filters DON'T remove nitrates (but they can remove nitrites). Nitrates are molecules that are commonly found in well water. Berkey also doesn't remove magnesium, potassium, or calcium, which is a good thing, since these minerals are healthy and give water a pleasant alkaline taste. Plus, Berkey's manufacturer originally claimed that the filter could remove microorganisms, but these claims have now been revoked.
Is Berkey water healthy?
Yes, Berkey water is free from most common contaminants, but it still contains healthy minerals. That makes Berkey water safe and healthy to drink.
How does Berkey compare to a reverse osmosis system?
Berkey filter elements provide a similarly thorough filtration to reverse osmosis. However, there are some differences. Reverse osmosis offers complete water purification, removing even minerals, microorganisms, and salts, while no Berkey filter can do this. Plus, reverse osmosis requires water pressure to force water quickly through the membrane, and wastes water in the process. Berkey filters don't waste water.