🧾 Overview
The Berkey Shower Filter is a showerhead water filter with a 10,000 gallon lifespan. With a KDF media filter, the unit is designed to reduce chlorine, lime, mold, scale and fungi in water, and reduces vapor inhalation and chemical adsorption. It features a back-flush attachment that prevents it from clogging too quickly, and the filter is effective for use with both hot and cold water.
Advertised to reduce 95% of chlorine, the Berkey shower filter can help to prevent respiratory issues and promote healthier hair and skin. The filter's KDF process media is completely safe for showerhead use, so you can rest assured that it's only benefiting your shower experience without posing a risk to your health.
💡 Features
KDF Filter
This Berkey unit uses a KDF filter to reduce chlorine and other contaminants in shower water. It comes pre-installed in the unit, and, as with all showerhead filter units, you'll need to replace the filter when it stops doing its job.
Filter housing unit
Keeping the filter safe and protected from outside contaminants is the filter housing unit. This plastic device fits onto shower arms with standard US fittings. Note that this particular unit comes with its own showerhead.
Installation instructions
For assistance with the basic installation required for the Berkey shower filter, you can follow the paper installation instructions that come with the product. This manual will also provide you with information on filter changes.
🚦 Performance
The Berkey shower filter is advertised to remove up to 95% of chlorine, plus reduce other contaminants like those that cause scale, mold and fungi, using a KDF filter.
KDF filters, otherwise known as kinetic degradation fluxion filters, combine a copper and zinc media and use a chemical process called redox to reduce the likes of chlorine, iron and lead in water. These filters are also capable of mildly reducing some elements of bacteria, algae, and fungi from water.
Although there's no evidence online to suggest that this particular filter is NSF or ANSI certified for the job, KDF filters have a proven reputation for good performance when it comes to chlorine reduction.
The filter also has a big advantage compared to competitors: it lasts for up to one year, so you'll get a longer performance (almost double) compared to standard showerhead filters. While this particular filter is known for reducing water pressure somewhat, it won't ruin your shower experience.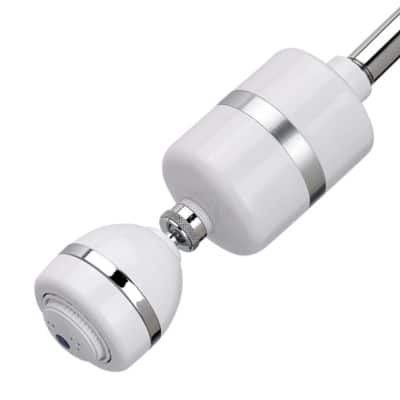 🔧 Installation & Maintenance
Like pretty much all showerhead filters, the Berkey unit takes only minutes to install. Setting it up is a case of removing your showerhead, screwing the filter onto your shower arm, running water through it for 5 minutes, and attaching your showerhead just above. If you've never used a showerhead water filter before and have no idea where to start, the written instructions are more than enough to help you out.
Maintenance of the unit is also pretty straightforward. You may want to give the filter housing a wipe-down when you clean the rest of your bathroom to avoid things like mold and algae. Most important of all, you need to remember to change the filter roughly every once a year. You can get a good lifespan out of it, but once it stops working, you'll notice a significant decrease in your water pressure, so make sure you have a spare to hand for when that day comes.
📝 Filter Info
The Berkey shower filter uses a KDF filter that isn't currently NSF or ANSI certified for chlorine reduction. However, Berkey is a trusted brand in the water filter industry, and if positive reviews are anything to go by, you've got nothing to worry about.
You can expect the filter to work effectively at reducing the likes of chlorine, scale, bacteria and algae from water. Chlorine removal is the main focus of this filter, and it's advertised to remove up to 95% from shower water.
Replacement filters should be bought and used after every year or so. You can find the filters online, and there is currently a handy four-pack available for just over $30. This filter can be purchased alone without a showerhead, but Berkey also offers a filter with a showerhead included, if you're looking to replace your showerhead while you're at it.
🔔 Pros & Cons
Pros
Long filter lifespan – up to a year
Can be used with your own showerhead
Installation takes minutes
Cons
No evidence of NSF/ANSI certification
Won't reduce chloramines
Plastic design more prone to cracking and breaking
❔ Frequently Asked Questions
Can you drink from this filter?
Technically, yes, but as it's designed to fit on a shower arm, that probably wouldn't be very practical. You'd be better off buying a Big Berkey drinking water filter, which will more thoroughly remove additional contaminants aside from chlorine.
Where was this filter produced?
It's manufactured and sold in the US.
Can I attach a handheld shower with a hose to this filter?
Yes, that's fine, but you may want to attach the filter at the bottom of your hose instead of directly underneath your showerhead. This will make it easier to hold, and will prevent the showerhead from drooping with the filter's weight.
Does this filter out fluoride?
No, the filter can only remove traces of fluoride from water – its main efforts go towards chlorine reduction. There are filters that are specifically designed to reduce fluoride, though they're harder to come by amongst shower filters. This is because there's generally less of a worry about fluoride when we breathe it in – it is more of a danger to drink, which is why drinking water filters are generally designed to reduce fluoride.
Why do I need to backwash this filter?
Backwashing the filter involves turning it around and running hot water through it for four minutes to remove deposits trapped in the filter media. This helps to increase the filter's lifespan, so it's a good idea to do it as per Berkey's instructions.
Found this review helpful?
Comment below or share this article!