🧾 Overview
The Aquasana Rhino EQ-1000 Whole House Water Filter with Salt-Free Conditioner is a 2-in-1 water filter and conditioner for people looking to filter and soften their water.
The system treats water at its point of entry into a home, altering the ionic charge of hardness causing minerals and filtering out harmful contaminants from water before they can get into your plumbing.
Featuring carbon & KDF filtration media combined with scale control media, the Aquasana EQ-1000 whole house filter and conditioner is particularly effective at filtering out chlorine and sediment from drinking water.
While the system doesn't remove total dissolved solids, it eliminates a number of contaminants, conditioning water while ensuring it still retains the beneficial minerals.
If you're looking to save money on a more cost-efficient whole house filter and water softener combo, the Aquasana Rhino is a fairly decent option. The system doesn't waste water like other filters or salt-based softeners, and the manufacturer claims that you can clean water for less than $0.01 a gallon.
Lastly, maintenance isn't too much hassle. You won't need to drain or backwash the system, but be prepared to factor in for filter changes every 3 months if you want the unit to perform at its best.
💡 Features
Filter tank x1 and conditioner tank x1.
Pre filter and post filter.
Brass fittings for 1 inch or ¾ inch pipes and bend supports for installation.
Shut-off valve for preventing water flow while performing maintenance and filter changes.
Instruction manual for installation.
🚦 Performance
The Aquasana EQ-1000 has clear performance benefits over a standard water softener. With its added filter, you'll be able to benefit from soft water that tastes fresher and doesn't contain harmful contaminants. It's a good option for if you're looking to actually improve water taste as well as consistency.
The system's salt-free descaler is designed to hook up to the filter system and provides scale prevention for the entire house without the use of chemicals or salt. This means you won't need to bother with salt top-ups, and the system won't need to regenerate, so you won't have to factor in for water waste either.
With a fairly average flow rate of 7 GPM, the Rhino water filter and conditioner would work well in many households. You can make sure your flow rate is at its highest by changing your pre and post filters every 1 to 3 months depending on the sediment levels of your water.
🔧 Installation & Maintenance
You may find installation of the Aquasana whole house filter a little out of your depth, as you'll need some basic plumbing skills to be able to connect it up to your main water line. Instructions for DIY installation are provided, as well as online tutorial videos, but many customers opt for a professional plumber to carry out the job.
Keep in mind that some customers have noted that the Rhino water filter doesn't come with all the parts needed for installation. It may be that you need to visit your local hardware store to pick up the extra tools that are required for the job.
Maintenance for the EQ-1000 is fairly straightforward. There's no salt to top up and no tanks to clean out. You'll mostly just need to make sure you remember to change the filters every 3 months to keep your flow rate where it should be.
Note that filter changes aren't optional – the longer you go without changing a filter, the more clogged up it'll become, and eventually, it'll fail to clean your water entirely.
📝 Filter Info
The Aquasana whole house water filter uses a salt-free softening method that relies on something called Scale Control Media (SCM) softening technology to naturally condition water. This technology alters the structure of the hardness causing minerals and converts them into crystals, preventing them from binding and forming scale build-up on your surfaces.
Unlike salt-based water softeners, the technology used by the Aquasana Rhino won't demineralize your water, helping to maintain the enjoyable alkaline taste of drinking water. It also won't add salt to your water, and is suitable for use by people on low sodium diets.
All the while, you'll experience the main soft water benefit: reduced scale.
Of course, the big selling point of this particular system is that as well as the saltless softener, you'll have a filter to remove sediment from your water.
The Rhino water filter is advertised to remove pesticides, herbicides, rust, silt, water soluble metals and industrial metals. It doesn't remove TDS – you'd need something more powerful, like a reverse osmosis unit, for that.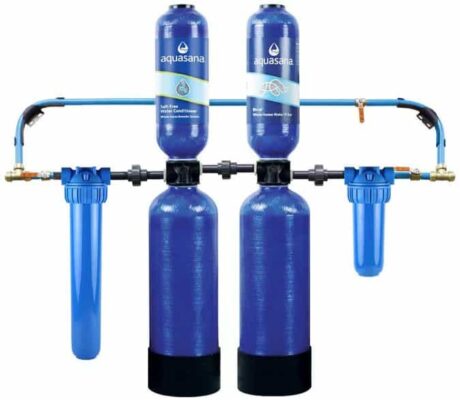 🔔 Pros & Cons
Pros
2-in-1 softener and conditioner for additional water-cleaning benefits.
Saltless system requires less maintenance and is suitable for low-sodium diets.
Doesn't require electricity to run.
Good quality components designed for durability.
Doesn't waste water or need to regenerate.
Warranty does not void if you install it yourself
Cons
Filters need changing fairly regularly for the system to work.
Not the most cost-effective system on the market, even considering its additional benefits.
Customers have complained about poor customer service from the manufacturer.
Not easy to install, and may take a professional plumber several hours.
Some customers have mentioned not having all the appropriate parts for installation included in the package.
❔ Frequently Asked Questions
How often do the pre-filter cartridges need to be replaced?
You should replace the pre-filter cartridges every 2 months, or when you noticeably start losing water pressure indicated by decreased flow rate of water coming out of your appliances.
Does this filter system remove fluoride and arsenic?
No. In order to remove fluoride and arsenic you will need to use a reverse osmosis system.
Does this system decrease the flow rate of my other appliances?
There should be no noticeable change in flow rate of your other appliances if the system was installed properly and you regularly change your pre-filters and post-filters when necessary.
What is the difference between the 600,000 gallon system and this 1,000,000 gallon system?
The media inside the filter tanks is different, although the physical size of the tanks is the same. This difference in media allows for the 1M gallon system to produce for a longer time without the need for replacement.
Found this review helpful?
Comment below or share this article!