Aquasana is one of the biggest contenders in the US water filter industry, offering filtration solutions for personal and whole-home use. The Texas-based company has a reputation for one-upping its competitors with very similar systems that offer that little bit extra, making them winners in the eyes of the customer.
This popular water filter brand manufactures and sells all of its products, including shower head water filters, water softener systems, whole house filters and water filtration pitchers. In this guide, I'll be sharing some of my top picks of Aquasana's most popular products and reviewing their features, functionality, pros and cons.
⭐ Reviews of Aquasana Water Filters
Aquasana Rhino Whole House Filter EQ Series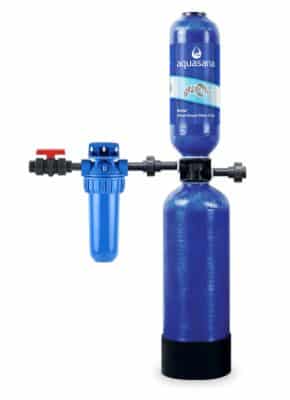 EQ-600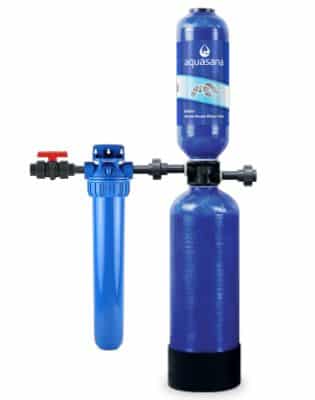 EQ-1000
EQ-Well-UV
The Aquasana Rhino is a high-performance whole house filter that comes in three different configurations: the EQ-600 (which has a 6-year media lifespan), the EQ-1000 (which has a 10-year media lifespan), and the EQ-Well-UV (a well water version of the filter with a 5-year media lifespan and an add-on UV filter). It's one of the best home filtration systems you'll find when it comes to quality of performance.
The Aquasana whole house water filtration system comes with a filtration unit, fittings (suitable for a 7.5-inch water line), shutoff valves, and a pre-and-post filter (with a 3-6 month lifespan). This water filter system sends water through multiple stages of filtration, using a sediment pre-filter, a copper-zinc and mineral stone media, activated carbon media, and a post-filter. The main goal of this system? To reduce organic chemicals that affect taste and odor, like chlorine. Other contaminants reduced are pesticides, herbicides, and some heavy metals.
👍 What We Like
Aquasana reviews mention greatly improved water quality in an entire home
Good 7 GPM flow rate (suitable for families of 4 or 5)
NSF certified for chlorine removal
Main filter media doesn't require changing until the end of system's lifespan (up to a 10 year period or 1 million gallons)
Options for well water treatment with built-in UV light
👎 What We Don't Like
Some customers say that installation is a little tricky
Pre- and post-sediment filters require regular changing
Must be installed by a licensed plumber for the warranty to be valid
Our verdict: The Aquasana whole house filter boasts thorough contaminant removal and ensures cleaner, healthier water for you to cook with, drink, and shower in. Use the EQ-600 or the EQ-1000 for city water, or the EQ-Well-UV if you have well water.
---
Aquasana Under Sink Water Filter AQ Series
If you're looking for targeted water filtration for your kitchen faucet, this Aquasana water filter for under-sink installation is a good fit. It's one of the best performing filters offered by Aquasana, and is NSF certified for chlorine and lead removal. There are three configurations available: the AQ-5200 (a 2-stage system), AQ-5300 (a 3-stage system with an additional sediment pre-filter), and AQ-5300+ (a 3-stage filter with a 44% faster water flow) . Plus, you can choose from three lead-free faucet styles: brushed nickel, chrome and oil rubbed bronze.
The Aquasana under sink water filtration system uses a unique filter technology called Claryum®, which is made of activated carbon and catalytic carbon media. There's also an ion exchange media, which filters out the likes of heavy metals and mercury, and an absolute sub-micron mechanical filtration media, which captures cysts and asbestos. When it comes to lifespan, you should get about 6 months out of the filter before it needs replacing.
Also worth mentioning are the 500-800-gallon capacities, and 0.5 to 0.72 GPM water flow. We've seen better flow rates in other models.
👍 What We Like
Removes an impressive 77 contaminants from water, including 97.66% chlorine and chloramine, and 99.3% lead
Multiple sizes and faucet styles to choose from
Installation and maintenance are a breeze
System has recently seen improvements to its design that have helped it to run 44% faster than it could previously
All three systems are NSF certified to Standards 42, 53, 401, and P473
👎 What We Don't Like
Reviews say filter lifespan isn't great
Faucet could be a sturdier design
Some customer feedback highlights issues with leaking around the fittings
Our verdict: The Aquasana Max Flow under counter filter is a discrete, effective method of kitchen sink water filtration. The AQ-5200 is a good choice, but we recommend the AQ-5300 for more thorough filtration and AQ-5300+ for a slightly faster water flow.
---
Aquasana OptimH2O Reverse Osmosis System
Folks looking for the most through contaminant removal should opt for Aquasana's OptimH20 reverse osmosis system. This RO system features three stages of filtration and one stage of remineralization, removing nearly 100% of all TDS from water. In our eyes, Aquasana's take on RO is up there with the most effective RO filtration solutions we have seen so far.
The OptimH20 sends water through an RO membrane, which removes up to 99% of impurities like nitrates, lead, arsenic and even fluoride. Water then flows through a selective Claryum® filter, which reduces a further 74 contaminants. The system has a remineralization filter that reintroduces healthy minerals to water. Our favorite thing? This Aquasana unit is certified to Standards 42, 53, 58, 401 + P473 for lead removal, chlorine removal, removal of emerging compounds like pharmaceuticals, and more.
Each filtration stage of this system has a different lifespan: the RO membrane lasts for 1 year, the remineralizer also lasts for a year; and the Claryum® filter has a lifespan of six months. You can choose from brushed nickel, chrome or oil rubbed bronze for the included lead-free faucet.
👍 What We Like
NSF certified for removal of a broad range of contaminants
Filters and remineralizes water with calcium, magnesium, and potassium
3 faucet styles to blend in with your kitchen decor
Affordable upfront price tag
Easy to install, with simplistic instructions and an online video for extra guidance
Aquasana reviews praise system for thorough contaminant removal for clean water
Comes with a 90-day satisfaction guarantee and 2-year limited warranty
👎 What We Don't Like
Some customers experienced a slower water flow
Installation may be too difficult for some users
Leaky components
Wastes water during the RO process
Our verdict: The Aquasana OptimH20 water filter is best for anyone looking for high-quality reverse osmosis to remove the broadest range of contaminants from drinking water.
---
Aquasana Active Clean Water Machine
The Aquasana Clean Water Machine is a power-activated countertop water filter that reduces 96% of harmful contaminants. Instead of filtering water with gravity, like most pitchers, this system sends water through a filter with electricity, providing a much quicker result. You fill the pitcher jug, wait for water filtration to take place, then press the button to dispense filtered water.
This filter produces tap water that's free of 99% of lead and asbestos, 96% of chlorine and chloramines, 95.8% of PFOS and PFOA, and more than 70 additional harmful contaminants (all while preserving healthy minerals). Filters last 3 months or 320 gallons before they need replacing. As for installation, that's a breeze, and virtually no setup is required – just put the filter inside the filter housing, fill the pitcher with water, and it's ready to go. Because the pitcher isn't tied down to a certain area of the house, you can take it with you to work, on vacation, or anywhere with an accessible power supply.
👍 What We Like
Portable and compact
Choose between black and white designs, or upgrade the capacity from pitcher to dispenser
Proides clean, healthy drinking water with minerals preserved
Because it runs on electricity, the filter is faster than most filter pitchers
No install required, super easy tool-free maintenance
Backed by a 1-year limited warranty
👎 What We Don't Like
Filtration is loud
Some customers experienced issues with leaking
Doesn't filter fluoride
Our verdict: The Clean Water Machine is a reliable choice for folks wanting a portable but speedy countertop filtration solution.
---
Aquasana AQ-4000 Countertop Water Filter
Aquasana's AQ-4000 Claryum countertop water filter attaches onto a kitchen faucet and provides clean tap water on demand. You can attach the unit directly to your current faucet using the included fixtures – no fuss of replacing it with a different faucet.
When you want to use the unit to get clean drinking water, just turn on your tap, and water will divert through the tap and through the filter. Multiple filtration media, including activated carbon, ion exchange media and absolute sub-micron media, clears water of the most harmful contaminants, including 97% chlorine and chloramine, >99.3% lead, and >99.99% cryptosporidium.
The Aquasana system is one of the best-functioning countertop systems, using the brand's NSF Certified Claryum® filtration technology to remove a broad range of contaminants. It's NSF certified to remove chlorine and lead, and removes 77 impurities in total, while retaining healthy minerals like calcium, potassium and magnesium. You need to replace the filter cartridges inside the system every six months or 450 gallons, which is fairly average for a countertop filtering unit.
👍 What We Like
Removes more than 70 impurities
Certified to NSF Standard 42, 53, 401, and P473
Non-invasive, easily reversible installation
Aquasana reviews praise the filter for retaining beneficial minerals
Good filtration capacity
Includes a 1-year limited warranty
👎 What We Don't Like
Some customer reviews mentioned slow flow rates
Doesn't remove fluoride
A few customer reviews referred to issues with leaking
Our verdict: The Aquasana countertop filter is great for people looking for an effective, easy-install, non-permanent kitchen water filtration solution.
---
Aquasana AQ-4100 Shower Filter
The Aquasana AQ-4100 Premium Shower Filter is NSF certified to Standard 42 for up to 87% chlorine removal, reducing your skin's exposure to this chemical and preventing issues with dryness and irritation. You can use it with your own shower head or with the Aquasana recommended shower head.
This shower filter features a coconut shell carbon media and a copper/zinc KDF-55 blend that removes chlorine with adsorption and improves water pH with an electro-chemical reaction. The 2.5 GPM flow rate is standard for shower heads and shouldn't reduce your water pressure at all. The 6-month capacity is also typical for shower filters, meaning only a filter replacement is needed just twice a year.
👍 What We Like
Aquasana reviews say that the AQ-4100 noticeably includes skin and hair quality
Simple setup and easy, tool-free filter changes
100% BPA-free design
NSF certified for chlorine removal
Backed by a 1-year limited warranty
👎 What We Don't Like
Doesn't offer water softening
Some customer feedback mentions issues with leaking
A few customers said the filter didn't last for six months
Our verdict: The Aquasana AQ-4100 shower head filter is an easy-install, NSF certified chlorine-reduction shower filter that's best for people who want a top-performing filter for their shower water.
Aquasana Active Clean Water Bottle
The Aquasana Active Clean Water Bottle is Aquasana's on-the-go water filtration solution for people who want to take their filtered water with them. This portable water bottle filter improves the taste, smell, and quality of water, by eliminating 99.8% lead, 99.4% chlorine, 99% bacteria, and 99.99% cysts. Where's the proof? You'll find it in independent testing to NSF Standards 42 and 53.
A few other notable mentions for this water bottle filter are its durable, BPA-free, stainless steel design with insulation that keeps your bottled water cold up to 24 hours, its 80-gallon filter life, and its easy-grip silicone sleeve.
👍 What We Like
Significantly reduces chlorine taste and odor while preserving all healthy minerals
Sturdy, insulating, BPA-free design
Backed by a limited lifetime warranty
Several colors to choose from
Affordable upfront cost
👎 What We Don't Like
Some customers complained about leaking when drinking
Flow rate is fairly slow
Replacement cartridges are expensive
Filter needs to be soaked before each use or stay wet
Our verdict: The Aquasana Active Clean Water Bottle is ideal for folks who spend a lot of time away from home and want a filtration solution they can take with them.
⭐ Reviews of Aquasana Water Softeners
Aquasana SimplySoft Water Conditioner
The Aquasana SimplySoft Water Conditioner is Aquasana's take on a salt-free scale-reduction solution. This whole-home system alters the structure of hardness minerals without removing them from water, treating hardness up to 15 GPG and reducing up to 99.6% scale (according to Aquasana) while retaining the health benefits of calcium and magnesium. This is achieved with a salt-free, chemical-free conditioning media. There's also a sediment pre-filter to protect sediment damage to the media.
What else should you know about this salt-free conditioner? It has a 10-15 GPM flow rate, which is more than enough for the average family of four; the media has a 6-year capacity with no maintenance required; and the conditioned water produced is safe for the environment and doesn't have the slimy feel of salt-softened water.
👍 What We Like
Expect scale reduction benefits on pipes and appliances, improving appliance efficiency and longevity
Very low-maintenance operation, no salt topups required – just replace the sediment filter periodically
Natural softening retains healthy minerals and doesn't give water a slimy feel
Doesn't need electricity or programming
Backed by a limited 6-year warranty
👎 What We Don't Like
DIY installation voids the warranty
No way to measure performance since hardness minerals are retained
Some customers noticed no difference in their water quality
Our verdict: The Aquasna SimplySoft Water Conditioner is a good choice for anyone who wants to treat hard water without the hassle and maintenance of a salt-based system.
✅ What We Like About Aquasana Filters and Softeners
Tested to NSF Standards
Perhaps the most important benefit of Aquasana is that its filters are all tested (and often certified) to various NSF standards. Not all filters have private testing data, let alone data from testing to comply with NSF's protocols. Some of Aquasana's products are tested to NSF Standard 42, for chlorine reduction; Standard 58, for the reverse osmosis filtration process; 401, for the reduction of emerging contaminants; and P473, for PFOS and PFOA reduction. Additionally, most of Aquasana's systems have a Standard 372 certification for lead-free construction.
Good Warranty and Guarantee
A good warranty is the biggest vote of confidence, and Aquasana's products have at least a 1-year warranty (some systems have multiple years). All Aquasana systems are also backed by the brand's 90-day "Pure Satisfaction" guarantee, which allows you to return your product for a full refund within the trial period for any reason. What does this mean? You can buy an Aquasana system entirely risk-free.
Convenient Maintenance Program
Aquasana's Water For Life program is a useful way to save money and hassle on maintenance. When you sign up for the program, you'll get replacement filters shipped when you need them, with a 15% discount and no shipping fees. You don't have to sign up for the program if you prefer to trial your purchase first. But based on reviews, we'd say that Aquasana offers great customer service for the most part, so you shouldn't feel trapped if you do choose to sign up.
Easy Installation
If you're not a fan of DIY, you'll be happy to know that Aquasana's filters and softeners are designed for quick installation by the everyday person – even somebody with limited handy skills. You won't need to shell out for a plumber UNLESS you have a whole house system. Make sure you get a professional install, in this case, to avoid voiding the warranty.
Eco-Friendly Filters
Aquasana's filters are all recyclable and compostable, so they don't contribute to plastic waste. Some parts of Aquasana's systems, like the outer filter casing, are reusable.
❌ Potential Setbacks of Aquasana Filter and Softener Systems
Some Components are Poor Quality
There are a few components in Aquasana systems that we feel could be better quality. We've read reports from customers complaining about flimsy faucets in Aquasana's faucet filtered water system, as well as leaky o-rings and issues when trying to change the filters. We think the overall quality needs to be improved.
Slow Flow Rate
Another common customer complaint relates to flow rate. Some customers found that the flow of water leaving their Aquasana filtration system was slower than advertised. This is especially the case for Aquasana's countertop, RO, and under-sink systems.
Expensive Replacement Filters
Of all the filters available, Aquasana offers some of the most expensive filter replacements. This means that your maintenance cost will be quite high regardless of which Aquasana system you purchase.
📝 Aquasana Water Filters and Softeners Review: Our Verdict & The Best Filter and Softener Alternatives
Thanks to their reliability, low upfront cost, and certified performance, Aquasana's water treatment systems frequently make our "best" guides across a range of categories. But does that mean we think Aquasana is the superior filtration and softening brand? No.
When it comes to performance, there's no denying that Aquasana beats out most of its competitors. But we think the brand could work on the quality of some of its components. We also think the maintenance costs of Aquasana's products could be reduced to be more in line with Aquasana's competitors for long-term value.
Would we recommend Aquasana for water filters and softeners? Yes – but make sure you know all your options before you settle on Aquasana.
Some of our favorite alternatives to Aquasana's products can be found in our top rated water filters guide.
🧠Aquasana Water Filters and Softeners FAQ
How much does it cost to install Aquasana?
Installing an Aquasana filter is free if you choose to do it yourself. Depending on the system you're installing, you might need to buy adaptors, fittings, and other items for installation, costing less than $50. If you prefer to hire a professional, expect to pay $100-$200, depending on the length of the job and the plumber's fees.
Does Aquasana waste water?
Only one Aquaana system wastes water: the Aquasana OptimH2O RO System. This system wastes up to 4 gallons of water for every 1 gallon of purified water produced, which is about average for a reverse osmosis system – but many of its competitors are now far less wasteful.
Does Aquasana soften water?
No. None of Aquasana's filters soften water, and the Aquasana SimplySoft Water Conditioner doesn't actually soften water – it just conditions water by preventing hardness minerals from forming scale. Aquasana doesn't currently offer a water softener.
Which Aquasana filter is best?
The best Aquasana filter depends on your personal needs, but our favorites are the Aquasana OptimH2O RO System (due to its impressive contaminant removal) and the Aquasana AQ-5300 Under Sink Water Filter (due to its NSF certifications for chlorine and lead removal).
Can you drink Aquasana water?
Yes, you can drink water that has been filtered by an Aquasana unit. That's the point of Aquasana's filters – to improve your water quality and make it safer, healthier, and tastier to drink. Obviously, this depends on your water source. For instance, if you filtered dirty lake water through an Aquasana unit, it wouldn't be guaranteed to be safe to drink.
Do Aquasana filters remove bacteria?
A number of the Aquasana filters reduce or remove bacteria, including the Aquasana OptimH2O RO System and the Aquasana filtered water bottle. Also, the Aqasana Rhino Whole House System comes with an optional UV purifier, which kills bacteria.
Is Aquasana still in business?
Yes, Aquasana is still in business. Aquasana was acquired by A. O. Smith in 2016, but still offers the same products and has the same website.
Are Aquasana filters safe?
Yes, Aquasana filters are safe. Aquasana is one of the top few brands to have official NSF certifications to back the safety of its filters' performance. Just make sure to replace the filters when required to prevent bacteria buildup.
Is Aquasana Made in USA?
Yes, all Aquasana products are engineered and assembled in the USA. Aquasana is headquartered in Austin, Texas.