Aquasana is one of the biggest contenders in the US water filter industry, offering filtration solutions for personal and whole-home use. The Texas-based company has a reputation for one-upping its competitors with very similar systems that offer that little bit extra, making them winners in the eyes of the customer.
This popular water filter brand manufactures and sells all of its products, including shower head water filters, water softener systems, whole house filters and water filtration pitchers. In this guide, I'll be sharing some of my top picks of Aquasana's most popular products and reviewing their features, functionality, pros and cons.
Rhino Whole House Filter
The Aquasana Rhino is a high-performance whole house filter that you can buy in two different capacities: 600, 000 gallons or 6 years of filtration, and 1, 000, 000 gallons or 10 years of filtration. It's one of the best home filtration systems you'll find when it comes to quality of performance.
Product Features
The Aquasana whole house water filtration system comes with the following features:
Filtration unit
The filtration unit itself is relatively compact for a whole home filter, but it is a bigger water filtration solution, so you'll need plenty of room for installing it.
Fittings (suitable for a 7.5-inch water line)
The Aquasana fittings are designed to connect the system to most water lines.
Shut-off valves
Like every whole house water filter system, the Rhino comes with shut-off valves, which you use to turn off your water while you perform system maintenance.
Pre-filter and post-filter
The system's pre-filter and post-filter are separate from the main filter housing, and it's best to replace them every 3 to 6 months.
Functionality
The Aquasana Rhino whole home water filter system sends water through multiple stages of filtration, using different media to target different contaminants. First, water passes through a sediment pre-filter, which removes sediment like dust and rust, before it flows into the main filtration tank, which uses two different types of media: a copper-zinc and mineral stone, and activated carbon. Finally, water passes through a post-filter, which removes any contaminants that the previous filters may not have caught.
You have two choices when it comes to the lifespan of this whole home water filter: the Aquasana 600K gallons lasts for 6 years and the Aquasana 1 million gallons lasts for a period of 10 years. The pre-filter lasts for 3 months, and the post-filter lasts for 6 months. The filter media in the large filter tank won't need replacing until the end of the system's lifespan.
Filter Benefits
With this Aquasana whole house filter being one of the most highly-regarded in terms of performance, you can expect thorough filtration that doesn't affect water flow (the system's maximum flow rate is 7 GPM, or gallons per minute). The system is NSF certified for chlorine removal, and also removes sediment like rust and dust, scale, heavy metals, pesticides, and organic matter. With multiple stages of filtration in a single unit, the Rhino is a well-spent investment, especially as you can use it for water in your entire home.
Pros/Cons
👍 What I Like
Aquasana reviews mention greatly improved water quality in an entire home
NSF certified for chlorine removal
Main filter media doesn't require changing until the end of system's lifespan (up to a 10 year period or 1 million gallons)
👎 What I Don't Like
Some customer feedback indicates installation is a little tricky
Pre- and post-sediment filters require regular changing
Must be installed by a licensed plumber for the warranty to be valid
Bottom line: the Aquasana whole house filter boasts its thorough contaminant removal and ensures cleaner, healthier water for you to cook with, drink, and shower in.
---
3-Stage Max Flow Under Counter Water Filter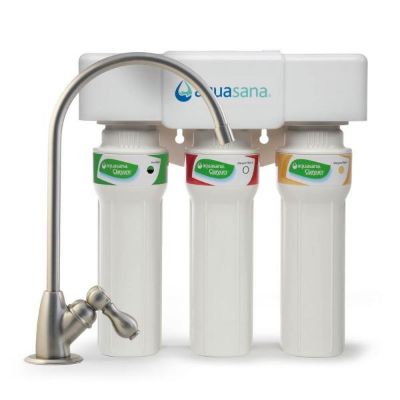 Overview
If you're looking for targeted water filtration for your kitchen faucet, this Aquasana water filter for under-sink installation is a good fit. It's one of the best performing filters offered by Aquasana, and is NSF certified for chlorine and lead removal.
Product Features
When you buy the Aquasana Max Flow under counter water filter system, you'll receive the following:
Set of 3 filters
The system comes with the first three filters included, which should be pre-installed inside the filter housing.
Filter housing
This protects the filters from dust and air particles and prevents water from leaking out of the system.
Faucet
You can choose from three faucet styles: brushed nickel, chrome and oil rubbed bronze. The faucets are all lead-free and won't add anything harmful into your water.
Fittings and tubing
There are several brass fittings that should connect straight up to your water line, as well as tubing to connect the under sink system to your pipes. There are also fittings and tubing for connecting the faucet to the system.
Functionality
The Aquasana under sink water filtration system uses a unique filter technology called Claryum®, which is made of activated carbon and catalytic carbon media. When water passes through this media, contaminants become trapped in the filter. Water then flows through an ion exchange media, which filters out the likes of heavy metals and mercury, and an absolute sub-micron mechanical filtration media, which captures cysts and asbestos.
When it comes to lifespan, you should get about 6 months out of the filter before it needs replacing. The good news is that the system will let you know exactly when it's the best time to replace your filters, so you can always make sure you get the job done.
Filter Benefits
You can expect top performance from the Aquasana Max Flow, which has recently seen improvements to its design that have helped it to run 44% faster than it could previously. It has a flow rate of 0.4 GPM, which is more than fast enough – you won't have to wait longer than you would normally to fill a glass of water. The Max Flow can remove a total of 70 contaminants from water.
Installing the Aquasana under sink filter is something that anyone should be able to have a go at, no matter how much DIY experience you have. Aquasana has shared a video on how to do it, and, as the system comes with everything you need for installation. It's just a case of identifying the parts you have and connecting them together.
Pros/Cons
👍 What I Like
Aquasana reviews mainly talk of straightforward installation
Good water flow
NSF certified for chlorine and lead removal
👎 What I Don't Like
Reviews say filter lifespan isn't great
Faucet could be a sturdier design
Some customer feedback highlights issues with leaking around the fittings
Bottom line: the Aquasana Max Flow under counter filter is a discrete, effective method of kitchen sink water filtration.
---
OptimH2O Reverse Osmosis System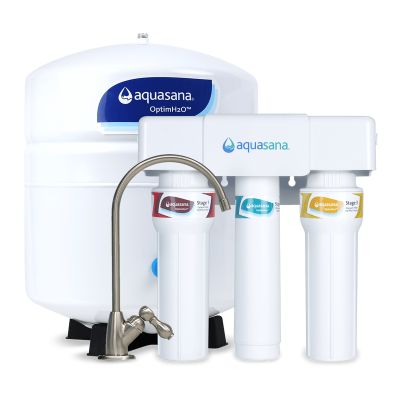 Overview
Anyone looking for the most through contaminant removal should opt for Aquasana's OptimH20 reverse osmosis system. This water treatment method removes nearly 100% of all TDS from water, and Aquasana's take on RO is up there with the most effective filtration solutions we have seen so far.
Product Features
This Aquasana RO filter is designed for under sink installation, and it comes with the following:
Complete set of filters
You get the first set of filters for the Aquasana reverse osmosis system for free.
Filter/reverse osmosis housing
The filters and reverse osmosis membrane come in their own tasks or housing.
Lead-free faucet
You can choose from brushed nickel, chrome or oil rubbed bronze for the included faucet. All designs are 100-percent lead-free.
Fittings and tubing
Everything you need for installation comes with the Aquasana OptimH20, including fittings and tubing.
Functionality
What makes the OptimH20 stand out from other reverse osmosis water treatment systems is the processes it uses to remove impurities from water. Like all RO systems, it sends water through an RO membrane, which removes impurities like nitrates, lead, arsenic and even fluoride. Uniquely, water then flows through a selective Claryum® filter, which reduces a further 74 contaminants.
RO systems are so effective that they even remove minerals we need, like calcium and magnesium, from water. But the OptimH20 has a remineralization filter that reintroduces these minerals to water.
Each filtration stage of this system has a different lifespan: the RO membrane lasts for 1 year, the remineralizer also lasts for a year; and the Claryum® filter has a lifespan of six months.
Filter Benefits
One of the biggest benefits of the OptimH20 water filter system is its NSF certifications for contaminant removal. The system is certified to Standards 42, 53, 58, 401 + P473 for lead removal, chlorine removal, removal of emerging compounds like pharmaceuticals, and more. The remineralizing filter is a big perk of the system, as highlighted in multiple reviews, ensuring that while your drinking water is free of contaminants, you can still benefit from those that are good for you.
For an RO system, the OptimH20 is easy to install, with simplistic instructions and an online video for extra guidance.
Pros/Cons
👍 What I Like
NSF certified for removal of a broad range of contaminants
Filters and remineralizes water
Aquasana reviews praise system for thorough contaminant removal for clean water
👎 What I Don't Like
Some customers experienced a slower water flow
Installation may be too difficult for some users
Wastes water during the RO process
Bottom line: the Aquasana OptimH20 water filter uses reverse osmosis to remove the broadest range of contaminants from drinking water.
---
Clean Water Machine – Pitcher
Overview
As a more portable water filtration option, the Aquasana Clean Water Machine can provide a means of filtered drinking water with no installation or maintenance required. The system is power-activated and reduces 96% of harmful contaminants.
Product Features
The Clean Water Machine comes with everything that's needed for immediate use, including:
Filter unit
The filter unit is clear/white and slim enough to be stored inside your refrigerator door. It comes pre-assembled.
1 included filter
You get a single Clean Water filter included with the machine, which slots inside the filter housing when you remove the unit's lid.
Wire and plug
Unlike the majority of pitcher water filters, the Aquasana Clean Water machine uses electricity. The system comes with a wire and plug and is ready for plugging straight into a power supply.
Pitcher jug
Finally, the detachable pitcher jug is where you'll store your water before it gets filtered ready for drinking. You can remove it from the filtration system and fill it with water when it runs empty.
Functionality
The Aquasana water filter pitcher is completely unique in its performance – despite looking like the majority of gravity water pitcher filters, it uses a speedier and more effective filtration technique. The Aquasana Clean Water Machine, however, uses electrical power to send water quickly through the filter cartridge. You fill the pitcher jug, wait for water filtration to take place, then press the button to dispense filtered water.
Using this filter, you'll benefit from tap water that's free of 99% of lead and asbestos, 96% of chlorine and chloramines, and more than 70 additional harmful contaminants. The system should continue to function well for 3 months or 320 gallons, and then you'll need to replace the filter. With there only being 1 filter to change in this water filter system, it's a little less costly to maintain than some of Aquasana's bigger water filters.
Filter Benefits
A major selling point of the Aquasana water filter pitcher, which is mentioned as a big benefit in multiple reviews, is that it uses electricity to power its filtration, so it's much quicker and more effective than competing gravity filter pitchers. It's also easy to install, requiring virtually no setup – just pop the filter inside the filter housing, fill the pitcher with water, and it's ready to go. Because the pitcher isn't tied down to a certain area of the house, you've got more flexibility to take it with you to work, on vacation, or anywhere with an accessible power supply.
Pros/Cons
👍 What I Like
Portable and compact
Aquasana reviews say the filter is faster than most filter pitchers
No install required
👎 What I Don't Like
Filtration is relatively loud
Some customers experienced issues with leaking
Doesn't filter fluoride
Bottom line: The Clean Water Machine is a portable, electricity-powered filtration solution that uses Claryum® filtration technology to remove 96% of contaminants.
---
Countertop Water Filter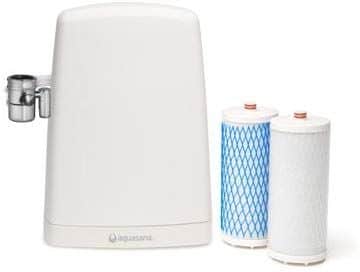 Overview
Aquasana's countertop water filter attaches onto a kitchen faucet for immediate use, and provides clean tap water whenever you fancy it. It's up there with the best countertop filters for reducing a broad range of contaminants, including chlorine, lead, mercury, and pharmaceuticals.
Product Features
The Aquasana countertop water system comes with the following features:
Compact filtration unit
White and slim in design, you can easily fit the filter system onto your kitchen side without it getting in the way or being an eyesore.
Faucet attachment and fixtures
You can attach the unit directly to your current faucet using the included fixtures – no fuss with replacing it with a different faucet.
Included water filters
You get the first two water filters free of charge, and they come pre-installed in the unit. Make sure to follow Aquasana's instructions for preparing the filters for use.
Functionality
Of all countertop water filters, the Aquasana system is one of the best-functioning systems, using the brand's NSF Certified Claryum® filtration technology to remove a broad range of contaminants. When you want to use the unit to get clean drinking water, just turn on your tap, and water will divert through the tap and through the filter. In this filter, multiple filtration media, including activated carbon, ion exchange media and absolute sub-micron media, clears water of the most harmful contaminants, including chlorine, lead and cysts.
You need to replace the filter cartridges inside the system every six months, which is fairly average for a countertop filtering unit.
Filter Benefits
With the Aquasana countertop filter using the brand's Claryum® technology, it has the benefit of selective filtration – where contaminants of the harmful type are removed while the beneficial minerals are retained. So while the Aquasana countertop filter is NSF certified to remove chlorine and lead, and removes 77 impurities in total, it does well to retain the likes of calcium, potassium and magnesium.
Another of the system's best features, as highlighted in reviews, is its simple setup. If you'd rather not permanently install a filter at your home's waterline, the Aquasana countertop filter just needs connecting to your faucet, in a process that is completely non-invasive and can be reversed instantly.
Pros/Cons
👍 What I Like
Removes more than 70 impurities
Aquasana reviews praise the filter for not getting rid of beneficial minerals
NSF certified for lead and chlorine removal
👎 What I Don't Like
Some customer reviews mentioned slow flow rates
Doesn't remove fluoride
A few customer reviews referred to issues with leaking
Bottom line: the Aquasana countertop filter is an easy-install, non-permanent kitchen water filtration solution.
---
Premium Shower Filter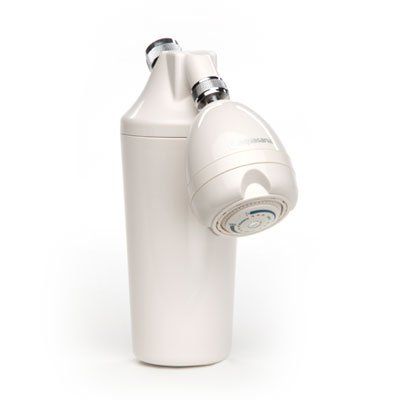 Overview
The Aquasana Premium Shower Filter is NSF certified for chlorine removal, and is designed to reduce your skin's exposure to this chemical and prevent issues with dryness and irritation. You can use it with your own shower head or with the Aquasana recommended shower head.
Product Features
When you receive the Aquasana shower head filter, you should find the following features:
Filter housing
The filter housing is the main body of the shower head unit, and attaches onto your shower arm from the bottom.
Chrome collar
The chrome collar is used for screwing the Aquasana onto your shower arm, along with plumber's tape to prevent leaking.
Shower head
If you opted for a filter with a shower head as well, it will come included with the unit. You can also choose a chrome shower wand or a white shower wand if you prefer.
Note that you will want to have your own plumber's tape, pliers and a bucket for installing the Aquasana unit, which aren't provided with the unit.
Functionality
When you switch on your shower, water will pass up your shower arm and through the Aquasana shower filter, which features a coconut shell carbon media and a copper/zinc KDF blend that removes chlorine in the adsorption process and improves water pH with an electro-chemical reaction. Water then passes up through the shower head, where it sprays out as it usually would.
Filter Benefits
The best feature of the Aquasana shower filter is, without a doubt, its performance capabilities. Shower filter units are known for offering poor water flow, but customer feedback for the Aquasana is only positive when it comes to the speed of water that flows out of the shower head.
Customer feedback also highlights the noticeable effect that using the Aquasana has on their hair and skin almost instantly, with customers praising the filter for getting rid of the chemical smell during showering. With an NSF certification for Standard 42, you can rest assured that the filter is the best of the best when it comes to the removal of this contaminant.
Pros/Cons
👍 What I Like
Aquasana reviews say that the filter noticeably includes skin and hair quality
Simple setup
NSF certified for chlorine removal
👎 What I Don't Like
Doesn't offer water softening
Some customer feedback mentions issues with leaking
A few customers said the filter didn't last for six months
Bottom line: the Aquasana shower head filter is an easy-install, NSF certified chlorine-reduction shower filter.