🧾 Overview
The Aquasana OptimH2O is an under-sink reverse osmosis unit that's NSF tested and certified to remove 88 contaminants.
This system consists of 3 filter stages and combines Aquasana's Claryum® technology and reverse osmosis to provide clean, pure, mineral-rich drinking water.
When you purchase the system directly from Aquasana, it comes with a 2-year warranty and a 90-day "Pure Satisfaction" guarantee.
📝 System Specifications
Dimensions (manifold): 12 x 4.5 x 12.5 inches
Dimensions (tank): 16 x 11 inches
Operating pressure: 40-100 PSI
Operating temperature: 40-100°F
Min. membrane reduction: 95% TDS
Max. water production rate: 13.32 gallons per day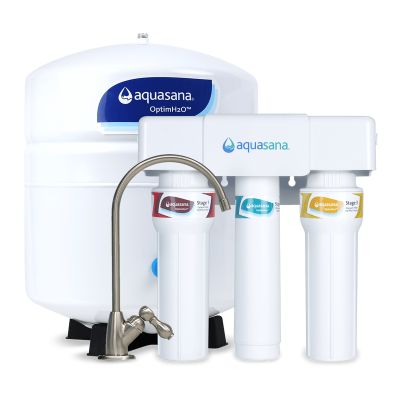 💡 Features
Easy-Replace Filters
The filter cartridges in the OptimH2O are designed for easy replacement. No tools are needed – you just unscrew the used cartridge and twist a new one in its place.
Dedicated Faucet
The OptimH2O comes with its own dedicated faucet in three finishes: brushed nickel, chrome, and oil-rubbed bronze. Pure water is more susceptible to metal leaching, so having a faucet made from materials that won't dissolve in your drinking water is important.
RO Membrane
With an ability to remove contaminants smaller than 1 micron, the reverse osmosis membrane is a key filtration stage in the OptimH2O.
Claryum Technology
Aquasana's Claryum technology offers advanced filtration, working alongside the RO membrane to remove a broad range of contaminants.
Remineralization Filter
Like many modern under-sink RO filters, the OptimH2O comes with a final filter stage: a remineralizer. This adds healthy minerals back into tap water before it reaches the faucet.
Water Storage Tank
The water storage tank holds filtered water, ready to be delivered directly to your faucet when you switch it on.
🚦 Performance
Using reverse osmosis to filter water, the OptimH2O is highly effective at removing contaminants, filtering out nearly 90 total dissolved solids. Though there are several filtration stages for water to pass through, the system's storage tank ensures you always have access to clean water whenever you want it.
A huge benefit of the OptimH2O is that its performance has been tested independently by the NSF, which deemed it effective enough for certification. The system is certified to remove lead, chlorine, tastes and odors, and pharmaceuticals, to standards 42, 53, and 401.
The OptimH2O also has an NSF 58 certification, which means it has been addressed for safety and structural integrity.
If you're looking for a system that's capable of removing more than the average filter, the OptimH2O should have plenty of appeal. As well as the easier-to-remove contaminants, the unit can also remove fluoride and arsenic, two impurities that are notoriously difficult to filter out of water.
🔧 Installation & Maintenance
While many customers choose to install the OptimH2O themselves, Aquasana strongly recommends using a qualified installer for the job. If you break the system during installation, it won't be covered by the warranty. So if you do plan to install it yourself, do so with care.
If you're fairly handy, it should take you 2 to 3 hours to install the OptimH2O. There are numerous stages involved in the job, including attaching the unit to your water line, installing the storage tank, hooking the system up to the drain line, and connecting the dedicated faucet.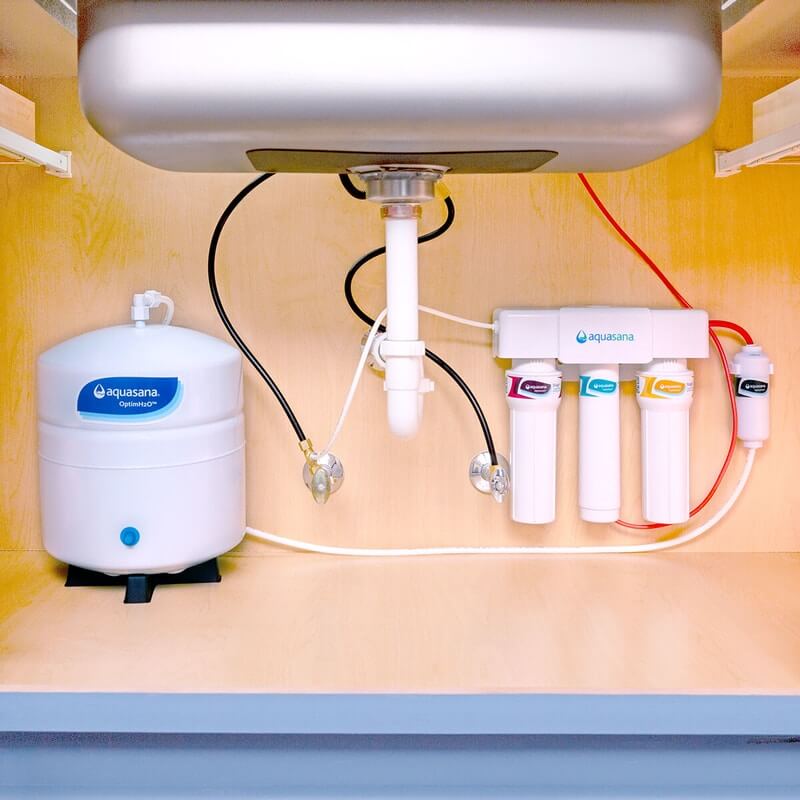 Installation isn't a quick job, but the instructions in the user manual are clearly outlined, and Aquasana has also shared a video that should help visual learners.
Maintenance for the Aquasana is relatively low-hassle. As long as you remember to change the filters, you should enjoy optimum performance from the system for at least a decade.
The filters can be changed without the use of tools, and without the need to disconnect water lines or hoses. Simply twist off the existing filter and replace with a new one.
You will need to change the carbon pre-filter and Claryum post-filter every 6 months. If you have a high sediment level or your daily water usage is higher than average, you might need to replace these filters more frequently.
The RO membrane needs to be changed every 12 months. If your water's pH is higher than this, you may have to swap your membrane for a new one before then. Look for a decrease in water quality and production if you're not sure when to change this filter stage.
Finally, the remineralizer should be changed every 12 months.
📝 Filter Info
The OptimH2O uses four filter stages to remove 88 contaminants from water, including 99% lead and asbestos, 97% chlorine and arsenic, and 95% fluoride.
The first filter stage uses an activated carbon media to remove VOCs, pesticides, herbicides, and other organic chemicals. Activated carbon is one of the most widely used filtration techniques, using a method known as adsorption to effectively trap contaminants in flowing water.
Following on is the OptimH2O's reverse osmosis membrane, which filters out dissolved solids smaller than 1 micron. This membrane can greatly reduce or remove 14 impurities, including nitrites and nitrates, radium, arsenic and fluoride.
Next up is Aquasana's Claryum filter, which combines catalytic and activated carbon media to remove chlorine and chloramines. Sub-micron filtration and ion exchange are also used at this stage to remove heavy metals like lead.
The final stage is the remineralizer, which adds healthy minerals like magnesium, calcium and potassium back into water. This helps to increase pH and give water a pleasant alkaline taste.
🔔 Pros & Cons
👍 What I Like
Removes 88 contaminants, including fluoride
Offers immediate, convenient access to water from a faucet
Clear instructions for installation & filter changes
👎 What I Don't Like
Need to replace 4 separate filters
Installation may require a plumber
Some customers noticed dip in water pressure
❔ Frequently Asked Questions
Can I use the OptimH2O with my own faucet?
You could use the Optim H2O with your own faucet if you purchased additional adaptors, but this isn't recommended by the manufacturer.
The dedicated faucet is designed to eliminate the risk of leaching (when metals and other materials are dissolved into your filtered water). You can't guarantee that your water is protected from leaching if you use your own faucet.
There are three faucet styles to choose from, so at least one should suit your tastes.
Found this review helpful?
Comment below or share this article!