Debating whether or not you should buy the Aquasana AQ 5300? Wondering how this under-sink water filter system compares to its top competitors?
In this review, we've shared everything you need to know about the features, specs, performance, and pros and cons of the Aquasana AQ 5300.
🧾 Overview
The Aquasana AQ 5300, also called the Aquasana 3 Stage Max Flow Claryum Under Sink Water Filter System, is a multi-stage under-sink water filtration system that is NSF tested and certified to remove 77 contaminants from drinking water.
This compact filtration system comes with a dedicated faucet and has a 4-6-month filter lifespan.
The AQ 5300 is Aquasana's mid-level under-sink water filter system model. Aquasana also offers a smaller two-stage system (the Aquasana AQ-5200) and a 3-stage filter that's exactly the same as the AQ 5300 but has larger filter cartridges and a bigger capacity of 800 gallons (the AQ 5300+).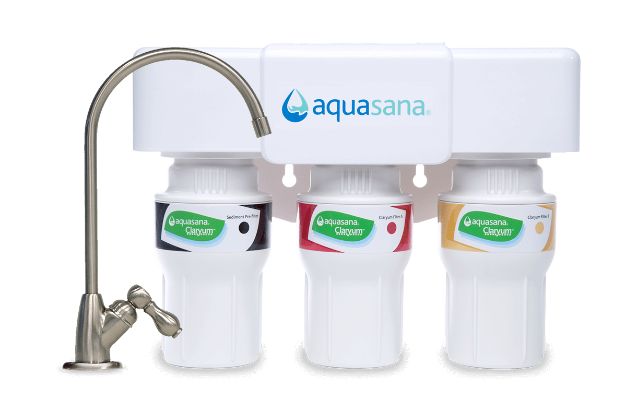 📝 System Specifications
| | |
| --- | --- |
| Filter Type | Under-sink |
| Filter Stages | 3 |
| Filter Materials | 20-micron sediment filter; activated and catalytic carbon media; ion-exchange resin |
| Operating Pressure | 20-80 psi |
| Operating Temperature | 40-90°F |
| Water Flow Rate (GPM) | 0.5 |
| Maximum Capacity | 600 gallons/ 4-6 months |
| System Dimensions (L x W x H) | 4.25 x 12 x 12.85 inches |
| Warranty & Guarantee | 1-year warranty, 90-day guarantee |
💡 Features
BPA-Free Design
The Aquasana AQ 5300 is made from 100% BPA-free plastic. That means you can enjoy your filtered tap water without worrying about added nasties.
3-Stage Filtration
There are three stages of filtration involved in this water filter system: a sediment filter, and two catalytic carbon and ion exchange filters.
Removes 77 Contaminants
This Aquasana model is NSF certified to remove 77 contaminants, including lead, cysts, chlorine, mercury, and asbestos.
3 Faucet Materials
You can choose between three materials for the included faucet: brushed nickel, chrome, and oil-rubbed bronze. Different styles and colors suit different kitchens.
1-Year Warranty
The AQ 5300 is backed by a 1-year warranty and comes with a 90-day money-back guarantee, so you can buy this system risk-free.
🚦 Performance
We measure the performance of under-sink water filters by testing and assessing three factors:
Flow rate and speed of water delivery
Effectiveness of the filtration process and contaminants removed
Longevity – how long the system retains optimal performance
We rated the performance effectiveness of the Aquasana 3 Stage Max Flow filter highly. The filter removes a whole host of contaminants and transforms ordinary tap water into clean, fresh drinking water.
The filter only removes the bad stuff from your water, too. Retaining natural beneficial minerals like calcium and potassium maintains a pleasant alkaline taste in water. No chemicals or plastics are added to the water from the filter media and casing (as you would hope), so the system doesn't introduce anything dangerous or unhealthy to your drinking water.
Plus, this Aquasana model is certified to NSF Standards 42, 53, and 401 for its performance, which is hugely reassuring. An NSF certification tells you that a water filter is capable of performing according to the manufacturer's claims. NSF 42 is for chlorine; 53 is for contaminants with health effects; and 401 is for incidental contaminants and emerging compounds (like PFAS and pharmaceuticals).
Looking at flow rate, the Aquasana 5300 delivers a healthy water flow of 0.5 gallons per minute (GPM). The average flow rate for a kitchen faucet is between 1.0 GPM and 2.2 GPM, so it'll take slightly longer than normal to fill a glass of water after installing this filter.
The Aquasana 5300 has a 600-gallon capacity, equating to 4-6 months, which is slightly below average for an under-sink filtration system. Most under-sink units have filters that last for 6, 9, or 12 months depending on the filter type.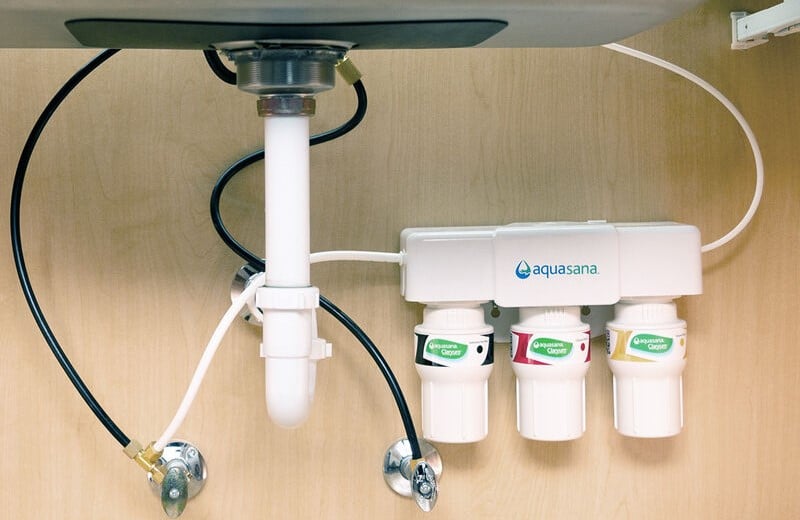 🔧 Installation & Maintenance
The Aquasana AQ 5300 comes with everything needed to install the system underneath your kitchen sink, including;
User manual
Dedicated faucet
Faucet rubber washer
Faucet spacer
Faucet nut
3 filter cartridges
Poly tubing
Screws with anchors
Chrome nut
Plastic tube insert
Plastic collar
Brass tube insert
Brass nut
3/8″ inch brass tee
If you're a handy person or you can confidently follow instructions, you should be able to install the Aquasana AQ 5300 without professional help. The installation manual is clear, with a simple step-by-step process to follow. Most people should be able to install this filtration system within one hour.
Visual learners can use Aquasana's instruction video to install the 3-Stage Max Flow Claryum Under Sink Water Filter.
As for maintenance, your main job is to change the filters once they reach their maximum capacity (usually every 4-6 months). Changing the filters is as simple as twisting off the housing, swapping out the filter, and twisting the housing back in place. There are no hoses or water lines to disconnect.
The unit has a battery alarm that will flash red when it's time to replace your filters. Replacement filter cartridges come with a new battery, so you'll never lose charge.
You can save money on replacement filters by signing up for Aquasana's Water for Life program.
📝 Filter Info
The Aquasana AQ 5300 uses Aquasana's claryum filtration technology to remove 77 common drinking water contaminants. There are three filter stages involved in this system:
A 20-micron sediment pre-filter, which removes large particles of sediment and rust, and protects the later filter stages from contaminant damage.
Two stages of activated carbon and ion exchange resin, which use adsorption to trap contaminants in their media.
We were pleased with the filter's contaminant removal abilities. This filtration system doesn't only remove the most common easy-remove contaminants (like chlorine and lead) – it also removes:
Cysts
PFOA/PFOS
Pesticides
Mercury
Asbestos
Pharmaceuticals
The filter achieves a similar purity to reverse osmosis water, but with a notable difference: Aquasana's water filters don't remove healthy minerals from water. So, with this model, you get the best of both worlds. You can view a complete list of all the contaminants removed by the AQ 5300 on this datasheet.
🔔 Pros & Cons
👍 What We Like
We appreciate that the Aquasana AQ 5300 retains healthy minerals in water, so it only gets rid of the bad stuff. That's ideal if you want to drink healthier water without the impurities.
This under-sink water filter system delivers great-tasting water in a matter of seconds.
It's easy to hook this system up to your cold water line following Aquasana's video or user manual instructions.
There are minimal disposable plastic parts in this filtration system, so it's a top choice if you're looking for an environmentally-friendly water treatment solution.
The unit is backed by a warranty and a guarantee, so you can try it risk-free.
👎 What We Don't Like
This filter isn't designed to completely remove total dissolved solids. If you're looking for the most thorough filtration possible and you don't mind water waste, consider Aquasana's reverse osmosis systems.
The Aquasana 5300 isn't the most economical filter we've tried. A 6-month lifespan for all filters is slightly lower than average. Many under-sink systems have filters lasting up to 12 months.
This system isn't intended to be used with an existing faucet – you're supposed to install the included faucet to deliver the filtered water. The quality of the included faucets is poor.
Multiple customers experienced leaks from the disconnect hoses, tubes, and filter housing.
❔ Frequently Asked Questions
Does Aquasana 5300 remove fluoride?
No, the Aquasana 5300 doesn't remove fluoride. If you want to remove fluoride with an Aquasana product, consider the Aquasana Reverse Osmosis System with Re-mineralizer.
How long does Aquasana system last?
The lifespan of the Aquasana 5300 is 4-6 months. After this, you'll need to replace the three filter cartridges with new filters. The unit itself should last for 5-10 years or even longer with proper cleaning and maintenance.
Do Aquasana filters remove bacteria?
Some of Aquasana's filters, like the Aquasana Rhino Whole House Well Water Filter and the Aquasana Reverse Osmosis System with Re-mineralizer, remove bacteria. Aquasana's under-sink filter range, including the Aquasana 3 stage Max Flow Under Sink Water Filter System, don't remove bacteria.
Are Aquasana filters safe?
Yes, Aquasana filters are safe – as long as you follow the instructions to properly maintain them. Don't use the filter cartridges in the Aquasana AQ 3500 for more than six months to prevent the growth of bacteria. Additionally, the Aquasana AQ 3500 isn't safe for treating well water.
Can I use my own faucet with Aquasana?
Yes, you can use your own faucet with the Aquasana AQ 3500. However, Aquasana recommended using the dedicated faucet to prevent contaminants from your own faucet from leaching into the filtered water.
How much does it cost to install Aquasana?
If you install the Aquasana AQ 5300 yourself, the cost to install the system should be $0. The unit comes with all the parts needed for installation, including three filter cartridges. If you decide to hire somebody to install the system for you, you'll need to pay around $50, depending on the contractors' prices in your area.
Found this review helpful?
Comment below or share this article!