🧾 Overview
The Aquasana AQ-4000W is a countertop water filtration unit that is said to remove roughly 97% of chlorine and can also reduce approximately 76 additional contaminants.
The unit was produced by one of America's leading water filter manufacturers, Aquasana, and it's certified by the NSF for a whole host of contaminants, which is instantly promising.
The water filtration benefits of the Aqusana AQ-4000W include the removal of heavy metals from drinking water, including mercury and lead, the reduction of organic chemicals, including herbicides and pesticides, the reduction of pharmaceuticals, including ibuprofen and estrone, an the near-elimination of cryptosporidium and giardia.
As a countertop water filter, you can easily store the Aquasana AQ-4000W at your kitchen sink and attach it to your faucet, no permanent fixture or installation required. The added bonus of this system is that it's designed with the environment in mind – it requires fewer filter replacements, and reduces plastic waste by minimizing disposable plastic parts.
💡 Features
Activated Carbon Filter
The Aquasana AQ-4000W features an activated carbon filter that's designed to reduce or remove a total of 77 contaminants. It's NSF-certified, so you can trust it does what it's advertised to do.
Flexible hose, diverter valve and faucet adapter
You'll need to attach the Aquasana AQ-4000W to your kitchen sink faucet using the hose and diverter valve. If you don't have a standard faucet, you may need to use the provided adapter to fit the diverter valve to your faucet.
Filter unit
The filter is stored inside a rectangular white filter unit that's designed to sit on a kitchen countertop. This unit is shaped differently from a standard cylindrical unit, and takes up a bit more surface area width-ways. It's nice and compact, though, and it's ideal for anyone who doesn't have much counter space between their kitchen sink and wall.
Installation instructions
The Aquasana AQ-4000W comes with a handy instructions booklet for installation and maintenance, including filter changes. For people who prefer to learn by sight, Aquasana has also produced a useful video for how to change the unit's filter.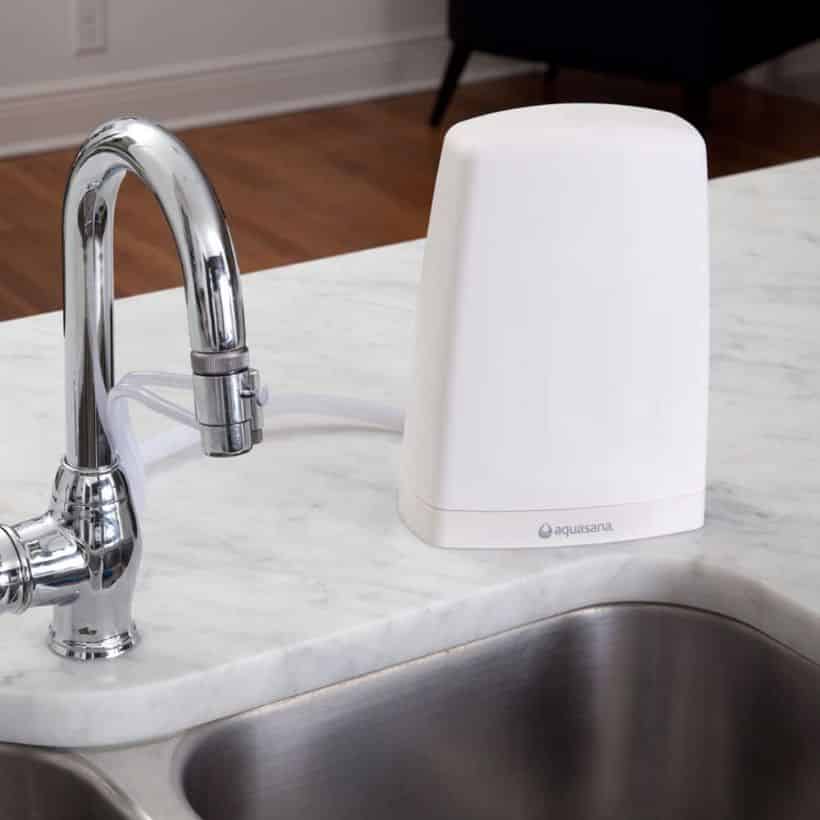 🚦 Performance
When it comes to filter performance, the Aquasana AQ-4000W is clearly one of the forerunners in countertop water filtration. The unit's filter has been NSF-tested to prove that it can reduce or remove a total of 77 contaminants, including lead, mercury, herbicides, pesticides, pharmaceuticals and PFOs.
The filter is advertised to be more efficient than other filters, too – it's designed to last for 11x the capacity of the Aquasana leading gravity-based pitcher. This, however, isn't quite as impressive as marketed. The filter will last for an average of 6 months, which is better than some filters, but not the best we've ever seen.
As you connect the Aquasana AQ-4000W up to your faucet, you'll benefit from your home's water pressure forcing water at a high speed through the filter at a flow rate of around 30 gallons per hour. This means you'll be able to drink from filtered water immediately, no waiting around. If you'd prefer to have immediate access to clean drinking water, the Aquasana AQ-4000W is a good option to consider.
🔧 Installation & Maintenance
One of the best things about countertop water filters like the Aquasana AQ-4000W is that they have been deliberately designed to make installation as quick and simple as possible.
All you'll need to do in the case of this unit is attach the filter straight to your faucet for immediate access to clean drinking water. You don't need the help of a plumber, and if you want to check you're doing the right thing, you can take a look in the product's instructions manual.
With such a simple installation, it's easy to attach and detach your filter to any kitchen faucet in minutes, making the Aquasana AQ-4000W a great portable option for taking with you when you move house or go on your travels.
The only issue you may face with the unit is that not all faucets will attach to the hose. You may need a faucet adapter, but if your faucet is non-standard, you may not be able to use even an adapter to solve your connection issues.
📝 Filter Info
The Aquasana AQ-4000W features a two-stage filtration system technology, which is branded by the manufacturer as Claryum®. According to Aquasana, this filter technology can eliminate ten times more contaminants than the top pitcher filter on the market is currently capable of.
The filter is divided into four separate sections, each one with its own purpose.
First, there's the activated carbon filter, which reduces organic chemicals, herbicides, and pesticides.
Next up is the catalytic carbon filtration, which removes up to 97% of chloramines and chlorine, which are responsible for unpleasant taste and odor in water.
Then there's the ion exchange technology, which removes the likes of lead and mercury.
Finally, the sub-micron mechanical filtration traps any cysts, including giardia and cryptosporidium, and asbestos.
You'll need to change the filter once every 450 gallons of use, and to do this, you simply need to unscrew the filter housing, remove the old filter, and replace it with a new one. Keep in mind that new filters are pretty expensive compared to those sold by Aquasana's competitors. Of course, with the filters being NSF-certified, you pay for the attestation that the Aquasana AQ-4000W works as advertised.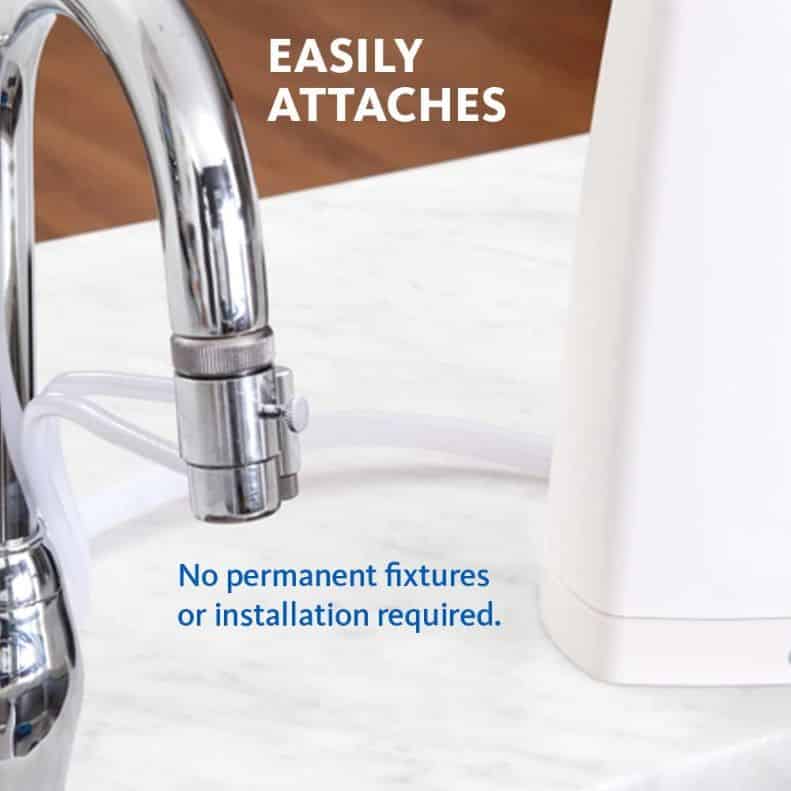 🔔 Pros & Cons
Pros
Simple to install, compact and portable
Fairly high flow rate
Uses a twin cartridge for extra efficiency
NSF-certified to filter 60 contaminants for reassurance of the filter's effectiveness
Cons
One of the more expensive filters available on the market – NSF certification increases filter's value
Filter doesn't have the longest lifespan
❔ Frequently Asked Questions
How can you tell when it's time to replace the filters?
The filter capacity of this system is 450 gallons or 6 months. So you will need to change your filters at whichever comes first.
Can I run warm/ hot water through the system?
No. Hot water can destroy filter media and membranes.
Can I bypass filtration when I am washing dishes?
Yes! There is a bypass lever that allows you to turn off the filter and use your regular tap water.
Does this system filter out fluoride?
No, you need a reverse osmosis system to remove fluoride.
Found this review helpful?
Comment below or share this article!