If you know anything about water pitcher filters, you'll most likely be familiar with Brita. Having operated for more than half a century, Brita has become something of a household name in the US, appealing to families who are looking for a simple way to access clean drinking water on a daily basis.
But Brita is far from the only option when it comes to simple water filtration. There are a whole host of brands that boast their own unique water filtering benefits, acting as Brita's direct competitors and, in some cases, offering even more than any other filter on the market. The Aquagear water filter pitcher is one of these filters.
In this comparison review, we'll be looking at the Aquagear water filter pitcher vs Brita, comparing their features and helping you to determine which, if any, is best for you.
⚖️ Comparison Chart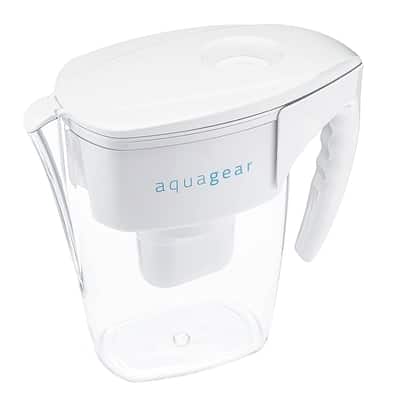 Filter: High capacity
Capacity: 8 cups
Contaminants removed: 71
Filter lifespan: 120 gallons
Warranty: Lifetime
Price: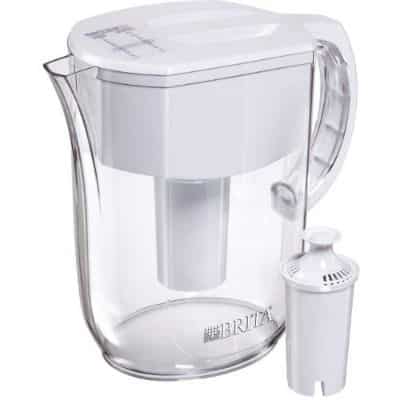 Filter: Standard
Capacity: 10 cups
Contaminants removed: 5+
Filter lifespan: 40 gallons or 2 months
Warranty: 90 days
Price:
💡 Filter Comparison
Brita Filters
Brita pitchers use one of two filters: Brita's Standard filter and LongLast filter. The Standard filter lasts for 2 months and takes roughly 10 minutes to filter water. It encompasses multiple stages of water filtration, sending water through a built-in mesh screen that prevents black carbon flecks, then sending it through an activated carbon media that uses absorption to reduce contaminants like chlorine, taste and odor, and mercury. There's also an ion exchange resin, which reduces zinc, copper and cadmium in drinking water.
Brita's LongLast water filter works almost identically, but has the benefit of lasting an extra 4 months – for 6 months in total. You can tell these filters apart from Brita's standard filters because they're blue, not white, in color. They use a pleated patented media and active proprietary filtration agents that reduce contaminants like lead, cadmium and asbestos in water.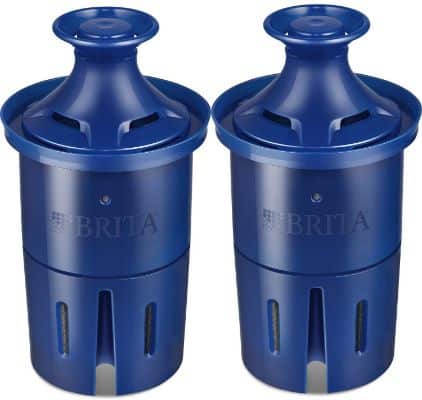 Aquagear Filters
The Aquagear pitcher comes with a single water filter, the 150-gallon replacement filter, lasting for 6 months of effective contaminant removal. This filter is white in color and relatively smaller than Brita's. But when it comes to design, it's made from a similar filter media – a coconut shell activated carbon media that, again, uses adsorption to reduce the likes of chlorine and lead.
Like Brita's standard filter, the Aquagear filter for water also contains ion exchange materials. Aquagear's broad range of contaminant removal is what sets it apart from its competitors, Brita included.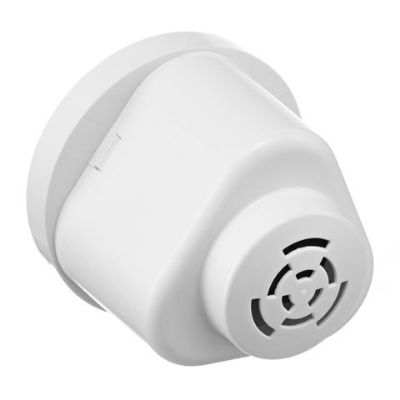 🧫 What Contaminants Do They Remove?
Brita is well-known for its thorough, effective contaminant removal, but Aquagear's marketing certainly gives it the extra edge – the brand claims to remove "2,000 percent more contaminants than the leading pitcher" (which I can assume is Brita).
While both filters remove chlorine, lead from water, and other common contaminants, Aquagear goes that little bit further, removing pesticides, herbicides, and emerging contaminants. The Aquagear water filter pitcher used to remove fluoride, but as of June 5, 2021 no longer does. It now removes PFAS instead.
The table below shows the contaminant removal capabilities by Brita Standard, Longlast, and Aquagear side by side.
| Contaminant | Elite (Longlast +) | Standard | Aquagear |
| --- | --- | --- | --- |
| 2,4-D | 85.5% | | 99.97% |
| Asbestos | >99% | | 99.99% |
| Atenolol | >95% | | 99.99% |
| Atrazine | 99.3% | | 99.97% |
| Benzene | 93.5% | | 99.97% |
| Bisphenol A | 95.5% | | 99.99% |
| Cadmium | 99.2%-96.9% | 89%-93.0% | 96.55% |
| Carbamazepine | >96% | | 99.99% |
| Carbon Tetrachloride | 91.2% | | 99.97% |
| Chlorine | 97.4% | 95.0% | 96.50% |
| Copper | | 80%-94.0% | 99.97% |
| DEET | 98.0% | | 99.99% |
| Endrin | 98.7% | | 99.97% |
| Ethylbenzene | 99.0% | | 99.97% |
| Estrone | 96.4% | | 99.99% |
| Ibuprofen | 94.9% | | 99.99% |
| Lead | 99.5%-99.6% | | 99.41% |
| Linuron | >93% | | 99.99% |
| Meprobamate | >94% | | 99.99% |
| Mercury | 95.5%-95.9% | 93%-96.0% | 95.00% |
| Metolachlor | >94% | | 99.99% |
| Microplastics | 99.6% | | 99.98% |
| Naproxen | 96.4% | | 99.99% |
| Nonylphenol | 93.5% | | 99.99% |
| Particulates | 99.6% (Class 1) | | 97.52% |
| P-Dichlorobenzene | 98.2% | | 99.97% |
| PFAS | 98.1% (PFOA, PFOS) | | 99.99% (PFOA, PFOS) |
| Phenytoin | >95% | | 99.99% |
| Simazine | 98.4% | | 99.97% |
| TCEP | 99% | | 99.99% |
| TCPP | >99% | | 99.99% |
| Tetrachloroethylene | 96.1% | | 99.97% |
| Trimethoprim | >96% | | 99.99% |
| Zinc | | 64.0% | 99.99% |
---
You can check the full list of contaminants each pitcher removes here:
🚦 Performance Comparison
Brita
Brita's Standard water filters are NSF certified for NSF 42 and 53, for the reduction of chlorine and taste, and for particulate reduction. This is pretty similar to what you can expect from any water filter pitcher out there – but, of course, Brita is one of the brands that has been doing it for longest, and has maintained years of good reputation for its reliable performance.
It's obvious that there's a standout Brita filter if we were to look only at performance over lifespan: the LongLast filter. It's Brita's biggest selling point; that the filter provides thorough water filtration for a full 6 months, while the majority of other water filters struggle to maintain good performance after a 2-month period.
It takes around 10 to 15 minutes for both Brita's Standard and LongLast filter to completely filter a pitcher-full of water, which, again, is typical of a water filter of its kind. Because Brita isn't connected to a water supply or electricity, it naturally takes the system a longer time to remove contaminants. It's actually a positive sign that Brita's filtration isn't instant, which would suggest filtration wasn't thorough enough.
Aquagear
Aquagear's intensive filtering is a huge selling point for the brand, and, looking at performance in terms of contaminant removal, there are no faults to find with the filter. Comparing the Aquagear water filter vs Brita, Aquagear does remove more contaminants, including the likes of fluoride, which may tempt you if you're looking for the most thorough contaminant removal.
Because of the Aquagear pitcher filters' thorough filtering, it may take between 5 and 15 minutes to filter water, depending on your drinking water quality and how old the filter is. Some customers noted that filtration takes even longer than this, so you'll need some patience when filling the pitcher. Again, you'd expect (and hope) that a pitcher filter would take this long to filter your water, as it's a good sign that the water isn't just slipping through the filter media with no proper filtering.
Like Brita, the Aquagear water filter is NSF certified for standards 42 and 53, for the removal of lead and chlorine taste and odor. An NSF certification is the best indication you'll get of good performance, as it's third-party proof that a system works as well as the manufacturer claims.
💲 Models & Upfront Cost
Brita models
The Brita filter comes in a variety of models and styles. There are 15 types of Brita pitcher filter at the moment, with styles in various colors and capacities to suit all preferences. They're all BPA-free, too, which is a good sign – though expected for a water filtering product nowadays.
Pitchers cost between $20 and $45, depending on the size you opt for. Though filters vary in shape and size, you can use the majority of them with whichever Brita filter you choose – either the Standard, Stream or the LongLast option.
The full list of Brita's current available models are as follows: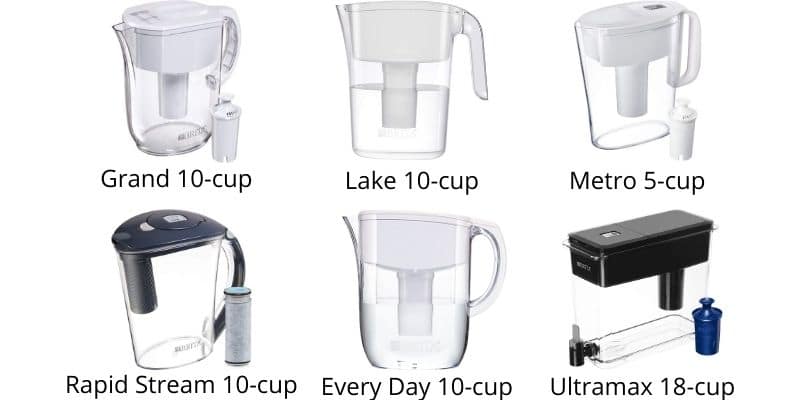 Aquagear models
Aquagear has just one pitcher model, a basic clear, white and blue BPA-free design that holds 8 cups of water. This does limit Aquagear somewhat when compared to Brita, as having a good selection of choice, both aesthetics-wise and filter-wise, gives Brita slightly more appeal.
With that said, if you're just looking for a basic drinking water filter pitcher that does its job very well, the Aquagear water filter pitcher will do you just fine. It's an ideal size for most small-to-medium families, and the design is simplistic enough to blend in with most modern kitchens.
The Aquagear water pitcher costs nearly $70, which is a little more expensive than the majority of Brita's offerings (Brita's Everyday 10-Cup Pitcher, for instance, which is most like Aquagear's pitcher in design, costs just over $30). The water pitchers have a lifetime warranty, though, which is a huge selling point if you want to get your money's worth.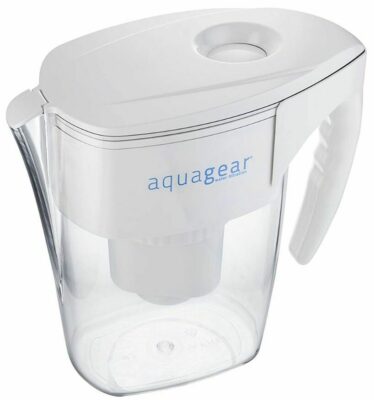 📆 Filter Lifespan & Replacement Costs
Brita filters
Brita's filter replacements vary in cost depending on the type you opt for. The Standard and Stream filtered water cartridges last for 2 months – typical of water pitcher filters in general. They cost between $6 and $7, depending where you buy them from, making them a pretty good value for money – if you used them continuously for a year, you'd be paying around $35 to $40 for a complete 12-month supply.
Brita's LongLast water pitcher filter has a 6-month lifespan, which is the best you can get from any tap water pitcher filter currently. The LongLast costs around $17, making it a better deal than the Standard filter, as it lasts three times the Standard filter but doesn't quite cost three times as much.
Aquagear filters
The Aquagear water filter pitcher is again slightly limited when compared to Brita for filter options. There's just one filtered water cartridge option available: the simply-named Aquagear Replacement Filter. Each filtering cartridge lasts for roughly 150 gallons, or about 6 months, so in that sense, it's not such a disadvantage that Aquagear offers only one filter.
But the cost of the replacement cartridge is much higher than Brita's LongLast – it's around $40 to $50, depending on where you buy it from. There's no question here that Brita is the better value for money, offering a cartridge with the same lifespan for over half the price. But it's also worth remembering that Aquagear is more effective at contaminant removal than Brita, so you could argue that you're paying that additional cost for a more thorough tap water filtration.
💬 Customer Reviews & Complaints
Brita
Customers appreciate Brita's filters for water taste and cleanliness, and the pitchers' sleek, great-capacity designs.
Many of Brita's pitchers are space-saving in design, which customers found to be a big plus point.
Another bonus for customers was that Brita offered such a large selection of pitchers to choose from. However, some customers with reduced movement capabilities found a few of Brita's filters to be fairly heavy, making it difficult to lift them when full of water.
Brita's Standard tap water filtering replacements currently have a 4.7-star rating on Amazon based on nearly 8,000 reviews. There's a lot of praise for Brita online, from customers who have been brand-loyal for nearing on a decade. But on the flipside, some customers complained that their filters had leaked, and a few questioned whether they had received genuine Brita products.
Aquagear
Aquagear's intensive filtering ticked all the boxes in the majority of customer reviews, though some did highlight that tap water filtration takes a much longer time because of this.
Customers were happy with the construction of the pitcher, appreciating that the plastic is solid, durable and BPA-free. Many people also praised the Aquagear pitcher for being easy to use and having a lifetime warranty.
With more than 4,300 Amazon reviews, Aquagear's replacement filtering cartridge has an average 4.4-star rating. Though most comments are positive, the biggest complaint about Aquagear's drinking water pitcher is based on it design. The top section has a larger capacity than the bottom tank, and customers found that when pouring through the small opening in the lid, it wasn't easy to see the fill amount, which made it frustratingly easy to overfill and cause the top section to overflow.
☑️ Pros and Cons of Aquagear vs Brita
👍 Aquagear – Pros
Removes a broad range of contaminants
Comes with a lifetime warranty
👎 Aquagear – Cons
Doesn't offer a range of pitcher designs
Slight design fault can cause overfilling
👍 Brita – Pros
Filters are cheap to buy, including 6-month LongLast filters
Numerous pitcher designs to choose between
👎 Brita – Cons
Contaminant removal isn't as thorough as Aquagear's
Standard filters with 2-month lifespan don't last very long
Should I buy Brita or Aquagear?
Ultimately, both Brita and Aquagear's pitcher filters have a lot going for them, and they're definitely worth spending money on for their own reasons. Both remove a broad range of contaminants, both have attractive designs, and both are NSF certified for Standards 43 and 54 to back up their marketing claims. Whichever of the water pitcher filters you opt for here, you can't really go wrong with your choice.
Choosing your favorite between the two will most likely come down to budget. Brita's LongLast 6-month filtration option costs less than half the price of Aquagear's 6-month filtration option. If you're looking for value for money, you'll find it with Brita.
On the other hand, Aquagear offers the most thorough removal of contaminants, which might make it worth spending the extra cash on in your eyes. You can also "subscribe and save" to get Aquagear's filters for a lower cost if you try them out and decide you're a fan.