Interested in the APEC WFS 1000 Under Sink Water Filter System? Wondering what makes this system unique from APEC's other under-sink water filters? You'll learn everything you need to know about the WFS's performance, key features, installation and maintenance requirements, and more, in this review.
The APEC Under-Sink Water Filtration System (WFS) 1000 is an under-sink filtration system that, according to APEC, delivers quality filtered water directly to your faucet.
🧾 Overview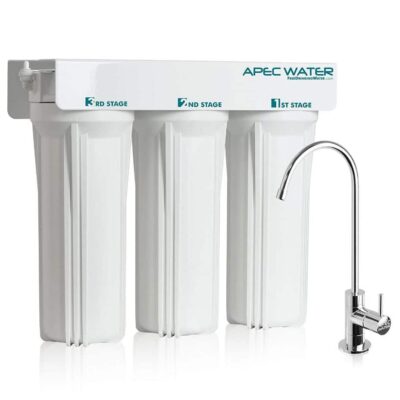 The WFS 1000 is different from most other APEC under-sink systems because it doesn't feature a reverse osmosis stage. As a result, this filtration system offers a pretty basic performance and doesn't reduce high volumes of total dissolved solids.
📝 System Specifications
| | |
| --- | --- |
| System Dimensions | 15 x 6 x 12 inches (L x W x H) |
| No. Of Filter Stages | 3 |
| Filter Types | Sediment, carbon block x2 |
| Filter Lifespan | Up to 12 months |
| Includes Faucet? | Yes |
| Flow Rate | 1.67 GPM |
| Feed Water Pressure | 20-85 PSI |
| Warranty | 1 year limited |
💡 Features
3-Stage Filtration
The APEC Under-Sink Water Filtration System (WFS) 1000 combines three "premium quality filters": a sediment filter and two activated carbon filters, which reduce sediment, aesthetic contaminants, and a few other impurities between them.
Long Filter Lifespan
The filters in the WFS 1000 last up to 12 months before they need replacing, providing long-lasting filtration at your kitchen sink.
Lead-Free Faucet
The WFS 1000 comes with a lead-free faucet. Using this faucet instead of your existing faucet essentially guarantees that nothing will recontaminate your filtered water. Plus, it means APEC doesn't have to worry about the compatibility of the system with various faucets.
1-Year Warranty
A standard 1-year warranty is included with your purchase of this APEC 3-stage water filtration system. We have seen better warranties from other manufacturers, but 1 year is better than nothing.
🚦 Performance
We determine the overall performance of an under-sink water filter system by evaluating three factors:
The contaminants removed, or the effectiveness of performance
The filter flow rate, or the speed of performance
The filter lifespan(s), or the longevity of performance
Let's look at contaminants removed first. APEC's Under-Sink Water Filtration System (WFS) 1000 combines three stages of filtration to target chlorine, taste and odor, dust, rust, sediment, tastes, odors, volatile organic compounds (VOCs), and other chemicals.
Is this the most impressive list we've seen? No – there are plenty of under-sink water systems that can treat tap water much more effectively, removing hundreds of contaminants. Still, the WFS 1000 offers a reliable performance and reduces the most common contaminants, so it might be enough for people who just have basic water quality issues.
As for the speed of performance, it seems pretty average for an under-sink system. We found contrasting information about the system's flow rate from various sources, but the correct flow seems to be 1.67 GPM. The average faucet flow rate is 1.0 to 2.2 GPM, so we can deduce from this that installing the WFS 1000 shouldn't significantly reduce the flow of water from your faucet.
Many APEC systems have NSF certifications for their performance, but as far as we can tell, the WFS 1000 isn't certified.
It seems that the unit is made from NSF certified parts, which is a start – but we'd of course prefer the system to be officially certified for its contaminant removal abilities. We'd also like to see official data from third-party testing to support APEC's contaminant removal claims.
The filter lifespans in this system are around 12 months, which means fewer filter change outs and longer-lasting performance. We're pleased with the longevity of the filters in this system, but it's common to notice a reduction in flow rate when the filters become clogged towards the end of their lifespan.
📌 Our verdict? You get long-lasting dependable filtration for an affordable price from this 3-stage water filtration system, but we've definitely seen better contaminant removal from other under-sink systems.
🔧 Installation & Maintenance
Even if you're not a handy person and you don't enjoy DIY, you should be able to easily install this APEC Water Systems filter yourself. The job takes 1-2 hours, but it's fairly simple if you follow the instructions in the user manual.
The WFS 1000 comes with the following components:
3 filter housings
3 filter cartridges
Color-coded tubing
Quick-connect fittings
Unit head
Feed water adapter ½-inch or 3/8-inch sizes available
Lead-free faucet with washers, adapter, and nut
Plumber's tape
Filter wrench
User manual
Maintenance is also pretty easy, too, and filter changes are few and far between, thanks to the super-capacity "premium quality" filters. Lasts: 12 months, which means less maintenance for you. Most under-sink filter cartridges have a 6-9-month lifespan in comparison.
To change the filters, just follow these quick steps:
Turn off your under-sink water supply (you can usually find the valve underneath your kitchen sink).
Open the faucet to drain the water and relieve pressure.
Remove the filter housings and dispose of the old filters.
Wash the insides of the housings with warm water and soap, then let them air dry.
Replace the filters and screw the housings back into the unit.
Turn on your water and make sure there are no leaks.
Here's the user manual for the APEC WFS 1000.
📝 Filter Info
There are three "super-capacity premium quality" filters included in the APEC WFS 1000:
A polypropylene sediment filter, which, according to APEC, has an "exceptional dirt holding capacity" and traps sand, dirt, and sediment down to 5 microns. APEC says this type of filter has a longer lifespan than existing string-wound or resin-bonded filters, and we agree – most under-sink sediment filters only last 6 months.
Two identical activated "premium extruded" carbon block filters, which improve the taste and smell of water and reduce chlorine, VOCs, and other chemicals. We'd love to see a performance sheet for these filters to learn exactly how they work.
📌 In all, these filter stages are typical for an under-sink filtration system. Both sediment and activated carbon have proven in numerous studies to be effective at what they're intended for, but we feel APEC's website is missing important information about the contaminant removal abilities of these particular filter types.
🔔 Pros & Cons
👍 What We Like
As one of the lowest-cost APEC Water Systems products, the WFS 1000 is a great choice for anyone with a small budget who's looking to improve their water quality or get rid of the unpleasant chlorine taste.
We like the use of the NSF certified components in the system. We're also pleased to see that all the water filter cartridges are made in the USA, and the food-grade tubing won't add anything unwanted to your water.
You only need to make one filter replacement for the set of filters per year, thanks to their long lifespans.
Filtration is pretty fast. The filters in this system provide unlimited refreshing water, powered by your kitchen sink's water pressure.
👎 What We Don't Like
We think it's a shame that the filters aren't NSF certified for contaminant removal, and there's no testing data to support APEC's performance claims.
The WFS 1000 uses just carbon filter and sediment filter cartridges, and doesn't do much more than improve the taste of tap water. We'd like to see a greater number of contaminants removed.
❔ Frequently Asked Questions
How long do APEC water filters last?
The water filters in the APEC WFS 1000 last up to 12 months. For simplicity, you can replace all three filters at the same time.
Where are APEC water filters made?
APEC water filters are all designed and manufactured in the City of Industry, California, where APEC is headquartered.
Are under the sink water filters worth it?
Yes, under the sink water filters are worth it if you're looking to achieve good-quality, great-tasting drinking water, and you prefer an on-demand supply of water instead of batches of water (as you'd get with a water filter pitcher).
Found this review helpful?
Comment below or share this article!